Book info
Sample
Audiobook
Media
Author updates
Lists
Synopsis
A New York Times bestseller! Don't miss this latest Krewe of Hunters book—an all-new standalone story featuring the FBI's elite paranormal team.

Someone wants to watch the city burn…

Sienna Murray was only fourteen when she pulled her neighbors out of a raging house fire. A decade later, she still can't explain what happened that night, how she knew to save them at just the right moment—or why she receives the same mysterious warning when it happens again…

New member of the Krewe of Hunters elite paranormal team Detective Ryder Stapleton doesn't believe in coincidences. So when the suspicious fire he's called to investigate reveals a cryptic link to Sienna, he can't help but think the unassuming museum curator has something to hide. But he soon discovers they have more in common than he ever thought—and a growing attraction neither can deny.

If they're going to have a future, Sienna and Ryder need to catch a serial arsonist roaming the shadowy streets of New Orleans…before the city burns down around them.

"A dark mystery, surprises and a cast of characters that will have you glued to the pages." —Fresh Fiction on Seeing Darkness
Release date: September 28, 2021
Publisher: MIRA Books
Print pages: 400
* BingeBooks earns revenue from qualifying purchases as an Amazon Associate as well as from other retail partners.
Listen to a sample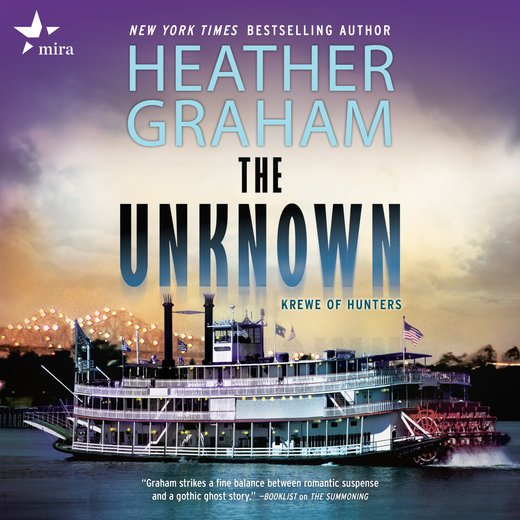 07:53:52
216.93 MB
9781488212512
September 28, 2021
HarperCollins
The Unknown
Heather Graham
Prologue
The screech of sirens penetrated the depth of the forest, causing Sienna Murray to waken suddenly and jump out of her chair.
She was accustomed to another sound, the little buzzer warning her that her grandmother needed something.
She never minded the buzzer; she adored her grandmother. Granny K, as she had always referred to her father's mother, was the best grandparent any kid in the world could hope for. She had taken Sienna on amazing adventures, told her countless stories, and been her secret confidante many times. She was over seventy but looked younger—or she had until the illness had robbed her of her strength and enthusiasm.
But never her humor.
She had the gift of laughter and mischief, though never the kind that was harmful. But now...
She was sick. And they would lose her. Sienna knew that, understood it, and still...caring for her grandmother was always time well spent.
The buzzer hadn't gone off, though. She'd been awakened by the sirens, though now they sounded far away, not loud enough to wake someone.
Granny K was awake and looking at her with concern, rising the best she could on her bed.
"It's down at the McTavish home," she said. "Sienna, you must go. Now! Quickly! There's a fire. The wee one is caught under the stairs... Her mother has fallen."
"Granny K, I can't leave you—"
"You can, and you must! The wee bairn is 'neath the stairs!"
Granny's accent from the old country only became pronounced when she was upset.
"But, Granny—"
"No buts, lass! Dearie, I've had a fantastic go of it, and I'm quite fine with me fate. Go save that baby!"
Sienna didn't want to go; she was so afraid to leave Granny K. But her grandmother was growing so upset it seemed she had little choice.
She would. She'd call her mom as she ran, asking her to please come over.
Then she'd have to explain that Granny K had made her leave. But...she would deal with that when she had to.
The McTavish house was down the curving road. She thought she could see an orange glow in the distance.
Country roads in this area of Louisiana tended to curl around woods and marshes. It was no different here; and in the country, homes could be far apart.
She ran nearly a mile, grateful she was moving quickly.
There were only a few houses in their outlying region of Terrebonne Parish. She was vaguely aware of her neighbors: Terry Berger, shrimp-boat captain, was coming out his front door as she passed, confused and curious as he looked down the road. And Thayer Boudreaux, local hotshot football player, was emerging from his house, the same look of concerned curiosity on his face. The door was open, and his parents were standing behind him, staring down the street.
The Harrison family—parents and all three kids—were standing by their picnic table, staring down the street in shock.
Sienna reached the house as the sirens still wailed—in the distance, but getting much closer now. Fire was shooting out, but the front door was open. She was pretty sure that meant she wouldn't be caught in a back draft. Bursting into the house, she saw Eleanor McTavish on the floor in the living room.
And as Granny K had said, the baby, bundled in a blanket, had rolled under the stairs. Gasping, Sienna reached for the baby, certain that poor Eleanor was badly hurt or else she'd have heard the cries.
Smoke filled Sienna's lungs, but she knew she needed to act; the fire and rescue vehicles weren't going to arrive in time. She had to balance the baby and drag Eleanor. She might hurt the woman by dragging her, but if she left her, she'd die for certain. The flames had eaten half the stairway and were consuming the old wood-frame house with a fierce gold and bloodred hunger.
She couldn't grab both of Eleanor's shoulders and hold the baby. She tried setting the baby on Eleanor's stomach and dragging them both.
The baby rolled off.
She picked up the screaming bundle, tucked her under her arm, and dragged Eleanor by the collar of her pajama shirt.
It worked.
Somehow, she had the two of them out on the lawn when a fierce explosion sounded, and the house seemed to burst into one huge continuous flame.
Several vehicles pulled up into the yard: fire, rescue, and police.
Suddenly, Sienna started to cough and choke. She keeled over next to the baby and Eleanor McTavish. She felt strong arms around her, pulling her from the lawn.
"The baby... Mrs. McTavish..." she muttered.
Her head was light; she was gasping for air.
"We're helping them. They're safe," a voice told her. "They're safe. You saved them, little girl. You saved them."
---
Sienna awoke to the sound of her mother crying. She opened her eyes slowly, watching the world reel for a minute, then found she could focus again.
She was in a hospital room. Her parents were seated on chairs next to the bed; her mom held her hand.
"Baby!" her mom cried when Sienna opened her eyes.
"Mom, it's okay. I'm fine."
Was she?
She must have been, otherwise her mother's crushing hug might have hurt, but Sienna could see how distressed and worried she'd been.
"Precious!" her father whispered, emotion causing a raspy timbre in his voice.
"I'm fine, really," she said. The memories of what had happened surged within her. "The baby!" she cried.
"The baby is going to be fine, and so is Mrs. McTavish," her father assured her. He was quiet a second. "They and the entire McTavish family are grateful, my sweet, but Sienna, that was crazy! What were you doing at the McTavish house? You were supposed to be with your grandmother all afternoon..."
He choked on his words.
"Granny K told me to go!" Sienna said indignantly. "She's the one who—"
She broke off; both her parents had drawn back. They were staring at her worriedly.
"What is it?" she demanded.
"You have to tell her," Sienna's mother whispered.
Her father sighed, shaking his head, still looking at her with grave concern. "Granny K is gone, Sienna. Her doctor said that she died around three o'clock this afternoon."
The world almost turned to smoke and fog again.
"Darling, she couldn't have told you to run into a burning house," her mother said gently. "And I know how you loved her, how this hurts you, hurts us all, but she must have died in her sleep right after you went to sit with her when you got home from school today."
Sienna shook her head. "No, she sent me. She knew where the baby was, how I could find her. She... No!"
"Sweetie, I loved my mom. We knew we were losing her. She died peacefully in her sleep," her father said.
"We were terrified we'd lose you, too!" her mother told her. "I love you so much, my darling. You were an incredibly brave girl. It takes a lot of courage to rush into a burning building when you're only fourteen! The McTavish family wants to reward you—"
"No! People shouldn't get rewards for trying to do the right thing. Granny K knew that I could...that I would do the right thing."
The doctor came into the room then. Her parents excused themselves and spoke with him.
She was being treated for smoke inhalation. Just overnight. But the doctor must have explained that it had been a traumatic ordeal. She'd behaved admirably, above and beyond, and they should just humor her.
So, they did.
After the doctor was finished speaking to her parents, the sheriff arrived as well. She tried to listen to their conversation with Sheriff Patterson, hearing enough to give her chills. The fire hadn't been an accident. It hadn't been faulty wires or a burner left on. Someone had set the fire, using a mixture of gasoline and ethyl ether as an accelerant. Brian McTavish had been out of town on business when the fire had started; but he was here now, sitting in a chair in the room where his wife and daughter had been assigned to receive their medical attention together.
"Why?" Sienna's mother asked. "They... The family is lovely. She stays with the baby, and he works for a tech company. Why would anyone..."
"Hopefully, we'll find out," the sheriff said.
"Mom," Sienna said, when her mother returned to her bedside.
"Shh."
"But, Mom, I heard the sheriff—"
"And it's his job to find out what happened. It's your job to get better!"
"Dad—"
"Sweetheart, you did the best anyone could! Our parish has a fine sheriff and a good office. Let them take over now. You rest."
Her parents stayed at the hospital, taking turns in the chair-bed. She woke at one point to see her father in the corner, tears in his eyes, and her mother walked to him to hold him as they cried together. She knew her mother had loved Granny K, too.
But more than that, she knew Granny K could not have died when they said.
There was no sense fighting it. They were absolutely determined the doctor was right.
And Sienna was equally determined he was wrong—until the funeral.
And there, walking silently along a row where mourners sat, was Granny K.
She stopped where Sienna's dad was seated, tenderly drawing a line down his face with gentle fingers, then doing the same with Sienna's mother.
Sienna was never sure how she managed not to cry out—or pass out.
She saw her parents draw closer together, as if they had been comforted.
Maybe it was the words the priest so eloquently spoke.
Next, Granny K looked at Sienna. She had a mischievous light in her eyes as she drew a finger to her lips, warning her to stay silent.
Sienna blinked rapidly. Her grandmother remained unseen by all but her apparently.
It wasn't until later, when her parents decided she should be allowed a minute alone at the grave, that Granny K came and spoke to her again.
"Just bow your head, child, and let your hair fall over your face. That way you can answer me when you need to. But first, just listen. I haven't meant to frighten you, lass. Not at all. But that baby might have died. My body couldn't fight the ravages of the disease anymore, but my soul is strong, and my Higher Power must have determined that I may stay—and look after you. Now, you know me, love. I'll not just be hanging around. I have places to be!" She giggled softly.
"I know, but, Granny K, the sheriff said the fire was set! Someone was trying to hurt Mrs. McTavish and the baby. Who was it, Granny? I can try to tell the police or steer them in the right direction!"
Granny K sighed and shook her head. "Lass, I don't know. There was a moment when I realized I was not even a wee part of me body anymore. And there was a sudden flash around me, and I don't know. Maybe if you hadn't acted, the babe and her mum might have joined me. I saw what I saw, but nothing before it. But it's true that Sheriff Patterson is a fine man, and he'll be doing all he can. Now, go grow up and be a power out there! You're a fine, good girl, and ye'll be making the world a finer place!"
Sienna was never so sure she could make the world a finer place. The sheriff investigated; officers from the state investigated. Criminologists, psychologists, fire experts, and more tried, but the arsonist wasn't caught.
Mr. and Mrs. McTavish came to thank her, but then they moved out of the state.
He accepted a job in South Dakota, as if he wanted to get as far away from Louisiana as he could.
Time went by. The arsonist still was not found.
A year later, Mr. McTavish was killed by a hit-and-run driver outside of Atlanta, where he'd gone for a three-day tech convention. Mrs. McTavish and her child were going to stay right where they were—in an apartment in one of the casino hotels in Deadwood.
What remained of the McTavish house was demolished; a modern duplex went up in its place to the great distress of Sienna's father.
The new construction was still about a mile away so Sienna didn't really understand, but she knew her father loved everything old and traditional.
She spent the next several years in Terrebonne Parish, growing to adulthood, doing the kinds of things kids did and mostly staying out of trouble.
When she was eighteen, she headed to Loyola University in New Orleans. When she graduated in communications, she opted to stay on, being offered a great job with a new undertaking in the city, a museum that offered areas with wax characters relating the history of the city plus a petting zoo, wildlife rescue, and several other eclectic sections.
She was happy to go to work every day.
And life went on.
She fell in and out of love. She partied too hard—and learned how to pull back.
It wasn't until she'd been working in the city, living her life and loving it, for five years that she had a sudden and frightening visit from her grandmother.
She woke that night, not at all sure why.
And there, in the moonlight that filtered through her Garden District apartment window, was Granny K. "Listen. It's happening again. The killer is here, in the city! The Kimball house next door is going to go up!"
As the ghost of her grandmother gave the warning, the entire house seemed to shake.
Searing red and blue flames shot up beyond her window, obscuring every essence of the gentle moon.
One
Ryder Stapleton had been in the Bywater area when he received the call about the explosion and fire in the Garden District.
He'd been relieved a situation that might have led to murder had been diffused, with Albert Greenway subdued and in jail, and his intended victim was at the hospital dealing with nothing worse than a minor injury to his shoulder.
He'd been contemplating his future as he drove, having recently accepted an offer to join a special unit of the FBI after passing all the requirements at the academy. He'd turned in his resignation to the New Orleans Police Department just that morning. He'd made the choice because he'd seen it as important, but he also knew he was going to hate to leave the city that was his home.
And since he still wasn't great at ignoring the dead in the company of others, joining the Krewe might also keep his coworkers and friends from—with the best of intentions—seeing him locked away in a mental institute.
He'd barely driven a matter of blocks on his way home when he saw the flames rising into the sky as the police radio broadcast the report about the explosion and fire.
The scene was far better than it might have been.
While the old Garden District house had burned to nothing more than a skeleton of the structure, no one had been killed.
The Kimball family had gotten out—he knew that before he arrived. The mother, Rebecca, and two children, Teddy and Sophia, were seated at the rear of one of the rescue vehicles, wide-eyed and frightened still. Martin Kimball was speaking with an officer and a fireman.
The fire marshal, John Beckett, saw Ryder drive up and excused himself, hurrying over even as Ryder got out of his car.
"Glad you're here," John said.
Ryder arched a brow, looking at the house. "It wasn't a gas leak, huh?"
John, a man with iron-gray hair who had been at his job for years, shook his head.
"I've just begun the investigation, but this thing was accelerated with gasoline. Possibly combined with ethyl ether. I don't have lab tests yet, but combined...well, you can guarantee a blaze."
"Someone got in the house and doused it with both?"
"That's what it looks like so far."
"Not an inside job?" Ryder asked. He'd seen a hell of a lot in his time with the NOPD. Recent months had been hell, not to mention the insanity of the year gone by.
But to think that a mother or father could set a fire that would kill their children...
"They all got out," he murmured.
"Mrs. Kimball said one of their neighbors came by. She smelled the gas before they did. But Mrs. Kimball, her husband, and the kids were sound asleep. At least, that's what she says. And while I'm hoping to not discover that we have an arsonist at work in the city, I can't help but pray to God that's true. We've barely got the flames doused, so what I've said is preliminary."
"And the neighbor smelled the gas?" Ryder asked.
John shrugged. "That's what Mrs. Kimball said. She told me she was half-asleep when she came downstairs to answer the door. But the banging and ringing woke up her husband, too, and he smelled the gas immediately."
"Interesting. Where's the neighbor?"
"I don't know."
Ryder nodded. "Okay. Thanks, John."
"We'll be investigating with all our resources, of course. We can look for signature aspects of the fire, but... Well, we haven't had an arsonist around here in a long time." He sighed again and looked at Ryder. "Think this was personal?"
"So far, all I know is that a brilliant fire marshal has told me that the fire was intentional and, thankfully, no one died. Like you, I'll be investigating."
"Right. Sorry. My people are good."
"I know. And thank you. I'll talk to the husband."
John nodded and stood back as Ryder walked over to where Martin Kimball stood.
He was about Ryder's age, thirties, a man of about six feet, medium build, with short fluffy blond hair that was standing straight up in the gentle breeze that had surely helped fan the flames of the fire. He looked at Ryder with red-rimmed sky blue eyes that were dilated and appeared almost blank.
"Mr. Kimball, Detective Stapleton. I'm grateful to see you and your family alive. And I'm sure you're in rough shape right now, but I'm afraid I have to ask you some questions, anyway."
Kimball nodded. Then it seemed to sink in that Ryder would be investigating—and investigating him.
He began to shake his head. The motion was slight at first, then vehement.
"I didn't do this. I would never do this. My wife didn't do this. We love each other. We love our kids! I swear to you—"
"Mr. Kimball, please. Do you know who might have done something like this? And did you have a security system in the house?"
Kimball shook his head. "This is... Well, we're in the Garden District. The cops here are good. It's a safe neighborhood. We have a lock and a bolt on the front door and another set on the back door...or, uh, we did."
"Windows?"
"Yeah, um, they had locks."
"Were they all locked?"
"They should have been."
"Can you think of anyone who would do this to you?"
Kimball looked truly lost. "I work for Delaney Enterprises. We work on computer software. My job is probably pathetically boring to most people. My wife teaches grade school!"
"Someone wanted to hurt you," Ryder said, watching the man's reaction.
Kimball shook his head, baffled. "Detective, my wife and I were sound asleep until Sienna came to the door. Thank God for her or we'd be dead now. I can't imagine anyone who would have done this."
"But someone did."
The man was shaking badly. He needed medical attention, Ryder thought, or he'd wind up with a heart attack or go into shock.
"Mr. Kimball, I'm going to see to it that you and your family are brought to a hotel for the night. There is nothing to salvage here now. Tomorrow, we're going to have to talk again, but for now..."
He glanced over Kimball's shoulder. Shelley Anderson, a first responder he'd known for years, was waiting. He nodded to her and said to Kimball, "Sir, Miss Anderson here is going to escort you over to your wife and children. An officer is going to help you from there. For tonight, we're going to place you and your family somewhere we know you'll be safe."
Kimball nodded. "I'll think on your questions, but who would want to hurt us?"
He truly appeared to be baffled. Shelley started to help him walk away.
"Mr. Kimball!" Ryder called.
"Yes?" The man stopped and looked back.
"Your neighbor Sienna. What's her last name? And where does she live?"
He pointed to the apartments just next door, with outer walls now covered in a residue of smoke. "Sienna Murray. The closest apartment," he said.
"Thank you," Ryder told him.
Kimball nodded and resumed walking toward the back of the ambulance where his wife and children waited.
Ryder stared at the building next door. An old, Victorian home like the one that burned to the ground. It had been turned into apartments.
He paused by his car.
No one in hell could be sleeping at this time.
He walked over to the house and read the names on the mailboxes: there were only two. Mr. & Mrs. Cratonand S. Murray.
He hit the bell for Sienna Murray.
"Um, yes?" a female voice replied through the intercom. She didn't try to sound as if she'd been sleeping. Then again, seriously, there could be no pretense when the walls were all but scorched and the house next door had burned to the ground.
"Miss Murray?"
"Yes."
"It's Detective Stapleton. I'd like a word with you."
"All right."
"May I come in?"
A buzzer sounded. He opened the door.
The house had been divided just about evenly with a hall running from the front door to the back door, shotgun-style, and two main doors, one to the right, one to the left.
The one to the left opened.
Maybe she'd expected him; maybe she'd pulled on the jeans and T-shirt when she'd run next door, and after all that had gone on, she'd just stayed up.
Maybe she'd started the fire. The family trusted her.
She was an extremely attractive young woman with long, chestnut hair, dark green eyes, and a slim build. She didn't appear to be frightened of him but a bit wary.
She didn't look like an arsonist.
But looks could be deceiving. That was a given.
She stepped back from her door, ...
We hope you are enjoying the book so far. To continue reading...
The Unknown
Heather Graham
Copyright © 2023 All Rights Reserved
Also in this series
Also by this author