Book info
Sample
Audiobook
Media
Author updates
Lists
Synopsis
The cries of the dead are deafening

Women are being taken in Virginia, and FBI agent Mark Gallagher is determined to put a stop to it. Certain he's closing in on the killer known as The Embracer, Mark is less than thrilled when he's partnered with rookie agent Colleen Law, worried she's a liability when there's so much at stake.

But like everyone in the Krewe of Hunters, Colleen has talents that extend beyond the usual investigative toolbox. She can hear the voices of the victims in her head, and they're telling her she and Mark are near to uncovering the truth.

When Mark's prime suspect takes a liking to Colleen, he's surprisingly protective of his new partner, even as he admits her connection to the victims is key. But tense interrogations turn dangerously personal when someone close to Colleen goes missing, luring the agents deep into the shadows of wooded rural Virginia, where nobody can hear them scream.

"A high-octane page turner that's two parts thrills, one part cautionary tale, and an absolute blast to read." —Providence Journal on Danger in Numbers

Krewe of Hunters

Book 1: Phantom Evil
Book 2: Heart of Evil
Book 3: Sacred Evil
Book 4: The Evil Inside
Book 5: The Unseen
Book 6: The Unholy
Book 7: The Unspoken
Book 8: The Uninvited
Book 9: THE NIGHT IS WATCHING
Book 10: The Night Is Alive
Book 11: THE NIGHT IS FOREVER
Book 12: The Cursed
Book 13: The Hexed
Book 14: The Betrayed
Book 15: The Silenced
Book 16: The Forgotten
Book 17: The Hidden
Book 18: Haunted Destiny
Book 19: Deadly Fate
Book 20: Darkest Journey
Book 21: Dying Breath
Book 22: Dark Rites
Book 23: Wicked Deeds
Book 24: Fade to Black
Book 25: Pale as Death
Book 26: Echoes of Evil
Book 27: The Summoning
Book 28: The Seekers
Book 29: The Stalking
Book 30: Seeing Darkness
Book 31: Deadly Touch
Book 32: Dreaming Death
Book 33: The Unforgiven
Book 34: The Forbidden
Book 35: The Unknown
Book 36: Sound of Darkness
Book 37: Aura of Night
Book 38: Voice of Fear

Don't miss New York Times bestselling author Heather Graham's next thrilling read, SHADOW OF DEATH!
Release date: May 24, 2022
Publisher: MIRA Books
Print pages: 400
* BingeBooks earns revenue from qualifying purchases as an Amazon Associate as well as from other retail partners.
Listen to a sample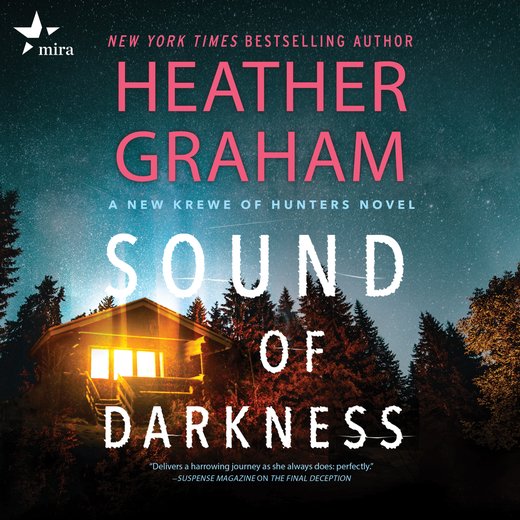 07:50:34
215.41 MB
9781488214561
May 24, 2022
HarperCollins
Sound of Darkness
Heather Graham
One
Mark Gallagher spoke softly to his dog as he pulled his phone from his pants pocket to call his partner, Ragnar Johansen, who was sitting at a bus stop within shouting distance.
"Act chill for a minute, Red," he told the dog.
Red was a big Labrador mix, a good hundred pounds.
"He found it?" Ragnar asked over the phone.
"Hey! Yeah!" Mark said loudly for anyone who might have been watching or in earshot.
Red sat for a moment at his feet. He had already indicated the house where the young woman was being held.
"He found it, and we can move," Ragnar said. "Red is one damned cool canine."
It wasn't Red's size that made him so unique. The Krewe members all called him "Special Agent Red" since he was a service dog in many ways, but he was highly trained in other areas.
Red was excellent at finding people—both the living and the dead.
"He found this house, and hopefully Sally. Alive," Mark said softly.
The young woman had gone missing, and according to her parents and friends, she wasn't the type to just disappear. And while a dozen possibilities could be considered in any disappearance, they'd been immediately concerned.
Two women from areas just outside of DC had also recently disappeared.
Only they were later found—dead.
"Heading around the back now. It's number 1405. I checked with Angela. The house has been rented by an Alex Grant. Angela says it's a pseudonym."
"So, it's really Carver," Ragnar said. "But this is your plan. Um, I'll take the front. I'll come up with a ruse—selling Girl Scout Cookies won't work."
"I don't think so," Mark said dryly. His partner not only had a Scandinavian name—he looked as if he'd stepped off the set of a Viking movie.
"Maybe I'll be selling life insurance."
"I know you'll make something work. We'll go," Mark told him, and ended the call.
It was going to be tricky; the man could be holding a young woman. The young woman could die. But they didn't have a search warrant and the laws weren't always on their side.
But right now, life came first.
"Now, boy, if you will," Mark said softly to the dog.
Red let out a woof and took off at a dead run. Mark pretended to lose the leash, running after the dog into the yard.
He was grateful there was no fence.
Red went around to the back. Mark, following after him, heard the doorbell ring, and he knew his partner was at the front. He gave the bell a minute to be answered, and then nodded at Red, who loped to the back door, throwing himself against it.
"Red, hey boy, stop, please!" Mark said. Of course, the dog knew to keep going.
It worked as he had hoped. Their suspect, Jim Carver, after answering the doorbell and hearing the ruckus in the other room, was soon at the back door, swearing. But as planned, Ragnar had taken the opportunity to enter the house after Carver had answered the ringing doorbell.
Red pushed his way into the house, barking furiously at Carver.
"What the hell?" Carver yelled furiously. "I'm going to have this animal put to sleep—and you!" He stopped, staring at Ragnar. "What the hell?" he repeated. "I said you could come into the foyer, and now, you're in my house! Get the hell out!"
"I heard someone screaming," Ragnar said.
"What? You didn't hear anyone screaming!" Carver said. "You—you're cops—"
"Sorry, there goes my dog," Mark said.
The dog raced through the kitchen, and Mark hurried after him, followed by Ragnar and Carver with Carver threatening them with lawsuits with every step.
The door to the basement was closed.
"I told you. I heard someone screaming," Ragnar said. "There's more screaming!"
"No one is screaming!" Carver protested.
"The dog hears it. He's going crazy," Mark agreed.
"You people! This is illegal! This is my residence—"
"Taken under a pseudonym. Reasonable cause for entry, then again, you did let me in. And now? Someone is screaming. We can hear it!" Ragnar said.
"You do not hear screaming!" Carver protested. "And a pseudonym! What the hell? I will have my day in court!"
"Oh, yes, you will," Mark agreed. He stared at the man. "What? You don't think we hear screams? Is your victim dead already?"
Carver backed away, staring at him.
The basement door was locked. Ragnar and Mark looked at one another and thudded their shoulders against the door simultaneously. Mark barely regained his balance; steps led down to the basement below and a fall could have been serious—even deadly.
Red barked furiously again, weaving through their legs and tearing down the steps.
Carver realized he'd been made; he turned to take off running, grabbing a Smith & Wesson pistol off the table as he did.
Mark didn't know for sure if Carver was the man who was now the scourge of a dozen police agencies and the FBI.
"The Embracer" as he had been termed in the press.
But Carver had been holding Sally Smithson. Red was never wrong.
"Drop it!" Mark thundered, drawing his own weapon from beneath his jacket.
Carver fired wildly. Mark fired a warning shot.
"Drop it!"
Carver started running.
"I've got him," Ragnar said to Mark. "And the 911."
Mark nodded and followed the dog down the stairs. And there, on a cot, lay the woman they had been seeking. Sally Smithson. Her eyes were closed; she was pale as ash. A bucket for a toilet lay at the foot of the cot.
The basement also held some lumber and some tools. No built boxes or coffins, just the usual supplies that a basement might contain. Nothing there proved that the man was the Embracer.
He could already hear sirens. The local police chief had not minded the FBI intervention. Sally had been taken from her home in Maryland, and they were now in Virginia. Mark had been confident about the Krewe and the certainty they would find Sally, and the police chief acknowledged that what few clues they had led to Virginia, so he had been happy to agree to their handling of the case.
Mark hurried to the young woman, feeling for a pulse. It was there—weak, but steady.
"Sally," he said softly.
Red whined and gave her a sloppy lick.
Sally opened her eyes, screaming hysterically and edging up against the wall.
The girl had just turned twenty-four. She had large brown eyes, a tangled mane of dark hair, and a pretty face filled with fear and despair.
"Sally, Sally, it's all right," Mark assured her. "I'm FBI. You're safe," he said softly.
She stared at him at first, afraid to believe she might have been rescued. Her eyes switched from terror to mistrust. Then she started to cry. Red set his paws on the cot and whined as if also telling her it was okay. The girl threw herself against the dog, sobbing.
The local police and emergency crews had been put on alert, and they must have been near when Ragnar had put through his 911 call.
A paramedic hurried down the basement steps, followed by a county deputy.
"Sally—" Mark began.
But she threw her arms into the air and started shaking and crying and speaking in disjointed sentences that made no sense.
"Let me get her to the hospital," the paramedic said. "Give her time. You can talk to the doctor later. They'll get her checked out, hydrated, and sedated, and by tomorrow morning, she'll probably make more sense."
"Thanks," Mark said, and turned to the deputy. "Carver ran. I'm going after him—my partner is already on him."
The deputy nodded and Mark hurried back up the steps, Red on his heels.
"Which way, boy?" Mark asked.
Red ran to the left; Mark followed.
They were in a quiet suburban neighborhood an hour out from DC, a bedroom community for many who worked in the city. The houses were large here, with nice yards—probably costing about the same as a small apartment close in. That was the way it was. Mark was glad; neighbors were at work or in their houses. It was too early for kids to be playing outside.
Carver didn't seem to know how to shoot very well, and the last thing they wanted was a civilian casualty.
Red suddenly veered to the right, heading into an adjacent yard. Mark took off after him. As he raced around the side of the house, he heard a shot. Then Ragnar's voice.
"Drop it, Carver. You have nowhere to go. It's over."
"I'll kill the kid or the damned stupid dog!" Carver raged.
Mark slowed his gait, sliding against the side wall of the house, edging against it until he could see exactly what was going on.
Red certainly wasn't a stupid dog. He had stopped against the side of the house as well.
Carver was about two feet in front of the back door, his gun against the head of a boy who was sobbing and appeared to be about ten.
Mark quickly weighed his options.
Shoot the man in the head from the rear?
That would free the kid.
But he calculated his distance, Ragnar's position, and Red's. And he decided he had a better option.
"Okay, Red, low!" he commanded softly.
The dog whined and started out. As Mark had reasoned, Carver moved the gun from the kid's head to aim at the dog.
Mark sprinted out of his position, throwing himself at Carver.
The kid screamed and fell. Carver howled.
Carver's gun went flying, and Ragnar scooped it up in a matter of seconds. Red sprang up and ran at Carver, standing over him, growling. Mark found his feet and helped the kid to his, thrusting the boy behind him lest Carver have another weapon.
Ragnar started to inform Carver he was under arrest, but he didn't get far; officers from the county had followed Mark down the street. The cops were quickly in the yard, taking over with Carver. A young officer went to the sobbing boy, sliding his arm around the boy's shoulders and asking him how to reach his parents.
Lieutenant Kenworth of the county police came around the house then.
"I—uh—thank you. I told my officers to handle it from here. But...do you want—"
"No, thanks," Mark said. "I trust your officers to process the scene." He hesitated. "We know he kidnapped Sally. But we don't yet have any evidence to prove he's The Embracer."
"How did you get on to this guy anyway? I mean, Special Agent Crow informed me the house had been rented under a pseudonym. The guy has been Mr. Nice to the neighbors and in the community."
"Anonymous tip," Mark said. "And Carver wound up on our suspect list after we learned about the first victim. He disappeared as 'Carver' about a year or so ago. He had been wanted for aggravated assault in Fairfax."
"Then he is The Embracer?"
"We just don't know for sure," Mark said.
"Well, thank you. We may never have known. The man assisted at our kids' baseball games! Who would have thought—" Kenworth began.
"He may threaten to sue for unlawful entry or try to get the case thrown out," Mark warned.
"But he was cocky. He told me to come in and wait when he heard the commotion at the back—Mark and Red," Ragnar said.
"And I was just catching my dog," Mark said. "And then we heard all that screaming."
"If there's any trouble, we have a legal team to fight him," Ragnar assured him.
"Our forensic team will be working with yours," Mark added. "And we will want to question him."
"Of course. You've done us a tremendous service here. That young lady—the paramedic—said she's going to be okay. She's dehydrated and half-starved, but the med tech said her vital signs are good. The bastard, the way he held her... Carver must be The Embracer," Kenworth muttered, shaking his head.
Kenworth was a heavyset man with broad shoulders and a stern face, and from what Mark and Ragnar had gathered on him, he was a good officer. He'd had no problem with others helping out, especially when the man being sought might be heading in the direction of serial murderer.
Killing in his community.
"Again. We don't know. He kidnapped a woman and was holding her, so it is a possibility. Let him stew in a cell tonight. Tomorrow you'll have arraigned him, and we'll work on federal charges. We understand Sally is terrified right now and in need of medical attention before she can tell us much. For tonight, we're heading back," Mark told him.
Kenworth nodded. "Of course."
"We'll see you in the morning," Ragnar assured him.
"Can I drop you two—and Red—off anywhere?" Kenworth asked.
"Our car is just down the street," Ragnar told him. "And we will be here bright and early tomorrow morning. Just make sure you don't lose our guy tonight!"
"We won't lose him," Kenworth said. "These guys are something. Like Carver, I mean. So tough when they attack the vulnerable and the innocent. Not so tough when they're caught. And we've got him now."
Mark, Ragnar, and Red left the local police and medics to finish dealing with the arrest and the traumatized boy. They headed down the street to their vehicle.
"You want to drive or make the call?" Ragnar asked Mark.
"Whichever," Mark said.
They had found Sally alive. That made it a damned good day. He smiled.
"You drive, and I'll let Jackson know we got him," Mark said.
"Or we could say, Red got him," Ragnar said as he pat the dog's head.
Red gave him an approving woof.
"We get to congratulate ourselves today. We made a hell of a team," Mark said.
He hit the number for Jackson Crow on his speed dial as they reached the car. Red leapt into the back as Mark took his seat in the front.
As Ragnar revved the engine, Mark put the phone on speaker.
Jackson came on quickly.
"Mark and Ragnar here, Jackson. We've got you on speaker. We got Carver and Sally," Mark said.
"Alive?" Jackson asked.
Mark could hear the tension in Jackson's voice. No matter how long any of them had been at this, they'd always be concerned for the outcome of a chase like this one.
"Yes. We were lucky. Sally was smart, I think. We haven't been able to talk to her yet; she was frantic, and the ERs suggested I talk to the doctors later, noting she'd probably make sense by morning. But I believe she hid her cell phone at first. Carver eventually found it and ditched it. But the trace led us to the right area, and Angela got the address and the pseudonym info. Red took it from there," Mark told their field director. "Lieutenant Kenworth has taken Carver into custody. We'll head back here in the morning, hitting the hospital first to talk to Sally, and we'll visit Carver before the state arraignment. We also told Kenworth about our 'anonymous' tip about Carver, but didn't get into details."
It was true they'd received a tip. He just hadn't told Kenworth it had come from a dead man.
"Ragnar needs to see Carver tonight," Jackson said.
Mark was surprised. "Jackson, you're the one who usually wants us to let them stew a bit—"
"Not this time. And Ragnar needs to hit Carver on his own. I'm going to need you—and Red—now."
"Jackson," Mark said, frowning, "I know we don't know if Carver is The Embracer, but I'm not sure that—"
"We don't know enough at this moment, and we need everything and anything we can get. We don't know if Carver is clever, has other names, or if he has another stash house," Jackson said. "Regardless of whether he's been working on his own, I need you and Red now, before another young woman dies. Carver may be the one and only Embracer. Or he's a copycat. Or there is a copycat still out there."
"What makes you say that?" Ragnar asked, frowning quickly at Mark as he drove.
"There's been another kidnapping," Jackson told them. "Dierdre Ayers. She didn't come home last night, and we can't waste any time. Now that Carver has been taken in, we need to find Dierdre Ayers fast. If we don't, she could starve or dehydrate or worse. Or, more than one person has been carrying out these kidnappings and murders. An accomplice or a copycat might get spooked; Carver's arrest could speed up their timeline."
"Do we have anything to go on at this point? A phone trace? Anything?" Mark asked.
"We have Red," Jackson said. "And we have a new agent. Ragnar will start on Carver right away. Meanwhile, I'm going to be pairing Mark up with one of our newest Krewe members."
"Jackson—" Mark began.
But Jackson was gone.
He shook his head, glancing at Ragnar. They worked well together; they had been partners for a year, and time had given them a level of communication—a sometimes silent one—that allowed them to make the right moves to cover one another.
Red and Ragnar worked well together too. Red was Mark's dog and his loyalty went to Mark, but Ragnar was his next most beloved human.
Ragnar shrugged. "Hey. We're a good team. Or trio, I should say. But we are talking life-and-death. And whatever this new person can bring to the table, well, Jackson said it was a life-and-death situation. Seems strange to throw a rookie in on this, but I trust Jackson. And it doesn't sound like we have so much as an anonymous tip."
The tip that had led them to Carver—who'd already been a person of interest—had come from Sergeant Alfie Parker, who'd been dead since 2018, but he was still patrolling his old route—and was adept at hitchhiking to the offices of their special unit—the "Krewe of Hunters" unit. ...
We hope you are enjoying the book so far. To continue reading...
Sound of Darkness
Heather Graham
Copyright © 2023 All Rights Reserved
Also in this series
Also by this author