Book info
Sample
Audiobook
Media
Author updates
Lists
Synopsis
When serial killers run rampant across Europe it's up to Blackbird, the Krewe of Hunters' international  operatives, to stop them.

When darkness falls, there's nowhere to hide.
Four bodies have been discovered along Europe's riverbanks, placed with care—and completely drained of blood. Pinpricks on their throats indicate a slender murder weapon, but DNA found in the wounds suggests something far more sinister. Tasked with investigating, the FBI recruits Agents Della Hamilton and Mason Carter to Blackbird, an international offshoot of the Krewe of Hunters. If you want to catch a vampire killer, you need agents who can speak with the dead.  

The pair travel to Norway, where the shadowy forests of Lillehammer reveal a gruesome scene. The killer is thirsty for more victims, and the bloodless trail soon leads Della and Mason to a group that believes drinking blood is the key to immortality. To catch the culprit of such an intimate crime, the agents will have to get close. Mason's already lost one partner; he's not ready to risk Della as bait. But sometimes justice requires a sacrifice…

The Blackbird Trilogy
Book 1: Whispers at Dusk
Book 2: Secrets in the Dark
Book 3: Cursed at Dawn
Release date: June 27, 2023
Publisher: MIRA Books
Print pages: 400
* BingeBooks earns revenue from qualifying purchases as an Amazon Associate as well as from other retail partners.
Listen to a sample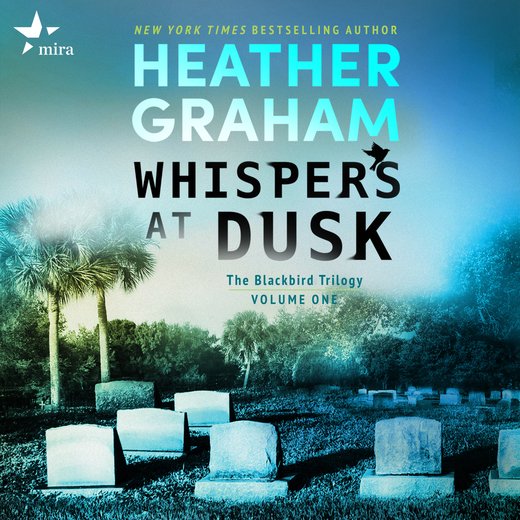 08:41:32
238.75 MB
9781488227769
June 27, 2023
HarperCollins
Whispers at Dusk
Heather Graham
Prologue
For Della Hamilton, it began with the old cemetery.
And with Jose Garcia, her friend all through grade school, middle school and high school.
They lived on the same block. It was never romantic, just a true friendship that had been strengthened by years of shared local experiences and talks about everything: family, heartthrobs, and more. They shared everything that went into growing up.
And Jose was just a good guy. She didn't know anyone who didn't like Jose.
What killed him was a bizarre accident. Truly bizarre and tragic for all concerned. Another kid in high school would have the guilt of Jose's death on him for all the years of his life to come.
Della found out about it when she was at cheerleading practice during her senior year of high school. The blood bank called.
She gave blood with her parents' blessing several times a year. Gave. They weren't rich, but she wasn't selling her blood. Her health and the coagulating wonder of her blood was a gift from a higher power, however one chose to see God. It was an amazing thing to give the gift of her blood to others. So she did.
Della was joking with the girls when the call came, and they were all laughing and calling her a vampire. She reminded them vampires drank blood; they didn't give it to others.
It wasn't until she arrived at the hospital and saw her parents and Jose's parents that she heard what had happened. She wished she could open a vein and pour her blood straight into her friend's heart.
It had been...ridiculous. A couple of the high schools in the area had friendly rivalries going. Usually friendly. Occasionally something might get a little physical, but it was broken up most of the time by an authority figure, or it simply petered out with the rivals laughing.
But this time...
Jose and some friends had been at a popular South Miami restaurant. "Rivals" had been at another table. They'd been playing around, throwing napkins, then someone had picked up something heavier, a mug. It had struck Jose in the head and cracked open his skull and...
Now, they were praying for his life. If not for the mug, the day probably would have ended with laughter and with the groups picking up all the napkins together. The rivalries weren't between the junkies and the thieves and the crew of kids headed for criminal behavior. These teens were on the sports teams, the debate team, into music, movies, and theater.
But the mug had flown.
They took Della's blood.
But neither her blood nor blood from any other donor nor any help from the medical community could save Jose.
He died that night.
Her parents had taken her home. Jose's mom and dad had stayed with him to the last minute.
She heard later his mother wouldn't let the funeral home take his body.
And at the funeral, the poor woman had tried to drag him from his coffin. If she could not do so, she wanted to be buried in it with him. Her husband kept her from doing either one.
Della wished there was something she could do to help. But there wasn't. The woman had lost her only son.
It was about ten days later, and Della had just left the pool where she worked part-time as a lifeguard after school until dusk. She was heading toward the cemetery where Jose was buried. She knew the area well. Her friend's father was the caretaker, and their home was on the cemetery property. They'd often had sleepovers and spent the nights trying to scare each other and outdo each other with ghost stories. The cemetery had never scared Della. She had felt something strange; oddly, it had been a sense of warmth and comfort. It was considered historic for their area, being over a hundred years old. There were only a few little family mausoleums in the cemetery, but there were stunning memorial statues, standing stones, and flat memorials surrounded by beautiful and lush trees. She loved the cemetery. But then, she loved old churches and cemeteries—truly old ones Winchester Cathedral in London, Westminster Abbey, Notre Dame, and so many in Rome and London. They'd visited so many. Her dad had said leaving donations was much cheaper than many things they might do on a European
vacation.
Della had her radio playing as she drove home from work. Yet that day as she reached the southern end of the cemetery, she suddenly had nothing but dead air.
In the silence, she frowned and changed the station, but nothing happened.
She pulled off the road by the little coral wall that surrounded the place and looked in the cemetery. Jose wasn't buried far from the wall. She found herself tempted to jump over the two and a half feet of coral that comprised the barrier. But she didn't. She should bring flowers to Jose's grave, and do it by daylight when people were supposed to visit. Della had discovered the music stopped playing on her radio every time she passed by the little coral wall, a reminder that led to her stopping sometimes at night. The city lights from the street afforded her all the illumination she needed to reach Jose's grave.
Della decided to bring flowers that weekend. And it felt good to go and tell her friend she missed him, and to almost feel as if he were there with her.
She was back home for the summer after her first year of college when the killer they called the Canal Carnivore arrived in South Florida. The man had eluded police in the west, the northeast, and had struck in Biloxi, Mississippi, before heading farther to the southeast. Right before Della had returned home to take up her job as a lifeguard for the summer, he had attacked and killed a young woman in the Brickell area, a divorcee living alone in a condominium and working for a local bank. His signature was the removal of a patch of skin from his victims, usually a two-by-two square that contained the belly button. The one witness who discovered the victim near the old church cemetery in New York by Wall Street had seen a disappearing hooded figure chewing on something bloody as he'd hurried toward the Hudson River.
Thus, he'd been labeled the carnivore. He didn't bite the flesh out—that would leave marks for a dental impression. He didn't leave fingerprints or footprints anywhere. He didn't sexually assault his victims or torture them. He slit their throats and cut out his inches of flesh. He left no clues and had only been seen once calmly walking away from what would prove to be his victim. The "Canal" part of his moniker came from the fact that several victims had been found near water, though Biscayne Bay was hardly a canal and the Hudson River was, well, a river.
Naturally, Della's parents had been concerned. But she had assured them she went to work and came straight home. They were always there when she returned, along with her mother's giant sheepdog that looked like a mop but could be as fierce as any pit bull or rottweiler if he saw a member of the family threatened. They also lived in a friendly neighborhood and had automatic lights if she came home in the dark, along with a surprisingly modern alarm system. She was almost nineteen—an adult—and studying criminology! She knew how to be safe and smart. They had been studying serial killers just before the break. If anyone knew how to be careful, it was her.
She'd been home a week when her car suddenly started acting up. She kept a good eye
on it. While it wasn't a new car, it wasn't old; the computer usually warned her if she needed maintenance or if anything was wrong.
It had given no warning. But the red light was suddenly blinking, screaming for maintenance.
She was about to drive by the cemetery. And the radio had already gone silent. The car was bucking strangely, and she quickly drove onto the grass at the side of the road only feet from the little coral wall.
No problem—other than she wouldn't have her car. She always had her phone and her AAA card.
She turned off the engine and reached to the passenger's seat for her bag. But digging inside, she couldn't find her phone. It had to be there. She had undressed and donned her swimsuit, left her bag in the women's locker room, worked her hours, gone back, and changed again. She hadn't taken her phone out. She had plans for the evening with friends and with her parents, and they were set. She hadn't needed her phone for anything, and she had just wanted to get home when her day had ended.
It had to be there.
But it wasn't.
She got out of the car. She was going to have to flag down someone driving along the street. She'd be careful. She wouldn't get in anyone's car. She'd just get someone to call for help for her.
Leaving the car's lights on, she walked over to the road. It wasn't rush hour anymore, but it wasn't that late, either. There were only a few cars. Most of them tended to be in the left lane, and one woman stared at her as if she were a crazy person.
She was about to give up when a car drove onto the grass near hers. It was oddly forming an L-shape that blocked part of the road, but she needed help, so she certainly wasn't going to comment on anyone's driving or parking.
But a shiver slid down her spine and a warning bell seemed to go off in her head as she approached the driver.
He got out of the car.
He was wearing a hoodie. Not black, dark blue, but a hoodie, and it was a warm night.
The L-shape he had created when he parked had cut Della off from the road. She never said a word. She knew.
It might have been a woman. But they'd been studying serial killers at school and, statistically, women serial killers preferred poison; they didn't seem to like the mess of knives or guns.
Small man...woman. Did
it matter? Beneath the hoodie, they were wearing a bandanna-type mask, allowing Della to see nothing of them but the eyes.
Dusk was quickly heading to darkness, but the streetlights fell on them and their cars. Looking at the person's eyes, Della knew they were smiling and loved watching the fear that filled her as she saw a streak of light catch on the blade of an enormous carving knife.
The cars would cut her off. There was no one on the road. If she ran across it, the only thing she could reach quickly would be an office complex without a single car in the parking lot.
She turned and headed for the little coral wall just a few steps from her. She leaped over it. This killer couldn't know the cemetery.
She did. She knew it so well.
If she ran hard toward the avenue that bordered the western side of the cemetery she'd get to the caretaker's house. Her friend's family had moved to the Keys a year ago. But she'd once met the new caretaker, his wife, and his child when she'd been at the cemetery. If she could just reach the house...
The killer was after her in a flash, but she weaved through headstones and around oaks, banyans, and cypress trees.
The killer remained behind.
Close behind.
She was near the backyard of the home by one of the oldest sections of the cemetery. Both Union and Confederate soldiers who had survived the Civil War to move down to South Florida were there, perhaps friends now that the fighting was over, and the cemetery had claimed them. There was a beautiful huge statue of an eagle there because one of the Union soldiers had been with the regiment that had had a mascot, Old Abe, the battle eagle. It would be a good place to slide around to get into the yard, hopping the little fence and screaming all the while for help...
But she was suddenly struck in the head. Dazed and stunned, and with her impetus, she went down on the ground.
Instinct caused her to roll. To look up into the eyes of a killer.
"That was spectacular!" the killer said. It was a "him," a small man, maybe five feet eight inches and possibly a hundred and sixty pounds. "And you! I've been watching you the last days and the piece of skin on your midriff... Wow, kid, you're beautiful, you know."
She stared at him. She was on the ground. He was about to level his weight down on hers. She had to kick. She had to fight.
The knife... There was nothing now but moonlight, but the knife gleamed in that bit of misty light!
"Della, the rock!"
She was startled to hear the urgent whisper.
There was no one anywhere near them!
But the person who was not there kept talking. And she knew she'd been hit in the head. She was terrified. She might be going completely crazy with fear, but the person was using...
Jose's voice.
She stared at the killer and her eyes widened.
Because Jose was there. Something of him. She could see him, handsome in the casual suit in which he had been buried, coral shirt, gray jacket, and trousers. His dark hair was neatly combed, he looked wonderful, except...
He couldn't really be there.
"Listen to me, Della!" Jose said firmly. "He's coming down. Let him get close—despite the knife! Let him get close. Then kick him in the nuts as hard as you can and grab that rock and smash in his face. I'd do it for you, but... I can't pick anything up, I'm afraid. I'll try kicking...get it closer to you. But wait...wait...let him get
down and then..."
She had to be imagining he was there, her dear friend, trying to help her, even from the grave.
She had never been so terrified in her life, watching the killer come down closer and closer to her, watching the knife gleam so strangely in the moonlight...
"Now!" Jose shouted.
She reached; she could feel the rock. Her fingers curled around it.
And she kicked. She had the leg strength of a strong swimmer, and she drew her knee up and kicked him with everything in her while slamming the rock against his head as hard as she could.
And the knife fell, dangerously close to her face, as the killer screamed in agony and clasped his bloody face and fell to her side in a fetal position.
She was up in a flash, screaming desperately for help and racing toward the caretaker's house where a door was opened for her, where the police were immediately called and then...
It seemed all hell broke loose.
They caught him that night. He still couldn't stand straight when the police arrived. He tried to say he'd just been walking down the street, and Della had attacked him. The police didn't buy it. And in the days to come, forensic science would tie him to other murders. He'd thought he'd cleaned his knife. He hadn't. Special techniques showed the knife had been used on the poor woman in the Biloxi area, and once that happened, he'd been proud to be known as the Canal Carnivore. He assured them all he was going to be immortal, one of the greatest killers ever.
An FBI agent who had been following the killer's trail of blood assured him all he had done was take some beautiful people away from those who had loved them. He wasn't famous at all. He was just Henry Worth of Los Angeles, California, and he'd be doing—at the least—life with no chance of parole.
The agent had questioned Della. A man of about forty, he was even and controlled. When they talked, Della realized just how close he'd been. He told her if it hadn't been for her, Worth might have killed again and again.
"You showed remarkable coolness in such a situation, young lady. Think about joining the Bureau. I hear you're studying criminology."
"I was thinking forensics," Della told him. "But... Well, I have three more years to go."
The agent had been kind. Her parents, of course, had been hysterical. To calm them she had reminded them she'd taken down the killer.
But in truth, Jose had done that. And when the dust had settled on it all, she returned to the cemetery just as the sun was setting in the western sky. She stood by his grave and said, "Jose! You saved my life, my friend. Please... You're here, right?"
She felt him touch her shoulders, as he had in life sometimes supporting her. She smiled and turned and he was there.
"I wasn't so sure," he told her. "I thought you might have it. Like an extra sight, the ability to see with your mind—or your heart or soul—whatever it might be. Benjamin Turner, the Yankee buried up by the house, told me about it. Some of the living have it. When I thought about the way I had seen you here at various times, I suspected you might." He grinned. "Oh, and Lieutenant Parker—he was with Lee's regiment during the Civil War, opposite side—assured me what Ben was saying was the absolute truth." He shrugged. "I enjoy the two of them. Parker is great—a man who can admit he was wrong, that a whole society was wrong... Anyway. I'm just so grateful you could see me, hear me!"
"And I'm just so grateful you saved my life," she whispered.
He smiled. "You...your folks. Always giving to others. But... I heard that FBI guy. You have what it takes, Della. I think you should consider joining the Bureau. This special thing. Whatever it is. Della, it means you have an edge. And maybe you should use that edge."
"Maybe," she whispered. "Maybe. As long as I get to keep seeing you."
Jose grinned. "We can do that! And I'll introduce you to Ben and Josiah Parker. They're great! And then... Well, talk to them, too. Then use what you've got, my dearest friend. Use what you've got!"
One
Mason Carter knew he had backup. The man now holding seventeen-year-old Melissa Wells hostage had been busy for months, and law enforcement across the country had been on his tail. Spread about in various positions outside, an FBI SWAT crew was situated along with local police who knew the area well.
Still, they were in bayou country surrounded by snake-and alligator-infested waters and a range of high grasses, trees, and brush that might hinder any assistance.
Though he'd left a trail of carnage across the country by taking nine victims along the way, the killer's identity was unknown. He'd left behind fingerprints, but they couldn't be found in any database, and nothing else discovered by any agency across the country had given them a single clue toward discovering his identity. The truth existed somewhere; it just hadn't been found as yet.
He'd been labeled the Midnight Slasher since most of his abductions and kills had been after midnight. His note—handwritten and mailed from Las Vegas to the NYC FBI offices—had assured them he was fond of his moniker, and he'd try to make sure his murders did, indeed, occur after midnight in the future. He'd really have preferred being the Vampire, but that name had already gone to a coworker who was busy in Europe.
Coworker?
Mason knew about murders that were being called "the vampire killings" in Europe. He doubted this man and the European madman knew each other, though it appeared they were trying to outdo one another.
But then again, he didn't really know.
Maybe this killer needed the moniker because he was such an ordinary-looking man. Not exactly handsome—cute might be a term applied to him. He didn't appear at all insane or creepy as some seemed to think he must appear, not at all as people might think a maniacal killer should look.
He was about twenty-seven—the profilers had been right on his age—six feet even, perhaps a hundred and seventy pounds, with shaggy dirty blond hair, a clean-shaven face and friendly brown eyes. He smiled a lot. Mason could see how he'd managed easily enough to charm or coerce his victims out with him to a place where they might be alone.
And here they were. Mason had trailed the killer from Virginia and had suspected from the few clues he'd been told by the locals that the man would steal a boat and bring his victim far into the bayou. He'd been at the forefront of the investigation, and he called in as he made his way, seeking help from any and all law enforcement agency so they might really end the reign of the Midnight Slasher with a true force against him.
But Mason was the one who now stood alone, facing the man who held the teenaged girl, his blood-stained knife held so tightly to her throat that a trickle of blood ran down to her collarbone. Her terror-filled eyes were on Mason. She didn't want to die.
Mason didn't want her to die, either.
He was a good shot—but he'd still have to be at his fastest to hit the man before the knife could slide into the soft flesh of her throat and on to arteries and veins and...
"Okay, Midnight Slasher," he said, his Glock trained hard on the man, "do you really want to die today?"
"I've been here before, and I'm still alive!" the killer said. The girl let out a terrified whimper; the killer had jerked with his words. ...
We hope you are enjoying the book so far. To continue reading...
Whispers at Dusk
Heather Graham
Copyright © 2023 All Rights Reserved