Book info
Sample
Audiobook
Media
Author updates
Lists
Synopsis
Meg Langslow is spending the summer at the Biscuit Mountain Craft Center, helping her grandmother Cordelia run the studios. But someone is committing acts of vandalism, which threaten to ruin the newly-opened center's reputation. Is it the work of a rival center? Have the developers who want to build a resort atop Biscuit Mountain found a new tactic to pressure Cordelia into selling? Or is the real target Meg's grandfather, who points out that any number of environmentally irresponsible people and organizations could have it in for him? While Meg is trying to track down the vandal, her grandfather is more interested in locating a rare gull. Their missions collide when a body is found in one of the classrooms. Can Meg identify the vandal and the murderer in time to save the center's name (and also help her grandfather track down and rescue his beloved gull)?
Release date: August 1, 2017
Publisher: St. Martin's Publishing Group
Print pages: 320
* BingeBooks earns revenue from qualifying purchases as an Amazon Associate as well as from other retail partners.
Listen to a sample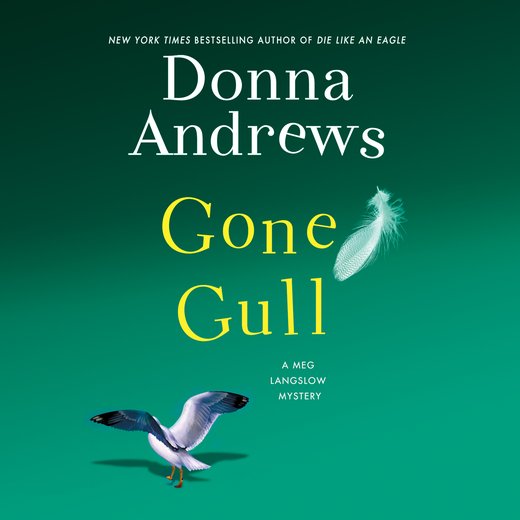 08:39:22
237.76 MB
9781666592498
August 1, 2017
Dreamscape Media
Gone Gull
Donna Andrews
Chapter 1


Monday

"Wow, you could kill someone with that thing! Doesn't that worry you?"

I counted to ten before looking up from the anvil, where I'd been about to start hammering on an iron rod. I'd only just finished heating the iron to the perfect temperature for shaping it. If I was working in my own barn, I'd have ignored Victor Winter's remarks.

But I wasn't in my own barn. I was at the Biscuit Mountain Craft Center being paid—quite handsomely—to teach Blacksmithing 101. And however annoying I found Victor, he was a student. If ignored, he'd start muttering again about complaining to management. I didn't want him doing that. Management was my grandmother Cordelia, owner of the center, and I didn't think she needed the aggravation today.

So when I'd reached ten I put my hammer down, set the rod safely on the anvil, and pushed up my safety goggles. Then I smiled, and did what I could to turn his question into a teaching moment.

"Yes, Victor," I began. "You could kill someone with this metal rod—even if it wasn't heated to its present temperature of approximately a thousand degrees Fahrenheit."

This generated a few titters from the other eleven students. I deduced that I wasn't the only one in whom Victor provoked the occasional brief homicidal fantasy. Victor, coshed on the head with a ball peen hammer. Victor, skewered through the heart on the pointed end of the rod I was turning into a fireplace poker. Victor, doubled up and stuffed through the door of my forge, like Hansel at the mercy of the wicked witch.

"That's why we spent so much time this morning learning all about proper blacksmithing safety," I went on. "Do we need to go through all of that again?"

Several of the other students groaned—understandably. After just one morning, they were already tired of hearing safety lectures. I understood how eager they were to start working iron, but I was not about to turn twelve beginners loose with hot metal rods and two-pound hammers until I was absolutely sure that they understood the dangers. And even more important, that when I barked out an order, they'd obey.

"No, I'm good." Victor smirked as if he'd said something clever.

I caught several of the women students rolling their eyes. They probably realized as well as I did that all the safety lectures in the world couldn't guarantee that Victor—already referred to behind his back as "The Klutz"—would make it to the end of our weeklong class with all his digits intact and without third-degree burns. I worried, just for a moment, about whether Cordelia had a signed waiver on file from Victor. And then I reminded myself that of course she did. An important detail like that would not have escaped her eagle eye. If there was such a thing as a gene for organization, Cordelia was definitely the one I'd gotten it from. And even though she was in her eighties, some days she made me feel like a slacker.

Though the waiver probably wouldn't protect the center if I slaughtered Victor, no matter how annoying he was. So I took a few of the deep, calming breaths my yoga-savvy cousin Rose Noire would have recommended and went back to my lesson on how to determine when your iron was hot enough to be worked.

My students—five men and seven women—watched with keen interest. Even Victor. A few of them took notes, but most merely drank in everything I did and said with rapt interest and peppered me with questions.

"Okay, I think we're ready for one of you to try it," I said at last.

In my peripheral vision I could see Victor waving his hand frantically, like a first grader in dire need of a bathroom break. I pretended not to notice him. I called on one of the women and let her be the first to try hammering iron.

The morning crept along. One by one, each of my fledgling blacksmiths—even Victor—had the chance to heat an iron rod in the forge and hammer it on the anvil for a bit, while I gave helpful comments. I was a nervous wreck, trying to keep them all from hammering their hands, inflicting serious burns on themselves or their classmates, or impaling each other with the rods. When the bell rang to announce that the morning session was over and lunch was available in the dining room, I breathed a sigh of relief.

"Thank you, class. We'll reconvene at two this afternoon."

As the students filed out, I busied myself with tidying the studio and getting things ready for the afternoon session.

"Ms. Langslow?"

"Just Meg," I looked up to see three of the women students clustered in the doorway. "We're pretty informal here at Biscuit Mountain."

"Would you like us to save you a place at our table?"

They looked so eager. Suddenly, I found myself remembering how in high school who sat at your table during lunch period could make or break your social standing. Back then I didn't recall anyone soliciting my presence with such fervor. It made a nice change, and I wished I could oblige them. Maybe later in the week.

"Rain check?" I said aloud. "Because I have no idea if I'll make it to the dining room for long enough to sit down and eat today—always a lot of administrative stuff to do on the first day of a session. But if I do get there, I'll look for you and pull up a chair."

"Great!" "Hope you can make it!" "Okay!"

They hurried off, smiling.

"What's up?" My friend Amanda Walker was standing in the doorway, resplendent in an African tribal-print dress that I suspected was her own design. She was teaching weaving this week in the fiber arts classroom across the hall. "I thought mingling with the students was part of the job."

"It is, and you should go and mingle," I told her. "I'm going to go around and check on all the studios and classrooms and meet with my grandmother briefly before I go to lunch. Where I, too, will mingle if there's anyone still there to mingle with."

Instead of heading for the dining room, she stepped into the studio and shut the door.

"I will," she said. "But first, since there aren't any students here at the moment, you want to fill me in on whatever problem it was you were trying to hint at last night? Because after the long drive up here from North Carolina, I was too exhausted to figure out what the heck you were talking about."

"Sorry," I said. "I should have just waited till this morning to tell you. Last week we had some problems with vandalism."

"In the studios?" She sat on one of the benches that formed the tiny classroom area at one end of the studio.

"Mostly in the studios." I perched on the next bench. "For example—someone left a bunch of windows open one night in the room the watercolor class was using." We both glanced over at the huge wall of nearly floor-to-ceiling windows that made the studios such wonderful work spaces. "And the rain that blew in ruined a bunch of very nice student paintings."

"Could have been an accident." She frowned as she studied the windows. "Whoever was working in there last could have opened them to get the breeze."

"Yes, but Cordelia and I knew the thunderstorm was coming. We made sure all the windows were closed before we went to bed. They were definitely closed at midnight, and yet at six a.m. we found the ones in the watercolor studio wide open and the whole room was soaked."

"Damn." She shook her head so all the little bells woven into her long cornrow braids tinkled, their cheerful sound at odds with the somber tone of our conversation. "And here I thought this was going to be a peaceful, restful week."

"We're hoping it will be," I said. "So far, nothing has happened this week. With any luck, whoever did it was only here for last week's classes. So lock up anything it would break your heart to have stolen or broken, keep your eyes open, and try to have a nice time anyway."

"You don't ask much," she said. "I was going to skedaddle over to the dining hall, but I think I'll go back and tidy up my studio first. And maybe lock it up till the afternoon session's about to start."

"Good idea." I wished more of the instructors would get the point this quickly.

"By the way." She had stopped with her hand on the doorknob. "Is it true that you gave up your room here in the inn to me? Please tell me it's because you and Michael found someplace even better. Or since I seem to have your dad and your grandfather down the hall and your cousin Rose Noire next door, maybe the room was a little too close to family?"

"More a case of being too far from the family we needed to be near," I said. "Did you see the painted Gypsy caravan out back?"

"I did indeed," she said. "If someone's teaching a class about making one like it, I just might abandon my students to enroll."

"It belongs to a friend of ours—Caroline Willner, who runs the Willner Wildlife Refuge. She's here this week helping Grandfather with the nature photography class. When the boys saw the caravan, they begged to sleep in it, and Caroline jumped at the chance to move into a room with real plumbing."

"So now you and Michael are sleeping with the boys in the caravan."

"Actually, Eric, one of my nephews, is sleeping with the boys in the caravan," I said. "We drafted him as babysitter for the summer—in addition to serving as Michael's intern for all the children's theater classes. He's a busy kid. But even with him there we were a little nervous about having the boys so far away, so Michael and I are in a tent near the caravan. Away from the main campground, but still—a tent."

"I'll be sure to thank Ms. Willner for tempting the boys with that caravan," Amanda said. "And if you change your mind about sleeping in the tent—"

"We wouldn't try to kick you out."

"And you wouldn't succeed if you tried." She shook her head and chuckled. "But you'd be welcome to lay out your sleeping bags in my studio. You could guard my stuff."

"If we change our minds about the tent, we'll lay out our sleeping bags in my studio, to guard my stuff." I put on my sternest expression, which only made her giggle.

"You're no fun," she said. "Well, I'd better go do what I can to protect my studio. Later."

I went back to doing the same thing in my own studio and then made a quick trip up and down the hallway. There were six huge studios on this floor, three with a view of the front lawn and three overlooking the valley over which the center was perched. I peeked into all the rooms—at least the ones whose doors were open. Several of the instructors had locked up for lunchtime—probably, apart from Amanda, the ones who'd survived the previous week's incidents. Gillian Marks, the returning pottery instructor, was eating lunch in her studio. She glanced up with a frown when I peeked in, and then, recognizing me, waved and returned to her sandwich and her book. Ever since the vandal had turned up the temperature in her kiln, ruining a lot of nice student pots that were firing overnight, she'd been diligent about guarding or locking her studio.

Baptiste Deshommes, Grandfather's staff nature photographer, had locked his studio. I didn't have to nag him—not after the vandal splashed half a dozen of his best twenty-by-thirty-inch photo enlargements with a mixture of soy sauce and ketchup.

Valerian Eads, the returning leatherworker, hadn't been a victim, but he'd been methodical about locking up even before the incidents began.

The door to Edward Prine's studio was standing open, as usual. Even after the vandal had splashed red paint all around his studio, ruining one of his paintings along with a lot of his students' work, Prine had continued to be careless about locking up. Unless he, like Gillian, was eating in his studio. I stuck my head in to find him standing, brush in hand, frowning at a canvas and running his free hand through his disheveled mane of gray-streaked hair. Difficult to say whether he really was so absorbed in his art that he didn't notice me or whether he was posing. Knowing him, my money was on the latter. And it was probably a good thing if he painted through the lunch break. Prine considered himself quite a ladies' man, and unfortunately seemed oblivious to the distinction between flirtation and sexual harassment. The dining hall was always more peaceful without him.

Nothing seemed amiss in any of the studios, so I hurried downstairs and did a quick inspection of the three studios there—only three, because we considered natural light a prerequisite for a proper studio. The rooms on the valley side had light, but we'd set up the equally large rooms built into the side of the hill as storage rooms—storage rooms plus my grandmother's office. Everything was in order and locked up tight, so I dashed into Cordelia's office.

She was sitting at her desk with a plate in front of her, waving a forkful of lettuce at Grandfather and Dad. Dad was munching away at something from his own plate, which held Caesar salad, some slices of roast chicken, and some crusty French bread with butter. Grandfather paced up and down, occasionally snatching a bit of food from Dad's plate. From the look of relief that crossed Cordelia's face when I walked in, I suspected my diplomatic skills were needed.

"There you are, Meg. I had Marty send up lunch. For three, actually," she added, glaring at Grandfather.

"I'm not staying to eat," Grandfather said, through a mouthful of chicken.

"Looks as if Marty sent enough for ten, as usual," I said. Playing referee for Grandfather and Cordelia was turning into a full-time job.

"Your father tells us he may have spotted our first incident of the week," Cordelia went on.

So much for our hopes that the vandal was gone.


Copyright © 2017 by Donna Andrews
We hope you are enjoying the book so far. To continue reading...
Gone Gull
Donna Andrews
Copyright © 2023 All Rights Reserved
Also in this series
Also by this author