December Heart
He is her last chance to marry. She is his first chance to fall in love.
Book info
Sample
Audiobook
Media
Author updates
Lists
Synopsis
At twenty-seven years old, Mariah Travers has become what she most feared—a spinster and a perpetual adolescent in the eyes of her family and the law. But her fortunes change when her father announces that he has promised her hand in marriage to an old friend and colleague in the House of Lords. Lord Peter deVere, Earl of Dunsford, is not at all who Mariah imagined marrying, but she is willing to take a chance on the older man in order to gain the freedom that only married women are allowed.
After a tragic marriage that stretched on for two decades, Peter is hesitant to marry again. But he needs an heir, or else his dastardly nephew, Lord William, will inherit everything he's worked his entire life to build. But when he meets Mariah, sparks fly that neither of them expected. Their unlikely match stands a chance of giving each of them all the things they never realized they needed.
But trouble abounds when the mine that has provided Peter with his fortune is exhausted and the search for new veins of copper begins. On top of that, Lord William isn't about to stand by and watch his inheritance disappear. His efforts to drive a wedge between Peter and Mariah cause havoc and heartbreak at Starcross Castle, which will take an act of heroic devotion to overcome as Peter sets out to prove that true love is ageless.
Narrated by the author.
PLEASE BE ADVISED – Steam Level – Very Hot!
If you would like to read about events leading up to December Heart, check out A NEW LIFE, part of the West Meets East series, available now.
Release date: January 26, 2018
Publisher: Merry Farmer
Print pages: 302
* BingeBooks earns revenue from qualifying purchases as an Amazon Associate as well as from other retail partners.
Listen to a sample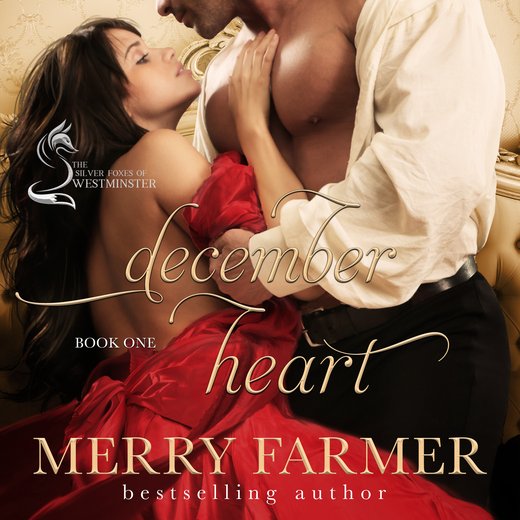 08:29:27
233.22 MB
9781987170641
May 9, 2019
Merry Farmer
December Heart
Merry Farmer
Chapter One
Aylesbury, Buckinghamshire – May, 1879
May was the most beautiful month in the English countryside. Everyone said so. Meticulously tended gardens and sprawling, wildflower meadows alike glowed with fresh, colorful blooms. Trees stood tall, at their peak of green. Fragrant breezes blew from the budding fields into quaint and cozy villages. Neighbors seemed to be at their cheeriest, greeting each other with smiles and jovial conversation in the lanes between tiled cottages and thriving businesses.
But while everyone else was brimming with summery satisfaction, Mariah Travers bristled with unease. Every new spring ticked by as if scolding her. Each change of season and turning of the year pushed her further and further away from any hope of being her own woman, and deeper and deeper into spinsterhood. That fate wouldn't have been so terrible on its own, but being an unmarried woman past a certain age carried frustrating consequences with it.
"Ooh, Mariah! Look over there." Mariah's younger sister, Victoria, squealed and grasped Mariah's arm as the two of them passed through the center of Aylesbury on errands.
"What am I looking at?" Mariah asked. All she saw was the usual row of shops with goods displayed in the window, old Mrs. Murphy rushing the parcel of farm children she taught for pennies down the street, and a trio of young men in red army uniforms chatting on the corner outside the pub.
"No, don't look," Victoria giggled, tugging on Mariah's arm as one of the officers glanced up and smiled.
Mariah was tempted to roll her eyes, but Victoria was only nineteen and had recently discovered that gentlemen's heads were easily turned by a fetching smile and a shapely figure. Mariah remembered all too well the sense of power that awakening had sparked in her, and felt far too keenly that her own power had died. Died along with Robert, God rest his soul.
"Quick." Victoria shifted from clutching Mariah's arm to holding her hand. "We should cross to the other side of the street so that we walk past them."
"But MacTavish's Books is on this side of the street," Mariah argued.
"It doesn't matter. We should talk to them. They're ever so handsome."
Victoria was already doing more than talking. Her smile grew wider by the moment as the three officers studied her, whispering amongst themselves. Mariah was quick to note that all three of them had their sights set on her sister. After the initial look, not one of them spared a glance for her.
"Victoria," she said, a wry note to her voice, "show some propriety. Even attractive officers prefer that young ladies not display themselves as if—"
"They're coming this way," Victoria gasped, ignoring everything Mariah said. "Oh. Oh my."
Victoria dropped Mariah's hand so that she could pinch her cheeks and smooth her skirt where it hugged the curve of her hips before flaring at her knees. Mariah had her doubts about the current fashion of tight-fitting skirts—mostly because it made walking with a long, purposeful stride impossible—but seeing the way her sister used the style to show off what she shouldn't to a group of strange men made her cheeks burn hot.
"Ladies."
They crossed paths with the officers at the intersection, across from the pub. All three of the young men seemed eager to make Victoria's acquaintance, grinning and bowing.
"Good afternoon," Victoria greeted them, batting her eyelashes.
With an inward sigh, Mariah shot a look of longing past the officers to the bookstore. "Gentlemen." She acknowledged the men with a polite nod.
"We were just speculating," one of the officers with blond hair and a thick moustache began, "what sort of errand two such lovely young women would be on this fine afternoon."
Victoria giggled, blushing prettily. But then, everything Victoria did was pretty. "My sister and I were on our way to the bookstore."
"Sister?" Another of the officers with dark hair and eyes peeked at Mariah.
She knew in an instant what the man must be thinking. Victoria was youthful and fair and dressed in pink, while Mariah was gathering dust at the age of twenty-seven, brunette, and wearing purple to represent the end of a long period of mourning.
Victoria failed to see the subtle inquiry in the man's eyes. "Yes," she said. "This is my sister, Mariah, and I am Miss Victoria Travers." Bold as brass, she held out her hand for the three men.
Mariah ached with embarrassment at her sister's forwardness. They hadn't been formally introduced to the men, and although they were on the verge of the modern eighties and not the fussy twenties, Victoria's move was beyond the pale.
"It is a delight to meet you, Miss Victoria." The blond officer took her hand and kissed it. "I am Col. Nigel Scott."
"And I'm Lt. Gordon Banfield," the dark-haired man said, taking her hand from Col. Scott.
"I'm Lt. Walter King," the third man, smaller than the others, but stockier, took her hand last.
Col. Scott blinked and turned to Mariah. "Miss Travers." He nodded.
Mariah fought to keep her smile in place. It shouldn't have hurt to be placed as second-best to Victoria, but there was a time when impetuous young men like these officers had rushed to make her acquaintance as well. Robert certainly had. But Robert was gone now, and with it the bloom off her rose.
"It is a pleasure to make your acquaintance, gentlemen," Mariah said, taking Victoria's hand when Lt. King let it go. "But if you will excuse us, my sister and I have quite a lot to accomplish today."
"Mariah." Victoria laughed, scolding in her eyes. "We couldn't possibly be so rude as to leave these kind men mere moments after making their acquaintance."
"Of course not," Lt. Banfield said with a wink.
Mariah arched a brow, instantly distrusting the gentlemen's motives. Particularly as two out of the three of them seemed more interested in Victoria's breasts than the conversation. Papa would beat all three of them within an inch of their lives, in spite of his age, if he saw the way they were behaving.
"That may be the case," Mariah went on. "But it is inadvisable to strike up a conversation with men to whom we have not been introduced by a trusted friend."
"Mariah," Victoria hissed, no longer trying to pretend she wasn't irritated.
"Tell us who your friends are and we'll get them to do all the formal stuff," Lt. King said.
"Well," Victoria began. "We're friends with—ouch!"
Mariah tugged her sister away from the officers, more certain than ever that they were up to no good, and that Victoria didn't have the slightest sense of danger.
"That was unspeakably rude," Victoria hissed as Mariah rushed them along the street and into MacTavish's Bookshop. "They were only trying to talk to us."
Mariah sighed, glancing out the window to make sure the men hadn't followed them. Sure enough, they crossed the street and entered the pub. She turned to Victoria. "My dear, a handsome face does not make for a handsome character."
"Maybe not," Victoria said, crossing her arms, "but you haven't smiled at a single man since Robert died." Her expression softened to concern beyond her years. "It's not good for you."
Guilt clenched Mariah's gut, but she couldn't let affection for her sister cloud the fact that Victoria was a poor judge of character. "Papa and Mama would be beside themselves if they saw you flirting with strange men in the street."
"I wasn't flirting," Victoria insisted. Her face instantly pinched in guilt. "Much. You hardly gave me a chance." Mariah fixed her with a hard stare. "And besides," Victoria went on, brimming with restless energy. "How am I supposed to meet any eligible men if you keep yanking me away from every prospect that comes through town."
"You don't know if they were eligible," Mariah told her. "And you'll have plenty of opportunities to meet suitable men through the appropriate means. You're only nineteen."
"You were only twenty when you got engaged to Robert," Victoria snapped. "Oh." She clapped a hand to her mouth, cheeks going pink with embarrassment. "I'm sorry, Mariah. I didn't mean to—"
"It's all right," Mariah sighed, moving away from the window. "I wish you all wouldn't be so anxious about mentioning Robert around me." She headed toward the counter near the back of the shop's front room.
"Yes, well, it's been five years since Robert died, but you're still…." She gestured to Mariah's dress.
"Purple suits me." Mariah said with a shrug. It did, but that wasn't the reason she continued to wear mourning for a fiancé who had died a fortnight before their wedding. It was easier for everyone in Aylesbury to see her as the grieving sweetheart beset by tragedy than to know that she was a slighted spinster whose fiancé had run off with a milkmaid, only to be struck by a speeding carriage in the middle of his flight. And for the sake of her own pride, it was less humiliating to think that every man from Aylesbury to London stayed away from her out of respect for a beloved, fallen friend than because she'd been stuck with a reputation for being frigid.
"Ah, Miss Travers, Miss Victoria." Mr. MacTavish greeted them as they approached the counter. "What can I do for you today? I have some lovely books of devotional stories you might be interested in."
Victoria turned up her nose and made a sound of disgust before being distracted by a stack of new, French fashion periodicals.
"I've been told that you have the new book of poems by the American, Walt Whitman, in stock," Mariah said, resting her hands on the counter and smiling.
Mr. MacTavish's smile turned from welcoming to condescending. "Now, Miss Travers. You know I can't sell you that book."
"What?" Mariah blinked. "Why ever not?"
He chuckled lightly, as he would to a child. "I think you know why."
"No," she insisted. "I do not."
Mr. MacTavish sighed. "The poetry of Mr. Whitman isn't appropriate for ladies such as yourself."
"I'm sorry?" Mariah blinked rapidly, shaking her head. "You've never had any trouble selling me books of poems before."
"Well, yes. There's nothing untoward in the poetry of Matthew Arnold or Tennyson," Mr. MacTavish explained.
"And there's nothing untoward about Whitman either," Mariah insisted.
Again, Mr. MacTavish chuckled as though she were an ignorant and foolish child. "I'm afraid you'll find that you're wrong about that assumption, Miss Travers."
Irate prickles raced down Mariah's back. "I'm wrong?" she asked, teeth clenched.
"You know full well that I cannot sell inappropriate reading material to unmarried women," Mr. MacTavish said.
"My marital state has nothing to do with my ability to read and appreciate poetry, Mr. MacTavish."
"But I would not be a responsible bookseller if I allowed such incendiary material into your hands, my dear."
Frustration boiled through Mariah. "It's a book, Mr. MacTavish. A single, solitary book. Surely the world will not fall apart if I read one book of poetry."
"I'm sorry, but I wouldn't be able to sleep at night knowing that I put reading material of that nature into the hands of an unwed woman."
The worst part was, he was sincere in his beliefs about what Mariah should or shouldn't be exposed to. As much as it made her want to stomp and shout, and as much as it twisted her stomach, Mr. MacTavish honestly believed he was doing the right thing.
"Perhaps you could have your father come in and purchase the book for you," Mr. MacTavish suggested. "I would feel right selling it to him, and if he deems it suitable to pass the book along to you, then so be it."
"No, thank you, Mr. MacTavish," Mariah said, amazed that steam wasn't pouring out of her ears. "Come along, Victoria."
"Oh, but I'd like to buy this magazine," Victoria said, placing the periodical on the table.
"Yes, indeed, Miss Victoria." Mr. MacTavish smiled at Victoria with an indulgent happiness that brought Mariah to the edge of tears.
It was like looking through a glass and seeing the woman she had once been. The world was wide open to the young and pretty who didn't have a single ambition in their head beyond attracting a handsome mate. Mariah wished with all her heart that Victoria would find and secure that mate as soon as possible. Nothing was worse than the perpetual adolescence of a single woman left on the shelf. It wasn't just books of poetry. She could hardly go anywhere without her father's approval and a chaperone. At balls and parties, she was expected to stay seated at the edges of the room with the widows so that the younger ladies had a chance. And all because of the curse of having been born a female and having once failed at marriage.
"Come along," she said, holding the shop's door open for Victoria to walk through while leafing through her purchase. "If we hurry, we can still make it home while Mrs. Wentworth's tea cakes are warm."
"Mmm. I love it when the tea cakes are fresh from the oven," Victoria said with a grin and a lift of her shoulders. "The butter melts divinely."
Mariah tried to share her sister's smile, but her heart wasn't in it. It was a glorious thing to have no other cares than whether the butter melted at tea or not.
"It's a shame that Mr. MacTavish wouldn't sell you a silly book," Victoria said when they were halfway home, walking amongst the larger houses inhabited by the more prosperous inhabitants of Aylesbury. Mariah was surprised that she'd been paying attention at the shop.
"It's nothing," she sighed, feeling as though, in fact, it were a very large something indeed.
"I don't know why you care so much about books anyhow." Victoria shrugged. "Not when there are handsome officers in town. I bet someone will throw a ball soon and they'll be invited. Ooh! A party would be just the thing right now. Ever since seeing this illustration here, I've wanted to remake my green dress in this style." She held open the page for Mariah to see.
"Ever since?" Mariah arched a weary eyebrow. "That long, eh?"
Victoria completely missed her sarcasm. She continued to chatter away about frills and flounces, skirts and bodices, and all of the things Mariah had once cared about but left by the wayside.
Her spirits were as flat as a platter by the time they reached home, which was why it came as such a surprise when her mother greeted them in the hallway with, "Mariah, your father and I would like to speak to you right away in the office."
"Papa's up?" Victoria asked, bursting into a smile.
Their father, Sir Edmund Travers, had been away in London, attending Parliament, and had only just returned home late the night before. As a respected member of the House of Commons, his duties to country usually came before his duties to family, so it was an unexpected treat when he was there to lavish much-craved affection on his wife and daughters.
"Yes," their mother answered. "And we have something most exciting to talk to you about."
"Me?" Mariah exchanged a look with Victoria.
"Yes, you, dear. Now come along." Their mother hooked her arm through Mariah's and tugged her away, down the hall to her father's office.
"Tell me everything when you're done," Victoria whispered after them.
Mariah was too startled to reply, and before she knew it, she was standing in front of her father's desk as her mother shut the office door.
"Mariah, my dear heart," her father said, getting up as though he sat on a spring and coming around the desk to hug her. "My dear, sweet girl."
"Papa." Mariah hugged him back, soaking in every bit of the rare and wonderful hug. Suddenly, none of the frustrations of the afternoon mattered a bit. Her irritation was gone, and all she could feel was affection for her father.
"Now, Poppet," her father said, letting go of her at last. Mariah didn't even mind that he used the term of endearment he'd used when she was a tiny girl. "Let's sit down and have a chat. Your mother and I have something exciting to discuss with you."
Mariah glanced to her mother, whose hands were clutched to her heart in expectation. On top of that, she looked near tears.
"What's going on?" Mariah asked. "Is something wrong?"
"No, no. Far from it."
Rather than gesturing for her to sit in the chair in front of his desk in a businesslike manner, her father guided her to the long, leather sofa near the fireplace, his arm around her waist. Her mother came to sit on one side of her as her father sat on the other.
"I just want you to know that I'm very happy about this," her mother said. "And your father has my full support."
"Full support for what?" Mariah asked, half laughing, half crawling out of her skin with impatience.
Her father took a breath, then shifted to face her. "My dear, I've found a husband for you."
Mariah blinked, convinced she hadn't heard her father right. "I beg your pardon."
"I've found a husband for you," her father repeated as though the Queen had given him a medal.
Mouth open, Mariah turned to her mother. But where she'd been expecting confusion equal to her own, Mariah found only wide-eyed excitement. Her mother nodded enthusiastically and gestured to her father.
"You've found me a husband." Mariah blinked. "I didn't know I was looking for one."
"Well, you might not have been looking," her mother said, bearing a sudden resemblance to Victoria. "But all women need husbands. And we've been so concerned for you since Robert died."
"Yes, yes. Terrible business, that." Her father flushed and looked embarrassed.
"Besides, darling." Her mother rested a hand on Mariah's knee. "The life of a spinster doesn't suit you."
Mariah let out an undignified grunt of total agreement before she could stop herself. It was a little embarrassing to have what she knew so well pointed out to her, though. And by her mother.
"But…." She squirmed in her seat, glancing from mother to father. "How did this come about? It's not the Middle Ages, after all. Fathers don't simply go out and procure husbands for their daughters anymore."
"No, of course not," her father said, then burst into a smile. "It was a happy bit of coincidence, actually."
"Oh?"
"Yes, do tell the story, Edmund," her mother said with a girlish gleam in her eyes. "It's such a lovely story."
"Well," he said, "it all started about eighteen months ago—"
"Eighteen months?" Mariah shook her head. "And you're just telling me about it now?"
"About eighteen months ago," her father repeated, with more emphasis, "a good friend of mine, Lord Peter deVere, expressed to me his wish to remarry."
"Oh?" Mariah searched her memory, but she couldn't remember her father ever mentioning a Lord Peter deVere before.
"Yes," her mother added. "His first marriage is such a tragic story."
Mariah pressed her lips together. No doubt her father had seen her romantic past as tragic as well and felt she and Lord Peter had something in common.
Her father held up a hand to brush her mother's interruption away. "Peter is a trusted friend, and his first wife, Anne, died without giving him an heir. I took the liberty of mentioning you, Poppet, and of putting you forth as a candidate to provide him with that heir."
"Papa!" Mariah pressed a hand to her suddenly hot face. "Please tell me you didn't present me to this man as breeding stock."
"No, no." Her father's brow furrowed, then his eyebrows popped to his hairline. "Oh dear, no. I didn't mean it like that at all."
"Thank heavens." Mariah pressed a hand to her thumping heart. She winced slightly and asked, "How did you say it?"
Her father shrugged. "Peter mentioned he needed to remarry. I said I had a daughter who would make a good wife."
Mariah bit her lip, not sure that was much better. "And he said…what?"
"He said he'd be interested in meeting you," her father said.
Mariah searched her memory once again, scrambling to remember if she had ever met anyone who might even remotely be the man her father was talking about. She'd had a season in London before Robert declared his intentions, but after his death, she'd stayed far away from town. She remembered quite a few young men, but her father's friends tended to be older. He was particularly close with a group of men who had served with him in the Crimean War, but that was ages ago. All of those friends served in either the House of Commons with him or the House of Lords, and Mariah had met them so few times that she couldn't match the bits and pieces of names she remembered to faces.
She shook her head, bringing herself back to the present. "If that conversation was eighteen months ago, why am I only hearing about it now?"
"Well, er…." Her father cleared his throat. "I may have mistaken the seriousness of Peter's intent for a while. Apparently, he warmed to the idea of marrying you right away and, uh, has had his heart set on it for all this time."
"But you didn't tell me?" Mariah wasn't sure whether to be offended or to laugh at the ridiculousness of it all.
"Your father is a very busy and important man," her mother reminded her. "He and his colleagues are engaged in a valiant struggle in Parliament to increase the rights of women throughout the country."
It was true. Her father was well known as a champion of property and personal rights for women in Great Britain. He and his friends were hard at work writing a bill that would extend a variety of legal protections to women—married women, that was—which they currently didn't have.
"But surely you could have found time to inform me that a man had determined to marry me, Papa," Mariah said.
"I wasn't aware of his level of intention," her father defended himself, red-faced with embarrassment.
"When did you become aware of it?"
Her father hesitated, cringed, then answered, "Three days ago."
"Three days?" Mariah nearly leapt from the sofa in alarm. "You found out three days ago that this friend of yours was serious about marrying me?"
"Yes." At least her father had the good sense to look sheepish. "The timing was my oversight entirely. But that doesn't mean I don't approve of the match. On the contrary. Peter is as fine a man as any woman could hope to marry."
"He is," her mother agreed. "I've met him. He's a kind and generous soul."
"But I don't know him," Mariah argued.
"Precious few women truly know their husbands before they are married," her father blustered on.
Mariah could have argued with him. Times had changed from when he and her mother were young, after all. But before she could form an argument, her mother blurted. "He's an earl, Mariah. The Earl of Dunsford. You would be a countess." She beamed with glee.
Mariah was speechless. She'd never been the sort to hunger for things like titles and wealth. All she needed to survive in life was a modest home and the freedom to read what she wanted to without being treated like a child. But to suddenly be offered the title and life of a countess? It didn't seem real.
"Peter has a lovely estate in Cornwall," her father explained. "Part of the property is on the English Channel, but the majority of it is inland. The deVere family have made their fortune through mining these last few generations. And Starcross Castle is listed as one of Southwestern England's most beautiful manor houses.
"Starcross…Castle?" Her last word came out as a squeak.
"I can picture you as the mistress of a castle," her mother said, clasping her hands to her heart.
Mariah's brain felt as though it were working through molasses. It was utterly impossible that an earl would appear out of nowhere, wanting to marry her and make her mistress of a castle by the sea. Her, poor Mariah Travers, forgotten and rejected, and on the verge of permanent spinsterhood. The notion of being pursued by a wealthy earl was ridiculous.
"When—" Her voice cracked, so she cleared her throat and started again. "When will I have a chance to meet Lord Peter?"
"Ah. Well." Her father shifted and tugged at his collar. "The thing is, he's coming tomorrow."
"Tomorrow?" Mariah's eyes went wide.
"Yes, and he's under the impression that the two of you will be married this Friday."
"This Friday?" Mariah could only gape for a moment before asking, "Why is he under that impression?"
"Because that's what I told him," her father confessed with a sigh, his posture slipping. "But if you don't want to marry him, I can call the whole thing off and send him on his way."
"But darling." Her mother grasped her arm, looking at her seriously. "You won't get another offer of marriage after this."
The room went silent. Mariah licked her lips, staring at her mother. The instinct to contradict her made a weak attempt to assert itself, but quickly withered. Her mother was right. At her age, it was unlikely enough that she would receive another proposal. But considering that almost everyone of their acquaintance knew she hadn't been good enough to keep Robert interested, the choice before her wasn't much of a choice at all. She could either marry this friend of her father's, whom she didn't know, or she could continue with her life of perpetual childhood, never fully admitted to adult society. It was a choice between freedom and the unknown or a lifetime of sameness.
"All right," she said, her voice barely more than a wisp.
"All right?" her mother asked.
Mariah glanced between her mother and her father. "I'll marry your friend, Papa," she said. "I'll marry him Friday."
"Excellent, Poppet." Her father let out a loud breath of relief and pulled a handkerchief from his pocket to mop his brow. "You had me worried for a moment there. I don't know what I would have told Peter if you'd said no."
"You won't have to tell him anything but yes, yes, yes," her mother said, giggling with joy. "Oh, this is wonderful," she sighed. "My daughter, a countess. And this means that you will be able to introduce Victoria to suitable, titled gentlemen as well."
"One thing at a time, Mama," Mariah said, cracking a smile at last and resting a hand on her mother's knee.
She probably would have an opportunity, as a countess, to introduce Victoria to a better class of men than she currently seemed drawn to. And it would be a formidable challenge to administrate a castle, as would be her duty. And providing Lord Peter with an heir? Well, she would worry about that particular duty when she had to, and not a second sooner.
Chapter Two
Hope was a sentiment Peter deVere had given up on more than a decade ago. Hope led to expectations, and when those expectations weren't met, it led to disappointment. And, at fifty, Peter was tired of being disappointed. He was tired of chasing dreams that never became reality, and he was tired of picking up the pieces of hearts that had been broken, especially his own. He was just tired.
So when the carriage his friend Edmund had sent to pick him up from the train station rattled along the sunny streets of the idyllic English village, past cottages with window boxes bursting with flowers and small, thriving businesses, he focused on the scenes around him, not what awaited him at Edmund's house. A group of children chasing a goose in the yard beside one of the cottages caught his eye and made him smile, but he was quick to tamp down the hope that by this time next year, he would have a child of his own to love and indulge. His expectations of a child had been disappointed so many times now that even such a joyful sight as children playing pierced him with pain.
He turned away from the carriage window, cleared his throat, and rolled his shoulders to shake some of the stiffness of travel from his limbs. He wouldn't let himself hope, but he could list the facts. Edmund's daughter was of child-bearing age. She was not Anne. And Anne's fifteen miscarriages had proven that he was, in fact, capable of siring offspring. It was not hope, but rather statistics which said that this time, things would be different.
That didn't stop the mantle of weariness from pressing down on him, though. This time could be different, but what if it wasn't?
The carriage slowed before turning into a half-circle drive in front of a moderately large house. Edmund did well for himself, but he was known for being frugal. His Aylesbury house looked comfortable, its gardens well-tended, and the footman that scurried to open the carriage door for him disciplined. But it wasn't the outer trappings of Edmund's prosperity that sent a jolt of wariness straight to Peter's gut. It was the neat, happy line of people waiting to greet him—Edmund, his wife Emily, and their two daughters. The younger was spritely and fresh, but it was the older daughter, his fiancée, that captured his focus.
Mariah Travers looked younger than he imagined she would. Her oval face was lovely, with shapely lips and warm, brown eyes. She was a bit pale, but a healthy flush painted her cheeks. The purple dress she wore was fashionable and suited her coloring. She looked a bit nervous, which was unsurprising, considering the circumstances.
As soon as the footman had the steps in place, Peter cleared his throat again, brushed his fingers through his hair—he should have had it cut before coming, as curls on a man of his age were ridiculous and only emphasized how white it had become—straightened his jacket, then stepped down to face his future.
"Thank you," he murmured to the footman, then drew in a breath and started toward Edmund.
The girls looked right past him, still watching the carriage expectantly. Peter's heart sank in an instant.
"Where is he?" the younger daughter—Victoria, if he remembered correctly—asked. She frowned at the empty carriage, then turned to him. "Are you Lord Peter deVere's father?"
The sinking feeling in Peter's gut expanded to dread. "No," he answered, painstakingly polite, with what he hoped was an apologetic smile. He shifted that smile from Victoria to Mariah, hoping, praying she would forgive him for being old.
"Ah, Peter." Edmund stepped forward to greet him, more flushed than usual. His glance darted anxiously to his daughters as Victoria gasped. "Such a pleasure to see you've arrived in one piece."
"Edmund." Peter nodded and took his friend's hand. A shake wasn't enough for Edmund, and Peter found himself drawn into an embrace. It gave him the split-second he needed to study his intended before having to face her directly.
Mariah's eyes had gone wide with surprise, and her blush deepened, but it was clear as day that he was not what she was expecting. Not by a long shot. Hope, once again, had descended into disappointment. Only this time, he was the disappointment.
"You remember my wife, Emily." Edmund let go of him and stepped back, gesturing to his wife.
"It's such an honor to have you in our home, my lord," Mrs. Travers greeted him with warmth that bordered on adoration.
"Please." Peter shook his head slightly. "Under the circumstances, Peter will do."
"Oh no," Mrs. Travers protested. "You are an earl. It must be 'my lord'."
Peter tried not to wince. "As you wish, madam."
"And these are my daughters," Edmund went on, gesturing to the young women. "Victoria is my youngest, and, of course, this is Mariah." He smiled at Mariah with a pride that Peter found admirable.
But before Peter could do more than make fleeting eye-contact with Mariah, Victoria burst out with, "He's ancient!"
Mrs. Travers gasped audibly. Panic flooded Edmund's eyes. But Mariah's reaction was the only one Peter cared about. Her reaction determined the course of the rest of his life. And she merely pressed her lips together, flushed harder, and glanced down in embarrassment. Peter had no idea if that embarrassment was for her sister or because of him.
"How do you do?" He fell back on the manners that had been drilled into him, both by his strict father and by his years of military service, standing straight and bowing crisply. Every nerve in his body was taut, until Mariah glanced up through her thick lashes and met his eyes. His heart thudded against his ribs, and he managed a smile.
"I'm quite well," she answered, bobbing an awkward curtsy, as if she weren't sure how she should be greeting him.
It wasn't the most passionate or smooth meeting of future spouses that had ever occurred, but at least it wasn't a total disaster. At least it wasn't—
"You can't marry him," Victoria whispered to her sister. She hid behind her hand, but her eyes remained locked on Peter, and she wasn't quiet enough. "He's an old man. He has white hair."
"Victoria, hush," Mrs. Travers snapped at him.
"But Mama, she can't," Victoria went on, trying not to move her mouth as she spoke. "She just can't. He's all wrinkled." She smiled politely at Peter, unaware that he'd heard everything she'd said.
He shouldn't have let the indelicate observations of a girl barely out of the schoolroom affect him, but he was only human. He squared his shoulders, trying to ignore the pang of self-consciousness squeezing his stomach. Time was the enemy of all men, but he'd thought he'd done well fighting it. He stayed active and had kept his physique from turning soft, but he was well aware that he had lines around his eyes, and there was no denying his white hair.
"I can assure you, neither of my feet are in the grave," he replied, praying that his attempt at humor wouldn't make things worse.
Victoria snapped her mouth shut and blushed, embarrassed to have been overheard after all. Better still, a hint of a smile tugged at the corners of Mariah's lips.
"Of course not," Mariah said. "And please forgive my manners. It's a pleasure to meet you." She held out her hand.
Peter stepped forward and took it. The moment meant everything, and he struggled to know how to handle it. Should he pretend familiarity with her, since they were engaged? Should he show respect and keep his distance, or would that come off as too cold? Was she as repulsed as her sister, and if she was, could he, in good conscience, make her go through with the wedding? If they didn't wed, then what would he do?
All of those thoughts struck him within the instant it took to raise her hand to his lips and to meet her eyes. It was perhaps too formal and old-fashioned a way to greet a modern woman, but he had to use every tool at his disposal to prevent Mariah Travers from despising him for not being younger. Because the more seconds that ticked by, the more his chest ached with that devil hope, and the more he wanted this union to work out. The only hint he had that he wasn't making a complete hash of it was Mariah's smile and the kindness in her eyes. Even if that kindness had a touch of pity in it.
"Well." Edmund clapped his hands, dispelling the tension of the moment. "Now that that's out of the way, why don't we all go inside and have a cup of tea?"
"Yes, that's exactly what we should do," Mrs. Travers agreed, taking her husband's arm. They started into the house, and Mrs. Travers nodded to Mariah, indicated the way her arm was joined with her husband's, then tilted her head to Peter.
Peter caught the startled flash in Mariah's eyes at the subtle command. "We don't have to," he whispered as he stepped to Mariah's side, meeting her eyes with a conspiratorial look.
She let out a relieved breath, and the two of them continued into the house side-by-side, not touching. Victoria brought up the rear, grunting in disgust.
Two questions battled for supremacy in Mariah's head throughout tea: what were her parents thinking and what happened to make Lord Peter deVere so sad?
"Of course, it will be several years until the bill is perfected enough to come before Parliament for a vote," Lord Peter explained the legislation that he was working on in the House of Lords. It was a variation of the same bill that her father was busy with in the House of Commons, a bill that would increase the rights of women. He sat in a stiff, upholstered chair diagonal from where Mariah sat wedged between her mother and father on the sofa. "We hope to do a great deal of good for a great many people once it comes up for a vote."
"How noble," Mariah's mother said. "Isn't that noble, Mariah?"
"Very." Mariah nodded. She sincerely believed it was, but it was next to impossible to concentrate on the particulars of lawmaking—even if the law would benefit her and every other woman—while coping with the surprise in front of her.
No wonder she hadn't been able to place a face to the name Lord Peter deVere when her father had unfolded her future the day before. She had been looking in the wrong generation. Lord Peter was close to her father's age, almost twice as old as she was. Although not quite. He was undeniably handsome for a man of ripe years. Though his face seemed worn, as though he had come through a harsh trial, his features were well-formed. His jaw and brow were strong, and his eyes were a brilliant blue that spoke of wisdom and cleverness. Victoria continued to grimace at him from the chair at the far end of the sofa as though he were one of the slathering, lecherous villains in the penny dreadfuls she read too many of. But the more Mariah studied him—furtively, out of the corner of her eye while his attention was on the conversation with her father—the more she felt that there was something more to him. He was intriguing and, in his own way, attractive.
"More tea, my lord?" her mother asked, tapping Mariah's side and prompting her to do the honors.
Mariah forced herself to hide her irritation at her mother's prodding and reached for the teapot. She glanced to Lord Peter, her brow raised in a silent question.
He hesitated, then answered, "Yes, please."
Mariah smiled and picked up the pot as he held out his cup and saucer. She had the feeling he didn't actually want more tea and was just being polite. She wasn't really in the mood to serve tea herself, come to think of it. As she poured lukewarm liquid into Lord Peter's cup, highly aware that she was right under her father's nose as she did, their eyes met. The sense that they were in this strange predicament together washed through Mariah, especially when he answered her smile with one of his own.
Perhaps he wasn't so old after all. The lines around his eyes seemed to be the remnants of a thousand smiles. Those eyes were a bright, crisp blue, and full of warmth and good humor. And intelligence. In spite of the fact that her parents hadn't offered any particularly interesting topics of conversation, Mariah could see that Lord Peter was a highly intelligent man. But it was the mysterious sadness that hung around him that intrigued her the most. Her father had said Lord Peter was a widower. Had he loved his first wife? Did he miss her?
"I know that Shayles is the big obstacle on your end," her father said, still talking about Parliament and legislation, oblivious to the silent exchange between Mariah and Lord Peter. "Just like Turpin is the opponent in Commons. It'll be quite the challenge overcoming their objections to giving the fairer sex any rights at all."
"Thank you," Lord Peter said softly, then sat back with his fresh tea and turned to her father. "All I know about Turpin is that Malcolm can't stand him."
Her father snorted. "Malcolm Campbell can't stand any Tory. But neither can I, come to think of it." Her father laughed loudly.
Victoria rolled her eyes and stopped Mariah from putting the teapot down with a quick, "I'd like some too." As Mariah poured for her, Victoria made a disgusted face, her glance darting toward Lord Peter.
Mariah fixed her sister with a scolding glare and shook her head before pulling the teapot away and setting it down. As polite as Lord Peter was being, Victoria was acting like a heathen.
"Men like Shayles and Turpin won't stop our efforts," Lord Peter went on. "At least not for long. Women have every bit as much of a right to maintain ownership and control of the property they bring into a marriage as men do."
Mariah's brow shot up, and she sat straighter. "Do you think so?"
He turned, addressing her as though she were as much a part of the conversation as her father. "Absolutely. There is no rational argument as to why a woman should not keep what is hers when she marries."
Mariah smiled, surprised that a man in Lord Peter's position would hold such a view. It wasn't lost on her that a man with views like that would make a fine husband indeed, but before she had a chance to let that encouraging fact settle into her stew of thoughts, her father blurted out, "You hear that, my dear? Marry Lord Peter and you'll be able to keep everything that's yours." He followed his statement with a laugh that had Mariah's face burning hot with shame.
To his credit, Lord Peter looked equally embarrassed. That raised her estimation of him even more.
"I don't have much that I would be in danger of losing by marrying," she said, glancing from her father to Lord Peter.
"Nonsense," her mother said. "There's the annuity from my family to think about.
"Two hundred pounds per annum is hardly enough to cause concern," her father cut in. "Why, Peter here will give her two hundred a week in pocket money, I'm sure." He laughed again.
Mariah's stomach churned with humiliation, but the hint of humor in Lord Peter's eyes stopped her from dying of shame. He wasn't laughing at her father, but it was evident he knew just how boorish he was being. Considering that the two were friends, he probably knew just as well as Mariah did that her father was only making a fool of himself because he was nervous.
"My father tells me that the name of your estate in Cornwall is Starcross Castle," Mariah said, shifting the conversation away from herself.
"It is," Lord Peter answered, seeming grateful for the change. "It's been in my family for generations now. The original castle was constructed in the sixteenth century, during Queen Elizabeth's reign, although many successive generations have made changes and additions to it."
"Oh?" Mariah asked before either of her parents could derail what promised to be the first relaxed topic of conversation since they'd all been seated in the afternoon parlor.
"The central part of the house is the original Elizabethan castle," Lord Peter explained. "With renovations. But the west wing was constructed during the reign of George II, and the east wing was my father's special project. I myself had the kitchens and servant's halls remade with modern conveniences about ten years ago."
"Your staff must appreciate that." Mariah relaxed her stance, leaning subtly toward him.
"Mrs. Harmon, the cook, thanks me at every opportunity she can get," he said, his smile betraying a fondness for his staff. "Usually with pies."
"Pies?" Mariah laughed.
"Cornish pasties are a specialty in our part of the country," he explained. "Mrs. Harmon is particularly skilled at their construction. It's a wonder I don't weigh three stone more than I do." He didn't wink, but his blue eyes contained the same spark as if he had.
"You seem perfectly fit to me," Mariah said.
Victoria snorted.
"Young lady—" Her father sat forward enough to temporarily block Mariah's view of Lord Peter. "—your manners have been sadly wanting today."
"Because I coughed?" Victoria balked. "It was just a cough."
"It was not just a cough," their mother hissed, attempting to be private and failing.
"It was. I swear it was." Victoria's glance shot to Lord Peter. Mariah needed every ounce of will power not to wince at the private exchange turned public.
Their mother sighed. "Your father should have sought out a husband for you as well," she murmured, but not quietly enough. "You need managing."
"I'm sure Papa can scare up another desiccated mummy in the back benches of Parliament."
"Victoria," their mother gasped, looking as though she might either weep or launch into scolding at the top of her lungs. "Behave yourself."
"My behavior is perfectly amiable," Victoria protested, sitting on the edge of her seat. "I am the only one here with my dear sister's best interest at heart. Whoever heard of arranged marriages these days?"
"Plenty of people," their mother said
"Hold your tongue," her father said at the same time. He could have been speaking to either woman.
"We all care very deeply for Mariah," her mother said, a hard edge to her voice. "This is the last chance for marriage your sister will ever have."
"Lord Peter." Mariah stood, raising her voice to be heard above the mortification that was her family. "Would you like to see our garden?"
Lord Peter stood, setting his teacup aside. "Yes, I would be delighted."
"Right this way."
Mariah stepped around her father before he could rise, and gestured for Lord Peter to follow her out to the French doors at the far end of the room. She was shaking so hard with anger and humiliation that she had a hard time turning the key to unlock the doors.
"Allow me," Lord Peter said softly, opening the door for her. He met her eyes with a look that told her he had a few things he wanted to say, but as far as Mariah was concerned, he would have to wait his turn until she issued a thousand apologies for her dreadful family.
We hope you are enjoying the book so far. To continue reading...
December Heart
Merry Farmer
Copyright © 2023 All Rights Reserved
Also in this series
Also by this author