Tyrant: Destroyer of Cities
Available in:
eBook
Paperback
Audiobook
Hardcover
Book info
Sample
Audiobook
Media
Author updates
Lists
Synopsis
This novel in the scintillating Tyrant series brings the epic siege of Rhodes in 306 BC to spectacular life.

The death of Alexander the Great was the signal to begin the greatest war in human history - a war that swept like a firestorm from one end of the known world to the other, as his former generals fought like jackals to make his vast empire their own.

By 305 BC, the most powerful players in this deadly game faced each other across the Mediterranean: Ptolemy, the master of Egypt, and Antigonus One-Eye, master of Asia. And between them, the island of Rhodes, a strategic fortress city that neither could afford to cede to the enemy.

But trapped in the city was one man with the courage and determination to save it from destruction. A man who, surrounded by his closest friends and the woman he loved, simply could not afford to fail.

A man called Satyrus.
Release date: February 14, 2013
Publisher: Orion Publishing Group
Print pages: 400
* BingeBooks earns revenue from qualifying purchases as an Amazon Associate as well as from other retail partners.
Listen to a sample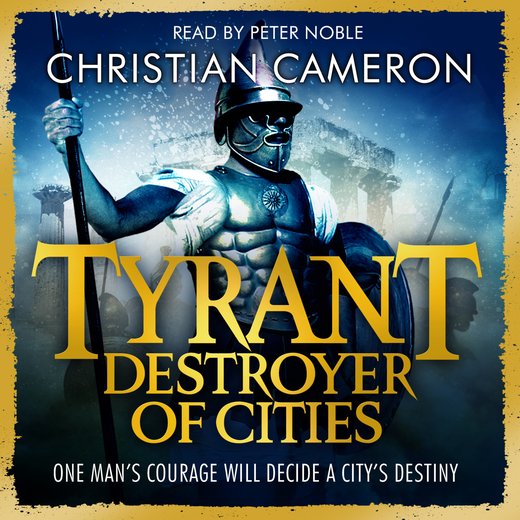 22:02:50
605.56 MB
9781409199304
January 21, 2021
Hachette UK
Tyrant: Destroyer of Cities
Christian Cameron
 

 

 

 

 

 

 

 

Airyanãm (Avestan) Noble, heroic.

Aspis (Classical Greek) A large round shield, deeply dished, commonly carried by Greek (but not Macedonian) hoplites.

Baqca (Siberian) Shaman, mage, dream-shaper.

Chiton (Classical Greek) A garment like a tunic, made from a single piece of fabric folded in half and pinned down the side, then pinned again at the neck and
shoulders and belted above the hips. A men's chiton might be worn long or short. Worn very short, or made of a small piece of cloth, it was sometimes called a
'chitoniskos'. Our guess is that most chitons were made from a piece of cloth roughly 60 x 90 inches, and then belted or roped to fit, long or short. Pins, pleating, and
belting could be simple or elaborate. Most of these garments would, in Greece, have been made of wool. In the East, linen might have been preferred.

Chlamys (Classical Greek) A garment like a cloak, made from a single piece of fabric woven tightly and perhaps even boiled. The chlamys was usually
pinned at the neck and worn as a cloak, but could also be thrown over the shoulder and pinned under the right or left arm and worn as a garment. Free men are sometimes shown naked with a
chlamys, but rarely shown in a chiton without a chlamys – the chlamys, not the chiton, was the essential garment, or so it appears. Men and
women both wear the chlamys, although differently. Again, a 60 x 90 piece of cloth seems to drape correctly and have the right lines and length.

Daimon (Classical Greek) Spirit.

Ephebe (Classical Greek) A new hoplite; a young man just training to join the forces of his city.

Epilektoi (Classical Greek) The chosen men of the city or of the phalanx; elite soldiers.

Eudaimia (Classical Greek) Well-being. Literally, 'well-spirited'. See daimon, above.

Gamelia (Classical Greek) A Greek holiday.

Gorytos (Classical Greek and possibly Scythian) The open-topped quiver carried by the Scythians, often highly decorated.

Himation (Classical Greek) A heavy garment consisting of a single piece of cloth at least 120 inches long by 60 inches wide, draped over the body and one
shoulder, worn by both men and women.

Hipparch (Classical Greek) The commander of the cavalry.

Hippeis (Classical Greek) Militarily, the cavalry of a Greek army. Generally, the cavalry class, synonymous with 'knights'. Usually the richest men
in a city.

Hoplite (Classical Greek) A Greek soldier, the heavy infantry who carry an aspis (the big round shield) and fight in the phalanx. They
represent the middle class of free men in most cities, and while sometimes they seem like medieval knights in their outlook, they are also like town militia, and made up of craftsmen and small
farmers. In the early Classical period, a man with as little as twelve acres under cultivation could be expected to own the aspis and serve as a hoplite.

Hoplomachos (Classical Greek) A man who taught fighting in armour.

Hyperetes (Classical Greek) The Hipparch's trumpeter, servant, or supporter. Perhaps a sort of NCO.

Kithara (Classical Greek) A musical instrument like a lyre.

Kline (Classical Greek) A couch or bed on which Hellenic men and women took meals and perhaps slept, as well.

Kopis (Classical Greek) A bent bladed knife or sword, rather like a modern Ghurka kukri. They appear commonly in Greek art, and even some small eating knives
were apparently made to this pattern.

Machaira (Classical Greek) The heavy Greek cavalry sword, longer and stronger than the short infantry sword. Meant to give a longer reach on horseback, and not
useful in the phalanx. The word could also be used for any knife.

Parasang (Classical Greek from Persian) About thirty stades. See below.

Phalanx (Classical Greek) The infantry formation used by Greek hoplites in warfare, eight to ten deep and as wide as circumstance allowed. Greek
commanders experimented with deeper and shallower formations, but the phalanx was solid and very difficult to break, presenting the enemy with a veritable wall of spear points and
shields, whether the Macedonian style with pikes or the Greek style with spears. Also, phalanx can refer to the body of fighting men. A Macedonian phalanx was deeper, with
longer spears called sarissas that we assume to be like the pikes used in more recent times. Members of a phalanx, especially a Macedonian phalanx, are sometimes
called Phalangites.

Phylarch (Classical Greek) The commander of one file of hoplites. Could be as many as sixteen men.

Porne (Classical Greek) A prostitute.

Pous (Classical Greek) About one foot.

Prodromoi (Classical Greek) Scouts; those who run before or run first.

Psiloi (Classical Greek) Light infantry skirmishers, usually men with bows and slings, or perhaps javelins, or even thrown rocks. In Greek city-state warfare,
the psiloi were supplied by the poorest free men, those who could not afford the financial burden of hoplite armour and daily training in the gymnasium.

Sastar (Avestan) Tyrannical. A tyrant.

Spola (Classical Greek) Body armour of leather. Herakles in heroic depiction has a spola in the form of a lion's skin, but soldiers might wear anything
from a light leather tunic to stiffened abdomenal protection and call it a spola.

Stade (Classical Greek) About 1/8 of a mile. The distance run in a 'stadium'. 178 meters. Sometimes written as Stadia or Stades
by me. Thirty Stadia make a Parasang.

Taxies (Classical Greek) The sections of a Macedonian phalanx. Can refer to any group, but often used as a 'company' or a
'battalion'. My taxeis has between 500 and 2,000 men, depending on losses and detachments. Roughly synonymous with phalanx above, although a phalanx may be
composed of a dozen taxeis in a great battle.

Thorax/Thorakes (Classical Greek) Body armour – literally, that which covered the abdomen. Could be bronze, quilted wool or linen or a mixture of textile
and metal armour; could also refer to a leather armour like a spola. The so-called 'muscle cuirass' forged by the armourer to look like the male abdomen was one form, and probably
the most expensive.

Xiphos (Classical Greek) A straight-bladed infantry sword, usually carried by hoplites or psiloi. Classical Greek art, especially red-figure
ware, shows many hoplites wearing them, but only a handful have been recovered and there's much debate about the shape and use. They seem very like a Roman gladius.

 

 

 

 

 

 

 

 

HERAKLEA ON THE EUXINE, SPRING 306 BC

Stratokles the Athenian sat on an iron stool in his mistress's receiving chamber, and crossed his legs comfortably.

'Interesting times, Despoina,' he said.

She was reading through her correspondence – he'd already read it, of course – and making notes. 'Demetrios has taken Athens!' she said. She snapped her fingers at
a maid for more milk, and tapped her fingers impatiently until the maid had warmed the milk in a silver cup, mixed in honey and transferred the contents to a second cup, before presenting it with
averted eyes.

Quietly, firmly, she spoke to her slave. 'Listen, girl. I expect you to have this ready-mixed. Understand? Don't wait for me to demand it. How long have you been with me?'
Amastris of Heraklea snapped her index finger against the maid's forehead and the girl cried out. Then Amastris turned back to her Athenian. 'Does this change your views on Antigonus
One-Eye?'

Stratokles shrugged, wondering idly if, by comforting the slave-girl after his interview with her mistress, he might put himself between her legs. He allowed himself to catch her eyes, and she
hesitated before looking away. Interesting. Slaves were always so lonely.

'Are you attending to me, sir?' Amastris asked sharply.

Stratokles was unflappable – at least, by his mistress. 'It relieves me of any responsibilities towards Demetrius of Phaleron or Cassander,' he said carefully. 'I remain
loyal to the city of Athens. Demetrios the Golden will pretend to be a democrat – everyone always does when they come to power in Athens. We shall see, after the first few months. But, for
once, the news from Athens is not the most important. There's more news – more immediate, if not more important. Look at the dispatch from Byzantium.'

Amastris shook her head, the blond ringlets staying crisp and perfect as her head went from side to side. She drank her honeyed milk absently. 'When I finish this.'

Stratokles got up and poured himself a cup of wine.

'Satyrus is coming here!' Amastris said, eyes on the scroll, and her hand went to her hair as if she needed to preen a little.

'Yes, Despoina,' Stratokles laughed. He wished that he might affect her – or any woman – the way Satyrus of Tanais affected her. He shot a glance at the maid, who met it
– and then dropped her eyes. Played this game before, have, you? he thought with satisfaction. 'He's coming with his fleet and his merchants, moving the grain south to
Alexandria.'

'As usual, not coming just to see me.' She sat up. 'Why does my uncle continue to forbid the match? I want to be wed.' She read further. 'He's too
devoted to that slut of a sister. He'd be well rid of her.'

'Your father is about to crown himself king,' Stratokles said with unfeigned distaste – distaste for kings, and distaste for his mistress's obvious jealousy.

'Melitta is Queen of the Assagetae in her own right,' he said. 'Your princely Satyrus needs her.'

Amastris snapped her fingers and another maid brought her a wrap, a costly piece of work imported from India. 'I need him to need me,' she said with a sweet smile. 'And if my
uncle wants to be a king, why must you sound so sour about it?'

Stratokles, whatever his faults, and he admitted that he had a phalanx of them, nonetheless saw himself as a true democrat in a world of aristocratic despots. 'As King of
Heraklea, he expects to marry you a little better than the King of Hyperborea.'

'Satyrus is the King of the Bosporus,' Amastis said with asperity. 'He is as much a king as my father. And Stratokles – why is it that when you say the word
"king" you render it like an insult?'

'Despoina, if you don't know by now, it is too late for me to teach you. I loathe tyrants.' He shrugged.

'And yet you serve me,' she said.

'You need me, Despoina. And Athens needs this city and her grain, and my eyes on the north. I have never pretended to love your uncle's tyranny, nor your lover's
kingship.' He rolled his shoulders, flexing his fighting muscles and wondering, in the way of middle-aged men, if he didn't need to spend more time in the gymnasium.

'You might give pretence some consideration, or Nestor will have your head.' Nestor was the captain of the Tyrant's bodyguard, and no friend of the Athenian's.

Stratokles chose to ignore her. 'Satyrus won't just be an ally if he weds you,' Stratokles said. I'll be out of a job, he thought. 'He'll be master
here. He has a fleet, an army and a core of professionals that we can't really match. With Pantecapaeaum and Olbia behind him, surely you can see that we're next.'

'Hmm. I look forward to his being my master,' Amastris said, and licked her lips. She laughed at his discomfiture. 'Don't be a prude. Satyrus isn't half as
bright as I am. Who'll run whom, do you think? Heraklea won't be the loser. Melitta might be, though,' she said with a smile.

'Your uncle is not interested in ruling through your womb,' Stratokles said. 'And you will need Melitta's good will as much as Satyrus does, if you come to be his
wife.'

'Now that's the sort of thing I employ you to say,' Amastris nodded. 'He's old, though – my uncle, I mean.'

'Don't be rushing him to his grave, Despoina. Please read the dispatch from Byzantium.' Stratokles wasn't always perfectly pleased with his charge. She was past the first
innocence of youth and she was becoming headstrong, just when he felt she most needed a rein. And with Demetrios in Athens . . . The world was changing. Stratokles was beginning to wonder if he had
lingered too long in Heraklea. Although he had other ideas—

She flipped through the scroll tubes. 'Demostrate is dead?' she asked.

'Got it in one!' Stratokles pounced like a cat taking a rat off a post.

'By Aphrodite, lady of ladies!' Amastris said, and shook her head. 'The old pirate is dead? Who killed him?'

'Who cares? The point is that a new man has Demostrate's fleet – if he can hold it. They are pirates. And now Antigonus One-Eye will have a clear run at allying with them
– the pirates – a fair shot at buying all of them.' Stratokles swirled the wine in his cup.

'But we're no allies of old One-Eye. My uncle broke that chain.' She drank off the last of her milk.

Stratokles swirled his wine again. 'There are never just two sides in politics, my dear. Antigonus would like to be master here. So would Lysimachos and so would your Satyrus. By naming
himself "king", your uncle puts himself on the same level as all of them. He can only maintain that level by ceaseless vigilance and a willingness to play one against the
other.'

'And my beloved has just lost his guarantee of passing the straits unmolested,' Amastris said. 'Perhaps he'll come here and stay awhile.' She smiled.

'He's lost more than that, dear,' Stratokles said. 'He's lost his immunity, and some of his status with the great powers. Now he'll have to buy the pirates
like the rest of us. And if Antigonus has Athens' fleet, and the pirates,' Stratokles shrugged, 'well then, so much for Ptolemy.' He leaned back and recrossed his legs.
'Times are changing, dear.'

She looked at him from under her eyelashes. 'You don't love my Satyrus,' she said.

'I helped him achieve his kingdom,' Stratokles said. 'But no – he's no friend of mine.' He didn't mention that in another dispatch – one he
didn't need to pass to her – he'd had news of Lysimachos. Lysimachos, the fourth contender for Alexander's power. Lysimachos, whose Thracian wife had just died.

The perfect husband for his little princess. With Lysimachos and Amastris, Stratokles could guarantee Athens' grain trade for fifty years, and to Hades with Satyrus of Tanais.

And why dream small? With the two of them, Stratokles could aim higher.

Whereas her marriage to Satyrus would mean that he would have to start all over again.

 

 

 

 

 

 

 

 

TANAIS, EUXINE SEA, SPRING 306 BC

Late winter, or perhaps early spring on the shores of the Euxine. The first crocus buds were peeping out of the earth, and the lambs were coming, and
the horses were foaling, and in just a few weeks there would be fresh green on the Sea of Grass.

Two archers stood on the city's Field of Ares, shooting arrows into a distant target made of linen canvas stuffed tight with rags and straw. Shooting with a precision that bored the
onlookers, who mostly sat on the dead winter grass enjoying the first day of sunshine. Until both archers started shouting.

Melitta touched the corner of her mouth with the fletchings at the peak of her draw, and loosed her arrow at the target.

It struck home with a satisfying thwack as the barbed head cut the taut canvas. 'When is she going to marry you, if she loves you so much?' she asked her brother.

Satyrus pulled an arrow from the gorytos at his waist and nocked the arrow. He drew a breath, raised the bow and shot – a continuous motion that sent the arrow into the target
with the same flat thwack. 'When her uncle is done traipsing about pretending to be one of Alexander's men,' Satyrus said. He didn't hide the disappointment in his
voice. Every spring brought a new delay in his wedding plans. He was twenty-four, and Amastris was older.

Melitta nocked, drew and shot. Thwack. 'You have a slave in your bed,' she said, accusingly.

Satyrus nocked, drew and loosed. His arrow flew over the top of the target. 'By the Lord of the Silver Bow, sister, is that any of your business?' he asked pettishly.

'We swore to Mater that we would not lie with slaves,' she said. 'You missed, by the way. The horse is mine.'

Satyrus struggled with his temper for as long as it took his heart to beat three times. 'Yes,' he said after the third heartbeat.

'Yes, you are sleeping with a slave? Or yes, the horse is mine?' Melitta asked. Just for emphasis, she drew, nocked and shot again – and her arrow struck dead in the centre of
the mark.

'Yes, I think it's time you got moving on your spring progress,' Satyrus said. He didn't do a very good job of keeping the anger out of his voice.

'Splendid!' Melitta said. 'What a very good job you are making of living up to Mater's desires. And Philokles'! And Leon's! We said we would
not have slaves. How are you doing with that, brother? I seem to see more agricultural slaves arrive every day.'

'Some of them on Leon's ships!' he shot back. 'This is the real world, sister! You go and ride the plains and pretend to be a nomad princess. I have a kingdom to manage.
We need agricultural labour."

'In our beds? Get me one, brother. A nice one with a big cock.' She rolled her hips. 'How's that!'

'Ares! You are the limit! It is not your business who's in my bed!' The King of the Bosporus realised that he had shouted the last, and that even on the Field of Ares outside
the city people were watching them.

Melitta shrugged. 'Handsome boy like you ought to be doing better than agricultural labour,' she said.

'Perhaps I could sleep with the captain of my bodyguard?' Satyrus asked his sister.

'Shut your mouth!' she hissed.

'Of course, he's twice my age – but surely Coenus is still a good-looking man,' Satyrus finished, satisfied that he'd punched through his sister's air of
superiority. He had long suspected that she slept with her guard captain, Scopasis, a former outlaw.

They stood and glared at each other for ten heartbeats.

'At least he's not a slave,' she said – and she meant to hurt.

'That's all right,' he shot back. 'Go out on the plains and leave your son with me to raise.'

In fact, she wasn't the most devoted mother, and that shot hit its target squarely so that she turned bright crimson from the roots of her black hair to the tops of her breasts, just
visible under her slightly open Persian coat.

'You owe me a horse,' she said, and walked away. She walked ten steps and turned, unable to stop herself. 'You need to stop pretending that Amastris will marry you. Find
yourself a girl. Fuck her and make some children, and then you can talk to me—' She was choking up, getting angry, threatened with tears and hating herself for it. 'Then you can
talk to me about children.' She walked to her horse, leaped into the saddle and dashed away.

'That is the king?' asked a foreign voice. The man sounded puzzled.

'The king's not available just now.' Satyrus turned his head, anger still pounding away in his bloodstream and saw his hypaspist, Helios, standing with a powerfully built man
– Satyrus had seen him arrive – Antigonus' ambassador Niocles, son of Laertes of Macedon. Or so his morning report had said.

Helios hurried to his side, and Satyrus handed him his bow and gorytos to carry. 'What's next?' he asked, walking to his horse.

'The new plough, lord,' Helios said.

'I'll skip that,' Satyrus said. Anger was still heavy inside him, so big that it seemed to fill his breast and choke him. How dare she tax him with his slave-girl. He
took a deep breath. How disgusting it was of him to hit back at her motherhood.

The problem of being twins was that you were born able to hurt the person you loved the most.

'Lord, you said you had to see the plough today or it would be too late—' Helios sounded contrite, but he knew his master and he knew his duty.

'Then I shall.' Satyrus cut short a lecture on duty by jumping onto his charger's back and putting his heels to the animal's sides, and he was gone as fast as his
sister.

Satyrus owned a number of farms around the perimeter of Tanais, the city that he made his capital. It was the city founded by his father – posthumously, it is true. The
bronze statue of his father still loomed over the agora, although other statues were joining it.

Thinking about his father – heroised, and almost deified – didn't help him dismiss his bad behaviour. Nor, as he rode along the escarpment and looked down into the valley of
the Tanais River, did thoughts of Philokles, his tutor, with whom he had often galloped these same stades.

He rode down the near cliff at a reckless pace and his horse carried him in great bounds, his four feet seeming to skim the earth. Satyrus kept his seat at the base of the ridge only by leaning
well back and clamping his knees like the vice in a bootmaker's shop. And when he felt his charger's pace ease, he righted himself, leaned low over the stallion's neck and
galloped along the road – the road where he'd killed his first man.

And his first woman.

Right here, he'd shot her. She'd been lying wounded, and he'd leaned over and put an arrow in her and watched her die. Just his age, at the time; thirteen or fourteen. He still
saw the look on her face. He still wondered where she went when she left her body – and what awaited him.

He flew along the road, past the stream where the salmon went to breed and up the next hill to where he kept his own farm. It was a wealthy farm, with stone barns and a good house, and he rode
into the yard, his stallion throwing clods of earth from the wet road.

He'd left his attendants far behind, except for Helios who was hard on his heels. His farm manager, Lekthes, was waiting by the ox shed.

'You came, lord!' he laughed.

'Am I so unreliable?' Satyrus asked.

'Reckon there ain't many kings in the circle of the world who till their own fields,' Lekthes said. He spat. 'Plough's hitched. How do your courtiers say it? He
awaits your pleasure.' Lekthes was a freedman, a former slave who'd been purchased by Leon to run farms and train new farmers. He didn't have the habits of a slave,
though. In some ways, he was the most arrogant man Satyrus had ever met. He had the arrogance of a craftsman.

'I'll get started,' Satyrus said. 'All my people are close behind, and I can't avoid the Macedonian ambassador for ever.'

Helios allowed a grim chuckle to escape his lips.

Satyrus stripped his chiton over his head so that he was almost naked, tossed the garment to Helios and clucked to the oxen.

They were well trained, and very strong. As soon as he made the noise, they started forward, and the blade – the hynis of the new plough – bit immediately, penetrating the
winter sod and cutting deep, more than a handspan deep. After a single furrow, less than a stade, Satyrus could feel the strain in his wrists and lower back. He clucked again and the beasts snorted
and rumbled to a stop, and he leaned over the handles of the plough to examine his furrow. Straight enough. And deep. The black soil was turned in neat mounds on either side of the furrow. The
sexual imagery of ploughing was obvious; even the smell—

The king shook himself. Sex was very much on his mind, and he forced himself back to the matter at hand. He clucked again, and his two beasts pushed forward against their yokes – the
zygotes that gave the hoplite class their name.

Up and down, and up and down. After three full furrows, Satyrus understood all over again why farming was the best training for war. He motioned to Helios, had a drink of wine from his flask and
ignored the arrival of the Macedonian delegation and got back to work.

He lost himself in it for a while. Ploughing – which he had only begun to practise the autumn before – required his full concentration, body and mind. The management of the oxen, the
depth of the plough blade, the shifting of the machine under his hands and the pain in the small of his back—

The oxen shambled to a stop, the offside beast shying at a fly. Satyrus considered that there was something poetic, even oracular about a beast the weight of three horses shying from the furrow
because of a fly the weight of a grain of wheat. While he indulged in this bit of petty philosophy, he had to use the full breadth of his shoulders to keep the plough on course.

The erring ox stopped, flicked its tail and lowered its head.

Satyrus let the handles of the plough down, easing the weight of the machine onto the turned soil. Then he rolled his shoulders, stretched his back and stood straight for the first time in five
long furrows.

Satyrus the Second, King of the Bosporus, was naked like a slave – or a farmer – toiling in the hot spring sun of the Euxine. He stood a full six feet, with shoulders that seemed as
wide as he was tall. Men likened him to Herakles, which made him laugh. He was twenty-four years old, and he had been king for three years, and those three years seemed to him to have aged him more
than all the years before, as if time were not a constant, whatever Aristotle and Heraklitus might have to say on the subject.

Helios came running from the trees with a chlamys, a strigil and a linen towel – and the canteen of wine. Satyrus took the wine first, drinking a long draught of thrice-watered red before
he used the strigil, wiped himself down with the towel and pulled the purple-edged white chlamys over his head. Satyrus gave the younger man a smile and walked across the field towards the
foreigners.

'You don't have to see them until tonight,' Helios muttered.

'I'm all right now,' Satyrus said.

Many of the Macedonians were mounted, and there wasn't much to tell them apart. They had the same dun-coloured cloaks and the same look of arrogance. Satyrus laughed because the thought
came, unbidden, that Lekthes might have been the Macedonian ambassador's brother.

Satyrus walked across the furrows to greet the ambassadors of the world's most powerful man, Antigonus One-Eye, naked except for his short cloak. He paused, just short of the range at
which men begin social interaction, to note the workmanlike nature of his furrows with pleasure.

'Crax?' he called.

'My lord?' Crax responded, pushing through the crowd of sycophants and courtiers. Crax was Satyrus' Master of the Household. He was tall and red-bearded, and his voice still
had a hint of the Bastarnae brogue that he had been born to – before slavery, freedom and war made him a powerful officer in the Kingdom of the Bosporus.

'The new plough is a fine machine. Order ten for our farms, and suggest to Gardan that a meeting of the farmers be held on one of our farms so that they can see the benefits.' As he
spoke, he noted Coenus – one of his father's most trusted men – standing at his ease, surrounded by soldiers of the bodyguard. He winked, and Coenus responded with a wry smile.
Satyrus turned to Helios. 'Make a note for me. Meet with Gardan. He's been requesting it.'

Helios wrote some notes on a wax tablet. Crax wrote something as well, on his own tablet. The sight of a tattooed Bastarnae writing on a wax tablet might well have been mocked, in other
company.

'And these gentlemen?' Satyrus asked with elaborate unconcern. As if the last day hadn't been spent preparing to receive them.

'An ambassador, my lord,' Crax said. 'Niocles son of Laertes of Macedon from Antigonus, Regent of Macedon,' Crax said, indicating a middle-aged man – strong, of
middling height, who looked more used to wearing armour than the long robes of officialdom.

The man so named came forward, his white chiton held carefully out of the newly turned furrows by a pair of slaves. 'My lord,' he said. His voice was gruff, and his face said that he
was none too pleased with the morning's proceedings.

'A pleasure to receive you,' Satyrus said. He clasped hands with the older Macedonian, and if he was discomfited to be greeted by a nearly naked Herakles, he didn't show
it.

'A pleasure to meet such a famous soldier,' the Macedonian said.

'Welcome to the Kingdom of the Bosporus,' Satyrus said. 'I expect that you have come wanting something?'

Niocles might have made a face, but he was made of sterner stuff. 'Aye, lord. It pleases you to receive us in a muddy field – and to go straight to the point.'

'I'm busy,' Satyrus said. 'It's ploughing season.'

'As if a king needs to plough his own land,' commented a man in the delegation. The sneer was almost audible.

'I'm sure you came here with business to transact,' Satyrus said.

'I have come on behalf of Lord Antigonus, who men call "One-Eye", Niocles said. 'To demand reparations.'

'Are you sure this isn't your speech for Ptolemy of Aegypt?' Satyrus asked, and many of his men laughed. The Macedonian flushed and there might have been violence, except that
Coenus' men of the bodyguard appeared as if from the grass and stood in neat array between their king and the ambassador's men – every bodyguard in the somewhat archaic uniform of
bronze breastplates, greaves,
We hope you are enjoying the book so far. To continue reading...
Tyrant: Destroyer of Cities
Christian Cameron
Copyright © 2022 All Rights Reserved
Also in this series
Also by this author