Tom Swan and the Keys of Saint Peter
Book info
Sample
Audiobook
Media
Author updates
Lists
Synopsis
THE BRAND NEW ADVENTURE FROM 'THE MASTER OF HISTORICAL FICTION' (SUNDAY TIMES)

TOM SWAN - SOLDIER, SCHOLAR, BASTARD, SPY.

Tom Swan and his friends are trying to save Europe from the Turks, but most of his adversaries seem to be other Europeans. This time, an unnamed cabal is trying to kill him and, incidentally, ruin the banks and trade of England, France, and Italy. . .

Join Tom Swan on his latest adventure as the likes of Cosimo di Medici, Warwick the Kingmaker, Bessarion the cardinal and Aneas Picclomini the Pope show Tom the Renaissance in all its deadly glory!

* * * * *

PRAISE FOR CHRISTIAN CAMERON

'The master of historical fiction' SUNDAY TIMES

'A storyteller at the height of his powers' HISTORICAL NOVEL SOCIETY

'Superb' THE TIMES

'A sword-slash above the rest' IRISH EXAMINER
Release date: November 25, 2021
Publisher: Orion
Print pages: 400
* BingeBooks earns revenue from qualifying purchases as an Amazon Associate as well as from other retail partners.
Listen to a sample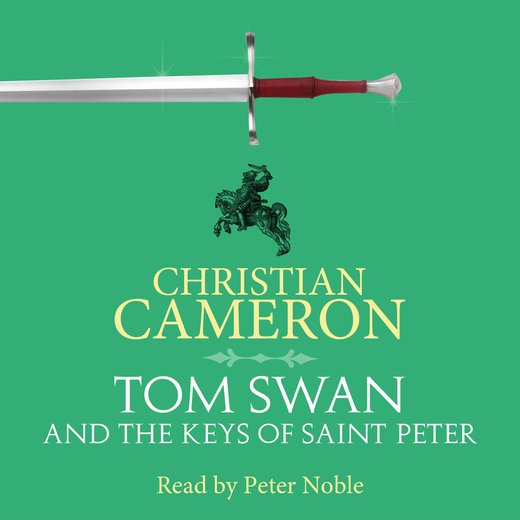 16:24:57
450.88 MB
9781398701571
November 25, 2021
Hachette UK
Tom Swan and the Keys of Saint Peter
Christian Cameron
Tom Swan awoke to a brilliant day beyond the loosely fastened shutters, and he had a moment of utter disorientation. Venice? Constantinople? A galley at sea? Mithymna? Mytilene?

The woman curled against him . . .

. . . was his wife. Sophia lay with her head on his shoulder, her brown-blond hair tossed back over her shoulders.

I am married, he thought with infinite satisfaction.

In fact, he had been married in the presence of most of the College of Cardinals and half the Papal Curia and most of his closest friends, as well as a few dozen mercenaries, rogues and prostitutes, who'd either attended directly or crept in when they heard that the famous Cardinal Bessarion was hosting a party.

Swan found that he had a clear head and a deep sense of peace – the former because he'd largely abstained from drinking on his wedding night, and the latter because he'd had an unaccustomed amount of sleep and he'd probably rid himself and his friends of a vast conspiracy. Probably.

But some things still worried him . . .

He lay admiring his wife, a part of his mind tempted to awaken her and see how she felt about nuptial bliss in the morning, but a lifetime of sleeping with women suggested how very unlikely this was. Part of his mind simply admired her, aesthetically; Sophia had a remarkable form and skin that—

He quelled a rebellious hand reaching for her shoulder.

And part of his mind explored the theological implications of connubial bliss. An act that a day before would have been a mortal sin was rendered, by the sacrament, almost an obligation. Swan chewed on this a bit and found that it was the sort of thing that made him, as a more than mildly religious man, deeply suspicious of the game of popes and human vices.

Very carefully, with all the muscular command that he might have used sneaking up on a Turkish sentry, he withdrew his shoulder and substituted a tasseled pillow. His shoulder hurt – a dull ache that spoke of a life as a swordsman and too much rowing in the Adriatic a few weeks before.

He slipped down the corridor, having latched his door very carefully, and found Padraig sound asleep on a decorative divan by the washstand, snoring heartily. The Irishman had become a member of his household by virtue of constant attendance. Swan knew that he needed to either let the man go or pay him. The air of constant crisis, planning, hiding and near war had kept him from such routines.

He washed, dried himself on one of the many fine Egyptian towels that Bessarion kept, in the manner of a recently lost Byzantine civilisation, and prodded a pile of dirty arming clothes and various other used garments with his toe. He wanted to be new and clean, because that's how he felt.

How Sophia made him feel.

Conspiracy and violence had not helped his wardrobe. He found a clean shirt and settled for pointed hose that were in better condition than the rest, and his riding boots, which covered most of the defects in the hose – tall boots that pointed all the way to his hips. Not very different from the pair Alessandro Di Bracchio, now Bembo, had lent him back in '53.

He winced. Did a rough calculation in his head, and laughed aloud.

He still didn't have a doublet, or even a plain gown, but he knew where Alessandro had slept, and he found Umar outside the door, also sound asleep. Alessandro's small travel case lay close to Umar, and Swan ruthlessly took one of the clean black velvet doublets he found inside, there being two. He took the cleaner of the two and it fitted him very well. He went down the servants' stairs, fastening the laces as he went, whistling the Agnus Dei from his wedding mass.

In the kitchen, the life of the cardinal's establishment was virtually untouched by time. Maestro Alceste ruled with a spoon of iron; nobly born pageboys were as cautious as bravos in the court of law.

Swan sat at the enormous kitchen table, and an apple tart appeared immediately, carried by a boy of almost angelic beauty. Swan was not tempted in that direction, but he had to wonder who was; the boy was almost too perfect to be real.

'Could I have a bite, Illustrio?' the boy asked. He had a frank stare that suggested that he was more than just an angelic face.

'Are you a page here?' Swan asked.

'I serve Cardinal d'Estouteville,' the boy said, the French showing in his Italian. 'He spent the night with Cardinal Bessarion,' The boy flushed deeply. 'Not like that!' he said, red to the ears.

Swan, who didn't always like children, was tempted to ruffle the boy's hair, and was pleased to find him so innocent. Two cardinals sleeping together might be the best outcome the cesspit of Rome could expect, he thought to himself, and took a bite of his beautiful apple pastry.

'Oh, Alceste, I have just seen God,' he moaned.

'Bah, you blaspheme, messire, and then who can believe your nonsense?' the cook called.

'I will leave my new wife weeping at the altar for you, Alceste,' Swan called.

But he handed d'Estouteville's page about a quarter of his pastry, which the lad, like boys everywhere, devoured.

There were three bake-ovens in the courtyard, and Swan watched as Alceste and his kitchen help maintained the temperature with the devotion of siege engineers building fortifications. Every time a batch of bread or pastry or pies came out of an oven, the cooks and their helpers filled the oven with dry brush and small pieces of wood which would burn quickly. As soon as they were burnt, the cooks would sweep the floor of the oven clean, and nearly naked boys would push the ashes to the back and sides, and the next tray of rolls or hand-pies would go in. It went with military precision, and Alceste was the capitano, managing his chefs as they rolled the pastry dough, managing the boys as they pushed the ash, plunging a naked forearm into an oven to test the temperature.

The angelic boy was as interested as Swan.

'We don't have ovens,' he said. 'We pay a baker. This is . . . amazing.'

Swan turned. 'What's your name, lad?' he asked.

'Gabriel de Bonard,' the boy said. 'I am a Gascon.'

Swan didn't roll his eyes. 'Of course you are.'

'May I touch your sword? Are you a bravo?' The boy grinned. 'A few days ago, a messenger came to my master from Constantinople! He wouldn't let me touch his sword.'

Swan smiled a little, wondering why a French cardinal got messages from the fallen city, but he was extraordinarily proud of his sword.

'Here. You may not draw it more than a handspan.'

'Ooh,' the boy said. 'It's a very good sword.'

'Yes, it is,' Swan said.

'My pater says to never ask if a man has killed other men,' the boy said.

'Your father knows a thing or two.'

'Also—' the boy said eagerly.

'Swan, you whore!' A voice sounded from the big double doors that let on to the service corridor and the palazzo. Alessandro Bembo's voice. Alessandro was probably the only man in the world who might call Swan a whore in friendship.

'Swan!' Alessandro roared, coming in through the double doors. 'You are wearing my clean doublet.'

The angelic boy had released Swan's sword and was now at the end of the table, ready for anything.

'It was just lying there. Also, I look quite good in it.' Swan waved his last bite of apple tart. 'Also, I saved you some apple tart.'

Alceste appeared, in person, to place two more apple tarts on the table. Alessandro was his utter favourite, and had been for years.

'I am not killing you, English, because I might get your nasty blood on my doublet, or my apple tart.' Alessandro sat. 'I am wearing a dirty doublet because you are wearing my clean one.'

'I feel bad,' Swan said. 'Here, have a little more apple tart.'

The boy really was bright. He realised at some point that this wasn't killing anger, but the banter of two friends. He came back, close enough to cast his shining eyes on Alessandro.

'He works for Cardinal d'Estouteville,' Swan managed between bites.

Alessandro smiled wryly around his pastry. 'A collector of real taste,' he said.

Before they'd finished their pastries, Giannis appeared, fully armed, and while they were embracing him, Loredan.

'You seem to have recruited the entire Kantakouzenoi clan.' Loredan's voice was heavy, his delivery slow. 'They're grooming horses in the courtyard and gossiping in Greek.'

'I recruited them for Venice,' Swan said. 'The Despot of the Morea was intending to execute them. I found that wasteful.'

Loredan didn't look like himself. Swan thought of him as an almost supernatural figure, pale, blond, dressed in black and silver, the deadly hand of the Ten. Today he wore an old wool kaftan like a robe over a dirty shirt, and the bruises of his beatings at the hands of the Pope's torturers were quite clear; his face was puffy, his words slightly slurred.

But he ate with relish. Alceste was at the very height of the morning baking. The smooth operation of the three ovens was interrupted by a crash as a pile of firewood was overturned by a boy with a tray falling over it, and for a moment the captain had to leap into the breach and lead his troops in person. But when order was restored, Alceste came back to them with a tray of apple tarts, and set them on the table. He took one for himself, and one of Bessarion's noble pages served them quaveh, just as it would have been made in Constantinople.

Loredan was on his third – an almond pastry.

Swan glanced out at the ovens. It was July; Lauds had not yet rung at the church next door, and it was already hot enough to make Swan regret the theft of Alessandro's velvet doublet.

'This is a great deal of baking,' he said.

Alceste smiled. 'We have four cardinals, three bishops, and half the whores in Rome. All because of someone's wedding.'

Loredan, always the intelligence officer, looked up.

'What cardinals?'

'Cardinal d'Estouteville, the Frenchman who owns this young food-hound. Our own Bessarion, of course. His Eminence Aeneas Piccolomini, and His Eminence Pietro Barbo.' Alceste smiled.

Alessandro nodded. 'If Barbo is in the house, young master, you'd best keep out of his way,' he said to the pageboy.

'Gabriel de Bonard,' Swan said. 'The little angel's name.'

The boy flushed.

'Master Gabriel, the Cardinal Archbishop of Venice is—'

'He wears rouge,' the boy said. 'My cardinal says . . .'

There was a pause. Even Loredan looked up.

The boy looked down. 'My apologies, messires.'

Alessandro smiled. 'Good lad. Whatever your cardinal says, you don't want to repeat it. Eh?'

Loredan snorted, and when the boy went off with a tray to visit his master, the Venetian spymaster shook his head.

'Bembo, you are suddenly a fatherly, mature man. D'Estouteville is a member of the French royal family. He has a mistress and four children and probably doesn't run after pretty boys, although, in this city and this day and age, one can never tell.'

Alessandro smiled nastily. 'I like grown men, not boys, messire.'

Loredan shook his head. 'There, you are looking for an insult . . .'

Swan decided that perhaps a gentle intervention was called for.

'We return to Venice?' he asked. 'I have a company to retrieve and some very expensive stradiotes to place on the state's pay.'

'Christ, Suane, don't we get to enjoy your honeymoon a little?' Alessandro asked. 'In my experience, when you go back to work, I'll be called in to save you. Unless, to be fair, you are saving me. Can we just—?'

'We?' Swan asked. 'We find Rome hot and stinking—'

'What a surprise!' Alessandro said.

Loredan looked a little more like himself. He looked at Swan.

'You think it's all over, do you?' he asked quietly.

Alceste looked around, rose, and collected some dishes.

'I don't think this talk is for a mere cook,' he said.

Swan smiled. 'Stay! Our secrets are banal compared to . . . say, your apple tart receipt.'

Alceste shook his head. 'No one kills for my secrets.'

He walked away.

Swan turned to Loredan. 'I would,' he muttered. 'You mean the game of the Pope and his money is not over?'

Loredan nodded. 'Perhaps it is,' he said slowly, as if savouring his words. 'But you will permit me some doubts. Your endgame with the Pope and his former banker was brilliant. But if others were blinded by its dazzle, I have to notice that there are still some hundreds of thousands of ducats missing. And some loose ends.'

The apple tart was suddenly heavy in Swan's gut.

'You caught that, eh?' he said.

Loredan took another bite of almond pastry.

Alessandro smiled without warmth. 'In the games of power,' he said, 'there are nothing but loose ends.'

'Do you lie awake at night making up these bons mots?' Swan asked.

Alessandro steepled his hands and looked heavenwards.

'No, my son. They are sent by God.'

Two hours later, and Swan was with Clemente, Umar and Alessandro himself, prepared for shopping. Sophia was, to the best of his knowledge, still asleep, which surprised him. She was so efficient that he'd imagined her an early riser.

Loredan had shrugged as Swan was going out. He'd expressed his surprise, and Loredan laughed.

'So much to learn, Ser Tommaso!' he said.

Alessandro concurred. 'Who would rise early, if allowed to sleep in?' Quietly, he allowed, 'I'm as eager to be back to Venice as you.'

Swan nodded. 'I won't feel I'm on my honeymoon until I'm out of Rome,' he said. 'Loredan thinks I'm a fool—'

'Loredan is Venice's foremost intelligence officer,' Alessandro said, 'and he has recently been badly beaten and is running like an automaton. We need to get him home, too, except that filling him with Alceste's pastries is almost certainly the very best thing we can do for him right now. You and I have both been tortured. You know what he's been through.'

Swan had a black moment.

'Yes,' he said, swallowing hard.

Swan led them to the used clothing market, which was only just opening – half a dozen young women laying clothes out on tables. Beyond the market was a street of tailors and hosiers and the like; by some custom of Rome, the clothes were cheapest at the end of the used clothing market and rose in price and quality along the next street, all the way to the cathedral, at whose end only cardinals and their favourites could afford to shop.

'Surely we're beyond used clothing,' Alessandro said.

Swan wasn't so sure.

'I'm not so wealthy,' he said. 'And Sophia—'

'To the best of my knowledge,' Alessandro said, 'you have a company of mercenaries in the Pope's service and a share in a Florentine bank.'

'My friend,' Swan said, 'I think that being a great patrician becomes you well, but you forget that for the little people, a few thousand ducats can vanish very quickly.'

Clemente was already buying a doublet, and Umar was looking at a long gown in a clerical violet.

But the strong desire to be new and clean moved Swan through the used clothing market, and about a third of the way up the street, to the tailor he'd used in the past. He was greeted cordially and expressed his interest in clothes newly made.

The man looked him up and down as if deeply worried, but then smiled.

'Two suits, four shirts, and a cloak for riding?' he asked, as if he could read Swan's mind.

Swan was charmed.

'Certes,' he said, and they haggled over the price for a while. He knew he was spending too much money, but he also knew that the man would make him good things, and he was delighted to have a new doublet in the latest style, even if it was short enough to show his entire behind – and that forced him to invest in new hose.

Alessandro went several paces further up the street and ordered a new doublet and hose.

'Just like that one,' he said, pointing at Swan.

'You can have this one back!' Swan said.

'Of course I can, Suane. I'm buying you your own, so that I don't have to lend you mine. Velvet is the one fabric that's good in every situation.'

Swan was touched by the present, and Alessandro's manner of giving it, and was still grinning when he stepped out of the shop into the street.

Something was wrong.

He turned his head.

The man was moving too fast; there was some small jerkiness – nerves, shock. Eyes too bright, a flash of steel . . .

Swan didn't have his sword; he was wearing a heavy cinquedea that was just legal in Rome and very quick to draw – a weapon like a broad-bladed dagger, as long as a man's forearm.

Swan drew as the masters had told him to, thumb down, a rising cut into the adversary's blade. His short, heavy sword cut into his opponent's blade, so that the two blades locked together, and he used the blade lock to force the man's arm back.

Alessandro was there. Before the assassin could react, his arm was around his neck and then he turned the assassin over his hip, thrown to the filthy street. Alessandro stomped his sword hand until the man screamed, and Swan kicked him between the legs.

The man rolled and vomited.

'Ah, Rome,' Alessandro said.

'Sorry, sir!' Clemente came up, sword drawn.

Swan was shaking. He always shook, afterwards.

They took the man back to Bessarion's and locked him in the usual storeroom in the wine cellar.

Bessarion's chancellor was waiting for him on the main steps up into the palazzo.

'Illustrio, there is a man waiting for you,' he said.

Swan bowed. He liked the new chancellor: a monk, a very solid man – a Franciscan who had been a banker. He was Frate Francesco, but Swan had known his family, and knew that he was a Portinari, a well-known banking family. A man with secrets of his own.

'Frate Francesco, my thanks,' he said, and went into the indicated receiving room, somewhat flattered that the chancellor was allowing him to receive guests in the cardinal's parlour, so to speak.

He went through the door and almost lost his composure. There, in bright daylight, sat the Pope's assassin.

'Master Chigi,' he said.

The professional killer rose to his feet. He was dressed in good, plain, workmanlike clothes, like a prosperous grocer. Or a butcher.

Swan had taken Chigi, months before, in a complex gambit in Greece. And let him go.

His hand went to his cinquedea.

'To what do I owe this immense pleasure?' he asked.

Chigi raised both hands and smiled.

'I'm here on my own,' he said. 'Not on a job, Capitano.'

Swan considered that for a moment.

'Well, then, he said, somewhat at a loss.

What does one say to the papal assassin on a social occasion?

'I owe you,' Chigi said. 'So . . . here's a little boon. You won this round, and now certain people want you dead.'

Swan shivered slightly, as if a ghost had appeared, and then managed a smile.

'As a young man just tried to kill me,' he said, 'I'd rather guessed.'

Chigi shook his head. 'Bad business. Too many killings in the last year, too much blood. Looks bad on everyone.'

This from you?

Swan nodded. 'I have to agree,' he said.

Chigi spread his hands, like a man appealing for reason.

'You made them look bad,' he said. 'Can't you just go away? Go back to Greece. I don't think they'll follow you there.'

'Who is "they"?' Swan asked.

Chigi grinned, so that his missing teeth made him look a little like a gargoyle.

'You ought to know by now,' he said. 'Not my business to blab. Go somewhere that doesn't have any ties to Italy, that's my advice. Turkey. Greece.'

Swan thought it was a terrible comment on his life that there were already people waiting to kill him in all those places.

Chigi bowed, keeping his distance.

'I think this information makes us even, doesn't it, Illustrio?'

Swan hardened his eyes.

'You mean, I rescued you from torture and death, and in exchange, you gave me a sort of airy-fairy warning that someone, some time, might try to kill me?' He smiled. 'I'm not that generous.'

Chigi looked hurt. 'Eh, illustrio,' he said. 'Don't be a bastard, eh? You know that if I warn you, it's serious as fucking hell, right? A business acquaintance already has the florins in his pocket for killing you.'

Swan shrugged. 'The young man I have in the wine cellar?'

'Do you think my friends get captured?' Chigi asked.

'I captured you,' Swan said, suddenly bored with all the posturing.

The assassin nodded. 'You have me there, I admit, but it's not an everyday thing. Eh, Capitano? We don't usually get ransomed.' He leant in. 'Listen, illustrio. For whatever reason, I've taken a shine to you. So here it is. This is serious. They'll kill everyone you love. They're not good people, and you have embarrassed them and cost them money. Understand? These are the people. The ones who make the world.'

Swan nodded. He had a mental image of Sophia lying on the floor, her throat cut. Instead of making him afraid, it made him angry.

He nodded again, as if he'd won an argument with himself. Then he met Chigi's eye.

'Listen,' he said. 'I believe you. And I think you mean me well – I'll assume you are not just an enforcer with a scare story.'

Chigi nodded.

'But,' Swan said, 'I just brought down a conspiracy involving the Pope and his bank. Whoever these shadowy bastards are . . . I can probably pull them down, too.'

Chigi nodded. 'I was afraid you'd take it like that. Listen, maybe you will. You have powerful friends. I know these things.' He leant forward. 'There's nothing they won't do.' He got up. 'I know the way out.'

He paused.

'Listen, I'll tell you a thing. Risk my life if you tell on me. But fair is fair. I'd be dead except for you, Illustrio. So here's the thing. They know the Pope is sending you to England. They've talked about it – about England. I know this. Also about harming your friends in bad ways. I know this.'

Swan looked at the man, appraising him.

'England,' he said, thinking of the Pope's letters, which the Pope's chamberlain had shown him several times, back when the Holy Father loved him and used him as a courier. An unpaid courier. He hadn't yet agreed to go to England.

'Damn,' he said aloud. 'At this point, Chigi, I think I'll just say, "thank you".'

The Pope's assassin gave a civil head nod, one guild member to another.

'That's better. Ciao.'

Fifteen minutes later, Swan found that the young assassin in the wine cellar was dead. He was just digesting this when Frate Francesco met him again on the stairs.

'Cardinal Capranica is minutes away from arriving. Our own eminence requests that all of you stay clear of the palazzo until he is gone.' He looked at Swan. 'That man in the parlour—?'

'Best not to ask,' Swan said.

'He stopped in the courtyard. He was trying to be secret, but I was on the stable steps.' The priest shrugged. 'He was speaking to one of d'Estouteville's grooms.'

Swan bowed. 'Thanks!'

He went back to the kitchen, where Alessandro had the dead man on a side table. Some of the cooks looked uneasy.

'I sent for Claudio,' Alessandro said, 'as I assume he was poisoned. I'd like to be sure.'

'Sweet Christ,' Swan said. 'Someone here killed him?'

'I think that's true, and I think that's the message,' Alessandro said.

'A business acquaintance just warned me off in the most determined way. In fact, he told me to go to Greece or Turkey, and vanish.'

Alessandro smiled evilly. 'I'm quite sure that if you go to Turkey, you will vanish, but I'm not sure that having your body cut up into very small pieces will help you.'

Swan felt his gut roll over and flinched.

'Yes,' he said.

He looked over the corpse with some attention, but there was no dagger wound, no cut throat, and he wasn't a doctor. He did take the trouble to turn out the man's pockets, and he was curious to find a small leather bag full of cotton waste, the sort of cotton that tailors used to pad a garment.

He took the bag.

Inside the man's gloves he found a twist of new paper with a set of pen and ink instructions. They were written in very tiny, very professional characters, and they described how Swan might be identified and what jewels he carried on him.

He showed it to Alessandro.

'Are those initials, inside the little diamond?'

Alessandro whistled. 'Someone who knows you very well,' he said. 'Christ, English, I don't know what that says. I need spectacles to read anything so small.'

Swan was still digesting that when a servant summoned him to Cardinal Bessarion. He paused to wash the blood off his hands and to glance at himself in a mirror, but the black velvet looked clean and neat and his face was clean, his linen collar still a sparkling white.

He walked briskly up the stairs to Bessarion's study, and when invited, entered.

Therein he found five cardinals, and no staff. He drew a number of conclusions instantly – first and foremost, that what they were doing was secret.

'Ser Tommaso Suane,' Bessarion said. 'Ser Tommaso is a knight of Saint Mark of Venice and also a volunteer with the Order of the Knights of Saint John. He has more experience of fighting the Turks than anyone else in Italy. He is the natural son of our own Cardinal Beaufort of England. Finally, he has met Skanderbeg.'

Swan noted that there was one more man in the room – a dusty Greek. Closer examination suggested that the man wasn't actually Greek – perhaps Vlach, or Albanian; tall, handsome in a predatory way, with bright blond hair and piercing blue eyes, like a raptor in man's flesh.

Swan knew most of the cardinals, at least by reputation, and yes, it was true – Cardinal Barbo, a handsome man, was in fact wearing rouge. Bessarion had a long beard and was his former mentor; d'Estouteville had a haughty French look; Aeneas Piccolomini sat quietly with his hands folded, His face was soft, almost pudgy, but his hands were strong and had done hard work.

None of the Orsini or Colonna cardinals were present.

Piccolomini nodded to Swan.

'I enjoyed your wedding,' he said in a low voice. 'Even if you did do some injury to my . . . nephew . . . Forteguerri.'

Swan could not keep the anger off his face. Forteguerri had, in fact, threatened to kill Sophia.

'Swan,' Bessarion said, 'we need you to run an immediate errand. I'm sorry that you are newly married . . .'

Swan bowed. 'Eminence.'

'. . . but we have no one else so fitted for this role. Albania is occupied by the Turks – Skanderbeg is hiding in the mountains, short of food and out of money.'

'You want me to rescue him?' Swan asked.

'The fucking arrogance of you Italians knows no bounds,' the blond man in the dusty kaftan spat. 'Iskander Bey needs no rescuing, not by some effeminate like you.'

Swan smiled. 'Ah, then I'm not needed.' He bowed.

Bessarion looked pained. 'Messire Pjetri is Skanderbeg's messenger, and in this case is perhaps being a trifle emotional.'

He said this in Greek. Swan's Greek was up to it, although the word for 'trifle' baffled him for some seconds.

'My company is in the Morea,' he said.

'There is no time for your company,' Bessarion said.

'Nothing would be more useless than some over-armoured, pompous Italian knights on their slow, grain-fed horses,' Pjetri said.

Piccolomini blinked, as if unused to coarse language.

Bessarion raised an eyebrow. 'We need you to raise money for us, and take it to Skanderbeg. And we need you to convince Venice to stop skirmishing with Skanderbeg and support him.'

Swan thought, Christ, they really are desperate.

Piccolomini spoke again, with a slight smile. 'You see, Messire Suane, we are locked in a conspiracy to save Christendom, and our resources are really very slight.'

Swan had thought of Piccolomini as Forteguerri's boss, and thus an enemy, but there, in one sentence, he found something to like.

'I think they believe that with letters from Barbo and Bessarion, and some pressure from you and me, and Loredan's thanks for being rescued . . .' Swan shrugged.

Loredan was watching Claudio dissect the young would-be assassin.

'In this case they are correct,' he said. 'I do owe the cardinals something – and anyway, the Venetian stance against Skanderbeg is now obsolete. I'm not sure how much money we can raise, but I'm positive we can effect the diplomatic change.'

Alessandro whistled. 'Disgusting,' he said, watching Claudio remove an organ from the dead assassin.

Swan turned his back before his gorge could rise.

'Let's leave for Venice, then,' he said.

Loredan nodded. 'I've already ordered horses.'

Alessandro said, softly, 'What about the French cardinal and his groom? I think that needs to be followed up.'

Swan shrugged. 'We leave that for later. Or never.'

Alessandro glanced at him. 'Never would be a mistake, my young English friend. Get someone here to look into it.' He waved at Bessarion's palazzo, as if men who could look into matters of assassination and espionage were to be found in every room.

Ten minutes later, Swan found Sophia fresh from the bath, in a shift, being dressed by a maid.

'Come, my love,' he said.

She smiled. 'Exactly why I married you. Where are we going? And why?'

'People
We hope you are enjoying the book so far. To continue reading...
Tom Swan and the Keys of Saint Peter
Christian Cameron
Copyright © 2023 All Rights Reserved