Book info
Sample
Audiobook
Media
Author updates
Lists
Synopsis
 Stuart Woods is in top form…and so is his perennially popular hero, Stone Barrington!
When a hedge fund billionaire hires Stone Barrington to talk some sense into his wayward son, it seems like an easy enough job; no one knows the hidden sins and temptations of the ultra-wealthy better than Stone. But as Stone and his erstwhile protégé, Herbie Fisher, probe deeper into the case-and an old one comes back to haunt him---he realizes that even he may have underestimated just how far some people will go to cover up their crimes…and plan new ones.
Release date: April 17, 2012
Publisher: G.P. Putnam's Sons
Print pages: 400
* BingeBooks earns revenue from qualifying purchases as an Amazon Associate as well as from other retail partners.
Listen to a sample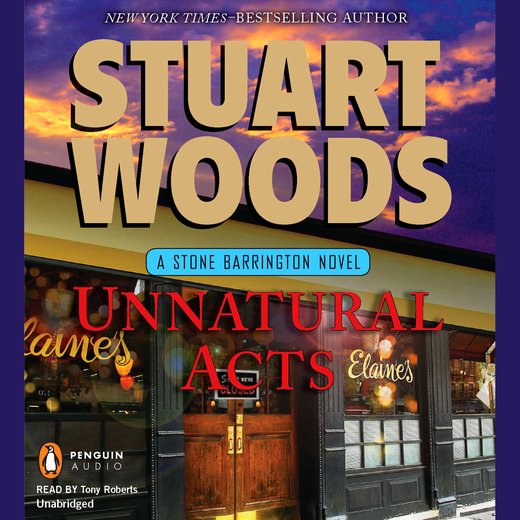 07:55:58
217.9 MB
9781101564189
April 17, 2012
Penguin Random House
2012
Unnatural Acts
Stuart Woods
1
ELAINE'S, LATE.
It was as late as it was ever going to get at Elaine's. Elaine had died nearly six months earlier, and the restaurant couldn't make it without her. This was its last night.
"You know," Dino said, gazing at the mob jammed into the place, "if half these people had had dinner here once a week after she died, this joint would still be thriving."
"You're right," Stone said, "but I guess the place could never be the same without Elaine to hold it together."
"I feel sorry for the writers," Dino said. "There isn't another joint in town that gives the best tables to writers. They'll be wandering up and down Second Avenue, looking for someplace to eat."
"And think of all the book deals that won't get made here," Stone said. "Where else do writers and publishers mingle?"
All the tables had temporary tops that seated ten people, and Stone and Dino were jammed against the wall, so close to the next table that if they wanted to get to the men's room, they would have to stand on their chairs and walk across the table. There were two hundred people lined up on Second Avenue, waiting to get in.
Bill Eggers, the managing partner of Stone's law firm, Woodman & Weld, spoke up from across the table. "Never mind the writers," he said, "where are you two guys going to eat?"
"I have no idea," Stone said. "There just isn't another place in the city that has what Elaine's had. Forty-eight years she was here."
Somebody with a video cam elbowed his way up to the table and panned around the group. Herbie Fisher and his girl and Bob Cantor and his wife were there. Holly Barker had flown up from Washington for the occasion and was staying with Stone. The cameraman moved on. Stone looked around and saw plenty of regulars: Gay Talese, Frederic Morton, David Black, Nick Taylor, Carol Higgins Clark—all writers; photographers Harry Benson and Jessica Burstein were taking pictures; Alec Baldwin, with shaggy hair and a full beard, had found a video cam somewhere and was using it; Josh Gaspero, retired publisher, and his Thursday-night regulars were at their regular table. Gianni and Frank, the headwaiters, and all the waiters, were still there; none had left for another job before the end.
It was just like every other night at Elaine's, except for the three hundred extra people.
Stone had ordered the most expensive wines, because he knew Elaine would have loved that. She had liked nothing better than flogging a few bottles of Dom Pérignon of an evening.
Holly hugged Stone's arm. "I'm sorry, Stone, I know how you loved Elaine and her joint."
"That's what she always called it," Stone said, "her joint."
Dino poured himself another Johnnie Walker Black from the bottle on the table.
"Can I get you a straw for that?" Stone asked.
Dino handed him a bottle of Knob Creek. "And for this?"
A good-looking redhead Stone didn't recognize struggled past his table, heading for either the bar or the front door. Stone was still watching her a moment later when she was stopped by a man who had planted himself in her path. He leaned over and shouted above the din into her ear. She drew back her right hand and punched him squarely in the face. He fell, scattering drinkers, and Stone could have sworn she stepped on him as she continued out the door.
The man was helped to his feet, swearing, his nose bloody, shouting unpleasant descriptions of the redhead to anyone who would listen.
"Did you see that?" Holly asked.
"I did."
"She looked familiar. Do you know her?"
Stone shook his head. "Nope, I don't know any redheads."
"Maybe she wasn't always a redhead," Holly said.
"Who knows? I don't know three-quarters of the people in here."
"I didn't get a look at her face," Dino said, "but I know the guy she knocked down, name of Billy Gaston, ex-cop, now a PI. Nasty piece of work."
"Never heard of him," Stone said.
"He was a street cop, made detective after you left. He was on the take from all sorts of people. The brass couldn't prove it, but everybody knew it. He was told he might be happier in civilian life, and he took the hint."
"She really slugged him, didn't she?" Stone laughed.
"And I really enjoyed it," Dino said.
STONE AND Holly staggered into his house in Turtle Bay and took the elevator upstairs, necking all the way. Leaving a trail of clothing, they made their way into the bedroom to be greeted by a persistently ringing telephone. Stone looked at the instrument. His third line was ringing, the one that the answering machine didn't pick up. Stone pressed the speaker button and fell into bed beside Holly.
"Yeah?"
"It's Dino."
"You son of a bitch," Stone said, "you knew I'd have to pick up line three."
"Of course," Dino said. "I want you to listen to something. It's important."
"Listen to something? What are you talking about?"
"Just shut up and listen." There were noises, then Stone could clearly hear a female voice.
"Hey, Dino," she said, "it's Shelley. Well, not anymore, but you wouldn't recognize my new name. I saw you at Elaine's tonight. Sad, isn't it? The first time I was ever in the place, and it was the last night. You and Stone and Holly seemed to be having a good time, but I could tell you were a little depressed. Who were all the other people at your table? Regulars, I guess. Well, it's late, and I'd better let you get to bed. I may be in town for a little while, so I'll call again. Maybe we can actually talk." There was a click.
"That's it," Dino said.
Stone, Dino, and Holly had spent a lot of time in Washington, D.C., the previous summer while Dino and Stone investigated a year-old murder and a suicide, which turned into a string of five murders, all women. Turned out, the murderer had been in their midst all along.
"Holy shit!" Holly said. "Shelley is in New York?"
"What are you going to do about it, Dino?" Stone asked.
"What the hell can I do about it?" Dino asked.
"The woman is a serial killer," Stone reminded him. "You can't ignore this."
"What do you suggest?"
"You might keep that recording for later," Stone said.
"Okay, I'll do that. What else?"
"You're right, I'm stumped, too. If I were you, I'd give Kerry Smith at the FBI a call tomorrow morning and tell him about this."
"Okay, I'll do that, then I'll forget about it."
"Sleep tight," Stone said, then pushed the speaker button again to disconnect.
"So she's still out there?"
"Shhhhh," Stone said, kissing her, then he moved on to other things.
2
STONE WOKE at his usual seven a.m., but worse than usual for the wear. "Groan," he said.
Holly stirred beside him. "Groan here, too. What were we drinking last night?"
"Bourbon and Dom Pérignon," Stone said, "and I think there was some red wine in between."
"My head remembers them all," Holly said. "Aspirin?"
"In your medicine cabinet," he replied, and Holly padded across the bedroom to her bathroom. "Bring me three," Stone called out. "And some water."
Holly returned with the aspirin bottle and a glass of water, and they both partook.
"A good breakfast will chase away the hangover," Stone said, picking up the phone and buzzing Helene, his housekeeper. He ordered eggs scrambled with cheese, bacon, English muffins, orange juice, and coffee, then hung up.
"Thank God we don't have to fix breakfast," Holly said.
"Or go out for it. Dino does that every day—goes to some diner near his apartment."
"Couldn't face it." Holly pulled the covers over her head.
"Didn't we have some sort of conversation with Dino last night? Something about Shelley Bach?"
"Groan again," Holly said, her voice muffled. "Don't want to know."
"There's been a nationwide APB out for her for what—nine, ten months? How can she elude law enforcement for that long in this day and age?"
"Can't be done," Holly said, still muffled.
Stone pulled down the covers far enough to expose her lips, then kissed her. "Tell me how you'd do that, if you were Shelley."
"Well," Holly said, "she was an assistant director of the FBI, after all. That means she knows how law enforcement finds fleeing felons. Also, she had access to equipment and computers that would allow her to make fake IDs, driver's licenses, et cetera—probably even passports. We know she switched cars early in the chase—she probably bought a car under a false name—and she must have had some sort of hideout ready, something out of the way and quiet. She's got to be calling Dino from a throwaway cell phone—the greatest aid to criminal conduct since the blackjack. The FBI would have to be very lucky indeed to catch her."
"You have a point," Stone said.
"I have many points."
"She's such a striking woman that it's a wonder she could move around in public without being spotted by some citizen. After all, her face was all over TV last summer and fall."
"Yeah, but the only photo they had was the one on her FBI ID," Holly said, "just a straight-on, washed-out black-and-white shot, no better than a mug shot, really, and her hair was short when that picture was taken. Hair dye and makeup can work wonders for a girl these days." She held up a strand of her auburn hair. "Look at this."
The bell on the dumbwaiter rang, and Stone got out of bed and brought back the big breakfast tray, complete with the New York Times and the Wall Street Journal. Stone took the front page of the Times and handed the rest to Holly.
"I can't face the news without something in my stomach besides champagne," she said.
Stone went to the bar fridge, came back with a half bottle of Schramsberg Blanc de Blanc, and popped the cork. "Hair of the dog," he said, pouring half a glass and adding orange juice.
"A mimosa," she said. "Just the thing."
"A Buck's Fizz, the Brits call it. I like that better."
Holly took a long draft. "Whatever you call it, it hits the spot."
They dug into breakfast.
DINO FINISHED breakfast at his local diner then got out his cell phone and speed-dialed FBI headquarters, in Washington.
"Deputy Director Kerry Smith," he said to the operator. "Lieutenant Dino Bacchetti, NYPD, calling."
"Deputy Director Smith's office," a secretary said. "Lieutenant Bacchetti?"
"Right here."
"He's … no, wait, he just got off the line."
There was a click, then Kerry Smith said, "Dino?"
"One and the same."
"How are you?"
"A little hungover," Dino admitted. "We closed Elaine's last night, for the last time."
"You know, I never made it there," Kerry replied.
"Too late now," Dino said. "You know who else was there?"
"Who?"
"Your former assistant director, Ms. Bach."
"You saw her? Did you call it in?"
"No, she saw me. There was a message from her on my answering machine when I got in. You want to hear it?"
"Yes, please."
Dino held the phone next to the machine and pressed the button. When she had finished talking he put the phone back to his ear. "Could you hear that?"
"Yes, and I recorded it, so I don't have to send two agents over there to rip out your phone and take the tape."
"That's kind of you, Kerry. What now?"
"I'll alert the New York field office, and they'll take it from there."
"You want me to put out an APB with my department? Your guys don't know anything about finding a fugitive in New York."
"I don't accept that contention, but I accept your offer of an APB. What do you think your chances are of finding her?"
"About the same as yours," Dino said. "Zip, pretty much. She's a smart girl, you should forgive the expression, and if you haven't run her down so far, you're not likely to get her now. There are eight million stories in the city, and hers is only one of them."
"You're probably right," Kerry said, "but I'll deny I ever said that. There's more bad news on that front: Shelley had substantial inheritances from her grandfather and her mother, and she moved her capital out of the country, through a series of offshore banks. She worked on capital-tracing cases earlier in her career, so she knows how to do that."
"So she's well financed?"
"Extremely."
"I could never get her to talk much about her background," Dino said. "What do you know about her?"
"Born in Philadelphia, where her grandfather owned a large department store. Her father died in a riding accident when she was seven, fell off a horse and broke his neck. She and her mother moved in with the grandparents, and she had a happy life. College at Mount Holyoke and Harvard Law School, where she edited the Law Review. Joined a New York firm after school, lasted a couple of years. Hated it. Joined the Bureau for excitement, I guess, and she did well."
"Suppose she shows up. What do you want me to do?"
"Are you nuts? Arrest her!"
"I'd feel bad about that," Dino said. "We got close when I was in D.C."
"Yeah, well, she and I were close for a couple of years, too, but I wouldn't hesitate to clap irons on her."
"Yes, you would," Dino said.
"Well, maybe for a second or two," Kerry admitted. "She was really something."
"Yeah," Dino said, "she was. See you, Kerry." He hung up and waved at a waitress for another cup of coffee.
3
STONE GOT a call from Bill Eggers at ten.
"Stone, we've got a client who needs the sort of attention that you've given our clients in the past."
"What's his problem?" Stone asked.
"We're having lunch with him at the Four Seasons at one o'clock. He'll explain it to you then."
"Fine, Bill, see you there." Stone hung up and reflected on the kind of help he had given to clients of Woodman & Weld in the past. His specialty had been to handle the kind of cases the firm did not wish to be seen handling in-house. Now that he was a partner, Stone did not particularly wish to be seen handling those cases himself. However, he could not refuse such a request from Bill Eggers out of hand. There was an etiquette involved here. Stone would have to listen to the client's problem, then find a way to tell Eggers that he would not handle it. He felt in a strong enough position, now, to tell him to go fuck himself, if necessary. He was responsible for three major additions to the Woodman & Weld client list, one of them his late wife's estate, as well as himself and Peter. He made a decision: if he didn't want to do it, then the hell with it.
STONE ARRIVED at the Four Seasons, which occupied the ground floor of the iconic Mies van der Rohe design, the Seagram Building, which also housed Woodman & Weld. He walked up the stairs, past the bar, and into the Grill Room, where Eggers's permanently reserved table sat. Bill was already there, and they shook hands.
Stone needed to keep his wits about him, so he ordered San Pellegrino mineral water. "So, Bill, who's the client and what's his problem?"
"The client is Marshall Brennan," he said, "of the Brennan Group."
Stone didn't need the firm name; everybody on the planet with a room-temperature IQ knew who Marshall Brennan was and, apparently, was anxious to invest in his hedge fund, which controlled a growing list of diversified companies, everything from hotel and restaurant chains to industrial and high-tech companies. Stone had seen the man across crowded rooms but had never met him. "And what's his problem?"
"Ah," Eggers said, "here he is now." He stood up to greet his client. "Good afternoon, Marshall. I'd like you to meet our partner, Stone Barrington."
Stone shook the man's hand and observed that he was wearing a faded, wash-and-wear suit and a bad necktie and was carrying a cheap plastic briefcase, this from a multibillionaire.
"I hope you've been well," Eggers said. "And Ethel, too."
"Yes, we're both well, Bill. And, Stone, it's a pleasure to meet you. I've been following with interest your progress with the new hotel in Bel-Air."
Stone's son had inherited from his mother an eighteen-acre property in Bel-Air, Los Angeles, and Stone was a lead investor in the project to build a new, ultra-luxury-class hotel there.
"Thank you, Marshall, it seems to be going well. We broke ground last fall, and the old Vance Calder house is being turned into the reception area, with an addition for offices. Construction has begun on the cottages and rooms, too."
"What's your grand opening date?" Brennan asked.
"Probably early next year. I don't think we can make Christmas, unless things go faster than planned."
"My people have had a lot of experience in hotels, so let me know if I can be of any help."
"Thank you, Marshall, that's kind of you."
They ordered lunch, then Eggers sat back in his chair. "Stone, Marshall's youngest son, Dink, has gotten himself into a bit of a mess."
"Oh?" Stone couldn't wait to hear this.
"He's at Yale—in Peter's class—and he has acquired a bit of a gambling problem."
"How much of a problem?" Stone asked.
"About two hundred thousand dollars' worth," Brennan interjected, "to a bookie and loan shark."
"Is he able to pay it?" Stone asked.
"Of course not," Brennan replied, "but the bookie knows I can pay it."
"Do you intend to pay it?" Stone asked.
"That depends a lot on the advice I get from you. Bill tells me you've dealt with people like this in the past."
"I was a police officer for fourteen years," Stone replied. "I dealt with all sorts of people, some of whom were unable or unwilling to pay their gambling and loan debts."
"What happened to those who couldn't or wouldn't pay?"
"Unpleasant things," Stone said. "I've rarely known a bookie or a loan shark to kill people, because the dead can't pay their debts, but quite often such people required medical attention after negotiations failed."
"So, these things are negotiable?"
"Only when the lender is convinced that the borrower can't pay it all. In your case, as you say, he already knows that you're Dink's father."
"That's what I've been told."
"Then I should think that the bookie/lender has every intention of collecting every penny, and the total goes up daily, at the rate of about ten percent a week, so time is of the essence."
"Can I have him arrested?"
"Such activities are certainly against the law, but I don't think you want to get into a legal wrangle with a criminal. First of all, such action would not necessarily protect your son or even you from retribution, and second, there might be an unwanted level of public attention brought to bear on everyone involved. The tabloids would love the story."
"So I should pay up and end it?"
"Paying up is probably necessary, but that might not end it."
Brennan looked alarmed. "Why not?"
"Because paying the money won't deal with your son's gambling problem. Indeed, if you get him off the hook this time, he might take that to mean that you always will. And the paid-off bookie will certainly be willing to extend him more credit."
"So how do I fix this?"
"Marshall, may I ask, what is your relationship like with your son, apart from the gambling?"
"Sometimes good, sometimes bad," Brennan said.
"Good when he gets what he wants, bad when he doesn't?"
"That's about the size of it."
"Then I can only tell you what I would do if it were my son."
"And what is that?"
"How old is he?"
"Twenty."
"That precludes an involuntary commitment to an institution."
"Yes, it does. I thought of that."
"Does he have means of his own?"
"No."
"Then I would sit him down and force him to close his bank and credit card accounts and destroy his credit cards. I would leave him no option but to leave Yale and voluntarily enter an intense, residential treatment program, and by 'residential' I mean a place with a high fence around it and bars on the windows."
"And what if he refuses to cooperate?"
"Then leave him to the tender mercies of his bookie. After a couple of large men have beaten him to a pulp, he may take a different view of things."
To Stone's discomfort, Marshall Brennan began to cry.
Eggers comforted him while Stone waited quietly for him to continue.
Finally, Brennan was able to speak. "I don't think I can confront my son in that fashion."
"Then have someone else confront him."
"Do you have someone in mind?" Eggers asked, obviously hoping that Stone would volunteer.
"I think Herbert Fisher would be well suited to the task," Stone replied.
"Who is Herbert Fisher?" Brennan asked.
"He's a young attorney with Woodman and Weld," Stone replied. "He has a history of such problems in his own past, from which he has recovered."
"He's one of the firm's outstanding associates," Eggers added.
Brennan took a deep breath and let it out. "All right," he said. "Do it."
"Do what?" Stone asked.
"Exactly what you just said. Have your young man deal with it: pay the bookie, recommend a treatment facility, and confront Dink."
Stone took a jotter and a pen from his pocket and handed them to Brennan. "His full name, address at Yale, cell and phone numbers. And a list of his bank accounts and credit cards. And the name of the bookie/loan shark."
Brennan wrote it all down. "There's a briefcase under the table with two hundred thousand dollars in it." He handed Stone a business card. "Call me on the cell number if you need any further information." Then Marshall Brennan got up and left.
Eggers produced a cell phone and pressed a button. "Herbert Fisher, please. It's Eggers. Hello, Herbie? You're invited to lunch downstairs, my table, now." He closed the phone. "Do you need me here for this?"
"Yes," Stone said. "I want Herbie to know this comes from you, and anyway, you haven't eaten yet."
4
HERBIE FISHER arrived just as his lunch did. "Good afternoon, gentlemen," he said as he sat down.
"We ordered for you," Eggers said.
Stone reflected that Herbie dressed better these days than many of the partners at Woodman & Weld, and that he had grown up a lot in other ways, helped along by his recent, newfound lottery wealth.
"What are you working on?" Eggers asked him.
"Whatever the partner throws my way," Herbie replied, "and she's thrown me a very mixed bag."
"Tell her that you're going to be dealing with the problem of one of my clients for a few days," Eggers said.
"Yessir."
"We've chosen you for this assignment," Eggers said, "because, among the partners and associates, you are uniquely qualified to handle it."
Herbie shoved a bite of Dover sole into his mouth. "I think that means the client's problem has, shall we say, unsavory aspects."
"You are correct," Eggers said. "Not that we feel there's anything unsavory about you, Herbie, just that you have experience with the kind of people who are a big part of the problem."
"I understand, I think."
"Stone, explain things to Herbie."
Stone explained things to Herbie. "Now, how would you handle the situation?"
"First," Herbie said, "I'd visit the young man and impress upon him that either his life is about to change drastically for the better, or it will change drastically for the worse."
"Good. What if he doesn't buy what you're selling?"
"Is the boy's father willing for his son to take a beating by professionals?"
"Yes," Eggers said. "By professionals, I take it you mean people who can make an impression on the young man without killing or permanently disabling him."
"That is correct," Herbie replied. "What is the boy's involvement with drugs?"
"We neglected to inquire about that," Stone said.
"Well, his kind of behavior is nearly always associated with either booze or drugs or both. Probably cocaine, in this case, so he may owe a dealer, too. Is more money available for that?"
Eggers addressed this. "I believe I can convince our client to come up with whatever is necessary, if he feels that he has a chance to rescue his son."
"All right," Herbie said, "I'll take it on, but I'm going to need some things from you gentlemen."
"Name them," Eggers said.
"Bill, I'm going to need the name and address of a facility that can protect the boy both from harm and from himself."
"I can find out," Eggers agreed.
"And a voluntary commitment form for the kid to sign. I can notarize it."
"In one hour," Eggers said.
"I'm going to need two large men from the facility to be parked outside the boy's residence while I'm talking to him, which means he has to be preregistered."
"I can do that, too."
"Stone, I'm going to need those two guys, the brothers, who work for Bob Cantor."
"Willie and Jimmy Leahy." The brothers were large ex-cops.
"Right. I'll want to take them with me up to Yale and to talk to the bookie."
Stone handed Herbie the list that Brennan had written down.
"Carlo Contini," Herbie said. "I know him. He was my bookie"—he looked at Eggers—"some years ago."
"Good," Stone said. "It's nice that you two are acquainted."
"What's this Carlo like?" Eggers asked.
"Easygoing when a client is paid up, mean when he's in arrears."
"I was afraid of that."
"How much am I authorized to pay Carlo?"
"There's a briefcase next to your right foot containing two hundred grand," Stone said. "Try and get by on that.
We hope you are enjoying the book so far. To continue reading...
Unnatural Acts
Stuart Woods
Copyright © 2023 All Rights Reserved
Also in this series
Also by this author