Choppy Water
Available in:
eBook
Paperback
Audiobook
Hardcover
Book info
Sample
Audiobook
Media
Author updates
Lists
Synopsis
In this exhilarating new thriller from #1 New York Times bestselling author Stuart Woods, Stone Barrington must go up against an enemy with deadly intentions--and ideologies.

Stone Barrington and his friends are vacationing in Maine when their leisure is suddenly disrupted by extreme weather. To make matters worse, the inclement conditions allow for a menacing adversary to sneak in unnoticed and deliver a chilling message. Soon it becomes clear that the target of the incident is one of Stone's closest companions, and that these enemies have a grander scheme in mind.

From the bustling streets of New York City to the sun-drenched shores of Key West, Stone intends to nab the criminals that appear behind him at every step. But his search only leads him further down a trail of peril and corruption, and he'll soon find that at the end of the road is a more dangerous foe than he could have imagined...
Release date: August 11, 2020
Publisher: G.P. Putnam's Sons
Print pages: 336
* BingeBooks earns revenue from qualifying purchases as an Amazon Associate as well as from other retail partners.
Listen to a sample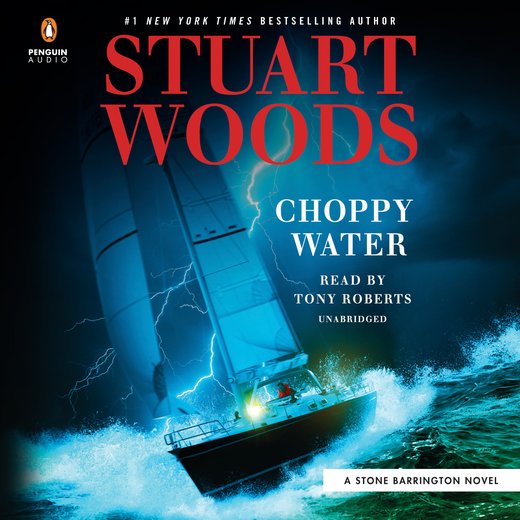 07:25:18
203.86 MB
9780593286470
August 11, 2020
Penguin Random House
Choppy Water
Stuart Woods
1
A platoon of Secret Service agents led Stone Barrington and Holly Barker from a service elevator and down a hallway, where they paused at a set of double doors.
"Ready?" Stone asked Holly.
"No," she replied firmly.
"Take a few deep breaths," he advised.
She did so, then shook her shoulders.
"Ready now?" he asked, reflecting that he wouldn't be ready, either, if he had just been elected president of the United States.
"Is it too soon for me to resign the office?" Holly asked.
"Way too soon," Stone replied. He nodded at the agent with his hand on the doorknob, and the man pushed the door open.
The crowd in the ballroom let out a noise that Stone thought happened only at riots. Holly took hold of his arm, and he led her toward the platform at the front of the room. At the bottom of the steps, he stopped. "Okay, you're on your own now."
She nodded, let go of his arm, and climbed the stairs.
Stone took a moment to look around the room and discovered that he was the only man there wearing a tuxedo. Who had not gotten the memo-them or him?
The applause went on and on while Holly beamed at the crowd until finally she began begging with her hands for them to stop and let her speak. "First," she said, "I want to introduce the vice president-elect of the United States, Sam Meriwether, of Georgia!"
To strong applause, the former senator climbed the steps on the other side of the stage, took Holly's hand, and nodded his thanks to the audience. Then he stepped back, indicating that they should direct their attention to the president-elect.
"We've all come a long way together," she said, "and there are some people I need to thank. Please hold your applause till the end, or we'll be here all night." She thanked her father and stepmother, her campaign manager and others. Twenty names later she said, "And my friend, Stone Barrington," indicating him at the edge of the platform. A spotlight caught him.
Stone had not expected this-indeed, did not welcome it-and felt a flush of heat and a flop sweat coming on. He nodded a couple of times. Photographers' strobes flashed and iPhones were held up by people in the audience. Then, mercifully, the spotlight went elsewhere, and he was able to pat his face with a handkerchief and cool down a bit. He wondered how he could gracefully get out of the room without being noticed, then realized he was stuck there as long as Holly was.
Holly made a short, graceful speech about what it meant to her to be elected president-just short enough to make the lede for all the news shows. Then she left the stage and walked around the room alone, shaking hands and exchanging air-kisses. At a signal from her, the orchestra struck up a tune and people rose and started dancing. Holly made her way back to Stone, and they were directed out a door at the rear of the platform and into a greenroom, where staff and close friends awaited. She repeated her stroll around the ballroom. A half hour later they were led out of the room, followed by Holly's father, Ham Barker, and his wife, Ginny. The next thing they knew, they were back in suite 27A, and everybody was drinking champagne.
The TV was turned off, and a pianist and a bass player offered some light jazz background.
It was two in the morning before the last friend left, and Stone was alone with Holly.
"You look a little peaky," she said to him. "God, I forgot you're just out of the hospital. Let's get you to bed."
Stone allowed her to help him undress and rehang his arm in the sling, then they settled into bed.
"What does tomorrow hold for you?" Stone asked.
"I've told the staff I want a week off, and I don't care if they like it or not," she said. "Where can we go to be alone?"
"Do we have to stay in the country?"
"Oh, yes. Traveling abroad is going to be a very big deal for the next few years."
"Then I can offer you L.A., Maine, or Key West."
"Too many people in L.A. Too hot in Key West. That leaves Maine."
"Do you have a coat?"
"I can go shopping in the morning."
"Really? And cause a riot on Madison Avenue?"
"Oh. All right. I'll have somebody bring a few in for me to choose from." She waited for a response. "Stone?"
But Stone was out for the night.
The following morning after breakfast, Holly summoned her Secret Service head-of-detail, Bill Wright, and his deputy, Claire Dunn, and bade them to sit down. They did so.
"All right, Bill, Claire, here it is: Stone and I are going away for a week."
Their faces fell simultaneously. "Away?" Bill asked. "Where?"
"To an island in Maine," Stone said, "called Islesboro, to a village called Dark Harbor, to my house." Bill started to object, but Stone raised a hand. "Let me brief you first. The island has a winter population of about twenty this time of year. My house was built for my late cousin, Dick Stone, under the supervision of the CIA; Dick was its deputy director, and the house is bulletproof, including the windows. The nearest airport that can take a jet is Rockport, with runways of four and five thousand feet. Two ways to get to the island: ten minutes in my Cessna 182, for five people and luggage, to a 2,400-foot paved airstrip, or a twenty-minute drive to Lincolnville, where there's a ferry every hour or so. I'm not sure what the winter schedule is. I can house six of your agents in my guesthouse, and our cook will prepare their meals. There's a dock on the property should you want to send people by boat. We're next door to the local yacht club, which will be closed for the winter. You might contact them about using their clubhouse for recreation and meals."
"You didn't mention use of a helicopter into the Islesboro Airport," Bill said.
"Only if you want to attract news organizations with TV cameras."
"That's out," Holly said.
"Well," Bill said. "I'll have to contact my boss in Washington to get permission for this excursion, and I'll have to call on the Air Force for an aircraft."
"Sorry," Stone said, "I didn't mention that I own a Gulfstream 500, based at Teterboro, which will seat up to twelve people, for the leg to Rockland."
"We'll still need Air Force pilots," Bill said.
"I have a full-time pilot, highly qualified. If you want an Air Force pilot to fly right seat, fine with me."
"I'll call Washington," Bill said.
"Hold on, Bill," Holly interjected. "I want you and Washington to understand that we are not requesting permission for anything. I've made the decision to go. If your people don't want to participate, we'll be quite happy with the transportation on hand. The security arrangements are up to you."
"Yes, ma'am," Bill said.
Claire spoke up for the first time. "Mr. Barrington, I understand that you have a knife wound to your arm that requires daily inspection and rebandaging."
"That's correct."
"I'm a nurse practitioner, so I can take care of that. I'll bring the necessary materials along."
"Thank you," Stone said.
"Now," Holly said. "I propose that we leave the Carlyle at six am tomorrow morning for Teterboro."
"I'll arrange everything," Bill said, and the two agents left.
"Now," Holly said. "I'll have to do some shopping, and I imagine that you need some proper clothing, too." She picked up the phone and called somebody.
Stone called Joan and asked her to pack a couple of bags and send them to the hotel.
2
They departed the Carlyle at five am, instead of six, for better traffic conditions. They were on the ramp at Teterboro by five-thirty and attracted no attention while boarding. Faith, Stone's pilot, introduced them to her Air Force copilot; there was no stewardess on board for the short trip.
They were allowed an early takeoff and given a clearance of direct Rockland. Forty minutes later they set down. There Stone, Holly, and the head-of-detail Secret Service agents, Bill and Claire, got into Stone's Cessna, while the other agents boarded a couple of SUVs for the drive to Lincolnville and the ferry. The two pilots had accommodations in Rockland.
"The yacht club has given us the use of their building," Bill said, "and we're taking in our own bunks and a cook. We'll be out of your hair most of the time. Claire and I will use your guesthouse, if that's all right."
"Certainly," Stone said, taxiing into position.
They landed at Islesboro fifteen minutes later, and Seth Hotchkiss was there with the 1938 Ford Woodie station wagon to transport them to the house.
Once at the house, Stone showed the agents around, then they left for the yacht club to get that organized.
Stone lit a fire, and he and Holly settled down before it with cups of cocoa.
"This is all I want to do while we're here," Holly said, "just sit and stare into the fire."
"I imagine your brain will be occupied with other things," Stone said, as her cell phone rang. She switched it off. "I can return calls later." She snuggled next to him.
"What's in the big briefcase?" Stone asked.
"Three big briefcases," she said. "The rest are in the SUV, on their way. They contain lists of potential cabinet appointees and their dossiers, appointments to the Supreme Court and others, legislative proposals, executive orders to be signed on inauguration day, et cetera, et cetera. We've taken a whole motel in Rockland for staffers, and some of them will show up each day with briefing papers. There are two press pool people, sworn to secrecy and not to publish until we leave here. A press announcement is being made that I'm bound for an undisclosed location in Florida for a few days of rest and planning and will have no visitors. Everybody in Washington wants to visit."
"I can imagine."
They had lunch, just the two of them, and the Secret Service people were invisible, as promised. After lunch, Stone went into the village to the store to pick up a New York Times. "You want me to order it daily for you, Stone?" Billy, the owner, asked.
"Sure, Billy."
"What's going on over at your place?" Billy was also the head selectman and a human switchboard for local news and gossip.
"Just a few friends up from New York," Stone replied. "We're working on a new business proposal for next year."
"Dino and Viv along?"
"They've been invited, but it will be later in the week before they turn up."
That seemed to satisfy him, and Stone went home with his paper and a quart of ice cream.
Stone backed out of his parking space, just as another car pulled in next to it. When one of the two occupants opened a door, Stone saw a black leather bag full of camera equipment on the back seat. He stopped and, looking up, saw Billy standing on the storeÕs front porch, greeting them. Stone caught BillyÕs eye and did a zipping motion over his mouth. Billy got it. He pointed this way and that, giving directions.
The two men got back into their car and drove off in the wrong direction.
Stone drove quickly back to the house, pulled into the garage, and pressed the button to close the door. One of the Secret Service men was guarding the front door. Stone said, "There are photographers on the island, looking for us, so get all your guys indoors and their car out of sight." The man spoke into his radio, then followed Stone inside. Stone looked out a window and saw the photographers driving toward them. He got a robe from the coat closet and tossed it to the Secret Service man. "Take off your coat and put this on," he said. When the man was properly costumed, Stone handed him his newspaper. "Answer the door and improvise," he said.
Stone heard car doors slamming and ducked back into the living room. A moment later there was the bang of the knocker on the front door. Stone directed the agent with a lift of his chin.
The man unfolded the newspaper, tied the robe, and opened the front door. "Yes?"
"Mr. Barrington?"
"No."
"May we speak to Mr. Barrington?"
"You'll need to go to New York for that," the agent said. "He's let me have his place for a few days."
"You mean he's not on the island?"
"Yes, but it's the island of Manhattan. Anything else I can do for you?"
"Yes, what's your name?"
"Why do you want to know?" the agent replied politely.
"For our story."
"No stories here," the agent said. "Good day. If you hurry, you can catch the next ferry. Otherwise it could be six or seven hours. It's a refueling day."
The two men ran for their car and fled the scene.
"You get an Oscar nomination for that one," Stone said to the man.
Holly was just coming downstairs. "I heard a car leave. Who was here?"
"A couple of photographers," Stone replied. "Al here told them a fairy tale, and they bit."
"Oh, good," she said.
Stone turned to the agent. "Was that true about the ferry?"
"It certainly was," Al said, "except for the refueling part. I've alerted our people on the mainland to stay out of sight until they're gone."
Stone went and sat down next to Holly. "How did they get on to us?"
"Maybe a local ashore," Al said. "Your airplane's in the hangar, isn't it?"
"Yes, and locked up."
"We can't have them looking up the tail number. If you like, I can call the FAA and have your number removed from the public-access registry."
"What a good idea," Stone said.
"Al," Holly said, "can you have his face removed, too?"
"I'll see what I can do," Al replied.
3
Stone was reading the Times when a cell phone rang. "It's not me," he said, to nobody in particular.
Holly produced a phone from a pocket. "It's Ham," she said. "Hey, Ham."
"Hey, baby. There was a story in the papers this morning, said you were somewhere in Florida. I had to run off a couple of people before breakfast. Are you okay?"
"Yes, I'm fine. I'm . . . Remember that place I told you about?"
"Yeah."
"I'm there."
"I'll put up a sign," he said, and told her his idea. "Have a good time," Ham said, then hung up.
Holly hung up, too. "The Florida story in the papers worked. Ham's had visitors."
We hope you are enjoying the book so far. To continue reading...
Choppy Water
Stuart Woods
Copyright © 2023 All Rights Reserved
Also in this series
Also by this author