Book info
Sample
Audiobook
Media
Author updates
Lists
Synopsis
After a shocking loss, Stone Barrington is at loose ends, unsure if he wants to stay in New York and continue his work as a partner at Woodman & Weld. It comes as a welcome relief when he's summoned to Washington, D.C., by President Will Lee. The president has a special operation that calls for Stone's unique skill set, and it's a mission that will reunite him with his former partner in crime and in bed, Holly Barker.
Release date: December 22, 2011
Publisher: G.P. Putnam's Sons
Print pages: 400
* BingeBooks earns revenue from qualifying purchases as an Amazon Associate as well as from other retail partners.
Listen to a sample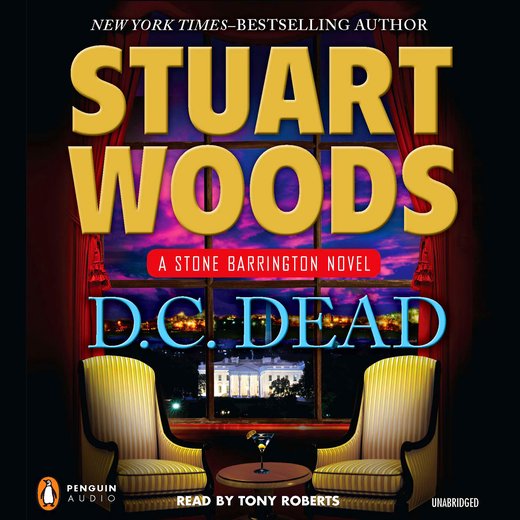 07:41:13
211.16 MB
9781101538456
December 22, 2011
Penguin Random House
2011
D.C. Dead
Stuart Woods
1
STONE BARRINGTON AND DINO BACCHETTI ENTERED ELAINE'S on a Sunday evening, and drinks were brought to them immediately.
They took their usual table, and Elaine came over and sat down. "You two are oddly dressed," she said. "For you. What's going on?"
"Oh," Stone said, "we delivered our sons to Yale for their freshman year this afternoon, and we're dressed for humping boxes of their gear up to their apartment."
Elaine nodded. "So the boys are off?"
"They're off," Dino said.
"No wonder you both look so glum," Elaine said.
Stone looked at Dino. "Do I look glum?"
"Yeah," Dino said.
"So do you."
"You're empty nesters now," Elaine chortled. "Never thought I'd see the day."
Stone shook his head. "Nine months ago I didn't have a son, at least not one I'd ever met. Now I don't have a son again."
Elaine reached over and patted his cheek. "You haven't lost a son," she said, "you've gained a college boy." She got up and continued her rounds of the regulars' tables.
"I guess that's one way to look at it," Stone said. "Do you think he'll ever come home again?"
"Probably not," Dino replied. "You've seen the last of that kid."
"Oh, shut up. You're in the same spot."
"Nah," Dino said, "you're worse off. At least I'm not used to having Ben around the house all the time. He's been at prep school for four years, and then his mother yanked him to her place every chance she got. This afternoon, why didn't you raise the subject of visits home?"
"I thought about it," Stone said, "but I was afraid I wouldn't like the answer. After all, the kid's got the money he was paid for his film, which is more than I had a year ago, so he doesn't need me for anything."
"He just doesn't need you for buying stuff," Dino pointed out. "He still needs a father."
"You really think so?"
"Ben needs me, I'm sure of that. Why wouldn't Peter need you, what with his mother dead and all?"
"He's got Hattie. They're sleeping together, you know."
Dino laughed aloud. "No shit? What were you doing your freshman year?"
Stone shrugged. "Fucking my brains out, if I recall correctly."
"Actually, you continued to do that, at least until you and Arrington got married."
Stone managed a smile. "If anything, the activity increased after that."
"I'm getting worried about you, kiddo," Dino said. "You're gonna have to get back in the saddle pretty soon or you're gonna forget how."
"Yeah, I think about that a lot. It's just that . . . well, it's like not being hungry at dinnertime. I just don't have an appetite."
Dino turned and watched as a very pretty brunette in a short skirt came through the door and took a seat at the bar, crossing her long legs. "Doesn't that do anything for you?"
"Sort of," Stone replied. "I mean, I remember what it was like, the way you remember how you roller-skated when you were a kid, but it just isn't all that appealing."
Dino felt for Stone's pulse and looked at his watch. "Your vital signs seem normal."
"That's something, I guess."
"Look who's here," Dino said, nodding toward the door.
Stone turned in time to see a tall redhead in a well-cut pantsuit enter the restaurant. She headed for their table and sat down. "Hello, sailors," she said, leering a little.
Stone leaned over and kissed her. "Hello, Holly. What brings you to town?"
Dino kissed her, too. "Same question here."
"Agency business," Holly Barker replied. She was an assistant deputy director for the CIA. "I hope you guys remember that you're still under contract to us as consultants."
"How could we forget?" Stone asked. "Lance keeps reminding us." Lance Cabot was Holly's boss, deputy director for operations, or DDO.
"Well, fellas, you're about to get the call again."
Stone slumped. "Now what?"
"I can't tell you," Holly replied.
"Can't tell us what?" Dino asked.
"That's what I can't tell you, dummy," she said.
"What kind of deal is this?" Stone asked.
"Here's the deal: you get the daily rate specified in your contract and five hundred per diem."
"For how long?" Dino asked.
"That depends on how good you are," she said.
"Who can live on five hundred a day?" Stone asked.
"Clearly, you've been living too well," Holly replied. "If you stay at a Holiday Inn Express, and eat at McDonald's, you can make money on that. Would you like my office to book you in?"
"Thanks," Stone said. "I'll make my own arrangements."
"He'll make mine, too," Dino said. "He's a regular travel agent."
"As you wish," Holly said.
"Come on, give us a hint."
"Here's the only hint you're going to get," Holly said. "I'll have a car left for you at the Manassas, Virginia, airport. There'll be an envelope locked in the glove compartment containing your credentials."
"Credentials?" Dino asked. "You think we don't know who we are?"
"Sure," Holly said, "but nobody in Washington does. You'll have to prove it, especially at the White House."
"Which White House is that?" Stone asked.
"The only one," Holly said. "Find yourselves hotel rooms, then be there at six sharp tomorrow evening, freshly scrubbed and pressed. If you're lucky, you'll get dinner, but don't count on it."
"Is it black tie?" Stone asked.
"You're not that important," Holly said. "Just wear one of your nice suits."
"The blue or the pinstripe?" Stone asked.
"Your choice, sweetie. By the way, I'm very sorry for your loss."
"Thank you. I got your very nice letter. I'm afraid I haven't responded to all those yet."
"Don't worry about it."
"How are you and the boyfriend doing?" Dino asked.
"He's running a big trauma center in San Diego," she replied. "He didn't take to the agency life—not enough blood and guts, I guess. It's been a couple of months. It was amicable."
"Let me get you a drink and a menu," Stone said.
"Love to, but can't," she said. "There's a chopper waiting for me at the West Side heliport, and I've got a briefcase full of work to keep me awake on the flight home." She stood up, and both men stood up with her.
"See you tomorrow evening," she said, then walked briskly out.
They sat down again.
"Why did you ask her about the boyfriend?" Stone asked.
"Because I knew you wouldn't," Dino replied.
2
STONE PACKED A BAG THE FOLLOWING MORNING, THEN, ON second thought, packed a second bag. The last time he had consulted for the CIA, he, Holly, and Dino had spent a couple of weeks on a tropical isle, pursuing a federal fugitive named Teddy Fay, who gave them the slip. Who knew how long this one would take or where they would end up?
He took the elevator down to the garage and put his bags in the car, then he went to his office and wondered what to put in his briefcase.
Joan Robertson, his secretary, appeared in the doorway. "You off to someplace?"
"To Washington—for a few days, I think."
"Could be longer?"
"It's one of those things for Lance Cabot and Holly Barker. Who knows?"
"You'd better take your passport," she said, opening his safe and tossing him the document.
"I'd take my vaccinations, if I knew which ones to take," he replied.
"You don't look very happy about this," Joan said, pouring him a cup of coffee.
LM
We hope you are enjoying the book so far. To continue reading...
D.C. Dead
Stuart Woods
Copyright © 2023 All Rights Reserved
Also in this series
Also by this author