Bombshell
Available in:
eBook
Paperback
Audiobook
Hardcover
Book info
Sample
Audiobook
Media
Author updates
Lists
Synopsis
Teddy Fay returns to La-La Land in the latest thriller from #1 New York Times best-selling author Stuart Woods.
Teddy Fay is back in Hollywood and caught in two tricky situations. First, a rising star at Centurion becomes the target of malicious gossip, and Teddy must find and neutralize the source before the situation gets out of hand—or becomes violent. At the same time, Teddy finds himself targeted by a criminal thug bearing a grudge.
It's a lot of knives to juggle, even for a former-CIA-operative-turned-movie-producer accustomed to hazardous working conditions. This time Teddy will need to leverage every bit of his undercover skills and fearless daring to stay one step ahead of his foes . . . or he'll find himself one foot in the grave.
Release date: May 26, 2020
Publisher: G.P. Putnam's Sons
Print pages: 320
* BingeBooks earns revenue from qualifying purchases as an Amazon Associate as well as from other retail partners.
Listen to a sample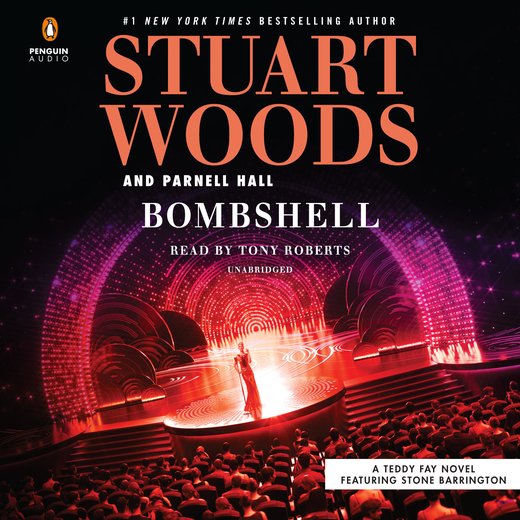 06:27:32
177.43 MB
9780593163948
May 26, 2020
Penguin Random House
2020
Bombshell
Stuart Woods
1
Teddy Fay woke up to the sound of breaking glass. He grabbed the remote control from the nightstand and clicked on the monitor of the high-tech security system Mike Freeman had installed in his house. A dozen views appeared showing the exterior, a red dot pinpointing the source of the break-in. Another click of a button and the image moved to fill the screen; Teddy could see a burly man attempting to get through the living room window. He was being thwarted by a second pane of glass that was far sturdier than the one he'd just broken.
Teddy grabbed a gun, slipped down the stairs, out a side door, crept up on the man, and jabbed the gun in his back.
The man whirled around and lunged for the gun.
Teddy groaned. Really? If Teddy had wanted to shoot him, the man would be dead. A mere burglar wouldn't take that chance. Was he a hired assassin, or just dumb?
Teddy spun around and chopped down on the man's arm. The intruder howled in pain, but he wasn't done. He shoved his wounded hand into his pocket and came out with a snub-nosed revolver.
Teddy almost felt sorry for him. The man's hand was numb, and he could hardly hold the gun. Teddy batted it away.
Three armored security vans roared up the driveway. A squad of Strategic Services agents poured out, guns drawn.
"Relax, gentlemen," Teddy said. "The situation seems to be in hand."
A young agent who appeared to be in charge said, "You're Billy Barnett?"
"At your service."
"Your system registered a security breach. Is this the intruder?"
"That he is."
"We'll be happy to take him off your hands."
"I doubt if you'll have him long. The system is also linked to the police. I believe that's them now."
A police car came up the drive with its red and blue lights flashing. A uniformed officer climbed out of the driver's seat, surveilled the scene, and said laconically, "What's all this?"
"Attempted B and E," Teddy said. "I'm the homeowner. That's the intruder. These gentlemen are private security guards who responded to my alarm."
The officer turned to the agent. "You apprehended the intruder in the attempt to break and enter?"
The agent shook his head. "The homeowner apprehended the intruder."
"Before you got here?"
"That's right."
The cop turned back to Teddy. "So you're the only witness to the attempted break-in?"
"Aside from the alarm system he activated."
"There's no evidence he activated the alarm system."
"Actually, there is. This is a Strategic Services system, with all the bells and whistles, including cameras. Here, take a look." Teddy led the officer over to the front door. "The main control is in the master bedroom, but this is the downstairs terminal." He pointed to a screen on the wall, and activated the control panel beneath it. An image immediately appeared on the screen, along with a graphic that read: front left window. The intruder had just smashed the outer window and was going to work on the inner. As the cop watched, he could see Teddy creeping up on the intruder and handily disarming him.
"There you are, Officer," Teddy said. "As you can see, it was an armed B and E. I'll give you a thumb drive of the video for evidence."
"You have a gun?"
"I have a permit for it."
"Good. Bring it down to the station with you, and you can swear out a complaint."
Teddy glanced at his watch. "I'll drop by later. Right now I've got a party to go to."
"A party? It's four in the morning."
"Yeah, the party's at five." Teddy smiled. "Good thing the guy woke me up. I might have been late."
2
It was still dark when Teddy pulled his 1958 D Model Porsche Speedster to a stop in front of Peter and Hattie Barrington's house. He skipped up the front steps and rang the bell.
Peter Barrington opened the door. "Come in, the gang's all here. The TV's on and they're about to start."
"Relax. It's the technical awards first. They don't get to the real thing until five-thirty."
"I'll be sure to tell lighting and set design what you think of them," Peter said dryly.
Teddy followed Peter out onto the veranda, where Hattie was sitting with Ben and Tessa.
Peter's wife, Hattie, was a gifted composer and pianist, and had scored Peter's latest movie, among others.
Ben Bacchetti was the head of the studio. He was also Peter's best friend of many years. Their fathers, Stone Barrington and Dino Bacchetti, were also best friends.
Tessa Tweed Bacchetti had come to the studio as an aspiring young actress. She was now a star, and Ben Bacchetti's wife.
Teddy had been in England for Peter and Hattie and Ben and Tessa's double wedding. The young newlyweds were only partly aware of the role he had played in seeing that it went off without a hitch.
"There he is," Tessa said. "I told you he'd be here."
"Sorry I'm late," Teddy said. "Someone tried to rob me."
"Rob you?" Ben said.
Teddy shrugged. "Rob me or kill me, I'm not sure which. The police are asking him now."
Tessa grinned. "Would you stop being so maddeningly casual? You may take these things in stride, but robbing and killing are not really that routine."
"Well, I certainly hope to learn more about it, but the police have taken it out of my hands. The burglar couldn't get through Mike Freeman's security system, but he sure set off enough alarms. The poor guy never knew what hit him."
"I'll bet," Ben said.
"But don't let me spoil Oscar nominations morning. I was just explaining why I was late."
"The only thing that could spoil this Oscar morning," Hattie said, "is having a nervous breakdown waiting for it."
"Who's nervous?" Peter said. "No one's nervous."
"No one, I'm sure." Hattie smiled teasingly. "Has anyone else noticed who hasn't sat down once since everyone arrived?"
"I'm the host," Peter said. "I'm greeting my guests."
"I can attest to that," Teddy said. "I arrived. He greeted me. He was a little concerned by my tardiness, but I wouldn't characterize it as being nervous."
Peter put up his hands. "Yes, yes, we can all play it cool. But it is the Oscars. Before they get going, let me say this."
Peter took a breath. "I think it's great we could get together this morning to celebrate our film. But while awards are nice, that's not why we do this. We're not out to win awards, only to make good movies. If we can do that, and turn out a film we can be proud of, we don't need outside validation. We know we've done a good job. You all know how I feel about you, and awards or not, I'm very pleased with how this all turned out."
"Well, that's gracious and self-deprecating," Ben said with a grin. "In case you don't remember, your picture just won a Golden Globe. An Oscar nomination is not such a long shot."
"It won for Best Drama," Peter said. "At the Globes you're only competing with half the films. There's a strong field of comedies this year."
Hattie laughed. "Would someone nominate him already, before this naysayer ruins the whole party?"
Hattie got the first nomination for Best Original Score. The announcement was cause for jubilation. Hattie had been passed over by the Golden Globes. Peter had reassured her that the Golden Globe voters weren't necessarily the most knowledgeable of the category, and Oscar voters would know better. He was delighted to have been proven right.
"What did I tell you?" Peter said.
"Oh, God," Hattie said. "Now we're going to have to listen to him take credit for my nomination all morning."
Peter had his own nominations to brag about. He scored two, for Best Original Screenplay and Best Director.
Finally they got to the acting categories. Best Supporting Actor was first. Stuntman character actor Mark Weldon got a nod for his turn as villain Leonard Kirk.
"Too bad he's not here," Teddy said, and everyone laughed.
There was a tense moment when they got to Best Actress. None of the first four names were Tessa Tweed. For the first time all morning, the room was deathly quiet.
"And Tessa Tweed," the announcer said, "for Desperation at Dawn."
The announcement was met with relief, laughter, and applause.
"Told you so," Teddy said
"You realize this ups her price for your next film," Ben kidded Peter.
Peter smiled. "What are you telling me for? You're head of the studio."
"Oh, hell."
After all that, it was almost an anticlimax when the film was nominated for Best Picture.
3
On the other side of town, Viveca Rothschild, dubbed the Blonde Bombshell by the press, was hosting a similar Oscar party. Twenty-nine, lithe, blonde, and voluptuous, Viveca had already racked up two nominations in her career, but she had never won. After a lifetime of playing femmes fatales, her departure role in a romantic comedy had been a gamble, but it had paid off. Dancing, singing, and delivering big laughs, she had wowed the critics with her versatility, earning her best reviews ever. After taking home her first Golden Globe for Best Actress in a Musical or Comedy, an Oscar nomination was all but assured.
Viveca couldn't have been more nervous. Only the presence of her Hollywood friends and her boyfriend, Bruce, were helping her hold it together. Or at least put up the appearance.
On the television, the presenter said, "The nominations for Best Screenplay are . . ."
The announcement was met by boos, hisses, and catcalls.
Viveca's best friend, Cheryl, threw a napkin at the screen. "How many damn categories are there?" she said, and everyone laughed.
"Don't worry, honey," Bruce said. "I know you're going to be nominated."
Viveca put up her hand tolerantly, urging her boyfriend to be quiet. Bruce was a handsome young man with rippled muscles and a charming smile, and had been her high school sweetheart. But he was not good at picking up on social cues. Bruce had been wounded in Iraq and had come home with a Purple Heart, a Medal of Honor, and the resultant post-traumatic stress disorder. For the most part he had a pleasant nature, but as far as his girlfriend was concerned, he was ready to fly to her defense at the slightest provocation.
The screenwriting nominations gave way to Best Director.
"Did anybody act in these movies?" Cheryl said, and everybody laughed.
As if he heard her, the presenter said, "And the nominees for Best Supporting Actress are . . ."
"Supporting!" Cheryl wailed. "Kill me now!"
Finally they got to Best Actress. Three names were read, none of them Viveca's. Fourth time was the charm.
"Viveca Rothschild, for Paris Fling."
The entourage burst into roars of approval.
"Quiet, quiet!" Viveca said. "One more to go!"
The room was instantly hushed, with everyone thinking the same thing.
Viveca murmured it under her breath: "Not Meryl Streep! Not Meryl Streep!"
"And Tessa Tweed, for Desperation at Dawn," the presenter said, and the room collectively sighed in relief.
Viveca had dodged that one last bullet.
An Oscar was within her grasp.
4
Chaz Bowen eyed the attorney suspiciously. He had no reason to. The attorney, Richard Fitzgerald, was a slick shyster who represented a number of mobsters and crime bosses in the Los Angeles area. Which was exactly the type of lawyer Chaz needed, only Chaz was too dumb to know it.
Chaz was a sullen man, with hostile eyes, who suspected no one liked him. He was not entirely wrong on that count.
"Who the hell are you?"
"I'm your attorney, Mr. Bowen. I'm here to get you out."
"Well, you took your time getting here," Chaz snarled.
"You made the mistake of getting arrested in the middle of the night. The system works slower then."
"Can I go home?"
"What'd you tell the cops?"
"Told 'em I wanted a lawyer."
"Anything else?"
"Hell, no."
"You didn't try to give them a reason why you were trying to break into a Hollywood producer's house?"
"Couldn't think of one. Can you?"
"So what happened?"
"How the hell should I know? A simple break-in and a fucking SWAT team shows up. What the hell is that all about?"
Fitzgerald went out and hunted up Jason Rollins, the assistant district attorney assigned to the case.
"Hey, Jason. Wanna play Let's Make a Deal?"
"Ricky Fitz. How the hell are you?"
"Pissed, that's how. I was up at the crack of dawn to come down here just to bail a guy out."
"What's the case?"
"Chaz Bowen."
"Oh, that one. Slam dunk. Caught in the act with burglar tools and a gun. Breaking into a Hollywood producer's house, for Christ's sake."
"Was he arrested in the house?"
"He was apprehended while trying to get in the window."
"So you can't charge him with breaking and entering. He didn't enter."
"I can charge him with attempted burglary."
"You'll never get a conviction."
"Give me a break. You're going to cop a plea and you know it. You can't put that guy in front of a jury. If he answers questions, he's guilty. If he refuses to answer questions, he's guilty. The minute he steps into court, he's guilty."
"My client doesn't want to serve time."
"Then he shouldn't have gotten arrested."
"I couldn't agree more. Shall we pretend he didn't?"
"Unfortunately he's been booked."
"You can always drop the charges."
"With so much evidence? My boss would want to know why. His-lawyer-told-me-to is a very poor answer."
"I gotta get him out."
The ADA shook his head. "You cop a plea, he's doing time. I can't give you a deal where he doesn't."
"How about time served?"
"A half an hour? Come on, Ricky, the charge isn't going away. The only way he's gets out is on bail."
"How much?"
Donnie Martel snatched up the phone. ÒYeah?Ó
"Donnie. Rick Fitzgerald. You sent me to bail out Chaz."
"Did you do it?"
"Sure thing."
"How much?"
"Hundred thousand."
"That much?"
"The guy had a gun on him, Donnie. He's lucky he's out at all."
"Did he talk?"
"If he had, he'd have talked himself into a cell. The guy's a moron, Donnie. Shutting up is the only bright thing he's ever done."
"Are you kidding me? The guy's an expert locksmith."
"That is the type of thing I don't want to know, Donnie."
"Why didn't he talk?"
"He couldn't think of anything to say."
"Jesus."
Donnie slammed down the phone. Donnie Martel was a lower-level crime boss with big aspirations and little to show for it. He was always eager to do jobs for the big boys, the shit jobs that no one wanted to do but everyone needed done. He did a lot of them, and most of them panned out. When they came off without a hitch, they were completely unappreciated. No one ever noticed his efforts until something got fucked up. In DonnieÕs case it was always baby steps forward, and a gigantic slide back.
We hope you are enjoying the book so far. To continue reading...
Bombshell
Stuart Woods
Copyright © 2023 All Rights Reserved
Also in this series
Also by this author