Jackpot
Available in:
eBook
Paperback
Audiobook
Hardcover
Book info
Sample
Audiobook
Media
Author updates
Lists
Synopsis
Teddy Fay hedges his bets in the latest thriller from #1 New York Times-bestselling author Stuart Woods.

When Peter Barrington and Ben Bachetti come under threat while working at a film festival abroad, Teddy Fay is lured to the glittering city of Macau to resolve the problem. He'll soon come to find that world of posh casinos, luxurious developments, and boundless wealth has a dark underbelly of crime and political intrigue . . . and that the biggest players behind the scenes may be far closer to home than anticipated. With international deals and private vendettas at stake, the villains behind the plot aren't about to let Teddy stand in their way. What they don't know is that this seemingly harmless film producer has more than a few tricks up his sleeve.
Release date: June 1, 2021
Publisher: G.P. Putnam's Sons
Print pages: 320
* BingeBooks earns revenue from qualifying purchases as an Amazon Associate as well as from other retail partners.
Listen to a sample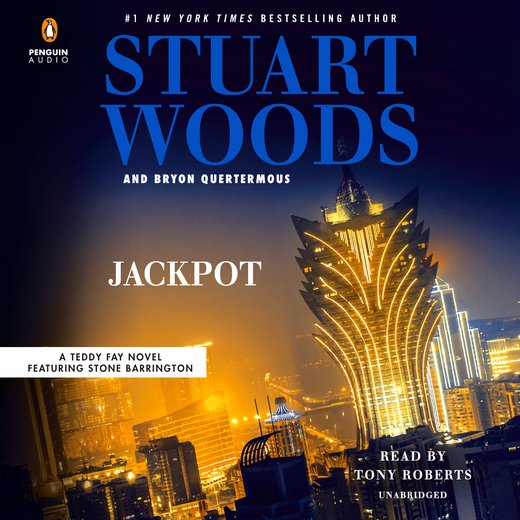 06:15:29
171.9 MB
9780593408599
June 1, 2021
Penguin Random House
Jackpot
Stuart Woods
1
Teddy Fay just wanted to sleep. He'd never had trouble sleeping, even in war zones and on the trail of high-profile targets. But a series of Hollywood scouting meetings across three continents in seven days in his identity as movie producer Billy Barnett had done him in.
He was in the first-class lounge at the Hong Kong airport waiting for the final leg of his flight back to Los Angeles, when he felt someone approaching. He ignored his instincts and closed his eyes tighter. When the sensation of being watched wouldn't go away, he opened his eyes just in time to see a face leaning in toward him.
In one motion, Teddy rolled off the leather couch he'd been curled up on and shot his right elbow out toward the face in front of him. When he hit the ground, he was fully awake and expected that to be the end of it. But the person was still there. It was an Asian woman with hard, beautiful features and a lithe frame. She took a step toward him and stretched out her hand. He swatted at her hand as he stood up, but instead of pulling away, she engaged with his hand and tugged his arm.
As Teddy fell toward the woman, he spun around so his back was facing her and dropped into a less than graceful version of the splits. He snapped his right leg back at the woman and swept her legs out from underneath her. Again, he expected that to be the end of it. If this woman was a thief looking for a quick score from a sleeping tourist, Teddy had made it very clear he was not an easy target. Since it was the middle of the night, there were only a few other people around, and all were absorbed in their own business. Maybe she would go away and pick a new victim.
Or maybe she wasn't trying to rob him. Maybe she was trying to kill him.
As far as Teddy knew, the short list of people looking to kill Billy Barnett had been taken care of back in Los Angeles. Was she there for Teddy? The list of people wanting to kill Teddy was more robust, but he wasn't traveling under that name and he'd taken great care to keep Teddy in the shadows as much as possible.
He never carried a gun when he was traveling on Centurion Studios business, and that had rarely been a problem. Now he was looking around the minimal furnishings of the lounge area to see if there was anything he could use as a weapon, but his thought process kept being interrupted by the woman repeatedly coming at him.
Teddy rolled around the floor away from her approaches, quickly processing his surroundings. Before he'd settled on a course of action, he saw security approaching and, for once, he was happy to see armed guards in uniform. He stopped rolling and lay flat on his back, waiting for the guards to take the woman away. But they came for him, too. He saw the Tasers just before he felt them, and then he was finally asleep.
ÓI wasnÕt attacking him, I was trying to wake him,Ó Teddy heard a woman say in clear English.
He opened his eyes and saw he was in a brightly lit small office that looked like a bathroom with all the fixtures removed. An enormous man in a pristine white security uniform with thick black hair and a thin, drooping moustache sat behind a desk with a gold nameplate that read sergeant lam. The woman who had been attacking him was standing in front of Sergeant Lam, waving her arms dramatically.
"Your hand-to-hand combat is as good as mine," Teddy said, without thinking.
"You're a movie producer and I'm a secretary," the woman said, spinning toward Teddy, giving him a meaningful look. "I wouldn't say either of us should be good at hand-to-hand combat."
This woman clearly knew more about Teddy than he was comfortable with.
Sergeant Lam sighed and gripped the sides of his desk tightly. Teddy watched the man's knuckles drain of color. When Sergeant Lam finally spoke, his words were precise.
"Fighting in the lounges is forbidden," Lam said.
Teddy cringed at the word forbidden. It sounded so dramatic and ridiculous. He just wanted to get back to L.A. and to the two lives he led that nowadays rarely involved hand-to-hand combat that wasn't staged.
"I'm sorry, sir. I haven't been sleeping well and my emotions got the better of me," Teddy said.
Sergeant Lam groaned but didn't say anything.
"I'm a movie producer," Teddy continued, "and I've been working on an action movie that has a lot of-"
"I don't care. Leave now. No more fighting."
Teddy didn't need to be told twice to leave and was out of the office and almost back to the lounge before he heard the woman yelling his name.
"Leave me alone," Teddy said.
"Peter Barrington sent me. He needs your help."
2
Millie Martindale boarded a plane in Washington, D.C., Thursday afternoon and was finally seeing the end of the trip more than twenty-four hours later as her CIA-chartered private plane landed in Macau. She sat at the back of the small plane. The rest of the seats were full of older white men representing both branches of Congress as well as the U.S. Department of Commerce and the U.S. Department of Justice. She took the final sip of her bottled water, poured the rest of her trail mix into her mouth, then followed the others off the plane.
They moved quickly to another area of the Macau Business Aviation Center where they watched a private jet larger than their own land. A man, who looked almost exactly like the other men in her group, stepped off and joined them in the waiting area. Arrow Donaldson was the head of a giant telecom conglomerate, as well as the owner of a professional basketball team in Los Angeles and a casino conglomerate in China.
The testimony was scheduled to be given at the U.S. Consulate General Hong Kong & Macau building, forty-five minutes away in Hong Kong, but their base of operations was in Macau due to unrest in Hong Kong. Millie also believed a big part of it was Arrow Donaldson wanting to show off the power and prestige he wielded in Macau. Arrow shook hands and patted backs with the government delegation, ignoring Millie.
Millie stuck out her hand and smiled pleasantly.
"I'm Millie Martindale. I work with Lance Cabot. He sent me to meet you."
"Where's Lance?" Arrow asked, not taking the hand Millie was offering.
Millie dropped her hand but kept her smile pasted in place, her eyes on Arrow.
"We've met before. I'm sure you don't remember, but I was the lead on the initiative at your casinos with the Chinese government officials," she said.
Arrow quickly moved in close to Millie, glaring at her.
"Shhhh. You never know who's listening around here."
"I know exactly who's listening. That's the point. I'm with the CIA."
"I only ever talked to Lance about what we were doing at the casino. He never mentioned you."
"Lance is the face of the operation, of course. He's the director of the CIA. I'm the one who handles the details behind the scenes. Millie Martindale."
Millie had been working with Lance Cabot on a task force in one of Arrow's Chinese casinos to identify Chinese government workers with gambling problems and recruit them as U.S. spies. But Lance had reassigned her to this detail when Arrow approached Lance about bringing Li Feng to the U.S. to give testimony that could impact a new trade deal in the works between China and the U.S.
Li Feng was the chief financial officer and daughter of the founder of QuiTel, China's largest telecom company. QuiTel was suspected of using the cell phone equipment they sold in the U.S. to spy on U.S. citizens and was supposed to have been blacklisted from doing business in the country. But the suspicions were just that-suspicions, however well-founded. And without proof of wrongdoing, the company had been granted an exemption to that ban for several years. The exemption was due to expire at the end of the week, but China wanted the exemption for QuiTel to be made permanent as part of the new deal. If the CFO were to testify that the spying was real, it would squash the exemption for good.
Millie and Lance knew Arrow stood to benefit financially by selling new equipment to replace the cheaper equipment that QuiTel provided, but they suspected Arrow had other plans behind the scenes with more sinister potential. It was Millie's job to figure out what those plans were, and to stop them.
"I can't believe Lance pawned something this important off on a secretary."
This time Millie was the one who moved in closer to Arrow.
"I'm not a secretary, and I'm definitely not a pawn, Mr. Donaldson."
She put her hand out one more time, this time without a smile. Arrow shook it limply.
"You better watch your moves, Millie Martindale," Arrow said.
When Arrow walked away, Millie took a deep breath and exhaled. Lance had told her this would happen. Millie had been pushing Lance to give her more responsibility and this was the perfect chance. Arrow Donaldson had a reputation for having trouble dealing with people he believed were beneath him, especially women.
And if Arrow became angry or frustrated, he was bound to make a mistake, one that would let the CIA stop him before he did anything terrible. They had backup plans in place, of course, but Millie could already tell she was going to be able to crack Arrow Donaldson.
When her breathing returned to normal, Millie joined the rest of the group. Arrow was off to the side talking on his phone. He saw her watching him and she smiled. He put his phone in his suit coat pocket and came back toward the group.
"Li Feng will remain under my secure protection for another night," Arrow said. "So why don't you all head to your hotel to rest a bit and we'll regroup for dinner this evening?"
"That's not what we agreed to. That's not what I agreed to. I want to see Li Feng now."
"I just got off the phone with your boss and he agreed to it."
"You talked to Lance?"
But Arrow had already moved on to his waiting vehicle, as had the rest of her group. She pulled out her cell phone to call Lance and demand to know why he'd sold her out.
"Sorry to give you no warning, Millie," he said, when he came on the line. "I figured it would help our plan to throw him off-balance, and you needed to act unguardedly. He's agreed to meet you at his stadium in a few minutes to show you how powerful he is and what kind of protection he can offer. Let him spout off and feel like a big man and keep your mouth shut. Let him think you're a secretary who is no threat to him."
Millie grumbled an acceptance and hung up her phone.
3
Li Feng was so close to being able to relax. The plan had seemed outlandish at first, and updates to it early on only made it seem more ludicrous. But here she was on her way to the airport to complete the last step in a plan that would give her what she wanted most in life and had never thought would be possible: freedom.
The first taste of freedom was being by herself in the car. For as long as she could remember, she'd always had a crowd of security personnel around her. As an adult, she understood why it was necessary, especially as her father grew his role in the Chinese government and left much of the running of QuiTel to her. The number of security personnel always seemed excessive to her, and she was certain that when she was younger the guards had been there more to spy on and control her than to protect her.
Even as she basked in the glorious freedom of the alone time she'd been given, all she could think about was Sonny Ma, the man who had shown her another life free of her parents and their influences and expectations, a life of excitement and fame and money not tied to her family or the Chinese government. They'd grown up together, both students at a school for the children of elite members of Chinese society, and both had dabbled in criminal activity out of boredom. While Li Feng's family had put an end to her "childish rebellions," Sonny Ma used his family resources and connections from the school to lay the foundation for a powerful criminal enterprise. Then he had dangled before Li Feng the possibility that she could be part of that exciting world, too.
But soon after showing her that life and letting the need for it infect her soul, he had ripped it away from her at her parents' command.
For that, Sonny Ma would pay dearly.
"The American producers have received the blackmail letter and their movie set has been attacked," Li Feng said to her driver. "You will do the rest. Soon everyone will believe Sonny Ma is back to his gangster ways, just as they're about to celebrate him with this ridiculous movie."
"Wouldn't it be easier to just kill him?"
"I will take his money, his reputation, and his freedom. He will wish he was dead. I will not grant him that mercy."
The little man driving the car was one more piece of the freedom she was being offered. Zhou "Ziggy" Peng was known around town as the most vicious fixer for Arrow Donaldson, the American billionaire with outsize influence in China due to his ownership of the largest and most profitable casino in Macau. He also owned the ferry that transported tourists between Hong Kong and Macau, as well as several high-profile government officials.
A year ago, Ziggy Peng showed up in her office to tell her that a number of her employees had high gambling debts and were likely in danger of being blackmailed. Little had she suspected at the time that this meeting would turn into the start of a new life for her. Days later, Ziggy returned with Arrow Donaldson, who told her about a plan he had in mind that would require her to lie to the U.S. government.
"What would it take for you to put yourself in that situation?" he had asked her.
"I want to destroy Sonny Ma."
Arrow gave her the use of Ziggy Peng and his resources, as well as arranging to get her a new identity-including all of the papers she would need to live in the U.S. and become rich and famous and free.
We hope you are enjoying the book so far. To continue reading...
Jackpot
Stuart Woods
Copyright © 2023 All Rights Reserved
Also in this series
Also by this author