A Safe House
Available in:
eBook
Paperback
Audiobook
Hardcover
Book info
Sample
Audiobook
Media
Author updates
Lists
Synopsis
In this adrenaline-charged thriller from #1 New York Times bestselling author Stuart Woods, Stone Barrington takes on a vengeful rival.

Stone Barrington is looking forward to some quiet time in New York City, until he is asked to transport precious, top-secret cargo across the Atlantic. Taking on the challenge, Stone flies off unaware of what—or who—he is bringing with him. 

But his plans to lie low are quickly spoiled when a dangerous dispatcher tracks down Stone and his tantalizing mystery guest, intent on payback—and silencing anyone who poses a threat. From the English countryside to the balmy beaches of Key West, Stone is on an international mission to hide and protect those closest to him.
Release date: March 22, 2022
Publisher: G.P. Putnam's Sons
Print pages: 304
* BingeBooks earns revenue from qualifying purchases as an Amazon Associate as well as from other retail partners.
Listen to a sample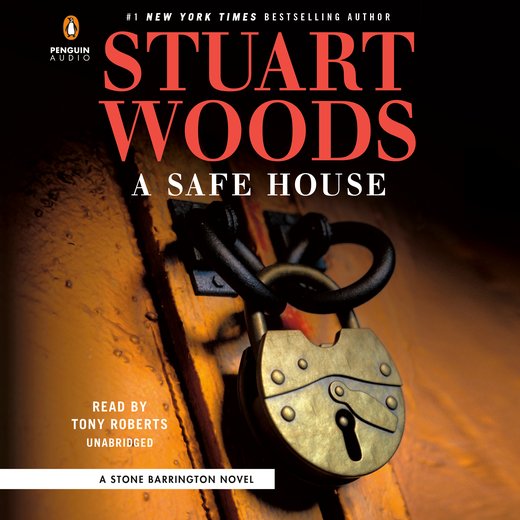 06:18:41
173.37 MB
9780593554081
March 22, 2022
Penguin Random House
A Safe House
Stuart Woods
1
 
Stone Barrington and Dino Bacchetti were dining at their favorite restaurant, Patroon, on East Forty-Sixth Street in New York City, when simultaneously their chateaubriand for two was served as two gentlemen sat down at their table. Their names were Lance Cabot, director of the Central Intelligence Agency, and Henry Wilcox, his recently appointed deputy director for Operations.
 
"What a surprise!" Stone said. "And we were only expecting the steak."
 
"I apologize for interrupting your dinner," Wilcox said.
 
"Do you apologize for Lance, as well?"
 
"He does," Cabot said. "Don't let us slow you down."
 
Stone carved a slice of beef and put it into his mouth. "Well?" he said, after he had swallowed. "Would you like to see a menu?"
 
"We'll just order dessert," Lance said, raising a finger, which instantly summoned a waiter. "Two apple pies ˆ la mode." The waiter vanished.
 
"Neither of you is watching your weight, then?" Stone asked.
 
The pies were set down before them and place settings produced. They dug in.
 
"We'll wait until you finish the pie before we ask what you're doing here," Stone said.
 
Neither of them spoke, but both kept eating. Lance finished first and held up the magic finger again. "Coffee for two," he said to the respondent waiter.
 
Stone and Dino kept eating.
 
The coffee arrived. "Now," Lance said.
 
"We're listening," Stone said, while still chewing his steak. "It may not seem so, but we are."
 
"There are two more gentlemen at this table than we require," Lance said.
 
"Are you telling my dinner guest and your deputy to go away?" Stone asked.
 
Lance said, "Since they both have my complete confidence, they may remain."
 
"Swell," Dino said.
 
"Stone," Lance said, "I am recalling you to active duty."
 
"You make it sound as if I'm in the Army Reserves."
 
"Pretty much the same thing," Lance said. "You are aware that you collect a monthly salary as my associate director."
 
"I seem to recall that," Stone said. "But the amount must be very small, since I can't remember how much it is."
 
"It's the principle of the thing," Lance responded.
 
"What is it you want, Lance?"
 
"I need you to provide a safe house for a person who shall remain unidentified, even with regard to gender."
 
"So, it's a woman?"
 
"Stop guessing. It's unbecoming. The person will be referred to in the editorial masculine."
 
"Okay, we'll pretend it's a man. What does he need? A bed for the night?"
 
"Several nights, perhaps many."
 
"At my house?"
 
"At your house in England."
 
"Will he make up his bed and be neat at all times?"
 
"I believe you employ staff to attend to those details."
 
"When may I expect him?"
 
"As soon as you can transport him there."
 
Stone blinked. "You want me to transport him to my home in England and house him there, indefinitely?"
 
"For reasons I cannot explain to you, he may not be transported on an airline or government aircraft."
 
"So, you want me to fly him to England in my aircraft?"
 
"Yes, and accompany him-all in the strictest secrecy, of course."
 
"Of course. Why?"
 
"It's a secret."
 
"Oh, yes, you mentioned that."
 
"This is a person who has been of considerable value to the Agency. And if he survives, we trust he will be again."
 
"So his survival is in question?"
 
"There are powerful people who do not wish him well."
 
"Well, I would sure hate to be him," Stone said.
 
"Do not make light of this, Stone. It is too important."
 
"Important to whom?"
 
"Powerful people."
 
"I trust these are not the same powerful people who don't wish him well."
 
"There are all sorts of powerful people involved in this, Stone."
 
"And what will they do to me, if they should discover that I have transported this fellow to England and put him up in my house?"
 
"If they don't know that, they can't do anything to you, can they?"
 
"Don't make light of this, Lance."
 
"Stone, do you have any questions that are not annoying?"
 
"Two: Who pays for the airplane? And why me?"
 
"You may present me with a bill for the airplane and fuel, at standard rates. As for why you, I have already reminded you that you are on salary."
 
"And when do you want me to do this?"
 
Lance gazed at his wristwatch. "How soon can you take off?"
 
"Lance," Stone said. "Not in the middle of a convivial dinner. Have the person at Teterboro at ten o'clock tomorrow morning. His driver should deliver him inside the Strategic Services hangar and put him aboard the airplane there. The crew will already be aboard. I and my guests will be along shortly after that."
 
"Guests?" Lance had turned pink. "There will be no guests aboard."
 
"You have already said that Dino has your complete confidence," Stone pointed out. "And I presume that confidence extends to his wife."
 
Lance worked his jaw a bit. "Oh, all right," he said, finally.
 
"I'll check our schedules," Dino said.
 
"Otherwise, who would I talk to during and after the flight? It sounds as though I may not speak to the subject of this conversation."
 
"You should stay in England for at least a week," Lance said. "We can't have this looking like a simple delivery."
 
"I don't think that will be too much of a burden on my good nature," Stone said. "After all, it's my house. I love it and don't get there often enough."
 
"Me, either," Dino said.
 
Lance placed his palms on the table. "Well, that concludes our business, I think."
 
"Are we allowed to communicate with the person, and he with us?" Stone asked.
 
"Once you're clear of New York air space," Lance said, rising, and Wilcox with him. "The apple pie is on you," he said, and the two men left.
 
"Well," Stone said, "that was unexpected."
 
"Yeah, and you get a free trip to England and to your own house," Dino said.
 
"You coming?"
 
"Yeah, I can take some time. If Viv shows up tomorrow morning, she'll go, too. Otherwise . . ."
 
"She's off to Bangkok or somewhere."
 
"You know the drill."
 
Stone called Faith, his pilot, and gave her instructions for the morrow, then he and Dino ordered apple pie à la mode.
 
***

The following morning, Stone went down to his office and checked his desk for unresolved work. His secretary, Joan Robertson, walked in.
 
"I hear you're off to England," she said.
 
"I hear that, too," Stone replied. "Lance delivered the word personally last night at Patroon."
 
"Any idea how long?"
 
"At least a week. More, if I'm having fun."
 
"Oh, God, you always have fun."
 
"I forgot. You don't know about this trip. It's a big-time secret. I'm traveling, and you won't know where until you hear from me, and somehow, you won't. Take a message."
 
"Got it." She handed him a fat envelope. "Here's all the pounds sterling we had in the safe. I can't spend it here."
 
"Thank you." She started to return to her office. "Oh, I almost forgot. One of your guests has been delivered to the Strategic Services hangar and is safely-and secretly-
aboard."
 
"Good to know."
 
"Safe trip."
 
"You betcha."


 
2
 
Fred delivered Stone and Dino to the Strategic Services hangar at Teterboro that morning at ten. Stone climbed the airstairs to the door while the ground crew dealt with his luggage. He found a large man with a lump under his arm standing guard over the door to the third compartment.
 
"The ground crew will need to get in there to stow the luggage aft," he said to the man, who thought about it, then opened the door a crack, said something, and closed it again. "The person is in the toilet," he said. "Your people may enter with the luggage." He opened the door and stood back.
 
"Thank you so much," Stone said, motioning the ground crew aft toward the luggage compartment. During the process, which took about a minute and a half, the guard remained, his back against the restroom door. When the luggage was stowed, he rapped twice on the toilet door, then stepped back into cabin two and closed the door behind him.
 
The airplane began to move, being towed by a tractor onto the ramp outside.
 
"We're about to start engines," Stone said. "Your work is done."
 
The man opened the door again, said a few words, then closed it and left the airplane.
 
Stone went to the cockpit door. "Start engines," he said, then took his seat opposite Dino. Viv was winging her way somewhere else.
 
"Any news on the cargo?" Dino asked.
 
"Not until we're out of New York air space," Stone reminded him.
 
"I forgot. The suspense is killing me."
 
"Yeah. Me, too," Stone replied.
 
Shortly, the airplane turned onto runway one and began to pick up speed. Seconds later, the pilot lifted off and the airplane climbed. At a couple thousand feet they got a vector and turned east.
 
"When does New York air space end?" Dino asked.
 
"I'm not sure. Let's call it Montauk."
 
"Okay with me."
 
As they passed Montauk Point, the eastern tip of Long Island, the airplane was climbing through fifteen thousand feet, according to the display screen on the forward bulkhead. It continued to climb.
 
"Okay, that's it," Stone said. He unbuckled, got up, and walked to the third compartment door and knocked. There was a delay, then the door opened.
 
Stone knew her from somewhere. Model, he thought, but not recently. She wore pants and a silk blouse and had a sweater tied around her shoulders. "Yes?" she said.
 
"My name is Stone Barrington," he said. "I am your host. Would you like to join a friend and me up front? It's more comfortable there."
 
"Give me a minute or two," she replied, then closed the door.
 
Stone returned to his seat. "Okay," he said to Dino. "Female, fortyish, five-ten, beautifully dressed. I know her from somewhere, but I can't remember where. She'll join us shortly."
 
"That's it?"
 
"That's all I've got. You can grill her."
 
The woman came forward, her hair brushed and her makeup refreshed. Now she looked thirtyish. "Good morning," she said tentatively. "I'm Jenna Jacoby."
 
"Jenna, this is Dino Bacchetti."
 
"You're a policeman, aren't you?" she asked, shaking his hand.
 
"Dino is the policeman," Stone said. "New York City's police commissioner."
 
"Ah, yes," she said, taking a seat. "And, Mr. Barrington, who are you?"
 
"Please call me Stone."
 
"I'm sorry. I meant to ask, what are you?"
 
"I am an attorney, with the law firm of Woodman & Weld."
 
"That's good, isn't it?"
 
"We like to think so."
 
"Of course."
 
"You are a model, are you not?"
 
"Was a model, some years ago."
 
"How have you occupied yourself since then?"
 
She started to speak, then stopped. "I nearly said 'housewife,'" she said, "but that would not be accurate. My occupation, until this airplane passed Montauk Point, was the care and feeding of a United States senator."
 
Stone's brow furrowed. "I don't know of a Senator Jacoby."
 
"That's my maiden name, which I have readopted," she said. "His name was-is-Wallace Slade, Republican of Texas."
 
Stone tried not to make a face. "Oh, yes."
 
"I understand. Many people find the mention of his name distasteful," she said. "I am one of them."
 
"I see. Is that why you are . . . traveling with us today?"
 
"Not just the fact of being married to him. That's bad enough. But there have been two attempts on my life since I announced my intention to divorce him."
 
"What was the nature of those attempts?" Stone asked. "If you will pardon my asking."
 
"No pardon necessary. On the first occasion, I was driving my car, a convertible, and another car drew alongside of me and threw a considerable amount of a liquid into my car. I braked and got behind him, then I noticed that the seat fabric next to me was smoking and being eaten into. I got to a gas station, called a friend, and abandoned the car. The second time was when a man approached me in the parking lot of a shopping mall and fired a shot at me."
 
"What was the result of that?"
 
"I shot him dead," she replied matter-of-factly. "One round just above his left eyebrow. He collapsed and didn't move again."
 
"Did you call the police?"
 
"Yes. The first thing they asked me was why didn't I call them after the first attempt."
 
"What was your reply?"
 
"I told them the truth: I was too shaken to remember to do that."
 
"What period of time elapsed between the two attempts?"
 
"Ten days, two weeks."
 
"And were you in Washington at the time? Or in Texas?"
 
"I was at our ranch in Texas, where a phone call from my husband is enough to steer any investigation in whatever direction he wishes. The second attempt was outside Neiman Marcus, in Dallas."
 
"What was your husband's reaction when you told him about the attempts?"
 
"A failure to seem surprised."
 
Stone nodded. "Would you like some breakfast or lunch?"
 
"Lunch, please. Then I'll tell you the rest."


 
3
 
They were served a large lobster salad and a bottle of a good Napa chardonnay, well chilled. She showed no tendency to talk while they were eating.
 
"Ms. Jacoby?" Stone said, when they were having coffee.
 
"Jenna, please."
 
"Jenna, you're clearly an intelligent person, so I'm not going to treat you as a dumb housewife."
 
"Thank you."
 
"I'm going to ask you some questions, and I would be grateful for honest and detailed answers. If you can give me that, then you will be safer in my care. And I will know what is going on here, which, at this moment, I don't understand."
 
"What don't you understand?" she asked.
 
"I don't know why, instead of being treated as a domestic beef, one followed twice by attempted maiming or murder, the chief federal intelligence agency has involved itself in this affair, which would normally be investigated by the police, the sheriff, or the Texas Rangers."
 
"I believe I told you that my husband has the power to make those agencies go away and return to giving speeding tickets, or whatever they normally do."
 
"That part I understand," Stone said. "What I don't understand is why the CIA is interested in you and your domestic circumstances and why it's a good idea to hide you."
 
"Oh," she said. "That."
 
"Yes, that."
 
She gazed out a window. "I was recently interviewed, at some length, by investigators from the Senate Select Committee on Intelligence and the Senate Committee on Foreign Relations."
 
"What, as briefly as you can tell me, did they want to know?"
 
"They wanted to know if a United States senator of my acquaintance is involved with at least one foreign intelligence service, that of the Russian government, to the extent of being a spy for them against his own country."

Stone blinked and tried to digest that.

"I know," she said, "I was dumbfounded, too, when that came up during my interview."

"And how did you respond ?"

"With an affirmative reply."
We hope you are enjoying the book so far. To continue reading...
A Safe House
Stuart Woods
Copyright © 2023 All Rights Reserved
Also in this series
Also by this author