Book info
Sample
Audiobook
Media
Author updates
Lists
Synopsis
Stone Barrington is back in this thrilling new page-turner from the perennially entertaining New York Times-bestselling author.

Stone Barrington is back in New York, and after a rather harrowing sojourn in Key West, he's looking to stay closer to home and work on some simple divorce and custody cases for Woodman & Weld. But when he crosses paths with a fetching Broadway actress-and sometime lip model- Stone gets a little more deeply involved with business than he'd expected. When his new lady love turns out to be a lady with a shady past, Stone and downtown cop Dino Bacchetti realize that her beauty may have an unusually high price. . . .
Release date: January 19, 2010
Publisher: G.P. Putnam's Sons
Print pages: 400
* BingeBooks earns revenue from qualifying purchases as an Amazon Associate as well as from other retail partners.
Listen to a sample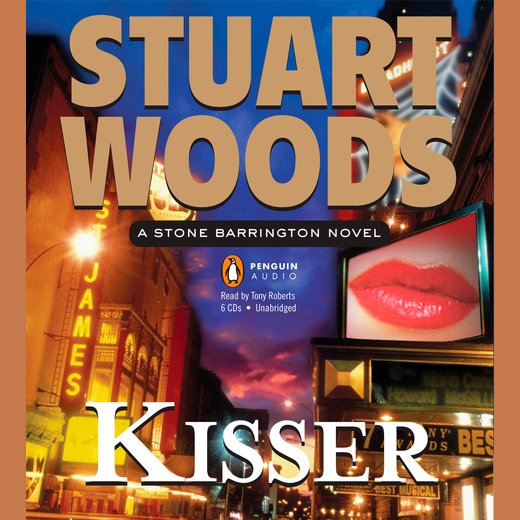 07:34:32
208.09 MB
9781101145920
January 19, 2010
Penguin Random House
2009
Kisser
Stuart Woods
1
ELAINE'S, LATE.
Stone Barrington and his former NYPD partner, Dino Bacchetti, were dining in the company of herself, Elaine, who, as usual, was making her rounds. "So?" Elaine asked as she joined them.
"Not much," Dino replied.
Stone was deep into his spaghetti alla carbonara.
"Nice, isn't it?" she asked. Elaine had a good opinion of her food.
"Mmmmf," Stone replied, trying to handle what he had stuffed into his mouth and speak at the same time.
"Never mind," Elaine said. "Enjoy."
Stone swallowed hard and nodded. "Thank you, I am."
The waiter came with the wine and poured everybody a glass.
Stone began to take smaller bites, so as to better participate in the conversation. As he took his first sip of wine, he froze.
Dino stared at him. "What's the matter? Am I gonna have to do a Heimlich?"
Stone set down the glass but said nothing. He was following the entrance of a very beautiful woman. She was probably five-eight or -nine, he thought, and closer to six feet in her heels. She was dressed in a classic Little Black Dress that set off a strand of large pearls around her neck. Fake, probably, but who cared? She had honey-blond, shoulder-length hair and a lot of it, cascades of it, big eyes, and plump lips sporting bright red lipstick. Dino and Elaine followed Stone's gaze as the woman turned to her left and sat down at the bar.
"She can't be alone," Dino said.
"Who is she?" Stone asked Elaine.
"Never saw her in here," Elaine replied, "but you'd better hurry; she's not gonna be alone long."
Stone put down his glass, got up, and walked toward the bar, straightening his tie. Normally, the people at the tables didn't have much to do with the people at the bar; they were different crowds. But Stone knew when to make an exception.
"Good evening," he said to her, offering his hand. "My name is Stone Barrington."
She took the hand and offered a shy smile. "Hello, I'm Carrie Cox," she said, and her accent was soft and southern.
Stone indicated his table. "My friends Dino and Elaine agree with me that you are too beautiful to be sitting alone at the bar. Will you join us?"
She looked surprised. "Thank you, yes," she said after a moment's thought.
Stone escorted her back to the table and sat her down. "Carrie Cox, this is Elaine Kaufman, your hostess, and Dino Bacchetti, one of New York's Finest."
"How do you do," Carrie said. "Finest what?"
"It's a designation meant to describe any New York City police officer," Stone said, "without regard for individual quality."
"Stone should know," Dino said. "He used to be one of New York's worst."
Carrie laughed, a low, inviting sound.
"You must be from out of town," Dino said.
"Isn't everybody?" Elaine asked.
"I've only been in New York for three weeks," Carrie said.
"Where you from?" Elaine asked.
"I'm from a little town in Georgia called Delano, but I came here from Atlanta. I lived there for two years."
"And what brought you to our city?" Stone asked.
"I'm an actress, so after a couple of years of training in Atlanta, it was either New York or L.A. Since it's spring, I thought I'd start in New York, and if I hadn't found work by winter, I'd move on to L.A."
Stone was fascinated by her mouth, which moved in an oddly attractive way when she talked.
"And have you found work yet?"
"Almost immediately," she said, "but not as an actress. I've been working as a lip model."
"I'm not surprised," Stone said.
"A lip model?" Dino asked.
"I've been modeling lipstick," she explained, "in the mornings. In the afternoons I've been making the rounds, looking for stage work."
"That's tough," Elaine said.
"Well, I've had one very attractive offer," Carrie said, "from a man called Del Wood."
Stone knew him a little, from a couple of dinner parties. Wood was a king of Broadway, who composed both music and lyrics and who owned his own theater. "The new Irving Berlin," Stone said, "as he's often called."
"Unfortunately," Carrie said, "the offer came with some very unattractive strings."
"Ah," Stone said. "Del Wood has that reputation. He is also known as Del Woodie."
Carrie laughed. "I can believe it. Do you know what he said to me?"
"I can't wait to find out," Dino said, leaning forward.
"He said—and please pardon the language; it's his, not mine—'I want to strip off that dress, lay you on your belly, and fuck you in the ass.' "
"Oh," Dino said.
Stone was speechless.
"I was thinking of suing him for sexual harassment," Carrie said.
"Well," Dino said, indicating Stone, "meet your new lawyer."
"Oh, are you a lawyer?" Carrie asked Stone.
"Yes, but I'm not sure you'd have much of a case."
"Why not?"
"Did he force himself on you?"
"No. I got out of there."
"Were there any witnesses?"
"No."
"Then I'm afraid it would be your word against his," Stone said.
"Well," Carrie said, "I did get him on tape."
2
STONE NEARLY CHOKED on his wine. "That was prescient of you," he rasped.
"Well, I had heard a little about him," Carrie replied. "A girl has to protect herself."
"Certainly," Stone replied.
"Too fucking right," Elaine added.
"And by what means did you record him?" Stone asked.
"Small dictator in my open purse on his desk," Carrie replied. "So, shall I retain you as my attorney and sue the son of a bitch?"
"First things first," Stone said. "What may I get you to drink, and will you have some dinner?"
"Thank you, a Knob Creek on the rocks, please, and no, I'm not hungry, having already dined—partially, anyway."
Stone ordered the drink. "And what do you mean by having dined 'partially'?"
"Well, a friend, a stage manager, invited me to a very nice dinner party being given by a well-known actress. We arrived a little late, and to my surprise, I found myself seated next to Mr. Del Wood, who couldn't keep his hands to himself. Having fought that off in the afternoon—something the other diners seemed to be aware of—I tried to make conversation, but then Mr. Woodie interrupted me and announced for all to hear that the offer he had made me that afternoon was still open. He was beginning to explain to everyone what the offer was when I tipped his dinner plate into his lap—we were having spaghetti Bolognese—then I got up, offered my thanks to my hostess, and left."
"Wow," Dino said. "I wish I'd been there for that."
"So do I," Stone said. "Perhaps you'd like dessert, Carrie?"
"Thank you. Perhaps I would."
Elaine grabbed a passing waiter and ordered up the dessert tray. Normally, she would have moved to another table by then, but she seemed to be enjoying the conversation.
The waiter appeared, and Carrie chose a crème brûlée.
"How many people were at the dinner party, and were they all theater people?"
"Twelve, and yes, they were actors, composers, producers, the works. I was rather looking forward to doing myself some good there, but Old Woodie spoiled that."
"Well," Stone said, "by lunchtime tomorrow you will be famous among a certain level of the Broadway cognoscenti; people will be dining out on that story for weeks, and I wouldn't be surprised if it made the gossip columns."
"Would that be a good thing?" Carrie asked.
"Good for everybody but Mr. Woodie," Stone replied. "You'll be immediately famous, as long as they spell your name right."
"Oh, good."
"What part did he offer you?"
"The lead in his new musical."
Stone was stunned. "The lead? What sort of audition did you do?"
"I sang 'I Loves You Porgy' from Porgy and Bess and a Sond heim tune, 'I'm Still Here,' and I danced a little. This was in the theater."
"And he let you get all the way through the two songs?"
"Yes, and there were a dozen or so people sitting in the orchestra seats who all stood up and applauded. That's when Mr. Wood invited me up to his office to talk."
"That sounds like something out of a movie about a Broadway show," Stone said. "Small-town girl shows up in the big city and wows everybody at her first audition."
"Well, it wasn't my first audition," Carrie said. "I had to audition for the lip modeling, too."
"And who did you have to kiss?" Dino asked.
"A mirror. I didn't mind that; a mirror has no hands." Her crème brûlée arrived, and she did it justice.
"Coffee?" Stone asked
"A double espresso, please."
"No trouble sleeping?" Stone asked.
"No trouble at all," she replied, giving him a little smile that made those beautiful lips enchanting again. "The benefit of a clear conscience."
"Always a good thing to have," Stone said. "Tell me, do you remember the names of the people at the dinner party?"
"Most of them. My date, Tony, will know them all."
"And have their addresses?"
"Yes, I think so. They were all his friends."
"First thing tomorrow morning you should write little notes to those people, expressing your regret for having to depart the party and say how sorry you were that you didn't have time to get to know them better. Start with your hostess."
"Just to remind them who I am?"
"Exactly, and please be sure your address, phone number, and cell number are clearly printed on your letterhead. If the letters don't get you other auditions, they will, at least, get you some dinner invitations—dinners Mr. Wood will not be attending."
"What a good idea, Stone," she said. "Now, will you be my attorney so that I can sue Mr. Woodie?"
"I'm afraid I have a serious conflict of interest that would prevent my representing you. However, I'd be happy to give you some free advice and to recommend an appropriate attorney."
"What's the conflict of interest?" Carrie asked.
"I am so impressed with your beauty, your intelligence, and your quick wit that I would much rather take you out to dinner than take you to court."
We hope you are enjoying the book so far. To continue reading...
Kisser
Stuart Woods
Copyright © 2023 All Rights Reserved
Also in this series
Also by this author