Book info
Sample
Audiobook
Media
Author updates
Lists
Synopsis
A scarred recluse, Jagr makes no secret of his disdain for others' company. But now, as a member of Chicago's powerful vampire clan, he has certain obligations to fulfill. The latest: track down a missing were pureblood and return her to her sister. The problem: Regan Garrett has no intention of complying. And though Jagr agreed not to harm an inch of this stubborn female's distractingly tempting body, he'll gladly kiss her into submission, awakening an urge he hasn't felt in years. Hell, in centuries . . .

Regan vowed never to be at the mercy of another man. That goes double for arrogant, steel-muscled vampires with eyes of ice. All Regan wants is revenge against those who imprisoned her. She doesn't need an ally. She certainly doesn't need a mate. But soon Regan will have to choose-between a lust for vengeance, and a passion as dark and dangerous as the night . . .
Release date: October 30, 2009
Publisher: Zebra Books
Print pages: 384
* BingeBooks earns revenue from qualifying purchases as an Amazon Associate as well as from other retail partners.
Listen to a sample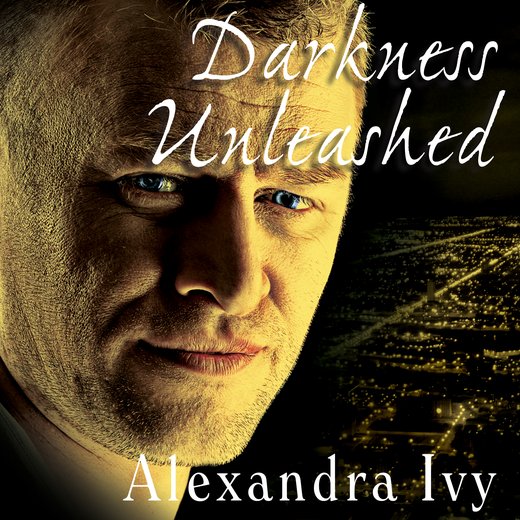 10:32:39
289.61 MB
October 28, 2013
Tantor Audio
2013
Darkness Unleashed
Alexandra Ivy
Jagr knew he was creating panic in Viper's exclusive nightclub. The elegant establishment with its crystal chandeliers and red velvet upholstery catered to the more civilized members of the demon-world. Jagr was anything but civilized.

He was a six-foot-three vampire who had once been a Visigoth chief. But it wasn't his braided, pale gold hair that fell nearly to his waist, or the ice-blue eyes that missed nothing and sent creatures with any claim to intelligence scurrying from his path. It wasn't even the leather duster that flared about his hard body.

No, it was the cold perfection of his stark features, and the hint of feral fury that smoldered about him.

Three hundred years of relentless torture had stripped away any hint of civility.

Ignoring the assorted demons who tumbled over chairs and tables in an effort to avoid his long strides, Jagr concentrated on the two Ravens guarding the door to the back office. The hushed air of sophistication was giving him a rash.

He was a vampire who preferred the solitude of his lair hidden beneath the streets of Chicago, surrounded by his vast library, secure in the knowledge that not a human, beast, or demon possessed the ability to enter.

Not that he was the total recluse that his vampire brothers assumed.

No matter how powerful or skilled or intelligent he might be, he understood that his survival depended on understanding the ever changing technology of the modern world. And beyond that was the necessity of being able to blend in with current society.

Even a recluse had to feed.

Tucked in the very back of his lair was a plasma TV with every channel known to humankind, and the sort of nondescript clothing that allowed him to cruise through the seedier neighborhoods without causing a riot.

The most lethal hunters knew how to camouflage themselves while on the prowl.

But this place…

He'd rather be staked than mince and prance around like a jackass.

Damn Styx. The ancient vampire had known that only a royal command could force him to enter a crowded nightclub. Jagr made no secret of his disdain for the companionship of others.

Which begged the question of why the Anasso would choose such a setting to meet.

In a mood foul enough to fill the vast club with an icy chill, Jagr ignored the two Ravens who stood on sentry duty near the back office, and lifting his hand, allowed his power to blow the heavy oak door off its hinges.

The looming Ravens growled in warning, dropping their heavy capes, which hid the numerous swords, daggers, and guns attached to various parts of their bodies.

Jagr's step never faltered. Styx wouldn't let his pet vampires hurt an invited guest. At least not until he had what he needed from Jagr.

And even if Styx didn't call off the guards…well, hell, he'd been waiting centuries to be taken out in battle. It was a warrior's destiny.

There was a low murmur from inside the room, and the two Ravens grudgingly allowed him to pass with nothing more painful than a heated glare.

Stepping over the shattered door, Jagr paused to cast a wary glance about the pale blue and ivory room. As expected, Styx, a towering Aztec who was the current king of vampires, was consuming more than his fair share of space behind a heavy walnut desk, his bronzed features unreadable. Viper, clan chief of Chicago, who, with his silver hair and dark eyes looked more like an angel than lethal warrior, stood by his shoulder.

"Jagr." Styx leaned back in the leather chair, his fingers steepled beneath his chin. "Thank you for coming so promptly."

Jagr narrowed his frigid gaze. "Did I have a choice?"

"Careful, Jagr," Viper warned. "This is your Anasso."

Jagr curled his lips, but he was wise enough to keep his angry words to himself. Even presuming he could match Styx's renowned power, he would be dead before ever leaving the club if he challenged the Anasso.

"What do you want?" he growled.

"I have a task for you."

Jagr clenched his teeth. For the past century he'd managed to keep away from the clan who called him brother, never bothering others and expecting the same in return. Since he'd been foolish enough to allow Cezar to enter his lair, it seemed he couldn't get rid of the damn vampires.

"What sort of task?" he demanded, his tone making it clear he didn't appreciate playing the role of toady.

Styx smiled as he waved a slender hand toward a nearby sofa. It was a smile that sent a chill of alarm down Jagr's spine.

"Have a seat, my friend," the Anasso drawled. "This might take a while."

For an insane moment, Jagr considered refusing the order. Before being turned into a vampire, he had been a leader of thousands. While he had no memory of those days, he had retained all his arrogance. Not to mention his issue with authority.

Thankfully, he had also kept the larger portion of his intelligence.

"Very well, Anasso, I have rushed to obey your royal command." He lowered his hard bulk onto a delicate brocade sofa, inwardly swearing to kill the designer if it broke. "What do you demand of your dutiful subject?"

Viper growled deep in his throat, the air tingling with his power. Jagr never blinked, although his muscles coiled in preparation.

"Perhaps you should see to your guests, Viper," Styx smoothly commanded. "Jagr's…dramatic entrance has disrupted your charming entertainment, and attracted more attention than I desire."

"I will not be far." Viper flashed Jagr a warning glare before disappearing through the busted door.

"Is he auditioning for a place among your Ravens?" Jagr mocked.

Pinpricks of pain bit into his skin as Styx released a small thread of his power.

"So long as you remain in Chicago, Viper is your clan chief. Do not make the mistake of forgetting his position."

Jagr shrugged. He wasn't indifferent to the debt and loyalty owed to Viper. The truth was he was in a pissy mood, and being stuck in the chichi nightclub where there wasn't a damned thing to kill beyond a bunch of dew fairies wasn't helping.

"I can hardly forget when I am forever being commanded to involve myself in affairs that do not concern me, and more importantly, do not interest me."

"What does interest you, Jagr?" He held Styx's searching gaze with a flat stare. At last the king grimaced. "Like it or not, you offered your sword when Viper accepted you into his clan."

He didn't like it, but he couldn't argue. Being taken into a clan was the only means of survival among the vampires.

"What would you have of me?"

Styx rose to his feet to round the desk, perching on a corner. The wood groaned beneath the considerable weight, but didn't crack. Jagr could only assume Viper had had all the furniture reinforced.

Smart vampire.

"What do you know of my mate?" Styx abruptly demanded.

Jagr stilled. "Is this a trap?"

A wry smile touched the Anasso's mouth. "I'm not a subtle vampire, Jagr. Unlike the previous Anasso, I have no talent for manipulating and deceiving others. If there comes a day when I feel the need to challenge you, it will be done face-to-face."

"Then why are you asking me about your mate?"

"When I first met Darcy, she knew nothing of her heritage. She had been fostered by humans from the time she was a babe, and it wasn't until Salvatore Giuliani, the current king of the Weres, arrived in Chicago that we discovered she was a pureblood who had been genetically altered."

Jagr flicked a brow upward. That was a little tidbit that the king had kept secret.

"Genetically altered?"

"The Weres are increasingly desperate to produce healthy offspring. The pureblood females have lost their ability to control their shifts during the full moon, which makes it all but impossible to carry a litter to full term. The Weres altered Darcy and her sisters so they would be incapable of shifting."

Jagr folded his arms over his chest. He didn't give a damn about the worthless dogs.

"I presume you will tell me why you have summoned me, before the sun rises?"

Styx narrowed his golden eyes. "That depends entirely on your cooperation, my brother. I can make this meeting last as long as I desire."

Jagr's lips twitched. The one thing he respected was power. "Please continue."

"Darcy's mother gave birth to a litter of four daughters, all genetically altered, and all stolen from the Weres shortly after their births."

"Why were they stolen?"

"That remains a mystery Salvatore has never fully explained." There was an edge in the Anasso's voice that warned he wasn't pleased by the lack of information. "What we do know is that one of Darcy's sisters was discovered in St. Louis, being held captive by an imp named Culligan."

"He's fortunate that she's incapable of shifting. A pureblood could rip out the throat of an imp."

"From what Salvatore could discover, the imp managed to get his hands on Regan when she was just a child, and kept her locked in a cage coated with silver. That is when he wasn't torturing her for a quick buck."

Torture.

The Dutch masterpieces hanging on the walls crashed to the floor at Jagr's flare of fury.

"Do you wish the Were rescued?"

Styx grimaced. "Salvatore already freed her from Culligan, although the damned imp managed to slip away before Salvatore could eat him for dinner."

Jagr's brief flare of hope that the night wasn't a total waste was brought to a sharp end. Slaughtering bastards who tormented the weak was one of his few pleasures.

"If the woman was rescued, why do you need me?"

Styx straightened, his bulk consuming a considerable amount of the office space.

"Salvatore's only interest in Regan was installing her as his queen and primary breeder. He is determined to secure his power base by providing a mate who is capable of restoring the purebloods' dwindling population. Unfortunately, once he freed Regan, he discovered she was infertile."

"So she was of no use."

"Precisely." The towering Aztec was careful to keep his composure, but even an idiot could sense he wouldn't mind making a snack of the Were king. "That is why he contacted Darcy. He intended to send Regan to Chicago so she could be under my protection until he established her in the St. Louis Were pack."

"And?"

"And she managed to escape while he was conferring with the local pack master."

Jagr grunted in disgust. "This Salvatore is pathetically inefficient. First he allows the imp to escape, and then the woman. It's little wonder the Weres are declining in number."

"Let us hope you are more efficient."

Jagr rose to his feet, his expression cold. "Me?"

"Darcy is concerned for her sister. I want her found and brought to Chicago."

"The woman has made it fairly obvious she doesn't want to come."

"Then it will be your job to convince her."

Jagr narrowed his gaze. He wasn't a damned Mary Poppins. Hell, he would eat Mary Poppins for breakfast.

"Why me?"

"I've already sent several of my best trackers to St. Louis, but you're my finest warrior. If Regan has managed to run into trouble, you will be needed to help rescue her."

There were no doubt worse things than chasing after a genetically altered Were who clearly didn't want to be found, but he couldn't think of one off the top of his head.

In the outer room, the sounds of a string quartet resumed, along with soft "ohhs" and "ahhs" from the audience as the dew fairies continued their delicate dance. Jagr could suddenly think of one thing worse than chasing after the Were.

Remaining trapped in this hellhole.

"Why should I do this?" he rasped.

"Because what makes Darcy happy makes me happy." Styx moved until they were nose to nose, his power digging into Jagr's flesh. "Clear enough?"

"Painfully clear."

"Good." Styx stepped back and released his power. Slipping his hand beneath his leather coat, he pulled out a cell phone and tossed it to Jagr. "Here. The phone has the numbers of the brothers who are searching for Regan, as well as contacts in St. Louis. It also has my private line. Contact me when you find Regan."

Jagr pocketed the phone and headed for the door. There was no point in arguing. Styx was struggling to force the vampires out of their barbaric past, but it wasn't a freaking democracy.

Not even close.

"I will leave within the hour."

"Jagr."

Halting at the door, Jagr turned with a searing fury. "What?"

Styx didn't so much as flinch. "Do not forget for one moment that Regan is precious cargo. If I discover you have left so much as a bruise on her pretty skin, you won't be pleased with the consequences."

"So I'm to track down a rabid Were who doesn't want to be found, and haul her to Chicago without leaving a mark?"

"Obviously the rumors of your extraordinary intelligence were not exaggerated, my brother."

With a hiss, Jagr turned and stormed through the shattered opening. "I'm not your brother."

 

Viper monitored Jagr's furious exit with a wary gaze.

Actually it hadn't gone as bad as he had feared. No death or mutilation. Not even a maiming.

Always a plus.

Still, he knew Jagr too well. Of all his clansmen, he had always known that the ancient Visigoth was the most feral. Understandable after what he'd endured, but no less dangerous. He was beginning to regret having brought the tortured vampire to Styx's attention.

Slipping past the seated demons who were once again enthralled with the dew fairies, Viper returned to the office, finding Styx staring out the window.

"I have a bad feeling about this," he muttered, his gaze taking in his priceless paintings, lying shattered on the floor.

Styx turned, his arms folded over his chest. "A premonition? Shall I contact the Commission and inform them they have a potential Oracle?"

Viper arched a warning brow. "Only if you want me to lock you in a cell with Levet for the next century."

Styx gave a sharp bark of laughter. "A nice bluff, but Levet has decided that he is the only one capable of tracking Darcy's missing sister. He left for St. Louis as soon as Salvatore informed me that Regan had slipped from his grasp."

"Perfect, now we have two loose cannons charging about Missouri. I'm not sure the natives will survive."

"You believe Jagr is a loose cannon?"

Viper grimaced, recalling the night that Jagr had appeared at his lair requesting asylum. He had encountered any number of lethal demons, most of whom wanted nothing more than to kill him. He'd never, however, until that night, looked into the eyes of another and seen only death.

"I think beneath all that grim control, he's a step from slipping into madness."

"And yet you allowed him to become a clansman."

Viper shrugged. "When he petitioned, my first inclination was to refuse. I could sense he was not only dangerously close to the edge, but that he was powerful and aggressive enough to challenge me as clan chief. He's a leader by nature, not a follower."

"So why allow him into Chicago?"

"Because he swore an oath to disappear into his lair and not offer any trouble."

"And?" Styx prodded.

"And I knew he wouldn't survive if he were without the protection of a clan," Viper grudgingly admitted. "We both know that despite your attempts to civilize the vampires, some habits are too deeply ingrained to be easily changed. A rogue vampire with that much power would be seen as a threat to any chief. He would be destroyed."

"So you took mercy."

Viper frowned. He didn't like being thought of as anything but a ruthless bastard. He hadn't become clan chief because of any sensitivity bullshit. He was leader because the other vampires were scared he'd rip out their undead hearts.

"Not mercy—it was a calculated decision," he growled. "I knew if the need ever arose, he would prove an invaluable ally. Of course, I assumed that I would need him as a warrior, not as a babysitter for a young, vulnerable Were. I'm not entirely comfortable sending him on such a mission."

Styx grasped the medallion that always hung about his neck, revealing he was not nearly as confident in his decision as he would have Viper believe.

"I need Regan found, and Jagr has the intelligence and skills that are best suited to track her and keep her safe. And he possesses an even more important quality."

"It can't be his sparkling personality."

"No, it's his intimate knowledge of the anguish Regan has suffered." Styx regarded him with a somber expression. "He, better than any of us, will understand what Regan needs now that she has been freed from her tormentor."

The campground a few miles south of Hannibal, Missouri, was like any other campground.

Oversized RVs parked on the barren ground, a row of portable potties in the back, and a small shack near the front entrance where the humans paid for the privilege of being crammed next to people they wanted to throttle by the end of their vacation.

Regan Garrett knew all about the throttling thing firsthand.

Granted, she wasn't human, but she had spent the majority of her life in one campground or another. They were breeding grounds for homicide.

Indifferent to the threat of impending mass murder, Regan swiftly jogged through the neat columns of RVs. She had deliberately waited until it was late enough that the old folks would have their dentures in a glass and their wrinkled asses in bed, while the younger parents would be comatose after a day of unrelieved suffering at the hands of their children.

Midnight in Hannibal, and not a creature was stirring.

Reluctantly, she turned to jog back toward the shack that had its door closed against the late March air. The chill didn't trouble Regan, despite the fact she was wearing nothing more than a pair of jeans and a sleeveless knit top. She might not possess the ability to shift or procreate, but she did have most of the werewolf's talents.

She was faster and stronger than humans, temperatures didn't trouble her, she could see perfectly in the dark, and she had a remarkable ability to heal any wound not inflicted with silver.

Her feet briefly faltered. It was that ability to heal that had…

No. Not now.

She had to focus. She would grieve the past once Culligan was dead.

For the past ten hours she'd been on the imp's trail, following his scent from St. Louis to the edge of Hannibal. She could almost taste her revenge when his trail mysteriously vanished on the outskirts of town. She didn't know how the son of a bitch had managed to disappear into thin air, but it wasn't going to stop her.

One way or another, she was finding the man who had held her captive for the past thirty years, and paying him back a hundredfold.

Not bothering to knock, Regan shoved open the door to the shack and stepped in. It was a cramped space, the walls covered with glossy pamphlets proclaiming all the wondrous sights to see in Hannibal, and one narrow window that overlooked the park.

At first glance the place looked empty, but Regan didn't miss the cigarette smoke that hung in the air. Moving to the Formica counter at the far end of the room, she banged on the small silver bell.

There was the muffled sound of cursing, then a door behind the counter was shoved open, and a shaggy head poked out.

"Yeah?" The boy, who couldn't have been more than eighteen, with a nose too big for his narrow face, stiffened as his pale eyes skimmed over Darcy's long, golden blond hair and down her slender body. Slowly they lifted to study the green eyes that dominated her pale heart-shaped face. A goofy smile curved his lips as he stepped into the room and leaned against the counter. "Helloooo. What's up?"

"I'm looking for a friend."

"You just found him, doll. Give me ten minutes to lock up, and I'm all yours."

As if.

Regan resisted the urge to smash the overlarge nose, barely. Instead, she pulled out the folded page she had ripped from a magazine before leaving St. Louis.

"Have you seen an RV that looks like this?"

The kid barely glanced at the picture. "Do I look like that freak from Monk? I take the money, I give them a card to put on their dash, and that's the end of it. I don't give a shit what their RV looks like."

"You would have noticed this one. The driver has long red hair and eyes like a cat. He's very…distinctive."

"There's no one here who doesn't have gray hair and dentures." The boy shuddered. "I have nightmares that one day I'll look out there and nothing will be left but corpses and rotting RVs."

"Charming."

The goofy smile widened. "You could take my mind off the nasty geriatrics and their imminent death. I have a cot in the back."

Regan once again eyed the protruding beak. Targets didn't come more tempting. Unfortunately, she couldn't afford to attract attention. Humans always made such a fuss over bit of blood and a few broken bones.

"Not even if you came giftwrapped," she muttered, turning to leave.

"Hey…"

Whatever he had to say was cut off as Regan slammed the door and jogged toward the nearby road leading into Hannibal.

This was the last RV park in the area. Her only hope now was that she could pick up Culligan's trail somewhere in town.

He couldn't have just vanished.

Not only was Culligan a greedy sadist, but he was also a pathetic imp. Unlike many of his kind, he didn't have the skill to create portals to travel. Hell, he could barely form a hex.

Which meant he was either in his RV, or on foot.

Five hours later, she'd jogged through every street in town, finding nothing more than the usual drunken humans and a handful of sprites dancing in the gathering fog.

Damn. She was hungry, weary to the bone, and in no condition to battle Culligan, even if she did run across him. As much as it ticked her off, it was time to call it a night.

Angling back toward the main highway that snaked through town, Regan ignored the scent of food that wafted from the few fast-food restaurants that remained open. She had stolen money from Salvatore before leaving St. Louis, but it would only last so long. For now she preferred the protection of four walls and a locked door while she slept to easing the empty ache in her belly.

She returned to the hotel that she'd booked earlier (one of a dozen that had Mark Twain emblazoned in the name), in the hopes she would need a place to stash a beaten and bloody imp. That hope was shot to hell for the moment, but at least she could look forward to a hot shower and clean bed.

Keeping her head lowered, she limped across the nondescript lobby, nodding toward the nondescript front desk clerk, and climbing the nondescript stairs. No matter how tired she might be, she wasn't willing to enter the elevator. She'd been trapped the majority of her life in a tiny silver cell. Not an act of God, or a promised date with the Jonas Brothers could haul her back into one.

She reached the fifth floor, absently rubbing her arms as a chill crawled over her. Strange. She never felt the cold. Obviously, she was even more tired than she thought.

Halting at her door, she slid her card into the lock and pressed it open. It wasn't until steely arms wrapped about her that she realized the danger.

Shit. The cold prickling over her skin wasn't from the temperature, it was from a damned vampire. And she had waltzed into his arms as if she didn't have any more sense than a freaking human.

Momentarily frozen with shock, Regan was abruptly catapulted into action as the vampire kicked shut the door and attempted to drag her further into the dark room.

Calling upon her waning strength, Regan pretended to slump in her attacker's arms, pulling them far enough downward so that when she abruptly slammed her head backward, she managed to hit him flush in the face.

There was a muffled curse, but the arms holding her hostage didn't loosen. In fact, they tightened with a brutal force, hiking her closer as the heavy body slammed her to the carpeted floor, landing on top of her and knocking the air from her lungs.

She was well and truly trapped, but that didn't stop her from struggling. Okay, it was more like a fish futilely flopping on the bank of a river. Still, it made her feel like she was doing something. Just like she used to taunt and mock Culligan, despite the fact that he was bound to beat the hell out of her for it.

"What do you want?" she gritted. "Tell me now or I swear I'll stake you."

A dark, utterly male chuckle whispered over her face. "And they claim I have no social skills." There was a pause, and Regan sensed the vampire's mind reach out to brush against hers. "Hold still."

She tried to free a leg so she could knee him in the nuts. "That shit doesn't work on me, vampire."

He growled low in his throat. "Regan, stop this. I don't want to hurt you."

Regan stilled in shock. "How do you know my name?"

There was a prickle of power, and suddenly the lamp beside the bed flared with light.

"I was sent by Darcy to bring you to Chicago."

Regan barely heard the low, slightly raspy words. Holy…crap.

She was a woman who'd spent her life surrounded by demons, many who could make GQ models weep with envy, but none could compare to the vampire currently lodged on top of her.

A delicious, heart-stopping, edible hunk of eye candy.

His body was hard and chiseled with more muscles than any man had a right to possess. His long hair, two shades a paler gold than hers, was pulled into a tight braid, emphasizing the ice-blue eyes. His features appeared to be carved from the finest marble, the lines and angles so perfect they could only have been formed by the hand of a master. His nose was aquiline, his cheekbones angular beneath the smooth ivory skin, his brow wide, and his lips…they were hard, but precisely chiseled. The sort of lips that made a woman wonder what they would feel like exploring hot, intimate places.

A shocking heat clenched her lower muscles, infuriating Regan. Christ, the demon was here at the bidding of her interfering sister, not to offer relief to a lonely, sex-starved Were.

Not that she would spread her legs, even if this was just a random encounter, she sternly told herself. Okay, he was hot enough to make her bones melt, and the scent of raw male power was making her head dizzy, but…

Stop it, you idiot. This wasn't a man. He was a lethal vampire who could drain her dry in a heartbeat.

"Darcy sent you?" she snapped.

The frozen blue eyes narrowed, his nose flaring as if catching scent of her stupid awareness. Which was ridiculous. Wasn't it?

"Yes."

"Well, who died and made her queen?" she mocked.

"The Anasso."

Regan blinked in confusion. "What?"

His gaze briefly swept over her pale face before lifting to clash with her uneasy glare.

"You asked who died to make Darcy queen," he retorted. "Her mate Styx killed the previous King of Vampires, which made him the current leader, and your sister queen."

Well, of course she was a freaking queen.

She'd never met Darcy, or any of her three sisters for that matter, but she'd learned from Salvatore that Darcy was currently mated to a vampire who not only adored her, but had just purchased a flipping mansion on the outskirts of Chicago for her. No doubt she was also drenched in diamonds, and attended the opera on a regular basis.

Not that Regan wanted all that froufrou crap. She'd rather be stabbed in the eye than put on a dress. Still, her sister's cushy lifestyle was a thorn in Regan's side.

Her family had abandoned her to the hands of a psychotic imp who had relentlessly abused her for thirty years. As far as she was concerned, the entire bunch of them could go screw themselves.

"Awesome, my sister is married to a genocidal maniac," she drawled. "And people wonder why I'm not leaping at the chance to get to know my family."

"Styx is no more genocidal than any other vampire. Or Were, for that matter."

She snorted at the flat, emotionless tone. "Are you trying to reassure me? If so, you suck at it."

"My only duty is to escort you to Chicago."

"Duty?"

"Yes."

Freaking perfect. This gorgeous hunk of man was nothing more than a flunky for her sister.

She pressed her hands against the unyielding wall of his chest. "Well, consider yourself officially off duty, because I have no intention of going."

"Your sister is concerned. She only desires to protect you."

His low, hypnotizing voice tingled down her spine even as his words pissed her off.

"Yeah, and where was all that sisterly concern when I was being held captive by a monster?"

His stark, beautiful face was without mercy. "You're free now, aren't you? Be grateful."

"I don't want to be grateful, and I sure as hell don't want to have my supposed sister pretending she gives a damn after all these years. Tell her to take her concern and shove it up her…"

His head swooped down, his lips claiming her mouth in a kiss that was raw and demanding, and shocking as hell.

Regan had braced herself for the familiar blow. Even a savage bite to her neck. She wasn't prepared for the sensation of cool, skillful lips parting her mouth, or the oddly erotic press of fangs.

The treacherous heat returned with a vengeance, flowing through her trembling body and tightening her muscles with the promise of beckoning pleasure.

He tasted of brandy and tempt. . .
We hope you are enjoying the book so far. To continue reading...
Darkness Unleashed
Alexandra Ivy
Copyright © 2022 All Rights Reserved
Also in this series
Also by this author