Book info
Sample
Audiobook
Media
Author updates
Lists
Synopsis
As the demon world celebrates the defeat of the Dark Lord, the vampire Santiago's mood remains bleak. He still yearns for sensual, raven-haired Nefri, who has inexplicably disappeared. But brooding for Nefri is a luxury Santiago does not have. His traitorous sire, Gaius, is unleashing a violent scourge upon the mortal world, and Santiago must stop him before it's too late . . .
To her dismay, the all-powerful Oracles have sent Nefri on her own mission to find Gaius, and failure is not an option. Nefri's search leads her to the vampire's abandoned lair—and straight into Santiago's path. It's clear Santiago intends to seduce her, but then an ancient, banished evil reappears, threatening to thrust the world into a madness it cannot survive . . .
Release date: June 1, 2013
Publisher: Zebra Books
Print pages: 448
* BingeBooks earns revenue from qualifying purchases as an Amazon Associate as well as from other retail partners.
Listen to a sample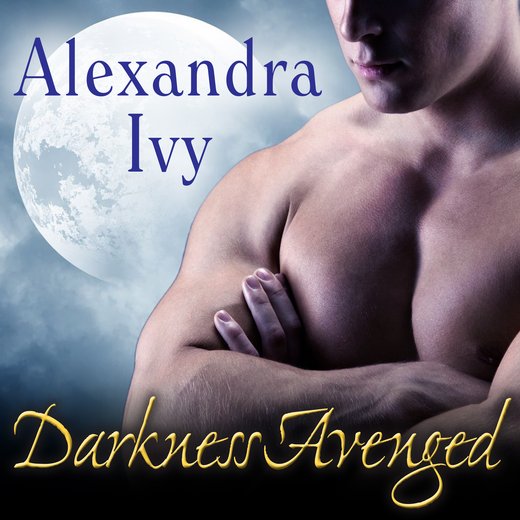 11:33:55
317.66 MB
December 23, 2013
Tantor Audio
2013
Darkness Avenged
Alexandra Ivy
The music throbbed with a heavy, death metal bass that would have toppled the nearby buildings if the demon club hadn't been wrapped in spells of protection. The imp magic not only made the large building appear like an abandoned warehouse to the local humans of the small Midwest town, but it captured any sound.

A damned good thing since the blasting music wasn't the only noise that would freak out the mortal neighbors.

Granted, the first floor looked normal enough. The vast lobby was decorated in a neoclassical style with floors made of polished wood and walls painted a pale green with silver engravings. Even the ceiling was covered with some fancy-assed painting of Apollo on his chariot dashing through the clouds.

Upstairs was the same. The private apartments were elegantly appointed and designed with comfort in mind for those guests willing to pay the exorbitant fees for a few hours of privacy.

But beyond the heavy double doors that led to the lower levels, all pretense of civilization came to an end.

Down in the darkness the demons were encouraged to come out and play with wild abandon.

And no one, absolutely no one, could play as rough and wild and downright nasty as demons.

Standing in the shadows, Santiago, a tall exquisitely handsome vampire with long raven hair, dark eyes, and distinctly Spanish features allowed his gaze to skim over his domain.

The circular room was the size of a large auditorium and made of black marble with a series of tiers that terraced downward. On each tier were a number of steel tables and stools that were bolted to the marble. Narrow staircases led to a pit built in the middle of the lowest floor and filled with sand.

The overhead chandeliers spilled small pools of light near the tables, while keeping enough darkness for those guests who preferred to remain concealed.

Not that there was a need for secrecy in the club.

The crowd was made up of vamps, Weres, and fairies, along with several trolls, an orc, and the rare Sylvermysts (the dark fey who'd recently revealed their presence in the world). They came to fight in the pit for a chance at fleeting glory. Or to indulge in the pleasures his various hosts and hostesses offered, whether it was feeding or sex.

None of them were known for their modesty. Especially when they were in the mood to celebrate.

Santiago grimaced, his frigid power lashing through the air to send several young Weres scurrying across the crowded room.

He understood their jubilation.

It wasn't everyday that an evil deity was destroyed, the hordes of hell turned away, and Armageddon adverted.

But after a month of enduring the endless happy, happy, joy, joy, his own mood was tilting toward homicidal. Well, perhaps it was more than just tilting, he grimly conceded as a tableful of trolls broke into a violent brawl, knocking each other over the railing and onto the Weres seated below.

The domino effect was instantaneous. With infuriated growls the Weres shifted, tearing into the trolls. At the same time the nearby Sylvermysts leaped into the growing fight, the herb scent of their blood swiftly filling the air.

Santiago's massive fangs ached with the need to join in the melee. Perhaps a good old-fashioned beat-down would ease his choking frustration.

Unfortunately, his clan chief, Viper, had trusted him to manage the popular club. Which meant no extracurricular bloodbaths. No matter what the temptation.

Buzz kill.

Watching his well-trained bouncers move to put an end to the fight, Santiago turned his head as the smell of blood was replaced by the rich aroma of plums.

His lips curled as the violence choking the air was abruptly replaced by a heated lust.

Understandable.

Tonya could make a man drool at a hundred paces.

Strikingly beautiful with pale skin and slanted emerald eyes, the imp could also claim perfect curves and a stunning mane of red hair. But Santiago hadn't chosen her as his most trusted assistant because of her outrageous sex appeal.

Like all imps, she possessed a talent for business and the ability to create powerful illusions. She could also hex objects, although Santiago made sure that particular talent was only used on the humans who patronized the tea shop next door. Most demons were immune to fey magic, but Tonya had royal blood and her powers were far more addictive than most.

His loyal customers would never return if they suspected he allowed them to be enthralled by the beautiful imp.

Wearing a silver dress that was designed to tempt rather than cover, she came to a halt at his side, a smile curving her lush lips even as her shrewd gaze monitored the hosts and hostesses that strolled through the room offering their services.

"A nice crowd," she murmured.

Santiago grimaced. Unlike his assistant, he was wearing plain black jeans and a dark T-shirt that clung to his wide chest. And, of course, he'd accessorized the casual attire with a massive sword strapped to his back and a handgun holstered at his hip.

Never let it be said he went to a party underdressed.

"'Nice' isn't a word I'd associate with this mob."

Tonya glanced toward the tribe of Sylvermysts who were reluctantly returning to their table. The warriors possessed the striking features of all fey with long hair in various shades of gold to chestnut. But their eyes blazed with a strange metallic sheen.

"Oh, I don't know," she purred. "There's one or two I'd consider edible."

"Your definition of edible is appallingly indiscriminate."

She turned her head to study him with an all-too-knowing gaze. "Yeah well, at least I haven't been neutered."

Santiago curled his hands into tight fists, fury jolting through him. Oh no, she didn't just go there. "Careful, Tonya."

"When was the last time you got laid?"

The air temperature dropped by several degrees.

"We're so not going to discuss this," he snarled, his voice pitched low enough it wouldn't carry. Despite the earsplitting music, there were demons present who could hear a freaking pin drop a mile away. "Especially not in front of an audience."

Foolishly ignoring his don't-fuck-with-me vibes, Tonya planted her hands on her full hips. "I've tried to discuss it in private, but you keep shutting me down."

"Because it's none of your damned business."

"It is when your foul mood begins affecting the club."

His fangs throbbed. "Don't press me."

"If I don't, who will?" The female refused to back down, the words she had clearly longed to fling at him for days at last bursting past her lips. "You prowl through the halls snapping at everyone who is stupid enough to cross your path. I've had six waitresses and two bouncers quit in the past month."

His jaw hardened with a stubborn refusal to admit she was right. If he did . . .

Well, that would mean he'd have to admit he had been neutered.

Not only sexually, although that was god-awful enough to admit. After all, he was a vampire. His appetite for sex was supposed to be insatiable.

But his general lust for life . . .

Suddenly his enjoyment of pursuing beautiful women and spending time with his clan brothers was replaced by a gnawing frustration. And his pride in running a club that was infamous throughout the demon world was replaced by an itch that he couldn't scratch.

It was something he was trying to ignore under the theory that it was like a bad hangover—something you suffered through and forgot as soon as the next party came along.

"Hire more," he growled.

Her eyes narrowed. "Easy for you to say."

"Hey, you know where the door—"

"I'm not done," she interrupted him.

His dark brows pulled together in a warning scowl. "Imp, you're pissing on my last nerve."

"And that's my point." She pointed a finger toward the belligerent crowd that continued to eyeball one another with the threat of violence. "This mood of yours is not only infecting the employees, but the patrons as well. Every night we're a breath away from a riot."

He snorted, folding his arms over his wide chest. "I run a demon club that caters to blood, sex, and violence. What do you expect? Line dancing, gin fizzes, and karaoke?"

"The atmosphere is always aggressive, but in the past few weeks it's been explosive. We've had more fights lately than we've had in the past two years."

"Haven't you heard the news? We're celebrating the defeat of the Dark Lord," he tried to bluster. "A new beginning . . . blah, blah, blah."

Like a dog with a bone, Tonya refused to let it go. "Does that look like celebrating?" Once again she stabbed her finger toward the seething crowd. "Your frustration is contaminating everyone."

Santiago couldn't argue. The club wasn't Disneyland, but it wasn't usually a bloodbath.

At least not unless you were stupid enough to join in the cage matches.

"So what are you suggesting?"

"You have two options." Tonya offered a tight smile. "Go kill something, or fuck it. Hell, do both."

He snorted. "Are you offering?"

"I would if I thought it would do any good," she admitted bluntly. "As it is . . ." Her words trailed away as she gave a lift of her hand, gesturing toward a distant corner.

"What?"

"I have something more suitable to your current taste in females."

Santiago wasn't sure what he expected. Maybe twin imps. He'd always had a weakness for matched sets. Twinning . . .

Or maybe a Harpy in heat.

Nothing was more certain to distract a man than a week of incessant, no-holds-barred, balls-aching sex.

Instead a female vampire stepped from the shadows.

"Mierda," he hissed in shock.

Not because the woman was stunning. That was a given. All vampire females were drop-dead gorgeous.

But this one had an eerie familiarity with her long black hair and dark eyes, which contrasted so sharply with her pale skin.

Nefri.

No, not Nefri, a voice whispered in the back of his mind. Her face was more angular and the approaching female was lacking the regal aloofness that shrouded the real Nefri.

Not to mention a lack of kick-ass power that would have all of them reeling beneath the impact of her presence.

But she was close enough to make his gut twist into painful knots.

"Will she do?" Tonya murmured.

"Get rid of her," he commanded, his voice thick.

Tonya frowned in confusion. "What?"

"Get rid of her. Now!"

Spinning on his heel, he headed toward the stairs leading out of the lower levels.

He had to get out.

"Santiago," Tonya called behind him. "Goddammit."

The crowd parted beneath the force of his icy power, most of them scrambling out of his way with a gratifying haste as he climbed the stairs and entered the lobby.

Not that he noticed.

He was way too busy convincing himself that his retreat was nothing more than anger at Tonya's interference.

As if he needed the fey prying into his sex life. She was supposed to be his assistant, not his pimp. If he wanted a damned female he could get one himself. Hell, he could get a dozen.

And not one of them would be some pitiful substitute for the aggravating, infuriating, impossible female who had simply abandoned him to return behind the Veil....

"Trouble in paradise, mi amigo?"

It was a testament to just how distracted he was that he was nearly across the marble floor of the lobby and he hadn't noticed the vampire standing near the door to his office.

Dios.

If he could miss the current Anasso (the ultimate King of All Vampires), then his head was truly up his ass.

Styx was a six-foot-five Aztec warrior dressed in black leather with a sword strapped to his back big enough to carve through a full-blooded troll. And of course, there was his massive power that pulsed through the air like sonic waves.

It would be easier, and certainly less dangerous, to overlook an erupting volcano.

"Perfect," he muttered, regarding his unexpected guest's bronzed face. His visage had been carved on lean, arrogant lines emphasized by his dark hair, which was pulled into a tight braid that fell nearly to the back of his knees. He didn't look like he was there to party. Which meant he wanted something from Santiago. Never a good thing. "Could this night get any better?" he muttered.

Styx arched a dark brow. "Do you want to talk about it?"

Share the fact he was no better than a eunuch with his Anasso? He'd rather be gutted.

And, speaking as someone who actually had been gutted, that was saying something.

"I most emphatically do not," he rasped, shoving open the door to his office and leading his companion inside.

"Thank the gods." Styx crossed the slate gray carpet, perching on the corner of Santiago's heavy walnut desk. "When I took the gig of Anasso I didn't know I had to become the Vampire Whisperer. I just wanted to poke things with my big sword."

Santiago veered past the wooden shelves that held the sort of high-tech surveillance equipment that only Homeland Security was supposed to know about, unlocking the door of the sidebar that was set beneath the French Impressionist paintings hung on the paneled walls.

"I hope you didn't come here to poke anything with your sword," he said, pulling out a bottle of Comisario tequila.

"Actually, I need your help."

"Again?" Santiago poured two healthy shots of the expensive liquor. The last time Styx had said those words the Dark Lord had been threatening to destroy the world and he'd been teamed up with Nefri in an attempt to find the missing prophet. "I thought we'd gone beyond the sky-is-falling to yippee ki yay, everyone back to their neutral corners so we could pretend that we didn't nearly become dog food for the hordes of hell?"

Styx hadn't become king just because he was baddest of all bad-asses. He was also frighteningly perceptive. Narrowing his eyes, he studied Santiago's bitter expression with a disturbing intensity.

"Does this have something to do with Nefri and her return to her clan?"

Nope. Not discussing it.

Santiago jerkily moved to shove one of the glasses into Styx's hand. "Here."

Briefly distracted, the ancient vampire took a sip of the potent spirit, a faint smile curving his lips. "From Viper's cellars?"

"Of course."

Styx's smile widened. Despite being predatory alphas, Styx and Viper, the clan chief of Chicago, had become trusted friends. It was almost as shocking as the fact that vampires and Weres had become allies. At least temporarily.

Which only proved the point that doomsday truly did make for strange bedfellows.

"Does he know you're enjoying his private stash?"

"What he doesn't know . . ." Santiago lifted his glass in a mocking toast before draining the tequila in one swallow. "Salud."

"You know," Styx murmured, setting aside his glass, "maybe I should try my hand at Dr. Phil."

Santiago poured himself another shot. "You said you needed my help."

"That was the plan, but you're in a dangerous mood, amigo. The kind of mood that gets good vampires dead."

"I'm fine." Santiago drained the tequila, savoring the exquisite burn. "Tell me what you want from me."

There was a long pause before the king at last reached to pull out a dagger that had been sheathed at his hip. "Do you recognize this?"

"Dios." Santiago dropped his glass as he stared in shock at the ornamental silver blade that was shaped like a leaf with a leather pommel inset with tiny rubies. "A pugio," he breathed.

"Do you recognize it?"

His short burst of humorless laughter filled the room. Hell yeah, he recognized it. He should. It belonged to his sire, Gaius, who had once been a Roman general.

Centuries ago he'd watched in awe as Gaius had displayed the proper method of killing his prey with the dagger. What a fool he'd been.

Of course, he wasn't entirely to blame. Like all foundlings, Santiago had awoken as a vampire without memory of his past and only a primitive instinct to survive. But unlike others, he hadn't been left to fend for himself. Oh no. Gaius had been there. Treating him like a son and training him to become his most trusted warrior.

But all that came to an end the night their clan was attacked. Santiago had been away from the lair, but he knew that Gaius had been forced to watch his beloved mate, Dara, burned at the stake. And lost in his grief, Gaius had retreated behind the Veil where he sought the peace it supposedly offered.

Of course, it had all been a load of horseshit.

Gaius had allowed himself to be swayed by the promise of the Dark Lord to return Dara, and he'd gone behind the Veil to betray them all.

And as for Santiago . . .

He'd been left behind to endure hell.

Realizing that Styx was studying him with an all too knowing gaze, Santiago slammed the door on his little walk down memory lane.

"Gaius," he said, his voice flat.

"That's what I suspected."

"Where was it found?" Santiago frowned as the Anasso hesitated. "Styx?"

Styx tossed the dagger on the desk. "A witch by the name of Sally brought it to me," he at last revealed. "She claimed that she worked for Gaius."

"We know he had a witch who helped him along with the curs." Santiago nodded his head toward the pugio. "And that would seem to confirm she's speaking the truth. Gaius would never leave it lying around." He returned his gaze to Styx. "What did she want?"

"She said she had been using Gaius's lair in Louisiana to stay hidden in case she was being hunted for her worship of the Dark Lord."

"More likely she knew that Gaius was dead and decided to help herself to his possessions."

Again there was that odd hesitation and Santiago felt a chill of premonition inch down his spine.

Something was going on.

Something he wasn't going to like.

"If that was the case, then she was in for a disappointment," Styx said, his expression guarded.

"Disappointment?"

"She says that a week ago she returned to the lair to discover Gaius was there."

"No." Santiago clenched his hands. This was supposed to be over, dammit. The Dark Lord was dead and so was the sire he'd once considered his father. "I don't believe it."

Something that might have been sympathy flashed through Styx's eyes. "I didn't either, but Viper was convinced she was speaking the truth. At least, the truth as far as she knows it. It could be that she's being used as a pawn."

Santiago hissed. His clan chief possessed a talent for reading the souls of humans. If he said she was telling the truth then . . . dios.

"I witnessed him coming through the rift with the Dark Lord, but how the hell did he survive the battle?"

"Actually, he only survived in part."

Santiago struggled against the sensation he was standing on quicksand. "What the hell does that mean?"

"This Sally said that Gaius was acting strange."

"He's been acting strange for centuries," Santiago muttered. "The treacherous bastard."

"She said that he looked filthy and confused," Styx continued, his watchful gaze never wavering from Santiago's bitter expression. "And she was certain he didn't recognize her."

Santiago frowned, more baffled by the claim that Gaius had been filthy than his supposed confusion. His sire had always been meticulous. And Santiago's brief glimpse of Gaius's lair beyond the Veil had only emphasized the elder vampire's OCD.

"Was he injured?"

"According to the witch, he looked like he was under a compulsion."

"Impossible. Gaius is far too powerful to have his mind controlled."

"It depends on who is doing the controlling," Styx pointed out. "Sally also said that he was obviously trying to protect something or someone he had hidden in the house."

With a low curse Santiago shifted his gaze to make sure the door was closed. No need to cause a panic.

"The Dark Lord?"

"No." Styx gave a firm shake of his head. "The Oracles are certain the Dark Lord is well and truly dead."

Santiago's stab of relief was offset by Styx's grim expression. The Dark Lord might be dead, but Styx clearly was afraid something was controlling Gaius.

"You've spoken to the Oracles?"

Styx grimaced. "Unfortunately. Since my first thought was like yours, that he'd managed to salvage some small part of the Dark Lord, I naturally went to the Commission with my fears."

"And?"

The room suddenly filled with a power that made the lights flicker and the computer monitors shut down.

"And they politely told me to mind my own business."

He gave a sharp laugh. How many times had Styx been told to mind his own business? Santiago was going with the number zero.

"How many did you kill?"

"None." Styx's crushing power continued to throb through the room. "My temper is . . ."

"Cataclysmic?" Santiago helpfully offered.

"Healthy," Styx corrected. "But, I'm not suicidal."

That was true enough. The King of Vampires might approach diplomacy like a bull in a china shop, but he was too shrewd to confront the Commission head-on.

No. He wouldn't challenge the Oracles, but then again, Santiago didn't believe for a second he was going to sit back and meekly obey their command.

Obey and Styx shouldn't be used in the same sentence.

"If this is none of your business, why did you come to me?" he demanded.

"Because Gaius is one of mine, no matter what he's done," Styx said, his face as hard as granite. "And if he's being controlled by something or someone, I want to know what the hell is going on."

"What about the Oracles?"

"What they don't know . . ." Styx tossed Santiago's words back in his face.

Santiago narrowed his eyes. It was one thing to sneak a bottle of tequila from Viper's cellars and another to piss off the Oracles.

"And you chose me because . . . ?"

"You're the only one capable of tracking Gaius."

Santiago shook his head. "The bastard did something to mask his scent along with our previous bonding. I don't have any better chance of finding him than you do."

Styx's smile sent a chill down Santiago's spine. "I have full faith you'll find some way to hunt him down. And, of course, do it without drawing unnecessary attention."

Great.

Not only was he being sent on a wild goose chase, but he was in danger of attracting the lethal anger of the Oracles.

Just what he didn't need.

With his hands on his hips, Santiago glared at his companion. "So you're not willing to risk the wrath of the Commission, but you're willing to throw me under the bus?"

"Don't be an ass." Styx allowed his power to slam into Santiago, making him grunt in pain. "If you don't want to do this, then don't. I thought you would be eager for the opportunity to be reunited with your sire."

Santiago held up a hand in apology. Mierda. He truly was on the edge of sanity to deliberately goad the King of Vampires.

"You're right, I'm sorry," he said. And it was true. Styx was right. He'd waited centuries for the opportunity to confront his sire. Now he'd been given a second chance. Why wasn't he leaping at the opportunity? "It's—" He broke off with a shake of his head.

"Yes?"

"Nothing." He pulled out his cell phone, concentrating on what needed to be accomplished before he could head out. "I need to contact Tonya to warn her she'll be in charge of the club."

"Of course."

"Where's the witch?"

"She's at my lair in Chicago. Roke is keeping an eye on her in case this turns out to be a clever trick."

Santiago sent his companion a startled glance. Roke, the clan chief from Nevada, was in an even fouler mood than Santiago since Styx had refused his return to his clan after Cassandra had revealed that she'd seen Roke in one of her visions.

"The poor witch," he muttered. "That's not a punishment I would wish on anyone."

Styx shrugged. "He was the only one available."

Santiago froze. "Is there something going on that I should know about?"

A strange expression tightened Styx's lean features. Was it . . . embarrassment?

"Darcy insists that I devote my Ravens to trying to locate that damned gargoyle."

Ah. Santiago struggled to hide his sudden smile. The Ravens were Styx's private guards. The biggest, meanest vampires around. The fact he was being forced to use them to locate a three-foot gargoyle who'd been a pain in Styx's ass for the past year must be driving him nuts.

"Levet is still missing?" he murmured. The tiny gargoyle had astonishingly played a major part in destroying the Dark Lord, but shortly after the battle he'd disappeared into thin air. Quite literally.

"You find that amusing?" Styx growled.

"Actually I find it a refreshing reminder of why I'm happy to be a bachelor."

Styx's annoyance melted away as a disturbing smile touched his mouth. "Who are you trying to convince?"

Santiago frowned. "Convince of what?"

"That you're happy?" the older vampire clarified. "From all reports you've been storming around here, making life miserable for everyone since Nefri returned to her clan behind the Veil. That doesn't sound like a man who is content with his bachelor existence."

Damn Tonya and her big imp mouth. Shoving his phone back into his pocket, Santiago held out an impatient hand. "Do you have directions to Gaius's lair?"

"Here." Handing over a folded piece of paper, Styx suddenly grabbed Santiago's wrist, his eyes glittering with warning. "For now all I want is information. Is that clear?"

"Crystal."

"The Oracles won't be happy if they find out you're trespassing in their playground," Styx warned. "Stay below the radar, amigo, and be careful."

Santiago gave a slow nod. "Always."

Nefri made her return to the mortal world on a high bluff overlooking the Mississippi River.

She shivered, wrapping her long cape tight around her tall, slender body. Not from the cold, although the October night held a chill that had been absent during her last visit to this side of the Veil. But instead from the onslaught of sensations.

It was all so . . . overwhelming.

The scent of damp earth and the thick moss that edged the banks of the nearby river. The screech of an owl and the rustle of dead leaves. The feel of her long black hair stirring in the breeze.

And, of course, the more intimate sensations.

Fear. Hunger.

Passion.

Standing perfectly still, Nefri smoothed her pale, oval face to an unreadable mask, a serene smile curving her lips and her ebony eyes revealing none of her inner turmoil.

Her considerable strength could overcome most dangers in this world, but the Commission was made up of the most powerful demons. They could eradicate her with a mere thought.

It was always like walking a tightrope when she was forced to meet with them. A tightrope that might snap at any second and plunge her to her death.

At last prepared, Nefri stepped through the entrance of the caves that had been hidden behind a spell of illusion and moved to the center of the large chamber. On cue a Zalez demon appeared.

Just for a second there was the impression of a tall gaunt body with an overlarge head and tilted, almond-shaped eyes. Then the creature shifted into its human form, a Viking warrior with short, spiky blond hair and eyes the stormy blue of the Baltic Sea. His magnificent body was bronzed and fit for a god, which wasn't surprising considering he'd been worshipped by more than one primitive society. At the moment that magnificent form was covered only by a pair of faded denims that hung low on his hips.

Nefri gave a small dip of her head, fiercely leashing her female reaction to the sexual pheromones released by the demon.

Zalez demons were part incubus and capable of becoming whatever form their companion most desired. Nefri had no desire to reveal her deepest fantasy.

Not after she'd devoted the past month to pretending those fantasies didn't exist.

"Recise," she murmured.

"Ah, Nefri, so good of you to come." His voice stroked over her like warm velvet, his smile charming despite the fact they both knew she hadn't had a choice.

An invitation from the Commission was an imperial command that only the most idiotic demon would ignore.

"Your messenger insisted that it was important," she said.

Recise gave a slow blink. "The Oracles do not interfere in matters of the world unless it is of the utmost importance."

Not boasting. Just simple arrogance.

"Yes, of course."

"This way."

Moving with a fluid grace, Recise led Nefri through the darkness, the pulse of his sexual energy easing as if realizing Nefri wasn't in the mood to play.

They moved in silence through the tunnels that angled deep into the earth. The air was cool but surprisingly without the dampness that she expected, although she could hear the splash of a waterfall not far away.

More distantly she could catch the sound of muffled conversations, the languages as diverse as the creatures who made up the Commission. Like the United Nations, only with lethal demons who were happier killing things than negotiating.

Nefri hid her grimace as her companion came to a halt at the entranc. . .
We hope you are enjoying the book so far. To continue reading...
Darkness Avenged
Alexandra Ivy
Copyright © 2022 All Rights Reserved
Also in this series
Also by this author