Book info
Sample
Audiobook
Media
Author updates
Lists
Synopsis
The vampires and werewolves chosen to be the Guardians of Eternity believe they've conquered their latest threat. But as one of them will learn in this mesmerizing installment from New York Times bestselling author Alexandra Ivy, old lovers make the most ruthless new enemies . . .

Only one drastic mission can tempt Kyi away from the peaceful woodland where the dryads raised her: killing her mother. Xuria's beauty masks a bone-deep evil that has enslaved fey for centuries with the help of a powerful stone. A hundred years ago, Kyi almost succeeded—until one meddlesome vampire destroyed her chance. With rumors that Xuria has emerged from her secret realm, Kyi's determined to try again—despite the vampire who is now focused on destroying her.

Locke has been waiting over a century to avenge what he believes was Xuria's death. Discovering the sorceress's raven-haired fey daughter was the assassin is a surprise—until her story of Xuria's treachery begins to ring true. Working with Kyi is one solution—and the relentless heat simmering between them is a hint that they may be fated as mates. But even a destined love will have to wait as they now struggle to defeat Kyi's twin sister, who has a chilling plan of her own . . .


Release date: November 16, 2021
Publisher: Lyrical Press
Print pages: 256
* BingeBooks earns revenue from qualifying purchases as an Amazon Associate as well as from other retail partners.
Listen to a sample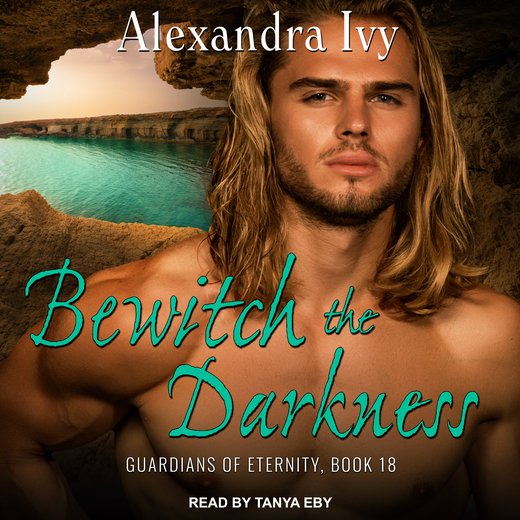 06:56:31
190.68 MB
November 16, 2021
Tantor Audio
2021
Bewitch the Darkness
Alexandra Ivy
Chapter 1

Locke didn't encourage visitors. Just the opposite. He'd gone to a lot of trouble to promote his reputation as a churlish hermit who regularly feasted on the hearts of intruders.

And if his surly temperament wasn't enough to drive away unwanted guests, he'd chosen to settle in the remote mountains of Iceland. The landscape was stunningly beautiful, but it was a combination of jagged glaciers with sheer cliffs that plummeted to the distant bay below. Up here there were no prying human eyes and, best of all, the pesky sun barely bothered to make an appearance during the long winter nights.

Impervious to the brutal chill of the early December air, Locke poured himself a glass of the aged cognac that he imported from France and stepped onto a narrow ledge to savor the star-spattered sky that spread above him. It didn't matter how many nights he spent admiring the view, it always amazed him.

Taking a sip, Locke barely noticed when the ground shook beneath his feet. It was a common occurrence. You couldn't reside above a boiling pit of molten lava and not have a few tremors.

It wasn't until the thunderous power sent the nearby ice sprites dashing for the protection of their nests that Locke reluctantly turned to view the massive male who was stepping out of a portal.

Styx, the current Anasso, the official name for the King of Vampires, was an impressive sight. In his human life he'd been a proud Aztec warrior who stood at six-foot-five with skin kissed by the sun and angular features. His glossy black hair was pulled into a braid that hung past his waist and he was wearing black leather pants, thigh-high boots, and a black silk shirt.

It was his sheer presence, however, that made the earth shake and the local wildlife flee in terror. Oh, and the big-ass sword strapped across his back.

Easily loping down the jagged rocks, he halted directly in front of Locke.

"Hello, brother."

Locke arched a brow. "You again?"

Styx smiled. Until a few years ago, the males had been fellow Ravens, the personal guards to the previous Anasso. But after that Anasso had gone batshit crazy, forcing Styx to kill him and take the throne, Locke had retreated to this remote lair. It offered him the privacy he craved, as well as allowing him to concentrate on the one reason he still existed.

"Just like a bad penny."

"I was thinking more like a pain in the ass."

"That too," Styx agreed.

Locke instinctively reached up to touch the star-shaped burn on the side of his neck. It was the only blemish that marred his traditional vampire beauty. Or at least that's what he was told by his various lovers. He had no reflection, so he had only their descriptions that his eyes were a pale blue and rimmed with gold. And that his strong Viking features were perfectly carved. He did know that he kept his dark blond hair chopped to brush his broad shoulders and that his hard body was currently protected from the elements with a leather jacket, jeans, and heavy black boots.

"What do you want?" he demanded in his usual blunt manner.

Good manners were for creatures who cared what others thought about them. He didn't give a shit.

"I thought I'd let you know that Ian is dead."

Ian had been a Raven as well. Only his allegiance to the previous king had gone beyond loyalty, to blind devotion. The obsessive male had been unable to accept the death of his beloved Anasso and had been plotting his revenge.

"I've heard that one before," he said in dry tones. There'd been rumors of Ian's death months ago.

"This time there's no doubt. I personally chopped off his head," Styx assured him.

"Did you come here for a pat on the back?"

Styx leaned forward. "Do you want to?"

"Hell no."

Styx folded his arms over his chest, regarding Locke with an expression that was impossible to read. "I'm just keeping you in the loop."

"We have a loop?"

Styx shrugged. "A loose loop."

"Mmm." Locke wasn't impressed. "How did I get in the loop and how do I get out?"

"Once a Raven, always a Raven."

Locke frowned. At one time this male had been a brother to him, but since Styx had taken the throne they hadn't seen one another. Probably because Locke never left this isolated area. And then Styx had shown up a few weeks ago asking him questions about the other Ravens.

"Fine. Ian is dead. I've been looped."

"Don't you want to know why I killed him?"

"Not particularly."

"What do you care about, Locke?" Styx demanded.

"My privacy." Locke pointedly glanced around the bleak, gloriously empty landscape. "Which you are currently ruining."

"Get used to it."

Locke perched his glass on a flat rock before fully turning to study the male. He recognized that edge in Styx's tone. He was about to dig in his size sixteen boots and nothing could change his stubborn mind. The question was what he was going to be stubborn about.

"Get used to what?"

"Since taking the throne I've been dealing with one disaster after another."

"Uneasy lies the head that wears the crown," Locke quoted.

Styx ignored Locke's deliberately mocking tone. "Something like that. Unfortunately, I've let things slip through the cracks." He paused for dramatic effect. "Like you."

Uh oh. Locke didn't like the direction this conversation was veering. "I didn't slip through the crack. I walked out of the Anasso's lair and never looked back."

"You never said why you left."

"It was time."

"Time for what?"

"None of your damned business," Locke snapped.

The male frowned, almost as if he was hurt by Locke's sharp rebuke. Something perilously close to regret touched Locke's heart before he was sternly dismissing the stupid thought.

Of course Styx wasn't hurt. The Anasso wasn't a touchy-feely sort of vampire. Thank the goddess.

"I want you to come stay with me and Darcy in Chicago," Styx abruptly announced.

It was Locke's turn to frown. "Why would I stay in Chicago? Are you in danger?"

"No, I simply want you to meet my new mate. And you could spend time with the Ravens. I have some recent additions who could use your training."

Locke shook his head. "Thanks, but no thanks."

"Locke, it isn't healthy for you to spend so much time isolated from others."

Okay. Maybe the male was more touchy-feely than Locke had suspected. Or maybe he was just a bigger pain in the ass. The two were the same thing as far as Locke was concerned.

"I like being isolated."

Styx tightened his jaw. "It's time to rejoin the world."

"No."

"Yes."

"No."

Styx stepped forward, his power sending tiny rocks cascading down the side of the mountain.

"Right now it's an invitation, amigo," he drawled. "That can change."

"Invitation declined." Locke released a trickle of his own magic. Tingles that were just short of painful crawled through the air like an electric current.

Styx narrowed his eyes. "Are you challenging me?"

Locke ground his fangs together. He could be as stubborn as the Anasso, but he wasn't suicidal. Only an idiot would directly challenge this male.

A soon-to-be-dead idiot.

"Shit, Styx," he muttered. "What crawled up your ass?"

Styx held his gaze. "I'm worried about you."

Locke had walked away from the Anasso's caverns almost fifteen years ago. Why the hell would Styx be worried now?

"Don't be. I'm fine."

"I—" Styx's protest was cut short by a loud buzzing sound. He glanced toward Locke with a frown. "What's that?"

Locke shook his head in genuine confusion. "I have no idea."

"Let's check it out."

Styx turned and bounded up the steep cliff with a speed and grace that no creature but a vampire could achieve. Locke was rapidly following behind, not entirely unhappy to have a formidable warrior with him as they rushed through the narrow crack that opened into the inner cave. The buzzing was louder in here. And annoyingly shrill.

Locke took the lead as Styx wisely stepped aside. No vampire left their lair unprotected and Locke was no exception. Anyone trying to force their way inside would be fried to a crisp.

Laying his hand on the rock wall to remove the web of illusion he'd paid the local ice sprites to create, he led Styx down a narrow path that zigzagged to the very center of the mountain. At last they reached a vast cavern that Locke called home.

It was barren and cold and his few possessions were tossed in a pile near the exit, in case he needed to make a quick getaway. It wasn't that he didn't care about his surroundings. He enjoyed his comforts like any other vampire. But this wasn't truly his home. It was just a place to stay until he'd completed his goal.

Then he would move on.

"Damn." Styx winced as the buzzing became a shrill screech, as if someone had set off a fire alarm. "Can you turn that off?"

"I would if I knew what…" Realization hit with the force of a sledgehammer. "Oh, hell," he muttered, rushing into one of the side caves that wasn't much bigger than a closet.

In the center of the floor was a granite pedestal and on the top of the flat surface was a delicate gold necklace that was surrounded by a halo of light.

Crap. He'd waited centuries and it had to happen now?

"Um." Styx halted beside him, staring at the pedestal in confusion. "Your necklace is glowing."

Locke glared at his companion. "It's not my necklace."

"Hey, I'm not judging."

"Argh." Locke clenched his hands, frustration vibrating through him. "Will you just go away?"

Styx paused, no doubt sensing the urgency that thundered through Locke. Then he reached out to lay a hand on Locke's shoulder, his face set in somber lines.

"Whatever drove you away from the Ravens, you know you can trust me, don't you?"

Locke glanced away. He wanted to blow off the male's words. This necklace and what it represented was private, something he didn't want to share with anyone. But he'd been too close to Styx for too long. The older male had not only accepted him into the clan, but he'd been the one Raven who Locke instinctively had known would always have his back.

Besides, he could use a little perspective.

"Yeah, I trust you," he warily conceded.

"Then let me help."

Locke moved to touch the necklace, thankfully cutting off the shrill alarm. At the same time, he considered his words. He hadn't lied when he said that he trusted Styx. The male would lay down his life to protect his brothers. But it was difficult to force himself to share the events that had nearly destroyed his life.

"Do you remember when I traveled to Greece to deal with the vampire challenging Leonidas?"

Styx tilted his head to the side, as if searching his mind. "Vaguely," he finally conceded. "It had something to do with a witch, didn't it?"

Locke nodded, his mind filled with visions of rolling hills dotted with olive trees that swept toward rocky beaches and the bitter pine scent of juniper. When he'd arrived in the area that had once been Thebes, he'd discovered Leonidas battling a ruthless band of rebels who were willing to cheat to gain control of the wealthy clan.

"Black magic," he said. "The vampire was accused of using a spellbound weapon to earn the right to challenge the clan chief."

Styx grimaced. Vampires were unable to sense or protect themselves against magic. Which no doubt explained their violent aversion to anyone using it in their presence.

"Nasty."

"I put an end to the challenger's aspirations," Locke said. It'd taken a few nights, but Locke had eventually located the traitor hiding in a crypt beneath Athens. Dragging the coward out of his lair, Locke had challenged him to a mano a mano battle. The vampire had tried to cheat with his magical sword, but Locke had used his power to draw the static electricity from the air and zapped the bastard until he'd dropped the weapon. After that, it'd been a simple matter of cutting off the traitor's head. "But before I left Greece I met Xuria."

Styx looked confused. "Should I recognize the name?"

"No. She was a nymph who was fleeing a band of trolls." A warmth flowed through Locke, easing the ice that coated his unbeating heart. Locke had been returning to Leonidas's lair when he'd caught sight of the fragile female lying in a pool of her own blood. "I found her badly injured beside the road."

"I assume you rescued her?"

Locke remembered that he'd hesitated. Vampires avoided petty disputes between other demons. Why would they care what was happening among the trolls or fey creatures? They had enough problems dealing with each other. But for some reason, he'd felt compelled to stop and bend down to scoop her in his arms.

Immediately he'd been enveloped in a sense of enchantment. As if he'd been waiting for this moment since he'd awakened as a vampire. With exquisite care he'd cradled her against his chest as he'd returned to Leonidas's lair and hidden her in the deepest chamber. He didn't want anyone near her. No one but himself.

"I took her inside and cared for her."

"She was beautiful?"

They both knew Styx wasn't talking about the female's physical appearance, although Xuria had been glorious with her cloud of golden hair and eyes so pale they appeared almost white. Vampires searched for the beauty of the soul.

"She was…" Locke struggled to find the words. He wasn't sure why. Perhaps because the sensations whenever he was with the nymph were like nothing he'd felt before. "Compelling," he at last decided on. "I sensed the moment she touched me that she was my mate."

Styx jerked in shock, his gaze lowering to Locke's arm despite the fact it was hidden beneath his leather jacket. A mated vampire possessed a crimson tattoo on the inner forearm. A visible mark of the eternal bond.

"You're mated?"

"No." Locke's tone was edged with a century's old bitterness. "We never completed the ceremony."

"Why not?"

Locke didn't want to admit the truth. That he'd urged Xuria to take his blood. Not only to heal her wounds, but to claim her as his own. But she'd insisted they wait until they could travel to her grove on Mount Olympus. She claimed she wanted to be surrounded by her tribe when they formalized their bond.

Instead he focused on what had happened after her refusal to accept his offer.

"One night I traveled away from the lair," he said. He'd had to feed and he preferred to do it away from the distracting scent of his beautiful nymph. "When I returned I discovered Xuria was being attacked by an unknown female."

Styx arched his brows. "A troll?"

"No. A nymph."

"How did she get into the lair?"

"She managed to open a portal."

Styx's brow furrowed in disapproval. "Sloppy. I expected better from Leonidas."

No one had been more shocked or furious than the clan chief that his considerable layers of protection had been penetrated. In fact, Leonidas had been in the process of replacing each illusion, curse, and web of lethal spells when Locke had left Greece.

"It wasn't his fault," he told Styx. "The nymph had a strange magic. I think it was human."

"Do you know why she was trying to kill your mate?"

"No idea." The air snapped with a sudden burst of electricity as the painful memory seared through his brain. "I walked into our private chamber and found Xuria dead with the nymph standing over her with a black dagger clutched in her hand." He paused, grimly leashing his power that was sizzling against the magical barrier around the pedestal. He couldn't risk disturbing the spell. Not after he'd waited so long for it to be ignited. "I assumed that she must have some connection to the vampire who I killed. He was, after all, dealing with black magic. What better way to punish me for killing her master?"

Styx eyed him with sympathy. "She's dead." It was a statement not a question.

Locke clenched his teeth, anger blasting through him. "Unfortunately, no. She stepped through the portal before I could rip out her heart. I had no way to follow her."

Styx was smart enough not to linger on Locke's failure to punish the female responsible for the death of his mate. It was still too painful for Locke to discuss.

"Does the necklace belong to your mate?" he asked instead.

Locke shook his head. "I grabbed it off the nymph as she darted into the portal. She was gone, but I managed to keep ahold of the necklace."

Styx leaned forward, studying the glowing object. "It looks like it has a charm."

That was Locke's thought as well. The chain was made of gold, but the amulet hanging from it was carved out of bronze in the shape of a tree. It reminded him of something a dryad would possess.

"I had an imp place a tracing spell on it," he told his companion.

Styx made a sound of surprise. "That must have been pricy."

Locke cringed. "You have no idea."

The truth was that he'd handed over the majority of his treasure that he'd managed to accumulate over the long centuries to purchase the spell. Imps were notorious for gouging their customers and not even the threat of ripping out the bastard's heart had made him lower his price.

Styx's attention returned to the necklace. "So why not use it to find her?"

"She must have been behind a magical barrier that prevented the spell from locating her," he said. He'd been infuriated when he'd realized that he'd spent a fortune on magic that was completely useless as long as his prey remained hidden. A hard smile curved his lips. "Until now."

"Do you intend to go after her?"

Locke grabbed the necklace. It felt warm against his palm, indicating the spell was working. According to the imp who created the magic, the metal would grow even warmer the closer he got to his victim.

"She's not going to slip away again," he growled.

Styx squared his shoulders. "I'll go with you."

Locke sent him a startled glance. "Bullshit."

"You shouldn't be alone."

"I've been alone a long time, Styx," he said dryly. "I don't need a babysitter."

"This could be a trap."

Locke scowled. "If it's a trap, then why wait a century to spring it?"

"What's time to an immortal?" Styx countered. "I'll send one of the Ravens with you."

"No." Locke held up a hand as the Anasso put on his obstinate-as-a-rabid-mule face. "This is personal, Styx. The nymph killed my mate. I need to deal with her in my own way, on my own terms."

"You need someone watching your back," Styx insisted.

Locke glared at his companion. "I didn't know you cared."

"I've always cared, Locke," Styx held his gaze. "I let you slip away once. I'm not going to let it happen again."

Locke didn't have a snappy comeback. As much as he hated to admit it, he'd missed being a part of the Ravens. The laughter, the danger, the excitement. Even the occasional spats that had always ended up with a night of revelry when they'd called a truce. There'd been a sense of brotherhood that had taught him the meaning of loyalty. And trust. And family.

Something that had been sadly missing during the first centuries of his life.

Once again he reached up to touch the scar on his neck. "I'll be back," he promised.

"Famous last words." Styx studied him for a long moment, then, seeming to accept that he'd done all he could to keep Locke from hurtling headfirst into an ambush, the older vampire turned to stroll toward the opening. "Don't forget. When you're done with the nymph, you're going to spend some time at my lair in Chicago."

"I don't remember agreeing to that."

"Well you are getting old." Styx flashed a smile over his shoulder, revealing his massive fangs. "They say that the memory is the second thing to go."

"You know you're older than me?"

Styx continued out of the cave. "I'll tell Darcy to have a room ready for you."

"Stubborn bastard," Locke muttered.

"I heard that," Styx called back.

"Good."

Chapter 2

The exquisite throne room of the mer-folk castle was exactly what a throne room should be. A long, sweeping space with lofted ceilings from which dazzling chandeliers splashed light over the marble floors. A crimson runner led the way to a high dais where a massive throne stood in all its glory. And the walls were decorated with dazzling murals that were so real they looked as if they were . . .
We hope you are enjoying the book so far. To continue reading...
Bewitch the Darkness
Alexandra Ivy
Copyright © 2022 All Rights Reserved
Also in this series
Also by this author