Book info
Sample
Audiobook
Media
Author updates
Lists
Synopsis
When a conspiracy threatens what's most precious to the Guardians of Eternity, they must depend upon their one-time enemy to protect them . . .



Once, Brigette was the conduit through which the ultimate evil reached Earth. Now she's just a lonely Were isolated in an Irish cottage, cut off from her animal and humanity alike. When a band of rebels approach her to take down the king of the vampires, she knows denying them means certain death—but even if she warns the king, he may not listen to the likes of her.



From the moment Xi slips into Brigette's bedroom to escort her to his king, he sees the heartbreak that hides behind her guilt. The elusive vampire has fought for centuries to master his own regrets, and his word will convince the king to value hers. Neither can escape the attraction between them, even as partners on an undercover mission. But there's no room for pleasure when their work might redeem her to the Guardians completely—or send them to the death they've evaded for so long . . .



Contains mature themes.
Release date: May 25, 2021
Publisher: Lyrical Press
Print pages: 256
Reader says this book is...: action-packed (1) entertaining story (1) happily ever after (1) heartwarming (1) satisfying ending (1)
* BingeBooks earns revenue from qualifying purchases as an Amazon Associate as well as from other retail partners.
Listen to a sample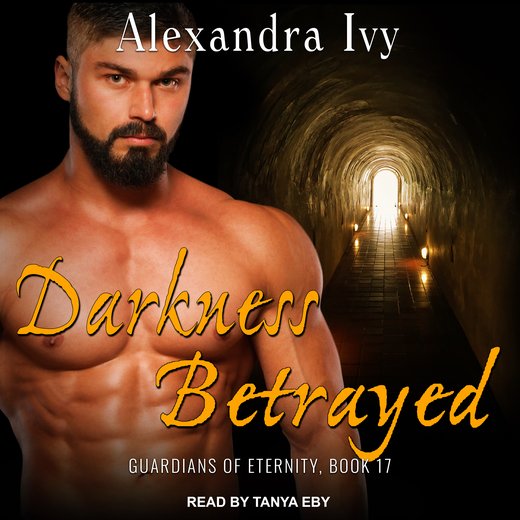 06:57:30
191.12 MB
May 25, 2021
Tantor Audio
2021
Darkness Betrayed
Alexandra Ivy
Chapter 1

The lair of the Anasso, King of the Vampires, should have been a dank, musty place filled with bats and a few shabby coffins to emphasize the whole creepy vibe. Or at least dug deep underground to avoid the dastardly sunlight.

Instead, Styx had chosen a sprawling mansion on the outskirts of Chicago with lots of marble and gilt that was supposed to give it a classic sophistication. Okay, it had been Styx's mate who'd chosen it. Styx personally thought it looked like something an aging rocker with too many burnt brain cells would choose, but it pleased Darcy. And since she was a pureblood Were with claws that could literally rip out a male's throat, he tried to keep her happy.

Styx was currently in his office, which had been stripped of most of the gilt, although there was nothing he could do about the marble. Or the fluted columns that grew like a forest throughout the mansion. He'd intended to spend a few hours enjoying an ancient manuscript that had been loaned to him by Jagr. Darcy had recently gone to Kansas City to visit her twin sister, who was mated to the King of Weres, Salvatore, and their litter of pups. It'd been his suggestion that she take the trip, but she'd been eager to agree. She claimed that late fall was the perfect time to travel to see the leaves changing colors.

Styx had declined her invitation to go with her. He wasn't interested in foliage, no matter what color it might be. More importantly, the Were pups had reached an age when they spent an enormous amount of energy racing through the house, shrieking and yipping at the top of their lungs. It didn't matter if they were in their human form or their wolf form. The noise was enough to raise the dead.

And not in a good way.

Unfortunately, his decision to remain behind hadn't gone as he'd planned. He'd barely settled into his large leather chair when a male shoved open the door to the office.

Xi was one of his Ravens, the personal guards who'd sworn to protect him. Unlike Jagr, who was the leader of the Ravens, Xi wasn't bulky or as strong as an ox. He wasn't even the most powerful warrior, although anyone stupid enough to challenge him would quickly find himself with a dagger shoved into his chest and his heart cut out.

But he possessed a unique talent for stealth that made him the perfect choice for Styx's latest assignment.

Setting aside the manuscript, Styx regarded his Raven with a lift of his brows. The male was just under six foot, with short black hair that was shaved on the sides to reveal, on his scalp, the tattoos of two coiled snakes. His eyes were dark and his finely carved features so perfect he didn't look real. He was standing in the open doorway wearing black jeans and a black T-shirt. Keeping with the theme, his heavy boots were also black. The clothing was more about blending into the background than any particular fashion choice.

Styx, on the other hand, was wearing black leather pants and a white silk shirt because that's all he had in his closet. Darcy had finally accepted that he was never going to dress like a king.

"Are you looking for me?" Styx demanded when the male continued to stand there, eying him with an inscrutable expression.

"Yes."

"Then what are you waiting on? An engraved invitation?"

Xi's dark gaze drifted around the room before returning to Styx. "I'm attempting to decide whether or not I have the courage to enter."

Styx scowled. He'd witnessed this male battle a horde of orcs with nothing more than his fangs and a dagger.

"The one thing you've never lacked is courage, amigo."

"Normally, I would agree with you, but you have been…"

Styx lifted his six-foot-five body out of the chair. "I've been what?"

"Volatile over the past weeks," Xi told him.

The Raven was right. The past month had stretched Styx's limited patience to the breaking point. It was nothing he could put his finger on. Unexplained fires. Sudden riots. Vandalism. Brutal attacks on lesser demons.

Every night, he woke to discover a line of demons waiting to make a complaint or plead for his assistance. It was enough to stress out the most Zen vampire. And there was nothing Zen about Styx.

Which was why he'd requested Xi to investigate the various incidents.

With an effort, Styx leashed his burst of annoyance at the interruption. He even managed to force a wry smile to his lips.

"According to my mate, I'm always volatile."

Xi didn't argue. "More volatile than usual," he clarified.

"Mount Etna volatile or Mount Vesuvius?"

Xi answered without hesitation. "Definitely Mount Vesuvius."

Styx tapped a finger on the edge of his desk. He was often short-tempered. It was part of his charm. But the past month had rubbed his nerves raw.

"I've had stressful times, terrifying times, and the world-is-about-to-end times. But this…" He shook his head. "I feel like I'm being tormented by a thousand unseen ants. Each biting when I least expect it."

"The city is seething."

"Seething. Yes. That's exactly what's happening," Styx agreed. It was like they were sitting on a simmering pot that might boil over at any moment. "I don't suppose you've managed to discover what's causing the trouble?"

"I have answers for the latest incidents." Xi strolled forward, halting next to the desk. "The collapse at the sanctuary happened when the wooden beams in the ceiling shattered."

The sanctuary had been Darcy's idea. She'd spent years barely scraping by, unaware why she was different from other people. She wanted a place for demons to go that would offer them food and a warm place to sleep, as well as protection from the more predatory creatures. Or even from humans, who had a tendency to kill what they feared.

A week ago, the old warehouse collapsed into a pile of rubble, wounding several of those seeking asylum. Darcy had been furious, and Styx had promised to get to the bottom of the collapse.

"Did someone tamper with them?" he asked Xi.

The Raven shrugged. "The damage was too great to determine if it was an accident or deliberate."

Styx was willing to bet it was deliberate. "And the others?"

"The fire at the Viper Club was caused by an electrical surge," Xi continued. "And the rampaging vampire that we captured claims he was kidnapped and injected with some unknown toxin that sent him into a psychotic episode."

It'd only been a night ago that Styx had received a frantic call that warned there was a crazed vampire destroying a human nightclub. The male was not only creating chaos, but he was threatening to expose the existence of vampires. Something that would be catastrophic for the entire demon-world.

Styx had personally gone to the club to capture the idiot and toss him into a locked cell. It was also when he'd suggested to Darcy that she might want to visit her sister. Anything to get her out of town.

"Where was he kidnapped from?" Styx demanded.

"In front of your lair."

Styx hissed in outrage. What demon had the balls to kidnap a vampire beneath the nose of the Anasso?

A dead one.

Grimly, he resisted the urge to push his fist through the wall. Now that he was king, he had to pay for repairs. It was insane what a good carpenter could charge.

"What was the vampire doing here?"

"He doesn't remember. All he can recall is leaving his home two nights ago to hunt for his dinner and being attacked by two Weres, who held him down and injected him with something. The next thing he knew, he was chained in your dungeon."

"Darcy doesn't like the word 'dungeon,'" Styx reminded his companion, his thoughts distracted. Had the vampire been kidnapped because he was coming to see Styx? Perhaps he knew something about the troubles plaguing the city. Or had he been kidnapped just because he happened to be near Styx's lair? Like a warning shot?

Impossible to know for sure.

"Holding center for disobliging guests," Xi offered in dry tones.

"That's better."

"If you say so."

Styx shrugged. He didn't understand his mate's distaste for the word "dungeon." There were cells that locked and guards to keep watch. You could call it the Four Seasons Resort if you wanted; it didn't change what it was.

"He was sure it was Weres?" he asked his companion.

"Positive. And I could smell the scent of dogs when I went to interview him."

Styx continued to tap his finger, his mind seething. Could the Weres be behind this relentless attack? The thought made his stomach clench with dread.

"I need to have a word with Salvatore." Salvatore was the King of Weres and Styx's brother-in-law. Yep, he could write the book on dysfunctional families. "Then I'll question our disobliging guest." He reached to touch the massive sword strapped to his back. For the past couple of weeks, he had never left his bedroom without it. Some people had therapy animals. He had a big, pointy weapon that could slice off a troll's head. Hey, it gave him comfort. "I might be able to prompt his memory."

"I'll continue to dig for information on the other disturbances," Xi offered, his expression even more stoic than usual, a certain sign that something was bothering him.

"You seem…"

Xi frowned. "What?"

"Troubled."

Xi hesitated. His emotions were always hidden, but they ran as hot as lava beneath his icy composure.

"The accidents could be random," he finally said.

"But?"

Xi shrugged. "But I don't believe in coincidences."

"Neither do I," Styx agreed. "See what you can find out. But be careful."

Xi arched his brows. Styx grunted, not having to guess why his guard seemed surprised. He sent his Ravens to deal with the most challenging, most dangerous tasks. They were a brutal weapon that he wielded without mercy.

He certainly never patted them on the head and told them to be careful.

Styx twisted his lips. "There's a funky feeling in the air," he muttered.

Xi's brows arched even higher. Styx rolled his eyes.

"Go do your job," Styx growled.

A faint smile skimmed over Xi's lips before he turned and silently disappeared from the room.

* * * *

Brigette was on the hunt.

Gliding through the darkness, she crouched low to the ground as she followed the two intruders. She'd picked up their scents long before they'd actually entered the desolated grounds that surrounded her lair. A benefit of spending time alone in this remote part of Ireland.

Night after night, she prowled through the village, which was nothing more than shattered foundations and sorrowful ghosts. Or along the barren cliffs, listening to the waves crash against the jagged stones and breathing deeply of the salty breeze. She had nothing to distract her.

Well, unless you counted the thousand regrets that haunted her.

Regret for having betrayed her pack to join with the evil Beast who'd nearly destroyed her. Regret for having driven her wolf into hibernation. Regret for having wasted her opportunity to rewrite history.

She was lying in the ruins of her parents' cottage when she detected the icy power of an approaching vampire. With a fluid speed, she was on her feet and racing over the decaying ground to circle around the intruders.

Following behind them, Brigette took inventory of the two demons who were attempting to sneak along the edge of the cliff.

The vampire was a tall, slender female with pale blond hair pulled into a long braid. She was wearing a black turtleneck sweater and tight black slacks that made her look like she was stepping off a runway, not trudging through the tough heather and climbing over rocks.

The sight was annoying as hell.

Not only did she hate leeches, but she knew that, in contrast, she must look like crap. She was still wearing the same robe that she had been given in the dungeons beneath the mer-folk castle. Oh, she'd washed it, but it was threadbare and stained and should have been burned weeks ago. Plus she hadn't brushed her hair since…Hell, she didn't even know.

Long ago, her hair, the color of crimson, had been her pride and joy. She'd brushed the fiery curls until they tumbled down her back like a river of fire. Now she could barely bother to eat, let alone worry about the sheen of her hair.

Silently cursing at her stupid distraction, Brigette turned her attention to the vampire's companion.

A male Were.

Surprise, surprise. There might have been an uneasy truce established between the vamps and the pureblood Weres, but as far as she knew, it was rare for either species to tolerate each other, let alone willingly work together.

Her gaze skimmed over the male. He was large, with a shaved head that was currently coated with a fine mist. His body was bulked with muscles that strained against his flannel shirt and jeans. He had on a pair of hiking boots that crunched loudly against the stony ground, and she could catch the scent of metal. He was carrying a gun. Maybe more than one.

It was hard to make out his features in the thick fog that shrouded the area, but she sensed that he was younger than her. She also sensed that he didn't possess her strength. Not unless he shifted into his wolf, something she didn't intend to allow.

Coiling her muscles, Brigette soared through the air, landing in front of the Were. The male snarled, but before he could react, Brigette had her silver dagger pressed over his heart.

"If you so much as twitch, I'll slice open your heart," she warned.

The male stiffened, his eyes smoldering with a golden fire as his musk blasted through the air.

"Careful, female," he snarled, baring his teeth, "or I'll take a bite out of you."

She pressed the knife hard enough to slice through the flannel shirt and draw blood. "You wanna make this into a pissing contest, bruh?"

"Don't mind him. He's an idiot," an icy female voice drawled.

Brigette glanced toward the leech, careful to keep the knife poised to strike the killing blow.

"Who are you?"

"I'm Maryam." The female pointed toward her companion. "And this is Roban."

"A pureblooded Were and a vamp traveling together." A humorless smile curved Brigette's lips. "Has hell frozen over?"

Maryam's pale, beautiful face was set in grim lines. "Not yet, but it's coming."

"Really?" Brigette shrugged. "I didn't get the memo."

"I'm here to deliver it in person."

"Lucky me."

Maryam glanced toward the Were. "Can you release Roban? He's bleeding all over the place."

Brigette glanced toward the male, realizing she'd stuck the knife in deeper that she'd thought. The wound wasn't going to permanently injure him, but the silver in the blade kept him from healing. Which meant that the blood continued to seep through his shirt and dribble down his jeans. And, as a bonus, the silver would keep the Were from shifting into his wolf form.

"I could." She glanced back at the leech. "I won't, but I could."

"Even if I assure you that we come in peace?"

Brigette snorted. The leech sounded like a character from a cheesy horror film. "Especially if you assure me you come in peace." She pressed the knife a quarter of an inch deeper. The Were grunted in pain, droplets of sweat joining the mist coating his bald head. Brigette wrinkled her nose. He was all moist, and not in a good way. "I'm not asking again. Why are you here?"

Something flashed through the female's icy blue eyes. Probably fury, maybe heartburn. No. The Were was the one with heartburn. The leech was definitely furious.

Still, Maryam made a commendable effort to control her emotions. "I was looking for you."

Brigette scowled. There'd been a few brave souls who'd come to the remote village after she'd returned Chaaya and Basq back to Vegas, along with Levet to the mer-folk castle. She didn't know if they were there to pin a medal on her chest or chop off her head. And she wasn't going to stick around and find out.

This time, however, she was curious. She wanted to know why this odd couple had invaded her home.

"Did Ulric send you?" she asked.

"No. Although, your cousin is the reason I decided to make you an offer," Maryam told her.

Brigette narrowed her eyes. "Is it one I can't refuse?"

The vamp shook her head. "Nothing so dramatic."

"What's the offer?"

Maryam glanced toward the Were, who grimaced before nodding his head in some sort of silent agreement. The vampire turned her attention back to Brigette.

"I belong to Chiron's clan," she revealed.

"You're a Rebel?"

"Yes. I traveled with Chiron and Ulric after we were banished by the former Anasso," Maryam told her. "I considered them my family."

Chiron was a vampire who owned Dreamscape Resorts, a successful chain of human casinos around the world. He'd also taken over a clan of vampires who had been banished by the former Anasso when their leader, Tarak, had disappeared. Tarak had recently escaped his prison, and there was a new Anasso, and supposedly they'd all come together in one big kumbaya moment.

Ulric was Brigette's cousin who'd been taken by the goblin raiders that Brigette had led to the village and sold into captivity by the former Anasso. Chiron had rescued him, and they'd formed an unbreakable bond that had lasted the past five hundred years.

The fact that Maryam was a Rebel, however, did nothing to ease her suspicion. If anything, it intensified her distrust. Ulric had more reason than anyone else in the world to want her dead.

Ah, families…so much fun.

"Is there a point to this?" Brigette drawled. "Or are we just reminiscing about the good old days? I'll warn you, my good old days included lots of blood and screaming."

"I want you to know that I consider Ulric my friend."

"Good for you. He blames me for destroying our pack, so if that's all—"

"For centuries, the Rebels enjoyed the freedom to live as we please," Maryam overrode Brigette's words. "We didn't have a king, and we didn't need one."

Brigette rolled her eyes. A part of her had followed the intruders with the hope they might provide some entertainment. There was only so long a poor female Were could brood alone in the wilderness.

"That's your point?" Brigette didn't have to pretend her disappointment.

"In part."

"I'm rapidly getting bored." Brigette tightened her fingers on the hilt of the dagger. "And when I'm bored, things die."

The Were growled, and Maryam hastily lifted her hand in a gesture urging restraint. "You asked me to explain why I'm here. That's what I'm trying to do."

Brigette was pleased that the two obviously took her warning seriously. They should. She would kill Roban without a second thought.

"You're not explaining very well," she warned.

There was a distinct chill in the air, and a hint of fang, as Maryam struggled to contain her irritation.

"As I said, we were all doing fine without a king, and then Chiron betrayed us."

Brigette arched a brow. "Betrayed?"

"He bent his knee to the new Anasso."

There was a bite in the female's tone. As if Chiron had slaughtered babies instead of simply acknowledging Styx as the King of the Vampires.

"So?"

"We're now under the yoke of a power-hungry despot."

Brigette released a startled laugh. "Power-hungry despot? That's a little drama queen, don't you think?"

The air went from chilly to frigid. Maryam obviously didn't find any humor in her tragic overreaction.

"It's the truth." Her tone was stiff. "I have proof that Styx is plotting to enslave the Rebels."

Brigette frowned. Over the past centuries, she'd been more or less trapped by the evil Beast who'd threatened to destroy the world. But there had been times when she'd traveled away from her village. And in all those times, she'd never heard anything that would imply that the new Anasso was evil.

Indeed, most of the demon-world had celebrated when the old king had perished and Styx had taken the throne.

"Why would he do that?" Brigette demanded in genuine confusion.

"To punish us."

"Punish you for what?"

"For being rebels."

"Hmm." Styx could have punished the rebels the moment he'd become the Anasso, so why wait? She kept the question to herself. Instead, she turned her attention to Roban. "Why are you here?"

He bared his teeth, but she still had the silver dagger stuck in the center of his chest. "Because we've also discovered a plot to enslave the Weres," he grudgingly answered.

"That's a lot of enslaving."

The blue in Maryam's eyes frosted over. "It's been done before."

The leech . . .
We hope you are enjoying the book so far. To continue reading...
Darkness Betrayed
Alexandra Ivy
Copyright © 2022 All Rights Reserved
Also in this series
Also by this author