Book info
Sample
Audiobook
Media
Author updates
Lists
Synopsis
A Wall Street Journal bestselling series.
Unmasking a treasonous American conspiracy is a dangerous move in a heart-pounding thriller about greed, power, revenge, and murder.
After covert investigators Ryan Decker and Harlow Mackenzie demolished APEX, a billion-dollar criminal enterprise, a tenuous truce between the two factions suggested the battle was over. But not for Decker's director, Senator Margaret Steele. She's uncovered an even deadlier operation—code name Skystorm.
Skystorm violates every international arms-trafficking law imaginable. And for the senator, exposing the plot may be a gamble too far. APEX has caught wind of the investigation, and they've gone on the offensive. Steele's warning to Decker and Harlow: we're all in a no-holds-barred fight for our lives.
With APEX's scorched-earth tactics now unmistakable, Decker and Harlow pull the trigger on their worst-case-scenario plan and move to turn the tables on their ruthless adversary. With a shadowy mercenary team, Decker and Harlow embark for a war—one that Skystorm's influential DC backers have no intention of losing. To safeguard their treasonous secret, they aim to bury it, along with Decker and everyone he loves.
Release date: May 11, 2021
Publisher: Thomas & Mercer
Print pages: 349
* BingeBooks earns revenue from qualifying purchases as an Amazon Associate as well as from other retail partners.
Listen to a sample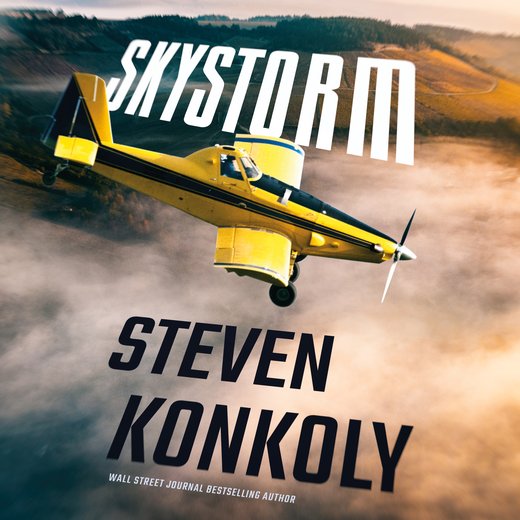 09:56:25
273.04 MB
9781713559399
May 11, 2021
Brilliance Audio
Skystorm
Steven Konkoly
Prologue

CLEAN SWEEP
M/V Aurora Sky

Port of Houston

Ryan Decker emerged from the darkness underneath the cargo container platform and planted his waterlogged boots on the ship's rough metal deck. He scanned for sentries before heading aft toward the looming superstructure. Security lights mounted high on the five-story structure blazed down on the stacked containers, leaving Decker little more than a sliver of shadow for concealment.

A quick look beyond the bright lights confirmed that the sentries on the bridge were not in a position to spot their approach. He set off at a quick but quiet pace, rapidly alternating his attention between the bridge and the deck ahead of him. He was far more concerned about the sentries up high. They'd spot Decker and Pierce the moment they looked down.

Two dark, fast-moving forms would be pretty hard to miss. Especially tonight. Tensions would be high on board the ship after last night's mission. The APEX Institute had gambled nearly everything on the cargo hidden inside these containers and would no doubt defend it to the last man—a scenario Decker was more than happy to facilitate.

But not here on the exposed cargo deck. He continued aft, his boots squishing every time he took a step. They hadn't bothered to change after the swim, opting to save the time and hassle by donning their dry tactical gear directly over the wet suits. Now he started to wonder if the few minutes' delay might have been worth it.

The suits turned out to be more constrictive and awkward out of the water than he had expected. To make matters worse, the tight neoprene layers trapped his body heat, intensifying the effects of this oppressively hot and humid Houston night. Too late to do anything about it now—and they wouldn't be here long enough to get really uncomfortable. He hoped.

Decker glanced over his shoulder to check on Pierce, who trailed him by several feet, rifle covering their six. With Pierce in position, he turned all his attention back to what lay ahead and above him, closing the distance to the superstructure, where they'd take the exterior stairs as far up as possible before entering and making their way to the bridge.

They had almost no information about the size of the security garrison assigned to the ship, which made him want to spend as little time inside the superstructure as possible. The last thing Decker or Pierce wanted was to engage in a close-quarters battle within the tight confines of a ship—against an unknown number of hostile, well-trained operators. The quicker they got to the bridge the better. The bridge had one point of access, which the two of them could control until the helicopter arrived for the extraction.

A body armor–clad man cradling a rifle materialized from about thirty feet in front of him, walking casually toward the guardrail. Decker stopped and tracked the sentry through the holographic sight attached to his suppressed HK416 rifle. The man grasped the top rail with both hands and scanned the water. Decker fired twice, both shots connecting with the man's unprotected head and collapsing him against the guardrail.

A few moments later, a pair of suppressed shots echoed off the containers—Pierce's rifle dispatching someone, somewhere. Decker took off without giving the situation a second thought. Pierce would follow. He was certain of that. The four suppressed shots had been far from silent—and guaranteed to attract the wrong kind of attention from the professionals patrolling the ship.

Decker skidded to a halt next to the dead sentry near the superstructure, grabbing the man's tactical vest and muscling him onto the top rail before he pushed the body over the side. The man splashed into the water, creating an unmistakable sound that was guaranteed to turn heads.

Without speaking, they made their way to the foot of the exterior stairwell, where Pierce turned to watch the deck while Decker ascended the first flight of stairs. He took the metallic steps as quietly as possible with his squishy boots, reaching the first platform seconds later. After checking the circular window on the closed hatch leading into the superstructure and seeing nobody inside, he called to Pierce.

"Clear."

While Decker pointed his rifle up the next flight of stairs, Pierce made his way to the platform, tapping Decker's shoulder when he was in position to guard the hatch. The two of them repeated this process, reaching the second platform as frantic voices called out from below. Decker took a quick look over the guardrail, immediately spotting the body he'd dumped over the side. Two sentries stood where he'd heaved the man overboard, talking excitedly into their radios. Time to speed things up.

He tapped Pierce on the shoulder before bolting for the stairs. Decker skipped checking the hatch when he reached the third platform, immediately mounting the adjacent stairs instead. The quicker they got to the fourth and final platform the better. The bridge lay only one level above that, and they'd need every second they could gain to stay ahead of the security detachment's inevitable response.

"Clear," he said, and Pierce started his ascent.

Decker was halfway up the next flight when he heard the hatch on the platform he'd just departed suddenly swing wide open. He looked back and saw a heavily armed mercenary unexpectedly emerging to block Pierce's path.

Shit!

PART One

Three Days Earlier . . .



Chapter One
Ryan Decker opened the glass slider and stepped out of the bedroom onto the slate patio, ready to take in a deep breath of the crisp canyon air.

"Your mercenary is here to pick up Riley," said his dad, Steven, startling him.

His dad sat at the table next to the pool, facing the expansive canyon view behind the house. A lone coffee mug in front of him. Decker headed in his direction.

"She's your granddaughter's personal protection detail right now, and we're lucky to have her," said Decker, sitting down next to him. "Where's Mom?"

Steven regarded him with a playful smirk and a raised eyebrow. "Her new yoga class started today. She was out the door before six. We're grabbing some breakfast when she gets back."

"I thought she was going to try kickboxing," said Decker.

"That was the mercenary's idea," said his dad. "Luckily, Harlow talked some sense into her."

"I think Mom would have enjoyed it."

"The last thing I need is your mom hobbling around on crutches from a kickboxing accident."

"Or you laid up in bed from a well-placed and well-deserved punch. Yoga is probably safer for both of you."

"Funny," said his dad, before taking a sip of coffee. "But true."

"I better see why Brooklyn showed up twenty minutes early," said Decker, patting him on the shoulder.

"She's probably sick of chauffeur duty. Nobody to shoot."

Decker glanced through the open slider, catching a glimpse of Brooklyn seated at one of the kitchen island stools—hopefully out of earshot. His parents had a somewhat annoying way of talking about people a little too loudly. Particularly when they hoped to be overheard.

"You really don't like her, do you?" he said quietly.

"It's not that I dislike her. She's not bad or anything," said his dad. "I just don't like her spending so much time with Riley."

"What are you talking about? The two of them hit it off from day one," said Decker.

"That's what I'm worried about," said Steven. "She's not the best influence in my opinion."

"She's a highly decorated former Israeli commando," said Decker. "I'd struggle to find a better role model for Riley right now—or a better bodyguard."

"I'll give you the bodyguard part."

"And the arrangement is temporary," said Decker. "I guarantee you this isn't what Brooklyn had in mind when Harlow offered her the job. I'm guessing she's here to request a reassignment."

Bringing Brooklyn on board had actually been his idea. The bullet that had shattered her knee during the Nevada raid had effectively killed her career as a soldier of fortune. The moment he'd seen the wound, he'd known her days of negotiating brutal terrain and trekking long distances with sixty pounds of gear had come to an unceremonious end.

Giving her a purpose while she recovered from multiple complicated surgeries felt like the right thing to do under the circumstances. And if she decided to stick around and work for the firm, they could do a lot worse than a combat-proven Shayetet 13 commando—with a slight limp.

"Speaking of Harlow, she hasn't been around much since we moved in," said his dad. "Is everything okay? I hope your mom didn't piss her off."

Brooklyn caught his attention with a quick nod. He flashed her a discreet hand signal that indicated he needed a few minutes. His dad's question couldn't wait. Admittedly, the situation in the new house had been a little awkward since Riley and his parents had moved in about a month ago.

They'd bought a house big enough to give everyone space and privacy when they needed it, but Decker had drastically underestimated the amount of time they'd all be in contact—and how it would affect Harlow. She hadn't grown up in the kind of close-knit, supportive family environment that had instantly materialized here with everyone present. Her home life experience had been the exact opposite, which made the Decker family reunion a little suffocating. Especially under a single roof.

"Everything's fine. Harlow's just a little overwhelmed by the close company," said Decker, deciding to go with the short version of the backstory. "She didn't have a tight family like ours. Between you and me, her family situation growing up was tough. She's been on her own since she was in high school. It'll take her a little time to come around."

"I honestly couldn't tell. She's about as warm and friendly as they come," said Steven. "That's why I thought something might have gone sideways."

"No," said Decker, stifling a laugh. "She really likes you guys and Riley. Always has. What you're seeing is a concentrated effort by someone that doesn't want to give the wrong impression. Give her some time to adjust. It won't take her long to figure out she doesn't have to be on all the time."

"Good. This isn't a tough crowd to please—by any stretch."

"I keep telling her that," said Decker, patting his back. "I better see what Brooklyn wants."

"Be careful."

"Funny," said Decker, before heading inside.

Brooklyn nodded toward his father. "I don't think he likes me."

"Nobody likes you," said Decker, pretending to be serious.

She cocked her head and gave him a quizzical look.

"Just kidding. About the rest of us," said Decker. "Don't worry about my dad. He's very protective of Riley. They've been inseparable since . . ."

A few moments passed before Brooklyn let him off the hook.

"I get it," she said.

Decker still couldn't bring himself to say what had happened to his wife and son. To his family. He could barely think about it without screaming STOP—on the inside.

"Espresso?" said Decker.

"Sure," she said.

Decker slid two porcelain espresso cups under the automated coffee machine and pressed a button. The JURA GIGA 6 did the rest. He presented Brooklyn with a perfect double espresso less than a minute later, keeping one for himself.

"Getting a little tired of sitting in a car all day?" asked Decker. "I wouldn't blame you if that's the case."

"No," she said, shaking her head. "It's not that. I actually use the time to study for my classes. It's not a leather club chair at Starbucks, but it works."

She took a sip of her espresso and nodded her approval before continuing.

"I was hoping to pick up a few hours of PI work after I bring Riley back in the afternoon. Even with this associate degree, I'll need five thousand hours of certified experience to get a PI license. Figured I'd get started."

"You plan on sticking around LA that long?" asked Decker.

"I couldn't think of a better gig," said Brooklyn. "Or a nicer group of people to work with."

"I can't tell if that last part was sarcastic," said Decker, before downing the rest of his espresso.

"I spent two months recovering with Pam, under the same roof," said Brooklyn. "If the two of us can survive each other for that long, I think this is a good fit for me."

"Truer words have never been spoken," said Decker.

Harlow emerged from a hallway adjacent to the kitchen.

"What did Pam do now?" she asked, heading for the coffee machine.

"Nothing. We were just talking about Brooklyn spending some quality after-hours time with the team. She's trying to get a leg up on the million hours it takes to get a private investigator's license," said Decker. "Cappuccino?"

"Yes. Please," she said, before giving Decker a quick kiss. "We can definitely work something out. It's not like we have a shortage of work. We outsource a good portion of the surveillance and tracking as it is. Good to hear you're hanging around. I was telling Decker it might be time to find Riley a new friend."

"Other than getting my knee blown apart at the very start of this, everything has worked out surprisingly well," said Brooklyn. "And I truly enjoy Riley's company. No need to change that up anytime soon."

"I get the strong sense that the feeling is mutual," said Harlow.

"It is," said Decker.

"I'll talk to Pam about getting you started," said Harlow. "She's running that schedule."

"Thank you," said Brooklyn. "Tell Riley I'll be in the car. I didn't mean to impose."

"You're not imposing. She should be out any minute," said Decker.

On cue, Riley wandered into the kitchen and set her backpack on the island. Decker raised his eyebrows and stared at the pack long enough for Riley to get the hint.

"Not sure what the big deal is," said his daughter, moving it to the floor by her feet. "But whatever."

She wore that always slightly annoyed teenager look he'd come to know all too well over the past month.

"You take that into the bathroom with you, right?" said Decker.

"I hang it up on a hook."

Harlow shook her head—at Decker. Message received.

"Fair enough. Just humor me and keep it off the countertops," said Decker. "Can I make you something quick before you take off?"

"That's okay, Dad," said Riley. "We're grabbing bagels on the way to school."

For a moment Brooklyn looked a little surprised by the statement—but she recovered quickly. "I did promise to take her this week. We wanted to check out the new place in Westwood."

"If the bagels are good, can you grab a dozen sesame? We're running a little low," said Decker.

"I'll make it happen," said Brooklyn.

"I appreciate the effort," he said, before giving his daughter a hug. "See you after school. Still up for lap swimming?"

"Definitely. Can we go before dinner?"

He turned to Harlow. "What time do you think we'll be back?"

"Your mom said dinner would be ready around seven thirty. That won't give you much time for a swim," said Harlow. "You can take an Uber back if it looks like things are running late at the office."

"Sounds like a plan," said Decker, hugging Riley one more time. "See you around six? Maybe a little earlier."

"Perfect," said Riley.

"Take care of my baby," said Decker.

"Seriously, Dad?" said his daughter, shaking her head.

"I got this," said Brooklyn. "She's in good hands."

"Oh my God, all of you are so embarrassing. Except Harlow," said Riley.

"I'm working on him," said Harlow.

"Please work harder, Harlow. He needs the help," said Brooklyn.

"Why do the women always gang up on me?" asked Decker.

"Easy target," replied Brooklyn, before glancing at Riley. "We need to go."

"Be right out. I need to say goodbye to Grandpa."

Once Riley stepped outside, Brooklyn turned to Decker. "She's a really good kid. Tough as nails."

"Thank you," said Decker, following up with a statement he felt oddly compelled to say out loud. "She's been through a lot."

"She takes after someone else I know," said Harlow, winking at him. "I better go say goodbye to your dad, too. I feel like I've been a little unavailable lately."

"He understands."

"Understands what?" said Harlow, eyeing him critically.

"Nothing. No big deal. Trust me. Go make the old man feel good about himself," said Decker. "I'll tell you on the way to work."

"Sounds like something," she said as she headed to the terrace.

"It really isn't," muttered Decker, a little too loudly.

"I'll be the judge of that," said Harlow.

"Judge of what?" asked Riley, who had just passed Harlow.

"Nothing," said Decker. "See you after school. Love you."

"Love you, too, Dad," she said, grabbing her backpack.

Decker swallowed hard as she walked away. Those four words always got to him.

Chapter Two
Quincy Rohm eased the Bombardier Challenger jet out of a wide turn onto the next leg of her surveillance run. The sleek twin-engine aircraft effortlessly settled on its new course—due west across the base of the Texas Panhandle. They'd be on this heading for roughly twenty minutes before she nudged the jet south several miles and brought them back over the search area.

With close to eight thousand square miles to digitally catalog, they'd be at this for the rest of the day, crisscrossing these sparsely inhabited plains in search of an undocumented, active airfield. That's all Rohm knew, and she suspected it was all anybody knew. Bernie had given her the search area coordinates, the same vague description of their surveillance target—and nothing more.

Not that she required more to accomplish the mission. At nearly six thousand feet above the ground, they had little chance of spotting the airfield from the jet. Her job was to run a tight surveillance pattern over the colossal patch of land identified by their client, Senator Margaret Steele. The extensive digital and thermal imagery captured by the aircraft's sensor suite would be downloaded and analyzed later.

"Roll the cameras," she said.

"Rolling," said Jake, the surveillance technician, over her headset.

"Fun day," said Geoff Hopkins, her copilot and the newest addition to Bernie's team. "Back and forth, and back again."

She smirked. "Ninety-five percent of this job is mind-numbing. You get used to it."

"And the other five percent?" he asked, glancing across the cockpit at her.

"You don't want to know," she said.

"My guess is that the other five percent doesn't involve this baby."

"Solid guess," she said. "Bernie's Vietnam-era bird is a shit magnet."

"Good to know," said Hopkins. "I start training on that next—"

A string of bright-orange flashes zipped skyward, just ahead of the Challenger's nose. A fraction of a second later, before Rohm could fully process what she was seeing, the aircraft shuddered—and the cockpit exploded in a maelstrom of plastic and metal fragments.

Rohm raised both arms at the same time—an instinctive move that saved her eyes from the shrapnel that peppered her elbows and forearms. When she lowered them a few moments later, a vast, uninterrupted sea of brown filled the window. The jet was headed straight for the ground. She immediately seized the yoke and started to pull the thirty-ton beast out of its terminal dive.

"Could use some help here!" she said, struggling with the barely responsive controls. "Dammit, Hopkins! I need—"

She took her eyes off the rapidly approaching ground long enough to confirm that she was on her own. Her copilot's head hung forward, vacant eyes staring at the gaping hole in his abdomen. Bright-red blood and dark chunks of gore covered his side of the cockpit.

"Shit. Shit. Shit."

Rohm wrestled with the controls until she could see the horizon again, her narrow focus expanding as she came to grips with the situation. Altitude roughly two thousand feet—not as bad as I thought. Airspeed nearly cut in half—need to fix that pronto to get out of here. Dozens of audible cockpit alarms told her the Challenger was in bad shape—no shit.

"Jake. Are you still with me?"

Nothing from the back of the aircraft.

"Jake!"

"Still here. Barely," he said. "I'm bleeding out."

"Hold on. I'm headed back," she said, starting to unbuckle her five-point harness.

"Don't bother," he said, sounding even weaker than before. "Seriously. I'm done."

She scanned the sky through the blood-splattered windows, hoping to catch a glimpse of whatever had attacked them. Nothing but empty blue sky. She needed to know what they were up against right away. Whatever had hit them would be back, and the likelihood of surviving another attack hovered around zero. She had to do something.

If they'd been hit by a propeller-driven aircraft, she'd hit the throttle and open the distance. Problem solved. Even at half speed, she could outrun anything spinning blades. Another jet changed things significantly. She'd be forced to climb to a higher altitude, where she would have more room to maneuver—if the Challenger could handle it. And that was a big if under the circumstances.

"Any idea what hit us?" she said, flipping switches to silence the alarms.

"Negative. All I can say for sure is that it came from below," said Jake. "Heavy caliber. At least a twenty-millimeter gun. A dozen rounds tore through the cabin."

"Ground fire?"

Rohm knew the answer before Jake responded. A twenty-millimeter antiaircraft gun would have little chance of accurately tearing into them moving this fast at six thousand feet. Had to be another aircraft.

"Never mind. Dumb question," she said. "What's the status of our sensors?"

"Screwed," he said. "Everything is off-line."

"Can you get a message out to Bernie?"

"I already tried. No joy," said Jake.

"Emergency beacon?"

"I flipped the switch, but I can't tell if it's transmitting," said Jake. "One way or the other, it should activate when we hit the ground."

He grunted a laugh over the headset.

"Hang in there," she said. "I'm getting us out of here."

She increased the Challenger's speed, feeling for a problem with the jet's airframe. That was all Rohm had to go on at this point. She had no idea what kind of damage the aircraft had sustained. A quick look at the instrument panel gave her more bad news. They were dumping fuel at an alarming rate, and the jet was losing altitude. She pulled back on the yoke, and the aircraft slowly leveled, but it fought her the entire time. Something was definitely wrong with at least one of the jet's flaps.

"Jake. You still with me?"

No answer. Rohm flipped the autopilot switch and was rewarded with a little good news. The system appeared operational. She locked in the Challenger's present flight profile and engaged the system, hoping for the best. The aircraft held its course and altitude while she disentangled from the seat harness. Satisfied that the jet wouldn't dive while on autopilot, she slid between the cockpit seats and opened the door leading into the main cabin.

Wind from several jagged holes buffeted the compartment, creating a vortex of loose papers that swirled around Jake's wilted, motionless body. Still seated at the shattered electronics console, Jake was either already dead or most of the way there. Eyes closed, he lay with his left leg beneath him, detached just above the knee. The last of his blood pumped weakly onto the deck.

"Jake?"

No response. Definitely gone. She reached inside the cabin for her flight bag, finding the shredded nylon satchel flapping against the bulkhead separating the cabin from the cockpit. Her Sig Sauer pistol lay on the buckled deck below the bag, next to a smashed hunk of plastic she barely recognized as a satellite phone. Wonderful. She zipped the weapon into one of her cargo pockets, along with three spare magazines, before heading aft to retrieve one of the parachute rigs.

With the free-fall rig strapped snugly to her torso, Rohm returned to the cockpit. Reaching between the seats, she disengaged the autopilot and pulled the blood-splattered throttle levers back gradually until the speed indicator read one hundred knots per hour. Any slower and the aircraft could stall. Any faster and her ill-advised jump from the cabin door could get ugly. The Challenger wasn't designed for what she had in mind.

Rohm engaged the autopilot and made her way back into the main cabin. She yanked the exit door lever to the "Open" position and kicked the staircase hatch out of the aircraft. Air rushed in, pushing her away from the door.

The gust died down a few seconds later, allowing her to approach the opening and grip its edges. She peered through the hatch at the wing, making a quick calculation. She'd be lucky to clear that wing. Before she could process another thought, the cabin erupted in a deafening fury of shredded metal and shattered plastic. A tracer flashed past the door—close enough to touch.

Rohm didn't hesitate. She dived headfirst toward the ground, one hundred knots of air striking her like a bus the moment she cleared the hatch. Nothing was in her control right now. She'd either slip past the immovable aluminum wing or strike it at breakneck speed.

Rohm bounced along the underside of the wing, suffering a few painful, glancing blows before streaking clear of the aircraft. Free as a bird—sort of. A few seconds later, after streamlining her body in a head-down position for maximum free-fall speed, a boxy-looking, single-propeller plane dived parallel with her, about a half mile away to the west. The flaming wreckage of the Challenger seemed to follow it down.

"Shit," she muttered, hoping the pilot hadn't noticed her.

There was nothing she could do about that right now. She needed to focus all her attention on the rapidly approaching ground. Free-falling from two thousand feet didn't give her much time to play around. Maybe fifteen seconds. Half of which had already expired.

She counted to five in her head, the rapidly approaching ground no doubt accelerating the pace. When Rohm reached five, she extended her arms and quickly achieved a neutral arched position. With her descent slowed enough to safely deploy the main parachute, she reached back with her right hand and threw the drogue chute away from her body. A moment later, the harness pulled excruciatingly tight across her torso, suspending her under the ram-air canopy, a mere few hundred feet above the flat, hardscrabble landscape.

Rohm pulled the toggles to bleed as much air as possible from the rectangular canopy. She was still looking at close to thirty to forty seconds of extremely exposed descent time. If the pilot had somehow observed her parachute, she might not make it down in one piece. The aircraft dived toward a pillar of black smoke that she assumed to be the Challenger's crash site. Hopefully, the pilot was too preoccupied with their handiwork to notice her dark-green parachute.

Rohm executed a perfect flare landing, her feet lightly skimming the ground until she could walk under the canopy. After taking a few steps, she detached the risers from the harness and let the billowing parachute collapse to the ground behind her. A quick glance around identified a few hiding places within easy scramble distance. A craggy arroyo with signs of dry scrub and several jagged rock formations.

She dragged the parachute into the shallow gulch and compacted it until she had a beachball-size jumble of dark-green nylon. Rohm jammed the silky material under a thick stand of dry brush, anchoring the canopy with several rocks to prevent a gust of wind from unfurling it and giving away her position. She scanned the western sky for the aircraft, finding it south of the crash site—flying away from the area.

Rohm sat against the side of the riverbed and started taking deep breaths to calm herself. What the hell just happened? Less than three minutes ago, she had been flying carefree at six thousand feet. Now she was sitting on her bruised-up ass at sea level, shaking from an adrenaline overload—miles from the nearest town. Not exactly how she had expected the morning to go down.

Now for the really fun part. An hours-long hike through this Texas wasteland to reach a phone. She absolutely had to get in touch with Bernie as soon as possible so he could warn Senator Steele.

Her surveillance flight had obviously touched a very raw nerve somewhere.

Chapter Three
Harlow took her eyes off the road long enough to gauge whether now was a good time to ask Decker what he had meant about his father "understanding." Elbow out the car window. Contented, easygoing look on his face. No sign of stress at all, so she didn't see any reason to hold back.

"What was that little comment about your dad back at the house?"

"It really was nothing," said Decker. "He had asked me a little earlier if maybe they—specifically my mother—had said anything that might have bothered you."

"Because I've been sort of avoiding everyone lately?"

"Pretty much," he said. "But I dispelled that notion immediately. I told him you had just been pretending to be nice in the beginning so they'd accept you."

"You what?"

"Just kidding," said Decker. "I gave him a very abbreviated version of your family history."

"Great. Now they'll really wonder what you've gotten yourself into with me."

"Abbreviated and devoid of unsavory details," said Decker. "I just let him know that you more or less grew up in the opposite of our kind of family environment and that it's going to take a little time for you to adjust to your new surroundings."

"You said it like that?" said Harlow. "Sounds like something a psychiatrist would say."

"No. I'm paraphrasing," said Decker.

"That was the short version of what you said?" said Harlow, knowing what he meant but wanting to push his buttons a little.

"What? No," said Decker, shifting in his seat to face her. "I told him you needed some time to adjust to the warm-and-huggy Decker family dynamic."

"Because I'm cold and distant?"

"That's not what—"

"I'm messing with you," said Harlow. "We're cool. Your dad is going to put a good word in for me with your mother."

"Everyone is making a much bigger deal of this than necessary," said Decker.

"Joking again. Whatever you said to him obviously put him at ease. Thank you," she said. "And for the record, I'd be worried if they weren't concerned."

"Me too," said Decker. "I think they were more worried that they did something wrong than anything else. They really like you. Not sure why."

"Well, they think the world of you," said Harlow. "So. Maybe bad judges of character?"

They both laughed for a few seconds.

"Touché," said Decker, before checking his phone. "Did you move me off the Chang interview?"

"Yeah. I didn't want to say anything in the house, but I don't think that interview will be over in time for you to get back to join Riley for lap swimming," she said. "I put you on the equipment inventory with Garza."

"That's like a one-hour job. For one person," said Decker.

"I expanded it to all of our storage units. Three hours tops," said Harlow. "I want you to spend as much time with Riley as possible. The work will always be there. Your daughter won't."

She instantly regretted her choice of words. Nobody was more agonizingly aware of the value of time lost than Decker. Or of having that time ripped away unexpectedly—never to be returned.

"Sorry. That didn't come out right," said Harlow.

"I didn't take it the wrong way," said Decker. "You don't have to keep tiptoeing around me. I know your head and heart are always in the right place. Damn. That sounded like a line from a Hallmark card."

"I hear a second career calling," said Harlow.

"Might keep me out of trouble," said Decker. "I don't think the drug cartels or Russian mafia would dare try to break into the cutthroat holiday gift card industry."

"Sounds like a safe bet," said Harlow. "By the way, Garza said he's running late."

"What else is new," said Decker. "I'll talk to him about it during the inventory."

"It's getting a little old," said Harlow.

"I know."

"And he's starting to grate on people's nerves during stakeouts," said Harlow. "I think he's getting bored."

"He definitely doesn't like to sit still for long, unless he's behind a rifle scope," said Decker. "I'll put him on notice."

"Don't shit on him too hard. I'd like to keep him around. His contributions are solid—when his head is in the game. If he needs to shift into something a little more part-time, that's fine. Maybe that'll give him a chance to work on a few jobs outside of the agency. Let him burn off some steam."

"We'd need to be really careful with that," said Decker. "The merc world is small. The last thing we need is for him to bring trouble back from a job. If he needs to take other work to keep the ants out of his pants, I'd prefer that he go back to contractor status with the firm. We hire him as needed. That keeps us insulated from what I know to be a very chaotically opportunistic world. We have enough to worry about as it is."

Decker was right. The fewer solid links back to any of these dark underbellies of the world right now the better. The very nature of the firm's work undoubtedly drew the attention of some dreadful organizations. More than just attention in some cases. The risk came with the territory, and they all accepted it. Harlow saw no reason to open up another avenue of risk, especially after living with the APEX Institute's thinly veiled threat for several months.

Within a week of the Nevada warehouse raid that had no doubt deprived one of the Institute's closest proxies of a fortune in recently harvested marijuana, every member of their firm had come under intense twenty-four-hour surveillance. Teams had made no effort to remain hidden and followed them to and from work.

They had parked overnight on the streets in front of firm members' apartments or homes. They had bribed restaurant hostesses to be seated at adjacent tables. No outing had been off-limits. Their presence, while never directly confrontational, had felt increasingly oppressive and threatening. The harassment had abruptly lifted around the six-month mark, with a brief escalation meant to drive home the Institute's message.

Brad Pierce and his family, who previously had been spared APEX's wrath, had woken up to a spray-painted house. Police investigators called to the scene had classified the repeated strings of hastily sprayed pyramids and eyes as gang tagging, but the message had been clear. We're watching—and we're everywhere.

Decker hadn't waited for the same message to reach his parents' house in Idaho. He had immediately moved Riley and his parents to Los Angeles, where he could watch over them. Where the firm could watch over them. So far, Harlow's extensive network hadn't caught a whiff of APEX in LA, but that didn't mean they were in the clear. The hammer could drop at any moment. And it was obvious that Senator Steele's money and influence couldn't shield them from the threat—no matter how hard she tried.

"On second thought, just read Garza the riot act," said Harlow. "He's been invaluable in the field, particularly with the higher-risk jobs. And it can't hurt to keep someone with his skill set close, given the circumstances."

"It certainly can't," said Decker. "I'll talk to him."

If the hammer dropped, she fully intended to hit back with every tool in her arsenal.

Chapter Four
The smoky aroma of freshly brewed coffee had built a strong presence in the room. Overbrewed as always, but who was he to complain? The new smell meant one thing. His shift had come to an end. Finally. Another twelve hours in front of these screens, doing jack shit and making bank, had almost expired. And just in time. After nearly three months trapped in this brownstone, hours now felt like days, and the days passed with little more fanfare than the rising and setting of the sun—observed through thin curtains.

Timothy Graves took a long, unhurried drink from a well-worn plastic mug, finishing the last of the coffee he'd made a few hours earlier to help him stay awake through the morning. Not that anything had ever transpired requiring his detailed attention. Like clockwork, Ezra Dalton's armored town car had picked her up at 7:25 a.m. and turned south onto Wisconsin Avenue, headed for the APEX Institute's headquarters building in Tyson's Corner.

Over two hours had elapsed, her town house now completely quiet and still. Except for one little thing that he couldn't stop thinking about. His eyes darted to image number eleven, nestled in the bottom center of the expansive screen. A beautifully unobstructed, top-down view of Ezra Dalton's office desk. He'd placed the microcamera in the bookcase flanking the desk, expecting it to be the most productive of the twenty cameras hidden throughout her Georgetown flat. Of course, Murphy's Law had something else to say about his camera placement.

While the desk camera's feed had produced their only actionable intelligence to date, the past few days had painfully demonstrated that he may have overlooked a more productive location.

"Tim! Tim! Wakey wakey, eggs and bakey!"

Tim glanced over his shoulder. Anish Gupta, his agonizingly cheerful and comically challenged partner of more than a decade, strode into the room holding a carafe of coffee.

"Refill, bitch?"

"How old are you?" asked Tim.

"Old enough to know you're one out-of-touch mother-effing fool," said Anish, before taking a seat next to him.

"Let me know when you're done with the Snoop Dogg routine for the day," said Tim.

"I'm done," said Anish. "More coffee?"

"Maybe a little later," said Tim, turning his attention back to the screens. "I'm thinking about changing the angle of the camera in Dalton's study. She's taken a recent liking to that club chair."

"She's taken the good shit to that club chair," said Anish. "Who the hell reads classified papers all curled up with a pot of tea?"

"Someone who sits behind a desk at an office all day," said Tim, before pointing at image number eleven. "If I move the book housing our camera from the bookshelf next to her desk to the bookshelf adjacent to the french doors, we'll have a bird's-eye view of the club chair and a good enough chance of catching anything she lays flat on the desk."

Anish examined the screen and nodded. "Agree."

"Glad you're on board," said Tim.

"Who's on board with what?" said Jared Hoffman, suddenly standing in the doorway.

"Timbo is thinking about going all Mission: Impossible and moving the camera in her study," said Anish.

"Right now?" said Jared, stepping into the room.

"I figured we'd give it thirty minutes or so to make sure she didn't forget anything," said Tim.

"Her schedule is clean?" asked Jared.

Tim spun his chair to face the veteran operator, who stood at the window, peering through a crack between the curtains. Jared sported the same outfit he'd arrived in a few months ago. Hiking boots, a pair of slightly wrinkled khaki pants, and an untucked gray T-shirt—a black pistol grip pressed against his right hip. The T-shirt changed occasionally from gray to black, but the rest remained the same.

Jared had been with the team as long as Tim could remember. Before Argentina. They were considered plank owners by General Sanderson. Only a few members of the team went further back than that. The scarce few who had somehow managed to survive close to two decades of this kind of work.

"Housecleaning came through yesterday," said Tim. "Clean as it gets. No pun intended."

Jared chuckled before going stone-cold serious.

"I don't know about swapping between bookcases. Dalton strikes me as the attention-to-detail type. I'd feel more comfortable adding a new camera. Give us a view of both locations. How long would that take?"

Tim clicked on a file, which displayed an image of the bookcase in question. He zoomed in on the top two shelves, which mostly housed red-and-brown clothbound classics. The kind of books Tim, and most high school graduates, had been forced to read at some point. A number of more contemporary titles spoiled that highbrow selection. They could easily find one of those in a used bookstore.

"We could have a book ready by tomorrow morning," said Tim. "But I really don't think she'll notice if we swap one of the Penguin Classics for another. Seriously. She hasn't touched a single book on those shelves since we started watching her."

"Is there any downside to waiting until tomorrow?" asked Jared.

"Reading files in that chair is a new behavior. Something might be up over at the Institute," said Tim.

"SKYSTORM?" asked Jared.

"Unknown. We can only pan the camera for a partial view of the chair. Not that it would make a difference. The way she holds the files upright has prevented us from viewing the material. We need to get a camera in the bookshelf above her," said Tim.

Jared rubbed the thick stubble on his face. "She's never done this before?"

"Not in the ninety-three days we've had her under direct surveillance," said Tim. "On top of that, it's pretty rare for her to bring files home."

Anish pressed his finger against the screen. "We could swap the current book for this one. Same color. Same size. Nobody is going to notice Moby-Dick swapped for The Count of Monte Cristo."

"You really think this can't wait?" said a gruff voice.

Richard Farrington stood next to the door, arms crossed under a dour face. He'd somehow slipped into the room undetected. Again. Tim had known him longer than Jared and still found his presence somewhat unnerving—in a "slit your throat before you knew what happened" kind of way. A good thing if he was on your side.

"Damn. How long you been ghosting us, dog?" asked Anish.

"Can it wait for a replacement book or not?"

Brass tacks. That was Rich in a nutshell.

"No," said Tim.

"I'm with him," said Anish.

"You're always with him," said Jared.

Rich shook his head almost imperceptibly. "Jared?"

"Ideally, we'd wait, but I'd really hate to miss an opportunity," said Jared. "And we're looking at a simple run. Door to door, this won't take me more than twenty minutes."

Rich locked eyes with Tim, as though the operative had been reading his mind.

"Anish will move the camera," said Rich.

"Uh. I don't know if that's—" started Jared.

"You don't think I can swap two books?" asked Anish.

"Do you really want me to answer that?" said Jared, rolling his eyes.

"We need two operators covering the streets. Front and back of the house. And one here," said Rich. "That leaves Anish and Tim. Whoever we send will need to perform a minor Cirque du Soleil act to reach the top shelves. Tim walks with a noticeable limp and can barely raise his right arm above his shoulder—thanks to his previous willingness to absorb bullets on the team's behalf. Anish?"

"I was born for this shit."

"Please don't make me reconsider," said Rich.

"Sorry. I can handle it," said Anish in a rare moment of seriousness.

Rich checked his watch. "We should do this before lunch. Before all of the baby strollers and yoga-mat hustlers come out of hibernation. Twenty minutes. Door to door. No messing around. There's no margin for error with APEX."

Chapter Five
Bernie strode through the massive, sweltering hangar, barely glancing in the direction of the mayhem his in-house team of aviation mechanics had unleashed on his beloved C-123. Normally, he'd be all over that crew, micromanaging them with the same obscenity-laced, insult-heavy dialogue everyone had come to expect when working on his "baby." But not this morning. His mind was fifteen hundred miles away from this dusty Nicaraguan airstrip. Somewhere over Texas.

The GPS tracker on Rohm's aircraft had stopped transmitting—nearly an hour ago. On top of that, she wasn't answering her personal satellite phone. He could envision a system-wide satellite communications problem. They'd experienced a number of issues with the electronics suite on board the overpriced jet since he'd added it to his fleet. But Bernie couldn't rationalize why Rohm wasn't monitoring her satellite phone. That had been the whole point of it.

He stepped into the blazing sun just outside the hangar and checked his phone. It had locked onto three satellites. Bernie gave the phone a minute to download any messages before looking again. Nothing. He tried to place a call to her phone, yielding the same result. Something had gone disastrously wrong. He was sure of it now.

Bernie stormed back into the shade, a full flop sweat having enveloped him in the two minutes he had been standing outside. Sean Fitzgerald (a.k.a. Fitz) intercepted him on the trip back to the air-conditioned office. At six foot five, the security officer's two-hundred-fifty-pound frame towered over Bernie. Probably enough to shade him from the ghastly midday sun. He'd keep that in mind the next time he left the hangar.

"Still nothing?" asked Fitz.

He shook his head and kept walking.

"I'll increase our security posture," said Fitz.

Bernie nodded absently. He hadn't thought of that. The surveillance flight may have finally kicked the proverbial hornet's nest. The dense jungle surrounding this airstrip suddenly felt more like a liability than an asset. Shit. He highly doubted APEX had traced his operations to the remote jungles of Nicaragua, but stranger things had happened in his lengthy career. He couldn't discount any scenario. Even the very remote possibility that Rohm had been shot down over Texas.

When he got back into his air-conditioned oasis, Bernie shut the door and quickly went to work on his laptop. His first step would be to call the Air Force Rescue Coordination Center. The aircraft had been equipped with an emergency locator transmitter, which transmitted a 403 MHz signal to the NOAA Search and Rescue Satellite Aided Tracking (SARSAT) system orbiting high above the United States. The beacon automatically activated if the aircraft crashed, or it could be triggered midflight by one of the crew members. Either way, SARSAT would mark the last known position for search-and-rescue efforts.

If the rescue coordination center strategy didn't yield results, he'd contact air traffic control towers in the vicinity of Rohm's mission area to see if they had received a distress call from her aircraft, starting with the international airports in Amarillo and Lubbock and expanding to smaller airports. Someone somewhere would have heard or seen something. The Texas Panhandle was a vast, sparsely populated region of the country, but an aircraft that size couldn't disappear without a trace—unless it was somehow blown to pieces in midair. And Bernie didn't even want to think about the wide-reaching ramifications of that scenario right now.

Chapter Six
Senator Margaret Steele's phone buzzed somewhere behind her, momentarily distracting her from the tariff briefing. She glanced back at Julie Ragan, who mouthed, "I got it" and started digging through her leather satchel. Right about now was one of those times she wished Ragan weren't such an efficient chief of staff. Steele needed an excuse to mentally check out of this agonizing regurgitation by her fellow senators of the same PowerPoint presentation she'd received late yesterday afternoon and could have digested on her own in a fraction of the time—sipping a glass of wine on her deck. She turned her attention back to the droning.

A few seconds later, Ragan tapped her shoulder before whispering in her ear. "This can't wait. SKYSTORM."

Steele tensed. A combination of excitement and distress instantly elevated her heartbeat. She'd taken an awful risk over the past few months. A high-stakes shadow investigation with one purpose—to bury the APEX Institute once and for all. To make them pay dearly for their complicity, no matter how indirect, in her daughter's murder.

She didn't care how far removed they claimed to be from Jacob Harcourt. Their bloodstained business model of Beltway power broking enabled the worst our broken military-industrial complex had to offer. The kinds of murderous, greedy rogues who steamrolled the competition and anyone caught in the cross fire—all to secure more power and money. She would soon expose this shadow industry to the sunlight, turning these vampires to dust.

Without saying a word, she stood and took the phone, leaving Ragan to represent her at the briefing. Once outside the conference room, Steele put the phone to her ear and sought an empty corner or alcove to keep the ensuing conversation private.

"That was quick," she said.

"We have a problem," said Bernie. "My surveillance bird is down. SARSAT registered a distress signal at eleven-oh-five Eastern Standard Time. The signal lasted two-point-two seconds. Crash site confirmed from the air. Nothing but pieces left."

She stopped in the middle of the brightly lit hallway, trying to process what she had just heard. It took her a few seconds to come back online.

"The crew?"

"No word on that yet. Rescue crews haven't reached the site, but I'm not very hopeful," said Bernie.

"I'm so sorry," she said, pausing for a few moments. "Is there any way this was an accident?"

"This wasn't an accident. We're talking about a perfectly maintained aircraft and my best pilot," said Bernie. "Someone shot it out of the sky, which changes the game significantly."

"Yes. It does," she said, suddenly thinking about the surveillance operation in Georgetown. "I need to make a call right away."

"I figured you might," said Bernie. "Let me know what I can do. I have no intention of letting this go unanswered."

"You don't have to—"

"You know how to reach me," said Bernie, before disconnecting the call.

Steele glanced up and down the hallway, no longer feeling safe deep inside the Hart Senate Office Building.

"Calm down. Think," she muttered, moving herself into a small alcove outside another meeting room.

Steele gave the news some time to settle in before making her next move. One thing was clear: Bernie's surveillance flight had seriously rattled someone's cage. She was onto something with SKYSTORM, and that something was located in the Texas Panhandle and connected to APEX. What she didn't know was exactly how far and wide APEX would take their response.

They'd more than likely dig a little deeper before taking any further action. She fully expected an afternoon visit from Ezra Dalton, who would deliver a "final" cease-and-desist warning from the Institute while probing for information. Steele would deny any involvement, agree to stay out of APEX's business—and immediately modify her strategy to unmask SKYSTORM.

One way or the other, she'd get to the bottom of whatever had necessitated blowing a jet out of the sky. Until then, she'd ease up on the other side of her intelligence-gathering operation.
We hope you are enjoying the book so far. To continue reading...
Copyright © 2022 All Rights Reserved