Book info
Sample
Audiobook
Media
Author updates
Lists
Synopsis
Welcome to Farraday Country, a twist on the favorite 7 Brides for 7 Brothers theme set in cattle-ranching west Texas, with all the friends, family and fun that fans have come to expect from USA TODAY Bestselling author Chris Keniston.
Having a special way with horses since childhood, Connor Farraday has always wanted to establish his own stable. Hard, dangerous work in the oil fields earned him the money to purchase the land his neighbor once promised him. But when he returns home, he finds an unexpected development that may jeopardize his dream—and his heart.
Top in her field, Catherine Hammond is juggling a demanding legal career and raising a young daughter with PTSD. After suddenly losing her grandfather, Catherine returns to his West Texas ranch to settle his affairs. Little does she know the impact that kindness and friendship shown by the small town, and a certain cowboy, will have on her daughter—and her.
More Audio available in Farraday Country:
Adam
Brooks
Connor
Declan
Ethan
Finn
Grace
Release date: October 24, 2016
Publisher: Indie House Publishing
Print pages: 176
* BingeBooks earns revenue from qualifying purchases as an Amazon Associate as well as from other retail partners.
Listen to a sample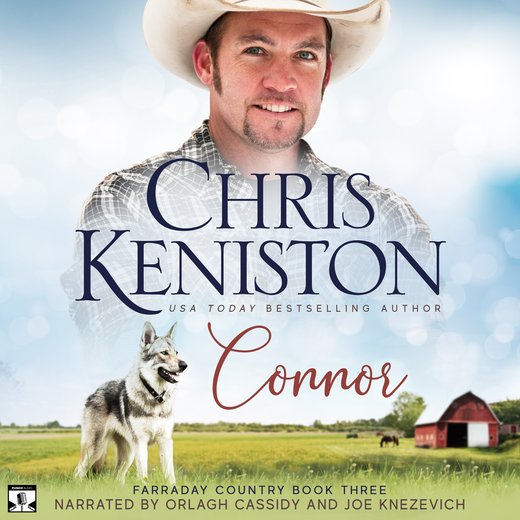 05:07:00
140.54 MB
9798822663695
November 16, 2022
Indie House Publishing
Connor
Chris Keniston
Chapter One

"My heavens, Ralph." Still holding onto the doorknob of the upstairs bedroom, Eileen Farraday took a step back. "When was the last time you were in this room?"

Ralph Brennan, the Farraday ranch neighbor for longer than Eileen had been with the family, came to a stop beside her. "I guess a while."

"A while?" She looked over her shoulder at him. She'd walked the second floor halls of the well-kept ranch house for the first time since Marjorie Brennan passed years ago. Everything looked exactly the same, including Marjorie's sewing room and the stack of pink fabrics she'd used to make Grace's third birthday party dress. Sucking in a breath and forging forward, Eileen surveyed the remaining rooms upstairs. Dusted and clean, Marjorie would have been proud of him. Time had stood still in the Brennan house.

"I figure it's time."

Eileen's brow arched high on her forehead and out of respect for the nearly ninety-year-old man, she refrained from blurting out the first words that had come to mind, Ya think?

"I told Catherine I would be with her soon, but I needed to get this old house in order first. Don't want no strangers pawing through Marjorie's things."

It took Eileen a few long seconds to remember who Catherine was – the Brennan granddaughter. Eileen had never met the child, but when Ralph's wife had passed from a long bout with cancer, the little girl had been many a topic of conversation at the Farraday kitchen table. "You're going to see your granddaughter?"

The old man's smile lifted. "Yep. She's an important lawyer where she lives in Chicago. Too hard to come to Tuckers Bluff, but I told her as soon as I get things straightened out here, I'll be heading her way for a visit."

Eileen looked down the hall. If he wanted to visit his granddaughter before the next millennium, Eileen was going to have to call in some backup. "I'll need help."

Ralph Brennan squinted. "What kind of help?"

"Extra hands. Or you won't be seeing Catherine for a long time."

"Already seen her." The man grinned at Eileen again.

"When did you leave town?" Maybe the old goat wasn't as sharp as everyone thought.

"Ain't left the ranch. Saw her on that contraption she sent me."

Contraption?

Ralph turned and walked down the stairs. Eileen figured she'd seen enough upstairs and fell into step behind him.

At the bottom of the stairs, he made a sharp right into what she knew to be his office. The room probably held records for a good fifty years or more of Brennan Ranch business—all in handwritten logs. "This thing."

Eileen chuckled, relieved the old guy wasn't losing his mind. "A computer tablet."

Ralph shrugged, then flashed a toothless grin. "She's pretty as a picture. Looks just like her mama when she smiles." He hit a switch and a photograph of what Eileen assumed was the granddaughter, now fully grown and with a young child, appeared on the screen.

"She's lovely. Hope she makes it out this way some day."

"Don't know about that. I've been waiting almost a year for that to happen and finally gave up. That's when we agreed these old bones would have to go north if we're going to visit. It's better that way for Stacey."

"The little girl?"

"Her little girl. Cute as a button." A quick frown descended over his eyes.

"What's wrong?" Eileen tread carefully. Ralph wasn't one for talking, so she knew the only way to find out what had his mood turning was to ask and then hope she hadn't stepped on any toes.

"Not sure. Little girl doesn't smile and doesn't talk. Catherine says she's just shy around new people."

"Lots of kids are that way."

"Maybe." He huffed out a ragged breath rubbed his hands together. "I wasn't too keen on leaving, but now that it's been decided, I'm rather anxious to get going. When can you get started?"

"I suppose the easiest place to start is with Marjorie's sewing room. There are lots of folks in town who could use those supplies. Maybe we'll start doing up the quilt tradition again."

"Marjorie always enjoyed making those baby quilts. Nothing made her happier than being with children. Always thought it a waste she wasn't mama to a dozen little ones, but guess the good lord thought one was enough. And late in life at that."

Eileen smiled at him. "I'm sure there were times we'd have been happy to lend you one of the boys. Or two."

"You done good with the boys. Made them right men. It does my heart good knowing this place will someday be raising Farraday children again."

"Again?"

"My great grandpappy bought this land from the first Farraday. His wife didn't like living so far away from everything. She was from some place up north, Boston maybe. Anyhow, she had a hard time adapting to the ways of a rancher, but the isolation was the hardest for her. Fearful she was going to lose her mind, he sold this land to my kin on the condition that the house be built close to the property line. That way the ladies were able to visit back and forth. Worked out just fine as both women were city girls."

"I didn't know that story." Eileen wondered how many more things the old coot had tucked away in the corners of his memory that he'd never shared. "Not much more to tell. Farradays and Brennans been neighbors ever since."

"No hidden feuds?" Eileen teased.

"Nah," Ralph shifted his weight. "Not even a bicker. My sister Edna almost ran off with Sean's Uncle George. That was fodder for the town busybodies for years. Edna was only fourteen and she and George had run off to the justice of the peace all the way in Butler Springs."

"Really?" Eileen would have to ask Sean if he knew the story. Otherwise, she knew what the topic of conversation would be at the next big Farraday reunion.

"Foolish young kids. Two years later Edna married one of the Turner boys and moved to Butler Springs. Eventually, your Uncle George met his Martha and moved to her neck of the woods. That's about all the excitement there ever was."

"Well, it sounds fun. So," Eileen clapped her hands, "why don't you find something to do, and I'll get started upstairs."

"If you don't mind, it's past my afternoon nap time. I think I'll just have a seat here and watch a little TV. Maria left a fresh pitcher of lemonade in the fridge."

"Why don't you take a seat and I'll bring us both a glass."

Ralph smiled at her. "You're a good woman, Eileen. You done right by your sister, and now you're doing right by my Marjorie."

"That's what neighbors are for, Ralph." It wasn't often anymore that the memory of her sister's life cut short so young still stung hard. Something about being in this home where time seemed to have stood still made the hurt fresher than it had been in decades. Eileen continued into the outdated kitchen. While the Farraday kitchen had been redone just before she'd arrived on the ranch, the Brennan kitchen looked like the set of a seventies sitcom. Harvest gold was the color of choice. The only sign of the modern world was the stainless steel microwave tucked away in the corner. Even the refrigerator was an ancient pull handle model, a throwback to an even earlier decade. Eileen couldn't believe the dang thing still worked. Though on second thought, it shouldn't surprise her. The fridge came from the days when appliances were built to last a lifetime, or in this case, several lifetimes. Two chilled glasses in hand, Eileen returned to the large den. "Here you go, Ralph."

His eyes closed and lips curled upward in a smile, she didn't see any reason to disturb his pleasant dream. Setting the glass down on the table beside him, an odd sensation skittered up her spine. Her heart took off in double time and she took a closer look at the peaceful smile. "Ralph," she whispered, slowly reaching for his arm. Eileen pressed two fingers on the inside of his wrist.

Closing her eyes tightly, she moved those same fingers to his neck. "Oh, Ralph."


Chapter Two

Knowing the Brennan place would soon be his was just about the only thing that kept Connor Farraday from throwing this new leasehand overboard. Hand to God, that man couldn't get out of his own way. Moving a pipe through the platform of an oil rig was hard work. Moving it on a windy day was a bitch, and this kid didn't get it. He needed some time in a camp on dry land digging ditches until he learned to do what he was told, exactly as he was told, every time he was told.

At this rate Connor wasn't going to make it another day, never mind another week til the end of his rotation. Fifteen days on, seven off. He'd been pushing himself to the limit for a while, not taking the recommended full two weeks off, banking the extra pay. He'd had just about enough of this merry-go-round. Having done his time with Uncle Sam, he'd decided pretty fast that taking orders was no way to spend the rest of his life. Not for the kind of money the Marine Corps paid him. Working an oil rig, whether on land or sea, was a hard way to earn a damn good living. He'd loved the rush, the bustle, the constant challenges. A lot of guys only did this kind of work for a year or two, got their stakes, and moved on. He'd had bigger plans in mind, but it was time for the payoff.

"Put some back into it," one of the derrickhands yelled to the kid.

Getting a good look at his face, Connor spotted the sunglasses. "Where the hell are your safety glasses?"

"In my room."

Always a good place to keep protection. For half a second Connor considered asking if the guy kept his condoms in the wrapper all night. Neither one of which would do him any good when needed. "Why are you wearing sunglasses in the middle of the night?"

"They're Versace."

How did this one get past the suits and wind up Connor's responsibility? Assuming he didn't drop another screwdriver on his foot and go home crying to mama first, the kid was going to get himself killed. Or worse, if he didn't stop thinking and just do what he was told, he was going to get someone else killed too. "Go get your damn safety glasses, and if I see those sunglasses one more time it will be the last time you ever see them again. Understood?"

The kid may have nodded in agreement, but the look in his eyes told Connor loud and clear he didn't have a clue. If it weren't for the Brennan light at the end of the tunnel, tonight's shift would almost be enough to send Connor back to working for Uncle Sam. Idiots like this newbie weren't worth the extra pay.

Halfway through his twelve-hour shift, the sunrise this particular morning was amazing. Almost like an apology from God for making Connor put up with the dumb kid. The serene backdrop to one of the most dangerous jobs on the planet.

Below deck in the kitchen, Connor downed another energy drink, went through the line, and filled his plate. They'd worked off plenty of energy fighting the wind, he was ready to refuel.

Champing down on steak and potatoes about the same time his family back home was serving up eggs and bacon, it was no surprise when his phone sounded off with a call from his father. "Hey, Dad. What's got you calling so early in the day?"

"Thought you'd want to know, Ralph Brennan passed away yesterday."

Connor's fork froze midway to his mouth. "What happened?"

"Old age. He sat down in a chair, closed his eyes, and went to sleep. Your aunt Eileen was with him."

"She okay?"

"Yeah, he went real peaceful. Nothing she could have done for him."

"Wow. I know he was old and all that, but I didn't see this coming."

"Something else you may want to know."

When his father's voice took on that slightly lower octave, it was rarely good news. "What?"

"His granddaughter is coming to town."

"Granddaughter? The bratty kid?"

"Don't know about that, but she made arrangements with Andy over the phone. She needs time to get away, so the funeral won't be til she gets here in a week or so."

"Seems like a long way to come to say goodbye to someone you haven't had time for in . . . what, twenty, twenty-five years?"

"There is that, but she's also coming to decide what to do with the ranch."

What was left on his plate didn't look nearly as appetizing anymore. "What's there to decide? I'm buying it."

"Yeah, well." His father hesitated longer than Connor would have liked. "I know that, and you know that, and even Ralph may have known that, but it doesn't sound like the granddaughter does."

Connor pushed his half-finished plate aside. "We'll just have to see about that."

* * *

"Why do people always wait until it's too late?" Catherine Hammond mumbled to her assistant, Susan.

"Do you want me to answer that?" Susan looked at her with raised brows.

Returning her gaze to her desktop and the screenshot of her grandfather, Catherine shook her head. "I should have gone the first time he asked."

"You were right in the middle of the Buchanan case. There was no way you could have left without your father exploding, and frankly, Connie couldn't have handled first chair. She wasn't ready for that."

That's the same argument Catherine had given herself. It wasn't fair to Connie, the firm, and especially her father. He'd put a lot on the line the last couple of years handing her the important cases. "Still . . ."

"There was nothing you could do." Susan set a stack of requested files on the desk and retrieved another pile ready for archiving.

"I could have gone after that. I could have turned down the Medcalf appeal."

"Not if you want to make partner. You know as well as I do, if you want to play with the big boys, you can't play the family card."

If anyone knew that, it was Catherine. She'd spent a lifetime living up to her father's expectations. Work hard. Reap the rewards. No time for friends and family. And she'd worked very hard, day and night, graduating high school as valedictorian, college summa cum laude, attending University of Chicago law, and finally marrying her dad's business partner's son—all as expected.

Not that marrying David had been as much work as her other accomplishments. Much the way she'd grown up knowing she would be going to college and law school and joining Daddy's firm, she and David had grown up knowing one day they'd get married and start a family of their own. They'd been a team for as long as she could remember. A good team. Of course, her father never explained how she was supposed to fulfill both sides of that last equation, partner in the firm and mother.

"You do realize you can make all these arrangements without actually going to Texas?"

Bless Susan, she had Catherine's back twenty-four seven. Of course, Catherine always teased it was only because she was probably the first attorney in a decade who hadn't cared about Susan's hourglass figure. Susan had probably been hired for her looks, and at over forty she was a knockout by anyone's standards, but Catherine appreciated the woman's brains. Every minute of every day. "I have to go. I owe him that much."

"At least Judge Albanese likes you. It probably won't be very hard to get a continuance."

"No continuance." Catherine shook her head and stared at the screen. Her grandfather's smile haunted her already.

"Oh, good. You've come to your senses."

The bright smile that took over Susan's face didn't make it any easier for Catherine to finish her sentence. She felt an odd need to please her assistant the same way she had her father. "We're reassigning the case. I'll take the rest of the week to get . . ." she looked out the window a moment running the names of junior partners through her mind and smiled, "Connie up to speed. If she's got the chops I think she has, she's ready for first chair. This case will be career making for her."

"And breaking for you." Susan tightened her grip on the manila files. "Have you lost your mind?"

"No." Catherine shoved her chair away from the desk. "I just may have found it."
We hope you are enjoying the book so far. To continue reading...
Connor
Chris Keniston
Copyright © 2023 All Rights Reserved
Also in this series
Also by this author