The Wicked Prince
A notorious prince heads to the South Pacific...and discovers unexpected redemption at a children's shelter.
Shout-outs
"An addictive series, full of heart and romance and endings that give a happy sigh."
Emily March
New York Times Bestselling Author
Book info
Sample
Audiobook
Media
Author updates
Lists
Synopsis
Prince Alessandro Barrali is known for his wild ways. After he's compelled to stand in for his staid identical twin, all Alessandro wants is to escape the fishbowl of palace life and indulge himself. When he awakens aboard the royal yacht awash in hedonism, yet bored out of his mind, he decides a new quest is in order.
Francesca "Frannie" Lawrence needs capable volunteers at the children's shelter she's opened on the tsunami-devastated South Pacific island of Kilakuru. When Prince Alessandro Barrali appears on her doorstep, she's sure she has a nightmare on her hands. Since the royal family provide the shelter's financial backing, she can't turn him away. Nor can she deny that the children adore him. Can she find a way to protect the children in her care—and the walls around her heart—against a challenge from a wicked prince?
Release date: August 2, 2016
Print pages: 305
* BingeBooks earns revenue from qualifying purchases as an Amazon Associate as well as from other retail partners.
Listen to a sample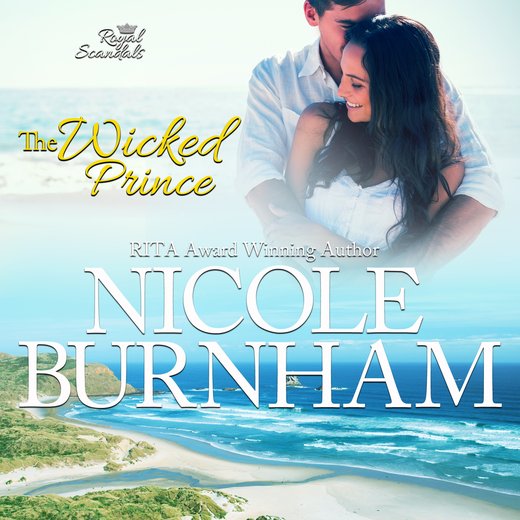 09:51:31
270.79 MB
9781941828236
August 2, 2016
Nicole Burnham
The Wicked Prince
Nicole Burnham
Chapter One
Eighteen Months Ago

Prince Alessandro Barrali wasn't one to consume expensive champagne in feeble sips, but with several hundred people to fool tonight, nursing his drink was a matter of necessity.
Habit brought a polite smile to his face as he stood beside the bar at his sister Sophia's annual Christmas party and surveyed the well-to-do crowd. The usual suspects were present. Near the doorway, wealthy patrons of Sarcaccia's national art museum gathered in a knot around British billionaire and adventurer Jack Gladwell. Many of King Carlo and Queen Fabrizia's friends were in attendance, along with a smattering of Sarcaccian government officials and Italian socialites. But Sophia had shaken up the guest list this year, giving it a Hollywood spin by including two A-list British actors and their spouses, an American hip-hop star, three supermodels, and last year's Oscar-winning director. Instead of the usual orchestra, a DJ spun dance music at the far end of the palace ballroom, transforming the atmosphere to that of a youthful, energetic club. Many of Sophia's former college classmates danced under the sparkling chandeliers, one—lucky man—with an up-and-coming pop princess.
It was a setting in which Alessandro was in his element. One that allowed him to spend the night bantering with clever women and dancing with those who most interested him. After a flirtatious moonlight walk through the palace gardens or along one of the island's glorious Mediterranean beaches, he'd take one back to her hotel for a wondrous, no-strings-attached romp.
Unfortunately, tonight he wasn't Prince Alessandro. To all but his immediate family, he was his quiet, contemplative, identical twin brother, Prince Vittorio, the crown prince of Sarcaccia. There'd be no women, no carousing, no adventure. No fun. Certainly no second glass of champagne.
He took another paltry taste and cursed himself for creating the situation. Not that he'd have made a different choice, given the circumstances.
Vittorio's former girlfriend, a much-loved Spanish actress named Carmella Rivas, had died by suicide in early autumn, shortly after Vittorio ended their relationship. A private, heart-wrenching note arrived for Vittorio only hours after her death. In it, Carmella confessed the many ways she'd secretly deceived Vittorio during their relationship and apologized for her lies. She also claimed that she was pregnant. She said she'd told no one, but felt she owed Vittorio the truth after all she'd done.
Alessandro and Vittorio had been alone in Vittorio's palace apartment when the letter arrived. In the moments Vittorio's eyes scanned the page, Alessandro witnessed his normally stoic brother's complete devastation. The breakup itself had been difficult for Vittorio. Enduring both the heartbreak and the scandal surrounding Carmella's death while he remained in the public eye—and with the private knowledge she carried their child—was inhumane. Convinced Vittorio needed time alone, Alessandro suggested the switch. Vittorio refused, determined to keep Carmella's secrets and fulfill his duties despite his emotional turmoil, but Alessandro insisted that not only could it be done, it was the best choice for Sarcaccia. He talked his brother into a two-week trial run, during which they'd attended Carmella's funeral as each other.
It had worked. Alessandro urged his brother to leave the country and get his head on straight so he could be the crown prince Sarcaccia deserved.
Unfortunately, what Alessandro thought would be a week, maybe two, had now stretched to ten. There was no indication Vittorio would return home anytime soon.
Not that Alessandro could blame him. Vittorio didn't trust easily and the experience with Carmella had gutted him.
The crowd parted and Queen Fabrizia made her way to Alessandro's side. With her gaze on the guests, she asked, "Are you enjoying yourself, darling?"
He answered with a sidelong glance.
"You're too distant," she warned quietly. "I know you had a long day preparing for your trip to Istanbul, but your brother would circulate. Make casual conversation, dance with a few of Sophia's friends. Ask about their holiday plans."
"Once I finish my drink, I'll do that."
"Thank you. Now smile at your mother."
He did so, then leaned down and kissed her cheek. After a final civilized sip of his champagne, he set the half-empty flute on the bar. He might be the spare, but he'd learned the lessons of the heir. Duty before all else.
For the next hour, Alessandro made his way through the ballroom. He kept his shoulders square and expression placid, as Vittorio did, and commented on only the most mundane topics, such as Sarcaccia's unseasonably warm December weather or the flattering cut of his sister Sophia's glimmering silver gown. As had been the case since Vittorio departed, no one suspected that the twins had switched places. In fact, three separate guests asked if he'd heard from Alessandro, whom the whole world believed was off on another expedition to Nepal, the wilds of Africa, or a similarly isolated location. Or, a few of the bolder guests mused, perhaps he was hidden away at a friend's palazzo with a female or two.
Oh, how he wished.
He thanked each of them for asking, admitted that he hadn't heard from his twin, then repeated what his father recently said in a press conference, explaining, "Alessandro often travels to areas where communication is unreliable. We expect him to return soon, full of stories." He smiled each time he said it, then promptly changed the subject. The entire time, he took care to avoid the single women in attendance. Alessandro had long ago mastered the art of capturing a female's attention with nothing more than an appreciative glance that lasted a heartbeat longer than was considered casual. It had become such a part of him, he wasn't sure he could smother the reflex. It'd give him away as surely as if he wore a name tag.
In his peripheral vision, he caught sight of one of his mother's close friends zigzagging her way through the crowd. Lacking the energy for another round small talk, he shot a meaningful glance at his younger brother, Prince Stefano, then subtly angled his head toward their mother's friend. Stefano took his fiancée's elbow, then guided Megan toward the older woman for an introduction.
Alessandro returned to the bar and ordered what he really wanted: a tumbler of sixteen-year-old Aberlour. Between the hard work he'd done for Istanbul today and the inane chatter he'd endured tonight, he'd earned it.
"Tired of talking about the weather, Your Highness?"
Alessandro looked in the direction from which the question had come. An unfamiliar brunette with wide, jet-black eyes stood a few feet away from him and smiled at the bartender as he handed her a glass of red wine. Her black gown skimmed her trim figure, but wasn't flashy. She showed little décolletage and the gown's leg-baring slit was a modest one. Even her jewelry was demure. She wore nothing but a pair of diamond studs. No necklace, no glittering bracelet. As she turned to face him, he also noticed she wore minimal makeup. Odd, since Sophia's annual party was a night to see and be seen, and this woman dressed as if intent on flying below the radar.
He eyed her curiously. For all her simplicity, she was quite pretty. "The weather is always up for discussion in Sarcaccia, is it not? Our tourist trade relies on it."
"It does. simply thought that, given your recent pursuits, you'd have other topics on your mind."
Wariness snaked through him. He couldn't put a finger on why, but the woman struck him as highly intelligent, and as the type who could read people quickly. Surely she didn't know of the twins' switch? He resisted the urge to touch the spot under his left eye where a small scar—currently covered with concealer—differentiated him from his twin, and extended his hand. "I don't believe we've been introduced. I'm Prince Vittorio."
"I'm sorry. Francesca Lawrence." She met his greeting with a firm handshake. ""I attended the Sorbonne with your sister. Her flat was across the hall from mine during our last year there."
He released her hand to accept his Scotch from the bartender, then turned to her with a smile. "I believe Sophia's mentioned you. Francesca is one of my favorite names. Hard to forget." Sexy. Romantic. A name far more suited to Alessandro than Vittorio. A name that made him wonder if she had racier gowns in her closet.
The woman's dark brows drew together. "I'd be shocked if she referred to me as Francesca. I go by Frannie."
Frannie? Considering the stiff tone in which she corrected him, he revised his assessment of her. She'd be perfect for Vittorio. The woman probably thought he was flirting simply by mentioning that Francesca was a favorite name.
Then again, he supposed he was flirting…by Vittorio's standards.
He raised his glass and said, "Frannie, then," before taking a sip to gird himself for more small talk. "Did you study art history with Sophia?"
"Economics, though I did manage to squeeze in one art history course. Can't avoid studying art in Paris." Her gaze moved over the crowd, then settled once more on him. "I understand you were in Cairo with your father a few weeks ago as part of the Mideast peace negotiations. And that you're traveling to Istanbul soon to continue the talks."
"I am."
"I think that'd be far more interesting to discuss than the weather."
He laughed, both because it came naturally and to buy himself time. Enticing as it might be, talking politics at a party while he acted the role of Vittorio was akin to tiptoeing amongst landmines. No matter how careful one might be, the slightest misstep would trigger an explosion.
From the day Alessandro suggested the switch, he'd spent every minute of his private time studying his brother's diplomatic and charitable work. Despite that effort, there was no way he could remember everything his brother had said and done over the years, particularly since, for many of those years, Alessandro had been out of the country following his own pursuits, none of which would be categorized as either diplomatic or charitable.
Testing his knowledge against Miss Economics wasn't worth the risk.
"It's Christmas," he finally said. "Most people prefer to discuss peaceful topics."
That brought an intriguing curve to her lips. "I see. You're a born diplomat."
"Any talents I have in that area are due to my parents' example, not any natural ability."
She took a thoughtful sip of her wine, then set the glass on the bar. "Your parents do a lot of good work. Sophia and I were just discussing your mother's morning visit to a home for abused and troubled teens."
"It's a cause Queen Fabrizia has supported for many years. She believes their needs are often overlooked." He wasn't sure why, but he got the feeling Francesca—correction, Frannie—was feeling him out for a reason. Perhaps she did suspect that he was Alessandro, in which case he needed to change her line of questioning.
The DJ transitioned from the boisterous dance music he'd been playing to a romantic holiday song about peace on earth, then encouraged guests to find a partner. Alessandro set his glass beside Frannie's on the bar and offered his elbow. "Care to dance?"
Her hand flattened against the bar. With you?"
He flashed his most disarming grin and made a show of looking around. "Does it appear I'm asking for someone else? That wasn't my intent."
He waited. Felt like an idiot holding his arm in front of her. After a few beats, she said, "It'd be my pleasure, Your Highness." She tucked her hand in the crook of his arm and allowed him to escort her to the dance floor.
He assumed her hesitancy came from either nerves or inexperience, but quickly discovered that Frannie was light on her feet, as if she'd danced at soirees like Sophia's dozens of times before. She fit in his arms perfectly, matching each of his steps as if it were second nature. Despite the cautious nature of their conversation at the bar, this felt natural. Easy.
Heads turned their way as he spun her around the periphery of the dance floor. It occurred to him that Frannie's hesitation likely came because he hadn't danced tonight. In fact, no one had seen Vittorio dance since he'd been with Carmella. If anyone snapped photos, they'd likely appear in tomorrow's papers.
Well, so be it. Perhaps Vittorio would catch wind of it and decide to return home.
Alessandro glanced at Frannie. She was more self-contained than the effervescent, curvaceous women with whom he usually danced. Her hand felt small in his, and her touch at his shoulder soft, yet she didn't strike him as fragile.
In fact, she had a good deal of lean muscle, as if she kept fit for a living.
"Did the Christmas party bring you to Sarcaccia?" he asked. "Or do you live here?"
"I came on business, but I have a small flat here in Cateri. My mother is Sarcaccian." She gave him a small smile. "She actually went to school with your mother, though mine was two years behind yours."
Interesting. Since his mother had attended a rather exclusive school, one filled with children of the wealthy and well-connected, it explained why Frannie navigated the party with such ease. Then there was her last name. Lawrence. Though nearly everyone in Sarcaccia spoke English, Frannie didn't have a Sarcaccian accent. "And your father?"
"American. He works in finance and divides his time between London and New York." One of her shoulders lifted, then dropped. "They divorced when I was eight."
"I'm sorry to hear that."
"It was for the best. My mother's a globetrotter at heart and my father's job doesn't permit that. They've remained friendly and I'm close to each of them."
"Divorce doesn't always work that way."
"No, it doesn't. I'm fortunate."
She angled her head and smiled up at him. A hint of playfulness—or subversiveness—twinkled in the depths of her eyes. Perhaps she wasn't as straitlaced as he'd imagined.
Or perhaps he was getting desperate after long months of walking in his brother's shoes and saw what he wanted to see.
"You're close to your family as well, Your Highness?"
"Very."
Her dark eyebrows lifted. "Sophia's always said you're a tight group, but that it was a challenge growing up with four older brothers and a younger one. You all wanted to tell her what to do. Even Prince Bruno."
He grinned at that. It sounded just like Sophia. "I wasn't that bad."
That drew a laugh from her. "She claims you're the worst of all."
True, Vittorio was the worst. "I've laid off recently."
"Prince Alessandro apparently pressures her the least. Fascinating, given that you're twins."
"Perhaps because he's around the least." Alessandro moved Frannie closer to the center of the floor, where the crowd blocked them from anyone with a camera who might be lurking around the edges of the room. "What about you? Do you have brothers?"
"Only a sister. She's five years older than I am."
"Are you close?"
"Yes, though we don't see each other as often as I'd like. She's married and lives near London."
The song ended, but the DJ transitioned to another slow tune intended to keep dancers from scattering. Etiquette demanded that he escort Frannie from the floor, as Sarcaccia's Old World customs still meant that dancing with royalty twice in a row indicated romance was in the air, but his curiosity kept him from releasing her.
"You don't mind, do you? I'm enjoying our conversation." Now that they weren't talking about politics or the weather.
She didn't answer, nor did she pull away. After a moment, she said, "Your twin has been gone a long time."
He felt his smile tighten. Before he could give her the same line he'd given everyone else about Alessandro, Frannie added, "I understand he's spent time in the South Pacific."
"The more remote a location, the more it seems to attract him."
"There's a lot to be said for traveling outside one's comfort zone. Seeing parts of the world that are unlike Sarcaccia, understanding a different way of life."
Just like that, he was in familiar territory. "I've learned more from traveling than I have in any classroom. I believe Alessandro has, as well."
"You must travel a great deal as crown prince. Environmental talks, economic summits, that sort of thing." Instead of pursuing the subject of economics, as he expected, she added, "I imagine when you're not in meetings, you're escorted about on carefully planned tours."
"It's not the best way to see a new location, but in those circumstances security concerns often make it necessary."
"I suppose that's true."
The music grew louder as the song hit its crescendo. When it quieted again, she asked, "When your brother's away, where does he stay? Does he stick to luxury hotels, as you must on your travels?"
He scoffed at that. "Alessandro isn't the luxury hotel type. It's not his constitutional role to involve himself in matters of state, which means—fortunately for him—he's not usually tied to those accommodations."
She was quiet for a beat before asking, "Does he pursue charity work when he's abroad?"
The question was asked casually, but he suspected it was a test…though he wasn't sure whether she was testing Vittorio or Alessandro. He spun her away from a couple who'd maneuvered to a spot within hearing distance. "Would it be terribly rude of me to point out that you ask the strangest questions?"
One side of her mouth lifted. "As long as you don't mind the questions, in which case, I don't think you'd have asked me to stay on the dance floor."
"Touché."
Her smile blossomed at that. "Your family has a long tradition of philanthropy. I simply wondered if Prince Alessandro gets involved in local charities when he's away. When he's not, ah, socializing."
Ah, so it was a test. For some inexplicable reason, he wanted to pass, though he still couldn't fathom her reasons for asking, given his reputation for, as she put it, socializing. "Alessandro spends much of his time away either diving or climbing and keeps the details to himself until he returns. The only exception was when he summited Mount Kilimanjaro to raise money for the International Red Cross. That was—by necessity—quite public."
Her gaze lit on a spot behind his shoulder before shifting to him. When he circled so he could see that side of the room, he noticed his mother was watching them. Queen Fabrizia angled her chin in question, but Alessandro ignored her when Frannie spoke again.
"There's an island in the Pacific called Kilakuru. It's rather isolated. No airstrip, so it's only accessible by helicopter or an hour-long boat ride from neighboring islands. Ever heard of it?"
"I have." It was said to be a diving enthusiast's dream, well worth the effort to travel there. He leaned back and gave her a look to say, You're still asking strange questions.
She grinned, reading him correctly, but her voice turned serious as she said, "A tsunami recently wiped out much of the island's infrastructure. It seems like the kind of place the Barrali Trust would assist, so I wondered if that's where Prince Alessandro went. That's all." Her gaze darted toward the doors leading to the ballroom's reception area. "Jack Gladwell is spearheading the construction of a shelter for those orphaned by the disaster. He's also funding repairs to the island's emergency services facilities."
"I didn't think Jack Gladwell publicized his donations."
"He doesn't, but he's sailed in that area and felt compelled to help. I noticed him speaking with your father earlier and assumed Jack convinced your parents to finalize—" At Alessandro's open look of surprise, she explained, "I work for Jack. Well, I do for another two weeks. We spend a great deal of time discussing his charitable objectives."
Jack Gladwell operated a massive business conglomerate. Stefano's fiancée, Megan, once headed business development at one of Gladwell's many hotels. Few people could claim to work for the man directly. Far fewer referred to him by his first name. Frannie intrigued him more with each passing minute. "Why for another two weeks?"
She shrugged. "I was presented with a new opportunity, one that will take me out of my comfort zone. With Jack's blessing, I decided to take the leap."
Though he wondered what she did for Gladwell—and what she planned to do next—he couldn't help but tease her. "It was the fact he acquired an American baseball team, wasn't it? You hate sports. Can't work for a man with a financial interest in such nonsense."
She flashed a dazzling smile, one that made his breath catch. "I happen to love baseball, though the fact he now owns a rival to my Mets is a point against him."
"Rugby would've been a more appropriate British pursuit. Or polo. Baseball is surprising."
"Jack does love to surprise."
The song wound down and the DJ announced he'd play one more slow number before ramping up the beat. Frannie stepped out of his embrace. "Thank you, Your Highness, for allowing me to monopolize your time."
He covered his disappointment with a smile. "I invited you to do so."
"Still, I suspect others wish to dance with you."
He suspected as much, too. Women always flocked to Vittorio, though for different reasons than they flocked to Alessandro. With Vittorio, they hoped for marriage and a happily ever after as the future queen of Sarcaccia. With Alessandro, they simply wanted to get laid. ny woman who approached him tonight would be out of luck on both counts.
Before he could stop himself, he took Frannie's hand and raised it to his lips. "It was a pleasure to meet you."
Her eyes widened momentarily. "And I enjoyed meeting you, Your Highness. Have a happy Christmas."
He returned to the bar, pausing along the way to make small talk with his youngest brother, Bruno, while pretending not to see the women who'd subtly placed themselves in his path. When he finally reached his destination, he discovered his Scotch had been cleared away.
For the best, he supposed. His fascination with Miss Economics and her employment situation was a clear sign he craved a diversion tonight. Alcohol would only make matters worse. He'd been about to dance with her a third time, and he knew better. Vittorio wouldn't have danced with Frannie a second time, and she was exactly Vittorio's type. Intelligent, proper, and lacking flash.
Alessandro turned to face the room and schooled his features into the same placid smile he'd worn earlier. Another fifteen or twenty minutes and he could make a polite exit, claiming matters of state needed his attention in the morning. The fact it was true—and that he was beginning to find the complicated dynamics of the Mideast far more interesting than palace parties—proved he was slowly losing himself to the role of Vittorio, and that would not do. Even if he wanted to jump into the political fray, it wasn't his place.
His place was to show up for the occasional family or charitable event. Otherwise, he need only play backup to his father and twin brother.
The minute Vittorio returned to Sarcaccia and Alessandro was free, he estimated it'd take less than twenty-four hours to find a buxom, carefree woman willing to do absolutely anything he wanted in bed for as long as he wanted to do it. That was a role he'd enjoy.
We hope you are enjoying the book so far. To continue reading...
The Wicked Prince
Nicole Burnham
Copyright © 2023 All Rights Reserved
Also in this series
Also by this author