Falling for Prince Federico
The world knows him as Prince Perfect. She's about to discover the truth.
Shout-outs
"An addictive series, full of heart and romance and endings that give a happy sigh."
Emily March
New York Times Bestselling Author
Book info
Sample
Audiobook
Media
Author updates
Lists
Synopsis
The world knows him as Prince Perfect. She's about to discover the truth.
Prince Federico diTalora is all too aware of his dreaded nickname: Prince Perfect. He's spent his life guarding his reputation, cognizant of the duty he owes his country and its citizens. But as a widower with two rambunctious boys, the strain of being an ideal son, father, and prince has pushed him to the breaking point.
Pia Renati is in San Rimini to stay with her best friend, who's pregnant and on bed rest. Faced with hours of downtime, Pia is tempted when Prince Federico, with his Mediterranean good looks and unimpeachable reputation, invites her to spend time with him and his two boys.
As Federico and Pia chase the boys around the palace gardens, they find themselves drawing closer. Pia didn't travel to San Rimini for romance—it's the last thing she wants—though there's no denying her attraction to Federico. But can she trust Prince Perfect with her heart, when she sees all too clearly the pain he hides from the world?
Release date: June 23, 2020
Print pages: 174
* BingeBooks earns revenue from qualifying purchases as an Amazon Associate as well as from other retail partners.
Listen to a sample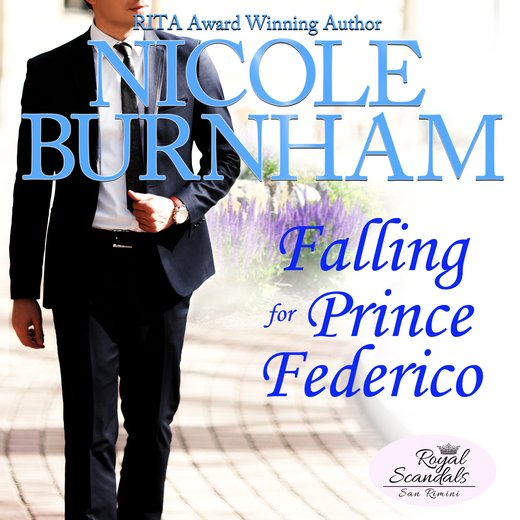 05:54:25
162.25 MB
9781941828502
June 23, 2020
Nicole Burnham
Falling for Prince Federico
Nicole Burnham
Chapter One
"I'm never going to be able to tell a placenta previa from a placenta accreta."
Pia Renati reminded herself to keep her grumbling under her breath, then leaned one shoulder against the backlit cologne ad adorning the wall of the San Rimini International Airport and flipped to the next page of a thick, floral-jacketed pregnancy guide. How in the world did women have babies without a medical degree?
And why in the world had she gotten the call when her friend Jennifer Allen—now Jennifer diTalora—needed someone to come stay with her during her obstetrician-imposed bed rest?
Pia's friends always looked to her in a disaster. As Pia's former boss at the refugee camp where they'd worked a little over two years ago, Jennifer knew that better than anyone. Setting up food banks came as naturally to Pia as walking. Helping to build temporary housing under a hot African sun? Establishing databases to reunite those fleeing conflict with their loved ones? Been there, done that. As a relief worker, Pia didn't fear hard work, and she'd been around more than one field hospital. But caring for a pregnant woman due to deliver the newest heir to San Rimini's throne at any time? What Pia knew about pregnancy and kids she'd learned in the last hour.
Her own mother hadn't exactly emulated the warm and loving maternal types that were standard issue on television sitcoms. Even most cartoon mothers would have been an improvement over the perpetually-absent Sabrina Renati. But Jennifer insisted she wanted Pia by her side, and Pia wasn't about to say no to a pregnant friend who happened to be married to the crown prince of Pia's home country.
Pia skipped to the next section of the pregnancy guide that Jennifer had sent her, nearly dropping it on the floor of the crowded airport terminal when faced with a full-page black-and-white photo of a woman giving birth. She'd assumed the book would leave certain moments to the imagination.
Well, she supposed, the shot could have been in color.
"Signorina Renati?"
Pia barely heard the smooth baritone behind her, since at that exact moment the airport's public announcement system loudly requested a passenger report to security for a lost item.
Instead, a sudden sense of foreboding made Pia snap the book shut. The hum of conversation around her ceased and every single set of eyes on the concourse focused on the man behind her.
Without turning around, Pia realized who had to own the distinctive, opera-caliber voice. It wasn't a palace driver as she'd expected, coming to show her the way to his Volkswagen minivan, but quite arguably the world's most desired single male, the recently widowed Prince Federico Constantin diTalora. The man known by tabloid readers everywhere as Prince Perfect for his Mediterranean good looks, unimpeachable reputation, and his devotion to duty.
Of course. The one time she didn't get the chance to grab a breath mint or fix her makeup before getting off an overnight flight.
Hoping he hadn't been surveying her reading material over her shoulder, Pia forced herself to smile as she turned to face
Jennifer's brother-in-law, the man second in line to the thousand-year-old throne of San Rimini.
J
udging from the expression on his oft-photographed face, the prince had gotten a good look at the photo in the book.
It had been years since she'd been home and able to speak her native San Riminian-accented Italian, and Pia had been anxious to chat with someone who understood her heritage. Someone who could discuss San Riminian politics, give her the latest gossip about local celebrities, maybe update her on the newest restaurants and hole-in-the-wall dance clubs.
But the sight of the famous royal—a well-toned man who filled out his understated black suit and crisp white shirt as well as any action star walking the red carpet at the Academy Awards—took her aback, and she only managed to get out a feeble, "Prince Federico. Buon giorno. Come sta?"
What in the world was he doing here? Jennifer never mentioned sending Federico to the airport. The prince not only towered over Pia, he possessed that intangible quality that every man coveted—charisma. They'd been introduced during Jennifer's wedding to Crown Prince Antony two years earlier, and Pia had been so nervous she'd said the required niceties and quickly retreated to the reception table where her co-workers from the Haffali refugee camp were seated, overwhelmed by the brief encounter.
Federico and his elegant wife, Lucrezia, were polite enough, but both seemed above the festive, romantic atmosphere of the wedding reception. Lucrezia had been everything Pia wasn't—tall, rail-thin, and golden, with dark, straight hair, full red lips and a sense of style worthy of catwalks. The type of woman every fashion editor clamored to have featured in their magazines.
And Federico? Well, his mere presence had intimidated the hell out of her. His quiet, composed demeanor, combined with his polished shoes, custom tuxedo, and royal sash had stolen her breath that night.
And then there were those amazing cheekbones. The strong, smooth jaw that never showed a hint of five o'clock shadow. The rich olive skin she imagined felt like heaven under a woman's fingertips.
Pia clasped the pregnancy book against her sage green cotton T-shirt and wished she'd thought to dress a notch above khaki pants and sandals. At least the last time she'd met Federico, she'd been wearing a designer gown and heels.
The prince made a subtle gesture with his right hand, and a lean man standing nearby rushed forward to pick up the bag at Pia's feet. "I am quite well, thank you. However, if you do not mind, I would prefer to converse in English. I am attempting to improve my skills, and do not often have the chance to practice with someone who speaks both our language and English so well. You have spent a great deal of time in the United States, yes?"
She held back a sigh. "I have, and English is fine."
While she would have preferred Italian for casual conversation, hearing the prince call her signorina made her feel like a kid, and less mature than her thirty-two years. It was a term used in San Rimini by her grandparents' generation. Besides, it wasn't as if the prince was the casual conversation type, anyway.
"Wonderful. I arranged for your checked bag to be delivered directly to the palace by the airline. Jennifer is anxious to see you, so if you are ready to depart, my car is waiting through here." He indicated a set of thick metal doors along the concourse wall. To the right, through the floor-to-ceiling windows, Pia noticed a shiny black Mercedes parked on the tarmac alongside the airplane from which she'd just disembarked.
The privilege of being a prince, she supposed. No need to battle for a parking spot, go through endless security checks, or wait for your suitcase alongside a hundred other tired travelers jockeying for position beside the baggage claim carousel.
The crowd parted in front of Federico as he led the way through the waiting area and out the gray metal doors. The second the prince's feet hit the stairway leading to the tarmac, the concourse buzzed back to life behind them. Travelers asked each other if the man they'd seen really was the prince, and if they knew who the woman was that he'd met.
Pia held the railing as she descended the stairs into the sunlight, forcing herself not to listen to the knot of gawkers forming near the windows. They'd be disappointed if they knew the truth. It was a relief when she heard the heavy security doors close behind her.
Pia glanced up at Federico as the driver opened the rear door for her, then realized that the prince was offering his hand to help her into the back seat.
"Oh. Thank you." Did she stick out like a goose among swans, or what?
She slipped her hand into his, and wasn't surprised to find his grasp solid, practiced. He must hand women into fancy cars every day. She ducked her head, praying she wouldn't smack it against the car roof, and hoped that he couldn't tell how jumpy his presence—let alone his touch—made her.
Once they were buckled into the sedan's baby-soft leather seats, the prince asked a few courteous questions about when she'd last visited San Rimini, what she thought Jennifer and Antony might name the baby, and whether the infant would be a boy or a girl, since Jennifer and Antony had opted not to find out. Pia managed to give some polite answers, but before they'd even exited the airport property, their conversation drifted off. He appeared perfectly content to ride along quietly, occasionally looking out the window on his side of the car. As the silence stretched on, Pia's nervousness only grew.
The drive to the royal palace was a scenic one, carrying them along the Strada il Teatro, San Rimini's main thoroughfare, which ran above the very northern coast of the Adriatic Sea. After passing the refurbished Royal Theater near the eastern end of the Strada, they'd climb up twisting, centuries-old cobblestoned streets to the top of a broad hill, where La Rocca di Zaffiro, the country's famous royal palace, overlooked the bustling casinos and quaint shops and homes of the tiny European principality.
Pia smiled to herself, happy to see that little had changed since her last visit. She often daydreamed of San Rimini Bay's azure waves lapping against the shore, the lights of the seaside casinos, and the glitz of the country's posh hotels. Her mouth watered at the mere thought of the decadent desserts and rich pasta and seafood dishes that made San Rimini a mecca for foodies. On the difficult days when working in dusty camps or overheated mess tents in war- or disease-ravaged areas lost its appeal, those daydreams about San Rimini put her soul at rest. She hadn't lived here since she was nineteen and left to attend college in the United States, but it was home, and she relished each moment of her infrequent visits.
Or, she would, if not for the fact she sat elbow-to-elbow with Prince Perfect, who remained silent. Suddenly, the short drive seemed like it would take an eternity.
But hadn't he said he wanted to practice his English? Perhaps her single syllable answers to his questions had turned him off, and he was too practiced at diplomacy to let it show.
Screwing up her courage, she tried to restart the conversation. "You know, it's hard for me to believe Antony and Jennifer are married, let alone that they're about to become parents."
The prince turned from the window and audibly cleared his throat, making her wonder if she'd said the wrong thing. When he replied, his words, spoken with an accent and in a tone far too serious for the topic, gave her no reassurance. "They are quite happy."
Pia forced herself not to shrink back against the leather seat. She knew that she constantly put her foot in her mouth, but this was all in her mind. He couldn't be as distant or as threatening as she imagined. He was human, right? A title didn't make him better than her. Besides, Jennifer had repeatedly described Prince Federico as a gentle, loving man, and royal gossip columnists raved about how much he loved his two young sons.
While those columnists weren't an ideal source of information, Jennifer wasn't the type to give false praise.
Perhaps, Pia reasoned, she had simply misread his aloof demeanor at the wedding. Entirely possible, given that they'd been introduced late at night, after Prince Federico had spent the entire day assisting his brother with various events prior to the ceremony. And perhaps the loss of his own wife on the heels of that wedding had changed him, made him suspicious of unmarried women—most of whom were probably trying to coax him into a romantic relationship.
If she'd married some beautiful, perfect spouse and then lost that person to an aneurysm at an early age, suddenly finding herself a young, single parent and the target of fortune hunters, she'd be a little reserved, too.
"Oh, I don't doubt they're happy, Your Highness." She shoved a blond curl away from her face, thankful that the humidity from the Adriatic couldn't make her hair look any worse than it already did after her long flight from Washington, D.C., and doubly thankful that she'd remembered to add the Your Highness when she spoke to him this time. "I only meant that it's hard for me to believe that Jennifer is about to become a parent. You have to understand, during the time I worked with Jennifer at the Haffali refugee camp, I watched her dig latrines, scrub mess tent floors, and climb hills in work boots carrying jugs of water in each hand. She's tough, and she cares about the people in her life. I'm sure you've been able to spend enough time around her to see that. But that doesn't exactly translate to stuffed bunnies and nursery rhymes. That's all I meant."
Federico smoothed the front of his suit jacket and nodded. "I see. Then I am glad Jennifer has found someone with maternal instincts to remain with her these next weeks before the baby's birth. I did not want her to be alone."
His expression was unreadable, his words lacking any hint of sarcasm. His sense of decorum wouldn't allow it. But if he only knew how little maternal instinct she had, he'd snatch the words back. After the lousy job her own mother had done raising her—or more accurately, not raising her—the last thing Pia wanted was to be anyone's mother. Jennifer would be a hundred times better at mothering than Pia.
"The palace has a sizable staff. And you're there, so she's not really alone. I know she has a lot of respect for you and the way you're raising your sons." To the best of Pia's knowledge, Federico didn't travel as often as his siblings, choosing to keep close to the palace for the sake of his boys.
"What you say about the presence of others is true, but I believe Jennifer would prefer the company of a woman. Someone who understands her, and who knows how to keep her spirit above it." He shifted in his seat, as if uneasy. "Is this the phrase in English?"
"Very close. I think you mean 'keep her spirits up.'"
"Yes. That is it. She might also wish for a friend to stay with her at the hospital, should her labor begin before Antony returns."
Pia tried to ignore what he had said about the hospital and the fact that his knee now brushed against hers, which was a surefire way to send her hormones into overdrive. Struggling to stay focused, she continued, "I'm surprised you didn't urge your brother to stay home with her."
A vertical crease appeared in the gap between his dark eyebrows. "Sometimes sacrifices are necessary to those in positions of power, Signorina Renati. We have duties our citizens expect us to perform. Those must come before any personal desires. Anyone who spends time in the royal household learns they must also follow that duty. And above all they must keep any" —he seemed to struggle for the correct word— "private matters of the palace confidential."
Ah. So that was the prince's real concern. Jennifer had stressed during the phone call that her bed rest was being kept out of the papers, at least for the time being. Prince Antony was in Israel, one of three nonpartisan mediators trying to hammer out a new territorial agreement. Jennifer didn't want the public to think less of him because he wasn't home with her, or for the delegates to worry that Antony might leave in the midst of their discussions. As much as the crown prince wanted to be by his wife's side during the final six weeks of her pregnancy, Jennifer and Antony knew that millions of people depended on his calming presence at the talks.
And Federico obviously worried Pia would be less than discreet.
She fought down her chagrin. She, of all people, understood the need to protect the peace, which the talks would hopefully accomplish. More than enough of her own life had been spent cleaning up the physical and emotional carnage of political clashes. Then again, she'd never held the opinion that one could raise children and save the world at the same time. Though she'd kept her concerns from Jennifer, Pia wondered how the couple would manage both their public role as members of an active royal family and their private role as parents.
The Mercedes rolled to a stop outside the palace's rear gate, moving ahead again after the guards ascertained the identities of the occupants. Pia leaned forward as much as her seat belt would allow, taking in the view of the royal rose garden and the stunning rear facade of the palace beyond. Through the open sunroof, she could hear children laughing somewhere nearby, enjoying the late summer weather and the warm breeze blowing off the Adriatic, and wondered if the sounds of merriment came from Federico's two sons.
She eased back in her seat, resisting the urge to peek out the window to identify the source of the happy noise. "Your Highness, you don't need to address me as signorina. I realize that it's still used occasionally, but it makes me feel…well, I'm not used to such formality. That being said, I do understand the need for discretion. Please don't be concerned about that. But tell me, if you were in Antony's position, would you stay and negotiate or come home to be with your family?"
Federico glanced out the window, as if he, too, had heard the children's laughter. "I am not in Antony's position. He is the crown prince and will someday lead this country. His obligations are different than my own."
"But if you were?"
"I would do as Antony is doing. It is necessary for the good of all." Federico straightened in the seat, moving his knee away from hers as he spoke. "At the moment, delegates on all sides of the table respect my brother and the work he has accomplished. That is an uncommon thing and could move the process along to the benefit of many, including the citizens of San Rimini. Jennifer understands that. And so will Antony and Jennifer's child, someday."
He spoke with such conviction that Pia found herself agreeing with him—for the most part. She couldn't help but admire his defense of his elder brother. Federico's elegant demeanor and expressive eyes mesmerized her, and whenever he spoke, the faintest smile touched his lips, as though he thought he could convince her of his arguments with nothing more than a gaze.
Given the contrast of his phenomenal baby blues against his olive skin, it probably worked on people nine times out of ten.
She smiled. "I understand the ramifications, Your Highness, and I admire Antony and Jennifer's dedication to duty. And, of course, the support you give them. But don't you think that when one becomes a parent—"
The crunch of gravel beneath the sedan's wheels and the approach of an older woman in a straight, woolen skirt gave the prince the opportunity to interrupt.
"Excuse me, Ms. Renati, but this is Harriet Hunt. She is Prince Antony's personal assistant and handles both Antony's and Jennifer's schedules. If you need anything during your stay at the palace, I am certain Ms. Hunt will be able to assist you."
The driver stopped at the base of the palace steps where the assistant waited, then he exited and strode to the rear of the vehicle to open the door for Pia and Federico. Once again, the prince offered his hand to assist her from the car. She shot him a smile of thanks and reminded herself not to get used to lavish treatment. She lived in hiking pants and trail shoes, not Armani gowns and Jimmy Choo heels.
Introductions were made, then Federico turned his attention back to Pia and gave her a curt nod. "I leave you in good hands. And once again, I do appreciate both your willingness to help and your discretion in this matter, as does my father, King Eduardo."
So that was it. A royal reminder to keep her mouth shut and a goodbye. Pia watched him take the wide stairs into the palace by twos, all the while maintaining his upright, proper posture and athletic grace.
Amazing.
She'd broached a topic far more personal than most would dare with a member of the royal family, yet it seemed to roll off him as if she'd mentioned nothing more contentious than the weather. Part of his upbringing, she guessed, that need to be able to hide one's emotions.
If she possessed half his sense of propriety, she wouldn't have prodded, but part of her needed to hear his response, to be assured of the fact that he believed his sons were more important than his job. That he did, in fact, experience emotion outside of his dedication to duty, and that the children whose laughter she'd heard on the way in to the palace grounds would continue their happy antics when they saw their father, and would know that they were more than just an heir and a spare, acting as royal placeholders until Antony and Jennifer became parents.
She hoped they knew that he loved them more than anything else on earth.
"Ms. Renati, a pleasure to see you again," the assistant interrupted Pia's thoughts, her crisp British accent sounding out of place in San Rimini. "We met briefly before Prince Antony's wedding. You helped me direct the florists working at the cathedral when they arrived at the same time as the Dutch royal family."
Pia tore her gaze away from Federico's retreating back and smiled at Harriet, whose efficiency had made the woman a trusted employee of Antony and Jennifer's. "How kind of you to remember. And please, call me Pia. After riding in that car with His Highness, I've had enough of formality."
"I understand. Federico adheres to proper etiquette even more than his father." Her tone was professional, but her eyes showed her amusement. As they waited for the driver to retrieve Pia's bag, Harriet added, "I've started to take special note of the Americans who come through our doors. They have a tendency to marry into the diTalora family."
"So I've heard." Amanda Hutton, who'd been Jennifer's maid of honor, had stayed on after the wedding as some kind of diplomatic employee at the palace. Pia didn't know Amanda well, but knew that Prince Marco, the youngest—and wildest—of the four diTalora siblings proposed to Amanda soon afterward. And Princess Isabella married an American only last month.
"Fortunately, that won't happen with me," Pia promised. "While I sound American, I'm San Riminian, and I'm only here to help a pregnant friend."
But as Harriet led her through the double doors at the rear of the palace, then through one ornate mirror- and art-bedecked hallway after another, Pia found her thoughts returning to Prince Federico. The smooth cotton of his starched shirt, the broad expanse of his shoulders, the protective set to his mouth when he talked about Antony and Jennifer.
When they passed by a portrait of Federico laughing with his father during a national parade, Pia decided that if the prince could learn to relax a little, act a little less like he lived life by a carefully drawn script, he might be worth getting to know. Perhaps, just perhaps, those women who mooned over the tabloid pictures of Prince Perfect were on to something.
Pia's hand instantly went to her stomach at the thought. What possessed her to think that? She wasn't that brave—she'd barely kept her composure while being helped into the back seat of a car by the man.
Okay. It had been a long, long time since she had been in a relationship. Her job didn't allow much flexibility on that front, and her job meant everything to her. So what if Prince Federico oozed confidence and turned heads with his quiet grace? He clearly didn't approve of her, and she didn't plan to give him a second look, either. Giving a man a second look would get her exactly where Jennifer was.
Enviable as most might find Jennifer's position, Pia had no intention of ever needing one of those floral-jacketed books for herself.
* * *
Why had he given her a second look?
Federico diTalora stared out the window that topped the staircase leading to the wing that housed his family's private apartment. From this vantage point, he could see Harriet standing on the outdoor steps speaking with Pia Renati while the driver fetched the blonde's well-worn carryall from the back of the Mercedes.
She was a scruffy thing. Short, untamed curls everywhere. Outdoor sandals like nothing he owned. Clothes that were...what was the word? Hippie? No, she wasn't a hippie, not as he understood the term. But she was close.
Earthy. Real.
She bothered him. His initial impression of her, when she'd scurried away from him at Jennifer and Antony's wedding nearly eighteen months ago, made him wonder if high society unsettled her. He'd encountered that reaction more than once. The media made him, and others of the royal family, into something bigger than they really were. Untouchable. Perfect.
How he hated that word, perfect. Lucrezia's death taught him he was anything but.
Given her heritage, Pia should know nobility made mistakes. She might be a commoner, but if he recalled correctly, Viscount Angelo Renati—a friend of Antony's—was her first cousin. Angelo, with his reputation for womanizing, never had to worry about the tabloids calling him perfect. And if not through Angelo, then Pia's mother certainly could have taught Pia a thing or two about nobility, since Europe's upper crust made up the bulk of Sabrina Renati's clientele. It suggested that Pia's odd behavior around him meant something more.
He suspected that rather than being skittish around royalty, Pia had looked him over, seen right through his Prince Perfect exterior, and judged him unworthy.
Federico adjusted the heavy curtain for a better look as Pia followed Harriet up the rear stairs and into the palace. Once the women were out of sight, he dropped the velvet panel and turned away from the window. He should be thinking about his sons, and about the problems he was having with their nanny—the third since their mother had passed away. But he found himself wanting to return to his conversation with Pia.
He knew he'd chosen duty before love when he'd married Lucrezia. They had run in the same circles since childhood, had understood each other, had understood the nature of royalty and the need for princes to marry well and produce heirs. They hadn't been in love, but that had never bothered them.
At least, it hadn't bothered him until she'd passed away, and he'd understood the difference love made in the lives of his two brothers and his sister.
Lucrezia had died only two weeks after they'd witnessed Antony and Jennifer's starry-eyed exchange of vows. Ever since, Federico had wondered if his decision to obey his duty and marry into the San Riminian aristocracy had cheated Lucrezia out of finding a loving husband, the type of husband Antony was to Jennifer. When he'd voiced his concern to Marco—the youngest of his siblings—Marco had sworn up and down that Lucrezia had entered the marriage with her eyes wide open, and that Federico shouldn't feel an ounce of guilt, that he hadn't cheated her. Federico and Lucrezia made their decision, Marco had pointed out, and Antony and Jennifer had made theirs. Relationships were as unique as the individuals involved and shouldn't be compared.
Federico had nodded, not because he agreed, but to end the conversation. Lucrezia had been intelligent, beautiful, and articulate. Dozens of men would have married her for love, and she'd deserved that. A romantic, passionate love wasn't the same as a love grown out of respect and familiarity.
He hadn't loved her enough to marry her. He'd seen it in Lucrezia's eyes as the two of them watched Antony dance with Jennifer at their wedding reception.
He'd be damned if he'd cheat his children because he failed to love them wholeheartedly.
He walked down the second floor's main hallway, then turned into another, smaller hallway that led to his private apartment. The nanny situation bothered him. Had the women he'd hired been a disappointment because he hadn't researched them adequately? Had he failed to spend enough time with his sons to understand their needs?
He hadn't thought so. Paolo and Arturo were bright, loving children, and he adored sitting in on their music lessons or taking them on outings to local parks and museums. The boys' banter lifted his heart on the days when he questioned whether there was anything to his life outside his public duties.
But Pia's words—words no one else had dared speak to him—made him wonder.
No, he chastised himself. He was only feeling guilty because Pia Renati spoke freely, something he wasn't used to. The blonde was like no woman he'd ever met, but that didn't mean she was correct.
A squeal of pain that could only belong to Arturo, his seven-year-old, stopped Federico in his tracks. He glanced out the nearest window, then heard another cry and realized that the sound had emanated from his apartments. Though Arturo constantly hurt himself, like any boy nearing the ripe old age of eight, Federico jogged rather than walked along the marble-floored corridor. By the time he reached the guard stationed near the entrance to his private apartment, Federico could also hear little Paolo crying and the high-pitched voice of their frustrated nanny asking them to shush.
"Your Highness." The guard greeted him with a nod, then slid a glance toward the door of the living quarters.
"What has happened?"
The guard held up his palms. "I don't know, but I assume nothing serious. Signorina Fennini is inside."
Federico thanked the guard, then entered the apartment, making a beeline for the boys' playroom. In a serious situation, the nanny knew to summon the guard. She'd certainly had to do it before.
When Federico pushed open the playroom door, chaos greeted him.
We hope you are enjoying the book so far. To continue reading...
Falling for Prince Federico
Nicole Burnham
Copyright © 2023 All Rights Reserved
Also in this series
Also by this author