The Prince's Tutor
A male--and royal--Eliza Doolittle meets a female Professor Higgins.
Shout-outs
"An addictive series, full of heart and romance and endings that give a happy sigh."
Emily March
New York Times Bestselling Author
Book info
Sample
Audiobook
Media
Author updates
Lists
Synopsis
A male—and royal—Eliza Doolittle meets a female Professor Higgins.
Having completed his military service, Prince Marco diTalora of San Rimini wants only one thing on his return home: his freedom. He has good reason for avoiding the public eye, and little interest in his father's plans to immerse him in royal life. In the hours before his brother's high-profile wedding, he dodges the media hordes for a few hours of respite.
Amanda Hutton is an ace at her job, working with children of the rich and famous to ensure they have the skills to navigate life in the public eye. But she's between clients and under financial stress, so when she's invited to serve as a royal bridesmaid in beautiful San Rimini, she views the trip as an essential escape.
Amanda soon finds herself hunting down Prince Marco and dragging him out of a casino's private gaming room. When she gets him to the church on time, she figures her interaction with the rebellious—and flirtatious—prince is over. But then King Eduardo offers her the solution to her financial woes in the form of a job…and it's not a child he wants her to tutor, it's Prince Marco.
It's an offer she can't refuse. Then again, Marco just might have something to teach Amanda.
The Prince's Tutor is the third book in the Royal Scandals: San Rimini series. The six-book series includes:
• Fit for a Queen
• Going to the Castle
• The Prince's Tutor
• The Knight's Kiss
• Falling for Prince Federico
• To Kiss a King
Release date: April 21, 2020
Print pages: 190
* BingeBooks earns revenue from qualifying purchases as an Amazon Associate as well as from other retail partners.
Listen to a sample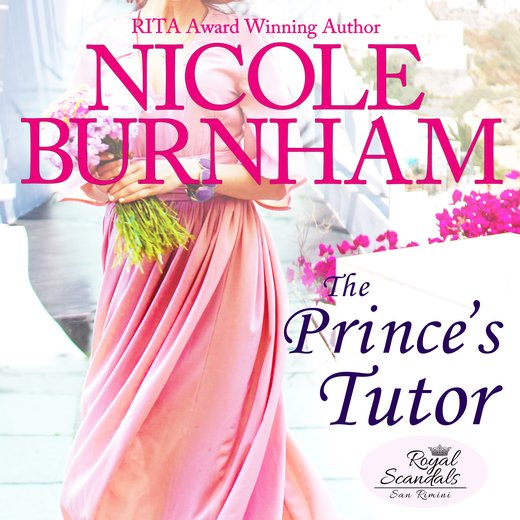 06:30:08
178.6 MB
9781941828465
April 21, 2020
Nicole Burnham
The Prince's Tutor
Nicole Burnham
Chapter One
"Mi scusi. Is Prince Marco diTalora here? It's important that I speak with him immediately."
Amanda Hutton tried to ignore the subtle—and the not-so-subtle—stares of San Rimini's high-rolling gamblers as she asked the manager of the elite Casino Campione the same question she'd discreetly posed at three other gaming halls in the last hour.
If she didn't find the wayward prince and get him to the Duomo, pronto, the wedding between the tiny country's crown prince, Antony diTalora, and her best friend, Jennifer Allen, would be delayed. Even with two hundred guests descending on the country's famed cathedral, the ceremony could hardly start without the best man in attendance.
She fought impatience as the heavyset manager studied her with irritation in his eyes. He acted no differently than the other three managers had as he took in the sight of her formal, rose-colored gown and matching shoes. Designed for a royal wedding, it wasn't an ordinary maid of honor's gown, to be sure, but neither was the cut comparable to the Valentino and Chanel couture sported by San Rimini's social elite as they made their way through the aisles of blackjack and craps tables, expensive drinks in hand.
After hearing three clipped answers of "no," from managers at other casinos in response to her inquiries, she wasn't about to waste time while manager number four attempted to gauge the value of her clothes and jewelry.
"Please," she began, assuming the manager spoke English in addition to San Rimini's Italian, "I realize there are privacy concerns, but I—"
"Your name?" He raised an overgrown eyebrow as if to say, how dare you make a demand of me?
"Amanda. Amanda Hutton. As I was about to explain, I was sent by—"
"You should know, Amanda Hutton, that when Prince Marco is a guest of this establishment, he is not to be disturbed." He punctuated his statement with a patronizing smile, as if he fielded such inquiries from women on an hourly basis, and the name Amanda Hutton did not rate.
Even so, Amanda's pulse upped a notch. Not only did this manager speak perfect English, the swagger in his voice said that he was hosting Prince Marco.
Before she could explain the delicate situation, he added, "Perhaps you could wait outside. With the others." He gestured past the ringing slot machines toward a long row of glass-and-brass revolving doors leading to San Rimini's most famous thoroughfare, the Strada il Teatro.
She followed the line of his arm. Several young women in sexy, summery dresses lingered outside. A few pulled at their hair, artfully arranging the strands over their shoulders, while others checked teeth or makeup using their phone cameras. All appeared to be waiting for a glimpse of Prince Marco. Or the chance to slip him their phone numbers.
Amanda flashed a conciliatory smile and replied, "Of course. I'm sorry to have disturbed you."
The manager nodded his acceptance, but glowered until Amanda turned and walked toward the exit.
Scouring the main room of the posh gaming hall as she went, she spied a staircase along one wall. A tall armed guard stood off to the side. He kept his thumb hooked casually in his belt loop while he spoke with a patron, but one eye remained on the steps. Amanda figured either the casino kept its cash up those stairs or that was where the private gambling rooms were located.
She hoped it was the latter.
Under the manager's watchful gaze, Amanda exited the casino, but kept close to the door, standing near the loitering women as if she stalked princes every day.
Unfortunately, the manager didn't budge from his position in the center of the casino floor, leaving her little hope of getting back indoors undetected.
Amanda strode to the curb, then shielded her eyes against the bright sunshine to read the clock on the tower adjoining La Rocca di Zaffiro, San Rimini's royal palace, which sat atop a hill less than a fifteen-minute walk to the west.
Three-thirty. With only an hour until the ceremony, there was no way she could explain the situation to the casino manager without embarrassing the royal family. Not that the manager even cared to listen.
She could kill Prince Marco. How could the manager—how could the entire country—not know where he should be at this moment? For the last eight years, since she'd graduated from college, Amanda had worked with the children of dignitaries. In all that time, she'd never come across a child as irresponsible as this prince. And he was twenty-five.
"My one vacation," she grumbled to herself. This week was her opportunity to get away from it all—to visit one of the world's most beautiful countries, participate in her best friend's wedding, and rub elbows with several of Europe's most rich and famous. But instead of spending the afternoon nibbling on canapés and having her hair done, she was running around San Rimini in an atrociously uncomfortable pair of shoes, hunting down a spoiled prince who'd gone gambling instead of attending the groom. Prince Marco hadn't appeared at his brother's lunchtime reception to welcome the VIPs who'd traveled to San Rimini to attend the wedding, and now, even if she managed to get the prince to the Duomo in time for the ceremony itself, she'd be a sweaty mess.
Correction: a sweaty mess with blistered feet who would be expected to look perfect in the wedding pictures.
This was not the break she'd imagined before she had to return to reality and her overdue rent back in Washington, D.C.
A wave of giggles rose from the waiting women. Amanda ignored them and returned her attention to the casino's interior.
A well-dressed patron now occupied the manager. The woman waved one bracelet-laden arm to indicate an area toward the rear wall of the casino. The manager repeatedly shook his head, then held a finger aloft as he made a call on his cell phone. Annoyance narrowed his eyes, then he pocketed his phone, said something to the woman, and followed her out of view of the front entrance.
Making the most of the opportunity, Amanda pushed through the revolving door and made a beeline for the staircase.
The guard who'd been keeping an eye on the stairs snapped to attention. "May I help you?"
From his demeanor, Amanda could tell he wasn't about to let her see Prince Marco, either. She hesitated a moment, then said, "I hope so. Those women out front? They're here to see Prince Marco."
The guard's mouth crooked on one side. "What of it?"
"Well, I heard one of them say she knew which car the prince arrived in, and that the doors were left unlocked. She was going to try to sneak into the back seat and wait for him. I thought someone official should know."
The guard studied her for a moment while Amanda did her best to look like an earnest guest. However, instead of leaving to check out the women, as Amanda had hoped, he lifted a hand to the side of his head and pressed a button on an earpiece. A second later, his cell phone buzzed, and he began speaking in rapid San Riminian-accented Italian. Amanda understood just enough to realize that the guard intended to stay put.
A few words of response echoed back over the phone. The guard paused, then frowned at Amanda. "What does she look like?"
"Brunette in a green and yellow dress. Not very tall. Close to my height," she improvised, knowing none of the women out front fit that description. "I believe she went around the side of the building, maybe to check out the parking lot. She didn't say. If you need me to identify her, I'd be happy to wait here while you check."
He hesitated, and she quickly pointed down to her shoes. "I'd go along, but I don't think I'd be able to keep up with you in these heels. I can barely walk across the casino. I went out front because I'd decided to call for a ride, but heard the women talking when I was searching for the number."
Instead of answering Amanda, he repeated her description into the phone, listened for a moment, then ended the call. When she continued to stand there, he said, "It's being investigated. Thank you."
"Oh. Good. Do you want me to stay, just in case they need me to confirm the description?"
His shrug translated to a combination of do what you want and the parking lot is not my job.
At that moment, a commotion began out front. Both Amanda and the guard looked in time to see one of the women push another's shoulder. It was apparent from the body language of those around them that the women had already had words, but the situation had escalated.
Amanda indicated a red leather stool in front of an empty slot machine. "I'll wait here."
The guard didn't appear to register her statement as he strode toward the front doors, his hand going to his earpiece. It was obvious he wasn't going outside himself, only reporting what he saw so others could handle the situation. Figuring it was her only chance, Amanda waited until his back was fully turned, then bolted up the narrow staircase. The instant she reached the top, she bit back a curse. At least a dozen closed doors lined the carpeted hallway in front of her. How could she possibly guess which room held the prince?
The guard would return to his post any moment. Given the abrupt nature of her disappearance, she was sure he'd poke his head upstairs to ensure she hadn't come this way.
She made her way down the hall as quickly and quietly as possible, pausing at each doorway to listen. Several of the doors were marked with names on brass plaques designating them as offices. The others, however, were designated as suites, each named after a local celebrity. She had her ear pressed to one named after a famous oceanographer when, from the far end of the hallway, she heard the unmistakable sound of gamblers cheering a big win. After glancing behind her to make sure the guard hadn't followed, she approached the suite where she thought the sound originated. Unlike the others, this door was simply marked Privato.
She waited a moment, listening. At first the voices were hard to distinguish, then a woman's voice rose above the others to announce in English, "The dealer has blackjack," followed by a few grumbles. Amanda pushed on the lever handle. When it gave, she peered inside.
Sure enough, as if it had been modeled on a scene from a James Bond movie, the sumptuous, modern suite was designed to cater to gamblers whose wealth warranted a private space for gaming. To Amanda's left, a fully-stocked bar covered one wall, and a uniformed bartender stood behind its smooth black granite countertop polishing highball glasses to a spotless finish. Crystal wall sconces cast the room in a soft light, and a thick gray carpet muffled footfalls to preserve the quiet atmosphere.
Opposite her, white silk curtains framed three floor-to-ceiling windows, each of which offered a stunning view of San Rimini Bay and the Adriatic Sea beyond.
She shifted her focus to the room's interior, where no one seemed to notice her unannounced arrival. In the center stood a lone blackjack table, manned by a leggy blonde in a short black skirt, black vest, and immaculate white oxford shirt. The four seated gamblers appeared to be in their mid-twenties to early thirties, and were well-dressed in tailored tuxedos and white shirts. Amanda immediately identified Prince Marco diTalora.
He was far better-looking than the palace's official portrait portrayed him.
He sat with his jaw propped on the heel of his hand, his fingers thrust into sun-kissed blond waves of hair just above his ear. Intelligent, steel-blue eyes studied the movements of the dealer as she ran her hand across the felt table, silently requesting the men place their bets.
Prince Marco straightened, then shoved a large pile of chips forward. His mouth curved into a smile when the man next to him threw him a teasing elbow. The prince had full lips—very kissable lips, Amanda decided—and white, Hollywood-straight teeth. His tanned cheekbones were high and well-defined, like a model's, although unlike many male models, Marco was no teenage beanpole ready to strut down a runway. His broad shoulders filled his tuxedo to perfection.
She took a second look at his hair now that his hands weren't in it. Tousled a bit, as if he'd just clambered out of bed and smoothed it with his fingers, the style didn't scream wealth. The top button on his shirt was undone and his bow tie hung loose.
The powers that be at the palace either made him see a barber prior to his formal portrait sitting, or the shot was taken during his military service. Though Marco possessed a prince's self-assured bearing, she suspected he preferred the rough-and-tumble look to something more refined.
Straitlaced as Amanda was, she decided she preferred it on him, too. The hair reflected his easygoing body language. Even so, he needed to look regal, and fast, to keep the ceremony from being delayed. She took a deep, centering breath, then eased all the way into the room.
"Mi scusi, Prince Marco," she began. "I was—"
"Leaving." Amanda jumped as the guard, face flushed with anger, curled his fingers around her arm, just above the elbow. "Mi dispiace, Your Highness. I allowed myself to be distracted, and she ran up from the main floor. It will not happen again." The guard gave Amanda a withering look, then began to pull her into the hall.
"Please," Amanda called over her shoulder to the prince as she braced a hand against the door frame. "I was sent—"
"Va bene, Ivan. Let her stay."
Marco surprised her by flicking a quick look at the guard, who immediately released his death grip on her arm.
"But…yes, of course, Prince Marco." The confused guard bowed, then spun on his heel, presumably to return to his post.
The prince turned to the table, attention riveted on the game as the dealer dealt him a king.
Amanda peeled her fingers from the door frame, then slowly moved toward the table. The men were intent on the game, but she couldn't wait any longer. "Your Highness, as I was saying, I was sent by—"
"You must be Ms. Hutton." The prince didn't look away from the cards. "I'm sorry, I don't remember your first name. I haven't forgotten the wedding. I'll be done in a minute. Feel free to order a drink." He absently waved her toward the bar.
Amanda did a double take. His English was amazing—he sounded as American as she did—and apparently he knew her name—sort of—and had expected her arrival.
"How'd you know I'd be here?"
He laughed, though his eyes didn't leave the cards in front of him. "Antony's wedding can't be more than a couple hours off. I figured either he or Jennifer would send someone once I missed lunch."
"Wish I'd skipped that lunch myself," one of the men commented. "One of the columnists from Today's Royals cornered me for nearly fifteen minutes. What's her name…Val Dempsey? Getting into a conversation with her is like being handcuffed to a wall. There's no escape. And do you know who else was there?" He named a French actress, then bemoaned the fact that she hadn't been the one to corner him. Or handcuff him.
While another of the men added his thoughts on the French actress and handcuffs, Marco gave Amanda a quick up and down. "I assume you're the maid of honor. My brother told me repeatedly that the maid of honor was American. Jennifer's college roommate. And her name was" —he snapped his fingers— "Amanda Hutton."
Amanda wavered, unsure of her next move. She'd only thought about locating the missing prince, not about what she'd actually say when she found him. She needed to convince him to leave now, not a drink or two from now.
"Actually, Prince Marco," she tried to explain, "we only have an hour. Probably less now that—"
The dealer flipped over a second king for Marco.
Amanda took an involuntary step back as Marco's gambling buddies let out a raucous cheer. She'd only played blackjack once before, on a weekend trip to Atlantic City after college, but knew a good hand when she saw one. Since the dealer showed a seven up, and the best she'd likely do was seventeen, he'd scored a big victory.
Mentally tallying the number of black chips in the pile he'd shoved forward, she figured he'd gambled about six months' worth of her earnings. Before taxes.
Marco ignored the cheers. Instead, he counted out another massive stack of chips and set it next to the first.
"Split them."
"Folle!" The man who'd complained about the columnist shook his head, and even though Amanda's Italian was limited, she knew enough to agree with the assessment. His decision was folly. Madness.
The second man said, "You want to throw away your money, Marco, I can think of better ways."
The dealer's eyebrows moved fractionally higher, but she said nothing. She separated the two kings so they lay side by side, then pulled a card from the shoe and laid it on the first king.
"A six for sixteen."
She drew another card, placing it on the second king. "And sixteen again."
Marco's friends groaned in unison.
The final gambler spoke up, his English tinged with a British accent. "Sorry, Marco. Good thing you can afford it, mate."
The dealer finished with the other players, then turned over her own card.
"Seven and four for eleven—"
"You'd better not get twenty-one twice in a row," the British man interrupted. "I might not be able to explain to my wife why we can't afford a proper gift for the royal couple."
The dealer smiled, but continued to flip cards. "And two for thirteen, and a queen for twenty-three. Bust."
A whoop went up around the table.
"Now my wife will like that," the British man said, clapping the prince on the shoulder. "What possessed you?"
Marco gave a nonchalant shrug. "It was my last hand. Thought I'd make a go of it."
He pulled back his shirt sleeve to reveal a thick tan line where his watch should be. "Well, no wonder I'm running late. Must've left it at home. You gentlemen better hurry if you want to get seated." He tipped the dealer a few black chips just as the casino manager entered the room. The portly man glared at Amanda for a split second, then bowed to Marco, all smiles. "Has everything been satisfactory, Your Highness?"
"Rafaella did her job extraordinarily well, as always. Perhaps she should get a raise." The flirtatious wink he threw to the dealer made Amanda want to gag.
"Of course, of course," the manager nodded, only too anxious to please the prince. "Shall I cash in your chips, or would you prefer to have the amount deposited in your account?"
"The account," he replied, easing off the stool with more grace than Amanda thought possible for a gambling, never-one-to-miss-a-good-party twenty-something. Perhaps he had learned a few social niceties being a prince.
Or, at least, whichever social skills best helped him attract women. The dealer's eyes were firmly on the prince's rear as he turned his back to the table.
The manager began gathering the prince's chips, but Marco clapped the man on the shoulder before he could finish. "I've changed my mind. Please see that the money is sent to the San Riminian Scholarship Fund at Banca Nazionale. Make it an anonymous donation in honor of Prince Antony's wedding to Jennifer Allen. And you" —he held up a warning finger and looked at his companions one by one, before his gaze settled on Amanda— "don't breathe a word. I mean it when I say this is anonymous."
The men murmured their agreement. Amanda did the same, though Jennifer would be curious about the source of the large donation to the charity she and Prince Antony supported. Knowing Jennifer, she'd investigate until she learned the mysterious donor's identity. But given the impression Amanda had of the prince so far, it could take a while. She couldn't imagine Jennifer suspecting Marco of making the contribution.
"I would be honored to take care of it in person, Your Highness," the casino manager said, bowing lower than necessary.
"Thank you, but I would rather you send someone. And do not mention that the deposit is from the Casino Campione."
The manager's smile slipped a notch as he straightened, but he maintained his composure. "As you wish."
"Well then, I have a wedding to attend." He buttoned the top of his shirt, tied his bow tie—without need of a mirror, Amanda noted—then gestured for her to walk ahead of him to the door. "Ms. Hutton?"
As they entered the hall, he pulled the front of his tuxedo jacket taut, sending the faintest whiff of cologne her way. Whatever he wore was both enticing and surprisingly understated.
"That was generous of you."
"Guilty is more like it," he confessed. "I've been snorkeling in Greece for the last week. Didn't have time to get a proper gift. Just some silly crystal candlesticks my father suggested."
Amanda forced herself not to point out the obvious: that he'd had time to gamble. Still, the gift was generous. Knowing Antony and Jennifer, they'd appreciate it far more than the candlesticks.
Marco ran a hand through his hair, unfortunately leaving it more ruffled than before. "Do I look ready for a royal wedding?"
"I'm sure you'll do, Your Highness." Amanda tried not to gawk at him. She was used to dealing with the social elite in her job. She'd even spent a month at the White House teaching the president's children how to handle themselves with foreign dignitaries. As the daughter of a former ambassador herself, she'd grown up surrounded by those in power.
Still, nothing had prepared her for Prince Marco. He was about as unroyal as a royal could be. If she'd simply run into him at the wedding, without seeing his picture beforehand, she'd have mistaken him for a good-looking party crasher instead of a member of San Rimini's royal family. The type of party crasher who usually disappeared with a bridesmaid at the end of the evening.
"I'll do? Haven't heard that one before. You're supposed to tell me I look fabulous. Sexy." He shot her a confident grin. "At least say, 'Of course, Your Highness,' or 'Nice tux, Your Highness.' Not just that I'll do."
She hazarded a glance at him. He towered nearly a foot over her, at around six-foot-two. Maybe even six-three. With his disheveled hair, gigantic bank account, and impeccable bloodlines, she was certain women did find him sexy. She thought he was sexy, despite his behavior. But she wasn't about to tell him so, not in the tight confines of a narrow casino hallway.
And certainly not when he seemed well aware of his own attractiveness.
"Where did you learn your English?" she asked instead. "You sound as if you could've grown up next door to Wally and the Beav. I've met your brothers, and they both speak more formally. And with accents."
His raised brow indicated he was well aware of her attempt to change the subject. "Antony and Federico picked up their early English from their nanny, who was from London, and were educated here and in Italy, where the majority of their professors spoke British English. I had an American nanny, then went to school in the States, though I didn't see a single rerun of 'Leave It to Beaver.' Is it even on television anymore?"
Amanda was surprised he got the reference. Most of her friends wouldn't have. Oh, they'd fake it, but at best they'd identify it as some old show they'd never seen.
"Let me guess. UNLV?" Amanda deadpanned as they descended the steps into the main room of the casino.
"Would you believe Princeton?"
"I suppose. It is close to Atlantic City."
He laughed as they reached the casino floor, where the well-heeled patrons stared after him as he moved past gaming tables and slot machines. The now-familiar guard fell into step beside Prince Marco, his gaze darting about the room as they approached the doors to the Strada il Teatro.
Ivan glanced at her, apparently reconciled to her presence, then addressed the prince. "Your Highness's car is ready. The driver says he can get you to the Duomo in ten minutes, but you'll have to go the back way. The direct route is crowded with those who've staked out spots to see the carriage. You should still make the ceremony with time to spare."
The guard pushed through the glass doors, scanned the broad sidewalk, then waved them to a spotless black Range Rover waiting at the curb.
As she stepped into the bright afternoon sun, Amanda noted that the sidewalk was now clear. The women either gave up or—more likely—had been asked to leave. Relief swept through her. Given her charge's flirtatious nature, Amanda doubted he'd be quick to hop in the waiting vehicle if greeted by an obliging group of women.
She hung back until Ivan escorted Marco around the car to enter the back seat from the opposite side. The driver began to open his door to step out and help her, but she told him she was fine, then hiked the skirt of her voluminous dress high enough to allow her to clamber in on the curb side of the tall vehicle. The dress hooked on the seat belt as she entered, but Marco reached across to free it with a flick of his wrist before she could grab the trapped fabric herself.
"Thank you. They don't design these cars for attendants' dresses," she said once they were both safely seated inside the oversize SUV.
Marco directed a skeptical look at the mass of pink fabric, which she'd bunched to keep from filling the back seat or—worse—from spilling into the prince's lap. "You have it backward," he said. "They don't design attendants' dresses to be worn in these cars."
Amanda's cheeks grew hot. He'd said it as if the situation was the result of poor planning on her part, when she wouldn't be trying to cram the dress into the back seat at all if Marco had stayed with Antony as planned.
"Listen," he continued, "I appreciate your efforts to get me to the ceremony on time, but Antony knows how much I hate these events. I realize it's a rather low-key wedding for a crown prince, but he's still a crown prince. I told him repeatedly that I wasn't interested in all the ridiculous pre-wedding functions, let alone those with paparazzi angling for shots." He glanced out the window, but she caught the look of disappointment that flitted across his face. "Antony should've known I'd be there for the wedding itself. I've never in my life missed an event that's truly important."
Amanda said nothing, surprised at the insight into the prince's personality. Of all the members of San Rimini's royal family, Marco attracted the least attention, which was why she'd searched for a picture before heading out to find him. She hadn't been certain she'd be able to identify him. But the lack of attention wasn't because he was the youngest, as she'd guessed. It was because he'd eschewed it.
Interesting, given what she'd seen of his interaction with his friends.
After a moment, Marco twisted in the seat to face her. "Why did they send you instead of one of Antony's friends? We've never even met."
Amanda shrugged. "The press knows most of Antony's friends."
"Let me guess. They'd be trailed around town, it'd get out that I was missing, and the press would portray me as irresponsible?"
"Maybe," Amanda admitted. She'd believed that herself, though now she wondered if her initial assessment of his irresponsibility was too harsh. "Jennifer and Antony also knew that if the press picked up on it, your father would discover that you weren't where you were supposed to be. When I left, he hadn't noticed your absence. Jennifer mentioned that King Eduardo's been concerned about your behavior lately."
Marco's mouth thinned into a grim line, so Amanda made a quick pivot from the topic of the king. "Anyway, since I'm a foreigner, there wasn't much chance I'd attract attention, even running around town in this dress and asking questions. Jennifer and her mother were about to leave the palace for the dressing room at the Duomo, so I told Jennifer I'd be fine putting on my dress at the palace and meeting her there. I could skip the hairstylist."
"It wasn't necessary, but thank you. I'm sure Antony and Jennifer appreciate it." He frowned at her gown, then added, "The least I can do in return is make you more comfortable."
He released his safety belt, then slid over to Amanda's side of the seat.
Before she could figure out what he was doing, Marco had his hand on her thigh.
We hope you are enjoying the book so far. To continue reading...
The Prince's Tutor
Nicole Burnham
Copyright © 2023 All Rights Reserved
Also in this series
Also by this author