Slow Tango With a Prince
Public figures, private anguish…and devastating secrets.
Shout-outs
"An addictive series, full of heart and romance and endings that give a happy sigh."
Emily March
New York Times Bestselling Author
Book info
Sample
Audiobook
Media
Author updates
Lists
Synopsis
Public figures, private anguish...and devastating secrets.
Tormented by the suicide of his ex-girlfriend, Sarcaccia's crown prince Vittorio Barrali escapes the glare of the cameras by secretly trading places with his twin brother and traveling to Argentina. There, he nurses his wounds in private, mentally preparing to resume the role to which he was born, a role that doesn't allow emotion to take precedence over duty.
With her television show facing possible cancellation, At Home Abroad host Emily Sinclair learns the guest for her Buenos Aires season finale is a no-show. Fearing for her employees' careers--not to mention her own--she's elated when a chance meeting in a café provides the perfect replacement. But when the dark, handsome man resists her invitation despite the electricity sizzling between them, her curiosity is piqued. Then there's the fact he looks so familiar...
Vittorio's instinct is to help a woman in need, particularly one as enticing as Emily, whose work supports so many. But can he risk his own secrets coming to light?
Release date: June 5, 2014
Print pages: 306
* BingeBooks earns revenue from qualifying purchases as an Amazon Associate as well as from other retail partners.
Listen to a sample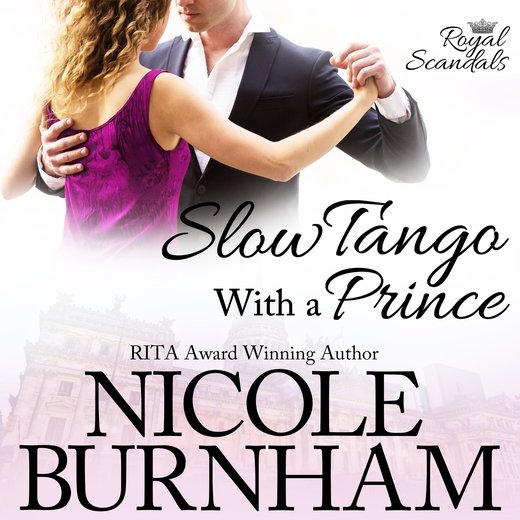 10:59:26
301.88 MB
9781941828205
October 4, 2015
Nicole Burnham
Slow Tango With a Prince
Nicole Burnham
Prologue
TODAY'S ROYALS: THE LATEST
By V. Dempsey, December 1


SARCACCIA'S ROYALS COME CLEAN
Barrali Family Hosts Press, Addresses Recent Scandals

Cateri, SARCACCIA - In a first-of-its-kind event for the Barrali royal family, Today's Royals and other select media representatives were invited to what was termed an "informal press reception" in the palace's famed green parlor. While being served traditional Sarcaccian appetizers and wine from the Famiglia Barrali vineyards, the reporters were told they'd be given a half hour to ask questions about both matters of state and the rampant rumors that have plagued the monarch and his family over the past few months. As expected, when the family entered the parlor, media attention zeroed in on the flurry of reports regarding the family's romantic relationships and the apparent disappearance of Prince Alessandro, who is second in line to the throne after his twin brother, Prince Vittorio.
To the surprise of those gathered, it was Prince Stefano rather than King Carlo who raised his hand to quiet the room, declaring that he had an announcement to make before the family answered any questions.
He asked his rumored fiancée, Megan Hallberg, to join him in the center of the parlor before stating that the two are indeed planning to marry. Amid congratulations from those assembled, the prince explained that he proposed on a beach near Cateri in late July, but that the couple wished to have time for Ms. Hallberg to begin her new position managing Sarcaccia's conference center and to become better acquainted with the royal family before making a formal engagement announcement. Though the news was not a surprise, given that Ms. Hallberg has been attending family functions and appeared with the Barrali family at Independence Day festivities in September, the prince then stunned the crowd to silence by further announcing that Ms. Hallberg's ten-year-old daughter, Anna, is his biological child.
"Megan and I met in our early twenties, during my time working in Venezuela," the prince explained. "While I'm sure you have a number of questions about our relationship and what I knew of Anna's existence, what Megan and I believe is most important is that we found each other after many years of separation. We are very much in love and excited to be a family. On that note, our daughter is a wonderful girl, very bright and well-adjusted. She has lived out of the spotlight for her entire life. As her parents, we wish for it to remain that way. Therefore, we kindly ask all of you to give her space to enjoy her childhood." The prince went on to explain that he'd purchased his waterfront apartment and moved out of the royal palace in July in order to provide Anna as normal an upbringing as possible, not due to a rift with his parents as has been rumored.
Ms. Hallberg then showed off her diamond and sapphire engagement ring at a reporter's request. While the sapphire has been in Queen Fabrizia's family for over a hundred years, Prince Stefano designed its diamond setting with the assistance of longtime royal jewelers Conti & Fancetti.
A wedding date has not yet been set, but the couple say they will wed in Cateri's cathedral and are considering dates during which Anna will be out of school.
Following Prince Stefano's announcement, King Carlo reminded those present of Sarcaccia's strict laws concerning paparazzi coverage of minors, then took a question about the recent five-day trip he and Prince Vittorio took to the Middle East, where the king was involved in peace negotiations and the crown prince visited several schools funded by the Barrali Trust. However, the line of questioning quickly turned to Prince Vittorio's twin, Alessandro, who hasn't been seen in public since the early October funeral of Prince Vittorio's former girlfriend, Spanish actress Carmella Rivas, and was rarely seen during the two-week period preceding it.
Prince Vittorio told the media that there is nothing suspicious about his twin's absence. However, he admitted, "At the moment we're unaware of his location, though this isn't unusual. As you've reported on many occasions, Alessandro is an adventurer at heart and often travels to areas where communication is limited." When pressed, Vittorio did acknowledge that Alessandro has never been away for such an extended period. Asked point-blank if Alessandro was missing, the crown prince laughed and responded, "No. As I said, we are simply unaware of his exact location. If there is any cause for concern, we will of course discuss that with the Royal Police. However, I must reiterate that this is simply not the case."
A follow-up question noted unsubstantiated reports that Prince Alessandro was photographed in Croatia, but Vittorio stated that the family had no such information. The crown prince then accepted a question about his former girlfriend and took the opportunity to once again extend his sympathies to the Rivas family on Carmella Rivas's tragic suicide. "It came as a horrible shock to us all and I hurt for her family. Unfortunately, there is no explaining it. We may never know what drove her to that place," he said. "However, it is my hope that the Carmella Rivas Memorial Fund will help others who are contemplating suicide by offering them free professional counseling. No family should be torn apart by the loss of a loved one this way."
The event ended on an upbeat note when Prince Massimo was asked about his relationship with Kelly Chase, the American he employed as a closet designer in September, but who has not yet left the country…and whether Sarcaccia should prepare for a second royal wedding.
The question drew a burst of laughter from the entire Barrali family and a comment from Queen Fabrizia that, "One royal wedding is plenty to plan. Imagine the hours all of you in the media would have to work if there were a second. Impossible!"
* * *
Queen Fabrizia slid the emeralds from her ears and deposited them on a glass end table in the private palace apartment she and King Carlo shared. She hadn't wanted to wear them to the press event, as heavy earrings tended to exacerbate her headaches, but they photographed well and brought out the green in her eyes.
All the better to counteract the red.
Fabrizia prided herself on her steel spine and her ability to keep her large, powerful family together, but recent events tested her resiliency. Learning over the summer that she had a ten-year-old granddaughter—one who was her spitting image—and hearing Stefano declare he intended to break tradition and live outside the royal palace broke her heart.
Worse, though, was having to endure these weeks following Carmella Rivas's funeral. Carmella's deception and her subsequent suicide wreaked havoc within the family. It had taken every bit of Fabrizia's resourcefulness to keep the Barralis on an even keel, at least to the public eye. But if she continued to let it keep her awake at night, a sharp photographer would soon notice the evidence and the tabloids would pounce like buzzards on carrion.
"I certainly hope we never have to do that again. I abhor discussing personal affairs in a public forum," King Carlo said as he sank onto the sofa beside Fabrizia and put a comforting hand on her knee. Across from them, Megan and Stefano occupied a matching sofa while Massimo and his still-secret fiancée, Kelly, adjourned to the kitchen so Massimo could update Kelly on the afternoon's events.
Sprawled in a chair to the side, Alessandro held up his left hand, as if weighing an invisible object. "Hmmm…Mideast peace, or" —he raised his other hand, palm up— "rumors about the love lives of the royal family. Which did you think they'd want to address? I thought that was the point, anyway."
"Sit up," the queen hissed. "What if someone were to walk in?"
Physically, the twins were indistinguishable aside from the tiny white scar beneath Alessandro's left eye—now carefully concealed with makeup—and the location of their ears, with Vittorio's slightly higher and further back than his twin's. Even family members confused them from time to time. But once they opened their mouths, the differences were clear. Though the timbre of their voices was remarkably similar, Alessandro's relaxed, devil-may-care attitude and Vittorio's perpetually formal one gave away their identities as surely as if they'd been born with different hair or eye colors. While all the world thought it was Alessandro, rather than Vittorio, who'd disappeared, Alessandro needed to keep that fact in mind.
"No one will come in, Mother," Alessandro replied, though he straightened in his chair to mimic the carriage of his absent twin. "Umberto knows to keep the staff away for the rest of the evening. Besides, the press conference went exactly as planned. No one thought for a moment that I was anyone other than who I claimed. They were far more interested in Stefano's big news than in yet another Alessandro-has-taken-off story."
"I certainly hope so." Fabrizia sent an apologetic look across the coffee table to Stefano and Megan. "Thank you for being the sacrificial lambs. I know you were planning to make an announcement soon, but not in that manner."
"If it takes their attention off my delinquent brother" —Stefano flashed a look at Alessandro— "then it's worthwhile. Megan and I couldn't keep quiet much longer, anyway. The staff have been suspicious about an engagement for months. Besides—" an embarrassed smile lit his face— "Anna's started calling me Dad when we're at home. It'd only take one person to overhear her for that particular cat to be out of the bag."
"Oh, Stefano, I'm so glad." Tears pricked Fabrizia's eyes, though she blinked them back. How long had she wanted to be a grandmother? To see the joy Stefano took in Megan and Anna now that they were becoming a real family, one built on love and trust…it was everything she desired for her children. Yet, due to the public nature of their lives, such happiness was often as elusive as a butterfly in winter.
Megan shifted closer to Stefano at the same time he reached for her hand. "It's been a long haul, but Anna's transitioning well. She adores Stefano. You'd never know he hasn't been with her from birth."
Stefano and Megan made a handsome pair, Fabrizia decided. If only she could convince them to move back to the palace, the situation would be perfect. At the moment, however, pressuring the couple held a low spot on her priority list, given what was happening with Vittorio. And perhaps Stefano was right: the paparazzi were less likely to sneak photographs of Anna if she lived in a private home than if she stayed at the palace, which served as both a residence and government office.
"Let me know if the media becomes a problem now that they know Anna is your daughter," King Carlo told the couple, his thoughts apparently mirroring Fabrizia's. "I'll personally ensure that anyone who breaks the law is prosecuted."
After Megan thanked the king, Alessandro asked, "So what's next? Has anyone heard from Vittorio?"
"Not since he arrived in Argentina two weeks ago and called you," the queen said. Why Vittorio picked Buenos Aires as his escape, she couldn't fathom, but at least he was safe there for the time being. He could battle his demons far from the spotlight of Sarcaccia.
Sophia, the king and queen's only daughter, emerged from the kitchen in time to overhear Alessandro's question. "So what were the reporters saying about Croatia? I looked online and saw a photo of a man boarding a luxury yacht near Dubrovnik. It was taken from a distance, but it looked a lot like Vittorio to me."
"He's in Argentina," Alessandro assured her. "He gave me the name he's using at his current hotel in case of an emergency."
"Did you check to see if he was telling you the truth?" Sophia's forehead creased into a frown. "The way the man in the photo tilted his head to the side was just like—"
"Vittorio is not in Croatia." King Carlo's tone was meant to close discussion.
At the same time, Alessandro replied, "Of course I checked."
"Let's forget Croatia," Fabrizia said, rising from the sofa and smoothing the front of her dress. "The press is focused on Stefano and Megan for now. And Alessandro, you did a wonderful job both at the press conference and in the Middle East. I have every confidence Vittorio will return shortly, then we can all get back to business as usual with no one the wiser."

Then she could forget Croatia.
We hope you are enjoying the book so far. To continue reading...
Slow Tango With a Prince
Nicole Burnham
Copyright © 2023 All Rights Reserved
Also in this series
Also by this author