Book info
Sample
Audiobook
Media
Author updates
Lists
Synopsis
Opposites attract in this classic novel from Debbie Macomber about two people who discover romance against all odds.
Fresh off a breakup, Taylor Manning accepts a yearlong teaching position in Cougar Point, Montana, and plans to focus on herself, avoid men, and return home a changed woman. That's before she meets Russ Palmer, a local rancher who's as stubborn as he is handsome. With his old-fashioned attitudes about women, Russ is the last man Taylor could imagine dating, and the feeling seems to be mutual. So why can't she seem to get him off her mind?
Russ is raising his teenage sister all by his lonesome, and he doesn't appreciate Cougar Point's pretty new teacher second-guessing his decisions as a surrogate parent. In fact, every time they cross paths, Taylor seems to have a bone to pick. But no matter how much they disagree, their chemistry is off the charts. And if Taylor would stop arguing long enough to notice, Russ will give her a very good reason to stick around.
Release date: January 26, 2016
Publisher: Debbie Macomber, Inc.
Print pages: 195
* BingeBooks earns revenue from qualifying purchases as an Amazon Associate as well as from other retail partners.
Listen to a sample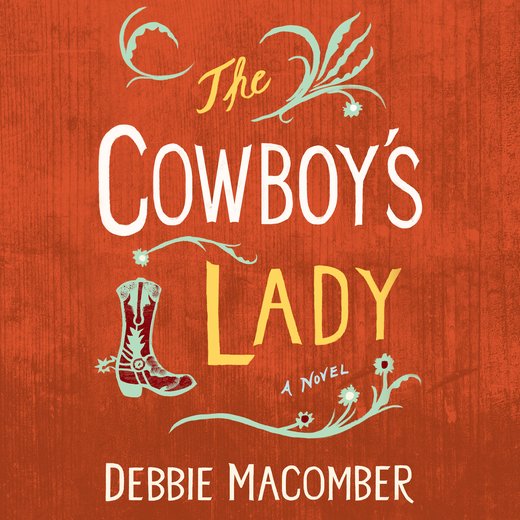 06:13:00
170.76 MB
9781978608412
September 10, 2019
Brilliance Audio
2019
The Cowboy's Lady
Debbie Macomber
Chapter 1

Everyone in Cougar Point, Montana, knew the bowling alley had the best breakfast in town. For a buck ninety-five they served up eggs, sausage, hash browns, and toast, plus all the coffee a body could drink. Russ Palmer was hungrier than a bear in springtime, but food wasn't the only thing on his mind.

He wanted company—of the female variety.

"Mornin', Russ," Mary Andrews, the lone waitress, called out when he walked into the restaurant. Her greeting was followed by a chorus from several other ranchers.

Russ removed his black Stetson and hooked it on the peg by the door. Although it was only a few days into September, the air was decidedly cool and he'd worn his blanket-lined denim jacket.

Sliding into the booth with a couple friends, Russ picked up the tail end of what Bill Shepherd was saying.

"Pretty as a picture."

Russ's interest was instantly piqued. "Who?"

"The new schoolteacher, Taylor Manning," Harry Donovan answered eagerly. At twenty-three, Harry still had the peach-faced immaturity of youth and fine, blond hair he couldn't seem to control.

A schoolteacher. Russ's curiosity level fell several notches. "Taylor's a funny name for a woman," he muttered, reaching for the menu, which was tucked between the sugar container and the salt and pepper shakers.

"The missus and I met her yesterday," Bill went on to say. "She rented Old Man Halloran's place on the edge of town."

Russ nodded as he scanned the menu. He ordered the "special" every Saturday morning, but he liked to see what was offered in case something else struck his fancy.

"She moved here from Seattle," Harry informed Russ enthusiastically.

"Then she's a city girl," Russ said, and a hint of sarcasm slipped into his voice. The kid had it bad. Personally, Russ didn't hold out much hope of the new teacher sticking it out past Christmas. Seattle was known for its mild climate. At best, Taylor Manning could deal with four or five days of drizzle, but he'd bet his ranch and five hundred head of cattle that she had no idea what a Montana winter could be like.

"Whether she's a city slicker or not, I couldn't rightly say," Harry said with no lack of fervor, "but I can tell you one thing. She's real pretty. I swear she's got the bluest eyes I've ever seen and dark, silky hair that falls to about here." He gestured with his hand to a point well below his shoulder blades. "A man could see himself running his fingers through hair that soft," he said dreamily. Pink tinged Harry's cheeks as he stopped abruptly and cast a self-conscious look at his two friends.

Russ laughed outright. "Hell, Harry, she hasn't even been in town a week and already you're sweet on her."

"I can't help myself." Harry grabbed his mug so fast he nearly spilled his coffee. "Wait until you meet her yourself, then you'll know what I mean."

"I'm not going to be mooning over any schoolmarm," Russ told the two men. He hadn't gotten to the age of thirty-four safely unmarried only to be taken in by the charms of a citified schoolteacher. Especially one Harry Donovan would fantasize about.

Bill and Harry exchanged glances, then Harry snickered loudly, amused by Russ's attitude. "You just wait till you see her yourself," he said again.

"What do you mean I can't use my American Express card here?" Taylor Manning demanded of the clerk at the small store. "I could use this card in Kodiak, Alaska!"

"I'm really sorry," the older woman said, "but as far as I know, no one in town takes American Express."

Shaking her head, Taylor pulled her Visa card from her wallet and set it on the counter. "Then I'll use this one."

She pushed her chocolate-brown hair over her shoulder and looked around. This situation was becoming embarrassing. Taylor had used her meager savings to rent the house. She'd gone shopping for some kitchen things she was going to need, thinking she could use her credit card and pay for them when it was more convenient.

She was grateful there were only two other people in the store. A cowboy and his daughter. No, Taylor decided, on second thought. The teenage girl was too old to be his daughter, but too young to be his girlfriend.

"I'm very sorry, but we don't take Visa, either."

"You don't take Visa," Taylor echoed in shocked disbelief. "Everyone takes Visa."

"No one in Cougar Point," the woman said apologetically.

Taylor smiled blandly. "Then what do you take?"

"Cash would work."

Taylor rummaged through her purse, drawing out a checkbook. She studied the meager balance and sighed inwardly. "I don't suppose you take out-of-state checks, do you? Don't answer that," she said quickly. "Anyone who doesn't honor American Express or Visa isn't going to take a check from a Seattle bank." She stared down at the few items longingly and made her decision. "I'll simply put everything back and wait until the checks come through from my new account." She'd also have to wait until she'd deposited her first pay two weeks from now, but she didn't feel announcing that was necessary.

"I'm really sorry, miss."

Taylor nodded. "No problem," she murmured, and even managed a respectable smile. She turned, nearly colliding with the cowboy she'd noticed earlier.

"Oh, sorry," she said, slipping past him.

"Just a minute. Did I hear you mention Seattle?" His voice was deep and masculine. Without giving her a chance to respond, he added, "You wouldn't happen to be Taylor Manning, would you?"

"Yes. How'd you know?" Not that she should be surprised. Folks had been introducing themselves all week, telling her how pleased they were that she'd accepted the teaching assignment in their town.

Setting his black Stetson farther back on his head, the rancher explained. "The kid mentioned something about you this morning over breakfast."

"The kid?"

"Harry Donovan."

Taylor didn't recall meeting any youngster by that name, but there'd been so many names and so many faces that she'd long since lost track.

The cowboy smiled, and their eyes held for a moment. His reaction hinted at curiosity, but for her part, Taylor had no feelings one way or the other. Oh, he was good-looking enough. His head was covered with a crisp black Stetson; all the men in town seemed to wear them. His dark hair curled along the nape of his sun-bronzed neck as if he'd delayed getting a haircut a couple weeks too long. He was tall, easily six-three, and he wore tight-fitting blue jeans and a plaid shirt beneath a thick denim jacket.

"Mabel," the rancher said, looking past Taylor. "This is the new schoolteacher."

"Well, for goodness' sake, miss, why didn't you come right out and say so?" Without a second's delay the clerk reached beneath the counter and brought out a tablet and started listing the items Taylor had wanted to purchase.

"Does this mean you'll accept my American Express? My Visa? My check?"

"No, I feel bad about that, but most of the commercial people in these parts don't do credit card business with those big banks. I'll just write down these items here and send you a bill at the end of the month, the way I do with most folks."

"But . . . you don't know me." The woman hadn't so much as requested identification.

Mabel waved her hand, dismissing Taylor's concern. "I feel terrible about this."

Taylor turned her gaze to the cowboy once more. "Thank you."

He touched the brim of his hat in a quick salute and started down the aisle toward the younger girl.

While Mabel was writing up the sale, Taylor watched the exchange at the rear of the store. The teenager was standing beside a cosmetic display, gesturing wildly.

"If you could just sign here," Mabel instructed, turning the tablet around for Taylor. "I can't tell you how pleased we are that you've come to Cougar Point. There won't be much of a social life for you, but we have our moments."

"Yes, I know," Taylor murmured. She hadn't accepted this teaching assignment because of the potential nightlife. She'd specifically chosen the backwoods of Montana in an effort to give herself the necessary time to heal after her disastrous affair with Mark Brooks. She'd moved to Cougar Point so she could immerse herself in her chosen profession—and deal with the bitterness of losing Mark. Next year she'd leave Cougar Point again, rejuvenated and whole. Her family, especially her father, had assumed she'd taken this job on impulse, and although her actions were often spontaneous, for once her father was wrong. The decision to spend a year in Montana had been well thought out, the pros and cons carefully weighed. She was taking this time to mend a badly broken heart, hoping twelve months in the country would do what six months in the city hadn't.

"I want a second opinion," the teenager cried as she rushed toward the front of the store. "Excuse me," she said brightly, holding out her hand. "I'm Mandy Palmer and this is my brother, Russ, who happens to be obstinate and stubborn and completely unreasonable and—"

"Mandy," Russ threatened in a voice few would challenge, "I said no."

"That's just too bad," the girl returned. Tears glistened in her green eyes. She was petite and very pretty, and wore her thick blond hair in a long French braid. It swayed when she jerked her head toward her brother.

"Mandy," Russ threatened again.

The girl ignored him with a defiant tilt of her chin and looked at Taylor. "When a girl's fourteen years old and going into her first year of high school, she's old enough to wear a little makeup, isn't she?"

"Uh . . ." Taylor hesitated. Mandy was staring at her with imploring eyes while her brother glared heatedly, silently demanding that Taylor mind her own business. "What does your mother say?"

"Our parents are dead," Russ said gruffly. "I'm Mandy's legal guardian and I say she's too young to be painting her face with all that garbage. She's only fourteen!"

"Were you wearing makeup when you were my age?" Mandy asked Taylor, the appeal in her eyes desperate.

"A little," Taylor admitted reluctantly. She clutched her purchases tightly, not wanting to get caught in the middle of this family fight.

"Mascara?"

"Yes," Taylor confessed.

"Blush?"

Taylor nodded, ignoring the fierce scowl being directed at her by the girl's brother.

"How about lip gloss?"

"I was wearing that in junior high," Taylor said, gaining a bit more confidence. In her opinion—although it clearly wasn't wanted or appreciated by the male faction here—Mandy should be allowed to experiment with a little makeup.

"See," the girl said enthusiastically. "And you turned out to be a fine, upstanding citizen, didn't you? I mean, a little lip gloss at fourteen didn't automatically turn you into a . . . a lady of the night, did it?"

Taylor couldn't help laughing; that was the most ridiculous thing she'd ever heard. "No. But it was close. It all started with too much mascara, followed by blue eye shadow. Before I realized what I was doing, I was into perfumes." She hesitated and lowered her voice to a whisper. "The French kind."

Mandy gasped for effect.

Taylor didn't hide a smug smile as she continued. "From there it was a natural descent. I found myself standing on street corners . . ."

"It's time to go," Russ ordered. He gave Taylor a look that could have curdled milk. "We've heard more than enough."

Still amused, Taylor left the store. She sure hadn't made a friend of the rancher, but Russ was being too strict with his younger sister. It wasn't like her to take sides in something that didn't involve her, but his attitude had struck a familiar chord. Taylor's own father was often hard-nosed and outdated in his views. More than once the two of them had come head-to-head over the most ridiculous issues. If her mother hadn't been there to run interference, Taylor didn't know what would have happened. The crazy part was, she thought the world of her father. They could argue until the cows came home, but that never dampened the deep affection they shared.
We hope you are enjoying the book so far. To continue reading...
The Cowboy's Lady
Debbie Macomber
Copyright © 2023 All Rights Reserved
Also in this series
Also by this author