Style
Stalked by paparazzi, top model Penelope Plessen stands to lose everything.
Book info
Sample
Audiobook
Media
Author updates
Lists
Synopsis
As a top international model, hard-working Penelope Plessen changes her hair like other women change shoes. Jetting between runways in the world's most glamorous cities is the life she's dreamed of, yet it all implodes during Fashion Week in New York City when a run-in with a paparazzi turns deadly. Navy SEAL-turned-bodyguard, Stefan Armstrong, the man who once broke her heart, whisks her to safety.

With a killer threatening her life and paparazzi hounding her for photos, Penelope flees to her hometown of Copenhagen, where tech billionaire Kristo Demopoulos offers her sanctuary on his yacht. Yet Penelope is anxious to salvage her career and regain control of her life. Returning to her home in the Hollywood Hills, Penelope calls on Stefan for close protective services. Despite her resolve, she finds herself more attracted than ever to Stefan.

When the paparazzi threat intensifies and the threads that tie Penelope, Stefan, and Kristo tighten, the stakes escalate in a threat to end Penelope's career – and her life.

A thrilling romantic suspense saga, Style is the fifth book in the Love, California series of linked, stand-alone novels. Follow a group of smart, stylish friends as they navigate the turbulences of modern life and dating. Set in Southern California with international travel, this fun, heartfelt series features a group of best friends determined to live the lives of their dreams.
Release date: July 26, 2017
Publisher: Sunny Palms Press
Print pages: 266
* BingeBooks earns revenue from qualifying purchases as an Amazon Associate as well as from other retail partners.
Listen to a sample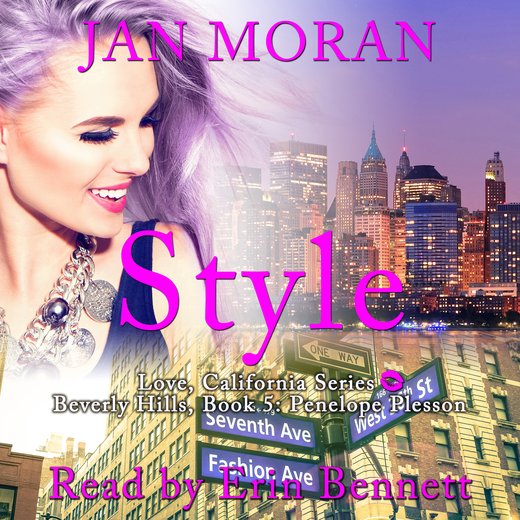 06:12:22
170.47 MB
9781942907480
November 30, 2017
Ideal Audiobooks
2016
Style
Jan Moran
Chapter 1
New York City
"This way, Penelope, to your right."
Penelope stepped from the limousine and paused on the red carpet. With natural, fluid motions, she swirled her translucent violet cape and tossed her lavender-streaked tresses to strike a nonchalant pose that was second nature to her. Mentally calculating light sources and intensity—and how those combined with the angles and planes of her face—she glanced in the photographer's direction long enough for the woman's digital camera to whir through frames in split seconds.
She pouted, then relaxed into a smile, to give the editor a choice. Make the photographer's job easy; that was her theory, and she credited this approach to her success.
Another voice rang out, raspy and gruff. "Hey Penny, who are you wearing?"
"Fianna Fitzgerald." Penelope turned toward a grungy photographer and repeated her process
His camera snapped intermittently as he tried to focus shots for whatever publication he was shooting for—though many paparazzi were independent, selling celebrity shots to the highest bidder. In her years of modeling, Penelope knew a lot of them, at least by sight, but she'd never seen this bungling, lanky man in faded black clothes. Still, New York's Fashion Week drew a wide variety of crowds. She remained patient, feeling sorry for this obvious newcomer. The man fumbled with his camera; he'd never be Richard Avedon, but then, few fashion photographers were such legends.
"Fitzgerald. Name is kind of familiar," he said, fidgeting with his camera while other photographers stepped beside him and took his shot. "Is she someone?"
Besides his naiveté, Penelope sensed something unsettling about him, but she continued. "She's a new fashion designer from Ireland, living in America." She'd met Fianna a few years ago through Fianna's aunt, Davina, a supermodel who had encouraged her to enter modeling as a profession. Now, Fianna was one of her closest friends.
"Oh yeah, the Fitzgerald Flop." He smirked. "She sure played that one to the hilt."
What a jerk. Strolling beside the bank of media lining the entry, Penelope spied photographers from Vogue and The New York Times. She angled a hand on her hip and stretched her leg through a slit in her flowing skirt, though she didn't let her expression reveal that the gruff man's comments annoyed her.
Her friend's debut runway show in Dublin had been sabotaged, and a model had been seriously injured. The media splashed the incident across the tabloid pages, and Fianna nearly lost everything she'd worked so hard for. If not for a stroke of brilliance in embracing the moniker and creating an edgy street line around it, her friend would have been bankrupt. Penelope and other friends had pitched in to help Fianna salvage her career and see her dreams come to fruition.
"Hey, Penny—"
"Sorry, have to run." She was giving a speech and didn't want to be late, but there was also something about that man that was disturbing. Penelope swirled around, her iridescent train rippling in her wake. Dangling amethyst earrings brushed her long neck as she ascended the steps.
From the corner of her eye, she saw the grungy photographer turn to leave, though a bevy of other models and celebrities strode behind her. That struck her as odd; there were still many good shots to be had. She had developed a talent for looking beneath the glossy veneer.
Once inside, Penelope paused to take in the glittering scene. Dance music thumped, ruby and indigo lights sparkled, and a mélange of perfume wafted above it all.
"Penelope, over here." A tall women with wild red hair waved to her. She wondered if the photographers had stopped Fianna on her way in.
As Penelope cut through the celebrity-studded fashion crowd, Fashion News Daily editor Aimee Winterhaus said hello, Tom Ford kissed her cheek, and André Leon Talley, a legendary contributing editor to Vogue, caught her eye and gestured his approval of her ensemble.
Just past André, a highly competitive new model slid a narrowed look her way, and next to her was Monica Graber, a model she'd known for years who'd betrayed her. Her ex-best friend. Monica usually adopted a haughty air around her, but today Monica's eyes darted away and her leg shook, nervous tics Penelope recognized.
Penelope swiveled with studied nonchalance, avoiding the distasteful pair. As a fresh young model from Copenhagen, she'd matured in this mercurial world of friends and frenemies, where fashion was cutthroat business and burned through weak models like dry twigs.
"You were magnificent today," Fianna said, flinging her arms open in greeting.
Earlier in the day, Penelope had walked for a top designer at Skylight at Moynihan Station on 33rd Street in a historic post office venue. The beautiful Beaux-Arts exterior opened to an enormous, light-filled postal sorting room that was a perfect venue for fashion shows.
As Penelope hugged Fianna, she could feel her friend quivering with enthusiasm. The last thing she wanted was to dampen her friend's mood with a remark about the dreadful photographer out front. Judging from Fianna's mood, she probably hadn't seen him. "So what do you think of this madness?"
Fianna was so excited, her freckled face seemed lit from within. "Davina used to let me tag along when I was a kid, but Fashion Week is much crazier now. What an incredible experience this is. So many stars from Hollywood are here, too."
Penelope laughed. "Come on, you must be used to that in L.A. by now. Don't celebs shop at your boutique?"
"New York has a different vibe. It's the Big Apple. The concrete jungle." Fianna started humming the Alicia Keys song about New York.
"I'm glad you got to come." Penelope added with a wink, "There's a good chance your design I'm wearing might be published in Vogue magazine. Wouldn't be surprised if you get business off it."
When Penelope told her that André Leon Talley had shown his approval, Fianna's mismatched eyes widened with delight. Fashion Week was the longstanding event where everyone in fashion met for business.
"Hope you're right. I'd love to pay off my student loans for FIDM."
Penelope glanced over her shoulder. "Some of the instructors from the New York branch of the Fashion Institute for Design and Merchandising are usually here. I'll let you know if I see them." Penelope admired the way Fianna had handled the early trials in her fledging career with unflagging determination and creativity.
"Where's Davina?" Penelope asked, looking around. "I haven't much time before I have to give my speech."
"Behind us," Fianna said, turning to a crowd gathered behind them.
An elegant woman in a liquid silver sheath emerged from the group. She wore a sapphire-and-hammered-silver collar encircling her long neck. Her azure eyes shimmered, and her thick platinum mane flowed around her shoulders.
"Right here, darling," Davina said, her voice laced with an Irish lilt. She touched her gleaming collar. "I'm talking with Elena and her friends about this stunning piece she designed for me."
Originally from Australia, Elena Eaton designed fine jewelry and had a shop next to Fianna's studio on Robertson Boulevard in Los Angeles. An athletic brunette clad in a sleek, ebony gown that showcased her exquisite jewelry, Elena waved at her and called out, "How're you doing?"
Penelope smiled and waved back. She knew several of the young stars were wearing Elena's pieces today, and she couldn't be happier for her friend. She'd recommended her jewelry to several designers who'd chosen bold pieces to accent their designs. Designers often had their own lines, or didn't accessorize at all, so this was quite a coup for a young jewelry designer.
Davina stepped back to admire Penelope's ensemble. "Hej smukke," she said, her eyes twinkling.
"Well, hello beautiful yourself," Penelope said, kissing Davina on each cheek. "Are you learning Danish?"
Davina laughed. "I learned some phrases from a Danish prince at a dinner party in London a few weeks ago. You really are stunning tonight. Ready to give your talk?"
"I am."
"Garbo speaks," Davina said, sweeping her hand to mimic a headline. "I was at a silent film festival last night. You're too young to remember those days."
"So are you. Are you doing any work in New York?"
"Print gigs only. Not as crazy as catwalk life." Davina gestured across the crowded room. "Everything about this business is so different now."
"Has it really changed that much?" Penelope loved hearing about when Davina was at the pinnacle of her success. Even at the age of fifty, Davina was still a stunning woman, proving that beauty needn't diminish with age. Her famous cheekbones were still well-defined, but more than that, it was Davina's empathy, laughter, and professionalism that endeared her to so many in the industry. Penelope counted herself lucky to have had Davina as a mentor.
"Models are thinner than ever before, and there are many more temptations." Davina indicated a rail-thin model with sharp cheekbones and sunken cheeks who languished near a bar. "Or maybe I see it more clearly now from a distance."
"That's exactly my point tonight." A petite woman with horn-rimmed glasses caught Penelope's eye. "Excuse me, I think it's show time."
The woman clasped a clipboard to her chest. "Miss Plessen, we'd like to begin. Come with me now."
Davina winked at her. "Held og lykke."
"It's not luck I need," Penelope replied. "It's everyone's support."
Penelope accompanied the woman to the stage, as Fianna, Davina, and Elena followed.
The area in front of the raised stage area was crowded. "Pardon me," Penelope said, brushing past a well-built man in a tuxedo. He wore mirrored glasses and had longish chestnut hair. Very L.A. Something about him seemed familiar, though she pushed the thought aside. She had to gather her thoughts for her presentation.
The lights went up, and the designer she'd walked for earlier today, Ruben Lars Eriksen, a fellow Dane who also lived in Los Angeles, stepped under the floodlights to introduce her.
"Penelope Plessen is a chameleon," Ruben began. "She's the model so many of us turn to when we're creating a new look because of her unique ability to morph into what we've imagined in our mind. She translates our vision, bringing it to life on the stage and page. Last year, she also brought her vision and style to cosmetics with the launch of Penelope of Denmark for High Gloss Cosmetics."
Penelope nodded toward Olga Kaminsky, the CEO of High Gloss, with whom she had worked in Los Angeles on the makeup line. Due to fierce competition and an industry preference for youth, runway models often had short careers, so Penelope was anxious to create a business that could live on beyond her modeling career.
Ruben held out a hand to Penelope. "Besides beauty and fashion, Penelope has an important initiative for our industry that she'd like to share with you tonight."
Amid applause, Penelope took the stage and thanked Ruben. She stepped to the podium and adjusted the microphone. Gazing over the crowd, she noticed the unkempt photographer from the red carpet. She thought he'd left, yet there he was, lurking on the edge of the crowd, smirking. She found his presence unsettling, so she turned away, drew a breath, and began.
"During the past fifty years, the silhouette of our industry has evolved to the point where many of our finest young models are suffering—and even dying—of eating disorders and drugs." Penelope paused to compose herself, thinking about the friends she'd lost, but most of all, recalling her mother's private struggle with depression and anorexia.
"These issues aren't only about us. They also affect those in our communities who want to look like models and emulate this behavior. It's time we take action for our health, and for our industry as models of behavior. With France, Italy, Israel, and other countries enacting laws to ban the use of malnourished models, I'm happy to announce a new healthy assistance and rehab program with facilities in California and soon, in Europe and other regions, too. This is made possible by leaders and donors in our industry. It's important we open the conversation and—"
"Hey Penny." From the edge of the crowd, a man's menacing voice rang out.
Few people called her Penny. Recognizing the odd, raspy voice, she turned toward it, just as the photographer she'd met outside stretched his arm toward her. Something flashed in his hand—
A man nearby chopped his arm and lunged for the photographer while he struggled to regain his stance. People in the crowd ducked, pressed back, and scattered. Screams split the air, and cameras flashed.
Watching in horror, Penelope grabbed the microphone and ducked. "Everybody down! He's got a gun!"
While others were diving for cover, the man she'd brushed past by the stage leapt up and scooped Penelope up in his arms. "Hey, let go of me!" Reacting, she instantly shoved her palm up against his nose.
The guy dodged her strike, taking the blow to his cheekbone instead. "Getting you to safety," he said through gritted teeth.
As the scuffle below continued, a shot rang out, and the podium splintered. All at once, the lights went off.
Adrenaline flashed through her as the man carried her away from the chaos. Penelope clasped his neck and drew up her legs, feeling his veins pumping against her skin and his heart throbbing against her chest. Was she safe with this man? She couldn't be sure, but if he'd wanted her dead he would've left her on stage.
Where were her friends? "Davina! Elena, Fianna!" All she could do was pray they were out of harm's way. Jostled against the man's chest, she tightened her grip.
Once they'd cleared the stage, he kicked open a backstage door. Finding an empty dressing room, he put her down.
Out of breath, she cried out, "I've got friends out there. We have to get to them." Davina, Elena, Fianna… and so many others.
Without acknowledging her comment, he flipped out a pen-sized flashlight, tapped it on, and handed it to her. "Use this."
Footsteps clattered in the dim hallway. "Is she okay? Let us in," cried Fianna. "We followed your screams." Davina and Elena were behind her, holding their phones with flashlight apps illuminating their way.
"They're with me." Without waiting for approval from the man with icy mirrored glasses, Penelope grasped Fianna's trembling hands and pulled her into the room. "Is anyone hurt?"
"We're okay," Fianna said, her eyes wide with fright. "I don't think anyone was hit, but I can't be sure...."
"Lock it." The man shut the door behind him.
While Fianna and Elena clutched each other, Davina folded her into her arms. "Thank goodness you weren't hurt. That guy saved your life."
He had, hadn't he? Penelope had always prided herself on being able to care of herself, but against a bullet moving at a millisecond? She shuddered at the thought of what might have happened.
Davina kissed her cheek. "He risked his life for you. Do you know who he was?"
She had no idea, Penelope thought with a jolt. Risking his own safety, the man had acted quickly. She wished she'd gotten a better look at his face. His physique was rock solid, and she had felt safe in his arms, though she hated to admit her vulnerability.
His scent reminded her of… She shook her head, dispelling a disturbing memory that surged to the surface. After her heart had been broken, she found it easier not to get too attached.
"That photographer out front," Penelope began, chastising herself.
"Who?" Davina place her hands on Penelope's cheeks and searched her eyes. "Do you know who did this?"
"I'd never seen him before," Penelope said, a sickening feeling churning within her. She should've said something, alerted someone. "Oh Davina, if only I'd said something, maybe I could've stopped this from happening."
Davina pressed her to her breast, soothing her. "Darling, you couldn't have known what he was planning to do."
On the way in she'd been thinking about her speech and her friends, but maybe she could have had him questioned or removed. She swallowed hard against searing tears of guilt and regret that filled her eyes.
The sound of hysterical crying echoed in the hallway, and Penelope inched open the door to two women. "In here," she called, pulling the pair inside to safety.
Outside, screams and scuffling ensued. Davina put her arms around Fianna and Elena to calm them, and then reached out to the two panic-stricken women to bring them into the circle.
Penelope stood by the door, pressing her ear to it. No way was that lunatic getting in here.
One of the women cried out, "What will we do if the shooter tries to get in?"
"We'll stop him." Penelope set her jaw. Never before had she been singled out for violence. She had no idea why anyone would try to kill her, but there were nuts out there, and now he was a threat to everyone. Was he a fan? Had he faked his press credentials? Thoughts raced through her mind, though nothing made sense to her.
After a few minutes, the havoc outside seemed to taper off, and the lights above them flickered on.
"Thank goodness." Penelope turned off the mini-flashlight.
A knock burst at the door. "Penelope, you ladies okay in there?"
He knew her name. But then, she'd been introduced when she'd gone up on stage. She eased the door open to the man who'd saved her from danger.
"Shaken, that's all." For years Penelope had traveled the world to remote locations in Africa, South America, and the Middle East. She'd been trapped in political uprisings, but nothing had prepared her for a direct public attack. That is, except for the self-defense classes her parents had insisted she take when she left home to begin her career.
She peered at the muscled man who stood taller than she did—six-feet-five with her towering Manolo Blahnik heels—and stopped, agape as he stood before her, his mirrored glasses now in his hands.
"Stefan? What are you doing here?"
"I'm on duty."
"What the—why?" Shocked by his presence, Penelope could hardly think.
He looked past her into the room. "Everyone stay put for now."
Davina spoke up. "Has that man been caught?"
We hope you are enjoying the book so far. To continue reading...
Copyright © 2023 All Rights Reserved
Also in this series
Also by this author