Flawless
As heiress to a skincare empire, Verena Valent must navigate a dazzling yet treacherous world.
Book info
Sample
Audiobook
Media
Author updates
Lists
Synopsis
Verena Valent is at the helm of her family's legendary Swiss skincare company in Beverly Hills. After her parents die, she becomes the sole provider for her younger twin sisters and her grandmother, rising to the challenge to guide and expand her family's business. She is in the midst of a critical international expansion when her carefully organized life begins to unravel.
While she struggles to save the business that means everything to her, she meets Lance, an executive chef at the Beverly Hills Hotel. She encounters this intriguing man again on a business trip to Paris and soon gains a new perspective on life.
When the unthinkable occurs and Verena's world collapses, her friends rally around her. Ultimately, Verena learns that truth, family, friendship, and love are the unshakable pillars of life. But will she get a second chance in business - or in love?
Flawless is the first in the stylish "Love, California" series of linked, standalone novels.
An Ideal Audiobooks media production.
Release date: August 8, 2014
Publisher: Sunny Palms Press
Print pages: 310
* BingeBooks earns revenue from qualifying purchases as an Amazon Associate as well as from other retail partners.
Listen to a sample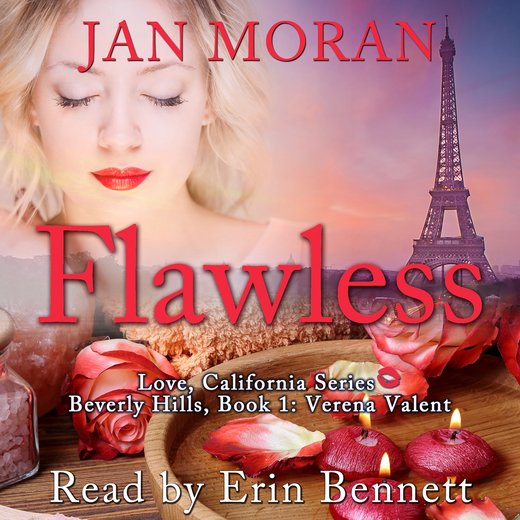 08:01:52
220.59 MB
9781942907442
October 15, 2017
Ideal Audiobooks
Flawless
Jan Moran
Chapter 1
Beverly Hills, California
VERENA HEARD HER NAME called. Despite the uneasy, prickly feeling on the back of her neck, she arranged a smile on her face and made her way to the podium through throngs of well-wishers and clouds of expensive perfume. This was her moment. Amid the thunder of applause rising in the ballroom of the Beverly Hills Hotel, she passed linen-draped, flower-laden tables ringed with women in dazzling designer evening dresses and men in tuxedos.
Tonight was a night that her grandmother, Mia, had dreamed of. Verena wished she could be here, but Mia was at home resting in bed. It was supposed to have been such a happy celebration. A vein pulsed in her temple, twitching her eye.
Lifting the hem of her silvery evening gown, Verena navigated the steps up to the brightly lit stage. She greeted Robert Montreaux with a kiss on each cheek and turned on a radiant smile for the photographers. As head of her family company, Verena performed her job with practiced precision and grace.
She blinked against the camera flashes that left a shower of blue sparkles in front of her eyes, momentarily blinding her.
As her vision cleared, Verena glanced at the crowd that had gathered. She sought out the faces of her friends Dahlia, Fianna, and Scarlett, who had just flown in from New York for the occasion. She drew a deep breath.
At least her good friends were with her tonight. They'd waited patiently through long speeches from other industry professionals who were also being honored for their accomplishments. Verena was seated at a front table for the honorees while her friends had been seated at another table farther back. She needed to speak to them, especially Scarlett, her attorney.
Verena had received a voice mail just moments before she'd left for the awards banquet. Her good friend and banker, Marvin Panetta, had left an urgent message for her to call him, but he hadn't answered when she tried to call him back. I have bad news, he'd said. I need to warn you about Derrick.
That would be Derrick Logan, her ex-fiancé. The man who couldn't seem to accept no for an answer, in business or in personal relationships. She wondered what he was up to now.
"May I have your attention, please?" Robert Montreaux, the French president of Cosmetic Executives Worldwide, tapped the microphone.
Verena swept her attention back to Robert.
"We're here tonight to honor Verena Valent," he said, in a richly accented voice that commanded attention. "She took over Valent Swiss Skincare ten years ago at the age of eighteen after the death of her parents. Not only did she persevere through that tragedy, but she grew to become the driving force behind the company's recent innovations and expansion. Next month, Valent Swiss Skincare expands into Asia, with debuts planned in Hong Kong, Shanghai, Tokyo, and Singapore. So now, before she jets off to Asia, please join me in honoring Verena Valent, our Executive Visionary of the Year."
Applause exploded in the room. From the corner of her eye Verena saw Greta Hicks, the anorexic-thin, Versace-clad reporter with Fashion News Daily who'd also dated Derrick. Greta looked especially haughty tonight, and Verena noticed that she kept glancing in Derrick's direction.
"Thank you, Robert, merci, my friend," Verena said, accepting the faceted crystal award he offered to her. "It's such a privilege to be singled out for this award when there are so many deserving people in the industry." She went on to acknowledge the people who worked for her, as well as the department store buyers who had helped make her brand such a success.
She paused, wishing Mia were here. "I'd like to thank everyone who has shared our vision and worked to grow the company that my dear grandmother, Mia Valent, founded in 1948, just a few blocks from here. Today, after several expansions, we continue to manage all international activities from that location on North Beverly Drive. I merely carry the torch for the next generation, as my parents did, and I look forward to many years of continued service and innovation in skincare. In closing, I dedicate this award to The Women in Pink Foundation for cancer research."
As applause rose across the room, Verena saw Greta's hand shoot up and she advanced toward the stage. What's that about? Verena wondered. This isn't the place to field press questions.
Fortunately, Robert noticed Greta and leaned toward the microphone. "Verena is too modest to mention the rather large donation to Women in Pink from Valent Swiss Skincare, but I will. Thank you, Verena, and now, I invite everyone to the dance floor."
Stymied, Greta folded her arms and spun around.
Music filled the room while the executive director from the Women in Pink Foundation returned to the stage. As people milled about, Verena posed with Robert and the director for photographs with the award. Yet Verena sensed something was going on.
Avoiding Greta, Verena hurried to her friends. Scarlett, Dahlia, and Fianna were dressed in shades of summer sorbet evening gowns from Fianna's latest spring collection.
"Scarlett, I'm so glad you could make it," Verena said, hugging her friend from New York. Scarlett's pale coral gown set off her olive skin and coppery blond hair. Originally from Spain, Escarlata Sandoval was a top intellectual property attorney. "I thought you had a big court case."
"It settled, so I thought I'd surprise you." Scarlett glanced around. "Where are your sisters and Mia?"
"Mia hasn't been feeling well," Verena replied. "Anika and Bella stayed home with her, but she insists she'll be well enough to take the twins to Europe for their school break soon."
Fianna leaned in. "Look out, Verena, Greta is coming your way." Brushing back her mane of red hair, she glanced over her shoulder.
Verena flicked her gaze to one side. "She's up to something, stay close."
With a cameraman trailing her, Greta marched straight toward Verena. "Would you care to make a comment about National Western Bank? Will you go ahead with your Asian expansion or put it on hold?"
So there was something to Marvin's voice mail. Verena wondered what was going on at his bank. She'd try to call him again.
Well?" Greta was staring at her and waiting for a response.
"National Western Bank has always been a good partner," Verena said, slipping into her media role. "VSS appreciates its commitment to Asia."
Greta raised an eyebrow and looked smug. "Will you take Herringbone Capital's offer to fund your business in Asia?" She stepped closer, shoving her microphone near Verena's lips. "Are you counting on Derrick Logan?"
Verena ignored Greta's last comment. Although Derrick had often offered his advice on her business, his venture capital group was not an investor in her company. "As I said, National Western Bank is handling our business." Verena felt a chill course through her and shot a look at Scarlett, who angled her head in warning.
"Maybe you haven't heard that the feds are taking over National Western." Greta's lips curled in satisfaction as she delivered her coup de grâce. "And Marvin Panetta was just found dead in an apparent suicide."
Verena felt sick to her stomach. "No, he just—" Verena stopped as Scarlett touched her arm. What had happened? She couldn't believe Marvin would do such a thing. What did Derrick have to do with this?
"Now would you like to comment?" As Greta waved the microphone, her devious glee was apparent in her voice.
"Leave her alone," Scarlett said, narrowing her eyes. "Marvin was a friend. You're through here, Greta. Move on."
"And who are you?"
"I'm her attorney. Scarlett Sandoval."
"Lawyering up already?" Greta grinned at Verena. "And you said you didn't know anything about this. Interesting." She turned on her heel and left.
"I would have told her to go to hell," Fianna said.
"Verena is the master of control." Dahlia turned to Verena with alarm in her vivid green eyes. "I can't believe he's dead."
Verena shook her head. "Marvin left a message a few hours ago warning me about Derrick. I tried to call him back..." Could she have stopped him from committing suicide? "Has anyone seen Derrick?" His name tasted bad in her mouth. As much as she hated to speak to him, she had to find out why Marvin had called to warn her.
"By the door," Fianna said. "He's with the L.A. mayor."
Scarlett touched her shoulder. "You don't have to talk to him, Verena."
"Actually, I do." Verena strode toward him, thinking about Marvin. He had a sweet wife and lovely children. She'd never thought he would take his own life.
When Derrick saw her approaching, he stepped aside from the mayor. Arching his neck with authority, he held a hand out to her. "Verena, I hoped we'd talk tonight."
She stopped so close to him she could smell the cologne she'd never liked on him. "I just heard the news about Marvin."
Derrick didn't acknowledge her comment. "The mayor was impressed with your speech. Come, I'll introduce you."
"You knew, didn't you?"
Derrick averted her accusatory glare. "Come on, blue eyes, I didn't want to spoil your special day," he said, smoothing his already impeccable black hair.
"Spoil my day?" Verena was aghast. "I'm not ten years old. Marvin was my friend and mentor."
"We didn't expect this," he said quietly.
"Who is we, Derrick? You and Thomas Roper?" Verena had never liked Derrick's senior investment partner in Herringbone Capital.
Before he could answer, Greta appeared behind him. "Aren't you going to tell her?"
Verena stepped back. Greta was tough, but she was a reporter. Her job was to dig up the facts. The cameraman was no longer with her, so Verena said, "One of you better start talking."
Greta put a hand on her slim hips, clearly relishing her role. "None of the Herringbone Capital portfolio companies Derrick introduced to Marvin were paying their loans."
Derrick bristled. "All the indicators suggest we're heading into a recession. I don't know what they actually did."
Verena inclined her head. "I thought those companies were among your most successful."
"Come on, you know our business is complicated," Derrick said, sounding conciliatory.
"I'll say," Greta interjected with a smirk.
"Then why weren't they paying their debts?" Anger gathered in Verena's chest.
"I've been investigating." Greta jutted out her chin. "Seems they had instructions not to pay their notes. Or threats."
"Butt out, Greta," Derrick said, lowering his voice. "Verena, listen to me. Marvin was already in trouble. Herringbone always advises its companies to conserve their cash."
Verena stepped back, confused as to why he would issue such an order. "I don't understand why you'd do that."
"I didn't order them to do anything." Derrick acted exasperated with her. "National Western Bank was over extended. Whatever actions our companies took were based on their own decisions."
Greta cut in. "But if your portfolio companies had paid their loans, they wouldn't have been in trouble."
"You can't make that stick, Greta," Derrick said. "There were rumors in the financial circles that the bank had serious problems. Now it seems the talk was true." He turned to Verena. "Look, I'm here for you if you need me. For a shoulder to cry on, or advice."
"I don't need either one from you." Verena turned to walk away, but Derrick caught her hand.
"Your business is going to need help," he said, sincerity oozing from him. "Think of your employees."
Verena met his gaze, steeling herself against him. Derrick had one thing going for him; he was convincing. He sold business owners—and women—on their need for him. Once a person stepped into Derrick's arena, he was like a lion sizing up his prey. He'd pace his steps, making them feel like they were special, or painting a picture of a future so compelling that those under his spell willingly went to slaughter. When she'd first met him, he'd suddenly been everywhere she went, and he told her their destiny was fated. We're meant for each other, Verena.
"No." She snatched her hand from his grip. She had already made a mistake by getting personally involved with him. Fighting her grief, she blinked away tears and left him with Greta.
As she made her way back to her friends, a tall woman in a sleek ebony dress stepped beside her.
"Congratulations, Verena." She was the new buyer for one of their largest accounts.
"Thank you," Verena said. "I'm glad you could come tonight."
"We've been reviewing our budget for the coming year. Call me so we can discuss."
"I'll be happy to." Although Verena despaired for Marvin and his family, she was also aware of her duty tonight. The woman turned back to her companion and Verena glanced around, noticing the cosmetics merchant buyers in attendance from Nordstrom, Neiman Marcus, and other stores.
As Mia would have wanted, Verena circulated through the room, doing her duty and speaking to the people she needed to acknowledge.
"Congratulations, Verena. A well-deserved honor." A stylish woman with short black hair and burgundy highlights paused to speak to her.
"Thank you," Verena said. Wilhelmina Jones was a beauty industry veteran who'd built an impressive infomercial company specializing in the distribution of fine beauty, health, and fitness products.
"Do give my best to your grandmother," Wilhelmina said. "I've always admired what your family has done in skincare."
She moved on, and Verena did the same. When Verena finally managed to disentangle herself from business, she returned to her friends.
Dahlia frowned at her. "Are you okay? You look awfully pale, Verena."
"I need some fresh air." Feeling faint, she started for the door. She had barely touched her dinner, and she ached for Marvin and his family.
"We'll go with you," Scarlett said, motioning to Dahlia and Fianna.
Outside the ballroom, Verena started up a circular staircase. The four friends hurried through the lobby to the rear of the hotel overlooking the pool, turning heads in their wake.
Perching on lounge chairs grouped under tall palm trees, they chatted a few minutes, discussing how they could help Marvin's family.
Verena breathed in the mild evening air, feeling thankful for her friends, who shared their thoughtful ideas and formed a plan. "I'm glad you all came tonight."
We hope you are enjoying the book so far. To continue reading...
Copyright © 2022 All Rights Reserved
Also in this series
Also by this author