Seabreeze Wedding
The high summer season. A long-awaited wedding. Surprises at a historic beach inn.
Book info
Sample
Audiobook
Media
Author updates
Lists
Synopsis
The high summer season. A long-awaited wedding. Surprises at a historic beach inn.
**A USA Today bestseller.**
At the historic Seabreeze Inn, sisters Ivy and Shelly Bay are busy with wedding plans of their own, although challenges threaten to derail the special events. New guests are also throwing a wedding at the inn, bringing a host of trials and chaos. As Ivy prepares the old beach house for a season of weddings, surprising discoveries from decades past arise. RSVP now and join the party on the beach.
Seabreeze Wedding is the fifth novel in the beloved Summer Beach series and may read as a stand-alone. This heartwarming story is set on the sunny California coast. Visit the small town of Summer Beach now, where the bonds of friendship and love prove unbreakable.
REVIEWS FOR THE SUMMER BEACH SERIES
More than 5,000 5-star reviews on Amazon and Goodreads!
"An enjoyable, lovely read to lift your spirits. A light, breezy read, old houses, and characters with secrets..." - Silver's Reviews
"An entertaining beach read that offers multi-generational context and humor." - InD'Tale Magazine​
"A novel that gives fans of romantic sagas a compelling voice to follow." - Booklist 
"A fun read that grabs you at the start." - Tina Sloan, Author & Award-Winning Actress
"A wonderful story...Will make you feel the sea breeze streaming through your hair." - Laura Bradbury, Bestselling Author
"Perfect blend of mystery and romance...intelligent and strong, close-knit family." - Betty's Reviews
Series Order
Seabreeze Inn
Seabreeze Summer
Seabreeze Sunset
Seabreeze Christmas
Seabreeze Wedding
Seabreeze Book Club
Coral Cottage
Coral Cafe
Coral Holiday
Release date: May 18, 2021
Publisher: Sunny Palms Press
* BingeBooks earns revenue from qualifying purchases as an Amazon Associate as well as from other retail partners.
Listen to a sample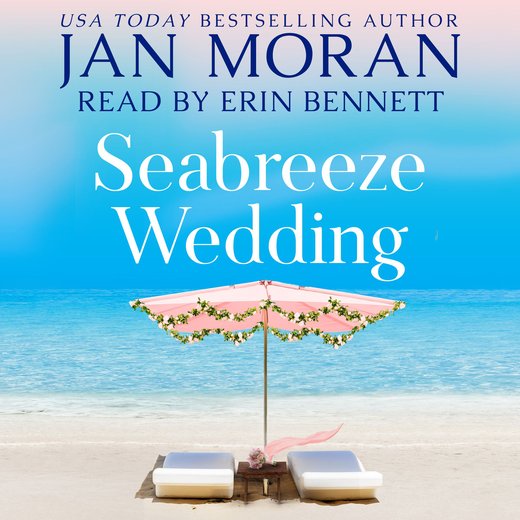 07:32:16
207.04 MB
9781647780326
June 19, 2021
Sunny Palms Press
Seabreeze Wedding
Jan Moran
Chapter 1
Summer Beach, California

Fresh Spring Brreezes tinged with salty ocean air swept through the old
beach house. As Ivy descended the stairway, she drank in the soul-cleansing air that held the aromas of sun-warmed sand and fresh flowers. They'd had a marine layer for several days that kept the beach pinned under a blanket of gloomy gray and cool days, so this was a welcome change.

As she cleared the last step, she imagined the day ahead. On such a
perfect spring day such as this, anything seemed possible. Yet with each passing day, it was one day fewer until her parents departed on their around-the-world sail. Although Ivy was happy that they were fit and healthy enough for this adventure they'd longed for, she would miss them.
At a table in the foyer, her younger sister Shelly was arranging a
bouquet of yellow and white blossoms she'd clipped from the garden.
"What do you think of this arrangement?"
"You've brought the sunshine indoors," Ivy said, pausing near the
reception desk they'd placed near the entrance to welcome guests.
With an expert motion, Shelly stripped leaves from a creamy white rose
before inserting it among a cluster of yellow roses and white daisies. "The morning sun flooded my room, so I woke up feeling this yellow-and-white theme." Sweet scents were already permeating the fresh ocean air flowing through open windows.
Shelly grew most of the flowers and herbs they used on the property,
and she was happily putting her horticulture degree to work. She nodded toward Ivy's lemon-yellow sundress.
"Looks like you're channeling the sunshine, too."
"I suppose I am. This is another dress Mom sent over." Ivy touched the
cotton seersucker fabric, soft from frequent washings.
Their mother had given them some of the clothes she couldn't fit onto
their new boat. Although Carlotta and Sterling Bay were in their seventies, they were still vibrant and adventurous. They had been planning this trip for more than a year, and their excitement was palpable.
Ivy couldn't help but worry about their safety, and now she knew how
her parents must have felt when each of their children set off on adventures.

While Carlotta and Sterling were experienced sailors, unexpected winds
could transform a calm sea into a hungry, treacherous creature.
"I'm going to miss Mom and Dad," Shelly said, continuing to strip
leaves from roses.
"We all will," Ivy said. "But we're adults, and this is probably their last
chance for a long trip like this."
Seeking to change the subject, Ivy picked up a glossy fern frond and
idly twirled it. "How's your new vegetable garden coming along?"
Shelly brushed back strands of chestnut hair that had escaped her messy topknot.
"Thanks to the seeds I started in the hothouse, the cherry tomatoes
should be ready next week, along with several types of lettuce. My big
heirloom tomatoes still need a few more weeks."
"I can hardly wait for those," Ivy said.
Shelly drew her lower lip in and frowned.
"I'm going to miss Mom and Dad a lot more than when I lived in New York. I've gotten used to seeing them more often now. Do you think we should be worried about them?"

"They're in better shape than I am," Ivy replied as she stuffed the fern
frond into the vase. She hated to think about anything that could happen to them. Shelly curved her lips into a knowing half-smile.
"You didn't answer my question, so that's a definite yes."
"This journey is their dream," Ivy said, trying to sound reasonable.
"They've always supported ours. And they're not leaving until after you
and Mitch get married. Which we're all guessing will be pretty soon,
right?" Shelly and Mitch liked spontaneity, but Ivy wished they'd decide on a firm date. They had already pushed back one date Shelly had wanted. Ivy wondered if anything had changed between them.
Shelly cast her gaze to one side and drew in her lip.
"This trip is different," she said, avoiding Ivy's question. "It's such a long one. What if they—"
"Here you are," Poppy called out, bounding around the corner. With her
long blond hair swinging around her shoulders, she waved a message slip in her hand.
"I've been looking for you, Aunty Ivy."
Ivy turned toward her niece, an energetic young woman who worked at
the inn between her marketing jobs in Los Angeles.
"What's up?"Poppy grinned.
"I just spoke to a woman who wants to talk to you about
having a wedding here at the inn. And I also want you to review the story I wrote for my blogger friend—the one about the Seabreeze Inn being the perfect small wedding venue. Looks like we're diving into the wedding business."
Shelly shook her head. "I know we have to fill rooms during the offseason, but we should be careful that wedding parties don't take over the inn. Remember what happened at Carol Reston's daughter's wedding? Our other guests played along only because Carol is a huge celebrity, but many won't be crazy about rowdy wedding parties."
"That one was different," Ivy said. "They're not always that rowdy."
"I worked plenty of weddings in New York." Shelly arched an eyebrow.
"I don't know why we need any wedding parties in the summer anyway. We were booked solid last year."
"Weddings are scheduled year-round, and that's business we need," Ivy
said firmly. "We can charge more fees for the use of the ballroom and
dining room—and you can make extra money on the flowers."
"We can be selective," Poppy said, sounding conciliatory.
Ivy threw a look at her niece. They couldn't afford to be too choosy.
This month marked the first anniversary of the inn, and as with any new
business, it had been a challenging year. Summer Beach was a seasonal spot for summer tourists. Ivy and Shelly had made it through the lean winter months by creating special events that
Poppy promoted. They had hosted a Halloween sleepover for kids and their parents, a Christmas and New Year's week for singles, and a romantic Valentine's weekend. They'd planned spa weeks and featured cooking classes. The last event was a family Easter egg hunt on the grounds, followed by a luncheon that Mitch catered from his Java Beach kitchen.
Poppy handed Ivy the message. "Eleanor York. She made sure to
intimate that she is related to the royal Yorks."
"See? I smell trouble already." Shelly clipped the end of another sturdy
rose stem with force and shot a look at Ivy. "With an attitude like that, she has to be a bridezilla."
Poppy held up a finger. "Except she's not the bride; she's the bride's
mom."
"A momzilla, then," Shelly said. "They're even worse. I handled
flowers at enough weddings to know to steer clear of those designer-clad monsters."
Poppy giggled. "Actually, she introduced herself as Mrs. Churchill
York. The third."Shelly grimaced. "Does that mean she's the third Mrs. Churchill? Or is Churchie the third unfortunate soul to bear that name?"
"The latter, I think." Poppy's eyes flashed with laughter as she joined in
the merriment. "And who names a baby Churchill?"
"Enough, you two," Ivy said, lowering her voice. "Remember what we
agreed? No talking about the guests."
"They're not guests yet," Shelly said, grinning.
Poppy blushed. "You're right, Aunt Ivy." Turning to Shelly, she added,
"Eleanor loved your floral arrangements posted on our website. She said she hadn't seen anything that creative outside of the pages of Town & Country."
Shelly sniffed. "What she saw in that magazine was probably my work.
The staff photographer was a friend and often came to shoot events where I'd provided flowers."
Ivy seized on that. "See? You could make a lot of money from a job like
this." She turned to Poppy. "Have you searched them online? Surely they can't be too hard to find."

Poppy's eyes widened. "Aunt Ivy, you told us not to look up guests."
"She's not a guest yet, is she?" When Shelly chuckled, Ivy quickly
added, "This is business."
"On it," Poppy said, sliding behind the reception desk and flipping open
her laptop. Shelly rolled her eyes. "Don't say I didn't warn you." She filled in bare spots in the arrangement with the remaining lacy fern fronds before brushing discarded leaves and stems into a paper bag.
Ivy touched Shelly's shoulder. "A big floral job could help pay for the
wedding and honeymoon you and Mitch want."
Over the New Year's holidays, Shelly had drummed up the courage to
propose to Mitch Kline, the proprietor of Java Beach, the town's most
popular coffee shop. Although at twenty-nine, he was younger than Shelly, the two of them had grown close over the past year. They were both creative free-spirits with a strong work ethic. Ivy felt they were a good match. At thirty-eight, Shelly was eager to start a family.
As for Ivy, she and Bennett—the town's mayor—had yet to set a date
for their wedding. This wasn't the first marriage for either of them, so Ivy
wanted Shelly to celebrate her wedding first.
Shelly lifted her eyes to the ceiling and sighed. "We could use the
money. But the wedding guests had better behave themselves. You
remember what happened at the last one. Fishing drunks out of the pool
isn't my idea of a great event."
"What was I supposed to do?" Ivy spread her hands. "Let a famous
actor drown? That would've landed us on the celebrity graveyard tour list."
Shelly laughed. "I can just imagine how that would go."
Poppy snapped her fingers.
"Hey, that might be an idea. With such an
old house, I wonder if anyone famous has ever died here?" Her eyes
glittered at the possibilities. "Or even better—murdered? What with Amelia Erickson's ghost already here, I could really promote that—"
"No," Ivy and Shelly cried in unison, holding up their hands.
Ivy shivered. "There is no ghost. No spirits, no apparitions. Nothing.
Rumors like that can chase away potential guests. Besides, we all have to sleep here."
Shelly and Poppy suppressed smiles.
"I mean it." Glaring at them, Ivy took her phone from her pocket. "Now,
if you'll watch the desk, Poppy, I'll call Mrs. York. We're also expecting
that group from Los Angeles any time now. They called and asked to check in early."
"All the rooms are ready," Poppy said as she peered at her laptop
screen. "Wow, the Yorks look loaded. Billionaire-rich. But I wonder why
they'd want to have their daughter's wedding here?"
"People have their reasons," Ivy replied, though she was curious about
the couple, too. "Maybe they want an intimate setting. Just because they're wealthy doesn't mean they want an extravagant affair."
"I have to clip flowers for the guestrooms," Shelly said, disappearing
through the front door with her shears and pail. A new guest strolled in, and Ivy nodded in greeting. Mrs. Mehta was a retired schoolteacher from Seattle and still had the sweet voice and manner of the kindergarten teacher she had been for years. She and Ivy had chatted
at length over breakfast. Mrs. Mehta had spoken so fondly of her young
students, many of whom still kept in contact with her. She had even taught the children of former students. Meeting interesting people was a bonus that Ivy enjoyed, and their stories often moved her.
"Could one of you help me with the coffeemaker in the dining room?"
Mrs. Mehta asked. "I don't know how to use those new-fangled machines with those little cups. I'm afraid I'll break it, but I sure would like another cup of that delicious coffee."
"I'll help you," Poppy said. "Those are coffee pods. It's easy to use
them once you know how."
Ivy eased behind the desk. "I'll watch the front."
Mrs. Mehta told Ivy she had traveled the length of the western coast
from Seattle to see her children. She planned to go first to San Diego and
then continue to Phoenix to visit another child. Although Summer Beach
was just an hour north of San Diego, the older woman said she needed to
rest from her drive before taking on five grandchildren.
Ivy could only imagine, but with Sunny and Misty now in their
twenties, she might soon be a grandmother, too. Still, with Sunny in college
and Misty determined to make a career out of acting, even marriage was on
the distant horizon.
After Poppy left, Ivy put down her phone and glanced at her niece's
computer screen, squinting without her reading glasses. Images of Eleanor
York dressed in eveningwear filled the screen, although photos of the
husband weren't clear. "Hmm, you certainly go to a lot of fancy parties.
Who are you?"
She clicked on another link, and photos of an older professorial
gentleman in a herringbone coat popped up. Hardly the same one, she
thought, dismissing the image.
Ivy had attended the occasional office holiday party with Jeremy, so she
had a couple of black evening dresses she rotated. As a stay-at-home mom,
she hadn't needed much. She peered closer and enlarged an image. Eleanor
York's jewelry was quite impressive.
As guest voices floated downstairs, Ivy felt a twinge of guilt about
snooping. She closed the laptop and rested her hands on it. Her fingers were
bare of rings. She stroked the faint indentation where her wedding band had
rested, growing tighter over the years until she didn't bother taking it off.
She had a few other rings she wore from time to time, including a
modest, ruby-and-diamond ring she'd found tucked under one of the
wooden floorboards in her bedroom. It had belonged to the original owner
of the house, Amelia Erickson, whose presence they all felt from time to
time.
Amelia had left a trail of secrets in the old house she had christened Las
Brisas Del Mar, from historic art and important jewels she'd tucked away to
hidden rooms she'd built in the attic during the war.
Yet after discovering a cache of beautiful vintage Christmas ornaments
in the garage, Ivy couldn't imagine there was any other place where
something could be stashed away.
Amelia and her husband Gustav had been important art collectors from
Europe. During the Second World War, Amelia had rescued significant
works from Europe that Ivy had promptly returned to their owners.
After Gustav's death, Amelia had been hospitalized for Alzheimer's
disease in Switzerland, where she passed away decades ago. The grand old
home, once a glittering summer gathering place for the intellectual, artistic,
and accomplished, had gone silent—frozen with its mid-century decor. The
estate had been managed for decades until such time that a long-lost heir
was deemed unlikely to surface. Aside from occasional charity fundraising
events, the house had seen little use in years.
Ivy turned over her hand. The old callus at the top of her palm where
her wedding band had rested was nearly invisible now. After Jeremy had
died, it had been months before Ivy could bring herself to remove her
wedding band.
Soon, another would take its place. Her heart ached at the bittersweet
thought.
Ivy's phone trilled, startling her. Carlotta Reina Bay's number floated to
the screen. "Hi, Mom. What's up?"
"If you haven't had lunch yet, I'm meeting my friend Ginger Delavie at
her granddaughter's beach cafe. I thought you might like to join me and see
them at the same time."
"When?"
"About half an hour? I know it's last minute, but we just decided."
Through the window, Ivy could see a car pull to the curb in front of the
house. Behind them, Ivy spied Bennett walking toward the inn from the
village. She recalled that he'd left his SUV at the mechanic's shop, and he'd
had a meeting with the Summer Beach Retailers Association at Java Beach.
"I'd love to, but I think our guests just arrived," Ivy said. "Shelly is off
to the nursery, and Poppy has a client meeting."
"Can Sunny watch the inn for you?"
"She's at school today."
Ivy's daughter would soon graduate from college. If guests needed
anything, Ivy would have to be available. As the weekend neared, drop-in
guests often arrived, too. Although they couldn't afford to miss any
opportunities, Ivy wanted to see her mother, too. "Would you like to come
by later?"
Just then, laughter burst through the open door that Bennett stood
holding open for a group of young women. "After you, ladies."
"What a gentleman," one woman said, smiling flirtatiously. Four
twenty-something women stepped into the foyer, their arms around each
other and still laughing.
Carlotta's voice floated through the phone. "Sounds like someone is
having a good time there. Why don't you and Shelly come over tomorrow
instead? I have more things to give you."
"I'd like that." Ivy clicked off the phone and turned to the group in front
of her. "Welcome to the Seabreeze Inn."
A pale blond woman wearing a rhinestone tiara and a glittery white
satin sash that read Bride stepped up to the desk. She gave her name, and
Ivy smiled.
"Bachelorette party?"
The three women behind the bride-to-be let out a cheer. The last woman
through the door was checking out Bennett, who cleared his throat behind
an amused grin.
"Are you checking in, too?" the woman asked him. She wore a short,
form-fitting pink dress, and her long brunette hair was slightly disheveled.
"You might say I live here," Bennett said as he winked at Ivy.
The woman twirled a strand of hair and smiled at him. "I sure hope to
see you by the pool. We're going for a dip right away."
"The mayor might have work to do this afternoon," Ivy cut in.
The woman raised an eyebrow. "I've never seen a mayor with such
muscles. Very impressive. I'm Carrie, by the way." She extended her hand.
"Bennett Dylan, at your service," he said, shaking her hand as Ivy
suppressed a laugh. "If you'll excuse me, ladies, I have some calls to
make."
Leaning toward Ivy, Carrie asked, "Is he married? I didn't see a ring."
"Almost," Ivy said with a small smile.
"Now that's a challenge if I ever heard one."
The bride, an earnest-looking young woman with clear blue eyes, turned
to Ivy. "I'm Rachel Evans. My cousin and my friends obviously started the
party before I arrived. I'm the designated driver anyway." She leaned in.
"I'll try to keep them quiet."
Recalling her bachelorette party from years ago, Ivy smiled, though she
would keep an eye on the outgoing Carrie who had flirted with Bennett,
even though she was half his age.
Taking keys from the drawer, Ivy said, "I've put you all in the Sunset
Suites behind the main house so that you won't disturb anyone. We simply
ask that the pool area be quiet after eleven at night so that other guests can
sleep." Mrs. Mehta was the only other new guest, so Ivy was glad to have
this party here.
A few long-term guests were still in residence at the inn after a fire had
ravaged their homes on the ridgetop overlooking the town, such as Imani
Jones, the local attorney-turned-flower-vendor, and her son, Jamir, who was
studying pre-med. Their home had been rebuilt and would be ready as soon
as the interior was finished.
Another guest, Gilda, wrote for magazines. She didn't seem to be in a
hurry to go anywhere. She'd told Ivy that she and Pixie, her Chihuahua,
liked the ease of living at the inn. And although Bennett's house had been
repaired, he'd leased it to a family and decided to remain in the old
chauffeur's apartment above the garages behind the house. Ivy had been
glad to see him stay.
"First thing we're going to do is dive into the pool," Rachel said. "It
looked gorgeous in the website photos."
"Julia Morgan designed it," Ivy explained. "She was the architect who
designed Hearst Castle on the northern coast of California."
"That's so cool," Carrie said, speaking up again. "I've read about her.
I'm going to be an architect, too. Starting in September." She did a little
happy dance.
"We're all graduating in June," Rachel said. "I'm the only one not going
on to graduate school right away. My cousin Carrie will design our homes,
Belinda will clean up the ocean, and Giselle will handle our taxes. I might
catch up in another year or two." She blushed slightly.
"After the baby," one of her friends said before clapping her hand over
her mouth.
Rachel sighed. "I just found out. My boyfriend Topper and I were both
going to law school. We hadn't planned it this way, but now we'll have to
get married sooner…" Her voice trailed off, and a flush gathered in her
cheeks. "Before, I was only worried about the wedding. Now, that's the
least of my concerns."
"Except that her mom is such a perfectionist," Carrie interjected.
Rachel nodded. "At this point, a wedding seems almost irrelevant," she
said, lowering her voice almost to a whisper. "I'm scared to death. I don't
know if I'm ready to be a mother. What if I'm terrible at it?"
Ivy remembered her early, angst-filled years of motherhood. "Your love
is what matters most." She smiled at the nervous young woman. "Maybe
you'd like to go to the local day spa for a massage while you're here."
Rachel's eyes lit with relief. "I'd love that. The others want to go to
Spirits & Vine tomorrow, but I'd rather do something else. Just the thought
of smelling alcohol in a bar—even a very nice one—turns my stomach."
Paling at the idea, Rachel pressed a hand against her abdomen. "I almost
didn't come at all, but they insisted."
"Under the circumstances, this is a low-key version of what we'd
originally planned," Carrie added. "We all sneaked out of town to do this."
Ivy withdrew a card from the desk and handed it to Rachel. "Here's the
number to the spa. Let me know if you want me to call for appointments."
"Thanks," Rachel said, tucking the card into her pocket. "I'd like that."
Ivy showed the young women to their rooms. They were about Sunny's
age, and Ivy couldn't help smiling at their constant chatter. And why not?
They were on the brink of exciting, life-changing adventures.
Ivy remembered how exciting those years had been—when anything
and everything seemed possible. Life could change in a moment—like
when she'd decided to move to Boston for school or when she'd met
Jeremy in a coffee shop.
As Ivy closed the door behind Rachel, she made a note to put another
lined trash bin in her room near the bed. The young woman looked queasy,
and Ivy thought she might be suffering from morning sickness. She'd also
bring a basket of ginger ale and peppermint tea, along with plain saltine
crackers, to the room.
During this past year, Ivy had learned that little touches could make
guests more comfortable, and she enjoyed doing it. She'd spent her adult
life taking care of her family, so this role came naturally to her. Except for
her painting, she hadn't trained for much else.
At college, she'd studied art history. She might have gone to work for a
museum or an auction house when she was young, but she and Jeremy had
started their family right away. He preferred that she stay home with the
children, and she had enjoyed having that opportunity, too. Yet, in watching
her classmates' success, she had often wondered about what she might have
missed.
Ivy made her way back to the main house and opened the kitchen door,
which seemed to have shifted in its frame. She had to lift the knob to close
the door behind her.
The upkeep on a home this large was expensive. Fortunately, her
brother Flint owned a construction company and had helped her with
repairs, but she couldn't depend on him forever. Besides learning how to
wield a hammer and screwdriver and unclog toilets, she also had to figure
out how to fill the inn year-round.
When her husband had bought the house—unbeknownst to her—and
drained their retirement savings, it was still structurally sound, though
dated. Jeremy had neglected upkeep. The landscape was practically gasping
for water. Although Ivy had tried to sell the house that dominated the
beachside village that had developed around it, its historic designation and
poor condition had dissuaded buyers.
With property taxes looming and a battle brewing with Jeremy's
mistress—another fact Ivy hadn't discovered until she'd arrived in Summer
Beach—she had decided to rent out rooms to save the property from a tax
sale.
Now, in the spacious, 1950s-era kitchen, Ivy gathered tea bags and
plucked crackers from the pantry. She tucked a vintage embroidered napkin
from Amelia's linen collection into a basket and arranged the items.
Ivy paused, absently rubbing her bare ring finger again with her thumb.
The summer before she'd left for college on the East Coast, she had a crush
on a surfer named Bennett Dylan. Yet it hadn't been long before she'd met
Jeremy in Boston and succumbed to his French charm, intelligence, and
relentless pursuit of her.
Thinking about her new guest, Ivy had recognized the look in Rachel's
eyes, which held glimmers of excitement and determination—as well as
trepidation over the unknown and unexpected.
Even in her mid-forties, Ivy knew that feeling. Through the kitchen
window, she could see Bennett on the balcony of the old chauffeur's
apartment above the garages. Seated on the new outdoor furniture he'd
bought to feel more at home, he was speaking on the phone and making
notes.
Since she had arrived in the sleepy beach community, the unexpected
had certainly occurred in the form of Bennett Dylan. Despite her initial
misgivings, she'd found herself growing to care for him. Her older daughter
Misty approved of their dating, and even Sunny, her mercurial younger
daughter, had finally come around.
This past Christmas, Bennett had asked Ivy to marry him. At the time, it
seemed the most natural thing in the world to accept his proposal, though
they had yet to confirm a date. He was waiting for her.
And she was waiting on Shelly.
The Bennett that Ivy knew was the man she wanted in her life. Yet after
awakening this past year to Jeremy's secret duplicity, she had to wonder if
there was more than one side to Bennett.
Was he too good to be true?
She didn't have time to think about that now. With resolve, Ivy tucked
several bottles of ginger ale into the basket for her young guest and slid it
onto her arm.
When she reached Rachel's unit, she tapped on the door. The pale
young woman cracked the door, and Ivy said, "I brought you a few things
you might like to have on hand. Just in case you start feeling queasy." She
held out the basket.
Rachel's eyes widened as she accepted the offering. "I wasn't sure what
to do. I haven't told my mother yet." Behind her, a mobile phone played a
Barry Manilow tune. Rachel made a face. "That's her favorite song." She
bit her lip and wrinkled her forehead with apprehension.
"Maybe you should answer it," Ivy said gently. "Call if you need
anything." Although she wondered why Rachel felt she couldn't tell her
mother, that was none of her business.
After leaving her new guest, Ivy wound through the tropical garden path
that Shelly had planted around the Sunset suites. Sweet white plumeria
blossoms opened to the sunshine, while lacy ferns peeked from beneath
larger plantings and rippled in the light ocean breeze. Ivy trailed a hand
over pink ginger flowers. The myriad aromas were redolent of Hawaii and
other Polynesian islands, which is what Shelly had intended.
Spying her sister in the garden, Ivy made her way past the pool area to
her. Shelly held a shiny tin of fresh-cut flowers.
"Your flowers have really come in this season," Ivy said. Shelly had
brought the neglected grounds back to life with trimming, fresh plantings,
and a lot of care.
Shelly snipped a pale pink rose that was just unfurling from its bud.
"Pink and white seem like sweet bride-to-be colors."
Ivy smiled at her comment. "Is that what you plan on having?"
"Me? Oh, no." Shelly twirled the flower she held. "I'd like to have the
most exotic, fascinating arrangements this coast has ever seen." She
laughed as she tucked the shears into the back pocket of her worn jeans.
"Though what I'll probably do is clip flowers from the garden for our small
affair. Large weddings come with a lot of headaches. Mitch and I don't need
any of that. It's about the marriage, not the wedding."
"Yes, but weddings are nice to look back on." Ivy hesitated. She didn't
want to cause concern for Shelly, but she needed to plan, too. "Are you and
Mitch still planning on getting married before Mom and Dad leave for their
trip?"
"I'd like to." Shelly handed the pink rose to Ivy. "Maybe I'm not as
free-spirited as I pretend to be." She drew a breath to say something else but
hesitated.
"You're exactly who you are, Shelly. Why try to be anything else?
That's exhausting."
A thoughtful expression filled Shelly's face. "That's what Mitch says,
too. But I'm ready for my real life to begin. I've waited years to sail into
my sunrise."
Ivy knew what she meant. Shelly wanted to start a family, and her
former boyfriend in New York, Ezzra, had dangled a promise of a future
together for years—without specifically committing. After numerous breakups,
he'd lure her back with another promise, though the future Shelly
longed for never materialized.
Now, Ivy had her suspicions, though she might be treading on sensitive
nerves. "What's holding you back?"
Shelly fiddled with a long strand of chestnut hair that had escaped her
messy topknot, twirling it around her finger. "Mitch might be having second
thoughts."
"Or maybe he needed time to adjust to the idea of marriage," Ivy said,
sliding her arm across Shelly's shoulder and drawing her close. "What did
he tell you?"
Shelly's eyes glistened, and she blinked hard. "He doesn't have to say
anything. I know the signs. Ezrra painted them in vivid color for me. The
truth is, I can't drag a date out of Mitch. I gave him a choice of three, and
one has already passed."
Ivy tried to remain upbeat. "That might not mean what you think it
does."
"It's pretty clear to me." Shelly scrunched her eyebrows together. "I'm
the one who proposed. Mitch got swept up with the idea, and now he's had
time to reconsider. If I'm honest with myself, I should have known he
wasn't ready. He's a young, good-looking surfer and still has years to play
around before settling down. And he could find someone a lot younger who
doesn't have a shelf-date nearing expiration."
"That last part is hardly true." Thirty-eight wasn't necessarily too old,
but Shelly's age did increase her medical risk of pregnancy. Yet Mitch
seemed as devoted as ever. What was Ivy missing?
Ivy brought the rose to her nose, inhaling as she thought. "Have you
tried to talk about this?"
"We're both avoiding the obvious."
"You might be misinterpreting his actions," Ivy said. "From what I've
seen, Mitch is completely enamored with you. Maybe he simply wants to
get to know you better. Or he wants to be spontaneous."
Shelly pursed her lips. "It's been a whole year. And I don't see Bennett
backing out on you. He knows what he wants. Maybe you two should get
married before Mom and Dad leave."
"Speaking of Mom, she asked us to come over tomorrow to pick up
another load of housewares and clothing she wants to leave with us," Ivy
said, swiftly avoiding Shelly's comment. Since they had both become
engaged over the holidays, Ivy had been concerned about the competition
that Shelly might feel. "Ask her what she thinks about Mitch."
"Maybe I will." Shelly drew fingers across her cheeks. "After I put
these flowers in the guest rooms, I'll head to Hidden Garden. Need
anything?"
"Not a thing. Say hello to Leilani and Roy for me." Ivy sent the owners
business whenever she could. They had been kind enough to donate a tree
to them for Christmas last year. "Our new guests are going for a swim soon,
so I'll put the flowers in their rooms then."
"Thanks," Shelly said. When she passed the tin of flowers, Ivy
chuckled. "Wait a minute. You have stripes on your cheeks."
Looking at her hands, Shelly grinned. "Guess I should've worn my
gloves before digging in the dirt." She lifted an edge of her T-shirt and
wiped her face. "Better?"
"Gorgeous." Ivy smoothed Shelly's knotted hair and tucked the loose
ends into her bun.
"You always did take care of me," Shelly said. "Even now."
"You take care of yourself pretty well. Imagine, you could still be in
New York with Ezzra." Ivy hugged her sister. "This will all work out."
In Shelly's favor, she hoped. If Mitch backed out of the wedding as
Ezzra had, Shelly would be devastated.
We hope you are enjoying the book so far. To continue reading...
Seabreeze Wedding
Jan Moran
Copyright © 2023 All Rights Reserved
Also in this series
Also by this author