Coral Cafe
A beach cafe, An event to remember, The summer continues.
Available in:
eBook
Paperback
Audiobook
Hardcover
Book info
Sample
Audiobook
Media
Author updates
Lists
Synopsis
A beach cafe. An event to remember. The summer heats up with friendship and fun.
A USA Today bestseller! "A fun read that grabs you at the start." — Tina Sloan, Award-winning Actress and Author
When Marina Moore decides to expand her farmers market and pop-up dinner business, the next step is a cafe on the shores of Summer Beach. But challenges loom, and Marina must quickly become more creative than ever, especially when her children need help. Her sister Kai's position with a musical theater troupe forces more changes. Their sister Brooke is having marital challenges, while grandmother Ginger continues to contribute her advice on the life well-lived—if only her granddaughters will listen.
Meanwhile, writer Jack Ventana stumbles onto more old secrets in Summer Beach, and his overgrown Labrador retriever puppy Scout manages to dig his way into more trouble. When the status quo changes between Jack and Marina, their budding romance is threatened.
Join the fun once again in Summer Beach, where the bonds of friendship and love prove unbreakable.
From the author of the USA Today bestsellers, the Coral Cottage and Seabreeze Inn series, the Coral Cafe is a new chapter on the sunny coastline. Available in paperback, hardcover, audiobook, and large print editions.
Release date: February 16, 2021
Publisher: Sunny Palms Press
Print pages: 290
* BingeBooks earns revenue from qualifying purchases as an Amazon Associate as well as from other retail partners.
Listen to a sample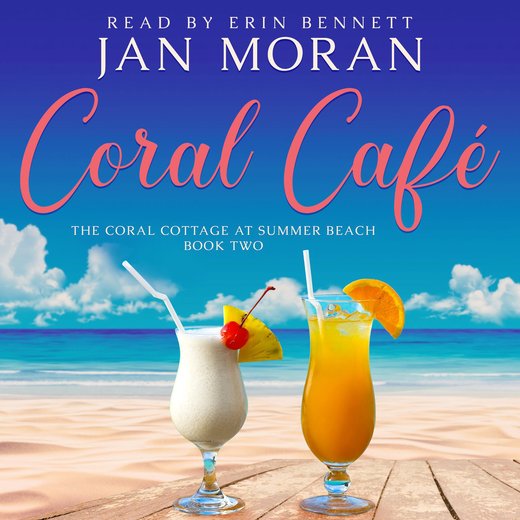 07:45:18
213.01 MB
9781647780067
March 13, 2021
Sunny Palms Press
Coral Cafe
Jan Moran
1
Summer Beach, California
The sea breeze was crisp, though the morning sun warmed Marina's shoulders as she arranged fresh-baked bread on a table in her specialty food stall. She waved at a retired couple threading their way through the busy farmers market toward her. Anne and Charles had been her first customers—thanks to her sister Kai, who had insisted on handing out samples that day.
While the initial decision to transform herself from San Francisco television news anchor to entrepreneur might have been forced upon her, Marina couldn't imagine going back to the stress-filled job she'd held for years.
"I have the rosemary-garlic focaccia bread you ordered," Marina said, greeting the pair. With their stylish silver hair, deck shoes, and navy cotton sweaters draped around their necks, Anne and Charles looked as if they'd just stepped out of a commercial for high-end wealth management. Almost too perfectly cast.
Marina had once called them the yacht couple—and she'd been correct. Their gleaming white yacht—far too large for most of Summer Beach's boat slips—loomed at the end of the marina beyond Mayor Bennett's modest craft. They'd told her they were friends of local celebrity Carol Reston, and they'd docked there to visit Carol and other friends visiting from Los Angeles for the summer.
Marina had worked late last night on the large order, making sure she served nothing short of perfection to her best customers.
This summer, she had to succeed, not only for herself but also for her children. The twins were turning nineteen this summer. Heather was finishing college, and Ethan was trying to figure out his life. Young adults perhaps, but still kids in so many ways. And she was the only parent they had.
But Marina had a plan. This wasn't the first time she'd faced a tough challenge.
"I can always count on you," Anne said. Diamond studs twinkled at the older woman's earlobes as she inspected her order. "Smells marvelous, my dear. Our chef thought it perfect for our party."
Kai lifted a plate of samples. "Marina is adding Quiche Lorraine to the menu this summer. I call it sophisticated comfort food. Try a bite."
Marina and Kai had argued over the quiche. In a world of kale and quinoa and avocado toast, a savory egg custard seemed almost quaint. "I disagree," her sister said. "Martinis made a comeback, and so will quiche."
And so, quiche was the specialty of the day.
Anne sampled one. "Marina, darling, this is divine. You've done it again." The older woman motioned to her husband. "Charles, you must try Marina's quiche. It reminds me of that little cafe on the Croisette, overlooking the Mediterranean."
"Save me a bite," Charles said as his phone rang. Answering it, he stepped to one side in the aisle.
Kai nudged Marina and whispered, "Told you the quiche would be a hit. People indulge on vacation."
"These are selling fast," Marina said, stretching the truth just a little. "I created this based on another one of Julia Child's classic recipes—though I lightened it a little. Still just as tasty, though." As she handed Anne a paper napkin, she recalled how she'd learned to make this recipe.
When their grandmother, Ginger Delavie, lived in Boston as a young woman, she had become friends with Julia Child, the renowned chef and cookbook author, through their mutual government work. Some of Marina's fondest memories were of Ginger gathering her and her sisters in the kitchen to teach them how to make her friend's recipes.
This was one of Julia's favorites, Ginger would say. Or, this was Julia's special omelet—the first one she made on television. After their parents died, these kitchen gatherings became even more important to Marina, Kai, and Brooke. Always brilliant in math, Ginger taught Marina and her sisters measurements and fractions in the kitchen before they started first grade.
Anne's husband joined her, and she handed him a sample of Marina's quiche. "As delicious as I've ever had," he said, nodding.
"Don't forget the cookies," Charles said, though his smile didn't reach his eyes.
"We should both forget the cookies," Anne shot back. "But we simply can't. We'll take a dozen. Half oatmeal and half chocolate chip." She paused, shifting her gaze to her husband, who was uncharacteristically quiet. "Who was that on the phone?"
"Jean-Luc," Charles said. "His mother was in an accident. He's leaving immediately."
"Oh, no." Anne furrowed her brow. "Is it quite serious?"
"I'm afraid so."
Anne nodded. "Of course, he must go at once. Well, there goes the party we'd planned. I'll call our guests to cancel. Without a chef, it's all that we can do. Unless we serve cocktails and focaccia," she added, her gaze resting on the bread that Marina had prepared for the party. Anne brightened. "We have plenty of caviar, though."
"No reason to cancel," Charles said. "We can take everyone out to a restaurant."
"That's not the point of this dinner party. Besides, I doubt if we can find reservations for that many people tonight." Anne sighed. "What a shame. It was such a lot of work finding a date that worked for everyone. I hate to disappoint people."
Marina didn't mean to eavesdrop, but the couple was standing an arm's length from her. A party tonight. She shot a look at Kai, who angled her head in the couple's direction and arched a brow. Marina shook her head. She wouldn't have much time to prepare, and it could be a disaster. "Kai, would you help Anne and Charles with the cookies while I wrap their quiche?"
"I'm so glad you came early this morning," Kai said to Anne and Charles, springing into her role. "We often sell out, but we try to accommodate everyone. Even on very short notice."
Early this morning, Kai had left their grandmother's beach cottage to meet Shelly at the Seabreeze Inn for yoga. Kai still wore leopard-patterned yoga gear under a loose top, and her thick strawberry blond hair was caught in a ponytail. Whether on stage with her musical theater troupe or at the farmers market, Kai always stood out.
"We've learned to beat the rush here," Anne said. "Last week, Marina had sold out of our favorites. So we called in our order ahead of time."
Kai scooped up the cookies that Anne pointed out. "It won't be long before you can visit Marina's new cafe on the beach." She threw another pointed look at Marina.
"I've heard about that from Mitch at Java Beach," Charles said, nodding at the logo on her new apron. "The Coral Cafe, I take it. Good name."
Marina smiled as she slid their order into a bag. "My grandparents bought their cottage on the beach decades ago, not long after they married. They called it the Coral Cottage. You've probably seen it from the beach."
"Can't miss the place," Kai said. "It has a fresh coat of coral paint on it."
"We've been serving casual suppers on a new deck with a view of the ocean," Marina added. She did a quick calculation of the time. Maybe she could put together something simple for them on the patio. A salad and pasta wouldn't take long, even for a crowd.
Marina had paid for the new deck with her severance settlement from the television station. Ginger's insurance had also covered repairs after a waterspout had hurtled onshore just a few weeks ago. The twister had sheared the roof off the guest cottage and made a mess of the yard. They had just finished installing new shrubs and flowers. Fortunately, the new patio escaped damage.
Jack Ventana, a writer who'd been renting the cottage from Ginger for a short sabbatical, had moved to a room at the Seabreeze Inn with his overgrown Labrador retriever puppy, Scout. As irksome as Jack and Scout could be, Marina missed taking the occasional morning walk on the beach with the pair.
But that was before Jack had pulled a disappearing act. After she'd joined him for what turned out to be a romantic swim at the Seabreeze Inn—the historic house that her old friend Ivy Bay had restored—he'd promised to call her. They'd even shared a kiss. But a week passed, and then another, and he'd made no effort to contact her again.
She was too busy for a relationship anyway.
As Marina secured the bag with tape, her mind whirred. She probably had time to create more than salads and pasta. She could do this. "I couldn't help but overhear your conversation. You have a dinner party planned for this evening?"
"We did," Anne said, looking glum.
"We could host you and your friends on the deck," Marina began.
Anne shook her head. "The whole point was that our friends wanted a tour of the yacht." As her gaze fell on Marina's apron, she pressed a finger to her lips. "Charles, you don't suppose…"
Here's my chance, Marina thought. Lifting her chin, she started to ask a question—but Kai beat her to it.
"As luck would have it, we had a cancellation for tonight, so we're available to cater a dinner party. How many are you expecting?" Kai had been handling the pop-up dinner marketing and reservations.
"We'll have twelve," Anne said, smiling. "Why, I think that might work. Carol told me your crab-stuffed salmon and mango cheesecake are to die for."
"That's perfect," Charles said, brightening. "Jean-Luc told me that the food has been delivered, so all you have to do is throw it together." Charles made sweeping motions with his hands as if a little juggling is all it would take.
"Marina can do anything," Kai said, turning bright eyes in Marina's direction.
Twelve people, Marina thought. She could manage that. And the supplies were already there. "I'm sure I can sort out supper for you. What did your chef plan?"
"Lobster of some sort," Anne said. "Jean-Luc is a magician with crustaceans."
Marina smiled. "That's one of my specialties as well." She'd often made Julia Child's Lobster Thermidor recipe with her grandmother. It was one of Ginger's favorites. Dry white wine, parmesan cheese, mushrooms, cognac. She could do this.
"We have a few errands in town, and we'll be back on board at 2 p.m.," Anne said. "That should give you enough time." She reached out to Marina. "Thank goodness you're available. All that work coordinating twelve couples and their dietary preferences nearly drove me mad. I'm glad the effort isn't wasted."
"Twelve couples?" Marina asked, suddenly concerned. "Then, you mean twenty-four people?" She cast a worried glance toward Kai, who gave her a brave smile and a little thumbs-up sign behind Anne and Charles.
"And us, so I suppose that's twenty-six if you're counting," Charles said. "Jean-Luc always buys extra food to allow for the extra last-minute house-guests people must bring along. Say about thirty-ish. Should be fine weather to dine on the deck."
A shiver coursed through Marina. She'd never cooked for that many at once. Most of the dinners she'd catered had been six or eight people. "Not a problem. Kai will be my sous-chef tonight."
Kai's eyes bulged in protest, and she shook her head, but Marina ignored her.
"We appreciate this," Charles said. "We'll pay you well, especially on such short notice." He picked up their purchases.
Marina watched the couple weave through the crowd. The dinner party would be an event to remember. Ever since she'd kicked off the pop-up brunches, lunches, and dinners a few weeks ago, she'd been busy, but this was an important job.
Marina needed the income—and it would give her the credentials she needed to approach other restaurant owners in town about her idea for a new event she was calling Taste of Summer Beach. With increased competition from major restaurant chains in the neighboring community, they needed to attract new business.
She turned to her sister. "I'm counting on you, Kai. Whatever you had planned, cancel it. Given the size of that vessel and the number of people, this soiree will be a lot to handle. I can't do it alone."
"All right, it's not like I have a date or anything," Kai said, leaning on the display table that they'd draped with a new coral cloth that matched Marina's apron. "Besides, I'm dying to see what that yacht looks like inside. I wonder who is on the guest list?"
"Never mind that. I wish we could get inside the galley sooner. We'll have to organize the menu and ingredients as quickly as we can." Marina sliced another piece from their sample quiche and lifted it onto a cutting board. "Speaking of dates, have you heard from Dmitri?"
"He's busy flying from one meeting to another," Kai replied. "New York, Chicago, Miami. Raising money for a new theater production is a lot of work."
"Think he'll manage to come here? Ginger sure would like to meet the man you're engaged to marry." Marina cut the quiche into sample bites, arranging them on the platter they used for sampling. As she did, she thought about tonight's job, hoping that Jean-Luc's menu wouldn't be too difficult.
"About that…" Kai's voice drifted off, and she twisted the ends of her hair around a finger.
Marina sensed a note of uncertainty in her sister's voice. "That didn't sound like a vote of confidence."
"I just want to be sure."
"I can understand that. You've only known each other a few months, and you've spent half of that time here." Marina was worried about this, too. Still, she was trying to support her sister.
Kai pursed her lips. "I'm going to push out the wedding."
"I thought you had. Didn't you tell Dmitri?" Marina placed an apple cinnamon muffin with a puffy top on the board and began to slice it into bite sizes. Kai had yet to wear the impressive ring Dmitri had given her, saying that it was too much for beachwear.
"I did, but I meant even farther out," Kai said. "We have so much in common, but the more Dmitri pushes, the more I draw away. Or maybe it's because we're apart. Is that crazy or normal?"
"Ginger always tells us to listen to our instincts," Marina said, arranging the muffin bites beside the quiche. "Dmitri is perfect on paper, and your clock is ticking. But you need to spend more time together. Kai, this will be a long-playing role, not a weekend marquee in Cleveland. Get to know each other better—beyond the first crush stage."
"And that's another thing," Kai said, replenishing the cookies on display under the glass domes Marina had found in their grandmother's china cabinet. "Dmitri wants me to quit this theater company. He says I've outgrown it, and I need to land larger roles in New York."
"Isn't that what you wanted?" Her sister was on break from her usual musical theater tour for the summer.
"It is, so there's truth in what he says, but I want that to be my decision." Kai clasped her hands and leaned on the table. "The theater company is like family. Still, Dmitri and I will probably live in New York after we're married, so maybe it's time to get on with our future." A pensive expression shadowed Kai's face. "Sure will miss spending summers here, though."
Marina picked up the platter and paused. "This wouldn't have anything to do with our friend Axe, would it?" The contractor and his crew were working on the damaged guest cottage.
"He's not interested in me," Kai said, dipping her chin. "We're just friends."
"Many of the best relationships began as friendships."
"Like you and Jack?"
"Try again," Marina said, pursing her lips. That fluttery feeling she had in her chest when she thought of him was now annoying. Marina wasn't ready to upend her life for any man. At forty-five, she was past that. He'd probably sensed that, which would explain why she hadn't heard from him. Still, he could have called. She supposed she could have been the one to call, but she wanted it to be his idea.
She wiped fingerprints from a glass dome. Maybe they'd both gotten the proverbial cold feet after that evening.
Unlike Kai, Marina knew how marriage worked. She'd followed her husband from one military base to another before he died. Now, her life was in flux, and her children still depended on her. To their credit, Heather and Ethan were preparing to be more responsible out of necessity. After Marina had lost her job, they'd had the honest family talk about finances.
Now, Marina didn't have long to ramp up, so a relationship would only take time away from the new cafe. She had to be smart and give everything she had to this new venture.
And then there was Jack's predicament. She twisted her lips to one side and frowned.
"Hey, what's that look?" Kai asked.
"What look?"
Kai folded her arms and nodded. "The Jack look."
"I do not have a Jack look," Marina said, wiping her hands on a dishtowel and snapping on a fresh set of food handling gloves. "And stop diverting the conversation."
Kai shrugged. "Ginger says their work on the book is going well. And Jack's been spending a lot of time with Leo."
"As a father should," Marina said evenly. "Jack has ten years to catch up on."
"And with Leo's mom."
Marina pressed her lips together. "This is not a competition. Jack should appreciate the time he has with Vanessa before..." She paused, thinking of the poor woman's health crisis. "There's a lot he needs to learn about his son. It's only right."
Kai sighed. "Do you think there's any hope for Vanessa's condition?"
"I wish…for Leo's sake." Marina couldn't quite understand why Vanessa hadn't told Jack about Leo until now. From the way Vanessa looked at Jack, she clearly adored him.
Or maybe Jack had been the problem.
More red flags.
Kai touched Marina's shoulder. "Hey, Grady was a jerk and never deserved you. And it's been eighteen years since Stan died. It's okay to let yourself be attracted to someone and try again."
"Jack's situation is too complicated for me," Marina said. "I'm busy, and he can deal with his life just fine without me." She pushed the sample tray into Kai's hands. "Go work your magic. We need customers now. The sooner we sell out, the sooner we can leave and plan for this evening. And I have a food order to pick up."
Marina passed a hand over her eyes. Despite her words, she truly felt for each of them—Jack, Vanessa, and especially young Leo. Jack should be spending time with them. This wasn't jealousy she was feeling, was it?
Kai grinned. "We'll be sold out in no time." Humming the opening notes to a show tune, she raised the platter and stepped into the aisle as if she were stepping into the spotlight.
Watching her sister, Marina laughed. Only Kai could pull this off. She thought about how long it had been since she and Kai had spent time together like this. And if Kai were to marry soon, this would probably be their last summer, except for the occasional vacation. A wistful knot formed in her throat. Just as Marina was finding her freedom, Kai was on the opposite path. Marina pursed her lip. Their last summer.
"Fresh-baked goodies," Kai called out. "Free samples right here."
Marina truly appreciated Kai's efforts. Since arriving in Summer Beach, Marina had been nursing her wounded pride over Grady. It hadn't been long since she'd discovered her fiancé had become engaged to a pop star—while she was delivering the morning news on KSFB, a San Francisco Bay area television station. She'd lost her composure on the air and quit before her boss could fire her in front of the crew.
By the end of the day, Marina's shocked, bumbling reaction had become an instant meme hit on social media, while late-night talk shows ran endless clips to roaring laughter. Even worse, Grady was the first man she'd seriously dated since Stan had died.
Marina brushed her hands and lifted her chin. That was all behind her, and she had a lot more to worry about than the Gradys and Jack Ventanas of the world.
Such as thirty lobsters. And what could Anne's comment about dietary preferences mean? Probably gluten-free or dairy-free. Maybe vegan or shellfish allergies. Or preference-driven.
That she could handle, but until she saw Chef Jean-Luc's pantry supplies, she had no idea what she could substitute. Had he made arrangements?
Marina drew a breath and considered her options.
When she had been a morning news anchor, she knew her routine. After reviewing the written newscast, reading the script, and confirming pronunciations of names and places, she'd carefully put on makeup, dress, and style her hair—her appearance was the source of the most frequent comments. She'd clip on her microphone and adjust her earpiece to receive cues from the producer or director. The control room could be in chaos, but she would remain calm.
Marina exhaled. That's how she would run her kitchen. She would prepare for the unexpected. Risotto, she thought. Or pasta. Steamed vegetables. Marina considered easy dishes she could prepare and have on standby for requests. She could do this. What could go wrong?
Suddenly, someone yanked her apron ties, pulling her off balance. She stumbled backward. Surprised and angered, Marina swung around. "Hey, what gives you the right—"
A yellow Labrador retriever held the apron ties in its mouth and tilted its head. Its tail beat against the plastic cooler bins stacked to one side. A leash hung from the collar around its neck, and its paws were wet and sandy.
"Wrong, Scout," she cried, tugging the fabric from the dog's mouth, but he took this as a sign to play and tightened his jaw grip. She tried to keep from laughing as the overgrown puppy dug in and pulled back. "Where's your dad?"
A tall man in a faded T-shirt and jeans rushed through the crowd. "Hey, boy, cut it out." Towering over the pup, Jack pointed to the damp apron ties. "Drop it. Sit."
With doleful eyes, Scout obeyed, though the dog could hardly contain his enthusiasm. His tongue hung from one side of his mouth, and his tail wagged against Marina's calves. She reached down and rubbed Scout's head and neck. "Haven't seen you in a while, buddy."
"Or you." Jack ran a hand over thick brown hair in need of a haircut.
Marina glanced up and caught his gaze that sparkled with interest. Or was that her imagination? "Because of you, I have to scrub up again." She could simply change her gloves, but this would give her an excuse to get away from Jack.
She paused. Why did she want to flee from him?
Because he's dangerous, that's why. Her heart might overwhelm her common sense around Jack. And she had no certificate of guarantee that he wouldn't go all Grady on her and show up with a bikini-clad twenty-something. Plenty of them on the beach and everywhere you looked in town. The drawback to a beach village was the youthful, well-toned competition.
Not that she was in a competition with anyone. Marina stood and leveled her gaze at Jack. She was past the race for a husband, past the competition from younger women angling for her job at a news desk. And certainly past men who disappeared like holograms.
"How is the book?" Marina asked lightly.
"Coming along. Ginger is amazing."
"We've always thought so." Marina shifted, trying not to stare into eyes so blue they took her breath away. "And Leo?"
"Great kid—all thanks to Vanessa, of course. I don't deserve him."
An awkward silence ensued.
Marina thought about the situation and wondered if Vanessa had truly exhausted all treatment, though it wasn't any of her business.
Scout pawed at Marina's apron and wagged his head.
"He has your cheesy grin," Marina said, scratching Scout behind the ears, which were also damp and smelled of saltwater. Scout rolled into her arms. He was irresistible, especially with his awkward gait from an injury that never slowed him down.
"Look, I've been awfully busy, but I thought you might like to join me tonight for dinner—"
"Tonight? Sorry, I have major plans." Marina bristled at his last-minute invitation, especially considering his lousy follow-up history. She didn't need this kind of distraction.
"Then how about—"
"Awfully busy," Marina said, echoing his excuse. She picked up Scout's leash and handed it to Jack. "You should use this. Or is that how you get the girls?"
"Guess I deserved that." Jack took the leash. "Come on, Scout. We've got work to do."
Maybe she'd been too sharp with him, even he deserved it. After all, he was working with her grandmother. She threw up her hands. "Jack," she began.
He swung around, hope etched on his face.
"You should spend time with Vanessa."
Stymied again, Jack blinked heavily and nodded before moving on with Scout.
Marina stepped from her post and made her way toward Kai, who was handing out samples farther down the aisle.
"Would you mind the store? I've got to wash up." Marina held out her hands and angled her chin in Scout's direction. "Eau de wet dog."
Kai's eyes lit. "You talked to Jack?"
"Nothing new there. Be right back." Marina made her way toward the community facilities on the beach next to the farmer's market. Even if she hadn't been busy tonight, she couldn't believe the nerve of Jack asking her out tonight. Maybe she was old-school, but she had no intention of being anyone's date-of-convenience.
Marina shook her head, banishing Jack from her mind. She had a critical job tonight that could solidify her reputation in Summer Beach—or destroy it. No one was going to deter her from that.
Certainly not Jack Ventana, the master of disappearance.
We hope you are enjoying the book so far. To continue reading...
Coral Cafe
Jan Moran
Copyright © 2023 All Rights Reserved
Also in this series
Also by this author