Book info
Sample
Audiobook
Media
Author updates
Lists
Synopsis
Three weddings and a food truck… It's wedding season in Summer Beach, and you're invited!
From a USA Today bestselling series.
At the Coral Cottage, this summer is as busy as ever. Marina's sister Kai moved up her wedding, but she won't say why, and her new theater production is shrouded in secrecy. Frankly, the timing couldn't be worse. Still, Marina is determined to expand her Coral Cafe with a new food truck and staff.
As for Marina's relationship with her on-again, off-again boyfriend Jack, she's unsure if her grown children will accept a new marriage and a younger stepbrother. Or will this summer spell an end to their romance?
Their grandmother and matriarch of the family, the indomitable Ginger Delavie, doles out unusual advice. But even a strong woman like Ginger can only take so much.
Don't miss the events of the season in Summer Beach as unforgettable events unfold. Coral Weddings is the fourth book in the Coral Cottage series of clean, romantic women's fiction with a focus on family and friendship.
Summer Beach Series
Coral Cottage
Coral Cafe
Coral Holiday
Coral Weddings
Seabreeze Inn
Seabreeze Summer
Seabreeze Sunset
Seabreeze Christmas
Seabreeze Wedding
Seabreeze Book Club
Seabreeze Shores
Seabreeze Reunion
Release date: October 25, 2022
Publisher: Sunny Palms Press
* BingeBooks earns revenue from qualifying purchases as an Amazon Associate as well as from other retail partners.
Listen to a sample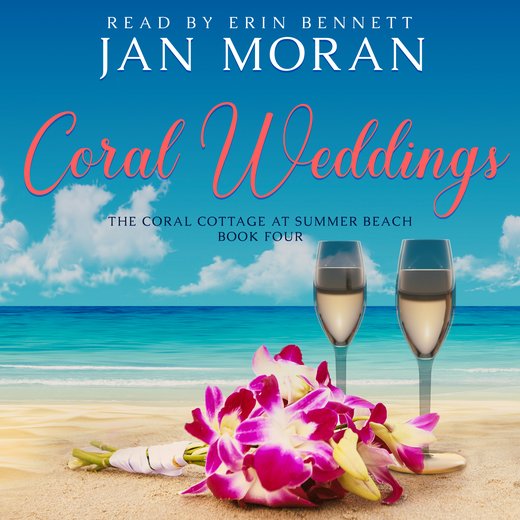 06:37:02
181.76 MB
9781647781163
December 10, 2022
Sunny Palms Media
Coral Weddings
Jan Moran
Chapter ONE
From her kitchen in the Coral Cafe, Marina looked outside to see a yellow food truck emblazoned with a logo of a submarine sandwich and the words, Yellow Submarines, pull into the parking area. With a surge of excitement, she quickly finished a tray of canapés for a friend's wedding and set it aside. After shrugging out of her stained chef jacket, she hurried toward the vehicle.
A trim woman stepped out to greet her. She wore jeans and a bright shirt that matched her vehicle.
Marina shielded her eyes against the summer sun reflecting off the ocean beyond. "Thanks for bringing the truck by for me to see."
The woman introduced herself as Judith. Her dark blue eyes were a startling contrast with her dark, silver-shot hair, and she had a happy air about her. "No problem. I was on my way to a catering event I'm doing tonight. It's my last one." Judith opened the rear door. "Have a look inside."
Marina stepped up into the mobile kitchen, trying to imagine what it would be like to expand her Coral Cafe onto wheels. Having had some success with her cafe, she was eager to build on that, although a food truck would be a financial gamble.
Still, with the seasonality of Summer Beach and her cafe, the risk was one she needed to take to secure her future. A food truck could go anywhere. If it rained for a week at the beach on her outdoor cafe, she wouldn't lose a quarter of her month's earnings. She could drive inland to sunnier skies.
As Marina inspected the workspace and appliances, Judith pointed out various features that checked a lot of boxes on Marina's shopping list. Inside, the vehicle had a wide service window, good ventilation, and stainless-steel counters. Growing more excited, she checked out the grill, deep fryer, refrigerator, freezer, and sink.
Marina was impressed, though she tried not to let her eagerness show. After some of the older used trucks she'd seen, this one seemed almost too good to be true. Was it?
"This truck looks immaculate. You seem to have taken excellent care of it."
Judith acknowledged the compliment with a smile. "That's because Bessie—that's what I call her—has taken good care of me. I bought her right after my divorce. I hadn't worked in years, and no one was eager to hire a fifty-year-old. The only thing I knew how to do was make sandwiches."
Marina wasn't too far behind her, though she'd had a career as a news anchor in San Francisco. Still, after she'd lost her job not long ago, she'd had few offers at her age, especially after her embarrassing on-air meltdown. But that was in the past.
She ran her hand along a pizza oven where she could make her popular seafood pizzas. This food truck could be part of the bright future she planned. "So why are you selling it?"
"I'm moving."
"And you can't take it with you?"
"Not to New Zealand." Judith grinned. "This has been a great gig, but I'm getting married. Hope springs eternal, right? He's a chef from New Zealand, and we're buying a restaurant in Queenstown, so Bessie stays here. I never dreamed of marrying again, but then, I never thought I'd be divorced. Life has thrown a lot of surprises at me. Still, I'm happy how things turned out."
"That I can understand." Marina's life had also changed dramatically.
She disembarked and circled the food truck. Outside, the truck had solar panels on the roof and a canopy that extended over the service window. She tried to imagine the vehicle with her vivid coral color scheme.
Judith followed her out and ran a hand over the still shiny paint. "I went through a lot with this truck. In fact, this led me to my new husband."
"How did that happen?"
A fond look filled Judith's face. "I'd pulled up to a baseball game where his grandson was playing. Harold ordered a meatball sub with extra sauce. Said it was the best one he'd ever had. I told him the meatballs were my grandmother's recipe. Soon we were trading recipes and techniques, and a few months later, we were planning our wedding. When I was married, I spent my time caring for my husband's parents and mine before they passed. So now I get a second chance with a great guy and his kids. I really love them all." She patted a fender. "Bessie is good luck."
"I'll keep that in mind." Marina smiled. "I can always do with a bit of luck."
"I've had several couples look at it." After a brief pause, Judith asked, "Are you married?"
"Widowed," came Marina's automatic reply of more than two decades. "But I'm seeing someone pretty special now." Her heart quickened even as she thought of Jack.
A smile spread across Judith's face. "I hope it works out for you, too. Would you be operating this truck together?"
Marina chuckled. "He's not good with food. But he has an appetite that makes up for it. I enjoy cooking for people." She tried out all her new dishes on Jack and his son Leo, who had a surprisingly good palette for an eleven-year-old. "To me, well-prepared food is one of the languages of love."
"It sure has been for me," Judith agreed.
Marina did a cursory inspection of the body and systems, wondering what Jack would think of this. They'd fallen into an easy routine the last few months. Though he often spoke of their future together, he hadn't made any firm commitments. But then, neither had she.
Recently, her grandmother questioned if Jack might be taking her for granted. While Marina didn't think so, the idea stuck in her mind. She loved Jack, but she might have been too available and accommodating. However, Marina wasn't one to wait for a man to make a decision. She'd always had to provide for herself and her twins.
This was her new chapter of life, and she was determined to forge ahead and expand her Coral Cafe footprint and brand.
"What do you think?" Judith asked.
"It's nice, but I'll need to have it inspected. And I'd have to paint or wrap it to match the branding for my existing cafe." Marina's head ached at the thought of another large expense. "Are you negotiable on the price?"
"I could knock some off for that."
"That would help." Marina had penciled out her financial projections, and the bank had approved a loan, which she thought she could pay off fairly quickly. She'd done her research, yet this was still a big step for her.
Her existing cafe was close to the beach and tourists, so she was thinking about other venues, including the Seashell amphitheater that her sister Kai and her fiancé Axe were operating. She was already providing premade boxed dinners, so she knew there was an opportunity to build on that. Her mind was full of other options.
"How was your sandwich business?" Marina asked.
"Pretty good. I did the usual lunches near office buildings, but the real money is in special events. Parties, weddings, bar mitzvahs."
Those were also on Marina's list, along with other ideas. "Did you serve at many weddings?"
"Surprisingly, yes. A lot of people want to provide food for guests. A food truck is a fun option, especially for small, casual affairs like beach weddings. They often want more upscale food, though. Probably more like what you serve."
That was true. Marina had talked to a wedding planner in Summer Beach who was interested in booking her. Having a kitchen on wheels would expand her opportunities, and now that she was training another cook, she could branch out.
Fortunately, the cafe was doing well during the summer season. She was determined to grow her off-season business now.
"I've had a couple of people look at the truck who haven't worked in food service before," Judith went on. "It might be against my interests, but I advised them to get a job in the industry first. I'd hate to sell this to someone who didn't know what to do with it. I had it outfitted just the way I wanted after getting some initial experience."
"It's obvious that a lot of thought went into it."
"What do you plan on serving out of the truck?"
"Mostly SoCal beach fare." Marina ticked off some of her popular menu items on her fingers. "Grilled kabobs, veggie burgers, and protein and fruit smoothies. Crab cakes and gourmet seafood pizza are a couple of my specialties. Chopped salads, cheese boards, and any sort of sliders are popular. I serve them with sweet potato fries and aioli."
Judith looked impressed. "That kind of menu would do well at the beach and special venues. There are quite a few art shows and wine festivals you could work."
"Those are good ideas." With the mild weather in Southern California, there were many events year-round in nearby communities, just not as many in Summer Beach.
"I'm curious," Judith said, nodding to the tables on the outdoor patio. "Why not just stick with the cafe?"
Marina had thought a lot about that. "The idea of expanding without the cost of physical overhead appeals to me. I have twins, and I want to put some money back for them. And for my eventual retirement, although I hope that's a long way off."
The food truck could provide a new source of revenue, which would be welcome with her daughter Heather still in college.
Judith squinted against the sun, seeming to weigh a decision. "If I don't sell the food truck before I leave, I plan to list it with a business broker. But since you have a cafe and know what you're doing, I believe you'd be a good fit. If you're serious about it."
"I sure am, but I also have a budget." It was a little scary, but Marina had confidence in the homework she'd done.
Judith dragged a toe in the sand in thought. "If you want the truck, I can reduce the price by the commission I would have paid to a broker. That would give you a terrific deal. I want to see this truck go to a good home. It meant a lot to me."
"I can tell." Marina smiled at her with a measure of gratitude. "And that price reduction would help a lot."
Judith gazed at the food truck with a wistful expression. "Bessie gave me the freedom to run my own business. I'm going to miss her."
Marina felt that way about her cafe, too. "I can send photos to let you know how she's doing."
A smile bloomed on the woman's face. "Would you? I'd like to know this truck is helping another woman. She was so good to me."
Judith named a price that Marina thought was more than fair. Although her stomach was fluttering with equal measures of excitement and trepidation, she decided to take the leap.
Marina put out her hand to shake on the deal. "I have someone who can inspect Bessie right away, and as long as she checks out, I'll take her."
"Have them call me." Judith clasped her hand. "You've got yourself a deal." After trading information, she drove away.
Even though Marina was nearly bursting with excitement, she hurried to her kitchen to finish packing food for the wedding this evening. She was also attending as Jack's guest, so she had to shower and dress. Tonight was a special night for him. His son's mother, Vanessa, was getting married.
Through an open window, she could hear her youngest sister Kai singing in the shower on the second floor of their grandmother's beach house. Once Kai's show tunes stopped, it would be Marina's turn in the shower. She smiled at the happy sound. Her sister was a professional with a lovely voice. Although Marina felt like singing for joy, no one would want to hear her attempts.
As she worked, she tried to rein in her excitement; the food truck still had to pass inspection.
Just then, her son Ethan pulled into the driveway. He drove an SUV that could carry all the golf gear he usually carted around. He was a lanky young man with dark, golden blond hair and gray-blue eyes.
Seated next to him was his twin sister, Heather, whose similar eyes were stunning. Her long hair was pulled into a ponytail.
They had agreed to work the wedding this evening, which would be held at the Seabreeze Inn on the beach. Marina's Mini-Cooper wasn't much help for catering.
"Perfect timing," Marina called out as she walked toward them. She could hardly wait to share her news about the food truck.
Later that evening, Marina sat with Jack on the patio of the Seabreeze Inn, a beautiful old grand dame of a beach house. A soft, balmy breeze rustled the palm trees surrounding the patio where guests were gathered for the sunset wedding of Vanessa Rodriguez and Dr. Noah Hess.
All the guests were taking their seats now. Marina's grandmother, the incomparable Ginger Delavie, sat on the other side of her. They were chatting with Ivy Bay, the proprietor of the inn and an old summer friend of Marina's. They'd met as teenagers and reconnected when Marina returned to Summer Beach.
Ivy leaned forward. "I couldn't resist taking a peek at your appetizers in the kitchen. They look delicious, especially the crab cakes and grilled shrimp cocktail. I had to try your prosciutto on mini-flatbread. That was really tasty."
"Thank you," Marina said, genuinely appreciative. "And I love your dress. It looks fabulous on you." The halter-neck style was a full-skirted floral cotton dress cinched at the waist.
Ivy fluffed the skirt as she spoke. "It's one of my mother's vintage dresses that she brought back from her honeymoon in Paris. I've always loved it, and she let me alter it to fit me this summer."
Ginger nodded approvingly. "Carlotta has always had excellent taste. It looks like one of Christian Dior's designs."
"That's exactly right," Ivy exclaimed.
While Ginger and Ivy continued to talk, Marina looked around, enjoying the lovely scene. This was a beach-style wedding, and all the women wore lightweight summer frocks.
Ginger looked elegant in a peach-colored sheath dress that brought out the highlights in her still-ginger-hued hair, and a triple strand of pearls like Jackie Kennedy might have worn. They were a tenth-anniversary gift from Bertrand, Marina knew. For herself, she'd chosen a slate-blue dress splashed with creamy lilies.
On the other side of her, Jack wore a pressed, open-collar shirt with linen trousers like most other men here. He reached for her hand.
"I'm glad Vanessa found someone who genuinely loves her." His voice was edged with emotion. "After all she's been through, she deserves this."
Marina was deeply happy for Vanessa, too. Dr. Noah Hess was a world-renowned medical researcher in Switzerland and had been part of the medical team that treated her. They had fallen in love during the process. Few thought she would recover, but Dr. Noah had discovered a new therapy. Fortunately, Vanessa responded to the treatment and was now in remission. Forever, Marina hoped, because Leo needed his mother.
"Sometimes all it takes is meeting the right person." Marina squeezed his hand.
Jack raised his brow and nodded thoughtfully. "Is that how you felt about Stan?"
Marina had meant Jack, but she still answered. "We were very much in love, and he was also my best friend. I've always wished that Heather and Ethan could have known their father."
Stan had died in Afghanistan before the twins were born. Marina had been so busy caring for them and working that she'd hardly had time to think of anything else.
Marina glanced back to see if her children had joined them for the ceremony.
They had. Heather and Ethan were seated in the last row with friends. They'd managed the arrangement of appetizers well. They helped Marina with events when they had time, although Ethan was almost entirely focused on his golf. Heather was on summer break from college, but her life would soon change after graduation.
Just then, the music soared, and Marina turned with the rest of the small crowd that was gathered.
Leo walked with his mother toward the pastor, beaming as Vanessa tucked her arm through the small crook in her son's arm. He had grown and was only a few inches shorter than his mother.
Next to her, Jack swallowed hard. "He looks so grown up."
"And Vanessa looks beautiful."
The bride wore a diaphanous silk dress in a soft shade of buttercream. Vanessa's hair had grown back, and she wore a sparkly band that swept her short dark hair from her face. Marina had never seen her look happier.
Jack and Vanessa had once been colleagues. During one dangerous assignment that neither of them thought they would live through, they'd sought comfort with each other as bullets whizzed overhead.
A lifetime ago, as Vanessa once put it. It had only been one night, and she'd never told Jack they'd had a child. She'd simply left the position, and though they kept in touch for a little while, she never mentioned it to him.
It wasn't until Vanessa had been diagnosed with a life-threatening illness that she contacted Jack to meet his son. Vanessa was pragmatic; if she didn't survive, Leo would need his father.
Jack had been shocked and dismayed that she'd never told him. Still, Vanessa had been adamant that she'd never wanted to marry him or anyone else. Her parents wouldn't have accepted Jack anyway.
Vanessa's parents were both gone now. Marina admired how Jack had immediately risen to the challenge. Even though he was still learning how to be a father, he loved Leo.
At one time, Marina was concerned that Vanessa might have been in love with Jack. Knowing Jack, he would have felt a duty to marry her for Leo's sake, but Vanessa wouldn't hear of it. She'd always had her own mind and stood firm against marriage.
Until she met Dr. Noah.
The slight, bespectacled man beamed at his radiant bride-to-be as she walked toward him. Leo passed his mother's hand to the man who would become his stepfather before taking his seat beside Jack.
"How'd I do, Dad?" Leo whispered.
"You did great. I'm awfully proud of you, young man." Jack put his arm around Leo and hugged him close.
Watching the two of them, Marina's heart swelled with love. She got along well with Leo but thought the boy might need time to adjust to his new stepfather. Dr. Noah was a kind, brilliant man, and Marina was happy for all of them.
The ceremony soon got underway. Vanessa and Dr. Noah exchanged vows, touching Marina with their sincerity. From the corner of her eye, she saw Jack sniff and wipe his eyes. He still cared for Vanessa as a cherished friend and the mother of his child. Marina was glad for all of them that the situation had worked out for the best.
Jack's hand was warm, and she threaded her fingers with his, enjoying their connection. She wondered if they would have their turn someday.
Lately, Jack had been acting differently. Occasionally, he'd refer to their future together, yet he was very casual about it.
Ginger glanced at her, then at Jack and Leo. Her grandmother noticed and analyzed everything around her. Marina valued her opinion, and she knew Ginger adored Jack. He was illustrating the children's books she'd written over the years. Still, Ginger had high standards.
Jack might have been a highly talented investigative journalist, but he'd also confessed that he'd never stayed in one place or with one woman very long. That is, until he moved to Summer Beach to look after Leo.
The pastor was speaking now, giving Vanessa and Dr. Noah the final pronouncement of the union. When Vanessa kissed her new husband, Leo began clapping. Everyone laughed and joined in as Leo raced from his chair to join his mother and Dr. Noah. The three joined hands to walk down the aisle, and Leo was beaming.
"That's my boy," Jack said, chuckling. "Stealing the spotlight again just as he did at the holiday show."
Marina laughed. Leo was so precious to her. In the last year's holiday production at the Seashell, he played the part of Tiny Tim and displayed a natural aptitude for acting. Her sister Kai had directed Leo in the show. Through that experience, Vanessa became good friends with Kai, too.
"I couldn't have directed that better myself," Kai said. "I think the photographer got the shot, too."
Jack grinned. "I'm sure Vanessa will appreciate that."
While everyone congratulated the happy couple, Marina excused herself to check on the food. She trusted Heather and Ethan, but she wanted to make sure everything ran smoothly for Vanessa, who was taking photos with Dr. Noah and Leo.
While the small crowd mingled during the cocktail hour, Marina made her way through family and friends toward the kitchen. Inside, she spoke to Ivy's sister, Shelly, and their niece, Poppy. The three women were making sure that everyone was happy and comfortable.
Marina saw other guests at the inn, including a long-term resident, Gilda, who lived there with her Chihuahua. Pixie was a known kleptomaniac. The two often came to the cafe for lunch, and just the other day, Pixie had made off with a woman's shoe when she'd kicked it off under the table while eating.
On her way to Ivy's kitchen, Marina stopped to chat with Gilda. The woman was carrying Pixie in a pink backpack that matched the streaks in her hair. "Going out?"
"We're taking a walk for inspiration. It's such a beautiful evening, and Pixie hasn't been out today except for her therapy appointment."
Pixie yapped as if to chastise Gilda.
"Poor baby." Marina scratched Pixie behind the ears while she spoke to Gilda. "How is your writing going?"
"I'm finishing an article for Dog Lovers Monthly. The editor also wants to feature some heart-filled short stories. Fiction is a change from my usual articles, but it should be fun to try. Maybe I'll work Scout into one."
Scout was Jack's lovable young Labrador retriever whose enthusiasm for life was as outsized as his huge puppy paws. "Jack and Leo would love that. If you do, I'll let it be a surprise. I know you like to write here at the inn, but you're welcome to bring your laptop to the cafe anytime."
Gilda smiled. "The change of pace might help the muse. Thanks." She angled her head toward the parlor, where an attractive man sat reading a book. "Have you seen the new pediatrician?"
Marina followed her gaze. Tall, long legs, chiseled chin. She noticed other women swiping glances at him.
Gilda continued, "Bennett is helping him find a house. He's taking over Dr. Dede's practice when she retires. And he's single." She nudged Marina.
"He might be for you."
"I'm no cougar," Gilda said with a sigh. "Though I sometimes wish I were. Well, a woman can always enjoy a nice view."
Marina laughed and moved on. A few minutes later, she returned, satisfied that Heather, Ethan, and the other servers hired for the event were doing well.
After appetizers were served, everyone gathered for dinner at the tables on the inn's large patio. It wasn't the largest or most elaborate wedding, but it was an intimate group of good friends who were truly happy for the couple. As the setting sun cast golden hues across the scene, Marina thought she had never seen a prettier beach wedding.
Leo was sitting with his mother and her new husband. Also at their table were Vanessa's good friends, Denise and John Davis, and their daughter Samantha, who was Leo's best friend. They were like family to Leo because he'd grown up next door to them, and Vanessa and Denise were as close as sisters. When Vanessa moved to Summer Beach, the family followed, and John started a technology consulting practice.
Kai was seated with Ginger, and the first course of cold avocado gazpacho was being served. Jack and Axe, the broad-shouldered contractor who'd built the Seashell amphitheater, were talking to Mayor Bennett at another table. Marina saw Kai motion to them.
Axe also had a beautiful baritone voice. Over the last year, he and Kai had collaborated on their theater-under-the-stars experience, which was a welcome addition to Summer Beach. The two had a symbiotic professional partnership and were very much in love. With her background as a musical theater performer, Kai was eager to write and direct.
Marina had a part in the holiday production last year. However, she preferred working behind the scenes, supplying the picnic box dinners. And soon, a new food truck experience, she hoped.
As Marina took her seat, she turned to Kai. "How's your new production going? You've been rehearsing late almost every night. Will you be ready for opening night this week?"
Kai beamed. "Of course, and it's going to be spectacular."
Her sister and Axe had written a new musical, Belles on the Beach. Marina had heard Kai humming some new tunes, and she wondered if those were in the show. "I wish you'd let us sit in on a rehearsal." Evidently, the actors had all been sworn to secrecy.
"Absolutely not." Kai's eyes sparkled with delight. "It's meant to be a surprise. But I will say that it's a very feel-good story."
"When I rose from my nap," Ginger began, turning to Marina. "I saw a food truck in front of the cafe. Bright yellow and awfully hard to miss. Was that a friend of yours?"
With a quick smile, Marina replied, "I wanted it to be a surprise, but that kitchen-on-wheels might soon be part of the Coral Cafe. If it checks out, I'll buy it. I've been shopping around, and I know the owner is giving me a great deal."
"What a perfectly marvelous idea." Delight filled Ginger's face. "Oh, the places we can take that. What fun we'll have."
Marina loved that Ginger was always up for an adventure, even at her age. "It's a shame, but the yellow submarine theme will have to go. It has to be branded with the Coral Cafe colors and logo."
"Maybe Jack could help with that," Ginger suggested. "He's so talented."
"I know you're his number one fan, but I have an experienced graphic designer who can do that," Marina said lightly. She liked directing her business on her own.
"As long as we're talking about surprises, I have one for you, too." Kai leaned toward Marina, lowering her voice. "I shouldn't be telling you this, but word is getting around town about you and Jack."
"Now what? Do we have a secret baby or something?" Marina asked, only half in jest. Gossip was a popular pastime in Summer Beach.
Kai flipped her hand. "No one ever believed that silly rumor. But seriously, I saw Jack shopping in the village. He asked me not to say anything, and I haven't, but I wasn't the only one there, if you know what I mean."
"Why would shopping be a big deal?"
"It's what he was looking at." Kai discreetly tapped the bare ring finger on Marina's left hand. On hers, Kai was wearing an engagement ring Axe had given her. Kai loved unusual pieces, and hers was a vintage ruby ring she planned to wear with thin wedding bands of different gemstones as the whim took her.
Marina's heart skipped a beat at the thought, yet she wasn't entirely sure she and Jack were ready. And she was surprised that her sister would bring this up. She pressed a hand down. "I don't want to hear this right now."
"I didn't want to spoil the surprise, but I figured you're going to hear it sooner or later, so it might as well be from me." Kai wrinkled her nose. "Please don't be mad at me."
Marina pressed a hand against her sister's forearm, swallowing her guarded excitement. "Are you sure?"
"I was there. And you know what it means when a man goes shopping." Kai gave her a pointed look. "Women shop as a fun excursion. Even if we don't buy anything, we'll have lunch or coffee. But for men, shopping is a mission. They aim to slap down that credit card and seize the goods." Kai bounced in her chair. "Aren't you a little excited?"
Marina was, but not like Kai would expect. "I'm not like you. This isn't my first time."
"You can still be excited."
"I am. Really." Marina had a more mature outlook than Kai. She was older, but she'd also been through much more than her sister. "I'm more concerned about making the right decision this time."
Kai arched an eyebrow. She wasn't leaving this alone. "Didn't you mention that Jack had made a reservation at Beaches?"
As soon as her sister said that, a picture developed in her mind. Was that why he'd made so sure that she had that date available? He'd been casual about it, but he'd also asked her three times. That was very unlike Jack.
"Several weeks ago," Marina admitted. "Reservations are hard to get in the summer."
"That's it," Kai cried in triumph, thrusting her hand in the air.
"Yeesy Louisey, keep it down." Marina shushed her with an old expression she'd once used around the twins when they were young. It had stuck with her, just like easy, peasy, cheesy.
Kai lowered her voice to a stage whisper again. "I'll bet he pops the question there. After all, it's the most romantic restaurant in Summer Beach."
Marina blinked at the possibility. Jack had made a point of telling her that he'd reserved one of the best tables with an ocean view precisely at sunset. Now she realized he'd have to check to make sure exactly what time the sun set. While Jack had that exacting attention to detail in him, it was usually reserved for his professional work. In his regular day-to-day life, he often operated at the remedial level, which made them both laugh. If he were a teacher, he'd be the quintessential absent-minded professor.
Though a much better-looking one. Jack's thick, unruly hair and deep blue eyes that blazed with intellect had attracted her, almost unwillingly at first. And his runs on the beach with Bennett were certainly enhancing an already nice physique.
A frisson of excitement gathered in her chest. Had Jack decided to propose? More than that, was she ready for this step? They would have much to talk about first. Marina exhaled to calm her sudden jitters.
"Well? What do you think? Won't this be fun with both of us getting married?" Kai peppered her with questions.
Marina had to laugh. "You might be in the starry-eyed phase of love, but I know the other facets of marriage. Not that it isn't worth it—it's just that my eyes are open." Still, she longed for that deep connection again.
Tossing her mane of strawberry blond hair across a shoulder, Kai pressed her again. "Oh, come on. It's totally worth it. Just be a little excited—for me? It took everything I had not to tell you. But Darla at Java Beach is talking about it, and you know what that means. I think you and Jack are absolutely perfect together."
Ginger watched her granddaughters with a bemused smile, quietly sipping a glass of wine.
"Perfect?" Marina swept her hands apart. "That doesn't exist. But at this stage of my life, a relationship will have to be as right as two flawed human beings can manage. Perfection is over-rated and far too stressful."
That was her logical side speaking. She recalled with fondness how she and Stan had laughed at their silly mishaps. And with Jack, they had plenty of laughs, too.
Now transfixed with the growing thought, Marina gazed across the patio at Jack, his profile illuminated by a string of overhead lights that cast a soft glow. As practical as she was trying to be, just seeing him made her heart leap like a teenager's.
She'd grown to love Jack, but was he a forever sort of man? And was that a chance she was willing to take?
With a soft sigh, she brought her attention back to the table.
Ginger was staring at Marina and Kai with a small smile playing on her lips. "I had a feeling about you and Jack. After all, it seems summer weddings are in the air. Even if we don't know the exact dates."
Their grandmother was also referring to Kai, who had decided to move up her wedding to this summer. Kai might have divulged Jack's secret, but she wouldn't share why she and Axe had moved up their wedding from the spring of next year, other than to say that she preferred a summer wedding. Marina wondered if that was the truth, especially since it was the high summer season.
Marina gave a self-conscious laugh. "Maybe Jack is simply treating me to a nice dinner to make up for the last fiasco there."
She and Jack seldom went out because she did most of the cooking. Usually, Jack and Leo showed up at the cafe. Sometimes he asked her to make dinner at his house after she closed the cafe, though she was often tired. Frankly, she would have liked a good meal after serving others all day.
However, Marina knew something had shifted in their relationship. Tonight, he'd clutched her hand so tightly during the ceremony. Emotional tears had filled his eyes.
Was he thinking about the future of their relationship?
Catching her breath, she grinned at Kai and Ginger. Maybe this was really happening.
We hope you are enjoying the book so far. To continue reading...
Coral Weddings
Jan Moran
Copyright © 2023 All Rights Reserved
Also in this series
Also by this author