Seabreeze Shores
Join the fun of the first Spa Week at the Seabreeze Inn!
Book info
Sample
Audiobook
Media
Author updates
Lists
Synopsis
Join the fun of the first Spa Week at the Seabreeze Inn!
As Ivy adjusts to a new marriage, she must also welcome spa guests and deal with more secrets her old beach house reveals—this time, from the Roaring Twenties.
Additionally, her sister Shelly is nervous about having her first baby. Will Ivy manage to pull off the first spa week and juggle her new life in Summer Beach?
Along the shores, more surprising discoveries fill the local residents with fresh speculation. In the charming town of Summer Beach, news travels fast.
Can Ivy come to terms with that and the nagging spiritual presence of Amelia Erickson, the former owner of the Seabreeze Inn?
Discover the latest chapter in the Summer Beach series set on sunny California shores and find out why readers say, "Life is better in Summer Beach." If you love clean romance and women's fiction with fascinating characters you'll want as friends, this series is for you!
REVIEWS for the SUMMER BEACH SERIES
More than 10,000 5-star reviews on Goodreads and Retailers!
 "I love stories where the protagonist connects with an old love! Especially if the story is set at the beach. Wonderful characters and a sweet story. Doesn't get much better." - Kellie Coates Gilbert, Bestselling Author, The Pacific Bay Series
"A wonderful story that is great at any time of the year. Will make you feel like the sea breeze is streaming through your hair." - Laura Bradbury, Bestselling Author, My Grape Year
Release date: May 3, 2022
Publisher: Sunny Palms Press
Print pages: 260
* BingeBooks earns revenue from qualifying purchases as an Amazon Associate as well as from other retail partners.
Listen to a sample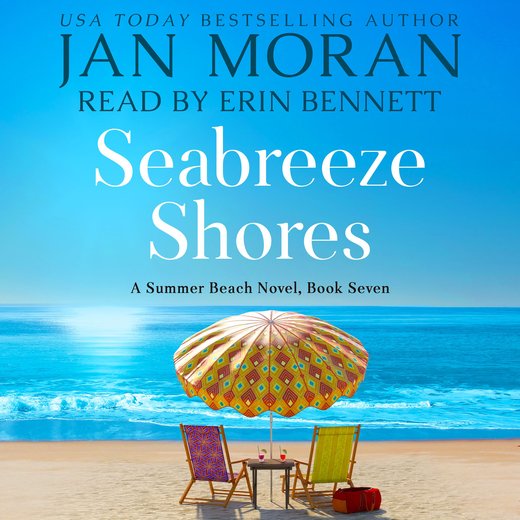 07:20:40
201.73 MB
9781647780548
May 11, 2022
Sunny Palms Press
Seabreeze Shores
Jan Moran
"Do you think the baby's room will be finished in time?" Standing in her sister's beachfront bungalow, Ivy pushed a heavy gray tarp aside and peered through the gaping opening in the wall.
Off the rear of the small house, a partially framed room stood open to brisk sea breezes. Ivy hugged her leopard jean jacket over her lightweight wool pullover. Although it was nearly spring, the air still held a crisp, late winter chill, while sunny rays rendered the ocean a bright aquamarine-blue. Winters along the Southern California beaches felt more like early spring in Boston, as Ivy recalled.
"Mitch promised me the room will be ready," Shelly said, though her frown betrayed her words. "He works on it in the evenings, but he hasn't gotten very far."
Ivy stared at the gaping hole. "It's not very secure. Doesn't that worry you?"
"Mitch thinks it's okay. Summer Beach is pretty safe, but I'm a New Yorker at heart. I make sure to lock the back gate." Shelly crossed her arms. "He hasn't done as much as he'd planned. The coffee crowd at Java Beach keeps him pretty busy."
Lately, Shelly had been working half days at the Seabreeze Inn as she approached her final months before her first child. But this morning, she hadn't come in, so after serving breakfast and handling guest departures, Ivy had gone to check on her. Shelly had overslept, but Ivy thought she needed even more rest.
Her younger sister eased onto a chair in the kitchen, gathering the folds of a flowing blue-and-white dress around her. Shelly wore one of Mitch's creamy fisherman sweaters over it, and her chestnut hair was piled into her usual haphazard topknot, but the dark circles under her eyes were new.
Instead of buying maternity clothes, Shelly was relying on stretchy yoga wear and flowing beach dresses that she could wear later. Ivy had to admire her unique sense of style.
"Bennett told me he's been offering to help, but Mitch won't let him," Ivy said, recalling the conversation she'd had with her new husband on the beach last night.
Husband. Even after a few months, the word still seemed like a new pair of high heels in her mind—shiny and exciting, but not quite comfortable in that morning-hair relationship she'd had with Jeremy for so many years before his death. Although she and Bennett were still adjusting to each other's ingrained habits, she felt fortunate that they'd found each other again in their mid-forties.
Ivy turned to her sister. "Has something happened between our guys?"
With one hand resting on her curved midsection, Shelly gestured toward the construction site. "I don't know, but Mitch seems determined to do the entire job himself." She paused to yawn. "There's no sleeping while he's hammering out there. I think it's pride; he wants to say he built his first child's room onto the house."
"Be glad that he's a proud father—and willing to help." Ivy glanced at haphazardly placed nails on a two-by-four. While Jeremy had spoiled their daughters, to him, they had been more like possessions to show off. He wanted to be their best friend more than their father. And when it came to pitching in, he always managed to slip out of those duties.
Shelly put her feet up on another chair and eased back. "Between you and me, my husband is more effective in the kitchen or on a boat. When he squeezes in time late at night to work on the room, I hear an awful lot of banging—not to mention some pretty colorful language."
Ivy secured the tarp over the opening. "Maybe this job is a little out of his scope."
"Without any instruction manual at all, I've created a little human," Shelly said, waving a hand. "I thought he could manage a second bedroom. Aren't hammers and nails in guys' DNA?"
Ivy had to laugh. "Why don't you call Forrest? He could have this knocked out in no time with his crew. Problem solved." Their brother usually worked on larger construction projects, but Ivy thought he could find time to help his sister.
Shelly shook her head. "I offered, but Mitch won't allow it. And we're way past me being useful on a construction site. I don't know which was worse—the morning sickness or feeling like I have to pee every five minutes. I have to keep telling myself I can do this."
"Of course, you can." As she spoke, Ivy put away the clean dishes teetering by the sink. "Pregnancy isn't forever. Just wait until you get to hold your baby." Those moments when she'd first held her daughter stood out like treasured snapshots in her mind, as clear and vivid as the days they occurred.
Ivy paused with her hands on the cool tile countertop. A part of her wished for another baby with Bennett, but at her age, with two grown children? That was no more than some ridiculous, romantic notion brought on by Shelly's pregnancy. She finished putting away the dishes and shut the cupboards.
A flush filled Shelly's face. "I am excited…and grateful. But this is harder than I thought it would be." She pressed a hand on her stomach and shifted. "Before I met Mitch, I thought I'd never have a family. When we married, I dreamed of having a sweet, Instagram-perfect baby, but the way this one is punching and flipping, we might have created a little troublemaker. This rascal sure made me sick in the beginning."
"Thank goodness that's over," Ivy said, smiling. "You'll love your child no matter what they're like. They come with their own personalities baked in."
Ivy pulled a pair of clean dishtowels from the drawer and looped them over the oven handle. Then she sat at the table, touching her sister's hand in support while studying her.
Despite a rosy bloom in Shelly's cheeks, her bloodshot eyes revealed her weariness. Ivy recalled how tired she'd been in her last months of pregnancy with her daughters. Eager to lift Shelly's spirits, Ivy spoke with cheerful nonchalance. "So, what names have you two decided against?"
Shelly slid a gaze toward Ivy and grinned. "I know what you're doing."
"What?" Ivy asked, feigning innocence.
"You're trying to trick me, and I'm not falling for it. You'll find out the gender and name when this baby is born. We don't want the entire town's input on names—and the Bay family is pretty opinionated, too." She tapped her belly. "You hear that, kiddo? You're going to have a lot to deal with when you arrive. Maybe that's why you're so feisty."
"Can't say I didn't try," Ivy said with a small laugh. "I heard old Charlie is taking bets on the gender at Java Beach." Shelly's decorating scheme didn't offer any clues. She'd decided on seafoam green and sunny yellows with a daisy motif. So they could reuse items for another child, she'd said. Everything she'd bought was stashed in a corner of their only bedroom.
Shelly rolled her eyes. "Charlie would take bets on which way the sun rose if he thought he could make a penny."
"Since you've nixed a baby shower, how about a gender-reveal party instead?" Ivy asked, tapping a finger on the table. At least her sister was smiling again.
"We can't reveal what we don't know. Why can't people accept that we want to do this the old-school way?" Shelly picked a thread from her dress. "Besides, I don't want all the fuss. I saw enough disasters when I was working the party circuit in New York. People got so wound up and forgot they were supposed to be having a good time."
Ivy squeezed Shelly's hand. "Can't blame people for being curious and wanting to be involved."
Although Shelly and Mitch had scheduled an ultrasound to check on the baby's development, they told everyone they didn't want to know if the baby was a boy or a girl. Yet, Ivy suspected they knew but just weren't telling anyone. She smiled to herself. Privacy was precious in a small town where gossip was part of the entertainment. She'd learned that when she and Bennett were dating.
"Speaking of events," Shelly began. "Is everything arranged for our spa week at the inn? I'm sorry I haven't helped much."
"Poppy took the calls and handled everything for you." This was their first spa week, and Ivy was working hard to make it extra special. Filling the inn during the summer season was easy, but the rest of the year took more creativity. "Your Roaring Twenties party sounds like a fabulous idea. We still have time to pull it together."
"I could take guests to the vintage thrift shops in town for costumes," Shelly said.
"That would be fun for them," Ivy agreed. "Let's plan for it and send an updated schedule to guests. It would be fun to have someone teach the dances, too."
Shelly twirled her hand. "Like the Charleston?"
"Exactly." Ivy added that to the endless mental list she kept in her head.
Although the sun still shone, a crisp late afternoon breeze blew through the edges of the tarp, scattering papers from the table like leaves in the wind. Shelly reached for them but was hampered by her belly.
"I'll get those," Ivy said, reaching down to scoop papers from the floor. "It's pretty chilly in here. Why don't you go into the living room and rest?"
Shelly stifled another yawn. "I could use a nap, but I'm starving again. Those mini-meals don't last long for two."
Ivy plucked an apple from a fruit bowl. "I'll bring you a cup of tea and a snack. The evening's new guests have already checked into the inn, and Poppy can manage until the afternoon wine-and-tea event."
"You're the best," Shelly said, pushing herself from the chair. She grinned and added, "But I'm still not giving up baby names."
Smiling, Ivy turned to fill a kettle, placed it on the stovetop, and adjusted the gas flame. While the water heated, she sliced an apple and a chunk of white cheddar cheese she'd found in the refrigerator and arranged these on a plate with a few nuts. Shelly couldn't eat much at once because the baby was crowding her stomach, so she'd been nibbling throughout the day.
Ivy wished their mother could be here to help Shelly, but she and their father had embarked on their well-deserved, round-the-world sail after Shelly's wedding last summer. Ivy wasn't complaining—she'd do anything for her younger sister—but she was no replacement for Carlotta and Sterling.
A car pulled into the driveway, and a minute later, Mitch charged through the back door. He wore a tattered Grateful Dead T-shirt and held a hard plastic, sand-encrusted kiddie pool in one hand. He leaned it against the wall in the kitchen.
"You're home early," Ivy said, greeting him. "Shelly is resting on the couch."
"My afternoon charter cruise canceled, so I decided to get some work done on the room while it's still daylight." Mitch grabbed an apple from the bowl. Motioning toward the rear, he added, "I bought some bright lights, so I can work better after the sun goes down."
"Forrest would be happy to help you with that," Ivy ventured.
"Shelly and I already talked about that." Mitch frowned and ran a hand over his spiky blond hair. "I might be behind, but I've got this. We still have time. Besides, the baby will sleep in our room for a while anyway. I can work a few hours every night, especially as the days grow longer." He gave her a reassuring grin. "I'll finish the room. I know Shelly wants to decorate it."
"That would mean a lot to her. Cute pool," she added. "The little one will love playing in that."
Mitch's grin broadened. "That's for Shelly. We can fill it with saltwater, and she can have the baby right here in the kitchen. Cool, huh?"
Ivy held a cup in mid-air, shocked at what he was suggesting, although she knew many people did it. But that old thing? It was probably teeming with germs. "You're kidding, right?"
"We've been talking about it. The kid can surf right out." Mitch crunched into his apple and left to see Shelly.
Still trying to process what Mitch had said, Ivy prepared the tea. She remembered what expecting that first child was like—and not really knowing what to expect. Mitch was almost ten years younger than Shelly, and in many ways, his youth was showing. She glanced at the pool and shuddered.
Or was she that out of touch now?
Still, Ivy knew the baby would be fine in their room for a while. Besides, that was their business, she reminded herself, although it was growing increasingly hard to grant them that. As she glanced at the kiddie pool again, her stomach tightened with concern for Shelly. She only wanted her sister to have all the care options available to her if she needed them.
A few minutes later, Mitch ducked through the tarp, a belt of tools on his hips. He was certainly industrious, and Ivy respected him for that. Still, between running the coffee shop and taking guests out on his boat to see dolphins and whales, Mitch didn't have time for much beyond Shelly and his early morning surf. Expanding the house was an aggressive goal. She hoped he could finish before the baby arrived.
But a kiddie pool? Ivy still couldn't wrap her head around that idea.
And that wasn't all.
As new parents, Shelly and Mitch were underestimating the time an infant would demand. Ivy let out a sigh. She sure had. After Misty was born, she hadn't picked up a paintbrush again until both girls had started school. Even then, she rarely found time. Only this year had she agreed to a special commission painting for a client.
No doubt about it, Shelly and Mitch had a lot to learn about having a baby and raising a child.
And keeping her opinion to herself? That would be her challenge.
Ivy swung through the kitchen with Shelly's tray. "Here you go—your green tea and goodies." She placed the tray on a worn surfboard perched atop bricks.
"I thought I'd have a new coffee table by now," Shelly said, shaking her head. "But it's all about priorities, right?" As she sipped her tea, the house seemed to shudder under the fervor of Mitch's banging hammer, and she winced. "He worked late last night with his new blazing lights."
"That's awfully loud," Ivy said, raising her voice. "Did you get any rest?"
Shelly yelled over the din. "Why do you think I need a nap?" She pressed a hand against her temple. "I really appreciate what he's doing, but I feel a monster headache coming on."
"We have a couple of vacant rooms at the inn," Ivy said, speaking louder as the noise intensified. At least until guests arrived. Her heart was already racing, and she couldn't imagine her sister having to deal with this every day.
Shelly chewed her lip. "How much sleep do newborns need?"
"A lot, if you're lucky." Ivy jerked a thumb over her shoulder. "But not with that going on."
"I can't take this anymore. Let's get out of here." Shelly took a sip of tea before pushing herself off the couch. "Mitch can pick me up later." She rolled her snack into the napkin.
After Shelly told Mitch where they were going, Ivy helped her into the vintage Chevy that Bennett had restored for her. With the white convertible top down in the sun, Ivy punched a button for the heater to take off the chill.
Staring out the window at shorebirds skittering across the sand, Shelly quietly nibbled on her cheese and apples as Ivy drove. As they neared the inn, she broke her silence.
"Hey, Ives?"
"Yeah, Shells?"
"Thanks for rescuing me." Shelly sniffed. "Marriage can be tough at times."
"I know," Ivy said, taking Shelly's hand. "But Mitch really loves you."
Shelly swallowed hard. "That goes both ways. Still, he's driving me crazy building that room. I think he's nervous about the baby, so he's rechanneling his energy."
"He'll settle down after the little one arrives." Ivy remembered how anxious Jeremy had been before Misty was born. "In the meantime, you're welcome here anytime."
She pulled into the car court behind the inn. After Shelly rested, Ivy would talk to her about the kiddie pool Mitch had carted home. Ivy shuddered again. Who knew where that banged-up thing had been?
Their niece met them at the rear kitchen door. Poppy had twisted her blond hair into a knot at the nape of her neck and wore a crisp white shirt with dark blue jeans, loafers, and discreet gold jewelry. She held a hand up to the sun's waning rays over the beach. "That didn't take long."
Shelly twisted her lips to one side. "Mitch is working on the baby's room. There's a lot of hammering, and I've got to get some rest. I haven't slept much in days."
"What about the neighbors?" Poppy asked.
"On one side of us, they're away for the winter. And on the other side is that drummer who's been away on tour. The older man behind us says he just turns off his hearing aid." Shelly turned up her palms. "I'm glad Mitch is doing this, but I wish he'd pick up the pace."
"You can use my room," Poppy said. "I have to set up the afternoon reception anyway."
"Thanks," Shelly said. "No need to mess up a guest room on my account."
"Really, it's no trouble," Ivy said.
Shelly made a face, dismissing the offer. "Got a key on you?" She held out her hand while Poppy fished her key from a pocket of her jeans. Yawning, Shelly pocketed the key and pushed through the kitchen door. "Don't wake me," she called back.
Poppy scrunched her brow with concern. "Was it that bad over there?"
"Mitch means well, but he needs a crew to finish that room," Ivy replied, resolving to talk to Bennett about this situation. "When you have a baby, the first month is a blur. Shelly and the little one will need their rest, no matter what time of the day or night it is. She'll be up at night a lot."
Poppy looked solemn. "I wish Grandma was here for Aunt Shelly."
Ivy wished the same, but she also understood that their parents had interests of their own. "She and Grandpa are having a wonderful time on a trip they've looked forward to for years. They call when they can, and they'll be back soon enough. In the meantime, we're here for Shelly, right?" Ivy rested an arm on Poppy's shoulder. "That's what family is all about. Sunny promised to help, too."
"I should call Dad," Poppy said, folding her arms. "I can't understand why Mitch doesn't want his help."
"That's his choice," Ivy said. Her niece was mature beyond her years, probably because she and her four siblings had roamed the beach on their own as kids.
"But small towns are different," Poppy insisted. "People here take offense if you don't ask for help." Her eyes lit with an idea. "I know Aunt Shelly doesn't want us to plan a baby shower, but can't we surprise her anyway? A lot of people in Summer Beach are asking me about that. They're eager for a party. And she needs more baby stuff than she realizes. One of my friends had a shower last weekend. I couldn't believe how much a baby needs."
Ivy weighed this. Her wild-child sister didn't want anything traditional. "We might upset her."
"I think she'd get over it in a split second," Poppy said, snapping her fingers.
Just then, two of their long-term guests strolled into the kitchen. "Get over what?" Imani asked. She wore a bright yellow cotton turtleneck paired with a full, floral skirt and held a bouquet of pink and yellow snapdragons in one arm. Her golden highlighted sisterlocks were wound into a thick crown.
"A baby shower," Ivy replied, leaning against the counter.
"It's about time," Gilda said, sliding onto a stool at the long center island. Her short, spiky pink hair matched her backpack, out of which poked a furry little nose. A Chihuahua let out a sharp bark. "Even Pixie thinks so, don't you, sweetie?"
"Put me down for flowers," Imani said, reaching into a cupboard for a vase. "I assume you'll have it here."
"Plenty of space in the ballroom," Gilda said, rubbing Pixie's quivering neck and shoulders. "I've been dying to do calligraphy for the invitations. What's the date?"
Poppy shot Ivy a look. "See what I mean?"
Ivy raised her palms. "If we do this, and I'm not saying we will, not a word to Shelly. It has to be a surprise. And nothing that seems too much like a baby shower."
Imani laughed as she filled the vase with water. "I couldn't imagine anything else for your sister. How about the nontraditional? Like birds of paradise and palms."
"Guess that means no calligraphy," Gilda said, ruffling her short pink hair with a sad look.
"I hope you weren't set on doing that," Ivy said.
"I suppose it's just as well," Gilda replied. "I'm on deadline for another magazine article anyway."
"The flower stand is pretty slow this time of year," Imani added. "I can help you plan whatever you think Shelly might like."
"I appreciate that," Ivy said, and she really did. "But I need to think about this. No cutesy baby games—Shelly would hate that."
Poppy's eyes widened. "But those are so much fun—"
Ivy cut in. "Do you want to deal with her hormonal wrath?"
"You have a point." Imani chuckled. "Let us know what you decide."
"I will," Ivy said, feeling a little disappointed that Shelly didn't want to commemorate the baby's birth with a shower. She thought her sister might regret it later. "But we're still on for the Roaring Twenties party for spa week. And you're both invited."
As Imani placed the snapdragons on the center island, she broke into a wide grin. "Costumes, I hope?"
"Absolutely," Poppy said, her eyes sparkling with excitement. "It will be a week to remember."
"And I hope it's a week to repeat," Ivy added, admiring the flowers. They needed the new business at the inn.
After meeting guests who had gathered in the music room for the afternoon tea and wine hour, Ivy returned to the apartment she now shared with Bennett behind the main house. Shelly hadn't come downstairs for the gathering, but Ivy wasn't surprised.
"I'm back," Ivy called out, collapsing on the sofa in front of a fire Bennett had built in the fireplace. For one person, the apartment was plenty spacious, but for two, it had become a little cramped. It was more than the space, though. They were both accustomed to having a place to themselves.
A persistent wintry chill seeped through the edges of the old windows. Built above garages, the apartment was originally meant for the chauffeur, who tended to the former owner's collection of cars. Only Amelia Erickson's cherry red Chevrolet convertible from the 1950s had survived.
Looking around the comfortable living room filled with vintage tapestry-covered furniture and vases of pink stock and English ivy from Shelly's winter flower garden, Ivy thought about all she had to be thankful for.
Not so long ago, she'd been grappling with the death of her husband and his betrayal. She'd had to sell her flat in Boston's Back Bay area and settle for a rented room in a professor's home. When Jeremy secretly withdrew money from their retirement fund to buy this old beach house, Ivy was sure he'd never imagined she might be living here someday with her new husband.
Life certainly had the last karmic laugh on his actions, she mused. Not that she and Shelly hadn't worked diligently to transform the property Jeremy bought as a tear-down for his new girlfriend.
Ivy kicked off her boots, stretched her toes toward the crackling fire, and ran a hand across the back of her stiff neck.
"Looks like you had a long day, sweetheart." Bennett eased next to her and drew his hands across her shoulders, kneading the tension from her neck. "Sorry I couldn't join you for the guest hour this afternoon. The city council meeting ran late with questions about a proposed new development. Did Nan let you know?"
"She did." His hands were warm on her neck. "Mmm. Keep that up, and I'll keep you around forever," Ivy said, relaxing into his arms.
Bennett chuckled. "Wish I'd known this was all it took. Could've saved us a lot of time."
"I think we're right where we're meant to be." After Jeremy's death, Ivy wasn't sure she'd ever marry again, but Bennett was different.
She'd had a crush on him when they were teenagers before she left to attend university in Boston. They'd hardly known each other then, and they were still learning about each other now—and all their little quirks and preferences. They'd married just before Ivy's parents left on their voyage last summer.
Bennett kissed her cheek. "If Shelly is going home, I can take her back before we get too settled."
"Let her be. I think she's down for the night. She told me she hasn't slept much for days."
"Will Mitch come to get her tonight?"
Ivy stretched. "I don't know, but I'm sure they spoke. He planned to work late on the house. It's probably better if she sleeps here."
Bennett took a breath to speak but then seemed to think better of it and glanced away.
Something in his silence stirred her. "You don't agree?"
"If I were Mitch, I wouldn't like it."
"But those two are different. They make up their own rules."
"It's not about rules." Bennett ran his hand over his closely cropped hair.
"Are you concerned about them?"
Bennett raised his brow. "Should I be?"
"Well, no. I mean, I don't think so. Unless you think you should talk to Mitch again about the room addition."
He grinned. "I'll take that as a strong hint."
Ivy bristled at his choice of words. "I'm asking you."
"I told you, I'll try."
That didn't sound as definitive as she would have liked, but she let it go. "Just so you know, Imani and Gilda and Poppy want to surprise Shelly with a baby shower—or a party—let's not call it a baby shower. Please don't let that get around yet, but we'll want you to plan something with Mitch—like working on that room addition."
"You'll have to invite Darla, or she'll feel left out."
Ivy's neighbor wasn't known for her discretion, especially at Java Beach, the hotbed of local gossip in Summer Beach. "Okay, I'll swear her to secrecy and threaten to cut off her banana nut bread supply."
"You're not a woman to cross, Ivy Bay Dylan. Or should I say, Mrs. Mayor?"
Ivy gave an exaggerated shrug, trying not to let him get to her. "Is that the best you can do? Nan calls me her 'First Lady.' I think you should, too," she added in an attempt to tease him. Bennett's receptionist at City Hall was a force in Summer Beach. She and her husband owned Antique Times in the village.
Bennett laughed as he threaded his fingers through Ivy's hair, massaging her scalp. "That's another one you'll have to swear to secrecy."
Feeling the weight of the day, Ivy tried to relax into his touch, but she was still worried about Shelly. Her health, their birth plan, the construction—now, even a surprise party. All this on top of the spa week they'd started advertising before Shelly had known she was pregnant. "I had no idea a baby shower would have to be a clandestine operation."
Bennett waggled his eyebrows. "That's Summer Beach for you. We keep a close eye on our residents. Especially the new ones." A slow smile spread on his face. "How about a glass of wine with me?"
Usually, Ivy would welcome that. As she shook her head, she chewed the edge of her lip. Bennett was the key to bringing Mitch to his senses, and Ivy felt like he'd minimized her request. She had to make sure he would deal with Mitch.
"Not tonight," Ivy said, tamping down her concern. "Baby showers aside, you will talk to Mitch, won't you? I'm worried about Shelly—and the health of her baby. Being older, she's at a higher risk for pregnancy. If anything happened to her, I'd never forgive myself." She blew out a breath. "Neither would my parents. I'm responsible for her while they're gone."
Bennett chuckled and kissed her forehead. "I'm pretty sure they would. And Shelly is a grown woman."
"That's not the point. I'm really concerned about her health."
"I hear you," Bennett said lightly. "I'll try to reason with him. That's the best I can do. You know how proud Mitch is about making his own decisions."
"This is no time for infernal masculine pride," Ivy snapped, feeling her blood pressure rise. "Mitch has got to stop this nonsense and take care of his wife. If he doesn't, I'll make sure she stays here at the house where I can look after her."
Frowning, Bennett pulled back. "Ivy, be careful about getting between them."
"I don't care. I'll do what's right for her."
"Even if it hurts their marriage—and right before the baby is born? This is supposed to be a happy time for them."
"Well, it's not turning out that way. Mitch wants her to have the baby in a kiddie pool filled with dirty saltwater at the house. Do you think that's safe, especially at her age?"
Bennett raked a hand over his stubbled chin. "My sister used a midwife when she had my nephew. She was fine, and so was Logan."
"Well, good for her, but Sunny and I would have died if I hadn't been at a hospital."
Bennett held up his hands. "Okay, I get it, but that decision should be between Shelly and her doctor."
"Exactly. And I think Mitch is influencing her. He wants to say that their baby came out surfing. But this isn't a joke."
"And you think I can fix these problems? I'm not Superman, sweetheart."
"I'll say." With fear for her sister pushing anger through her veins like molten lava, Ivy pushed up from the couch. "Mitch looks up to you like an older brother. You could talk some sense into him," Ivy said, punctuating her words with a finger. "Otherwise, Shelly is staying right here."
As Ivy charged into the bedroom, she heard Bennett call to her, but she didn't stop. It was late, she was exhausted from work and worry, and her husband wasn't taking this situation as seriously as he needed to.
She peeled off her clothes, wriggled into a nightgown, and slid into bed, pulling the covers over her head. Bennett opened the door, but she ignored him. The responsibility she felt for Shelly in her parents' absence was a heavy burden.
If Bennett didn't understand the seriousness of this situation, then she had other things to consider. Yet, a small thought crept into her mind. Had she been too hard on her husband?
We hope you are enjoying the book so far. To continue reading...
Seabreeze Shores
Jan Moran
Copyright © 2023 All Rights Reserved
Also in this series
Also by this author