Seabreeze Book Club
A bookshop on the beach. A sizzling summer ahead. Join a new book club at the Seabreeze Inn.
Book info
Sample
Audiobook
Media
Author updates
Lists
Synopsis
A bookshop on the beach. A sizzling summer ahead. Join a new book club at the Seabreeze Inn.
**A USA Today bestseller.**
When sisters Ivy and Shelly Bay form a book club to help support a local bookshop on the beach, friends and guests of the old beach house inn are eager to join, although one new member harbors a potentially devastating secret. Meanwhile, a discovery in the historic beach house inn brings the past to light, and recently widowed Ivy grapples with the idea of a new marriage. But when a threat of nature arises during a book club meeting that could harm the entire beach community, members pull together, proving that the bonds of family and friendship are more important than ever in Summer Beach.
Discover the latest chapter in the Summer Beach series set on sunny California shores, and find out why readers say, "Life is better in Summer Beach." 
Available in ebook, paperback, hardcover, large print, and audiobook.
REVIEWS for the SUMMER BEACH SERIES
More than 10,000 5-star reviews on Goodreads and Retailers!
"SEABREEZE INN is truly an enjoyable, lovely read that will lift your spirits. If you enjoy a light, breezy read, old houses, and characters with secrets, you will want to add this book to your TBR. Art lovers will also enjoy this book that slips in a little romance." - Silver's Reviews
"A fun read that grabs you at the start." -Tina Sloan, Author, and Award-Winning Actress
Recommended Series Reading Order
Seabreeze Inn
Seabreeze Summer
Seabreeze Sunset
Seabreeze Christmas
Seabreeze Wedding
Coral Cottage
Coral Cafe
Seabreeze Book Club
Coral Holiday
Seabreeze Shores
More to be announced...
Release date: September 28, 2021
Publisher: Sunny Palms Press
Print pages: 260
* BingeBooks earns revenue from qualifying purchases as an Amazon Associate as well as from other retail partners.
Listen to a sample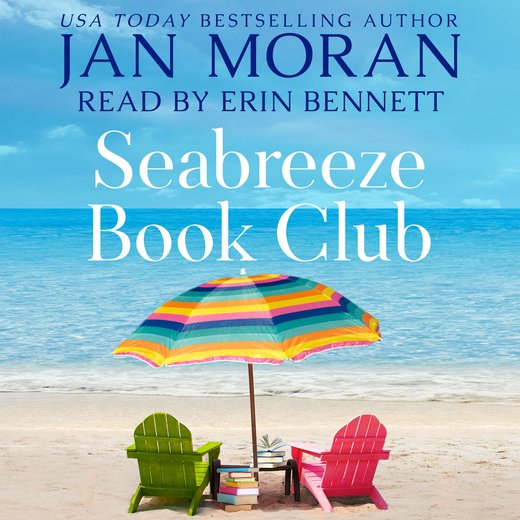 07:49:56
215.13 MB
9781647780494
October 10, 2021
Sunny Palms Press
Seabreeze Book Club
Jan Moran
Chapter 1
"It's a wonderful home for you," Ivy said, surveying Mitch's casual beach cottage where Shelly's suitcases and a few moving boxes were stacked in the corner. Sea breezes wafted through the open windows facing the ocean. Ivy breathed in the fresh, natural scent of warm sand, sunshine, and saltwater that filled the simple cottage. "Such a cozy space. It feels light and happy."
"One bedroom is all we need right now." Shelly tucked the sunflowers Ivy had bought at Blossoms into a chipped, blue ceramic pitcher. She placed the arrangement on a wooden picnic table in the dining alcove. "This is more room than I ever had in New York. And just look at that view."
Her sister was moving into her new husband's home in Summer Beach, not far from the Seabreeze Inn she and Shelly had been operating for a little more than a year. Shelly was close enough to walk to work at the inn, and Ivy couldn't be happier for her.
Still, she felt a twinge of sadness. Ivy would miss sharing coffee in the morning or a glass of wine on the terrace and discussing the day's events with her.
"I'm glad you're happy," Ivy said. Before her sister's wedding, Ivy had been concerned about the relationship. Still, since Shelly and Mitch had returned from their brief honeymoon in Baja California—basking at a friend's beach house—their relationship seemed solid.
Maybe that's what she and Bennett should do. They needed something; she knew that.
"Mitch says this is one of the original beach cottages." As Shelly glanced around, she brushed back wayward strands of hair that had escaped her casual topknot. She wore a turquoise sundress that had belonged to their mother, so it was a little short for her. Around her neck were layers of silver and turquoise that she'd brought back from her trip.
Shelly went on. "I know this place looks a little shabby, but Mitch swears it's sturdy."
"Shabby chic is a style," Ivy said, gesturing toward the chipped pitcher. "It fits here."
"This place might be small, but it's paid for," Shelly said. "Mitch bought it when he first started making money at Java Beach. Bennett told him beach property would be a good investment. Later, one of his regulars gave him a stock tip about a hot new technology company over coffee, so Mitch put some money into the company. When the stock shot up, he sold it and paid off the house."
"I'm impressed," Ivy said, checking out the whitewashed overhead beams. They seemed solid enough, much like Mitch. Despite a tough childhood and a grave misstep as a teen that had landed him in prison for a year paying off the theft he'd committed, he had made something of himself. But most of all, he loved her sister. "When did he tell you that?"
"While we were lounging on the beach in Baja." Shelly smiled. The sun had brought out the freckles on her nose and cheeks.
"That was a nice surprise," Ivy said. "And there's plenty of room on the lot to add on another bedroom or two when you need it."
Ivy wondered how soon Shelly and Mitch would start a family. Her sister had been eager to have a child for years, and at her age, she didn't have much more time. Mitch was nearly a decade younger than Shelly and still in his late twenties. Ivy wasn't sure if he felt the same urgency as Shelly.
Shelly heaved a sigh. "That's the last thing I want to think about now. First, I need to kick this stomach bug I picked up in Mexico. Mitch warned me against drinking unfiltered water." A shadow crossed Shelly's face, and she glanced away. "Besides, I have to spruce up the place." She tapped on the weathered wooden table. "I'll sand this and give it a coat of white paint. The old bookshelf there, too. I need a place for my books."
"We can do a lot with paint." Though Shelly had swiftly changed the subject, Ivy had caught it, along with the flimsy excuse she gave. Ivy wondered about that. As a child, whenever Shelly didn't want to do something or was hiding something—such as forgotten homework—she'd feigned illness.
Ivy hoped Mitch hadn't changed his mind about starting a family. Earlier, he'd been reticent about having children because he'd grown up with an abusive father and feared he might have inherited the psychological tendency. But she thought he'd worked that out in therapy before the wedding.
Ivy had to ask. "Are things okay with you and Mitch?"
"It's just that everyone is asking about us starting a family, even if they are joking about it." Shelly threw up her hands. "I've waited forever, okay? And it's getting kind of personal. It will happen when it happens. Or not."
"I completely understand, and it's your right not to talk about it." Rather than press the issue, Ivy put her arm around Shelly's shoulders and nodded toward a battered surfboard propped on glass blocks that served as a coffee table. "What about this surfer dude theme?"
"It's going to be history in about a week." Shelly twisted her lips to one side. "I feel like I'm living in Java Beach. Fortunately, Mitch says he's ready for a change, so he can move that to the coffee shop."
In the small, airy cottage, vintage surf posters lined the walls, the windows were bare, and a denim-covered futon served as a couch. The hearth of a stone fireplace held a mix of seashells and driftwood probably collected from the beach.
It was clear that Mitch had taken little interest in his home, but he spent most of his time at Java Beach serving the best breakfast in town or taking tourists on charter tours on his boat. He worked hard, though he still fit in surfing almost every day to unwind.
"What are you planning to do with the place?" Ivy asked.
"I want to put in a garden right away—I have vegetables and herbs that I started in the greenhouse at the inn. Mitch and I have talked about transforming the rear yard with stone pavers, a covering, and a fire pit. Once that's underway, I'll begin on the interior. Mitch liked my idea of blue and white with cheerful pops of color. I'll video the entire process for my channel."
Shelly had been running a lifestyle video blog that over the past year she'd expanded from her New York City floral arrangements and thrift shop finds to include the work she'd done on the old beach house that Ivy's husband had unexpectedly left her after he died.
As Ivy looked around, she bit her lip. "Do you have time for all that right away?"
"Why wouldn't I?"
"It's summer, the inn is at full capacity, and the house needs work."
The Seabreeze Inn had been the summer home of Amelia and Gustav Erickson, wealthy art collectors from Germany via San Francisco. The palatial old home the couple had once called Las Brisas del Mar had become dated and worn over the decades.
"My landscaping is still in great shape, isn't it?"
"I really need help with more than that." Although Shelly and Mitch had been back only a few days from their honeymoon, Ivy was already a little miffed at Shelly's attitude.
Last year, Shelly had helped transform the overgrown grounds and redecorate the shabby interior. Since they'd arrived, the old house had become a new center of activity in the village. And it had given Ivy and Shelly a chance for new beginnings. They had agreed to split the earnings.
Shelly rolled her eyes. "Okay. You don't have to keep asking."
Ivy bit back a comment. Moving into Mitch's house was supposed to be a happy time for Shelly, and Ivy didn't want to ruin it with an argument. After all, her sister was thrilled to be living her dream at long last.
Ivy turned toward the boxes of Shelly's belongings that Mitch had brought from the inn. Seeing her sister's belongings in the cottage brought home the reality that Shelly was gone. Ivy felt a strange tightness in her chest. She rubbed a spot just beneath her collarbone.
Maybe it was separation sadness. Ivy and Shelly had been through so much together in the last year. Little more than a year ago, with their lives at the lowest points they'd ever known, they had decided to start fresh in Summer Beach. And now, this was supposed to be the happiest time in Shelly's life.
Mine, too, right? Ivy thought about Bennett and how understanding he had been with her.
She bit a corner of her mouth. "It's going to be quiet at the inn without you."
"Hey, I'm still working there," Shelly said, slinging an arm around Ivy. "I'll be back soon. I just need a couple of good nights' sleep after our trip." She grinned. "I won't bore you with the details—just beware of cloudy water."
"I hope you get over what that is." Hearing Shelly say she would return calmed Ivy a little. "Still, it won't be the same without you around all the time. Whose room will I run to when the storms hit?"
"Won't Bennett be right there beside you?"
Ivy shrugged. "I don't know what people would think about that."
Shelly's mouth dropped open. "You're kidding, right?"
"That was a commitment ceremony. It's not really legal without a marriage license." It was Ivy's fault for not updating her driver's license and passport. Every proof of identity she had was expired, and she had no idea where her birth certificate was.
Rolling her eyes, Shelly said, "Who cares? Brother Rip, a bona fide man of the cloth, performed the ceremony. Besides, you're adults. And everyone knows you're a couple in Summer Beach. Geez, don't be so old-fashioned, Ives."
But I am, Ivy wanted to say. It had only been two years since her husband had died, and she was just getting back on her feet financially—and emotionally. While her adult daughters seemed okay with Bennett's new place in their lives, Ivy wanted to make sure they hadn't been caught up in the excitement of the crazy wedding weekend that had turned out far different than planned. What had started as a guest wedding had turned into a hasty, though beautiful, ceremony for Shelly and Mitch.
"Bennett understands," Ivy said.
Shelly arched an eyebrow. "Does he?"
"He's patient. And this is all so new to me." Ivy fidgeted with a frayed seam on her yellow cotton sundress. Bennett had been her surfing crush when they were teenagers, and now he was the mayor of Summer Beach. She might have dreamed of being with him as a kid, but she had never imagined her life might turn out this way.
"New is good," Shelly said.
Ivy shifted and leaned against the edge of the table. "It's just that sometimes I still wake up expecting to see Jeremy next to me. And I'm so relieved when I realize I'm free, even though I have a lot of responsibilities."
"And Bennett."
"I do love him," Ivy said. She'd been a stay-at-home-mother in Boston when her husband had died from a sudden aneurysm. Becoming a beach-front innkeeper had been the farthest thing from her mind. So was remarrying, although she truly loved Bennett. "We agreed that our ceremony was simply to announce our intention."
"You're not kids," Shelly said pointedly. "It's okay to do whatever you want."
"We'll get there," Ivy said, feeling a little foolish, but she couldn't help how she felt. The past year had been incredible, not only because she'd fallen in love again, but also because she'd risen to the challenge of running the inn. On her own, she'd pushed herself far beyond her comfort zone. And prevailed. That felt good, but would she lose that again in marriage?
Shelly quirked her mouth to one side. "I agree with Mom. Bennett's a hot commodity. Be careful you don't let him slip away."
"He's the one who should be worried I don't get away," Ivy shot back, mustering more confidence than she felt.
She wished she could talk to her mother. When Carlotta and Sterling Bay had pulled into the first port they'd planned in Mexico, they'd called each of their children to tell them what a wonderful time they were having. But they decided that it took too long with poor connections. They promised to rotate calls among their children in California.
Ivy figured her parents were somewhere off the coast of Mexico or another Central American country now, soaking up the sun on the first leg of their voyage around the world—which was partly the reason Shelly had eagerly jumped at the opportunity to get married before they left. Had she and Bennett succumbed to the moment, or was this a real marriage?
Shelly laughed. "At least he can't call you easy."
Ivy felt her face flush. The last two years had been a rollercoaster of life changes and emotional upheaval. After all Jeremy had put her through—especially the revelations that surfaced about his mistress Paisley—after he died, why did she sometimes reach for Jeremy in pre-dawn slumber? As much as she loved Bennett, she worried that her subconscious self wasn't entirely ready for such a shift.
She owed it to Bennett to be all in.
Yet, Ivy was enjoying her new life now. With each day, she was discovering more of who she was and what she wanted. Ivy figured it sounded silly to say that at her age. Shelly probably wouldn't understand, and she wondered how Bennett would take that.
Ivy shrugged away from Shelly. "Give me a break, Shells. It's been a crazy, tumultuous, stressful year." She'd barely managed to avoid a looming tax sale, and filling the inn with guests was still a challenge in the off-season.
In fact, she wondered if what she felt for Bennett was true love or an emotional grasp? She'd been so lonely the year after Jeremy's death. Maybe she was still protecting her heart.
On the other hand, who was Ivy Bay now? She was not the college freshman she'd been when she'd met Jeremy. She wanted her turn to flourish.
She and Bennett were still trying to decide what to do about their living situation. After their commitment ceremony, they'd spent a romantic evening in his apartment, the old chauffeur's quarters above the garages, and he'd strummed his guitar for her just as he had once done. Her room in the main house was awfully close to the guestrooms, but she still felt out of place in his apartment.
Admittedly, she enjoyed the freedom of having her own room. But it was more than that. She wanted to be absolutely certain this time around.
Shelly folded her arms, scrutinizing Ivy. "I know what you need. A proper honeymoon. Being on the beach in Baja without any distractions was incredible. No Java Beach, no Seabreeze Inn—as much as we love all that. Mitch and I needed that alone time for the right start to our marriage."
"I have no time for that with the summer crowd here," Ivy said, surprised that Shelly would think she did. Summer was their biggest season, and Ivy couldn't risk that income. It had been hard enough without Shelly, but Ivy had been happy to cover for her while she and Mitch were away. She wanted her sister to have an excellent start to the married life she'd dreamed of for so long. "We have to make our numbers for the year."
"That's a shame," Shelly said. "I think you and Bennett need to bond more."
"I think I know more about bonding with a husband than you do," Ivy said, bristling at Shelly's comment. As if that would be the simple solution. "Suddenly, you're an expert?"
Shelly pressed a palm forward. "Geez, chill. I meant this marriage with Bennett will be a lot different for you. Jeremy could be a real jerk. Honestly, I don't know how you put up with him all those years."
"I loved him, and he was a good provider and a great father to the girls." At least, that's what Ivy had told herself for years. With his French accent and passion for living, Jeremy had easily swept her into his world, although he had lived a double life without her knowledge. Now, even she had to admit his serious flaws.
Shelly rolled her eyes. "Was he your best friend?"
Ivy couldn't answer that. "I am not taking marriage advice from you when you've been married for what, ten minutes?"
"Two weeks. And you're in denial."
"I am not."
"See? You're even in denial about being in denial."
Ivy shook her head.
"Seriously, you've got the man you've always really wanted right in front of you. Don't blow this, Ives."
"Says the one who always leapt first and regretted it later. I like to organize my life."
"I did not jump into anything with Mitch. I'm sure of my feelings for him." Shelly eyed her with some suspicion. "Besides, you already took the leap. Why are you back-pedaling now?"
Ivy couldn't explain it, and Shelly would never understand. She'd given so much to her husband and daughters—sometimes, they sucked the oxygen out of her. She needed time to breathe on her own.
Maybe that's silly. But there it was.
"Can I help you unpack?" Ivy asked, shifting the conversation.
"It won't take long," Shelly replied with a flick of her shoulder. "But you can help me squeeze my clothes into the closet." She picked up some hanging garments from the stack. "I'm looking for an old armoire; I need more hanging space."
"Antique Times might have something," Ivy said, relieved that Shelly let go of the marriage topic. "Nan and Arthur are always getting in new pieces."
Shelly grinned back at her. "New old pieces, you mean."
Ivy folded a stack of hanging clothes over her arm and followed Shelly into the bedroom. They managed to stuff what Shelly had brought into the narrow closet, although she still had a lot left at the inn. Ivy had given her a new set of sheets and a duvet that Shelly had admired at a local home goods shop, along with fluffy white towels. Together they changed the linens, and Shelly arranged pillows Ivy had made on the bed.
"Wow, what a difference already," Shelly said, her eyes sparkling with delight. "I love your artistic pillows."
Ivy had painted palm trees and beach scenes on pillows for the new gift shop they'd set up in a corner of the inn's parlor. "They're selling well. I'm even taking special orders."
"Look at you go," Shelly said. "Poppy told me you got a commission for a beach painting, too."
She had, and she'd been thrilled about it, even though she was a little nervous about making sure the client liked it. "Maybe I have a future as an artist after all."
Her parents had sold several of her paintings at the art show they'd hosted on the grounds of the Seabreeze Inn. The extra income was welcome, though she barely had time to paint between running the inn and giving art lessons to guests. The pillows were quick and easy for her, yet she missed having the time to contemplate and finish more serious pieces.
The summer tourist season was underway, and filling guestrooms was the highest priority. Businesses in Summer Beach that catered to visitors earned most of their income in the summer. Fortunately, reservations at the inn were steady, and Poppy's online ads were filling rooms during the week, too.
"I've got to rush back," Ivy said. "We're expecting a lot of new guests for the weekend."
"I'll come in after I take a nap," Shelly said, stifling a yawn. "I've been so tired ever since we got back. But I promise I'll get back in my groove."
"We've got this now." Ivy tilted her chin, still smarting from Shelly's earlier comments. "Poppy is there, and after her classes, Sunny shows guests to their rooms."
Shelly heaved a sigh. "Don't be a child. I'm not abandoning you."
"Says the younger sister."
"Can we stop this?" Shelly flung her arms around Ivy. "Now you know what all that sisterly advice you dish out feels like."
"Okay," Ivy said begrudgingly. Shelly was probably right; Ivy had a lot on her mind. "Relax and get unpacked. And I could use your help this weekend."
"You got it." Shelly slapped her hands against her cheeks. "Maybe I just need another cup of coffee. I can't let you have all the fun."
Ivy managed a grin. "See, I knew you were missing the inn already. Just remember what you said when I ask you to work on the lower level with me."
"Oh, no," Shelly said, wagging a finger. "You're the one who knocked the hole in the kitchen wall and opened up that mess."
"With your help," Ivy said, her mood lifting. She poked her sister. "Seriously, we have to put that space to good use."
"Any ideas?"
"We could create meeting space down there," Ivy said. "Maybe we could attract small corporate getaways in the off-season. They could hold strategy sessions or host private gatherings."
Shelly grinned. "Sure, like an old speakeasy. Or a casino night fundraiser. That would be cool. Maybe the Ericksons used that level for secret parties during Prohibition."
They talked a little more, and Shelly promised she'd see her soon.
As Ivy strolled back to the inn, she thought about options for the space that had been sealed for decades. Ivy turned a corner in the beachside neighborhood, and the Seabreeze Inn loomed ahead past the village. The grand Spanish Revival-style house had revealed the former owner's passion for secrecy. Now, Ivy was fairly certain they'd discovered all they were going to find—from priceless paintings to important jewels of historical significance.
She had turned all those beautiful items over to the FBI to be returned to former owners. All she had gained was publicity for the inn, which had helped, but it wasn't the millions some visitors imagined she'd profited.
If only Amelia Erickson had tucked away a little cash, too.
Peering at the roofline, Ivy thought how she could use a smidgen of that now. The high winds last week had dislodged a few more tiles on the roof. Her brother Forrest, who was a contractor, had patched the roof. Eventually she'd have to replace it. On a house of this size, a new roof would be quite expensive. She had to find another way to increase the income to provide maintenance to the property.
Or this summer might be their last.
Ivy was eager to use the inn's lower level, which had been concealed for decades. This is where she and Shelly had discovered the furniture and artwork Amelia Erickson had stashed when she had feared a West Coast invasion during the Second World War. In the 1940s, an enemy submarine had run aground on the coastline, so it wasn't such a far-fetched concern.
After a brisk walk from Shelly's bungalow, Ivy turned into the property and hurried past stately palm trees that stood like sentinels on guard. She strode along the stone path where Shelly had planted purple and pink petunias along a border of white alyssum. On this sunny day, butterflies flitted among pink hibiscus and lavender bushes.
Her sister had put her horticulture degree to good use in bringing the neglected grounds back to life. This year, Shelly had added rambling white roses and pink bougainvillea.
Ivy hoped Shelly would continue to keep it up now that she was married and planning to start a family. Her sister meant well, but Ivy knew how much time it took to be a wife and mother.
She hoped Mitch hadn't changed his mind about starting a family. It wasn't anything Shelly had said, but Ivy sensed that something wasn't quite right—beyond her sister not feeling well.
When Ivy walked into the inn, Poppy met her at the front door.
"Aunt Ivy, I have a confession to make," Poppy said, looking remorseful. "I've done something awful."
"I'm sure it isn't that bad." Her niece was so thoughtful and efficient, Ivy couldn't imagine Poppy purposefully doing anything even remotely worth confessing.
"You know that antique glass platter of Amelia's that you like so much?"
Immediately, Ivy knew where this was going. "The one that was chipped? I saw a crack in that just the other day. I probably did it while I was doing the dishes."
Poppy's shoulders relaxed. "You did not, but that's nice of you to say."
"No, I'm quite sure I did. We probably ought to throw it away."
"Well, it doesn't matter because I finished it off while you were gone."
"I hope no one was hurt."
"Just my pride."
"That can be mended," Ivy said. "You can help me find another one in the butler's pantry." She led the way toward the storage and serving area off the kitchen. "I wonder why we still call this a butler's pantry?" Ivy mused as she entered the long, narrow room. "I doubt if any actual butlers will ever darken this door again."
Poppy smiled. "Thanks for not being upset, Aunt Ivy. I know it was your favorite."
"You're more favorite than that," Ivy said, dismissing the thought with a wave of her hand. "Now, let's explore these cupboards and see what we have to choose from for the morning muffins."
Ivy opened the tall cupboard doors that reached to the ceiling. Vintage crystal, china, and flatware had never been removed. The house had been used for charity events for years. Some pieces showed the wear while others looked as if they hadn't been touched since Amelia left.
Poppy opened a cupboard. "This looks like the serving platter department. What about those dark pieces up at the top? I can't tell what they're made of."
Ivy squinted at the top shelf. "Those are probably silver." She grinned at Poppy. "Unbreakable, so let's have a look. Could you bring the step ladder here and hold it for me?"
"On it," Poppy said as she fetched the small ladder.
Ivy gathered the folds of her yellow sundress in one hand and climbed the ladder. "These are beautiful. Sterling silver, I would guess. Amelia only bought the best." She reached for a rectangular piece that was rimmed with intricate scrollwork. Handles were fashioned from the same pattern.
"If Shelly were here, she'd probably be wondering how much we could get for them," Poppy said.
"I know, but I like to keep as much intact in this old house as I can." Standing on her tiptoes, Ivy grabbed the handle. "This is heavy. Can you grab it? I'll pass it down to you."
"I'm ready," Poppy said.
Ivy slid out the tray and handed it to her niece. As she did, a small book that had been propped behind the platter fell face forward with a puff of dust. Ivy sneezed. "Hold on, I see something else. Nothing has been cleaned in years up here."
Below her, Poppy put the silver platter on the counter. "Need a cleaning rag?"
Ivy reached for the book and slid it out. She blew dust from the top of the leather-bound book. "Definitely." She tucked it under her arm and started down the ladder.
Poppy peered up at the shelves. "I can get up there and wipe it all down for you."
"Only if you have some free time. And get Sunny to help you." Ivy turned over the small volume. "This looks interesting." She looked up at the top shelf. "Might want to check to see if anything else is hidden up there. You know how Amelia was."
The old house had protected the former owner's treasures well. From paintings stashed behind a brick wall that led to the lower level to crown jewels stitched inside of a doll in the trunk of the vintage Chevy, Amelia Erickson had been a master of concealment.
Carefully, Ivy thumbed through the yellowed pages of the slim volume. "It looks like a guest registry of some sort."
Poppy peered over her shoulder. "Since it's in the butler's pantry, would it be a record of dinner guests? Although it seems weird that they would sign in."
"People did things differently back then, especially among the upper classes. And having come from Europe, the Ericksons had more formal ways than in the States, even in their beach house. They had their standards to uphold."
Poppy nodded. "It seems fussy in a way, but on the other hand, it would make regular dinners more special. Sort of like dressing for dinner. I've been reading a historical novel with characters changing clothes more times in a day than some people at the beach change in a week. I keep thinking about the laundry they had to do."
"Wealthy people had staff for that," Ivy said. She turned to the front page of the book and began to read. "The Literary Society of Summer Beach, Presided Over by Amelia Erickson."
"I wonder what kind of books they were reading?"
"Let's see." Ivy turned the page. "Wow, look at this. The first one was Pride and Prejudice."
"Oh, my gosh, they were reading Jane Austen?" Poppy squealed with delight. "I read that book in college. And did you see the movie? We were all in love with Mr. Darcy."
"Tall, dark, and moody never goes out of style." As Ivy said that, a funny thought struck her. In a similar fashion, Bennett had been her Mr. Darcy. "I saw the film, but I've never read the book."
"You have to, Aunt Ivy. You'd love it. I read it in my English classics literature course. I think that book was written in the late 1700s."
Ivy ran her hand over the faded ink with reverence. "That sounds about right."
"So Amelia and her friends were reading the classics, too."
"It's interesting to think of it that way, isn't it?" Ivy read through the list of signatures neatly entered on the thick ivory paper. "Josefina Osuna. Vana Spencer. Allison Margolese. Karin Becker. Marta Mueller." She paused and looked up. "What a treasure this is."
"I wonder why she hid it in the cabinet?" Poppy asked.
"It might have been to protect some of the attendants, or maybe it was due to her advancing Alzheimer's disease. We'll never know."
Poppy's eyes flashed with excitement. "Now I can't wait to clean all the cupboards. Maybe we'll find more of Amelia's hidden treasures."
Ivy laughed at that. "Shelly is always looking for a hidden pot of gold. Maybe this time you'll find it, although I doubt it. But if you do, we still need that roof repaired." She shook her head. There would be time for that later. "Come on, let's clean up these items before today's guests arrive."
"How do we clean this silver?" Poppy held up the tarnished platter.
Ivy inspected the old piece. It was heavily oxidized and discolored, and her first thought was to call her mother. But of course, Carlotta was a thousand miles away on board the boat with their father. And no doubt having a wonderful time. Ivy wouldn't disturb her for this.
"I don't know if we can restore it to its former magnificence," Ivy said. "However, I seem to recall that your grandmother once used a solution of vinegar and baking soda in a sink full of water. I'm not sure if that's entirely correct, but it's worth a try."
"We could ask Auntie Google," Poppy offered.
"I suppose we could, but I'm pretty sure of the vinegar. Mom uses that a lot."
"Like we do for the windows in this place."
"It sure saves on cleaning supplies," Ivy said, smiling. Back then, with a young, growing family, Carlotta had learned to cut corners. Even today, Ivy preferred many of her mother's old methods honed long before store-bought versions arrived on grocery shelves. Carlotta had saved money so that she and Sterling could start their import business.
Ivy walked toward the cleaning supply cupboard. "Would you research online while I get supplies?"
Poppy pulled her phone from the back pocket of her white jeans. She tapped the screen a few times. "Here it is, Aunt Ivy. Actually, there seem to be several methods. One woman says to pour white vinegar and baking soda into hot water in a foil-lined pan or sink, but don't use straight vinegar. This guy swears by lime juice and salt. And another woman says that toothpaste or detergent is good to use."
"Whatever we choose, let's be careful not to scratch the surface," Ivy said. "I have an idea. Why don't we call Arthur and Nan at Antique Times? I bet they'll know."
While Poppy called and spoke to Arthur, Ivy brought out a feather duster from the supply closet. Working carefully, she whisked away decades of dust from the cover of the guest book. "A literary salon," she mused to herself. She could hardly wait to read through the guest ledger.
Ivy glanced at the kitchen clock. She didn't have much time before guests began to arrive. Motioning to Poppy, Ivy left the small volume with reluctance and made her way into the foyer to welcome new guests. She could trust the silver cleaning to Poppy.
As Ivy approached the entryway, through the window she saw a car slow in front of the house. Just in time, she thought. Many visitors drove by the old house, but this might also be a guest.
Shifting her attention to work, Ivy sat at the front desk and checked the list of expected guests. She was grateful that summer bookings were going well, but she still needed more to pay for years of neglected maintenance.
Behind her, she heard sharp taps on the wooden stairs. Moments later, a tiny Chihuahua shot past her.
"Pixie," Ivy called out. "Stop right there."
Pixie's toenails clattered across the parquet floor as she made her escape—no doubt looking for something to snatch and carry back to her lair. Pixie belonged to one of their long-term guests, Gilda, who had lost her home in the Ridgetop Fire last year.
"Oh, no, you don't, you little thief," Ivy said, starting after her. Just then, she spotted a new guest coming up the walkway.
"Poppy," she cried out, cupping her hands like a megaphone. "Pixie alert. Heading toward the dining room. I have to check in a guest."
"I'll corner her," Poppy called back. Her niece raced from the kitchen and rushed after the little dog, who was making a mad escape toward an open door to the veranda. "Where's Gilda?"
"Upstairs. She probably doesn't realize Pixie slipped out."
Gilda often worked with her headphones on, and if the door hadn't shut properly, Pixie could push it open. Yesterday, she'd made off with a guest's silk scarf, and Ivy had spied her dragging it up the stairs like a prize. Fortunately, the woman hadn't noticed it missing, though Ivy insisted on having it dry cleaned. Louise at the Laundry Basket had tended to it right away.
The front door opened, and a young woman stepped inside. She was an attractive thirty-something in jeans and boots, though her hair was a little disheveled as if she'd been traveling all day. She dropped a bag beside the desk with a thud and heaved a sigh.
"Welcome to the Seabreeze Inn," Ivy said brightly, striding back to the desk. "Checking in?"
The woman ran a hand over her hair and assumed an attitude. "Isn't that obvious?"
"Well, yes," Ivy replied, reining in a comment. Traveling was tiring, and this wasn't the only weary guest who'd ever arrived suffering jet lag or travel challenges with an attitude to match. "Your name, please?"
The woman hesitated, glancing around. She seemed taken in by the grand architecture before regaining her attitude. "Geena Bellamy. And I need a porter."
"I'll be happy to help you with your bags," Ivy said. "We don't have porters at our little inn—despite the grand entryway. You'll find Summer Beach is pretty relaxed."
Geena frowned. "I'm not here to relax."
Ivy quickly shifted course. "If you're here on business and need to print anything, we have a printer in the library."
"Got her," Poppy called out as she swooped past them with Pixie in her arms.
With a degree of horror, Geena watched Poppy climb the stairs. "You allow dogs here?"
"We do," Ivy replied.
"I'm allergic to dogs," Geena said pointedly.
"Not to worry. Your room is at the other end of the hall. I hope you'll have a productive stay." Ivy understood how severe pet dander allergies could be. She hoped the woman wouldn't have issues.
"I do, too."
Ivy detected more than a trace of animosity in the woman's voice.
"Am I checked in yet?" She rubbed her eyes. "My allergies must be starting already."
"The fresh ocean air might help that." Ivy handed her the key. "Shall I show you to your room now?"
"I can find it by myself. And carry my own baggage. I mean, what else is new?" She picked up her bag. "I've heard about this old house. Mind if I have a look around?"
"Not at all," Ivy said as Geena started for the stairs. That wasn't an unusual request; many architecture aficionados came to appreciate Julia Morgan's design. Others had read about the treasures discovered here.
"Excuse me," Ivy called out before Geena reached the stairway. Although she was unpleasant, she was still a guest. "We have a wine and tea gathering with appetizers this afternoon in the library. Maybe you'd like to stop by to unwind."
"I don't need to unwind, and I don't like crowds." Geena continued up the stairs.
"It's usually a small group…"
Geena ignored her, and Ivy turned back to her desk. At least she'd tried.
Poppy stepped around the corner. "Some people just want to be miserable."
"You heard all that?"
"Enough." Poppy swung her silky blond hair over a shoulder. "Don't let her rain on your day, Aunt Ivy. She'll be gone soon enough. That's what you always say."
Ivy didn't have much time to worry, though. Another group of guests was arriving. Sometime later, after Ivy had finished checking in all the guests for the evening, Shelly breezed in.
"Better late than never," Shelly said brightly.
Ivy looked up from her paperwork at the guest desk. "Glad you could make it, seeing how it's almost time for our afternoon gathering."
Shelly smirked. "Lighten up, Ives. I'm here. What do you need help with?"
Ivy hadn't been able to get the literary guest registry out of her mind. Quickly, she told Shelly about what she and Poppy had found.
Ivy led her to the kitchen and showed her the guest book. She swiped the feather duster over it again and opened the book. "Look at all these names. And the books they were reading." Ivy was entranced. "Doesn't that speak to you?"
Shelly shrugged. "I don't see what's so exciting about that. I'm still waiting to find the stash of gold."
Ivy smiled at that. "What do you think about continuing Amelia's literary society? We could start a book club."
Shelly put her hands on her hips. "And just how does that make us money?"
Ivy wasn't quite sure yet. "It's good business to give back to the community." She paused, recalling something her mother had once told her. "Often, you have to give before you get."
"Oh, all right. Just stop quoting Mom. I would've done it anyway." Shelly grinned. "It could be kind of cool. I went to a couple of book clubs in New York. For most of the members, it was an excuse to leave the kids at home and drink wine."
"With that kind of experience, I could really use your input," Ivy said, grinning. "We have to do something with the downstairs."
"In that case, I have another great idea." Shelly twisted her lips to one side. "We could create a haunted house for Halloween. Your book club could read one of Stephen King's horror novels—how about The Shining?"
"About a haunted inn? You've got to be kidding. That's way too close to home. Pun totally intended."
"Oh, come on. We wouldn't even have to clean up the place." Shelly laughed, clearly enjoying this. "Now, that would be authentic, especially since Amelia is still in residence."
A chill coursed along Ivy's spine. "There's no proof of that."
"You believe what you want, and I'll believe what I know."
"Come on, Shells. We can't afford to scare the guests."
Shelly laughed and poked her back. "People love to be scared, Ives. You know you'd secretly like to see Amelia again. Think of all the questions you could ask her. Such as why she shoved a guest book behind a platter. Or where she hid the gold."
Ivy shook her head. Still, Shelly had a point. She wished she would have had the opportunity to speak to Amelia Erickson. What a life the woman had lived. And what a difference she had made in the lives of others during her life—and after. Her life had truly mattered.
Shaking an unsettling feeling from her shoulders, Ivy turned to her sister. "Maybe we'll stumble upon your gold yet, Shelly. Or something just as valuable." She tapped her fingers. "In fact, I think the new Summer Beach Book Club might open new doors for us."
"Oh, all right," Shelly said. "What can it hurt?"
We hope you are enjoying the book so far. To continue reading...
Seabreeze Book Club
Jan Moran
Copyright © 2023 All Rights Reserved
Also in this series
Also by this author