Sparkle
What happens when Jake falls for Elena, the sassy jeweler-to-the-stars he's investigating?
Book info
Sample
Audiobook
Media
Author updates
Lists
Synopsis
When jeweler-to-the-stars Elena Eaton is ensnared in a daring jewelry heist on the night of the Academy Awards, she discovers that nothing in La La Land is as it seems. As her sterling reputation and private life suddenly turn into tabloid fodder, a family emergency draws her back to her hometown of Sydney, Australia.
With her family's rare blue diamonds from India missing and her career in jeopardy, her problems mount when an infuriatingly handsome insurance investigator, Jake Greyson, follows her to Sydney, suspecting her of involvement in the robbery. Yet Elena's grandparents see more in Jake than she does. After a night at the opera and a walk on the beach, Elena and Jake soon find themselves more attracted to each other than either of them planned. But can she trust him with an old family secret regarding the rare diamonds?
Sparkle is the sixth book in the Love, California series of linked, stand-alone novels. Follow a group of smart, stylish friends as they navigate the turbulences of modern life and dating. Set in Southern California with international travel, this fun, heartfelt series features a group of best friends determined to live the lives of their dreams.
Release date: August 25, 2017
Publisher: Sunny Palms Press
Print pages: 258
* BingeBooks earns revenue from qualifying purchases as an Amazon Associate as well as from other retail partners.
Listen to a sample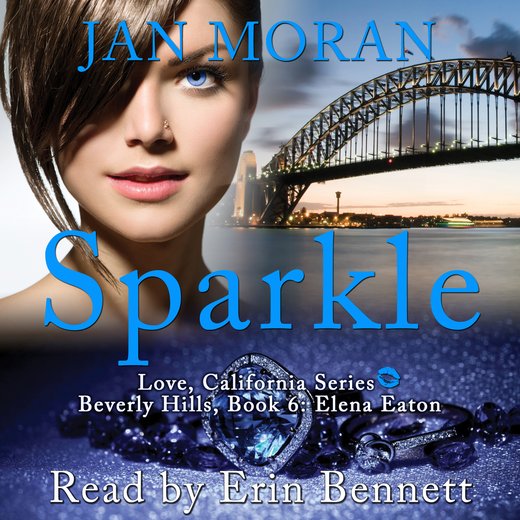 06:17:55
173.01 MB
9781942907497
November 30, 2017
Ideal Audiobooks
2016
Sparkle
Jan Moran
Chapter 1
Beverly Hills, California
"MORE CHAMPAGNE, MISS?"
Elena Eaton accepted a glass of sparkling bubbly from a server. Veuve Clicquot, she noted, wanting to remember everything about this night. For a girl who'd grown up surfing the waves of Bondi Beach in Sydney, Australia, she never thought she'd be standing in the middle of the brightest stars in Hollywood, mingling and eating caviar at an Academy Awards after-party as if it were what she did every day of her life.
Among the crowd of actors, directors, and producers, little gold statuettes glittered—and yes, they really were much heavier than they looked, she noted—cradled in the arms of the lucky winners who could now command much more per film as an Oscar winner. Most winners had passed the statuettes off to trusted assistants, while a few refused to be parted from their new acquisition.
"Are you enjoying yourself?" asked Aimee Winterhaus, the editor of Fashion News Daily in New York and the host and underwriter of the party.
"I'm thrilled to be here, Aimee."
When the industry insider had asked their friend Penelope where the hottest new place in Los Angeles was to host a private after-party, she had told Aimee about Bow-Tie, owned by her friends Lance Martel and Johnny Silva. The restaurant was in one of a handful of old houses that had been converted to business use on the busy shopping street.
Aimee had hired an event company, and now the entire place looked like a 1920s speakeasy with casino tables, velvet drapes, and glamorous images of Golden Age stars projected on the walls. Not to mention the life-sized ice sculpture of the Oscar statuette. Some A-list actors were gathered at the bar, but many were in a private VIP dining room across from what Elena guessed had once been a large living room. She loved the hardwood floors and the brick fireplaces that anchored the rooms.
"I can't stop looking at everyone," Elena said. "The gowns, the jewelry—"
"The hot actors," Aimee added with a sly smile.
Elena grinned. "Very hot actors." Aimee was right. Her friends in Sydney were going nuts over this. Allison, her best friend from school, had even organized a viewing party at the bed and breakfast she owned with her husband Zach.
"You could meet someone tonight," Aimee said, raising a perfectly arched eyebrow. "The night's young."
"I'm hardly their type," Elena said, twisting her glossy, nude-colored lips to one side. She'd shimmied into a sleek black halter dress that skimmed her hips and fell to the floor, though she felt more comfortable in yoga pants sitting crossed-legged with her sketch pad. Or concentrating at her work bench surrounded by jewelry-making tools. "I'm only glam on the outside tonight."
"Glam is as glam does," Aimee said, laughing. "Trust me, with the right makeup and clothes, we make fourteen-year-old models look like movie stars."
Penelope and Fianna had tried to talk her into a sizzling red dress, but she was so nervous tonight that the last thing she wanted was to stand out in the crowd. Besides, the black velvet showcased the delicate blue diamond necklace and earrings she'd just designed to match her deep blue eyes. And black was slimming, of course. Although she was comfortable in her skin, next to uber-fit celebrities she needed any help she could get.
She touched the stone in her necklace for luck.
Most everyone in the industry tonight had turned out to laud their fellow casts and crews and the night was just beginning. Most people would glide from one party to another—to the Vanity Fair party, the Governors Ball, and parties hosted by Lionsgate, Women in Film, and other producers and organizations.
Every event was over-the-top designed; she'd never been to parties like these. Her social life usually involved campfires on the beach, or binge-watching a new TV series with friends. Elena was so excited to be trailing her friend Penelope—a top fashion model—wherever she went.
Equally impressive were the jewels that sparkled on svelte throats, dainty earlobes, and slender wrists and fingers of well-known actresses. Some even wore hundreds of thousands of dollars of gemstones in their hair.
Everywhere Elena looked were shimmering diamonds, emeralds, rubies, and sapphires. Even deep purplish-blue tourmalines. Estimating values, she figured many stars wore jewelry valued at millions of dollars.
So did Penelope.
Elena pressed her hand against her fluttering heart to calm her anxiety. She had pledged her entire business against the jewelry she'd designed for Penelope to wear tonight. Which was why she'd hardly let her friend out of her sight all evening.
She caught Penelope's glance and wiggled her fingers in a tiny wave. Penelope lit up and made her way across the room. Watching her, Elena admired how Penelope moved and showcased her jewelry and dress to perfection. She watched heads turn in Penelope's wake, and heard murmurs of approval trailing her as she passed.
Penelope looked like a glittery mermaid princess who'd just emerged from the sea. She'd even changed her hair color from purple to blond with turquoise and azure highlights to go with the stunning aqua silk gown she wore, which was designed by another friend of theirs, Fianna Fitzgerald.
The blazing marine blue and twinkling green diamonds at Penelope's throat were worth a fortune and had drained Elena of her personal gemstone coffers—not to mention the cost of additional stones, other materials, and her labor.
Inspired by opulent jewelry from India, she'd spent months designing the suite that included earrings, bracelets, and rings, but the piece she was most proud of was the lacy, cascading choker with diamonds arranged in a wave-like pattern from light to dark.
Most important to her was the lineage of these fancy-colored diamonds, and what they represented to her family. She'd never shared the true provenance of these stones with anyone outside her family, not even her closest friends. Nor could she. In her heart, they would always be Sabeena's diamonds. And in her ancestor's honor, she had marked a large part of their profit on sale for a special cause.
"Elena." Penelope gripped Elena's hands and said hello to Aimee. "Your jewelry and Fianna's dress outshine me tonight," she said, laughing. "They're the real stars."
"You're not a top model for nothing," Aimee said, reaching out to touch the lacy bejeweled choker that Elena had designed. "Those are exquisite fancy-colored diamonds."
"Thanks for wearing them, Penelope," Elena said, in awe of how beautiful Penelope looked tonight. She knew her as a friend, just a regular person she traveled with—most recently when Penelope had come under threat from a deranged psychotic fan by the name of Kristo.
"It's the least I can do," Penelope said, her tawny eyes brimming with elation. "You helped me get through a tough time."
"It turned out well though," Elena said. "How's the new show going?"
Penelope's face shone with excitement. "We started filming, and I'm working on ideas for more episodes. The next one will be Denmark. Isn't that exciting? I'll get to see my parents then."
"Hey hottie, how about more bubbly?"
A familiar voice rang out beside Elena. She turned, widening her eyes in surprise at the sight of an old boyfriend from Sydney, the older brother of her friend Allison. "Shane? What are you doing here?"
"Following the waves." He handed Aimee a fresh glass. "Making my way toward Maui and picking up work along the way." He tapped Elena's nose. "That's new," he said, indicating the tiny, blue diamond nose-stud glinting on her left nostril.
She ignored his comment; he'd lost his right to comment on her years ago. "You're not working at Bow-Tie regularly are you?" This was her favorite restaurant, and she'd die if she had to see him here all the time.
"Just the big party," he replied with a wink at her. Turning to Penelope, he said, "That's quite the jewelry you're wearing. Big rocks, there." He let his eyes slide over Penelope.
"Keep your eyes and your hands to yourself." Elena wanted to slap the floppy blond hair right out of his eyes. Tan and buff, he was a surfer dude out for fun. And faithful to no woman. His sister couldn't be more different.
Penelope laughed off his remark with grace. "You're a friend of Elena's? These are her designs."
"Not a friend," Elena said, scolding him with narrowed eyes.
Ignoring her expression, Shane gave her a smooth grin. "Nice work, Elena. Taking a step up in the world, are you?"
"Don't you have work to do?" The last thing she needed tonight was Shane hovering around. She was on edge enough as it was. Though he was good-looking, no way would she fall for his tricks again.
Shane wagged his brows and sailed through the crowd, stopping to flirt with every attractive woman.
"Good riddance," Elena muttered.
Aimee looked at her with amusement. "Don't let him get to you."
"I won't," Elena said, flipping her hair from her forehead. She had more to worry about than Shane.
"As for the new nose bling, I love it," Penelope said.
Aimee nodded. "Very sexy. Accents your eyes."
"I've got to run, too," Penelope said. "My producer wants me to meet some people." She smiled. "But I'm posing for every picture I can for you and Fianna."
"Lovely to see you shining so brightly after that awful mess, Penelope." Aimee leaned in to air kiss the model goodbye.
Nervous didn't even begin to describe how Elena felt. Terrified was more like it. Yet the exposure from tonight and an important jewelry sale could elevate her struggling business into the stratosphere, secure her family, and more. She hoped an offer for her work would come in after photos circulated.
"Just look at that Chanel. Simply sublime." Aimee waved and nodded at several attendees she knew. "Besides the Met Gala in New York and the Cannes Film Festival, this is the best place to photograph stars in the most beautiful attire."
"And jewelry," Elena said, glancing around in appreciation.
Aimee ticked off her fingers. "The European designers are out in force. I've seen Chanel, Dior, Armani Privé, Valentino, Louis Vuitton, Gucci, and Givenchy. And the Americans are here with Carolina Herrera, Monique Lhuillier, Ralph Lauren, and Lele Rose."
Taking a breath, Elena asked, "Which outfit do you like best?"
"I'd have to say Penelope's. Fianna has a fresh, new point of view."
Elena gazed at the fluid, aqua silk dress Penelope wore that Fianna had fit to her. She also admired how Penelope wore the diamond set—the parure—she'd designed.
In rare fancy colors ranging from deep vivid blue to greyish blue, from sea foam green to forest shades—colors rivaling the legendry Hope and Dresden Green diamonds—the stones were set in platinum that glittered against Penelope's glowing skin. The delicate choker rose high on her neck and draped across her collarbone, dipping to her décolletage.
This was her masterpiece, simply the finest work she'd ever done.
Her heart quickened at the brilliance of the natural stones, faceted to perfection, framing Penelope's long, graceful neck. Jewelry design was Elena's artistic expression. She loved the luminosity of gemstones, the precision work of design, and the sheer beauty of creation.
The patina of history burnished the world's most famous gemstones, adding luster to remarkable stones. From the whispered curses of the magnificent Koh-i-Noor and Black Orlov diamonds, to the incredible Star of India—a star sapphire the size of a golf ball—to the heart-shaped Taj Mahal Diamond that Richard Burton had bought for Elizabeth Taylor. As well the La Peregrina Pearl that Taylor's beloved dog almost swallowed. Elena loved all the stories.
Her gemstones had their own secret history, too. And now was their time.
For months, she and Fianna had worked together to create the most visually stunning, coordinated ensemble on the red carpet for Penelope. They had neighboring shops on Robertson Boulevard and often worked long into the night together. If Penelope's photographs were chosen as fashion magazine leads, their countless hours of hard work and huge financial gambles would pay off.
Smiling with satisfaction, Elena saw another person admiring the choker on Penelope. She couldn't have asked for a more perfect model and showcase for taking her jewelry line to the next level, so she'd invested everything she had—and could borrow—into it.
"Penelope looks perfect tonight," Elena said. "Wouldn't she make a great cover?"
"Absolutely." Aimee smoothed her sleek black bob and held a finger to her red lips. "As a matter of fact, Penelope will be our cover next week. You should see the red carpet photography we got. And your jewelry is dazzling. Get ready to write orders, darling. Your pieces are bound to be snapped up by some billionaire."
Elena was so excited she bear-hugged Aimee, the imperious industry editor many designers were nearly afraid of. "I'm so excited, thank you!" She fervently hoped her work would be sold. She had been knocking on retailer doors for years with limited success. Either she hadn't had a big enough name, or she couldn't produce the volume they needed.
Elena had been saving her money a long time for this expensive wager. So when Penelope had offered to wear her designs—and Fianna's—both women jumped at the chance.
Elena had known that only diamonds would do. She glanced around. Fianna was somewhere in the crowd, mingling and having a great time.
Aimee moved on to greet another winner just as Elena's phone buzzed in her purse. A text message popped up on her screen from her cousin Coral in San Diego. OMG! The entire Bay family watched the Academy Awards. Saw Penelope Plessen on the red carpet. Jewels are AMAZING!
Elena smiled at her cousin's message. Her mother, Honey, had grown up in San Diego. Elena had loads of aunts, uncles, and cousins in the area. Too many Bays on that shore, her dad often said. She loved his corny jokes, and that's where she'd gotten her sassy mouth, her mother claimed.
Just then another text appeared from Coral's sister, Poppy, a journalism student who was handling her publicity. Get photos!
Elena grinned. She couldn't wait to tell Poppy about Aimee and the Fashion News Daily cover.
As she texted her cousins, Elena kept an eye on Penelope. Her boyfriend Stefan, who owned a bodyguard service for the rich and famous, kept close to her. Still, she was anxious every time she thought about the fortune around Penelope's neck. She couldn't help but think what might happen. Every possible disaster had crossed her mind.
"Hey, why the frown?" Fianna appeared next to her, her long red hair framing her face in loose curls.
"It's just my imagination running bonkers again." Elena gave an unsteady laugh.
Fianna nodded toward Shane. "He's sexy. Saw you talking to him. Someone you know?"
"Someone I never wanted to see again. I dated him in Sydney when we were teenagers." She shuddered. "First kiss." Changing the subject, Elena said, "Penelope is such a professional. Look at how she moves in your dress."
"This is more than I dared to dream about." Fianna let out a little squeak of excitement.
Elena nudged her and winked. "Can you believe this is happening?"
"I need lots of pictures. I might never make it here again." Fianna gripped Elena's hand with excitement. "I met a costume designer who was gushing over Penelope's dress. Did you see her?" Not waiting for an answer, Fianna glanced at her. "Looks like you have a real problem. Your champagne glass is empty and you need dessert. Come with me."
Elena hesitated, not wanting to let Penelope out of her sight. "Bring me something?"
"You can't stare at Penelope all night. We need to meet other celebrities, too. There's a lot of potential business here."
With reluctance, Elena acquiesced. "You're right."
Fianna took her hand and led her toward a table laden with delectable treats that Lance and his kitchen staff had made. Exquisite miniature fruit tarts, tiny crème brûlée, chocolate mousse, gold foiled statuettes. "Yum," Fianna said, picking up a plate.
Glancing back, Elena saw Stefan excuse himself from Penelope, motion toward another one of his bodyguards who was also in attendance for another star, and walk toward them. He looked handsome in an ebony tuxedo that showed off his broad shoulders and trim waist. Elena was happy for Penelope that she'd reconnected with the love of her life.
Stefan slowed by them. "Having fun, ladies?"
"Best time ever," Fianna said.
"I'm still pinching myself," Elena added. "Penelope is a vision."
"Isn't she?" Stefan gazed after her, admiration evident in his eyes.
Elena traded a look with Fianna, and they both released a little sigh. With all the gorgeous women in the room, Stefan's heartstrings were firmly tied to Penelope. And they had nearly missed the chance to reconnect.
She had never dated a man who looked at her the way Stefan looked at Penelope. The surfers
she'd dated in Sydney and San Diego only wanted big waves and good times.
Drawing a shaky breath, Elena leaned toward Stefan. "I'm jittery just watching Penelope. My entire net worth and everything I could borrow is hanging on her neck and earlobes."
"Relax, Elena, we've got this." Stefan winked and moved on toward the restrooms.
She certainly hoped so. When she was young, she'd started making jewelry as a sideline to support her surfing habit but soon became more enamored with designing new pieces than chasing waves. After saving her money, she'd traveled to the San Diego area to study at the Gemological Institute of America—the GIA—in Carlsbad where she honed her skills in gemology and jewelry design. She'd worked hard to become a world-class designer, and now, here she was on the brink of success. She hoped.
"Don't look so stressed," Fianna said. "Think of all the opportunities here."
Elena caught her breath again, hardly believing this night was real. By the time tonight's photos hit social media, newspapers, and magazines, her world could change.
She couldn't let her parents down either. They'd invested their savings in her vision, too. She shouldn't bypass any chance before her. "Guess we better circulate."
We hope you are enjoying the book so far. To continue reading...
Copyright © 2023 All Rights Reserved
Also in this series
Also by this author