Book info
Sample
Audiobook
Media
Author updates
Lists
Synopsis
Rohn Lerner is a successful Oklahoma rancher. He's old enough to know what he likes and still young enough to enjoy it. But losing his wife five years ago wore him thin. He's not ready to date, but he needs someone to share a meal with as badly as someone to warm his bed.


Bonnie Martin fled her Oklahoma home years ago, leaving behind her abusive father, and Rohn, the lost love she never forgot. Now she's back to settle her father's estate, but she has no idea that she's about to bump into Rohn or that they'll fall for each other all over again.


Contains mature themes.
Release date: December 1, 2015
Publisher: Zebra Books
Print pages: 336
* BingeBooks earns revenue from qualifying purchases as an Amazon Associate as well as from other retail partners.
Listen to a sample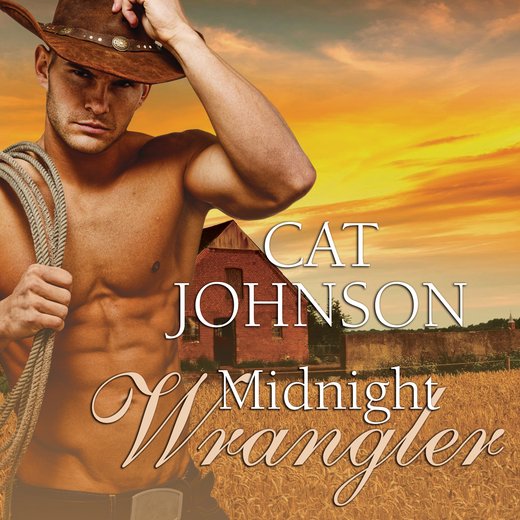 08:13:50
226.07 MB
November 24, 2015
Tantor Audio
2015
Midnight Wrangler
Cat Johnson
Some days, no matter what a man did, nothing seemed to go right. Today at the Double L Ranch was one of those days.

Rohn Lerner let out a sigh tinged with frustration as he found his three ranch hands shooting the breeze by the barn instead of tackling all the chores that needed to get done.

"Hey!" He strode toward the group.

"Hey, boss." Tyler tipped his chin in Rohn's direction. "What's up?"

Tyler was usually the ringleader of the lazy hands so his what's up particularly rubbed Rohn the wrong way today. They'd know what was up if they weren't so busy jabbering.

Rohn came to a stop as he reached the three young men. "The bull pushed over the water trough again."

Tyler glanced at the field where the bull was currently penned without water. He scrunched up his face and looked back to Rohn. "Yeah, I saw that before."

Rohn's eyes widened at the revelation. "Then why aren't you over there refilling it?"

These boys had been working for Rohn for enough years that they should know what to do without him having to tell them.

Colton knocked his hat back a notch. "We're fixin' to get to it, Rohn. Relax."

"You're fixin' to get to it?" Being told to relax by an employee half his age made Rohn's blood pressure rise. "And when would that be, this getting to it?"

"We were going to head over right after lunch." Justin, a couple years older and apparently wiser than the other two, stepped in with his attempt to soothe the situation.

"That bull is worth his weight in cash, so how about if he gets his water before y'all get your lunch?" Rohn would really like to know when the youth of this country had been taught that it was all right to talk back to their boss. Probably about the same time they'd convinced themselves it was all right to put off doing important tasks until later.

Justin gave a nod. "A'ight, Rohn. Sorry, but you know in this kinda weather the hose bakes in the sun and we have to drain the hot water outta it before we can fill the tanks. I just figured since we were going to scrub and refill all the buckets after lunch anyway, we'd take care of it then instead of wasting the water draining it twice."

They had been through some pretty bad droughts lately in this part of the country, and wildfires were always an issue in Oklahoma. Justin's point about saving water was a valid one, but Rohn was in no mood to concede that.

He cocked one brow. "Then maybe you outta finish all the watering now and then take a late lunch."

Tyler blew out a breath. "Somebody's cranky today."

"Today?" Colton frowned beneath the brim of his cowboy hat. "Try every damn day lately."

"Yeah?" Rohn lifted his brows high and hooked a thumb toward the drive. "There's the way out. Y'all feel free to hit the road and look for another job whenever you want."

Colton snickered. "Yeah. All right."

It was Rohn's own damn fault. He'd always been more of a friend to these kids than a boss. He'd joke around and act like a buddy, but in his current mood that last threat hadn't been completely in jest.

Tyler turned to Colton and Justin. "Can you two go on over, right that trough and start on the water? I'll meet you out there in a bit and we'll figure out how to make it stay upright for good this time."

Colton's mouth dropped open. "Since when do you get to tell Justin and me what to do?"

"Since I wanna talk to Rohn alone for a minute." Tyler crossed his arms over his chest, not backing down.

"Come on, Colt. Let's go." Justin tipped his head toward the field.

Colton continued to sputter. "But why should we?"

"So we can talk crap about Ty behind his back, that's why." With a grin, Justin winked at Tyler and pivoted on the heel of one boot toward the pasture. Colton shot Tyler a parting glance that expressed exactly what he thought about the situation, but followed Justin.

Once they were gone, Tyler turned to Rohn. A crease furrowed the forehead above his dark brows. "You a'ight? You need to talk?"

Rohn let out a snort. "What, are you a therapist now?"

"No, I'm your friend. And it wasn't too long ago you pulled me aside to talk privately when I was wrestling with some shit of my own. Remember?"

That all had been barely a couple of months ago. Back when Rohn had been dumb or desperate enough to listen to Colton and ask his widowed neighbor Janie out on a date. Rohn remembered that dinner with Janie, as well as the exact moment he'd figured out that the woman already had feelings for Tyler.

That's what Rohn got for taking relationship advice from a twentysomething-year-old cowboy with little experience and no serious girlfriend that he knew of.

Meanwhile, being twenty-four and dense as a lump of coal, Tyler had been too young and stupid to realize how Janie felt until Rohn had explained it to him.

Nope. Rohn hadn't forgotten any of it. "Yeah, I remember. Except what you were wrestling with was that a beautiful, smart, intelligent woman was in love with you. So, I'm sure that shit wasn't all that difficult for you to get over."

Tyler tipped his head. "I was miserable for a while, just the same, and you stepped in and straightened me out."

"Somebody had to." Proven by the fact that since that conversation, as far as Rohn could see, the couple was not only together, but looking pretty serious. If he wasn't mistaken, Tyler was all but living at Janie's. "So are you officially moved in to her place yet, or just staying over there every night?"

Tyler opened his eyes wide. "Wait a minute. Is that what this crap mood of yours is about? You're upset I'm with Janie?"

"No, I'm not upset you're with Janie." Rohn shook his head, sorry he'd said anything at all. "As long as you're treating her right, I'm happy for her and for you. That's not it at all."

"Then what is it?" Beneath the brim of his hat, Tyler drew his brows low.

"Nothing." His love life, or lack of one, was one thing Rohn didn't want to discuss with a cocky twenty-four-year-old who had everything in the world at his fingertips and his whole future ahead of him.

"Rohn, come on. Just spill it." Tyler crossed his arms and leaned back against the fence, as if he was willing to wait as long as it took.

Damn persistent kid. Rohn silently mouthed a cuss, but finally gave in. "I guess I'm just kinda lonely sometimes, okay?"

Tyler threw his hands in the air. "That's why I've been telling you to come out with us. You ain't meeting any girls here at the ranch."

"And I told you I don't want to meet girls and I'm not going to find a woman of any substance at the bars where you yahoos hang out."

"Then set up one of those online dating accounts. They have them for older folks now."

"Older folks?" Rohn let out a snort as that hit him hard, like a punch to the gut. "Great. Thanks a lot."

How the hell old did these kids think he was, anyway? Rohn had quite a few years left before he turned fifty. Enough years he felt justified still holding on tight to his claim of being in his early forties. Okay, maybe he was inching closer to his midforties, but still.

"I'm not trying to insult you, Rohn. I'm just trying to give you some options."

"Well, no offense, Tyler, and thanks for trying, but I don't like your options."

The kid had work to do still, and lunch to eat, but he didn't seem to be in any hurry to get going. Tyler stayed put, eyeing Rohn. "You know, if it's just sex you're missing, there are girls you can call for that. . . ."

"Jesus, Tyler. Please stop talking." Rohn scrubbed his hands over his face, ignoring the dust and dirt he'd probably smeared all over himself.

"I'm serious. You can probably ask for any age woman you want, too, if you don't want a girl who's too young."

Letting out a laugh at the ridiculousness of this surreal conversation, Rohn still couldn't help but ask, "How the hell would you know about any of that?"

Rohn had no doubt this former playboy had never had to hire a professional in that area. Before settling into a relationship with Janie, Tyler was the type of guy who would never have come home from a rodeo or a night out on the town without a willing recipient of his affections in his passenger seat.

Sure, over the years Tyler had probably spent a small fortune buying drinks for women before he got a little loving in return, but to outright pay a prostitute for sex? No way. Rohn couldn't see it happening. Not for Tyler and definitely not for himself.

"I planned my brother's bachelor party. The place I hired the stripper from also offers girls who provide other services, if you know what I mean. I have the phone number—" Tyler reached to pull his cell phone out of his jeans pocket.

Rohn threw up one hand to stop him. "No. Enough. I don't want the number. Not now. Not ever. Okay?"

The dead last thing Rohn needed was Tyler putting some stupid idea into his head about paying a woman to have sex with him. Worse, as the years of celibacy since his wife Lila's death started to add up to be more than he could count on one hand, the idea didn't seem as horrifying to him as it should.

He'd been lucky enough to love two women in his life. Bonnie Martin for that single magical perfect summer after high school. And Lila, who'd been his wife and best friend for the fifteen years they were married.

Rohn knew finding love again, a third time and at his age, was a long shot. But that didn't mean he was willing to explore the alternative Tyler had suggested.

"Okay, but if you change your mind . . ." Tyler let the suggestion hang in the air.

This conversation had gone on for too long already, and all it had done was make Rohn more agitated. He'd gone from cranky to being both appalled and needy. As crazy as it seemed, talking about strippers and hookers had woken up his long suppressed sex drive.

With his luck, he'd probably call for a woman to come over and get robbed by some con artist posing as a hooker. Or he'd end up sending her home after one look because she'd be young enough to have been his daughter. Even though Rohn was childless, he knew the girl would be some man's little girl, and Rohn would never be able to get that out of his head.

He glanced up and found Tyler still watching, waiting for him to say something, he supposed. "Ty, I won't change my mind."

"A'ight." Tyler gave a single nod. "You know I could ask Janie if she's friends with any nice, single women from her church."

"No. I do not want your girlfriend fixing me up." Rohn stared at the sky in frustration. This situation was getting worse by the minute. "Please, Tyler. Promise me you won't say anything to Janie."

"Fine. I won't say anything. I just hate seeing you like this, Rohn. I care about you. You're like a second father to me."

If that didn't make him feel old, nothing would. Though Rohn couldn't argue. Biologically, he was plenty old enough to be Tyler's father, but it wasn't exactly a comfort to hear the kid voice that reality.

On top of that, it reminded Rohn of the void in his life. The realization that his greatest disappointment, aside from the devastation of Lila dying way too young, had been never having a son of his own. A boy to teach, and then work side by side with. To pass the ranch on to when he was too old to work it himself. Someone to leave it to after his time on this good earth was done.

But that couldn't be changed and there was no use dwelling on it. Rohn brought his gaze back to Tyler.

"Don't worry about me. I'm fine." Rohn tried to sound convincing as he said it. He wasn't sure he succeeded.

Finally, Tyler nodded. He hooked a thumb toward the house. "I gotta run inside for a sec. Then I'll go see if the boys and me can't figure out how to stop that water tub from tipping so easily. I'm thinking maybe a brace made out of some two-by-fours will keep the big guy from flipping it."

"A'ight. Thanks. That'd be a big help." Rohn watched the younger man head for the house, probably to hit the bathroom given the amount of coffee the kid drank.

Turning in the opposite direction, Rohn headed for the barn. The boys had a bad habit of tossing paperwork to the side when a delivery came or the blacksmith handed them a bill. Rohn needed to routinely hunt for invoices and packing slips before he could work on the bookkeeping.

A few minutes later, found paperwork in hand, Rohn emerged from the barn and out into the glare of the noonday summer sun.

He noticed Tyler was back outside and working. His ranch hands appeared to be having a meeting of the minds about the water tub situation. Tyler, Justin, and Colton surrounded the trough as the bull watched them from across the pasture.

Hoping they could handle things on their own now that they were finally focused on the problem and not on him, Rohn went inside the house. He had work of his own to take care of.

Bonnie Martin plucked the weeds from between the flowers she'd planted on either side of the front door. The wide brim of her straw hat shaded her face, but the Phoenix sun beat on the exposed skin of her arms.

Swiping the beads of perspiration off her brow with the back of one hand, she couldn't help but think maybe she should just let the weeds take over. They seemed to thrive in the Arizona heat, while the flowers and humans both struggled.

"Bonnie! Where are you?"

With a groan, she straightened up and stood, brushing her hands together. "I'm out front."

Her mother came to the glass front door. The older woman had Bonnie's same coloring—fair complexion that roasted in the sun, pale blond hair, and blue eyes, though her mother's hair had turned gray now, and she stayed inside the A/C most days. They probably should be living up north, yet here they were in the 120-degree heat. Of course, this being Arizona, it was a dry kind of heat . . . or so the natives liked to tell people.

Stepping out of the air-conditioned house to stand on the stoop, her mother let the storm door slam shut behind her. "I just got a phone call."

That didn't seem like cause for an announcement. "Okay."

"It was from Colleen." Her mother said it as if that name should mean something.

Bonnie's brow furrowed. "Colleen?"

"Colleen and Andrew. Our old neighbors from Oklahoma." Her mother's mention of Oklahoma caused the usual tightness in Bonnie's chest, even twenty-five years after they'd left there.

Some memories never faded. The memory of the two men she'd left in Oklahoma—the one she loved and the one she loathed—hadn't.

Bonnie swallowed away the dryness in her throat. She climbed the two stairs and reached past her mother for the doorknob. "I need a drink of water."

Her mother followed her through to the kitchen in the back of the modest two-bedroom house. "Bonnie, Colleen said your father's in the hospital. He's dying. He doesn't have long—days maybe, if even that much. He asked her to call. He wants to see you."

Yanking open the door of the fridge, Bonnie reached for a bottle of water. She twisted off the cap and took a sip, surprised she could swallow given how tight her throat felt. She let the cold wetness slide down her parched throat before she could even begin to address her mother's shocking revelation regarding the man she'd long ago put out of her life.

"My father has been dead to me since the summer I turned eighteen." Bonnie realized she was grinding her back teeth and consciously forced herself to relax the tight clench of her jaw.

One mention of that man, of that time in her life, and it all came flooding back. The heartache. The pain. The hell that no teenager should ever have to suffer at all, never mind at the hands of a father.

And it had all been over one careless mistake. A moment of stupidity that had altered lives forever. Bonnie had lived with the weight of that knowledge on her shoulders for so long she barely remembered a time before the guilt and the shame had settled inside her and become her constant companions.

"Of course you don't have to go see him, but do you want to just call and talk to Colleen—"

"No." Bonnie spun to face her mother. "You go if you feel you have to. I don't. I don't owe that man anything."

"He didn't ask for me. He asked for you." Her mother laid a hand on her arm. "Bonnie, I think he wants to apologize."

"The time for that has long passed." She put the cap back on the bottle. "I've got to finish weeding."

Her heart pounding with emotion she'd kept buried for over two decades, Bonnie headed for the front door. The summer heat outside would be welcome given the icy chill the memories had sent down her spine.

There was no way she could step foot in Oklahoma. Not as long as that man still lived and breathed.

There was another reason for her not wanting to go back to that town ever again. The boy whose heart she'd broken, the boy who'd made it impossible for her to ever love again.

Sweet Rohn. He'd probably moved by now. To another town, if not a different state. Then again, not much changed in Bonnie's hometown. People were born, lived, and died there. Generation after generation.

He'd probably married long ago. Not that it mattered. He could never be hers again.

Still, the curiosity pricked at her. The weeds and the heat did little to distract her from wondering, was Rohn still there in the town where she'd left him?

Did she dare look?

And if she found him there, then what?

Before she could stop herself, Bonnie had gone inside, sequestered herself away in the A/C of her bedroom, and had the laptop open. She opened a new browser window and found herself entering his name into the search field.

It popped up, multiple results on the first page, every one indicating he was still there.

She didn't want to know more. Didn't want to see pictures of him, or a wife, or even children. Selfish, yes, but self-preservation had become her priority long ago. Bonnie clicked the window closed and opened a new one. She was already down the rabbit hole. She might as well go farther.

Bonnie typed in her father's name and the address of the house she'd grown up in. The listing came up but nothing else. Nothing personal.

She didn't know what she'd thought she'd find. Something to redeem him perhaps. Some community service award. Anything. He always had kept to himself, so she supposed she shouldn't be surprised.

Sighing, she closed that page, too, then flipped the lid completely closed on the laptop. Nothing good would be found by pawing through the past.

The house phone rang as Bonnie was standing up from the desk chair. She ignored it, knowing her mother would answer. It would be one of her mother's friends anyway. It almost always was.

Besides, Bonnie needed to shower. Working out in the heat had made her hot and sticky. Not to mention dusty.

She'd just grabbed a fresh T-shirt and shorts to put on after her shower when she turned to find her mother standing in the doorway, the phone in her hand.

"Bonnie."

"What's wrong?" It didn't take more than a look at her mother's face to know that something was.

"It's your father."

"I told you. I'm not going—"

"He's passed on."

Bonnie's mouth opened, but it took her a few seconds to gather herself enough to speak. "Oh."

Apparently, the prognosis that her father would last a few days had turned out to be less than accurate. No surprise.

The man always had been obstinate and spiteful. She wouldn't put it past him to have held on longer just to show the doctors they were wrong. But in the end, the throat cancer won out and God help her, Bonnie felt relief at the news.

The relief she felt was followed quickly by guilt. He had been her father, even if he'd been a bad one. And any death, even that of a man she'd hated for years, was cause for sorrow.

"I'm sorry, Mom." In spite of it all, her mother had loved the man once.

Her mother nodded, swallowing hard before she drew in a deep breath.

"Uh, so I'm going to shower." Bonnie moved toward the doorway, and finally, her surprised-looking mother moved out of the way to let her pass through.

Bonnie couldn't escape the situation that easily or for very long.

Her mother spent the following hour on the phone making calls to Oklahoma. Making final arrangements, Bonnie supposed.

She didn't know much about that since her mother had also handled things when her grandmother had passed. Of course, everything had happened right there in Phoenix where her grandmother and they lived. The service, the burial. Bonnie hadn't considered how difficult, how complicated, things could get from a distance.

Again, Bonnie felt the guilt, this time for letting her mother bear the burden of the planning.

So she stayed with her mom, bringing her iced tea as she took notes and made calls. Making dinner and setting the table for them while the phone calls continued.

From what she gathered, her father would be cremated and the ashes would be buried in the family plot in Oklahoma.

Her mother put down the receiver just as Bonnie was bringing the salad bowls to the table. "So, apparently he had a will."

Bonnie cocked one brow at her mother's comment. "That could be the only smart thing the man ever did."

Her mother's exhale showed she was being patient with Bonnie. Even after all the shit he'd put them both through, the woman still refused to talk trash about him. Now he was dead, so of course, she wouldn't start.

Finally, Bonnie gave in when she saw her mother was waiting for her to listen. "Okay, so what about this will?"

"That last call was the executor of the estate. He'd like you to come to Oklahoma."

"Me? Wh. . .
We hope you are enjoying the book so far. To continue reading...
Midnight Wrangler
Cat Johnson
Copyright © 2022 All Rights Reserved