Book info
Sample
Audiobook
Media
Author updates
Lists
Synopsis
Oklahoma ranch hand Tyler Jenkins is too young, too sexy, and too damn wild to be tied down by any single woman for more than a few steamy hours.




Widowed rancher Janie Smithwick is too busy paying off her debts to play rodeo with a reckless young cowboy like Tyler-no matter how hot he gets her.




As a rule, Janie should be dating a man her own age, like her handsome neighbor Rohn-not the twenty-four-year old ranch hand he employs. But once Tyler gets Janie alone-held tight in his arms, pressed against his hard-muscled body, burning with desire-the widow realizes that some rules, like broncos, are meant to be broken.

Contains mature themes.
Release date: May 1, 2015
Publisher: Zebra Books
Print pages: 384
* BingeBooks earns revenue from qualifying purchases as an Amazon Associate as well as from other retail partners.
Listen to a sample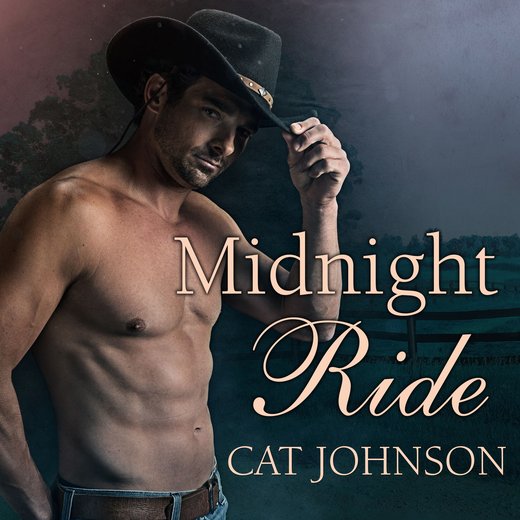 09:04:05
249.07 MB
May 26, 2015
Tantor Audio
2015
Midnight Ride
Cat Johnson
There was something about a really good, down-home barbecue joint that made Tyler Jenkins happy, deep down all the way through his stomach and to his very soul.

Of course, to meet his very high culinary standards, it couldn't be one of those bullshit places that pretended to be real. It had to be authentic, or why bother? If all the restaurant did was slap some sauce on a piece of meat and call it barbecue, he might as well go to a fast food chain.

To be worth his time and money, there had to be smoke, and lots of it. He wanted to smell it in the air as they slow-cooked the meat out back. He wanted to taste it the moment the food hit his tongue.

Like most things worth doing, getting that kind of result took time. Hours. All day, in fact. Only the best places devoted that kind of time and effort. Where he sat now was one of those places.

It looked like nothing from the road. A run-down shack with an old RV parked next to it. A couple of wooden picnic tables inside and a couple more out front by the parking lot, each with a roll of paper towels set out on top for customers to wipe their hands and mouths.

That was the extent of it, except for the most important part—the smoker. The big steel barrel pumped a mouthwatering cloud of meat-laden smoke into the air.

Yes, sir, there was everything right with this place. Incredibly good food that was fast and cheap—everything Tyler looked for.

As he sat with the sun beating down on his shoulders and the wide brim of his cowboy hat shading his eyes, he was in heaven. He shoved another piece of marbled brisket between his lips, and a burst of flavor filled his mouth. He couldn't help the sound of appreciation that rumbled from deep within him.

It might very well be hereditary in the Jenkins men—this appreciation for fine barbecue. Tyler's older brother Tucker had his own favorite place in Drumright. Tuck would travel quite a distance if he had to, and drive hours to get his favorite smoked meat. It must be in their genes, right along with the other Jenkins traits—dark hair, blue eyes, an appreciation for the gentler sex, a love of all things rodeo, and, of course, the ability to sniff out good food.

Closing his eyes to better enjoy every subtle nuance, he absorbed how the smoky taste stuck around for a while. He could feel it settling in on the back of his throat for a nice long stay, even after he'd swallowed the beef.

Another sound of pure appreciation grumbled from within him. Two things made Tyler purr like a house cat from total contented satisfaction, but only one of them was something he could do out in public. "Mmm, mmm. This right here is good enough to make you want to smack your own ass."

With a forkful of jalapeño macaroni and cheese poised in midair, Tyler's boss let out a laugh. "You ain't kidding. How'd you find this place to begin with? There isn't even a sign out front."

Tyler laughed at the older man. "Rohn, please. There are two things I can always find—women and food. I've been working for you at the ranch for long enough, you should know that by now."

The truth was, the scent of smoked meat and the telltale trail from the smoker rising into the air like a beacon had first led him here.

The building was partially hidden from the road by a hardware store in front of it. The OPEN banner blowing in the breeze from a pole stuck in the dirt along the road hadn't told Tyler what the hidden establishment sold, but the scent in the air sure had. He could sniff out good barbecue a mile away. He was certainly glad he'd swung the truck onto the dirt of the parking lot that day.

His dining companion dipped his head. "You're right, Ty. My apologies. You are the master when it comes to all pleasures of the flesh."

"Thank you." Tyler accepted the compliment from the older man with a tip of his hat.

"How old are you again?" Rohn asked between mouthfuls.

"Twenty-four. Turning twenty-five shortly." Single, young, healthy, and living the dream. Tyler couldn't ask for anything more. Well, maybe another order of cornbread.

"Twenty-four." Rohn shook his head. "Damn. At that age I was already married to Lila and working my ass off to pay the note on the ranch." The man got the same faraway look in his eyes Tyler had seen there whenever he talked about his late wife.

Rohn had lost her to cancer a few years ago, but it was clear he still missed her badly. It had to be lonely living on the ranch with nobody for company except the guys he hired to help him out with the stock during the day.

Tyler couldn't bring Rohn's wife back, but he could do something about his boss being alone and cooped up in that house every night. "So, Colton and I are fixin' to go out. Why don't you come with us?"

Rohn's hair and his closely cropped beard had already begun to show strands of steely gray, but it suited him. The man probably hadn't turned fifty yet. He kept himself in good shape, physically. There were a lot of women who'd find him plenty attractive, but he sure as hell wouldn't find them while hunkered down in his living room.

"Me? Go out with you two tonight? What the hell would I do out with you and Colton?" Rohn's brows rose beneath his cowboy hat.

"I don't know. There's plenty to do at the bar." Tyler shrugged. "You could knock back a few cold ones. Shoot some pool."

"Look like a fool hanging around with you two young bucks and sniffing around women young enough I could be their father?" Rohn laughed while shaking his head.

"Aw, come on. That's not how it would be at all."

"No?"

"No. I've seen some old—er men and women at the places where we go out." Tyler had had to scramble to cover that he'd almost called his boss old. He hid his cringe and tried for some damage control. "Hell, it's never too late. I know a guy who's forty. Logan Hunt. He grew up next door to my parents' house and is real good friends with my brother. Anyway, he just got married for the first time in August and now he and his wife have a baby."

If his longtime friend Logan could meet a woman, get married, and have a kid at forty, Rohn should at least be able to go out and have a little fun.

Rohn swung his head from side to side and let out a snort of a laugh. "Yeah. Thanks for the words of encouragement, but no. You two have fun. Just don't come in to work dragging your ass tomorrow morning. We got a shitload of work to get done."

"Yes, sir." He stabbed his fork into another piece of meat. The marbled brisket would serve well to coat his stomach in preparation for the beer he'd be consuming later. He was intent on his barbecue until Rohn let out a sigh that had Tyler glancing up. "What's wrong?"

"Having young guys like you and Colton and Justin at the ranch . . . it's starting to make me feel old."

"You're only as old as you feel, and that's exactly the reason you should come out with us tonight." With his brisket still poised on his fork, Tyler made sure he emphasized the point before he finally shoved the meat into his mouth. It was a sentiment he truly believed.

"Maybe next time." The tone of the older man's answer said pretty much the opposite of his words.

It wasn't in Tyler to give up easily, but there wasn't much he could do if his boss was dead set against coming. He swallowed and nodded. "A'ight. We'll be at the Two-Step, if you change your mind."

"The Two-Step? Jesus." Rohn laughed. "Is that place still standing?"

It was a valid question. The local hangout had been around forever. It had definitely seen better days, but Tyler loved every rickety old board of it. The whole run-down, hometown atmosphere.

Tyler grinned. "It is, but the floor is so crooked that the last time I was there I had to shove some shims under one end of the pool table just to keep the balls on the felt long enough for a game."

That had been a good night. He'd walked out with a wad of cash from winning at pool and with a girl on his arm to warm his truck seat for an hour or so.

Life got hectic sometimes, and it had been too long since he'd visited the Two-Step. He was glad Colton had suggested going tonight.

"I used to go there when I was your age. That floor always did lean a bit toward the back bar. I can tell you, I would use that fact to my advantage when I was shooting pool against any out-of-towners who didn't know about it." A twinkle lit Rohn's eyes and Tyler saw hope. He might be able to get him to come out after all.

"They've got a two-for-one beer special tonight." He dangled that carrot as inspiration to sway Rohn's decision.

The Two-Step had dollar drinks for ladies, too, which was the main reason he and Colton were going. Tyler didn't think the possibility of many—not to mention very drunk—women being at the bar would encourage Rohn to join them, so he kept that tidbit to himself. Plenty of time to ease the man back into the world of dating, but first they had to get him out of his house. Baby steps.

Rohn screwed up his mouth beneath his mustache. "Nah. You guys go and have a good time."

"Oh, we will. Don't you worry about that." He'd work some more on Rohn and his love life later on. As for tonight, Tyler was going to have a whole lot of fun, hopefully while surrounded by a whole lot of women.

A man was only young once. He was going to take full advantage of this time in his life, because when he settled down, it would be for keeps. When he asked for a woman's hand, he intended it to be for a lifetime. That, however, hadn't happened yet, and it probably wasn't going to for a long while, even if all the single people around him seemed to be pairing off.

It seemed most folks he knew were dropping like flies after being bitten by the love bug. His brother Tuck had gotten married again, just when they all thought he never would after the disastrous end to his first marriage. He seemed happy enough.

Hell, even his little sister Tara was settled down and seriously dating Tuck's buddy Jace. That was all fine and good for them, but not for Tyler . . . yet.

He didn't discount the fact that it could happen at any time. He just hadn't found the person he wanted to spend more than a few weeks with, never mind a lifetime. He certainly didn't plan on finding the future Mrs. Jenkins at the Two-Step's ladies' night.

Nope. Tonight's goal was to consume a good amount of hops and barley, and sow some wild oats. That way, when he finally did meet the right girl and the time came for him to retire his single status, he'd be good and ready to do so. He'd settle down and turn in his player card after he'd lived a full life of fun, but not one minute before.

As for the here and now, Tyler was good and ready to devour some more of his tasty barbecue. He and his boss had to finish eating before they headed back to the ranch, where they'd left Colton to handle the last of the afternoon chores.

The lumber that Rohn and Tyler had picked up while in town was in the back of the truck. They'd all unload that, and once they'd dumped the wood behind the shed they'd be fixing tomorrow, Tyler's workday would be done. He'd shower and then he and Colton would be off for fun and good times at the Two-Step.

All the best stuff in life was right there within his grasp. Life was good and he was going to live it to the fullest. With that thought, Tyler tucked into the remainder of his brisket.

He let the flavors take him away to his happy place—the place where his belly was full and there were cold beer and hot girls in his near future.

The ringing of Janie's house phone on the kitchen counter was a welcome interruption. Cooking dinner for one person had to be the most depressing task on earth. Especially after having cooked for her husband and their crew for over a decade. She put down the spoon she'd been stirring the chili with and reached for the receiver in the charger.

She didn't recognize the number, but it was a local area code, so she hit the button to answer. "Hello?"

"Mrs. Smithwick?"

"Yes." She didn't recognize the voice any more than she did the number, but the man on the phone seemed to know her.

"Hey, there. It's Colton Travers. I'm a hired hand over at Rohn Lerner's place next door."

"Oh, hi." Having the ranch hand's name didn't help Janie much since she didn't know any Colton Travers, but at least her neighbor's name was familiar, even if Colton's was not.

"I just wanted you to know that a tree limb took down part of the fence in your south field. Must've happened during that wind we had the other night. I was out riding our line and I noticed it. I took a chance and looked up your number in the phone book in Rohn's office and sure enough, you were listed in there, so I called. I figured you'd want to know."

And there it was—more bad news she didn't need. It wasn't enough that prices were so low it had hardly made it worth selling the stock, or that just the deductibles on her husband's medical bills were so high she was still trying to pay them off nearly a year after he'd died. Nope. Now Mother Nature was dumping tree limbs on the fence in the only field where she had stock left.

She couldn't help the sigh that escaped her. "Did any of my animals get out?"

"No, ma'am. The tree branch is working pretty good to block the opening for right now, but I wouldn't count on that lasting forever. You know how cattle can be."

She supposed she should thank God for small favors that none of her cows had figured out they could walk over the limb while the barbed wire was down.

"All right. Thanks for letting me know. I'll take care of it."

Of course, to take care of it she'd have to figure out how, when, and with what help. She'd also have to sideline dinner for the moment and drive out to see how bad the damage was. Then she could determine what she needed to buy for the repairs and if this was something she'd be able to do herself or if she'd have to find a guy to hire and pay with money she really didn't have to spare.

"No problem at all. Have a good day, ma'am."

Not likely. "Thanks. You, too."

The polite and oh-so-young-sounding Colton hung up before she could talk to him about possibly fixing the fence in exchange for some of the chili on the stove. Sad but true, that was about all she had to spare to pay a hired hand right now.

Alone, widowed, and in debt up to her eyeballs on a ranch she couldn't maintain but couldn't bear to think about selling, all at thirty-six years of age.

Janie had to wonder how her life had turned out like this. She wasn't living in the untamed Old West, when men died too soon and young widows were commonplace. This was modern times, and only a couple of hours' drive from Oklahoma City, for God's sake. Yet here she was, worlds away from where she thought she'd be back when she'd been a young starry-eyed bride marrying the older man who'd swept her off her feet. Long before Tom's diagnosis with pancreatic cancer had changed both their lives.

Blowing out a loud breath filled with frustration, Janie flipped off the burner. She grabbed the truck keys from the counter and shoved them in her pocket before bending to retrieve her paddock boots. Sitting to pull them on over her socks, she felt the bone-deep exhaustion that had hung over her for months. Like a black cloud in the sky darkening everything beneath it.

It was really no surprise she was tired. Just keeping up with the ranch and teaching riding lessons kept her busy from sunup until sundown, and worrying kept her up all night. Sleep would be good, but she wasn't the type to use the crutch of sleeping pills. After Tom's death, yes, she'd given in for nearly a week, drugging herself into oblivion where reality didn't creep in until consciousness returned eight hours later. Pills weren't a long-term solution. She needed to move on, and foolish as it might be, she wanted to do it on her own without any medications, not even the over-the-counter stuff.

As she rallied the last bit of strength in her, she braced one palm on the kitchen table and hoisted her weary body from the chair. She had to wonder how much longer she could keep this up before something broke—either her mind or her body. She guessed that as long as she was still managing to put one foot in front of the other, that was a worry for another day.

Out in the truck, she pulled herself into the driver's seat and shoved the key into the ignition. The lights on the dashboard told her that the gas tank was nearing empty. Fuel would cost her another fifty bucks, and at current prices, that wouldn't even fill up the tank. She wasn't to the point of starving or losing the ranch that had been her grandfather's before she'd taken it over, but that didn't mean she liked spending money she really couldn't spare on fuel that cost far too much nowadays, in her opinion.

Janie was getting accustomed to the constant sensation of unease that worrying caused inside her. It was a familiar presence that hovered in the background and shadowed every waking and sleeping moment. Used to the tightness in her chest and the turmoil in her stomach, she pushed herself past it and into motion.

On autopilot, she fired up the truck's diesel engine and threw the transmission into gear. The drive to the field where Rohn's hand had said the fence was down was a short one. Once there, it didn't take her long to spot what he'd seen. She saw the fallen tree limb lying across a broken section of fence, just as he'd described.

The few head of cattle she'd kept when she'd sold the rest lifted their heads at the sound of the truck approaching. At least they were still contained. As long as they had grass to eat in the pasture, and the pond to drink from, they likely wouldn't go looking to escape, but the fence had to be fixed nonetheless. The sooner the better.

It looked like one upright had snapped and the barbed wire was down. She'd have to buy a new fence post, but that was the least of it. Getting the old one out of the ground and sinking the new one would be a lot of work. Not to mention securing the wire to complete the repair.

This was the kind of thing Tom and their ranch hands would have taken care of. Now the job fell to her. Even without the much larger herd they used to maintain, owning a large tract of property and keeping even a few animals meant a lot of work.

The modern woman inside her liked to think she could deal with things as well as any man, but when it came to handling eight-foot-long locust fence posts by herself, she had to face the fact that this time, that might not be the case.

One thing at a time. She'd run out and buy the post tonight before the lumberyard closed and she'd worry about the rest tomorrow. Maybe, if she found she couldn't handle the repair on her own, she could hire one of the kids from the lumberyard on the cheap. Or beg a favor from Rohn and get one of his hands to help her. She hated playing the widow card—taking advantage of the sympathies of friends and neighbors by asking for help—but desperate times called for desperate measures. Hard to admit, yes, but the woefully sad situation in her bank account was just that since Tom's death—desperate.

After one more appraisal of the situation, Janie felt confident enough to leave the herd in the field. The repair could wait until morning. The few head of cattle she'd kept when she'd sold the rest of the herd were happily munching on the summer grass, huddled well away from the breach in the fence that was being blocked by the tree limb.

Drawing in a bracing breath, she climbed back into the truck. Next stop, town, to get fuel and a fence post. Then straight home and possibly directly to her empty, lonely bed. That would be after she put the chili away for tomorrow. What with the interruption, she didn't really have an appetite for it any longer.

They were barely inside the door of the Two-Step when Colton nudged Tyler with his elbow. "I get the blonde."

Tyler's brows drew low. "Why do you always want the blondes?"

Colton shrugged. "I don't know. I like 'em. I guess I have a type."

"Fine. You get the blonde." Tyler rolled his eyes. A type. What bullshit. Tyler's type was any pretty young thing with the potential to make his evening more fun.

There had to be a dozen women in the bar, all enjoying, in volume, the ladies' night dollar drinks. There were all colors, shapes, and sizes. Far too many for Tyler to even have gotten a good look at in the short time since he'd walked in.

The evening was still young. There was no need to make a choice as quickly as Colton had. Tyler wasn't even sure which blonde it was that Colton had his eye on since he'd spotted at least three, but it didn't matter. There were more than enough to choose from. If his friend really wanted to limit himself to this one girl—whoever she was—Tyler wasn't about to argue. That still left all the brunettes and the redheads for him.

"Come on. Let's go get a beer." Apparently satisfied that his claim had been staked, Colton led the way to the far end of the bar.

When they arrived, there was indeed a blonde. She was leaning up against the wooden rail, posed for maximum impact and displaying a good amount of skin. More importantly, and what caught Tyler's attention, was the fact she also had a friend—a dark-haired friend who was fair game for him to pursue.

The girls turned at their approach.

"Ladies." Tyler tipped his hat at them. The brunette followed the move with her eyes and smiled.

Colton moved around to the other side, closer to the one he'd called dibs on, and leaned in to signal the bartender. "We'll have two drafts, and two more of whatever they're drinking."

"Sex on the Beach." With a fingertip, the blonde slid her nearly empty glass acr. . .
We hope you are enjoying the book so far. To continue reading...
Midnight Ride
Cat Johnson
Copyright © 2022 All Rights Reserved