Deadlock
He'll risk it all to keep her safe.
Book info
Sample
Audiobook
Media
Author updates
Lists
Synopsis
He'll get her home safe . . . or he'll die trying . . .



Honey Honig is used to infiltrating the most dangerous places on Earth and thwarting kidnappers. But he never expected to end up in Tanzania, at the wrong end of a hostage situation with the most intriguing doctor he's ever met. Now, he'll do anything to get them out of the deadly web they've landed in—and keep the woman of his dreams safe. Should be easy for an ex-Delta Force operator, right? He wishes . . .



No one kidnaps animal migration specialists. Or so Meg Finley thought—until she found herself in the clutches of terrorists, that is. She needs to keep her wits about her now more than ever. She can't let herself be distracted by an untimely attraction to her ridiculously appealing protector. But . . . she is . . .



It will take all of Meg and Honey's combined strength, knowledge, and skill to survive. But when all is said and done, will it be enough to get them to happily ever after?



Deadlock is an intense, action adventure military romance suspense thriller filled with spies, conspiracies, and international terror.



Contains mature themes.
Release date: December 1, 2017
Publisher: Fiona Quinn
Print pages: 439
* BingeBooks earns revenue from qualifying purchases as an Amazon Associate as well as from other retail partners.
Listen to a sample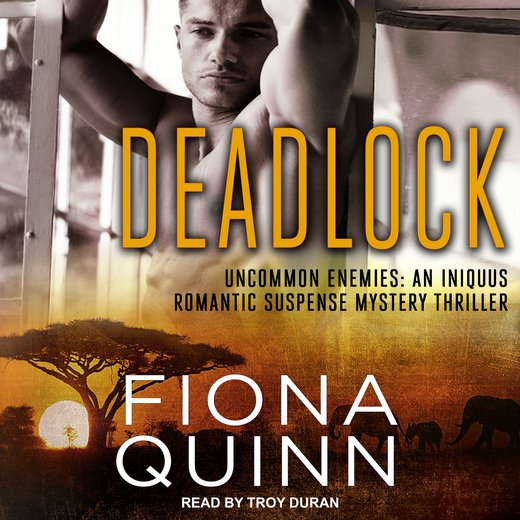 07:45:24
213.05 MB
January 18, 2022
Tantor Audio
2022
Deadlock
Fiona Quinn
Chapter One
Rooster
Djibouti, Djibouti
"Before we begin, I need proof of life."
The radio crackled with static in return.
Rooster scraped his teeth over his top lip, waiting.
"Mr. Honey." The buzzing and mechanical channel whines were replaced with the cheerful sound of lighthearted banter. "You know, every time I say your name, I laugh at the irony."
"How's that?" Rooster stretched his long legs out in front of him and crossed them at the ankle, settling into the conversation.
"Oh, if you knew, you would kick yourself." The man's accent sometimes rang with Arabic notes, sometimes with French, but his English was quite good. He had obviously spent time in America. "As for your proof of life, you must realize by now that I am an educated man. I'm not a Somali pirate raised with minimal thinking tools. I've done my research. I know your tactics. The Bowens are worth three million dollars. I will hold firm to that number. That number is not negotiable. The only things we are to negotiate are how the payment is to be made and how you are to retrieve your people."
Rooster was pleased. "Brilliant" had never strung so many words together at one time. Up until now, his responses had been monosyllabic, sometimes just grunts, since their communications had begun over a month ago. Rooster had made a career of hostage negotiations. It took him to some of the bleakest, most godforsaken parts of the Earth. Now, here he was in Djibouti on the Horn of Africa, sitting behind his radio set with a wet towel draped over his neck in a poorly air-conditioned rental house on the outskirts of the capital city. Djibouti was a country of dry scrublands, volcanic formations, the amazing Gulf of Tadjoura beaches, and temperatures that ran over a hundred degrees, day and night. It's a dry heat, Rooster reminded himself.
Though he drank water constantly, he hadn't peed in days. His clothes were covered in white scum from where his body's sweat had left its residue.
In hostage situations, when Rooster introduced himself as the negotiator, he used the radio call sign he'd been given way back in boot camp some twenty-odd years before, Honey. Well, he made sure to say Mr. Honey, so things didn't get weird. Not to say that most of the people he negotiated with were fluent enough in English to understand that the noun was often used as a term of endearment.
Most of the men who negotiated from the bad-guy side chose to be called names like "Glock" or "Chief," sometimes "Boss." Rooster knew these were words they thought, in their limited grasp of English, gave them power. This was the first time an English speaker had wanted to be called "Brilliant." A narcissist. Someone who's ego swelled to cover up his lack of conviction, and probably the fact that he had a micro-dick. Rooster had steered his psychological tack accordingly.
Right now, though, Rooster needed to push things along. Time was the enemy. There was a statistical trajectory for good outcomes, and that section of the graph had come and gone. Hostage negotiation was a slow game. But they were now in the orange zone, the time when people without training, who were psychologically and physically unprepared for the challenges of captivity, folded under the weight. If the captors recognized their victims' decline, a deal was often possible. If they didn't, then Rooster's team would be trying to get the corpses back, so the victims' families would have closure.
Bad things could happen—did happen—to hostages held under kidnappers' thumbs. But so far, Rooster was batting a thousand bringing his clients home at least alive, if not always safe and sound. He reached out to knock on wood. He tended toward the superstitious when his ego bubbled up some wise-ass thought like good batting averages.
His teammate Randy sent him a chuckle when he did it, then refocused on his task at the computer.
Rooster pressed the comms button. "It's been a while since I heard from the Bowens. Before our conversation continues, I need proof of life," Rooster said, not a trace of emotion in his words. The captors wanted him to be passionate and work from the heart. Rooster knew the only way he could save these people was to keep an emotional distance. He had to think of these negotiations like a businessman buying office supplies: necessary supplies, but objects all the same. Compartmentalization was a honed skillset. Boxes were a handy tool. His emotions belonged to a different part of his life and not his career. Emotions equaled mistakes.
Brilliant laughed. "I am not stupid enough to be in the same area as my hostages. If you have some new communications tracking device, it will not work. I am a moving target."
Rooster rubbed at his chin, his focus sharp. "Okay, let's set up a time. I need to hear their voices. I need to verify that they are still the right people, and they're still safe and sound."
"Bowen is holding up under the strains of his conditions. His wife, on the other hand, is not. We believe she needs immediate medical attention. I am very worried for her."
"She has a heart condition. You know that," Rooster said. "Does she have her medication? Is there a drop point where I can provide supplies?"
"With a tracker attached? No."
"Can you tell me her symptoms?" The longer Rooster could keep this asshole talking, the better shot they'd have of picking up ambient noise—clues to his whereabouts.
"I believe the heat and stress, along with her particular location, are all problematic."
"She doesn't work for Hesston Corporation. Why don't you let her go? Call it a good-faith gesture."
"I would like nothing better. As soon as the payment is made, I will take her immediately to the hospital."
"Is the hospital a far distance? Should I arrange for a helicopter?"
"Ah, you think you can trick me into giving you information about where the Bowens are held. Listen to me. Anjie Bowen needs immediate attention. I want to get her that attention. It is you who prevents me from doing this." He let his words seep in. Waited for Rooster to panic.
Rooster knew all the tricks and traps. He sat silently, listening to the static.
"I realize how this works. It will not be Bowen's corporation that pays the ransom monies. It will be the insurance company. You don't work for this man, Mr. Honey. You are paid by the insurers. But if this man or his pretty little wife dies, your reputation will be tarnished. The insurance contracts will go away, as will your paycheck." He paused. "Really, it's self-preservation that should make you wish to come to a happy conclusion."
Rooster leaned forward, his forearms on his thighs, staring down at the mic. He took a breath, making sure Brilliant had finished his communication before depressing the button to talk. "This is a business transaction. Your opening bid was three-million dollars, and you aren't coming down. I can tell you straight up, the insurers won't pay that. Not even close. And while Derek Bowen works for Hesston, Anjie Bowen does not. I'm sure you understand, from a businessman's point of view, why letting Mrs. Bowen go still gives you all the leverage you need." He paused to slick his tongue over his teeth. "And it shows everyone on this side of the table that you're acting in good faith. I need proof of life, and I need a more reasonable number."
Another man's voice could be heard in the distance—the sound of a car's horn. Then the crackle of radio static.
Rooster waited.
Brilliant gave no reply.
Sniffing hard, Rooster set the handset back in its indentation on the radio. He focused on the shadowy corner of the room. As he let his thoughts percolate, he reached for the jug sitting beside his chair. He upended it and chugged big gulps of the warm water. Swiping the back of his hand over his mouth to catch the drips, he turned to Randy.
"Almost ten minutes. That's an improvement," Randy said, sending the audio file back to Iniquus's Headquarters in Washington DC. "Still full of himself. He's convinced he holds a winning hand."
While Randy sounded like the name of a man raised on football and apple pie, he was actually from El Salvador. Randy was his call sign. He'd come to America over a decade before to put his considerable athleticism to the test, hoping to gain citizenship from his US military service. He'd served two rotations in the sandbox as a Ranger, tough as nails, with the brain and stomach for the hairiest of missions.
Now, Randy and he got their paychecks from the for-hire security complex, Iniquus, that worked civilian contracts as well as running black ops for the government. While Randy was a Strike Force member, commanded by Striker Rheas, and Rooster was on Panther Force, commanded by Titus Kane, those designations were often fluid. Operators went where they were told to go, based on capability and availability.
Randy had just finished up a close protection detail for an American businessman and put the guy on a flight from Kenya back to New York. The boarding call had sounded over the P.A. system, calling for Randy's flight to Tahiti where he planned to take his R & R. But Randy answered his phone and thus pulled the short stick. Now Randy was sitting in this rat hole with Rooster.
"Brilliant gave up some stuff this time," Rooster said. "Play that bit at the end again before the horn honk."
Randy tapped the computer, cocking his head as he strained to weed out what hid under the ambient noise.
"Do you hear that guy in the background? Can you isolate that voice?"
Randy fussed with his software, then hit enter, and they listened to the man's voice, free of distractions.
"I don't recognize that language. Any guesses?"
"Nada," Randy answered. "Let's see what I can find."
Africa was a continent rich in languages and cultures. Tradition. Segregation. And turbulence. If Randy's software could translate the sentence and give them a dialect, they might have something useful to work with.
Rooster pulled his headphones into place to listen to the recording. He believed what Brilliant had said about Anjie Bowen. She was in dire straits. With her medical history, extremes were perilous. Why she'd followed her husband on his boat trip along the coast of Africa at this time of year was a mystery to him. But it wasn't Rooster's job to second guess people's decision making. It was his job to save their lives. And Anjie felt fragile to him.
Rooster knew that Brilliant had already figured out Anjie was disposable. It might even work in the kidnapper's favor to let her die. Rooster had hoped that Brilliant wouldn't realize that fact. But Brilliant's tone and word choices told Rooster Brilliant had already drawn that conclusion. He would use her as a bargaining chip as long as he could but didn't care one way or another whether Anjie made it home to her three young kids or not.
Word choices were everything. In people who negotiated in English as a second language, those word choices came from how deep their vocabulary well ran. This guy was fluent. That was a win for the good guys. It meant he had a wide range of phrases to use, and therefore specific meanings could be weeded out. Rooster moved the recording back to the beginning of their conversation when Brilliant had laughed.
"Mr. Honey. You know every time I say your name, I laugh at the irony."
The irony of my name. The irony of my name. He pressed play. "Oh, if you knew, you would kick yourself."
My name is part of the puzzle. Not Mr. Just Honey. Honey is ironic. Rooster stretched his arms above his head, laced his fingers together, and cradled the back of his head in the hammock they made, flicking his thumbs against one another as he let his mind wander. He worked to put a pin in the irony of "Honey."
"Got it." Randy's voice held a grin. It pulled Rooster's attention to him. "The man's speaking Afar."
"Translation?"
"He said, 'They bring the salt.' And that belching sound you hear isn't a man dying of indigestion. It's a camel's grunt."
Rooster tapped at his computer. His eyes scanned over the screen, then he leaned back in his chair and laughed with his hands covering his face. He scrubbed his palms up and down over his cheeks, around the back of his neck. "Oh, the irony," he said as he focused back on Randy. "The Afar tribe harvest salt spheres from Lac Assal. They bring them to the harbor on the backs of camels."
Randy waited patiently for the piece that made Rooster react.
"The Arabic name for that lake is Buḥayrah ʿAsal, which literally translates to Honey Lake. I do believe that Brilliant has failed to live up to his name."
Chapter Two
Rooster
Djibouti, Djibouti
Nutsbe, the Panther Force communications and analytics contact, was on the phone reading out coordinates. He had accessed military satellite imagery to find the temporary camp of the nomadic Afar tribe. They were an impoverished people, suffering from climate change, still clinging to their traditional land, hoping that somehow life would improve.
The good news was there weren't many tribespeople at the Lac Assal site. The bad news was, there was no road, no cover, and no high ground near the camp. There would be no stealth mode. Randy and Rooster would have to go in fully visible. And they'd also have to hope they could find one of the traders who could speak Arabic or French, the two formal languages of Djibouti, in order to communicate.
Randy and Rooster loaded twenty-gallon plastic jugs of water into their 4x4, along with cases of Plumpy'Nut, a peanut paste with vegetable oil, powdered milk, sugar, and vitamins. This plastic-wrapped goo was used to treat acute malnutrition in countries facing famine. Rooster had found that tribesmen, hoping to save their children from starvation, were often happy to trade information or hostages for this portable food supply. In case they found the Bowens, Rooster also packed emergency medical equipment.
A helicopter from the USS Stennett, sitting off the coast of Yemen, was being worked out as their backup if the team got eyes on the captives. But Rooster couldn't wait for the thumbs up from Nutsbe. He thought Brilliant had probably recorded and was going over today's communications just as he and Randy had. Brilliant might catch his mistake, then he'd move the Bowens, and the rescue effort would be back to square one. Or less.
The Afar people who lived along Lac Assal survived next to one of the most salinized lakes in the world. They had been herders by tradition, but climate change had hit this region hard. With rainfall down to almost nil and the vegetation dead, the tribespeople turned to the one resource they had, salt. As the lake waters receded from lack of precipitation, they left behind massive salt deposits. Harvested and transported to market, the tribesmen earned about five US dollars per buoy-sized bag.
The problem with Anjie's heart was not just the stress she had undergone for over a month now, but how much salt was in her environment. Rooster had been in the salt flats of India, where people's hands and feet became so septic from salt absorption that when the families tried to follow the tradition of cremating their remains, their loved one's feet and hands wouldn't burn. It was that bad. If Anjie Bowen was being held in the Afar harvesting camp, the atmospheric salt could pose a unique and horrible medical problem for her, beyond the issues of water, food, and unbearable heat. Brilliant hadn't made an appointment for a proof of life call. If the Bowens were still alive, they didn't have the luxury of days. Maybe not even hours. He and Randy would need to do the thing that every trained operative works hard never to do, wing it.

They staged at the end of the last road heading in the general direction of the salt camp, waiting for the night to deepen. It was a full moon that didn't help matters. There was a wicked wind their landlady had called Khamsin that aggressively blew hot air in from the desert, lifting and carrying dust and sand with it, reducing visibility. That might give them a bit of protection. Both men were in their battle dress uniforms in a gray digital print that helped them blend into the barren landscape. Shemaghs—wrapped around their heads and faces—kept the debris from biting into their necks.
It was time. Rooster pushed down the clutch on his Land Rover and dragged the gear shift into first. They'd move fast until they were within a klick's distance, then creep in, hoping the engine noise would be lost behind the howl of the winds.
Rooster had the driver's seat pushed back as far as it would go. But at six-foot-eight, it was always like doing origami to fold himself into a vehicle. Randy had his chair pushed all the way forward, making room for the supplies that crowded behind them. He was just shy of six feet but was built like an anaconda, long, lean, and lethal. Randy sat with his knees nearly to his ears and grunted when their vehicle bounced over the rough terrain. He gripped the computer in his hands, watching the feed coming from Nutsbe in the Panther Force war room back in the States. Nutsbe's voice periodically gave them information over the magnetic comms they'd dropped into their ear canals.
"I'm picking up heat signatures three-hundred meters from your location," Nutsbe said.
Rooster pressed his finger into the communications button resting on his chest so his voice could be heard over the satellite feed that connected him to Nutsbe. "What are they doing?" They'd been running with no lights, using their high-dollar, night-vision goggles with thermal overlay that got them as clear a picture in the pitch black as one could buy with existing technology. Iniquus didn't skimp when it came to top of the line equipment. It often made the difference between success and a body bag. Iniquus operators were trained on Uncle Sam's dollar. They were culled from the ranks of retired elite soldiers—the SEALs, the Rangers, the Marine Raiders, and so forth. Rooster had been Delta Force, but he'd signed a stack of papers agreeing never to disclose that fact.
"Well." Nutsbe chuckled. "The set closest to you looks like there are probably three sleeping kids and parents working at making a fourth."
Rooster swung his night vision out of the way to focus on the computer screen perched on Randy's knee. It was insane how detailed pictures could be from images picked up in outer space. There was indeed a recumbent yellow and red length with another form on top. "That should keep his focus. Have you found our PCs?" Rooster used the shorthand for precious cargo, the people they were charged to protect at any cost.
"I'm going to put a circle on the hut. That's my best guess. My research says the housing is comprised of vegetation and skins shaped like igloos—one opening. Very flimsy construction meant to be taken down and transported to a new site, quickly and easily. None of these images look like peoples' hands, or feet are bound. I can't imagine how they'd attach them to the hut. I'm guessing the Bowens are held in place by their inability to navigate to safety. They probably believe that if they left, they'd die."
"And they'd be right," Rooster replied. "This heat and wind? They couldn't possibly carry enough water to survive the hike out. And the Bowens probably have no idea how to ride a camel. They're pretty shitty creatures. It's not like they'd be helpful to a couple of greenhorns."
The plan was to go in quiet. "If it's as primitive as Nutsbe says, I don't think they're going to have weapons, maybe some spears. When they see our rifles, they'll back down."
"You hope." Randy was unconvinced.
"Luck of the draw. Could be we can get in and get out without raising any suspicion."
Randy forced a breath through his nostrils that could be taken for a laugh. "Three-million dollars on the line? Don't fool yourself into thinking this is a cakewalk."
Rooster slowed the Rover to a crawl, traveling slow and steady. When they were a hundred meters out, they debussed. With these flat lands, it was as close as they could get without being a big neon sign saying trouble was coming their way. They pulled on their body armor and rucksacks, did a last weapons check, and moved forward into the moonscape dotted with huts.
They were fully in the perimeter of the village, walking low and slow, swinging their heads, watching for moving heat signatures. Suddenly, from behind them came the sound of someone banging metal against metal. The clanging rode the wind, reached into each hut, and shook the inhabitants awake. More people rose, more clanging.
Though Rooster and Randy had the advantage of night vision, sheer numbers could quickly overwhelm them. The village warriors surrounded them, their hands gripping their weapons. Randy and Rooster maintained their speed. Rooster in the lead, Randy keeping apace but walking backward. When Rooster looked left, Randy looked right. As the tribesmen closed in, the operators could make out spears and machetes in the warriors' hands. Rooster and Randy brought their rifles to their shoulders, ready to squirt out suppressing shots that would give them space.
Rooster stopped beside the largest hut. "I wish to speak to the tribal chief." He spoke first in English, then French, and then in Arabic.
The tribal warriors were just boys, really—Rooster would estimate between fourteen and twenty—the age when testosterone made them stupid enough to want to prove their courage in front of their fellow villagers. The warriors formed lines on either side of the largest hut.
An elder emerged, wearing the regalia of power.
Another man stood by the door. He crossed his arms defiantly across his chest and glared. "Speak," he said in Arabic.
Rooster responded in fluent Arabic. "I am here to negotiate with your chief. I ask that you translate with clarity and honesty as is required." Rooster had no idea if this was required or not. But it seemed like a good preface.
The man said nothing.
"You are holding two Americans in your village. I'm here to take them home."
The man translated, or at least he said something to the wrinkled man who stood in front of them with a swollen belly.
Rooster imagined the chief was a lot younger than he looked. Salt miners rarely lived to be sixty. "I do not come without gifts of thanksgiving for the hospitality you have provided. Water, food, Djibouti francs."
When the man translated, there was a decided shift in the tribe's demeanor. Wariness. Hope.
"I have good news and bad news." Rooster heard Nutsbe over his comms. "'Copter's twenty minutes out, but fighting the wind. Bad news, there are five vehicles due west, thirty klicks and closing fast."
Rooster tapped his communicator. "Roger that."
"I'd get the PCs, get in your vehicle, and start moving. Let the heli chase you down."
"Wilco." Rooster looked up. "We're out of time. Give us the Americans now and receive our gifts, or we will take the Americans now, and leave destruction." Rooster was going to have to remember that line. That wasn't half bad.
Nutsbe said, "Two o'clock, there's a hut with two adult-sized people. All the other huts seem to have emptied into your area."
"Derek and Anjie Bowen." Rooster's voice boomed. "American rescue is here, call out." Rooster's sheer size won him some shock and awe in these situations. And the deep bass of his voice could leave people shaking with fear.
"Here. Here," a man's voice called from the two o'clock position Nutsbe had advised.
Rooster and Randy made their way to the hut, where a man had pulled the door to the side and was craning his neck. "My wife is very weak. She can't sit or stand." He gestured to the prone figure in the center of the hut, lying on a hide.
Rooster stalked to their position. "I need to verify identity. What's your full legal name?"
"Derek Matthew Bowen." The man squinted and lifted his hand to protect himself from the high lumen glare of Rooster's mag light.
"Where were you born?"
"Richmond, Virginia."
"What is the name of your elementary school?"
"St. Christopher's."
"And the woman?"
Bowen gestured inside the hut. "Anjelina Catherine Bowen, my wife."
Rooster's hands rested lightly on the rifle that hung from its sling. "Are you able to walk, sir?"
"I'll do my best. But I don't think I can help my wife."
"Put on your shoes. This is going to be a close shave."
"But…"
"I've got your wife." Rooster crouch-walked into the hut, dropping down to make a quick assessment of the diminutive woman sprawled at his knees.
Randy stood with his back to them, speaking to a tribal warrior. Rooster touched his comms. "What's up, Randy?"
Randy's voice whispered over the radio. "Near as I can tell, this guy wants to follow us to the payment that was promised to the chief."
"That's fine as long as he keeps up." Rooster leaned over Anjie Bowen. "This is going to be uncomfortable, I'm sorry. I'm going to carry you the way soldiers do in the movies. I'll be as gentle as possible, but we'll be moving fast."
She licked her lips and whispered, "Thank you."
Rooster pulled her to sitting, then shuffled to get a shoulder down to her hips. He drew her across the broad swath of his shoulders and the top of his ruck. Pressing effortlessly to a stand, he ducked out of the hut.
Rooster noted that Bowen had been equipped with a Glock from Randy's holster.
They set off.
Bowen stumbled out of the gate. Randy shot out a steadying hand. "Sir, you're going to have to dig deep. Pull up your will to get out of this alive. After we're out of the village, we can help you. But we have no time for any kind of coddling."
Rooster had one arm wrapped through Anjie's dangling legs, pressing her thigh to his chest with his forearm, and keeping her snug in place by pulling down her wrist. From this position, he kept his thumb available for his comms so Nutsbe could hear what was going on and advise. With his other hand, he swung his rifle left then right, making the nervous villagers take a step back. "Calvary's on the way, but we've also got the bad guys heading toward us," he said for the benefit of the Bowens.
"About twenty klicks," Nutsbe said from the safety of the Iniquus compound.
Rooster took off at a jog. Bowen was giving it his all. The Afar warrior ran beside them. He seemed to delight in being caught up in this adventure. He smiled broadly and waved to his fellow villagers as he ran by.
The Afar tribe gathered in circles, standing shoulder to shoulder, undulating their chests forward and up, back and down, dancing as the Americans hustled away. Rooster wished he knew the words to their song. It seemed to him that there was an African song for almost any occasion. He wondered if this one was, "You can run, but you can't hide. The bad men come skin you alive." Rooster didn't doubt for a second that Brilliant would exact a very painful price if he caught them stealing his treasure.
As they cleared the village, Rooster dropped his rifle on its sling, letting it dangle at his side as he grabbed hold of Bowen under the armpit, so the enfeebled man could lean on Rooster's bulk. Now that Bowen had support, Rooster pushed the pedal down. "Longest hundred yards of your life, Mr. Bowen, but you will run them."
Bowen was doing his damnedest, Rooster knew. What Rooster didn't know was how long ago the man had eaten his last meal, when he'd last had a sip of water. Rooster didn't want to drag this man to his death, but it was rock-and-hard-place time. They'd made the decision, and now they needed to see it through.
Did you enjoy this sample? Keep reading to learn more about Rooster.
We hope you are enjoying the book so far. To continue reading...
Copyright © 2022 All Rights Reserved