Danger Zone
She's supposed to report the news, not become it…
Book info
Sample
Audiobook
Media
Author updates
Lists
Synopsis
She's supposed to report the news, not become it…. 
War correspondent Remi Taleb needs to get to Beirut. Fellow journalists who were kidnapped by terrorists have a story to tell, and she will report on it. So, if that means hitching a ride with a senator who may or may not be a danger to herself (and everyone else), so be it. But when everything goes wrong along the way, Remi will need to stay sharp just to survive and not become part of the story….which would be a lot easier if she wasn't distracted by the handsome head of the senator's security team. 
T-Rex Landry, commander of Delta Force Echo, goes where he's needed—and if the senator needs him, he will complete the mission. He always does. Getting involved with the sexy reporter shadowing his client was not part of the plan. But nothing else went to plan since they met. So, why should he expect to maintain professional distance from the only woman he's been attracted to since losing his wife?  
Their road to happily ever after is rocky, messy…and potentially deadly. Can their shot at love survive the Danger Zone?
Danger Zone is a strangers-to-lovers military action-adventure romance.
Ready? Grab your copy and let's go!
Release date: September 5, 2021
Print pages: 322
* BingeBooks earns revenue from qualifying purchases as an Amazon Associate as well as from other retail partners.
Listen to a sample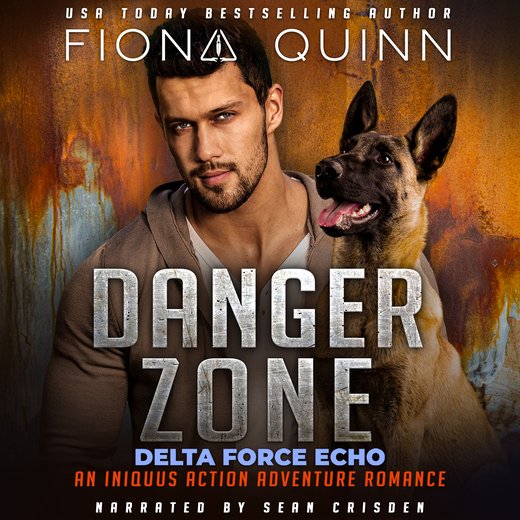 07:07:39
195.77 MB
9781946661586
July 9, 2022
Fiona Quinn, LLC.
Behind the book
Part of The World of Iniquus
Author updates
Danger Zone
Fiona Quinn
Chapter One
Remi
Monday, Washington D.C.
Horror wasn't a new sensation for Remi Taleb. In fact, it was kind of her go-to emotion.
After a while, she'd learned even horror could feel banal.
This…uselessness.
This incapacity to help in any way at all.
Fear and panic pumped through her system as Remi stood in front of the wall of television monitors here in the D.C. newsroom.
Jean Baptiste, look at him!
News stations around the world all played the same reporter telling his story.
His clothing, shredded. Dirt and what looked like an oily substance covered what scraps still clung to her dear friend's wiry frame.
The haphazard bandaging that wrapped Jean Baptiste's head and left eye seeped with blood, drying around the edges to rusty black splotches.
His arm hung bizarrely twisted and limp at his side.
It was surprising that Jean Baptiste could stand at all. He was almost unrecognizable to Remi; though, his face had been a constant in her life ever since she signed her first contract, climbed in the back of her first armored vehicle, and began her career as a war reporter.
Troubled spots were Remi's home turf. Just like the other misfits that called themselves war correspondents.
They were Remi's kind of people—folks with the ability to hold both compassion and emotional distance, at the same time maintaining—or feigning—an indifference to the steady blast from their internal adrenaline hose.
Her job was to traipse the cliff's edge, summit the mountain of human depravity. One either found their balance, or they crashed to the valley floor.
Jean Baptiste Rujean was one of the best combat photojournalists around. His high wire tricks were legendary. He'd been behind his camera, focusing his lens on the worst atrocities found in the far reaches of the world. Not only had he succeeded at gathering his reports, but he had emerged from the jungles and deserts, the urban guerilla fights, seemingly unscathed.
His luck had finally run its course.
In this story, horror had become personal.
The wall separating journalism from the reported event had dissolved.
Unwilling to take her eyes off the screens even to blink, Remi stood, hands on hips. Piking forward, with her shoulders arched back, she tried to get space in her lungs for air.
She aimed her mouth vaguely over a colleague's trash can in case she needed to puke up this morning's bagel with lox and the large coffee that was churning around her insides.
The room held still in stunned silence.
The journalists and news staff, like Remi, stretched their eyelids wide. Hands covered mouths and suppressed gasps. They pinched at their lips to hold back expletives so that they didn't disturb the newsroom's silence and everyone could focus on the wall of televisions.
The only sounds came from Jean Baptiste, the French reporter reporting on the reporters.
That sentence became an earworm. A stupid alliterative sentence that would get Remi an eye roll from her editor, but this was no time for elegance of phrase.
This was catastrophic.
Two of them. Marie-Claude and Éloïse. Colleagues. Friends. Held hostage.
Only Jean Baptiste made it over the Syrian border into Lebanon.
Jean Baptiste, Marie-Claude, and Éloïse working for FR3, a French television station, were fellow travelers in this crazy-assed job.
Remi had been trading war stories with them at the hotel bar in Addis Ababa, Ethiopia, where they were covering the coup attempt. The general at the head of the effort had been captured and killed.
The following day, Remi leaped on a plane back to D.C.
And her friends had flown on to Iraq, jumped into an SUV heading over the border into Syria. Into the arms of ISIS.
Thirty-six hours ago.
Crap.
Another wave of horror washed over Remi, threatening to drag her into the bottomless gulf of self-recriminations.
I was supposed to be with them.
The FR3 team had invited Remi to join them on that very assignment.
And Remi agreed to go.
Logistics planned, bag packed, ready to climb on her flight with Jean Baptiste and the others, when her boss, Liu, had nixed the trip. He'd called her back, ostensibly to be part of some powwow about another hot spot he wanted covered.
Remi had assumed that was a ruse to force her back to D.C. where Liu could compel her to attend the National Journalism Awards Ceremony and accept her applause for her reporting on SEAL Platoon One. Sure, it was a prestigious award, but Remi didn't care about honors. They weren't a motivating factor. If anything, accolades were disincentives. She was always uncomfortable with praise and personal attention.
Remi wanted to put her head down and get the job done.
Liu had other things to consider in asking her to attend the award ceremony, like the newsroom's stature and consumer engagement.
Though Remi had made solid arguments why she should be allowed to go with the FR3 team, Liu had insisted she fly back immediately.
In so doing, he had probably saved Remi's life.
Remi scraped her bottom teeth over her lip as she absorbed the unfolding story on the TV screens.
Jean Baptiste should be in the back of an ambulance, not swaying on screen telling this story.
While fluent in English, Jean Baptiste was slurring out the timeline of his capture, torture, agreement, and release in his native French, with English subtitles racing across the screen. He explained that Marie-Claude and Éloïse would pay the price if he didn't record and air this story immediately.
Jean Baptiste was obviously in shock and in need of medical attention as he rambled through the description of the atrocities he'd endured.
From his pocket, he dragged a scrap of paper. He tried to read it, turning his head this way and that.
Jean Baptiste didn't have his glasses on.
Someone off-camera pressed a pair of half-moon reading glasses toward him.
Then there was the fumbling as Jean Baptiste tried to figure out how to maneuver one-handed. He put the paper between his lips, flicked the glasses through the air to get the earpieces to extend, and tried again. This time, he was able to read down the list of points the terrorists wished to convey:
ISIS knows that these three held fabricated press credentials.
These three are not French nationals but Lebanese with connections to the West.
The three crossed from Iraq into Syria not to report on the ISIS victories at providing food to the town but to gather data for an attack.
ISIS is not comprised of fools. Spies are recognized when they present themselves. The three are CIA.
The West should not allow Syrians to find shelter within their borders, or they will face consequences again. Be aware, ISIS can unleash terror anywhere at any time.
Jean Baptiste concluded his report by explaining that, as an elder, his captors didn't believe he would survive long enough to be of use to them.
The terrorists blindfolded him and took Jean Baptiste to the border, where they spun in a U-turn, tossed him from the moving pickup truck bed, and roared deeper into Syria.
Jean Baptiste signed off as he collapsed.
A professional to the outer edges of consciousness.
Remi blinked for the first time as the station anchors came onto the screen to reiterate the highlights and pull in experts who answered questions via video connections, adding their punditry to the circumstances.
A warm hand on her shoulder made Remi jump and spin.
"Sorry. I didn't mean to startle you," Liu said. "Come on." Liu turned, assuming Remi would fall in step.
As he strode past the newsroom staff, he held his hand bladed by his face to indicate he wasn't available for conversations.
Hoping Liu wanted her to go to Beirut to report this story out, and so she could be of some support and solace for Jean Baptiste, Remi scampered after him.
Chapter Two
Remi
Monday, Washington D.C.
Liu had dressed his slight frame in trousers with sharply pressed pleats.
His dry cleaner stiffened his ubiquitous white button-down shirts with extra starch. Remi always thought that if Liu were to bend over, he might just snap in two like a cracker.
As always, Liu had loosened his tie, unbuttoned the top button, rolled up the sleeves, giving him the look of a doer and a shaker.
He maintained a whirl of energy about him.
Rounding into his corner office, he moved behind his desk. Avoiding his captain's chair, he leaned forward, pressing the length of his fingers onto the cluttered surface. "Sit down."
Remi could barely keep her body still. Sitting would be torture. She held up her hands to ward off the invitation.
"Jeezis, Remi." He caught her gaze. "I'm sorry."
Her head bobbled in tight, quick nods to accept the words. The corners of her mouth grew heavy, dragging her expression into a dramatic frown. She blinked away the tears, wanting to be away from this professional setting before she allowed herself the indulgence of sobbing out her frustration and anger at what had happened to her friends. Opening her mouth to speak, nothing came out. She sniffed, cleared her throat, and tried again. "I have to get to Lebanon."
"No way." Liu walked the three steps over to the office door and pushed it shut with a bang.
"Liu—"
"Stop." He held up a hand as he made his way back behind his desk. "You heard Jean Baptiste." Liu's hands came back down on the desktop. "They were there to gather information on the food situation."
Remi scratched at her face. "I'm aware. You remember, I was supposed to be with them. We were invited by the leaders. Perhaps—"
"They took the FR3 folks deep into Syria. Éloïse and Marie-Claude aren't held along the border."
"I don't—I have to get to Jean Baptiste. Talk to him."
Liu quirked a brow. "What good would you do over there?"
Remi shrugged. "I could make some phone calls. Pull some strings."
"And you can do this better than the French government? Better than the U.N.?"
"Yes." Remi pressed and rubbed her sweat-slickened palms together. "Yes. I've worked in the region on and off for over a decade. I've got contacts others may not have."
"Better than the CIA?"
"No." Though Remi thought of a black ops guy named Angel with whom she had a mutual aid relationship. She also knew two other CIA officers, one named Grey, the other Red.
Those three often worked behind Syrian lines. But Remi didn't have contact information for them. When a need arose, the CIA would reach out to her, not the other way around.
While Remi wasn't sure where Red exerted her energies other than "regional," Angel and Grey seemed to target women under duress. Remi understood that while saving females was partly humanitarian, from a practical point of view, women were great sources of information for the CIA.
ISIS fighters thought of females as rocks in the garden, furniture, not sentient, intellectual beings, so the terrorists felt free to talk in front of the women.
If only Remi knew how or where to catch up with Angel and Grey. They showed up when they needed something. They traded news stories for information.
It was fair.
Yeah, that wouldn't work. Those connections weren't readily available. Though in Remi's mind, she was flipping through her files, trying to figure out just whom she could ask, pressure, or coerce into helping her save Marie-Claude and Éloïse.
It gave Remi zero relief to know that these two women were whip-smart and athletic. That would do little to help them survive this situation.
While ISIS thought little of females, they knew the West was different. Holding and torturing women would hit the western countries much more profoundly than if they had captured a man.
Jean Baptiste said he was released because he was old.
Remi would guess he was let go because he was an unattractive male and wouldn't garner the same level of sympathy. Of the three, it made sense to Remi that it was Jean Baptiste who was released to play the mouthpiece.
Two fit and attractive women being held—yeah, that would impact the West differently, right or wrong.
And the bile that burbled along Remi's esophagus reminded her that if she hadn't been called back to D.C., she, too, would be held captive.
Liu clapped his hands. "Focus," he said sharply. "I know you're in shock. I know your mind is going warp speed trying to figure this out. You need to stop. You can't go find them. You can't even run through your vast contact files. Why?" He leaned back, tucking his chin and crossing his arms over his chest. "I'll tell you. You'll step on toes."
Remi shot Liu a snarl that said she couldn't care less if she did.
"You never know if you'll be saying the wrong thing in the right ear. The thing that will get your friends moved. Get your friends hidden more deeply. Or just get your friends' necks under a jihadist sword for a snuff film. You're a reporter not—hear me—not a hostage rescue professional."
Remi slid her splayed fingers into her hair, fisted her hands, and bent at the waist as a strangled noise crawled out of her throat.
He was right.
Of course, he was.
Cooler heads prevailing…it was a thing.
Typically, she was a cooler head. Today… Today, she was horrified.
"You're home, I will remind you, to receive the Excellence in International Journalism Award. It's a big deal. For you. For our news organization. You could mention your friends from FR3 during your acceptance speech, bring attention…" He lowered himself into his black leather captain's chair.
Remi wasn't giving up. "Liu, you could go for me, stand in my place. Shoot, I'll even lend you my gown. We're about the same size-ish. You'll be gorgeous."
Liu rolled his eyes at her. "Be serious. This is a big deal. You deserve to stand there and receive your applause.
"It's Jean Baptiste. What do you think is more important to me, applause or Jean Baptiste?" She side-stepped, sliding into the guest chair in front of Liu's desk so they'd be eye to eye. "Please, Liu. If I swear that I won't try to save Éloïse and Marie-Claude, if I promise to just go and kiss Jean Baptiste and support our staff, can you find me a way over there?" She pitched herself forward. Her gaze was beseeching.
Liu locked his fingers behind his head and pressed back in his chair, leaning back to the full extent of its springs. He focused unblinkingly on the ceiling.
Remi knew better than to push. She wanted to talk her way forward; it was what she did for a living, talking her way into situations. Or out of them.
But here, she knew that would be counterproductive.
She had to physically bite into her tongue to hold it in place, letting Liu have a moment to see that she was sane in the face of this evil. In control of her emotions as much as one could be.
"All right. Fine." He came upright again. "To get you into Lebanon with a quick visa turnaround, we'll need a reason, preferably diplomatic…government involved..." Liu swung toward his computer.
Remi sat quietly as Liu scrolled and tapped.
"Here!" Liu put his finger to the screen, then angled his head toward Remi. "Do you know of a woman named Barb Blankenship?"
"U.S. Senator representing Texas. I only know the name and background basics. I've never reported on her specifically."
Liu balanced his reading glasses on his nose. Leaning forward, his fingers blazed over the keyboard. "Okay. I can pull Jasmine."
Jasmine Tremblay? She's a White House reporter.
Remi didn't move a muscle; she just held her breath and waited for more information.
"America hosted an international girls' robotics competition. Texas Senator Barb Blankenship will be flying two groups back to their homes and giving a string of speeches over a few days. First London for an Oxford speech. Blankenship was a—"
"Rhode's scholar, yes."
"Then to Iraq for a brief touchdown to deposit the Iraqi girls' team." Liu used his index finger to trace down the schedule of events listed on his screen. "Then on to Lebanon to give a speech about women leadership at the American University of Science and Technology in Beirut. A meeting with the embassy and representatives for the Lebanese government."
Remi leaned forward. "About?"
"The U.S.'s ongoing commitment to Lebanese security and to truss up relationships," he lifted his gaze to catch on Remi, "in that ISIS in Syria is a major threat to Lebanon." With his chin dipped down, Liu squinted over the tops of his glasses at her. "You actually have to do the job. You have to shadow the senator and write the article. But at least it will get you back to your friends so you all can see each other. Check-in for support. There should be downtime for you to do that. If not, I'd be okay with your tacking a few days onto the end of your visit and flying commercial home to the States." Without waiting for her response, Liu focused back on the screen. "It looks like Blankenship will mostly be doing photo ops. The photographer is Jules Edward."
"Jules?" Remi wrinkled her nose and instantly regretted it. "Cool. Love Jules. Jules and I will be awesome together."
Liu paused, assessing her. "Promise me a story. A good one."
Remi held up her hand as if taking an oath. "I swear on my mother's grave."
"Your mother's in good health. I saw her at Barney's two days ago."
"Figure of speech." Rocking forward in her chair, Remi shuffled her feet over the oriental rug, anxious to get moving. "How soon until I can be in Lebanon?"
"You're always so eager to take a bite from the apple."
Sucking in a breath, letting her chest expand until it lifted her shoulders up to her ears, Remi exhaled with extended lips, not even trying to hide her impatience.
"I can forward these background notes Jasmine submitted," he said, turning away from the computer screen to focus back on Remi.
"Thank you. Okay." Remi scooted forward to the edge of the chair. "So Blankenship is flying the girls' teams to England and Iraq." She paused and tipped her ear toward her shoulder, furrowing her brow. "There's a girls' robotics team in Iraq?"
"They're in an internationally run refugee camp that works at bringing the girls' literacy rates up to be commensurate with the boys'. You won't be going to that camp. The charitable group is sending a bus to pick up the girls at the airport. Eventually, I guess…they aren't releasing information about the time or place where the senator will set down. Security, I assume, is going to be tight. And I suppose that touchdown will be brief. My guess is fifteen-twenty minutes. Dump the kids off the plane, throw the luggage onto the tarmac while the senator says, 'Huzzah for the girls!' Back on board and take off. They'd want to get the senator in and out as quickly as possible. If anything happened to Blankenship in Iraq, we'd be right back at war. Iraq, then a quick hop over the border to Beirut. I'm assuming that's where they'll take Jean Baptiste to get medical help. Though it could be that they'll medevac him to France."
"No," Remi said with a shake of her head. "His family's in Beirut. He'll want to stay there with his wife. Thank you," Remi reached out to grip the edge of Liu's desk, "for finding a story. When does Blankenship leave?"
"Wednesday, so you have tomorrow to rest up and read through your mail pile. Do some advanced research. I need to check with Blankenship's office to make sure they'll accommodate you on the plane…" He leaned over and wrote himself a note on a yellow sticky.
Though upside down, Remi could make out "Pull Jasmine from London trip," written in cramped script.
"It shouldn't be a problem," Liu said. "Having you along is a feather in Blankenship's cap. It gives her speeches and action not only visibility but the power of your byline."
"You're spreading it on a little thick now." Remi raised a single brow.
"I'm perfectly serious. I'll reach out to Blankenship's office and let them know we've changed journalist assignments. I'll make sure there's room on her plane. If not, that might complicate things in terms of the fast turnaround on getting your visa. But I'll do my best. I'll email you logistics."
Pressing to her feet, Remi put her hand on her heart. "Liu, I could kiss you."
"You're not my preferred gender," he deadpanned.
"Figure of speech, and it would be in the vein of a daughterly kiss on the forehead. Not sexually." She squished up her face in exaggerated disgust. "Ewww."
"And thanks for that." Liu stood.
"Seriously, Liu, it's a big favor. I'll owe you."
"It's not a bad story. Feel good. Forward-looking. Hopeful at a time when we could all use it. It's a spin on what you normally do. But if it's done right, we can make this an important glimpse into the struggles of womanhood and what the next generation is doing to overcome despite the horrors of the girls' pasts. Pay me back by making it worth our while to send you."
"Yup. Got it. I can do this."
"Uh-huh. Well, try anyway." He tipped his head. "Remi, go home. Get yourself a massage or whatever you do to help yourself unwind. Pack. And we'll keep our fingers crossed that I can make this a go."
With a curt nod, Remi started for the door.
"Oh, and Remi, the senator will be escorted by a military personal protection team. Just a reminder," he pulled his reading glasses off his nose and jabbed them toward her, "the operators will safeguard the senator. They won't do jack shit for you. As the operators like to say, watch your six."
We hope you are enjoying the book so far. To continue reading...
Copyright © 2022 All Rights Reserved