Book info
Sample
Audiobook
Media
Author updates
Lists
Synopsis
It'll take more than his battle-hardened instincts to defend her . . .



CIA linguist Sabrin Harris's plans for a relaxing vacation went up in smoke when twenty-six hostages disappeared just north of her grandmother's house in Slovakia. Now, she's been called into action. Her mission is fairly simple. Not allowing herself to be distracted by the hot-as-sin ex-Australian Commando who's sent in to help and defend her will be infinitely more difficult.



Iniquus Security operative Ryder Kelly remembers Sabrin as the beautiful woman his dog picked out of the crowd at a tactical K9 competition. When they're assigned to work together, Ryder soon realizes he could fall for her just as easily as his dog Voodoo did. So, all he has to do now is keep Sabrin alive long enough to get to their happily ever after. Easy, right?



Their timing is all wrong. Romance was never part of the plan. But with enemies closing in, the fragile bond Sabrin and Ryder have formed might be all that allows them to save the day—and each other.



Contains mature themes.
Release date: December 10, 2020
Print pages: 281
* BingeBooks earns revenue from qualifying purchases as an Amazon Associate as well as from other retail partners.
Listen to a sample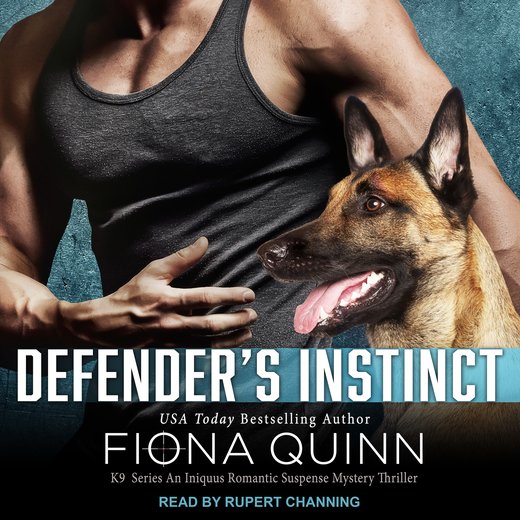 07:45:35
213.14 MB
October 12, 2021
Tantor Audio
2021
Defender's Instinct
Fiona Quinn
Chapter One
Ryder
The crowd exploded in a riot of cheers.
Ryder could just make out his Cerberus teammate, Ridge, with his hand in the air, accepting the admiration at the other end of the K9 trial course.
The gathering of international working dog professionals had nestled into an otherwise quiet Moravian valley in Czechia near the borders of the Slovak Republic and Austria, just northeast of Vienna.
Glorious terrain. Hilly. With a green so vibrant, a smell so fresh, it overwhelmed his senses.
This was nothing like being out on the station where Ryder had grown up. In the Australian Outback's flat open lands, the air on his father's ranch was dusty dry, leaving a powder on his skin and grit in his teeth. There, he'd waved off flies instead of waving at the excited crowd.
Ryder lifted his head to check Ridge's course time on the massive digital clock. K9 Zeus had moved through in record time. He sat at the top of the leader board.
"See that, Voodoo?"
Ryder's Malinois looked up at him and tipped his head as if asking for more information. Then turned back to stare into the crowd.
Ryder followed his dog's gaze.
Yup, there she was again.
She fit in, for the most part. Ryder guessed she was early thirties. Her hair pulled back into a distracted ponytail told him she wasn't here to flirt. Her clothes were the typical European dark jeans with a snug white T-shirt over a curvy body. Thin leather straps traced over her shoulders, one of those backpack-styled purses. Those kinds of bags were easily pickpocketed, and no one in the defense field would carry one.
So not a security professional.
Daytripper? K9 fangirl? Tourist who wanted to see what was happening down here in the valley? The tickets to spectate cost a hundred and fifty US dollars per day. You had to really want to be here to be here.
Even if she were just rich and didn't care about the money, they were at least an hour from anything Ryder would deem touristy.
The International Working Dog Competition aimed for remote and difficult to attend in an effort to dissuade the general public from participating.
Here, qualified K9s fought for the titles and gained certifications, upping their price on the wider market.
Besides the competitors, there were also the buyers who came here to scope out possible working dogs for their kennels.
Ryder had spotted several American buying teams here over the last few days. They'd compete on price for the dogs they thought might make the grade for United States Military special operations forces like the Green Berets, the Deltas, and the SEALs.
Cairo, the K9 who took down Osama bin Laden was culled from competitors like the dogs Ryder and Voodoo were up against today.
Here, the buyers looked for athleticism, courage, and the secret sauce that set certain dogs apart — intelligence, personality, and sanity.
Ryder had seen some amazing dogs on the course over the last four days. Some of them, though, he would never consider as future working dogs. They were just too high-strung, and frankly, terrifying.
No doubt, all the dogs on the course today had the capacity to kill. Quickly. Effectively. Happily.
What was needed was a K9 with an off switch. K9s like Zeus and Voodoo, here. Ryder dropped his hand to his dog's head. Voodoo would go to battle with Ryder by day and curl up with his blankie on Ryder's bed at night, snoring and wagging his tail to some happy dream he was having.
Neither Voodoo nor his teammate Ridge's German shepherd-Malinois mix breed Zeus was available for sale.
Their task at this competition was to show what Iniquus trained K9s could do. It was all about prestige on the world stage.
That prestige translated into high-dollar security contracts.
Ryder lifted his gaze. Voodoo still had his focus on the woman.
She wasn't a buyer. At least she didn't have the look. No pad and pencil for notetaking. She wasn't wearing sunglasses to hide her interest.
Ryder stroked a hand over his beard. Had he run an Iniquus mission that involved her?
Iniquus was a clandestine group. They kept their heads down — their eyes on the prize. And they never willingly exposed anything they did publicly.
Even here, under tight protocol and security, Ryder and Ridge had grown out full beards, wore mirrored aviator glasses, and pulled the brims of their ball caps low. If a photo got out of either of them, the only thing that would be recognizable would be their K9s and their Iniquus uniforms.
So that this lady seemed to know him was a headscratcher.
She didn't know Voodoo; Ryder was reasonably sure of that. Voodoo and Zeus both came out of a rescue raid on a Honduran detention center — private prison — a couple years back. Voodoo had been a seven-month-old puppy. Ryder had trained Voodoo, and when Voodoo had passed all of his certification trials, they had deployed together. Typically, Ryder and Voodoo were sent out to do mission support, and that was always clandestine.
There was the close protection he'd done in May with Hollywood starlet Berlin Tracy. But she'd always called him Kiwi, not Ryder, and the K9 he was handling had been his cousin's pet Chewie Barka.
As the staff re-set the course for Voodoo's trial, Ryder kept his head on a swivel, so it didn't look like he'd homed in on the woman, though she unabashedly stared right at him.
Ryder definitely wanted to know why Voodoo was locked on to her, his body rigid, ears forward, like all he wanted was a release command so he could sprint toward her.
She held up a hot pink water bottle with Voodoo's name in bold black letters and gave it a hello waggle.
Ryder pretended he didn't see it.
Nope. This didn't read like "fangirl."
It wasn't like she was trying to get him to come over to her.
She was making herself visible to him.
The whole thing struck him as…off.
Voodoo stomped his foot and looked up at Ryder, then back at the woman.
"Yeah, I see her, mate." Ryder wished he could read his dog's thoughts. "We're going to focus on this contest, though, hey?"
Ryder knelt beside Voodoo. "Listen up. The old man has the top score today. Now, we know that Zeus is a chess player. He does everything with intention, so he shaves off the time most teams know will be taken up with hesitation. You're last running this course. If Zeus is at the number one place, and we don't get into the semi-finals, well… I'm not saying it would set you and me back with our reputations, but we'd be hard at it to regain face."
Voodoo pawed the air and made a whining sound.
"Here's the thing. You're not Zeus. Not yet, anyway. You're too young to have his wisdom. But — and this is a big but — you have me on your side."
Voodoo stared Ryder hard in the eye, opened his mouth, panting with tension. His muscles bunching, his body primed. He wanted to go!
"If you listen to my commands, and we work this together, your brawn and your bravery, well, you and me, mate, we'll be sitting at the top of that leader board, too." Ryder gave Voodoo a nod, then gathered his leash. They made their way toward the starting line.
"Moving up to the starting position is Iniquus's Cerberus Tactical K9 team Ryder and Voodoo." The heavily accented English came over the loudspeaker. "This is Voodoo's first international competition." They repeated all of this in French and then in Czech. "Voodoo is a two-year-old Malinois rescue who has been trained by Ryder at the Cerberus campus in the United States of America. Can he catch up with the exceptional score of his fellow Cerberus semi-finals qualifier, team Ridge-Zeus?"
"You and me, mate." Ryder unclasped the lead. He stepped a foot back, crouching down, up on his toes in a runner's stance, ready to catapult them into action.
The buzzer sounded.
Ryder raced forward.
In this round, the judges weren't just watching speed and handler control; they wanted to know how the K9s did when confronted with challenges that weren't necessarily part of the dogs' happy list.
Ryder's task was to keep Voodoo calm and focused. That would be key.
If riled, Voodoo would try to go fast and hard. That had its place in their world of Iniquus security, but here that would lead to frustration and a poor time on the end clock.
Voodoo was wearing the requisite equipment: the bullet-resistant vest and a radio collar. The set up weighed a little less than two kilograms — or about four pounds as the yanks would say. It was fine for the run. It might make Voodoo a little more hesitant as he reached the water obstacle.
This course was a serious test of the K9 teams' skills and relationships. First, there were the challenges known to be difficult for dogs, open staircases into darkness, blacked-out slender passageways for crawling by voice command. It was this maze where Zeus had made spectacular time. The handlers were on the ground listening to the dogs' movements, then using the radio to indicate which direction to travel to get out of the maze. A single wrong turn could leave the K9 at a dead end.
Backing up in a crawl was always tough.
The entrance to the maze was blocked with a gate. The K9 needed to push that over to make a bridge to the building.
Running at full speed, Ryder yelled, "Tackle barricade."
While most of the dogs were commanded in German, Czech, or Dutch, Ryder thought it was safer to have his own set of commands. Words were just sounds. The trainer gave the sounds meaning through repetition. "Tackle" was the term Ryder typically used when he wanted Voodoo to knock someone down but not get in a bite. But Voodoo had also been trained to use it to shut gates and the like. Tackle meant a leap and a push.
Voodoo thrust off his back legs and sailed through the air, extending out so that as his weight forced the barrier over, Voodoo landed on all fours.
Ryder made sure he was right there beside his partner to give him the next command.
"Giddy up," Ryder said to get Voodoo climbing up the open staircase toward the door that had been left open a crack.
The crowd cheered.
Voodoo had trained to ignore loud noises like gunfire, truck rumbles, and explosions. He'd had some experience with crowds as they'd done patrols for parades and sporting events. But these high-pitched whistles, and the crowd yelling Voodoo's name, were making Voodoo skittery as he moved away from his handler up the stairs.
This next challenge required radio command over the comms unit that Voodoo wore on his collar.
Ryder lifted his radio and depressed the button. "Good job, Voodoo. Good boy. Open sesame," he said. Ryder worked to get his own adrenaline from infecting his voice. Voodoo needed calm and cool. He needed to hear a simple work command. An agitated handler sparked the nerves of his K9. Emotions ran down the lead. They also traveled the airwaves.
Voodoo stuck his nose into the crack between the door and the wall. With a flip of his head to the side, he exposed a fence and a tunnel.
"Smooth and easy, mate. Focus on my voice. In you go. Snake."
Voodoo backed up a step, bent, and looked. He wasn't a fan of pitch black.
"Good job. I'm right here with you. In you go. Snake yourself in there, bloke. Here we go. Snake."
Voodoo squatted into a low crouch. His tongue stretched out as he gave a loud yawn. Then inched forward. Inched some more. Another yawn of distress, and he got all of himself in.
Ryder stood underneath the structure. If he reached up, Ryder could just touch the wide pipe above his head.
"Forward. Snake forward."
Ryder could hear bumping and scratching as Voodoo complied.
"Head right. Right. Right. Right."
Voodoo turned down the correct pipe and stopped at the branch.
Perfect. That was precisely what Ryder wanted to happen. Voodoo wasn't going to freak out in there and try to get himself out. He was going to trust Ryder to direct him. "Good job, mate. Now head left. Left. Left. Left."
It was an arduous time in the maze. The course designers hadn't chosen this obstacle on a whim. It was an essential task in the military working dogs' repertoire. Ryder had been deployed on a search and rescue mission where Voodoo's ability to transport comms, food, water, and medical supplies — crawling back and forth through a jumble of debris — meant the team was able to save the lives of thirty students trapped in their classroom by a mudslide.
This was a harrowing business.
Lives were often at stake.
The K9s had to be solid.
Voodoo was out of the maze, and it didn't go any easier from there. He had to step off onto a rope bridge with uneven planks and a lot of air between them. Voodoo was sure-footed as the bridge swayed and moaned with Voodoo's weight and movement.
"Slow and steady there. Slow…steady…good boy!"
At the end, instead of having Voodoo run down the ramp. Voodoo simply leaped the six feet to the ground.
In English, the loudspeaker called, "Cerberus Tactical K9's Ryder with his dog Voodoo, racing toward the water obstacle now. Voodoo is a Malinois. While many Malinois enjoy swimming and are strong swimmers, they tend to hesitate, if not balk, at dock diving events. So far, Voodoo has proven to be fearless. For a dog just out of adolescence, he's a solid performer."
Ryder and Voodoo ran side by side to the water test. This was where Voodoo could get hung up. It wasn't the water; it was the jump in that was the problem, especially since this water was dark. A swimming pool would have had no stopping effect on Voodoo, but muddy water was a place he resisted.
Ryder sprinted beside Voodoo as they climbed the steps onto the wooden dock, then commanded, "Into the drink," as Ryder dove off the dock.
At a challenge, the handler wasn't allowed to touch their K9 until the K9 had hesitated or failed for thirty seconds. At that point, if the dog was stuck on a task, the handler could put hands on the dog to get the needed task accomplished. One team, for example, had to wait until the handler could push over the beginning ramp.
That thirty seconds was too precious for Ryder to wait if he needed to throw his dog into the pond.
So, Ryder set the example with a surface dive that allowed him to keep his hat and sunglasses in place.
The pond was deep and shockingly cold. But as Ryder turned onto his side, he heard the splash right behind him. "Good boy! Good boy, Voodoo. Paddle for it."
Luckily, it wasn't far to the other side. "Paddle." Just enough to test the dogs' willingness to do what was needed.
Ryder pulled himself, streaming with water, out onto the dock on the other side.
Voodoo scrambled up the stairs to stand beside him.
As Ryder pounded his fist onto the button to stop the timer, Voodoo shook his coat, showering Ryder with pond water. "Yeah, serves me right. I don't blame you a bit."
Just moments later, Ryder stood on the platform with Voodoo panting at his side. Their names boomed over the speaker system, and Ryder raised his arm to accept the crowd's cheers. They'd reached the semi-finals of the International Competition for Working K9s just behind Ridge and Zeus's scores.
Six teams total stood in a semi-circle. "Ladies and gentlemen, these are the K9s advancing to the semi-final round!"
Ridge ducked his chin. "Five o'clock." He indicated the direction of interest.
"Got her."
"She's had her eyes on you."
"Yup." Ryder reached up and scratched the top of his beard. He couldn't wait to shave it off.
"Fangirl?" Ridge asked. "She's got that hot pink Voodoo water bottle."
"Voodoo's man enough not to worry about his name on hot pink. You jealous she isn't a Zeus gal?"
"Zeus has all the gals he needs. I'm telling you, this woman has stalker vibes. She wants you to see her and acknowledge her."
"What do you think will happen if I do?"
"Don't know." Ridge chuckled. "Bigger question, do you have the stones to find out?"
Chapter Two
Ryder
Ryder was the only one chafing in wet tactical pants as they jogged down the road, heading for their campsite.
During their turn in the competition, Ridge had pulled Zeus's rubber ball from his pocket — fully within the rules — and tossed it into the pond. Zeus leaped in to rescue his toy. Decks and water didn't faze Zeus a bit. And Ridge stayed dry as a bone.
Still, Voodoo was his partner, and Ryder willingly dove into the water with him. No worries.
With precautionary leads attaching the dogs to their handler's belt, Voodoo and Zeus trotted happily along, sniffing at the air that was growing heavier with moisture.
A storm was rolling in.
They were two miles down the road. Another two, and they'd reach their Winnebago—the word used for any RV where he grew up in Australia—tucked under the sweeping branches of a walnut tree. About the size of an extended delivery van with enough headroom for walking around, these campers were a little tight inside for a guy his size to maneuver around but provided the basics well enough.
A farmer had rented them the spot for camping during the weeklong K9 trials.
Privacy and space were key here. It gave the dogs a rest from the crowds.
Hotel rooms were scarce in the village. Many of the attendees were staying in rooms rented out by local families. With the dogs, Ridge and Ryder didn't think that was a good idea. They were better off out here with the fields around them, where their K9s could exercise to help work off their excess energy.
It was a picture-perfect landscape that offered some comfortable downtime without the worries that the dogs would bark and wake everyone. The operators wouldn't have to shoo away people who wanted to put their hands too close to the dogs' sharp teeth.
Security working dogs were not pets.
Ryder and Ridge had each rented an RV. They were comfortable enough. The July days here were in the high seventies. The nights in the fifties. With a campfire crackling, they'd been comfortable and happy.
A storm was heading in. That might put a damper on tomorrow. Though, the contest wouldn't be called for rain. The K9s had to perform just like the operators did — no matter the weather.
When Iniquus sent them in for search and rescue in disaster zones, the weather was dependably shite. They trained for it. Expected it.
A motor rumbled behind them.
Ridge looked over his shoulder as they moved off the road. "It's your girlfriend."
Ryder didn't turn his head. He'd wait and see what happened next. Not much cover out here on the country road. Nowhere to run, nowhere to hide. He didn't get the vibe from her that she was assassin material, though.
"Hey, guys." Her window was rolled all the way down, and she was barely inching forward. "Need a ride?" She had a lovely smile.
Obviously American from her accent.
"Thanks," Ridge said. "The dogs are covered in mud. We wouldn't want to get your vehicle dirty."
"It's a rental. I don't mind." She looked directly at Ryder as she said it. She wasn't flirtatious at all. Friendly. He still couldn't place her, though it was starting to bother him, because — even with the beard, glasses, and hat — she seemed to know him.
"The dogs are still riled from all the excitement today," Ryder said. "Better we should let them work that off, hey?"
"Oh." Her face turned serious as she offered a nod of understanding. "Yes." Her bright blue eyes lacked the hard edge that would cue military-styled training. She looked…innocuous was the word that came to mind. He'd guess she had some desk job somewhere and looked at computer screens all day. "Okay. Well, I'll see you in a little bit then." She finger waved and headed down the road.
"She'll see us in a bit?" Ridge asked.
"Dunno, mate."
"Did you tell her where we're camped?"
"Never spoke to her." Ryder wasn't carrying his phone to snap a picture and send it back to Washington D.C. for their operations commander, Bob, to run through the Iniquus AI systems. This contest was explicitly and purposefully in a cell tower dead spot.
It was meant as a security measure.
In order to attend, each person — contestant or spectator — had to sign an agreement stipulating that no photography or video would be taken at the competition.
Professional video of individual K9 runs would be provided to the handlers at the end of the contest. The handlers could use the information to study for fine-tuning their K9's training. If the videos were impressive, the tapes would be placed in the dog's file along with his vet record, certifications, competition scores, and other information relevant to the job.
Keeping tight hold on security was paramount since these K9s were the best in the world, heading for sale to world tactical facilities, including the U.S. special forces. If the K9s had their name, image, command language, hand signal record, skills, and limitations available for study on the web, that created risks for deployed teams.
In his time with the Australian Commandos — tier-one special forces operators — Ryder would never publicly use his K9 partner's name while working where the enemy was listening. It just wasn't safe. Hence the personal command language Ryder had developed for Voodoo.
Ridge bumped Ryder's arm and nodded.
Ryder changed his vantage point. The mystery woman was turning in on the farm road that led to their campsite. "She seemed nice enough." Ryder shrugged.
"You're usually in hot zones and not working close protection," Ridge said. "'She seemed nice enough' can get you killed. What did Voodoo think about her?"
"He paid close attention. Could be that he sensed something there. Could be she rubs sirloin behind her ears. We weren't close enough for me to tell. If you're frightened, mate, I could hold your hand."
The walk from that point was a silent one.
Both operators watched their dogs for signs.
Zeus and Voodoo loped along with long tongues, seeming to take their new-found celebrity in stride as they climbed the elevation toward their camp.
There was her car, right next to their Winnebagos.
Ridge lifted his chin. "Company."
"I see."
"Someone sent her to us specifically." Ridge pitched his voice so it wouldn't carry with the breeze that was kicking up.
"Agreed." Now that the sun was going down, Ryder pulled off his sunglasses. Tucking the earpiece into the neck opening on his shirt, he spun his ball cap around to wear it backward.
"She's got the campfire going."
"Hospitable. Maybe she's got steaks to toss on the barbie." Ryder had been kidding, but as they approached, he noticed that she'd spread what looked like dinner on the folding table he and Ridge had been using as an outdoor kitchen.
"Hey there!" she called over her shoulder as she opened a food container, smelled it, then arranged it with the others. "I ordered this from a cute little mom and pop place on my way in. It smells delicious. It's still steaming hot."
Ridge and Ryder advanced toward the fire circle. Ryder noticed she had a tarp and tent on the ground next to her car. It looked like she thought she was moving in.
She put her hand on her chest. "Sabrin." As if that explained everything.
"Okay," Ryder said to Ridge. "I'll let you sort this. I'm going to get cleaned up and get Voodoo fed."
Ridge ducked his head and raised his brows. "We talked about stones."
"You've got Zeus with you in case you need backup, mate." He looked toward his RV with its external antennae. "While I'm in there, I'm going to get on the satellite phone and see if this isn't a care package from home." He smacked a hand on Ridge's chest then lifted it toward Sabrin. "G'day. I'm just going in to get out of my wet togs."
"That's fine. You look confused. I guess you haven't gotten a message today, but I'm here because of Honey."
Ryder paused with his hand on the Winnebago door. "Honey, yeah?"
Honey Honig was an Iniquus Panther Force operator; his specialty was hostage negotiations.
"He asked me to pair up with the short-straw." She looked directly at Ryder. "I guess that would be you."
Ryder looked across at Ridge. At six-foot-three, the two men were almost exactly the same height. "How do you figure?"
"Ridge bested your score at the competition today." She skated a hand out as if to soothe any wound. "Not to say that your score isn't stellar. I mean, you came in second. And not a very distant second. Hmm." She seemed to try to change from that line of thinking. "You're wet. Why don't we talk when you're cleaned up?" She tipped her head to the side and did a little lift to her shoulders.
Ryder bobbed his head toward her, then he sent Ridge a glance. "I'll be out in a jiff."
Inside, Ryder's RV was efficient, modern, and comfortable. It had a queen-sized bed across the back that was just long enough to accommodate his height if he laid at an angle. That left a wide corner, plenty of room for Voodoo to curl up with his blanket.
Even though a bunk could fold down over the foot end of the bed, running longways down the RV, it was too short for either Ridge or Ryder to sleep on comfortably. Besides, it would never do to have both dogs together in such tight confines. The last thing they needed was a fight to display dominance of the RV.
The two Winnebagos had worked out fine this week.
Ryder clicked on the automatic hot water heater in the micro-bathroom and signaled Voodoo in to get a spritz from the hose to clean his muddy paws. He'd feed Voodoo, then jump in the shower.
Feeding Voodoo was a bit of a trick.
When Voodoo was brought to Iniquus, along with Zeus and a dozen or so other dogs, it was to make sure they were safe. The prison where they'd worked was destroyed during a kidnapping rescue mission of one of Iniquus's Strike Force members. Voodoo was still a puppy. Food at the prison had been scarce, and Voodoo had learned to fight for survival. Voodoo's relationship with food was the only dark place that remained in his psyche.
Ryder had worked to get Voodoo's territorial reflex over his food bowl calmed. Still… Ryder had to be cautious. Voodoo would never eat except from his bowl. He never scavenged. But once the kibble hit his bowl, he could turn vicious quickly. Ryder never fed Voodoo around other dogs. He certainly never fed Voodoo around other people. Even Ryder had to be careful around Voodoo's teeth at mealtime.
"Feel better, mate?" Ryder asked as Voodoo stepped back into the hall space. "No more grit between the toes?"
Responding to a hand signal, Voodoo walked over the towel to dry his paws.
Ryder fastened the lead to Voodoo's collar. In a very calm voice, he said, "Time to tuck in, yeah?" He slowly pulled the bowl from the cabinet and placed it on the counter. "Sit tight." Ryder opened the bag and scooped out the kibble. Ryder could feel the strain from Voodoo as he fought against his past to do the right thing, sit and wait for the signal.
Ryder carefully laid the bowl on the ground as he stepped into the shower. "Tuck in," he said in a happy sing-song voice.
As Voodoo leaped forward, Ryder slid the shower door closed.
Ryder peeled off his cold, damp clothes that clung to his skin.
While the shower water was adequately hot, the tank was small. Ryder was used to getting cleaned up while out on deployment. Just enough water to get damp, then with the faucet turned off, a good scrub with the liquid soap head to toe, a final spritz to clean the suds off, and call it done.
Ryder opened the shower door just enough to make sure that Cujo was gone. Voodoo was back to his loving self before Ryder exited to dry himself off. He turned and looked out the front window. There was Sabrin, a pack hugged in her arms, wide-eyed and blinking at him as he stood there, towel in hand, full monty.
- End of sample -
We hope you are enjoying the book so far. To continue reading...
Defender's Instinct
Fiona Quinn
Copyright © 2023 All Rights Reserved