Protective Instinct
She's running for her life. His mission: protect her.
Book info
Sample
Audiobook
Media
Author updates
Lists
Synopsis
He can protect her . . . but only if he can earn her trust first . . .



Artist Harper Katz was in the wrong place at the wrong time and heard something she really shouldn't have. Now, she's on the run with a killer on her trail. Her only option is to lay low until she can get out of the country. She can't afford to trust anyone—no matter how much she wishes she could.



Ex-Delta Force Operator Ridge Hansen has had a thing for Harper for a long time. So has his tactical K9, Zeus. But persuading Harper to move their relationship from friends to lovers has been tough. He'll still protect her from . . . whoever is after her. All he has to do is convince Harper to let him.



Ridge will have to use every skill and protective instinct he has to keep the woman of his dreams alive. He can only hope it'll be enough to get them both safely to happily ever after . . .



Contains mature themes.
Release date: September 21, 2020
Publisher: Fiona Quinn
* BingeBooks earns revenue from qualifying purchases as an Amazon Associate as well as from other retail partners.
Listen to a sample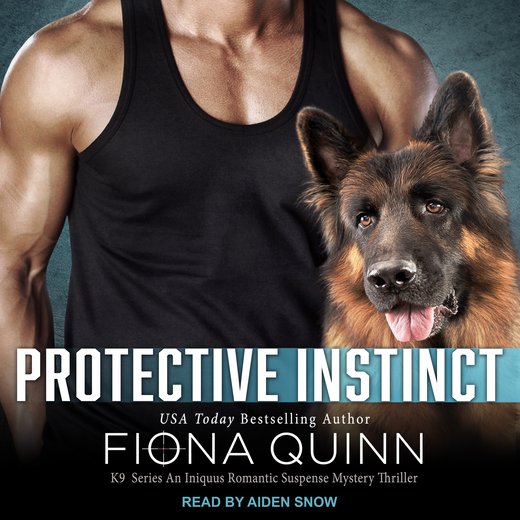 08:22:16
229.94 MB
September 28, 2021
Tantor Audio
2021
Protective Instinct
Fiona Quinn
Chapter One
Harper
With her earbuds blasting a hip-hop beat, Harper Katz hit her stride.
This was the point in her run where she could zen out, letting her body do its thing.
As she powered past the neighborhood gardens, their riotous colors fed her creative mind.
Compositions swirled through her imagination. If one of these ideas sparked her curiosity, she'd go back to her hotel room and explore it in watercolors or ink until her boss woke up.
Berlin Tracy—Hollywood rising star and Instagram phenom—rarely climbed out of bed before lunch.
Harper relished these early morning solitary runs. This was the time she set aside to let her creative juices flow, reminding herself that her present choices didn't erase who she was. She was merely in hibernation. Taking a time out. Soon, things would be normal again. Normal-ish.
A gawker car slowed as it drove past, and Harper averted her eyes. She had no desire to see the occupants ducking low, staring wide-eyed out the window at her.
It was inevitable. It happened repeatedly every run.
Harper was a curvy girl, pounding down the pavement.
She had decided long ago to just let them look.
"Bring it." Harper would love to call out. People liked to judge her while forgetting they didn't rise to her capabilities.
Harper could outpace and outlast a high percentage of the folks who slowed, stared, and judged.
It was cognitive dissonance—the point where the reality the person was seeing didn't match with their preconceived understanding of how things worked.
Fast-paced runners were lean, mean, fighting machines.
And she was only the mean and the fighting machine part of that equation.
All right, she wasn't mean.
Nor was she anything like a fighting machine.
Harper simply wasn't what the looky-loos expected from someone built like she was. They expected red-faced and struggling.
Once upon a time, Harper had been both red-faced and struggling.
She'd come a long way, diligently working herself up to marathon length runs.
Harper couldn't complain about her curvy-girl size. She was here in her present form because her ancestors evolved a genetic storehouse to endure crop failures, condemning lesser gene pools to death by famine. Her forefathers and foremothers had outlasted frigid Polish nights of centuries past by maintaining a warm blanket of insulation around their vital organs.
She, Harper Katz, was a winner in the Darwinian survival race.
Remembering that had taken the sting out of those looks of incredulity and censure that accompanied her runs a long time ago.
Now that the car had passed by, picked up its speed, and powered out of sight, Harper called out, "Not bad for a curvy girl, huh?"
Girl?
That was a stretch.
Today was her birthday.
Thirty-two.
No one knew, and no one cared.
By design, Harper reminded herself.
Tonight, she'd put on a classic movie, order a nice meal brought to her hotel room, and eat it without those public eyes saying, "Girl! Look what you're eating. No wonder you've got that caboose." She'd heard it all her life, no matter that she ate healthfully three-hundred and sixty-two days of the year. Harper allowed herself to eat whatever she wanted, no limits whatsoever on three specific days—Thanksgiving, Christmas, and her birthday.
Tonight, she was going for it—a celebratory cocktail with hors d'oeuvres, a glass of wine, mmmm, the macaroni and cheese with truffle oil she'd seen on the hotel's five-star menu, and a decadent dessert.
Alone in her room.
All by herself.
Away from Berlin and her neediness and the rest of the "crew".
Yup. Harper could eat naked and cross-legged on her bed if she wanted. She could dress in a cocktail dress. It didn't matter. It was a no-judgment zone. Whatever felt right at that moment was what she was going to do.
Harper filled her lungs with a deep breath, pulled through flared nostrils, then exhaled her distressing thoughts through pursed lips. Robin Williams had said, "I used to think that the worst thing in life was to end up alone. It's not. The worst thing in life is to end up with people who make you feel alone."
You're in this place by design. It's a survival strategy. By January, things will be different.
Checking her body mechanics, lifting her chin, pulling her shoulders back, Harper kept her pace steady as the melody slowed and faded.
With the first phrase of the next song on her playlist, Harper tugged her phone from the thigh pocket on her don't-run-me-over, blaze-orange and black jogging tights, and tapped the button to skip to the next in the queue.
Harper was in a lonely mood and didn't need anyone extolling the joys of finding the love of their life, heading toward their much-awaited blissful ever after.
As the next song on her playlist queued up, Harper's ringtone jingled through the earbuds.
Ha!
Harper knew, without even looking, who was calling.
It was uncanny.
Almost without fail, when the notion of a love connection crossed into Harper's awareness, Ridge was on the phone. An etheric joke by some snickering helper-guide with a sick sense of humor.
"Hello?"
"Hey, we're here." Came the warm baritone rumble.
Yup. Ridge. Like clockwork. Harper looked at the sky and stuck her tongue out at the imaginary trickster-fiend before she asked, "Where's here?"
She glanced around the suburban D.C. street, empty except for a klatch of pre-teens shuffling their feet, waiting for the school bus to come. It was the end of May. Freedom was a few dismissal bells away. Then the long lazy stretch of summer.
Harper remembered those days. Everything still felt hopeful way back then.
She raised her hand in a salute as she passed them by.
"We just pulled into your hotel's parking lot," Ridge said.
Harper slapped a hand to her forehead. "It's Wednesday. I said I'd help you and Tripwire with the K9s' scent work Wednesday morning. This morning." She sucked in a deeper breath so she could speak despite her seven-mile-an-hour pace. "Working for Berlin, I keep exquisite track of her every moment. I don't normally have things on my own schedule. I'm sorry. I'm not at the hotel." She was able to get all that out without sounding breathless in Ridge's ear. Kudos to her.
Harper had no reasonable explanation for knowing the date but not the day of the week.
Sure she did. Harper was confused because she'dhad very little sleep for the last forty-eight hours researching Berlin's speech and powering through Berlin's unending to-do list with a cross-country flight—California to Washington D.C.—in the middle.
While Harper knew the date, she honestly hadn't realized today was Wednesday, which was how she'd pinned this event in her mind.
Berlin and her ambitions are going to be the death of me.
She heard Ridge say off to the side. "Harper got her schedule confused."
Ridge Hansen was the lead operator on Iniquus's Cerberus Tactical K9 Search and Rescue Team. Tripwire was his number two. Their team had saved Berlin and her camera crew from the bomb cyclone that hit Wild Mountain, Virginia, at the beginning of March.
"Ah, okay. Tell Harper we'll probably see her at Iniquus." Tripwire's voice was off to the side. "Berlin has her security intake this afternoon."
Now that Berlin was back on the East Coast for a few days—doing what she did best, garnering attention—Berlin wanted to hire Iniquus to do her close protection for her D.C. appearances.
There wasn't any reason for Berlin to need security.
Berlin was simply dressing for the job she wanted. She wanted to be a Hollywood A-lister. That role required hunky security in her pictures, and the operatives working for Iniquus—in their uniform dark gray compression shirts, showing off their broad shoulders and hard bodies—looked like they came through central casting.
Add in their gorgeous K9s, and you had Instagram gold.
Ridge was ex-Delta Force. Tripwire Williams was an ex-SEAL. They were both powerful athletes who worked with tactical K9s.
Did Harper mind helping them out with a training exercise for their K9s?
Nope. She didn't mind.
Glad to. Any time.
No, really. Any time at all…if Harper could remember what day of the week it was.
"Did you hear Tripwire?" Ridge asked, jarring Harper back from the memory of Ridge squatting down near his K9 Zeus, muscular thighs flexing against the constraints of his tactical pants. She reached up and swiped the sweat from her lips with the back of her wrist. Could have been drool. She wasn't going to judge herself right now.
"Yeah. Hi there, Trip. Look, I'm not that far away. I took a stroll to clear my head. I can turn myself around." She purposefully didn't say "exercise" or "run." She didn't need incredulity from Trip and Ridge.
"Where are you right now?" Ridge asked.
She looked at the signage. "Corner of Maxwell and Hathaway, heading toward the sunrise, so eastbound." Harper had kept her pace despite the phone call. She frequently had to make coordination calls for Berlin while out on her daily run, and her legs could function on autopilot.
By the volume of Tripwire's voice, Ridge must have tapped on the speakerphone. She could easily hear Trip say, "Two and a half miles."
"What do you think?" Ridge was obviously conferring. That question wasn't directed toward her.
"Doable if she wants to keep going," Tripwire said. "I've got a scent source for Harper in the back with the dogs. If we know what door she came out to cut down on time, we could catch up to her."
Ridge was back on the phone. "Hey, Harper, did you catch that?"
"Yeah. Does that mean Zeus and Valor are going to trail me from the hotel?"
"It shouldn't take too long," Ridge said.
"I'm not worried about the time. I'm not scheduled for work until we head over to Iniquus after lunch. So I'm all yours." She rolled her eyes as she heard that pop out of her mouth.
I'm all yours? She was a moron. This day sucked.
Harper moved farther into the street away from the gravel that could make her slip. "I came out the lobby door, through the parking lot to the left, and took that street. It doglegs to the right. I'm straight ahead. Eventually, it hooks around and comes back at the hotel."
"That's a six-mile circuit back," Tripwire told Ridge.
"Are you comfortable continuing on for a bit?" Ridge asked her.
"That's fine." She stopped her mouth from injecting that her fat rear end wasn't going to keel over in the street.
Harper was a little surprised at the way her thoughts had strung together during this run. She wasn't usually the kind of gal that beat herself up like this. These thoughts were probably a rancid combo of the last day of monthly hormones, exhaustion, jet lag, and it being Harper's birthday with a bleak future on her near horizon. Tonight's planned cake-icing coma would fix this.
"We're good then. We've got a plan. A perfect exercise, thanks, Harper," Ridge said, then Harper heard Ridge tell Trip he was getting the dogs unloaded while Trip found Harper's scent.
The scent source was one of her pillowcases that they stuffed into a PVC pipe, capped on either end.
Harper had given them the pillowcase when she helped them train the week they were snowed in on Wild Mountain. The handlers would open the tube and let their K9 tracking dogs, Zeus and Valor, take a big whiff, then send them off to see if they could find her.
It had been fun. Kind of like grownup hide and go seek with fur-joy and lots of slobbery kisses when they made the find.
Harper knew that no matter how long and fast she ran down this road, those dogs would be on her in no time if Ridge and Trip were working them off-lead. Since they were in a suburban neighborhood with cars, she knew the handlers would be jogging with their dogs on long leads as they tracked her.
She was fast; the handlers were faster. Longer legs. Bigger feet…
She shouldn't envision the size of Ridge's feet. Shouldn't.
Huge!
Stop.
Ridge had left the line open as he went about his prep. It wasn't unusual for them. Since their time at Wild Mountain Lodge, they often opened a line and companionably went about their tasks, throwing out bits of conversation as if they were inhabiting the same shared space, like roommates.
There was a pop of a hatch. The dogs whined to get on task.
"Zeus, loveykins," she cooed.
Zeus gave a sentence long series of barks and whines.
"That riled him up. You're not allowed to do that," Ridge said.
"Sorry." Not sorry. She had a thing for Zeus. He was a magnificent Belgian Malinois-long-haired German shepherd mixed breed. Regal. Intelligent. He just gave her such a sense of safety. And she craved that feeling.
A car headed toward Harper and slowed.
Her skin prickled with anger at the driver. Then, she watched him do a three-point turn before she could make a stink face. Okay, not a looky-loo. That was a relief.
Man, she was in a bad mood.
And on top of her birthday blues, here she was running down the road in her sweaty neon orange T-shirt with Ridge heading her way.
As if it mattered.
Harper needed to be careful there. There was no good outcome in letting her chemical reactions brew. They were pals. It was dangerous to her well-being to let any Ridge-feelings take root. Luckily, she would just have these three days here in D.C., then the Berlin Tracy crew would be on the plane, heading back to California. No need to get her panties in a—
"Hey!" she yelled.
Up ahead, the man who had done the three-point turn had come to a sudden stop in the middle of the street right next to a group of pre-teen girls. The door opened. A gun emerged first. The man who got out of the car had it pointed at the tallest girl.
"Hey!" she yelled out.
"What's going on, Harper?" Ridge asked.
No other sound would come out of her mouth other than another strangled, "Hey!"
The girls responded to the sudden threat by pulling their arms in tight, getting small, but staying locked into place.
Harper might have done the same if her legs weren't already in motion.
As she drew closer, Harper saw a bright pink backpack and a long ponytail.
The girls stretched their eyes wide in shock.
Their mouths hung open with lips drawn down their jaws, showing their lower teeth in horror.
We hope you are enjoying the book so far. To continue reading...
Protective Instinct
Fiona Quinn
Copyright © 2023 All Rights Reserved