Book info
Audiobook
Media
Author updates
Lists
Synopsis
The book Trident Security fans have been waiting for!

The huntress has become the hunted, in more ways than one. Jordyn Alvarez works for the United States government—a fact no one in authority will admit. She does Uncle Sam's dirty work. Some might call her an agent, but few know her real title—Assassin.

Trained by one of the best black operatives in the world, she wants nothing more than to add him to the long list of people she has sent straight to hell. But she doesn't dare get close to him ever again. If she did, she couldn't be sure her body wouldn't betray her once more and wind up in bed with him. But with her cover blown, she may not have a choice.

Who is he? He's a ghost. A man with one name—Carter.

**Contains elements of the BDSM lifestyle.

◆Best reading order of the Trident Security series and its spinoff series◆
TS - original series
TSO - Trident Security Omega Team
DoTC - Doms of The Covenant
DMS - Deimos
BHS - Blackhawk Security

★TS Book 1 - Leather & Lace (Devon & Kristen)
★TS Book 2 - His Angel (Ian & Angie)
★TS Book 3 - Waiting For Him (Boomer & Kat)
★TS Book 4 - Not Negotiable: A Novella (Parker & Shelby)
★TS Book 5 - Topping the Alpha (Jake & Nick)
★TS Book 6 - Watching From the Shadows (Marco & Harper)
★TS Book 7 - Whiskey Tribute: A Novella (Curt & Dana)
★TS Book 8 - Tickle His Fancy (Brody & Fancy)
★No Way In Hell: Books 1 & 2 - A crossover between the Trident Security and Steel Corps series (by J.B. Havens)
★TS Book 9 - Absolving His Sins (Carter & Jordyn)
★DoTC Book 1 - Double Down & Dirty (Gray, Remi, & Abbie)
★TS Book 10 - Option Number Three (Mitch, Tyler & Tori)|
★TSO Prequel - Mountain of Evil
★TSO Book 1 - A Dead Man's Pulse (Logan & Dakota)
★TSBook 11 - Salvaging His Soul (Jase & Brie)
★DMS Book 1 - Handling Haven (Frisco & Haven)
★DoTC Book 2 - Entertaining Distraction (Mike & Charlotte)
★DMS Book 2 - Cheating the Devil (Brad & Avery)
★BHS Book 1 - Tuff Enough (Tuff & Concetta)
★Trident Security Field Manual
★TSO Book 2 - Forty Days & One Knight (Darius & Tahira)
★TS Book 12 - Torn in Half
★DoTC Book 3 - Knot a Chance (Stefan & Cassandra)
★BHS Book 2 - Blood Bound (Chase & Rylie)

**The books of the Trident Security series and its spinoffs can be read as standalones, however, for optimum enjoyment they are best read in order.
Release date: December 7, 2016
Publisher: Suspenseful Seduction Publishing
Print pages: 336
* BingeBooks earns revenue from qualifying purchases as an Amazon Associate as well as from other retail partners.
Listen to a sample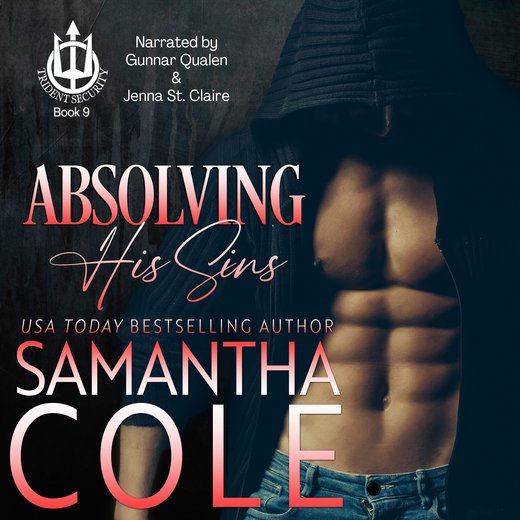 07:52:43
216.4 MB
9781664915299
December 2, 2020
Suspenseful Seduction Publishing