The Brightest Star
Available in:
eBook
Paperback
Audiobook
Hardcover
Book info
Sample
Audiobook
Media
Author updates
Lists
Synopsis
A special treat to warm your heart, just in time for the holidays—a sparkling
new novel from New York Times bestselling author Fern Michaels. …

Christmas is more than just a celebration for Lauren Montgomery. For
generations, it's been her family's livelihood. Their Christmas shop, Razzle Dazzle
Décor, has seen seasonal fads come and go, but there's one trend they can't escape.
Online superstores are swallowing their sales, and this Christmas season will need to
be their best ever if the store is to stay in business.

To help keep the shop afloat, Lauren also has a sideline, writing biographies
for business figures. She's thrilled when her literary agent contacts her with a new
proposal and quickly agrees to the terms—before learning that the subject will be
none other than John Gerald Giompalo. He's the titan behind Globalgoods.com,
the online retailer that has spelled doom for hundreds of small businesses just like
Razzle Dazzle Décor. Despite her misgivings, Lauren travels to Seattle to confer with
the mogul, and is caught off guard when his son, John Jr., attends the meeting too.
Handsome, intelligent, and deeply kind, he's perfect—apart from the fact that he'll
soon be CEO of the company threatening everything Lauren loves.

As her deadline, and Christmas, draw closer, Lauren knows that there's more
than her family's shop at stake. Her heart is, too. But there's no better time than the
holidays to make a secret wish on the brightest star you see—and let the season's
magic take hold …
Release date: September 29, 2020
Publisher: Kensington Books
Print pages: 368
* BingeBooks earns revenue from qualifying purchases as an Amazon Associate as well as from other retail partners.
Listen to a sample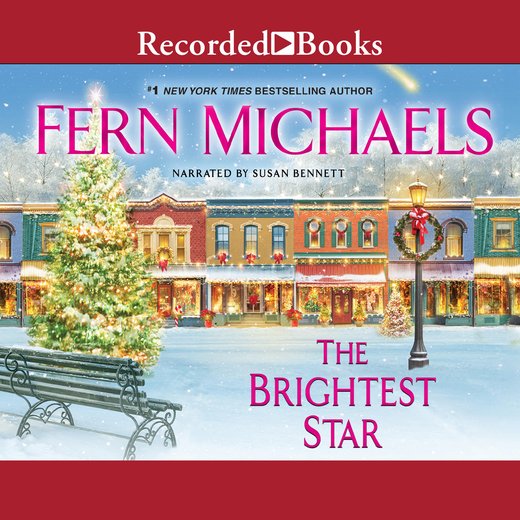 07:41:15
211.16 MB
September 29, 2020
Recorded Books
2020
The Brightest Star
Fern Michaels
Black Friday, 2019

Lauren Montgomery's eyes blurred as she viewed the day's final sales figures. Try as she might, there was no way she could deny the results. She'd added, subtracted, and multiplied the numbers a dozen different ways and could come to no other conclusion: this was it. If sales didn't improve in December, there would be no choice. Razzle Dazzle Décor would have to file for bankruptcy.

Razzle Dazzle Décor had first opened its doors way back in 1935 when her great-grandfather, Alfred Montgomery, was a mere twenty-two years old. At the time, it was called the Montgomery General Store. Centrally located on the main street of Fallen Springs, North Carolina, West King Street, MGS, as it had been called by the locals, started out as just what its name implied. It generally supplied a little bit of this, a little bit of that, and everything in between. From potbellied stoves to Big Chief tablets, as her father and grandfather used to say. Anything one would have generally needed to run a household at the time.

During the sixties, as big-box stores started to fulfill shoppers' every need, the prospects for basic general stores essentially disappeared. So her grandfather, Alfred Montgomery Jr., decided to shift focus and begin to sell holiday décor, which led to an abundance of Christmas decorations that "sold like hotcakes." As the years passed, holiday items comprised most of their inventory, hence the name change to Razzle Dazzle Décor.

Lauren could hear her grandfather and father saying, "I'm razzled and dazzled every time I walk through these doors." Both were still alive but no longer active in the day-to-day operations of the store. Her grandfather was now living in a fancy-dancy assisted-living facility, and her father had been diagnosed with a severe form of crippling arthritis at age fifty-eight. The past three years had taken its toll on both her father and her mother, who was her husband's constant caregiver. Lauren didn't know how her mother managed, but she knew that something had to change, and soon, or her parents' source of income would dry up. She felt sure that they had some sort of retirement plan. What she did not know is whether or not that plan included the loss of income from Razzle Dazzle. She needed to know the specifics of their personal finances but dreaded telling them why she needed to know. Maybe she could find a way around the problem with the store.

One last time, she went over what should have been record sales for the day, since it was, after all, Black Friday, and again, the numbers just didn't come close to where they should have been. Disgusted, she tossed the calculator aside and looked at her watch, a Rolex given to her by her father when she'd sold her first biography. It was almost midnight, and her parents would be asleep when she got home.

She had been thirty-two when she moved from Florida back to Fallen Springs after her father was diagnosed with severe rheumatoid arthritis. It had never been in her life plan to return to Fallen Springs, but family was more important than living in her beachside condo. She sold her place quickly, making an indecent profit, which allowed her to give up her work as a biographer and run the family store. She had written four biographies of giants in the business world, all of which had been best sellers, something she was quite proud of.

It had been over three years since she'd done any writing at all because everything that running the store entailed required her full attention. Perhaps she could have made time for another book if a publisher had asked her to write one, but no one had come begging for another, so Lauren worked from sunrise to sunset to keep her family's retail legacy alive.

And I am doing a crappy job, she thought. A few locals had come in to browse, but the resulting sales came nowhere near the amount needed to remain solvent. They'd sold four wreaths she'd taken on consignment from her mother's craft group. Most of that money went back to the crafters. Other than that, she had sold one artificial tree and a few boxes of handblown ornaments, to make her Black Friday truly a dark day.

Lauren turned the store lights off with the remote on her desk that had been included when she'd purchased them during an after-Christmas sale last year at one of the big-box stores in Asheville, then did a quick walk through the aisles in order to tidy up. Red, green, and white twinkle lights framed the storefront window, where an artfully arranged pile of decorated boxes lay just so around the faux-fir tree, which had ornaments from the store tucked neatly inside and around the branches, the price tags discreetly hidden. The uniqueness of their stock should have brought shoppers from across the state, as it had done in the past, but, sadly, that pipe dream fizzled out as fast as the gas logs in the fake fireplace, where handmade red-and-gold stockings, again from her mother's crafting group, hung from the mantel. If she were a stranger and happened upon a store as Christmassy as this, she would've spent a good portion of today perusing the shelves, but she'd grown up with beautiful, unique items such as these, and it was all in a day's work to her and her parents.

She often wondered if her choice of colleges had something to do with the fact that Florida just didn't seem like a place where one would surround oneself with Christmas things. She'd been wrong on that front, too. Floridians took advantage of the warm weather and overdecorated their front yards and lanais. Hot-pink flamingos wearing red Santa hats were seen on lawns, and sometimes even on rooftops. Santa's sleigh was pulled by seahorses, dolphins, and, now and then, gators, in honor, she supposed, of her alma mater. Sand replaced snow. In Florida, hot toddies were replaced by frozen margaritas, totally the opposite of what she'd been used to. Her college choice had been so long ago, she truly didn't remember when the idea to attend the University of Florida had hit her. Lauren had always returned to Fallen Springs for the Thanksgiving and Christmas holidays, and a few other times throughout the year.

When she returned to her birthplace, she'd adapted as well as any grown woman could have, and so far, she had no regrets.

Until today.

She'd been sliding through the days, weeks, and months as though there would be plenty of time to think about the store's finances, and now, here she was. It was the busiest shopping day of the year, and all she had were a few sales from locals who had yet to buy into the online-shopping craze.

And that was the problem. She'd realized it long before her return to Fallen Springs. Brick-and-mortar stores are in a race for survival, she'd explained to her father and grandfather. They needed to step up their game if they were to survive. Open up an online version of Razzle Dazzle Décor. Or at least join a website where people from across the globe would be able to purchase what they had for sale.

Again and again, her father wouldn't hear of it. He gave her his usual spiel about the business, how it had been handed down from one generation to the next. It had provided for many and would continue to do so. "End of story," he always added.

Not just story, she thought. End of business.

She left through the back door, locking up behind her, then rummaged through her purse for her car keys. She unlocked the door with the key fob and slid behind the wheel of her ten-year-old Honda. Turning the key in the ignition, she almost cried when all she heard was a clicking sound.

"Damn," she said loudly. "This car needs a tune-up, and I can't . . ."

Even run the family business properly.

Those were her thoughts as she pulled the latch on the hood. She left her purse on the passenger seat, then raised the hood, using the metal rod to ensure it stayed up.

She tugged on the battery cables, but they seemed okay. She used the light on her outdated iPhone to see if there was anything loose or out of place. "Like I would know if there were."

No way was she calling her mother at this hour of night. Fallen Springs' closest garage, Jimmy's, had closed hours ago, and besides, even if they were open, they wouldn't be able to do anything until tomorrow, maybe not even then. It was a holiday weekend, and most normal people were snuggled in bed beneath a warm blanket after a day of shopping online in the comfort of their own homes. Which is precisely where she would be, if given the choice. Sighing, she knew she didn't have the luxury of a choice at that moment. Her only option was to go back inside the store and spend the rest of her night on the sagging sofa in the office.

She shivered as she reentered the store, having lowered the thermostat to sixty-three degrees in order to save on the heating bill. But tonight she'd make an exception. She bumped the temperature up to sixty-eight, then found the pillow and blanket she stored in the office for times such as this. She hadn't spent too many nights in the store, but there had been times when it was necessary. Stock orders that needed to be organized, displays that required her full attention, no customers, things of that nature. A broken-down vehicle was a first.

The forecasters were predicting an extremely cold winter this year, and so far they'd been spot-on. It was in the low thirties, and she felt chilled to the bone. She made up the sofa, took off her shoes, and tried to get comfortable. She was bone-weary tired. She had arrived at 4:00 A.M. to make sure everything was ready for what was supposed to be one of the busiest days of the year. She had opened the doors at 6:00, preparing for the early shoppers to arrive, despite the fact that no one was lined up at the entrance, as she'd hoped.

As she lay there with nothing but her thoughts to occupy her, she thought about her father and his illness. He remained in such high spirits and always had a positive attitude, and she knew that she had to do whatever it took to keep the store open. If that meant delving into her own funds, then so be it. She didn't have the heart to deliver the news to her parents, especially at the beginning of the holiday season. She would call her financial adviser Monday morning. Lauren knew he would advise against this, but she didn't care. It had to be done. Family was such an integral part of her life. Even though she'd been an only child, she hadn't been spoiled. Lauren had worked for her family since the seventh grade and had started saving her pennies even then. The Montgomerys were a tight-knit bunch, and that meant a lot to her.

After punching the pillow numerous times in order to get comfortable, she finally gave up and decided to make a cup of tea. She took a bottle of water from the refrigerator, poured it into the all-glass teakettle she kept at the store, zapped it in the microwave, and ten minutes later sipped her favorite chamomile tea. It was just after two. She wasn't going to sleep, no matter how tired she was, so she let her thoughts drift where they might.

Until shortly before returning to Fallen Springs three years ago, Lauren had been in a very serious relationship with Eric Porter, her polar opposite. He came from a large family, had relatives spread throughout the States and abroad, and cared little for his siblings or his parents. While Lauren hadn't liked this aspect of his personality, she'd accepted it as his history. She'd never met his parents, and maybe Eric had had good reasons for his feelings. The few times she'd brought up the subject, he'd become angry, so she would let the topic rest, giving him the benefit of the doubt. They had been an item for almost three years when she started to realize that the parts of his personality that had amused her during the early stages of their relationship had begun to turn her off completely. Soon, they began to spend less time together, and when they did, she realized she couldn't wait to get back to her condo and her life.

He was a bit arrogant, too. She came to realize all of this as their relationship faded. He'd always questioned her about her finances, and that was just one more thing to add to her ever-growing list of discontents. When seeing him became a chore, she broke it off and felt as though she was free to live life on her own terms again.

It was soon after this that her mother made the fateful telephone call asking her to return to Fallen Springs. Lauren was devastated by her father's diagnosis and immediately prepared for the changes it would bring.

At first, she didn't see her father's illness as debilitating. He was able to continue with his normal routine but tired easily. She had thought her mother might have exaggerated the extent of his disability until she saw firsthand how debilitating his condition was.

When he became unable to walk, her mother had called the ambulance, and he'd been admitted to the hospital for infusions that seemed to help for a few weeks. After several episodes, he became even weaker, and Lauren realized that her mother truly needed her. She was thankful she'd had the freedom and the financial wherewithal to help her parents when they had needed her most.

At 5:00, she finally fell into a fitful sleep, only to be awakened by the business phone.

"Hello," she said groggily.

"Lauren, why are you still at the store? I've been worried to death," her mother asked.

"Mom, I'm sorry. My car wouldn't start. I didn't want to wake you. I'm okay."

"Well, thank goodness. I was about to send the police to the store."

Lauren smiled, knowing her mother would have done just that.

"Go back to bed. I'll have my car towed to Jimmy's tomorrow, today." It was already tomorrow, she realized. "I think it's just a wire or something." She had no clue, but she knew her mother was a worrier in every sense of the word.

"I can have Maggie bring you a change of clothes and a hot breakfast," her mother offered. Maggie had been her mother's best friend since first grade. She was like family.

"No, I'm fine, really. I'll wash up here and send out for something later."

"If you're sure?"

"I am. Everything okay with Dad?" she asked.

"He's in bed. I didn't want to wake him, but for the most part, he's had a decent day. This cold weather isn't ideal, but we'll get used to it."

"Then I'll catch up with you later. Try to rest, and if I need a ride home this evening, I'll call Maggie." She didn't want her mother anywhere near the store at the moment. All the extra stock she'd ordered in anticipation of Black Friday remained on the shelves throughout the store. Her mother knew the store's inventory as well as she did and would see that sales hadn't even been close to what they'd been in previous years.

"All right, Lauren, but you make sure and get a hot breakfast. I can call Ruby's Diner."

Knowing her mother meant well, she patiently said, "I'm really not hungry. I've munched on cookies all night, but thanks. I'll get something later, I promise." She would, too. It might only be a cup of coffee, but she was always true to her word.

"Then I'll talk to you later, dear. Don't be afraid to call me. I'm awake most nights anyway," her mother added.

Lauren's heart broke for her. She and her father were both young and vibrant, at least he had been. Her mother had retired from teaching elementary school when she'd turned fifty and spent her time at the store and involved herself in so many activities that Lauren would get exhausted just hearing all that she had on her calendar. Crafts, her passion; the church choir; tutoring the occasional student. And now, her days were spent caring for Lauren's dad. Her father would have done the same for her mother had the situation been reversed. They loved one another, and the more time she spent with them as an adult, the more Lauren realized that their relationship was truly quite rare. The total devotion, understanding, and commitment they shared was an example of true love. She thought of her relationship with Eric, which, in her own words, had turned out to be a real dud. Grateful she'd had the sense to get out of that relationship, she had long ago decided that she would not settle for just any guy. At thirty-five, she'd started to think about her biological clock. She had always wanted a family, maybe two or three children, and still did. Time moved quickly the older she got, and she knew she had a limited amount of it in which to fulfill her goal. But if she didn't, that would be okay. She wasn't going to settle just because she had a vision of what she'd planned. Maybe she'd stay single, footloose, and fancy-free. She'd had several casual dates with Brent Ludmore, the local sheriff, but she'd known him since she was four and couldn't imagine him as a life partner. Nope, she would wait until the right man came along, and if not, then so be it. It wasn't as though Fallen Springs had an endless supply of eligible bachelors. She'd thought about checking out the online dating sites but had never had the time to devote to searching for a date as she only had access to the Internet at the local coffee shop, the Daily Grind, or at the pharmacy next door.

You do now, the voice in her head reminded her.

"What the heck," she said as she booted up the computer, her personal laptop, which was used exclusively for her writing. Right, she thought as she waited for the Internet browser to load. The pharmacy's owner, Wilbur Davis, was her father's best friend. He'd given her his Wi-Fi information for when she needed to use the Internet; he too knew how much her father refused to even take a peep into the twenty-first century. After she logged on, she searched the most popular dating sights, skimmed through the requirements, and decided this wasn't for her, at least not yet. She viewed a few bios that were interesting but not so much that they took her mind off her current situation. She logged off and sighed.

Something had to give, and right now, the only giving "thing" was her. Deciding this was the best move for now, she set the alarm on her phone with a reminder to call Roger Riedel at Sun State Bank and Investments in Florida. She needed to find a good firm locally, or at least in Asheville, but keeping her current financial adviser worked for now. Making that change was just one more decision she continued to put off.

It was 6:00 A.M., and she needed a jolt of caffeine if she was to get through the day. Normally, the store closed in the early afternoon on Saturdays. She'd made the decision to stay open both Saturday and Sunday on the holiday weekend, in spite of her parents' objections. Sunday, they reminded her, was a day of rest, a time to spend with family, go to church, renew and rejoice. Normally, Lauren agreed with that philosophy, but again, desperate times called for desperate measures, and though she hoped that her parents would remain unaware of the state Razzle Dazzle's finances were in, she convinced them this was a chance to draw in new customers who might have made the trek to Asheville to visit the grand Biltmore Estate. During the holidays, it was a place to be seen by all—at least that's what most Carolinians believed.

She smiled, remembering her very first trip. It had seemed so huge, a castle unlike anything she'd imagined, and it was, but now that she knew its history, she put all things Biltmore into perspective. It was a must-see, she would never deny that. But the idea of it generating overflow traffic to Razzle Dazzle was nothing more than a pipe dream. Besides, it was at least a two-hour drive away, and that was during good weather and light traffic. Somehow, she'd made it seem like a real possibility, and her mom and dad acquiesced.

She would open the doors promptly at 7:00, just as planned, so she needed to freshen up and prepare for whatever the day might bring.

She washed her face and brushed her teeth in the small private bathroom in the office. She brushed her long blond h. . .
We hope you are enjoying the book so far. To continue reading...
The Brightest Star
Fern Michaels
Copyright © 2023 All Rights Reserved