Book info
Sample
Audiobook
Media
Author updates
Lists
Synopsis
The Sisterhood: a group of women from all walks of life bound by friendship and years of adventure. Armed with vast resources, top-notch expertise, and a loyal network of allies around the globe, the Sisterhood will not rest until every wrong is made right.
In the course of both their official careers and their top-secret missions, the Sisterhood—and their menfolk—have acquired enemies. Myra has been feeling uneasy of late, and her fears are justified when her adopted daughter, Nikki, is
seriously injured. With Nikki in a coma, and signs that the organization's online security has been breached, the women of the Sisterhood are more vulnerable than they've ever been.
On their trail is a vicious felon with scores to settle and a network of accomplices willing to do his bidding, for a price. He's set his sights on vengeance, and the attack on Nikki is just the beginning. Though frantic with worry about her
daughter, Myra and her beloved Charles know it's time to summon the others and figure out how to take the fight to the enemy's door. Because no one targets one of their own and gets away with it …
Release date: December 27, 2022
Publisher: Zebra Books
Print pages: 368
* BingeBooks earns revenue from qualifying purchases as an Amazon Associate as well as from other retail partners.
Listen to a sample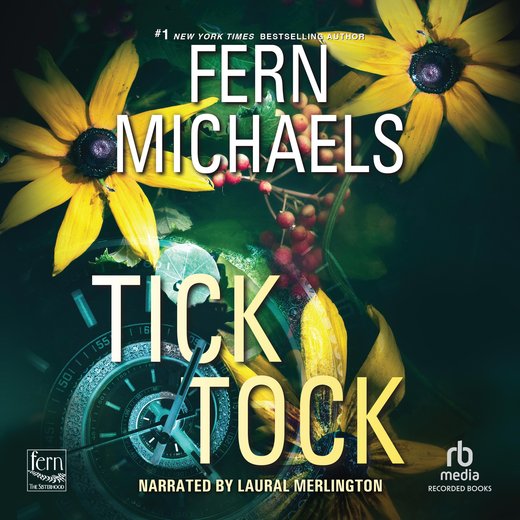 09:09:06
251.37 MB
December 27, 2022
Recorded Books
2022
Tick Tock
Fern Michaels
Pinewood

It had been ages since Myra, Charles, Nikki, and Jack had dinner without the rest of the sisters. Annie and Fergus were visiting friends in Bar Harbor and wouldn't be back for a week. At first, Myra thought she might have separation anxiety. She and Annie were hardly ever apart. But Myra also welcomed the quiet time she would have with Charles. No other couple had their kind of unique relationship. It was truly unconditional love. Love, passion, understanding, support. Myra appreciated the way Charles always had her back. Regardless. Regardless of how mad and outrageous a mission was, Charles was always at the ready to do whatever it took to get the job done. And because of everyone's devotion to one another and the cause, "Whatever it takes" became the slogan of the group.

The group. An avenging selection of women who were cheated justice. Several years earlier, Myra's daughter was killed by a motorist as she was crossing the street. Myra's unborn grandchild was also lost. But the driver had diplomatic immunity and was secreted away and never brought to justice. For months, Myra anguished over the loss of her daughter and grandchild until she spotted a newscast about a woman who was another victim of injustice. That's when Myra decided it was time someone took matters into their own hands. With the aid of her confidant and lover, Charles; her best friend, Annie; and all their connections—both legal and behind the scenes—the Sisterhood was formed. Each woman brought her own unique skill to the group. When an injustice was at hand, so were the women of the Sisterhood, who stopped at nothing—apart from murder—to avenge the sins perpetrated on innocent people. Though murder was never their goal, by the time the Sisterhood finished their mission, the perpetrators just might wish they were dead.

But tonight was going to be a quiet evening filled with several of Charles's culinary creations.

Myra's adopted daughter Nikki had just finished a big case with her law firm, and Jack rested the prosecution's case in a different legal matter. Between their two schedules, they rarely had time to eat, let alone have a real meal with family.

Myra had been looking forward to this evening for weeks, needling Charles about the menu. His signature dish was a crown roast with popovers, but Myra knew one should never use the American vernacular of Yorkshire pudding in front of him. Not if you wanted a taste of one. But Charles had other menu ideas. He wanted to try something new.

"It just better be delicious." Myra playfully tapped her finger on Charles's collarbone. He immediately took her hand into his and kissed it. Myra pulled it away and gave him a playful pinch on the cheek.

"My love. Would I offer anything less than scrumptious?" Charles replied in his British accent, which occasionally morphed from traditional Cockney to West Midlands to RP, which is what one commonly heard on the BBC. Charles's background was a bit hazy. He was retired from MI6, but no one knew exactly why he could no longer enter the UK without stirring up the local authorities. Now he served the Sisterhood with his contacts, networks, and expertise. Even though he was no longer welcome in his homeland, his former colleagues and allies were always willing to assist when requested.

"I don't suppose you're going to tell me what you're planning?" Myra gave him a sideways look as she stroked her pearls, a habit she had developed several years ago.

Charles gently moved her hand away from her neck. "What are you fretting about?"

"Fretting? Nothing." Myra was aware her "tell" was showing.

"You can't play that game with me." Charles put his hands on each of her shoulders. His eyes locked with hers. There was nowhere for her to go.

Myra sighed. "I can't say."

"Can't or won't?" Charles pressed.

"More can't." Her brow furrowed.

Charles peered closer. "Tell me you are not having one of those 'gut feelings.'"

"That's the problem, Charles. Something isn't sitting right with me. I can't explain it."

"You usually can't. But within time, whatever it is comes to the surface." Charles kissed her on the forehead.

"I suppose you're right. But I hate when this happens. It feels so uncomfortable," Myra said, pouting.

"Perhaps it's because it's been several months since you and the Sisters were on a mission. It fuels you. The adrenaline takes over. And when the mission is over, you deflate like an old mylar balloon that's run out of air."

"Old balloon?" Myra jerked her head back.

Charles knew he had unintentionally hit a sore spot. "Oh, love, I don't mean you're an old balloon. What I meant was . . . oh, bugger that." He put his arms around her and started humming a few lines from one of her favorite love songs, "All the Way."

"You are no Frank Sinatra, buster." Myra snickered as she swayed back and forth in his arms.

"Okay, lovie, leave me to my work." Charles gave her a peck on the cheek. "The dough for the ravioli is getting hard."

"Is that a euphemism?" Myra snorted.

Charles let out a howl. "My, aren't you the cheeky one?"

Myra gave him a sly grin and winked before she turned and retreated into the atrium.

Charles went back to preparing his homemade ravioli, rolling the dough into long sheets. He took small scoops of a mixture of porcini mushrooms, mozzarella, and ricotta, placing them on the rows of dough, then topped it with another sheet of pasta. He pulled out a pasta wheel and rolled out a few dozen square shapes. Most people were accustomed to round ravioli. "But this is the traditional way," he would explain to confused onlookers. Once cooked, the ravioli would be finished with a sauce made of butter and sage, sprinkled with truffles. That was the first course. Next up would be a salad with arugula, radicchio, and fennel, drizzled with a light lemon vinaigrette. After the salad, Charles planned for osso buco as the main course, accompanied by French green beans and polenta. He knew he'd get a little grief about all the carbs, but it was a must. The sauce from the veal shanks deserved something to soak in. He thought about dessert, but knew he'd get grief about that, as well, so he opted for fresh raspberry sorbet. Normally it was served between courses, but it would have to suffice for after dinner.

About an hour later, Myra walked back into the kitchen. The aromas were beckoning. "Oh, Charles, you have outdone yourself. Again. I know I say that every time you cook a meal like this. Nikki and Jack will be salivating as soon as they walk in the door." She came up behind him and put her arms around his waist. "May I kiss the chef?"

Charles stiffened. "Not now, dear. I have my hands full."

Myra took a step back. "What did you say?" Never in their history together had he denied her a kiss.

He turned quickly and said, "My hands are full. Of you!" He dipped her backwards, like the famous photo of the sailor kissing the nurse in Times Square, and planted a big wet one on her lips.

"Unhand me, you brute!" Myra pretended to fight him off.

"Never." Charles gently tipped her upright and patted her on the fanny. "Now please, let me get back to my work. Unless you want to be part of the cleanup crew."

Myra sighed. "Where is Fergus when you need him?"

"Sailing on Frenchman Bay, I suppose," Charles answered.

Myra grunted. "I miss them."

"Love, they've only been gone for two days."

"I know. You're right. I'm being silly. But it's that strange feeling I'm having. Something foreboding." Myra reached once more for her pearls.

"Remember that expression: Worry is like paying a debt you don't owe."

"I do, but it's still difficult wrapping my head around."

Charles smiled. "You're thinking about something that does not exist."

"Not yet, anyway," Myra replied in a stubborn tone.

Los Angeles

Eric Barnett had it all. At least that was the impression of anyone who met him. Head of a hedge fund with a large double-digit-million-dollar income—in a bad year—with a former supermodel wife, a 10,000-square-foot house in Calabasas, a beach house in Malibu, a Tesla (so everyone would think he's cool) and an Aston Martin (so everyone knew he was rich).

Even though he wasn't technically a Wolf of Wall Street, the financial moguls were a different breed, regardless of where they lived. It didn't matter how much money or things you had. You had to have more. More than anyone in your circle of friends. And neither he nor his peers took the time to enjoy the riches they had. They were obsessed with more. More of everything. More expensive watches. More expensive cars. More expensive vacations. And when the circle of friends became lower than your pay grade, you moved up to the next circle of social inequality. It was excess within excess.

Los Angeles was the perfect setting for such conspicuous consumption. It bordered on obscene, which made his job as a hedge fund manager easy. Just the idea of being accepted into a hedge fund was something to brag about. But the hedge fund business was exactly that—hedging that the person you entrusted with your savings was going to invest the money in something that would yield a big return.

There were two caveats to participate. First, the investor's net worth had to exceed one million dollars or be part of an institutional investor. The second was that it was very risky. Hedge funds were managed by an individual or small group of individuals who invested the money in stocks, bonds, and securities, with a higher chance of reward. Eric preferred the individual investor. Those were the people who wanted to get richer fast. There weren't as many questions to answer. More often than not, they didn't succeed to the extent of the pitch they were given about high yields. Yet every day, Eric found someone who wanted in.

Unfortunately for Eric, the money train jumped the rails when it was discovered he had misrepresented details about a company. He gained over 100 million dollars from 800 investors, but he also landed in a federal penitentiary and owed 250,000 dollars in fines. At least they didn't get him on wire fraud. He was careful about that. It was all checks or cash. No online exchange of funds from his clients. None of them protested. Lucky for him, his fines did not outweigh his profits, and he was able to stash away a few cool million before his stint at the Gray Bar Hotel. He hoped he would get released early for good behavior. Besides, he hadn't killed anybody. No, he simply stripped innocent people of their life savings. It was their fault. They knew it was a risk. At least that's how he justified it to himself. As expected, he served just five years of his sentence, and learned a lot more about computer technology while serving time.

After his arrest, they raided his bank accounts, where very little was left. They confiscated all of his personal possessions, sold them off, and portioned the proceeds out among his victims. No one, including his now exwife, knew he had carefully squirreled away five million dollars in an offshore account. The only problem was getting to the money after his release. He knew the feds were watching him, so he had to find a patsy he could trust to fetch the funds. Of course, the flunky wouldn't physically handle the money. They would bring the proper paperwork to the bank and have it diverted into another account.

Eric had found the perfect stooge, a man who had been busted for falsifying information on a background check for firearms. As if no one was going to notice. Leroy Crenshaw. Such an idiot.

Nikki and Jack

It seemed like it had been months since the two of them spent the evening together. In the beginning of their relationship, Jack suspected something was awry with Nikki and her group of friends. There were too many coincidences pointing the finger of vigilante justice toward Nikki's stepmother and her best friend, Anna Ryland de Silva. As a federal prosecutor, Jack faced a serious dilemma, but his love for Nikki had outweighed the consequences of his job. Now, as a freelance attorney, he had no one looking over his shoulder. Or so he thought.

There was a time during one of the Sisterhood's crusades when the women were caught. Thanks to the whip-smart legal mind of Lizzie Fox Cricket, a compelling argument was made, and the women were released and put under house arrest. Then, with the guile and guts of the Sisterhood, they managed to unshackle themselves by putting the ankle monitors on barn cats.

Once Jack realized what the women were doing, he founded a like-minded group of men who worked under the same directive to see that justice was served. It was often a slippery slope, but Jack's conscience had always been his guide. Some laws just weren't fair, and sometimes, the system failed.

Jack was sitting on a bench in the master bedroom, pulling on his socks, when Nikki walked in. He blinked several times.

"What?" Nikki asked innocently.

"You." Jack smiled. "You are as beautiful as ever."

Nikki made her way over to the bench and sat next to him. "Thank you, Mr. Emery." She rested her head on his shoulder. "As much as I want to see Mom and Charles, I wouldn't mind if you and I had a quiet dinner alone one of these days."

Jack stood and walked over to a chair, where his blazer was draped. He pulled an envelope out of the inner pocket. "You and I are going away for a long weekend in Irvington."

"But my work!" Nikki immediately protested.

"Ha. I spoke to Alexis. She said the caseload is light right now." Nikki tried to interrupt, but Jack kept talking. "And I spoke to Lizzie. She said if anything comes up that your firm can't handle, she'll step in. Besides, we'll only be gone for four days. Not much can happen in four days." Jack rested his case.

Nikki sighed. "You are too good to me." She got up and slipped on her shoes. "Ready?"

"I am. It's going to be good to see Myra and Charles. I'm looking forward to discovering what he's cooking for dinner."

"Oh, so am I." Nikki cocked her head. "Let's go."

They hopped in their golf cart, which served as their local mode of transportation from their house to Myra and Charles's. They could have walked, but Nikki always got a kick out of zipping across the farm, laughing as they bounced along their way.

Virginia

Leroy Crenshaw kept looking at the burner phone, waiting for it to ring. He never had much patience. He was already spending the money in his head. First, he'd buy himself a new Winnebago motor home. Maybe not brand new, but it would be new to him. Then he'd take it up to Pennsylvania, where his cousins lived. He was sick and tired of hearing them brag about all the fine vacations they took. Show-offs. He could spit bile every time he spoke to them. But soon, he was going to show them who had the bucks. Maybe he'd even get himself a gold tooth—even if he didn't need it. He just liked the way it looked. Yeah. He had big plans.

He remembered back when he went on a road trip with George and ended up in the hoosegow. Dang that George. George thought there might be money hidden in some furniture he had moved from an estate. According to George, a couple of people were looking for it, so it had to be valuable. Turned into an all-night drive to some hoity-toity art place in North Carolina. When they got there, they parked in the back of the parking lot, waiting for an opportunity to sneak inside by the end of the day. Leroy also remembered he got some kind of stomach disruption—probably from all the fried chicken he ate on the trip. After that episode, he could never look at a piece of chicken again. But he did miss it in his mind. Even though the smell would make him gag.

But that was long behind him. As stupid as that trip had been, he knew he had done himself one better. He shook his head, continuing to remember that night and what followed.

He and George both got six months in jail for breaking and entering. They were lucky no assault charges were filed, even if they were on the receiving end of a fire extinguisher that some nutty hippie chick used to keep them at bay. After they were released from jail, Leroy got himself another idea. In his mind, it was almost foolproof. He was going to rob a liquor store with another one of his buddies.

The plan was to target a liquor store on the edge of town. That way, they'd have enough time to get away before any cops arrived. Being a regular himself, Leroy knew the flow of customers. He would wear a ski mask, like they did on all the TV shows. Get some camouflage duds and walk with a limp. He saw that on one of those true-crime shows, too. He figured his disguise and wobbly walk would do the trick. Part of the scheme was to leave one of their vehicles a few miles down the road from the store. Then they would steal a car from one of the dealerships right after they closed and head to the liquor store. Leroy knew every inch of his hokey town and the dimwitted people who lived there. He fancied himself smarter than the rest of his chums, thinking he was a few IQ points higher than the average person. Sadly, the average people he knew weren't all that bright, either. Thus, the second big mistake came when he had to figure out how to get a gun. With his criminal record, it would take a bit of lying, an area where he showed a modicum of talent. But not enough.

Again, sadly for Leroy, his higher-than-average IQ was still a few digits short. He didn't want to buy a gun on the black market. Too expensive and too dangerous. He figured he could fake parts of the application to get a firearm. Nobody checked. Or so he thought. Two weeks later, he was back in jail, then on trial, and subsequently convicted. He spent three years in a federal penitentiary for being a dumbass. He actually thought it was a lucky break. He could have been locked up for armed robbery had his foolish plan gone through. He could have been in the slammer for fifteen years. Life's little blessings.

According to Leroy's way of thinking, it really had been a blessing in disguise. Prison was where he'd met the slick talker who was serving time for some kind of money fraud. He told Leroy that when they got out, he had a plan to get some money. Enough money so that neither of them would have to work again. All Leroy had to do was get on a plane, go to a bank, give them some papers, and come back. Then he would get a cut of the dough. Leroy never bothered to ask what that amount was. He just figured it was a lot. He continued to pace, waiting for the phone to ring. Dreaming about all the places he'd visit, traveling the highways and byways of this grand country. Yessiree. It was his time to get in on the good life.

Pinewood

Nikki was howling with laughter as she tried to hang onto the golf cart with one hand and steady the huge bouquet of white peonies on her lap with the other. Jack made a quick turn at the back door of Myra's farmhouse, kicking up rocks in their wake.

"I forgot how much fun this is!" Nikki gasped for breath. "We have had our noses to the grindstone for too long, Jack. We should try to ratchet it down a bit, don't ya think?"

Jack came around to her side of the cart and held out his hand. Nikki passed him the flowers and grabbed his other hand, hoisting herself down from the cart. Jack put his arm around her and kissed her on the cheek. "Do you know how happy it makes me to hear you laugh?"

"Yes, but tell me again." She smiled up at his handsome face.

"I love your laugh. And you need to do more of it." He opened the back door to the house that led to a small entry area. One part led to the kitchen. The other was a stone staircase that led to the Sisterhood's area of operations. It once served as part of the Underground Railroad, and the Sisters had made good use of it over the years.

Nikki burst into the kitchen, giving Myra a huge hug. "Mom! I cannot believe we are actually doing this!" She handed Myra the bouquet.

"Yes, darlin'. It's been too long." Myra pressed her nose into the flowers. "Oh, these are lovely. Thank you." She gave Nikki another hug.

"I can't take all the credit. Jack actually picked them up." Nikki headed toward where Charles was cooking.

Jack followed, giving Myra a kiss on the way. "Hello, Myra. It's nice to be here." She returned the affectionate gesture.

Nikki was now arm in arm with Charles, peeking into the pots on the stove. "Everything smells divine." She fanned the aromas in her direction.

"Okay, Little Miss Nosey, you go pour everyone a glass of wine and let the master work," Charles teased in his very best RP British accent.

Nikki saluted and went into the butler's pantry, where a nice white Bordeaux was chilling in a wine bucket. "Ooh . . . fancy," Nikki called over her shoulder.

Charles chuckled. "Nothing is too good for our girl."

"A-hem," Jack chimed in.

"Of course, you as well, old chap." Charles took a moment from sautéing to pat Jack on the back.

Nikki began to pour the wine into a mismatched set of glasses.

"Just one moment." Charles wiped his hands on the sop-towel that was tucked in the front of his apron pocket. "You seriously think you're going to serve such a delectable beverage in a jelly jar?" Charles folded his arms and feigned annoyance.

Nikki chuckled. "You are so right. What was I thinking? We're not generally fancy around here. But I agree. We should honor this elixir of the gods more appropriately."

"Spoken like a true orator." Jack nodded and followed Myra into the dining area, where they pulled out the special Waterford crystal goblets.

"This feels like a special occasion." Myra smiled and handed two glasses to Jack.

"Yes. It does," Jack agreed. "Nikki has been . . .
We hope you are enjoying the book so far. To continue reading...
Tick Tock
Fern Michaels
Copyright © 2023 All Rights Reserved
Also in this series
Also by this author