Book info
Sample
Audiobook
Media
Author updates
Lists
Synopsis
It's not just Santa Claus who's coming to town this Christmas … one of Hollywood's sexiest stars is too, in this sparkling holiday romance from #1 New York Times bestselling author Fern Michaels …

Emily Ammerman has always felt at home amid the ski runs and slopes of Snowdrift Summit, the Colorado resort her family has operated for decades. Snow is her element, and she doesn't hesitate when a new client asks her to train him
to ski The Plunge, one of Colorado's most treacherous runs.

But Zach Ryder is no regular client. On screen, he's famous for starring as a daring CIA officer who always saves the day. In real life, he's just as handsome and charming as his alter ego, though not everyone is impressed. Some are concerned
about what kind of impact these slick, showbiz types will have on their town.

As for Emily—she's got a secret, and it's one she can't reveal to anyone, especially not to Zach: she's his biggest fan. But she's also a professional. She'll train him till he's ready to tackle any slope, but she won't fall in love with him, the way so many others have.

Still, not everything in life can be planned, and sometimes, no matter how hard you try, you just can't help but fall …
Release date: September 27, 2022
Publisher: Kensington Books
Print pages: 368
* BingeBooks earns revenue from qualifying purchases as an Amazon Associate as well as from other retail partners.
Listen to a sample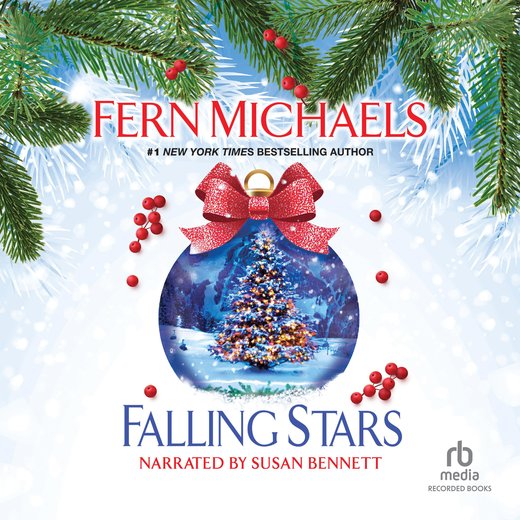 08:26:21
231.8 MB
September 27, 2022
Recorded Books
2022
Falling Stars
Fern Michaels
Emily Nicole Ammerman took her first sip of celebratory champagne in honor of tonight's big announcement. Standing at the top of the staircase, looking down at the main lodge, she observed the crowd below. People she'd known her entire life and those who were guests who'd spent many winters at her family's ski lodge, so much so they were now considered close friends of the family, were all gathered for the evening's festivities.

Though the Christmas holidays were just a few weeks away, Emily spied little touches throughout the lodge that would soon become a full-fledged, bona fide Christmas extravaganza. Candlelight glistened off the golden log walls her family had kept in top-notch condition for more than fifty years. During the holidays her mother always hired a team of local decorators to help her adorn the lodge as it took a couple of months to "do it up in style," in her mother's words. In all of Emily's twenty-nine years, at least those she remembered, her mother never repeated the decor, minus the few exceptions of sentimental bits and bobs Emily had made as a child.

November was the true start of the ski season in Snowdrift Summit, though Mother Nature sometimes surprised them with an early snowfall, forcing them to speed up preparations for those who lived for the first blast of white powder. Being one of those herself, when Emily wasn't giving ski lessons, her days on the mountain were heaven. It didn't matter that she'd skied these slopes hundreds—no, thousands—of times. Each time she took the lift to the top of the mountain, a trickle of excitement shivered down her spine.

"Nick." Her father's deep voice jolted her back to the present. He used his version of her middle name, something he only did when he truly wanted her attention.

"Hi, Dad. You're looking pretty handsome tonight," Emily said as she leaned in to give him a hug. "Looks like you and Mom invited the entire town." She nodded at the growing crowd.

"Thanks. You're as beautiful as ever, kid." He gestured at the folks below. "You know your mother. Any reason to celebrate, she's happy as a lark."

Emily raised her brow. "Yeah, I guess tonight is just like all the other parties she's thrown." She couldn't help the bit of sarcasm in her voice. Tonight only happened once in a lifetime. She downed the last bit of champagne, placing her flute on a side table. "I need to mingle," she said, repeating her mother's earlier words.

"Nick, I need to speak to you before all the hoopla gets underway," her dad said in a tone he reserved for only the utmost important conversations.

Her heart rate sped up, a knot forming in her stomach. She focused her attention on him. Was he ill? Her mother? Mimi and Papaw?

"Dad, you're scaring me. Who's sick?" she blurted out, skipping any preamble.

"There you are!" Emily's mother gushed as she reached the top of the grand staircase. "You two should be downstairs with our guests. Mason, you promised me you would pretend to like parties, just for tonight," her mother singsonged in her sweet Southern accent.

"Julia, you know I adore your parties—it's just the people who drive me bonkers," he said to her, placing an arm across her shoulder. He winked at Emily.

Emily observed her parents. Both were still young; in their late fifties, they could pass for a much younger couple. Her mother was as tiny as the day she'd met her dad, her blond hair coiled into a sleek chignon, not a gray hair in sight. Her bright blue eyes sparkled when she smiled at Dad. He towered over her at six three, a head of thick black hair, graying at the sides, his hazel eyes glistening when he looked at her mom. She adored them.

"You are such a party pooper, but I love you anyway. Now, let's see to our guests."

As her mother led Emily's father downstairs, he looked over his shoulder and mouthed the word, Later.

She nodded, unsure she wanted to know what was so important he'd sought her out to tell her privately. Tonight of all nights, couldn't it wait? Her parents' retirement party wasn't the ideal time to drop a bad-news bomb.

Taking her empty champagne flute, she whirled downstairs, pasting a smile on her face. Planning to corner her dad at the first opportunity, she spied Mimi and Papaw across the room talking with Bob and Carol Clark, their best friends. Both of her grandparents appeared to be healthy. Mimi's head was thrown back in laughter, as was her norm, her white hair recently cut into the cutest pixie style. Emily thought it suited her quite well. As small as Mom, Mimi had always reminded her of a little sprite. Papaw was tall, though not as tall as her father; his years of skiing had kept him in tiptop shape. She adored her grandparents, too. They'd bought the resort right after they married, working around the clock to make it the success it was today.

When Emily's parents married, they both had worked as hard as Mimi and Papaw, making the lodge a hot spot for locals and tourists. On the day her grandparents decided her parents had been, in their words, "well-groomed," they deeded the resort to them. Yet when needed, they were always there in a pinch. Snowdrift Summit had always been a family operation. The locals flocked to the resort in droves, and tourists from all over the world came to ski the famous slopes, in particular The Plunge.

Other than the six years spent earning her bachelor's and master's degrees at the University of Colorado, Emily had spent her entire life in Loveland, Colorado, living and working at the family resort, which she loved. For a while now, she'd had an itch, an urge to try something different. Not necessarily a new career, but maybe working at a different resort. There were several throughout the state, many of them offering more challenging runs than Snowdrift Summit's. The exception was The Plunge, a massive drop-off on a snow-covered cleft in the rock face where skiers could free fall for almost thirty feet. Then, if you managed to stick the landing on the fifty-degree slope, you had to throw all your weight forward as fast as humanly possible to avoid smashing into the ancient Precambrian rock. From there, The Plunge's upside-down funnel shape opened into an extremely powdery run, challenging even the most expert skiers.

With her experience, Emily knew she could have her pick of jobs at any of the top resorts, though telling this to her family wasn't going to be easy, especially because she knew her parents would be retiring soon. They had fantastic employees—three managers who knew the ropes and the slopes inside and out and would easily take charge. Emily truly hadn't thought about it all in depth.

A waiter passed by with more bubbly. She helped herself to another glass, then meandered through the throngs of guests. Smiling as she crossed the room, nodding at the folks she recognized and giving finger waves to friends she worked with, she managed to weave her way across the large area to the main kitchen without actually speaking to anyone.

Pandemonium filled the commercial-size kitchen. Emily couldn't help but grin. Kathryn, their longtime chef, and her assistants had insisted on catering this event themselves rather than hiring an outside caterer. This had been much to Emily's mother's dismay as she'd wanted all her employees to come as guests, but they'd insisted and she relented.

"You should be out there with your family," Kathryn said as she placed a decorative flower on a plate of hors d'oeuvres.

"I am. I just wanted to see what's happening in the food department. I'm starved." Emily drained her champagne. "I'm already feeling a bit light-headed." She laughed. "From this." She placed her champagne flute on the counter.

Kathryn took a small plate, piling it high with cold shrimp and some kind of cucumber concoction, along with a slice of warm bread with butter. "This should tide you over. No more champagne, young lady," Kathryn said, smiling.

"Thanks," Emily replied, then quickly cleaned her plate. "You're a lifesaver."

"I wish, but no. I just make food," Kathryn told her.

Kathryn was from Spain and had attended the prestigious Le Cordon Bleu cooking school in Paris. She did so much more than "make food."

"What's tonight's main dish?" Emily asked.

"You need to ask? Really?" Kathryn's dark eyes sparkled with amusement.

"No. I thought you might surprise them with one of your delectable gourmet specialties, that's all."

She shook her head. "No way—this is their special day. They must have what they want, even if it's not a gourmet dinner. I cook to please. Always," Kathryn added. "Round of beef and those potatoes they love."

Emily's parents both loved good old-fashioned prime rib with scalloped potatoes and they would have the best, prepared by Kathryn herself, rather than one of her assistants. "Thanks for this," Emily said, waving her hand around.

"It's my pleasure. Now go have fun with the family. I will see you in a while." Kathryn shooed her out of her kitchen.

Unsure if her parents would make their announcement before or after dinner, Emily figured she had best mingle before her mom discovered her in the kitchen.

The lodge's main hall, where guests normally came inside for lunch, a drink, or just to stand by the giant stone fireplace to warm themselves, was packed with folks who'd replaced their ski suits for fancy evening gowns and tuxedos. The main hall held five hundred people comfortably. Emily guessed they were at maximum capacity now. Apparently all who'd been invited accepted, which was perfect given the occasion. She saw the mayor and his wife, along with the chief of police and numerous other folks in positions of power, all good friends of the family's. Probably a good thing in case any of them ever decided to start breaking laws. Emily rolled her eyes at her silly thoughts.

Scanning the room in search of her father, she saw him with a group of skiers from Florida who'd been lifelong members since she was a little girl. Whatever he had to tell her must not be that important, she thought as she watched him laugh and slap one of his pals on the back. He seemed happy, his usual self. Emily had no clue why he'd cornered her earlier. What was so important that he felt it couldn't wait? Deciding it wasn't something life-changing, she saw a group of instructors she worked with. Making her way across the room to join them, against her better judgment, she took another glass of champagne from a waiter passing by with a tray.

"It's about time you joined the party," said Kylie, her best friend. With her long black hair, dark eyes and olive-colored skin, she was stunning. Tiny like her mother, and as muscular as her small frame would allow. Emily adored her. "I was beginning to wonder if you'd make an appearance tonight."

Emily and Kylie Esposito had been best friends since second grade. Their shared loved of skiing bonded them together like boot bindings to skis. They even lived in the same condo complex.

"I've been here, just lurking around. You know how much I love parties," she said. Truly her mother's daughter when it came to entertaining, she'd learned at a very young age how to entertain, loving every party her parents hosted. Mimi and her mother had both insisted she learn the ins and outs of entertaining.

As a child, invitations to Emily's birthday parties were much sought after due to her mom's talent. It made her one of the most popular girls in school, not to mention the fact her birthday was on Christmas Day. All of her friends were on holiday break, so they always attended her party the day after Christmas because her mother didn't think it was polite to intrude on a family's Christmas Day celebration.

Emily made friends easily with her classmates, regardless of their position on the school's social-ranking ladder. In high school she'd never joined the cliques some of her friends had; it wasn't her way. She sailed through high school, then spent the next six years at the University of Colorado in Denver. With a master's degree in business, she graduated at the top of her class. Her parents had been thrilled when she decided to work at the resort. She came home with her new friend, Clarice, a tabby she'd found as a kitten, who still ruled the roost to this very day. Cats aside, Emily didn't ever recall telling her parents the lodge might not be a lifelong career for her as it had been for them. They cared that she was close by. That was what mattered most. Family came first, no matter what.

She was about to put that to the test tonight.

"There she is," Mimi said loudly. "It's about time you joined us, sweetie. I thought you might've skipped out on tonight's festivities with a hot date."

"I'll see you later," Emily said to Kylie before joining her family.

"Sure," said Kylie, a sly smile on her face. As her best friend and knowing Emily's family as she did, Kylie knew it would be almost impossible for her to have a minute to socialize with her friends for the rest of the evening.

Taking her by the arm and leading her to the opposite side of the lodge, Mimi began to tease Emily about "hot dates," of which she'd had none in months. Yes, she dated, but no one had struck her as "the one," and she refused to settle for second best. Approaching thirty, she'd become sensitive whenever the words "date" or "boyfriend" and the forbidden word "marriage" just so happened to come up in conversation—which was more often than not these days. Most of these conversations were between her mother and Mimi, and always when Emily was within earshot, but never actually directed to her, though Mimi often got a little dig in whenever she could. They weren't hateful in any way, just suggestive hints. She knew they were all counting on her to continue the family line, as she was an only child. Plus, she wasn't getting any younger.

With the upcoming holidays, she knew her family's matchmaking skills would be in full force right after the family celebrated Thanksgiving Day. Then her mother would begin hosting dozens of Christmas parties for her charities, her book club, her yoga class, Mimi's card ladies, and on and on. Though there was never a lack of excuses to throw a party, Emily's distaste for the weekly Christmas parties had gone south the first year after she finished college. That was when her mother had announced Emily's engagement to Harold Wilson. Emily hadn't even liked Harold that much. They were sort of friends; they rode the ski lift together now and then. They had attended the same high school. The downside was that Harold's mother, Lucille Wilson, was her mom's best friend. Apparently, Harold had told his mother he was going to ask Emily to marry him on Christmas Eve. Instead, Emily's mother had announced it herself. Mortified and humiliated, Emily now avoided any and all Christmas activities involving her mother's best friend and her son.

"Emily?" Mimi said.

"Sorry, I was . . ." She paused. "Overwhelmed for a second." She shot Mimi one of her best smiles.

"Look at you. I swear, you could be in an Ultrabrite commercial with that smile," said Mimi.

"Thanks," Emily said. The first time Mimi said that to her, she'd just had her braces removed, clueless what an "Ultrabrite smile" even was. Of course Mimi being Mimi, she found the old commercial on YouTube, thus explaining her comment, and she continued to use it whenever she could.

"Mom, now stop that," Julia said to Mimi. "I think Emily knows by now she has the prettiest smile this side of the Continental Divide."

Emily said "Thanks" to her mother, then asked, "Where's Dad? I saw him a few minutes ago, but now he's disappeared."

The two older women looked at each other, both with grins as wide as Willie's Way, the most spacious and easiest run on the mountain. It was one of the bunny hills.

They were up to something, Emily could tell. "What? I know something's up—you might as well tell me."

"Nothing that can't wait for the perfect moment, sweetie," Mimi told her. "Relax and enjoy the party. Indulge in a glass of that very expensive champagne your mother ordered."

"I've had three glasses and I'm half-lit, Mimi, so I don't think I'll 'indulge' any more than I have already." She had recovered a bit after eating, but wasn't totally clearheaded.

"Why Emily Nicole Ammerman, you ought to . . . have another glass," Mimi said, tossing her head back and laughing so hard Emily couldn't help but join her. Not one to be a party pooper, her mother started hooting as well, the three of them cackling like a trio of hyenas.

"No more for me, seriously," Emily said, barely able to control her laughter. "I'm teetotaling for the rest of the night."

Mimi shook her head. "You are such a spoilsport. Julia, I thought we raised this girl to party?"

"No, you both taught me how to throw a party," Emily added. "Not to be the inebriated gal lying on the floor at the party, wondering how she got there." Memories of that nightmarish Christmas Eve came to mind, but she wouldn't mention it tonight. Her parents deserved this party tonight. The end of one adventure and the beginning of a new one.

"True," her mother agreed.

"Of course not," Mimi reminded them. "Besides, that's not ever going to happen, at least not as long as we're at the same party, right, Julia? I must say it's a miracle you turned out as well as you did. Especially with all the freedom we gave you."

Emily raised her brows. "Freedom?" she said to her mother. "I recall having to ask you and Dad if I could stay up an extra hour just to read. On the weekends!"

Julia looked at her mother. "That's enough, Mom. I can't have my daughter thinking of me in a heathenish way."

"I would never think of you in such a way," Emily told her. "Though I do recall you being somewhat of an anomaly."

"Yes, she was, and still is. She just keeps it well hidden," Mimi said, then winked at Emily.

Julia rolled her eyes. "That's enough, Mother," she said, with emphasis.

Emily loved watching her mom and grandmother spar. They reminded her of the characters Sophia and Dorothy from the sitcom The Golden Girls, minus the off-color innuendoes they occasionally used.

"We'll finish this discussion later," Mimi said to Emily. "I've loads of stories to tell you."

"Mother!" Julia said, loud enough that several of their guests turned to look at them.

"It's true," Mimi said to her daughter, then to Emily, "Later, I'll fill you in on all the sordid details."

"I'll hold you to that," Emily said, adding, "another time."

Mimi chuckled, turning her attention to a group of women heading in their direction. "I'll see you girls in a bit," she called over her shoulder as she joined her friends.

"Aren't they the card ladies?" Emily asked her mother, who remained by her side.

"Some of them. Willowdeen and Mabel are still recovering from their bout with that nasty virus."

"Good to know. Lots of folks got hit with that second round. I'm grateful no one in our family was sick." She knew they'd all been vaccinated, though that wasn't a full-fledged guarantee they wouldn't catch the virus.

"We're from a strong line of folks," her mother said, though Emily had no way of knowing this because the only family she'd ever known were her parents and grandparents on her mother's side. Her father had a brother, William, who he hadn't spoken to in years because of some family feud—one that was never discussed—so as far as Emily knew, her family line wasn't 100 percent confirmed. Her father's parents both had passed away long before Emily was born, so she wasn't sure about her dad's side of the family and their longevity. Someday, when she had a bit of free time, she'd go to one of those websites that searched genetics. Maybe she'd find there were more Ammermans out there, some that her dad didn't even know existed.

"I hope so," Emily replied.

"On my side of the family," her mom added.

She nodded, eyeing the throngs of people, searching for Kylie as she was in need of a break from her mother. "I'm going to mingle," she said before hurrying away. As much as she loved her family, they could be suffocating at times.

Emily slipped out of the party and went upstairs to the private suite of offices her family used. Seeing her dad's office door open, she peered inside to make sure he wasn't there b. . .
We hope you are enjoying the book so far. To continue reading...
Falling Stars
Fern Michaels
Copyright © 2023 All Rights Reserved