Book info
Sample
Audiobook
Media
Author updates
Lists
Synopsis
In this gripping new standalone novel from #1 New York Times bestselling author Fern Michaels, a star Manhattan chef must uncover his family's past to protect their lives—and his own.
Mateo Castillo is a rising star chef on the Manhattan culinary scene. But just as he's about to reap the rewards of his skill and hard work by being featured on a major TV cooking competition, Mateo collapses in his restaurant's kitchen—and regains consciousness in a hospital emergency room.
If it weren't for a security guard finding him in time, Mateo would have bled to death. The cause of his sudden illness is as mysterious as it is worrying, and Mateo and his family undergo a battery of genetic tests. Yet the answers that start to emerge only raise more questions.
Mateo's parents fled their home in Colombia many years ago, seeking refuge from the infamous cartels. Now the test results threaten to uncover a dark secret that exposes his family to dangers from the past—while clouding the investigation into who is trying to hurt Mateo in the present …
Release date: March 28, 2023
Publisher: Kensington Books
Print pages: 368
* BingeBooks earns revenue from qualifying purchases as an Amazon Associate as well as from other retail partners.
Listen to a sample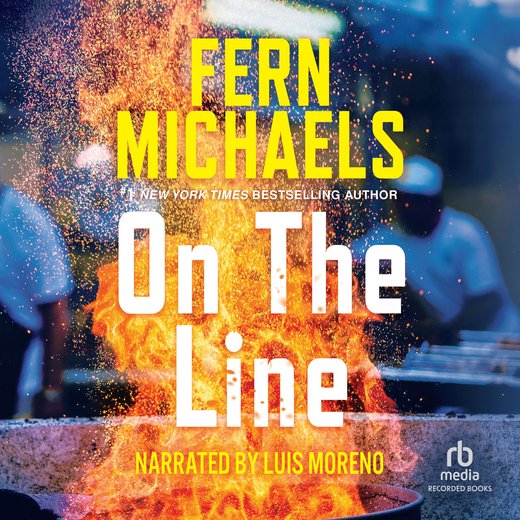 08:51:45
243.43 MB
March 28, 2023
Recorded Books
2023
On the Line
Fern Michaels
Present Day

"You suffered a mild contusion to the head."

Mateo Castillo blinked several times as the man in the white coat explained. Where was he and who was this person? Then he shook his head.

"Do you know where you are, Mr. Castillo?" the doctor asked quietly. Thirtysomething Mateo tentatively moved his head from side to side—or as much as he could—to keep the searing pain away from the back of his eyes. The doctor, a salt-and-pepper-haired gentleman around the age of sixty, smiled down at him.

"You are in the NYU Hospital emergency room. I'm Dr. Conroy. An ambulance brought you here."

Mateo winced as he tried to speak. "Wha . . . wha . . . what happened? Ambulance?" He could barely stammer out the words. His forehead crinkled. "I don't understand. I was in the kitchen at Le Mer."

"Evidently you fell in the kitchen. You also lost a good deal of blood from a knife wound." The doctor pointed his stylus pen at a bag with reddish-brown sludge hanging from a pole next to Mateo's bed. "It appears you cut yourself and passed out. The wound wasn't very deep for the amount of blood loss, so we're going to run some tests."

Mateo was gaining more acuity. "Blood loss?" He continued to strain his brain for some point of reference. The last thing he recalled was standing in the kitchen of the restaurant. "I was trying out a new dish for the contest." He paused. "I was slicing shallots."

The doctor looked at the chart again. "Do you remember slipping on anything? A wet surface? Oil?"

"No. No, we are very careful, and we have mats." His eyes surveyed the curtains that surrounded his bed. "I don't understand."

"A Mr. Miller found you on the floor. He made a tourniquet out of a towel and called 911. If we don't find anything abnormal, you should be able to go home in about twenty-four hours." The doctor glanced at his clipboard. "One more question—were you on anything?"

Mateo looked at him curiously. "Do you mean drugs?"

"Yes, that would be the obvious question."

"No. Never."

"Could you have fainted?" Mateo wasn't surprised at the doctor's curiosity. For a long time, the restaurant crowd had a reputation of wild nights after hours, but that had faded over the past decade. With the advent of the Food Network and other foodie channels, the industry was at an all-time high for talent. And Mateo was no exception. He was becoming the "it" boy of the culinary scene. Mateo's eyes were a blue-gray Caribbean aqua within a darker circle of blue. They stood out against his black wavy hair and golden complexion. He wasn't a fashionista, but he surely knew what looked good on him from a young age. The restaurant scene was the perfect venue for him to shine.

"It's possible, but I don't know why I would."

The doctor looked at Mateo's arms. "Have you fallen anywhere else lately?"

"No." Mateo shook his head slowly.

"How did your arms get bruised like that?"

"Clumsy, I guess." Mateo noticed the bruises on his arms and his legs but thought nothing of it. "People are always banging into things and each other in the kitchen, especially on a busy night." He continued to speak slowly, trying to shake off the fuzz clouding his thoughts. "You need to be light on your feet and have eyes in the back of your head."

"Any other symptoms?" Dr. Conroy was typing letters into the tablet that served as his medical chart. "Lightheadedness? Dizzy spells?"

Mateo thought for a moment. He recalled feeling a bit "off" a few times recently, but he chalked it up to exhaustion and exhilaration, not worth mentioning. "No. Not really."

"When you say 'not really,' you need to be more specific. Please. It's the only way we can make a proper diagnosis."

"After a long day, I'm pretty beat and sometimes have a tough time getting up the next morning. But after a cup of espresso and a shower, I'm good to go." Mateo was gaining more clarity.

"Alright, then. We'll wait for the blood work and see what's next. I will refer your case to our hematologist, Dr. Adrian Ardell. Dr. Ardell comes on duty in about an hour. Meanwhile, get some rest. We need you back in that kitchen." Dr. Conroy had finally realized who the new patient was, a rising star in the cooking scene.

"Thank you, Doctor." Mateo closed his eyes as the beeping from the monitors kept up a steady rhythm throughout the emergency room. He thought about what a noisy place the hospital was and could not understand the signs on the road that said QUIET. HOSPITAL. It sure wasn't an advertisement. He lightened up a bit. At least he still had a sense of humor. He settled in the bed as best he could and closed his eyes, hoping when he opened them, this crazy dream would be over.

He was startled awake by a pretty young woman who adjusted his intravenous drip, then smiled. "Mr. Castillo, I am Dr. Adrian Ardell."

Maybe this dream wasn't so bad after all. He realized he was finally having lucid thoughts. "Nice to meet you, Dr. Adrian Ardell. Please tell me you will let me out of here soon."

Her wide, saucer-shaped eyes were hypnotic. "I wish I could, Mr. Castillo. But I am impressed you remembered all of my name with the right consonants in order."

Mateo felt a strong pull and tried to shake it off. He wasn't intimidated by professional women, but this one had a mystique about her. Perhaps it was the tinge of an Eastern European accent. Throughout his childhood, he'd learned to recognize many foreign accents and inflections. His mother had been a linguistics teacher when she wasn't running the school cafeteria. He couldn't help but ask, "Do I detect a hint of Ukrainian? Moldavian?" Mateo immediately regretted blurting out such a personal question. To a doctor, no less. But there was something about the woman that made him feel comfortable. Maybe because she was his ticket out of the beeps, bright lights, and muffled announcements over the PA system. Not to mention disengaging him from the IV stand. And these socks? He noticed he was wearing a pair of very ugly socks. Nothing from his closet, that was for certain.

She seemed unaffected by the question. Mateo quickly added, "You must get that all of the time. I know I do." Mateo's voice was more of a lilt than an accent. His deep voice added to the ambiguity.

She was still looking at his chart when she answered. "Yes. I would have thought my name would have been a clue." She kept looking down. "My family escaped from a very corrupt government. We were lucky to have relatives in the United States. Brooklyn. I came here when I was twelve years old." She checked his vitals. "And you?"

Mateo briefly recounted the journey his family took during his childhood from Texas to Tennessee, and eventually to New Jersey. "And I ended up here." He smiled at her. He wanted to continue the conversation. "Where did you study medicine?"

"I went to college in Ithaca." Dr. Adrian Ardell held up her end of the small talk. "Cornell."

"You must be smart." Mateo chuckled.

"You should hope so, Mr. Castillo. Your life could be in my hands." She gave him a sly smile.

"My apologies. That didn't come out the way I intended. Cornell is an excellent school."

"It is indeed." She reviewed his chart. "You work in a restaurant?"

"Yes," Mateo answered. He realized not everyone was a foodie. Why should she know who he was? "Le Mer."

"Ah. Fancy." She continued to peruse his information without looking up from the tablet. "How long have you worked there?"

"Almost two years. I'm the executive chef."

"Ah. Even fancier." She finally raised her head. "You serve a lot of seafood, do you not?"

"Yes. That is our specialty. Hence the name."

She gave a little guffaw. "Of course." Dr. Ardell continued to ask more questions. "How often do you eat seafood?"

"A couple of times a week. One of the benefits of being a chef."

"Not necessarily in your case, Mr. Castillo."

Mateo wriggled himself and sat upright. "What do you mean?"

"Your blood work came back with elevated levels of mercury. Probably from all the seafood consumption. You will need to eliminate it for several weeks until we can get your level back to normal. We'll run tests again."

Mateo was stunned. It never occurred to him he could be eating too much seafood. He tried to keep a balanced diet.

"I want you to drink at least two liters of water per day, unless you want us to administer fluids intravenously." The doctor knew he wouldn't go for that option, but she had to inform him, nonetheless.

"Oh, I will take the water torture over the IV. But thank you for offering." He looked down at his socks again. "And what about these?"

"Your compression socks? What about them?"

"They don't go with the rest of my wardrobe," Mateo teased, pulling at the blue hospital gown someone had dressed him in when he was unconscious. He was unabashedly flirting with her.

"They are a precaution while you are in bed. It helps to maintain blood flow, reduce swelling and discomfort."

"But I thought my blood was flowing." He folded his arms and feigned a pout. "Too much, from what I've been told."

"True. So for now you will wear them until you are released."

"And when might that be?" He gave her a puppy-dog look.

"Tomorrow morning, if everything else comes back normal."

"You mean I have to stay here tonight?" Mateo was starting to whine.

"I know it's not a four-star hotel, but it's better if you are kept under observation. We'll check your blood again in another few hours. If everything looks okay in the morning, you may be able to get back to your knife-wielding occupation."

"I beg your pardon," Mateo said mockingly. "I am a craftsman."

She stifled a chuckle. "Unfortunately, your craftmanship will be on hold until tomorrow. So please sit back and enjoy the luxury of our fine ambiance and sorely lacking gastronomy." She checked the time. "It's almost midnight. Had you eaten anything before your mishap?"

"Yes, around nine thirty. We were closing." He continued sheepishly, "Linguine with clams."

"Are you sure you only eat seafood a couple of times a week?" Dr. Ardell asked with a touch of skepticism.

Mateo raised the arm that wasn't attached to the IV. "I swear."

"Alright then. How do you feel about a grilled cheese sandwich? Low-fat cheese."

"Sounds dreadful, but I'll take it," Mateo responded.

"I have my dinner break in a few minutes. I'll ask someone to prepare one for you. It's the best I can offer. And you should eat something."

"Carbs and fat. Mmm . . . my favorite cuisine," Mateo joked. "But I don't want you to go to any trouble."

"It's no trouble," she said coolly. "I will be in the dining room and will order it for you. Someone will bring it up."

Mateo was almost deflated. He had thought for a brief moment that the doctor was flirting back. "Thank you. I appreciate it."

"Good. I shall see you first thing in the morning. Enjoy your sandwich and try to sleep." She spun on her heel and left the room.

Mateo wasn't sure what had just transpired. The more he thought about it, the more he realized the entire night had been rather peculiar.

Two very large men wearing scrubs came into the ER and pulled Mateo's gurney out of the cubby. The larger of the two looked down and muttered, "Movin' you to a room. You're lucky. We're pretty busy."

Mateo lay flat as he stared up at the passing ceiling tiles and the bright lights. They moved him swiftly into a room with a man who had every appendage hooked up to a machine, including an oxygen tube up his nose. Mateo shuddered. The guy was close to his age. He wondered what had brought him there. He was thankful his own condition would be behind him by the morning.

Mateo tried to get some sleep, but the dinging, fluorescent lights in the hallway and the constant announcements on the intercom made it impossible. He continued to stare at the ceiling, hoping he could force himself into a state of relaxation. He remembered a line from a comedian: "The hospital is no place to get well." Several minutes later, a perky volunteer delivered the grilled cheese sandwich he had forgotten about. It was actually hot and smelled pretty good for hospital food. But then again, he could be delirious. This night truly wasn't anything he had expected.

The next morning, an intern came to his room, announcing Mateo would be released in a few hours. Mateo asked about Dr. Ardell. "She's off today," the intern responded.

"Did she have anything specific for me? Instructions?" Mateo suppressed a frown.

The intern handed him a sheet of paper outlining the dos and don'ts. Drink two liters of water per day. No green leafy vegetables. No cinnamon; no ginger; no garlic.

Mateo cringed at the list. It included almost everything he worked with as a chef. "This is going to be brutal."

The intern shrugged. "The doctor wants to see you in four weeks for a follow-up. You can make an appointment with her PA at the nurses' station. An orderly will be by to wheel you out. Do you have someone picking you up?"

"Wheel me out?"

"Yes. It's hospital policy."

"So you just dump me on the sidewalk?" Mateo didn't intend to be sarcastic, but things were not going as he hoped. The mysterious doctor hadn't stopped by to give him his discharge papers, which sucked.

"Do you have a ride?" the intern asked again.

"Not yet." Mateo stared at the paperwork in front of him. He was going to have to be very creative or trust his colleagues to taste the food.

The intern reminded him one last time that, "You need to have someone pick you up or you won't be released." He turned and left the room.

Mateo reached for the blue plastic bag sitting on the foot of his bed. He fished out his cell phone and dialed his friend Roger's number. "Yo, Rog. I need a ride . . ."

Three weeks later

The ambulance went screaming up First Avenue. The traffic lights were a kaleidoscope racing over him. The man in the uniform kept asking him the same questions. "What is your name? Where do you live?" His lips were trying to move, but no sound came out. He tried to move his fingers. It was as if he were a disembodied being. A spectator. What was happening to him?

The ambulance pulled into the bay of the emergency intake at NYU Hospital. The paramedics were able to stop the bleeding by applying pressure on the wound, and Mateo was in stable condition for the moment. People were bustling around him, mumbling words he could not put together. Poisoning. Fainting. Fracture and lacerations to the head. It made no sense. They could not be talking about him. He was a chef, working on a signature dish at a restaurant. How did he get here? Was this a reoccurring nightmare?

He was much weaker than during the previous visit. He thought he was supposed to improve. But this was a far cry from improvement. It was worse. His hands were cold. His toes were numb. He had the shakes. He kept going in and out of consciousness. What was happening? The EMS people were moving him to an area behind curtains, where he was immediately plugged into a IV filled with the same brownish sludge he recalled from his last trip. The hose up his nose was uncomfortable and was scratching his throat. He tried to speak.

"Take it easy, Mr. Castillo." Someone in green scrubs spoke to him calmly. "You're in the emergency room at NYU Hospital."

Mateo blinked several times, trying to clear this nightmare from his head. But with each blink, it became more real, and the pain in his head was exacerbated by a pulling sensation above his eyebrow.

An ER doctor entered the curtained cubicle and checked the wound. "You're lucky. It didn't penetrate the skull." Dr. Conroy checked the tubes running into Mateo's veins. "This is your second visit in the past three weeks. It appears the injury to your head was the result of a fall, but we don't know what caused the fall. We had to stitch you up, so you may have a scar on your forehead. Fortunately, you didn't sustain any other injuries."

Mateo closed his eyes and managed a slight nod in acknowledgment. He wanted to ask why? but the words would not come.

Dr. Conroy checked Mateo's chart. "You must have a guardian angel, Mr. Castillo. If I remember correctly, the last time, you were found by the janitor. This time, it was a couple of kids looking for a bin filled with bottles. As much as I don't necessarily approve of children having cell phones, in this case it was a blessing. As soon as one of the boys saw the blood, he dialed 911."

Mateo knew who the doctor was talking about. There were three kids around ten years old who would come by to collect bottles for the recycling center. Even though the restaurant had a service that did this, Mateo would leave a special container for the boys so they could turn it in for some loose change and raise their awareness about recycling.

"Can you try to answer some questions?" Dr. Conroy asked. He nodded to the oxygen meter clipped to the end of Mateo's finger. "Just raise it slightly if the answer is yes, and to the side if the answer is no. Do you understand?" Mateo wiggled his finger the best he could. "Excellent. I'm going to go over some of the same questions from your last visit, so bear with me. Have you eaten today?"

A shaking finger went up, indicating yes.

"Within the past ten hours?"

Mateo thought for a moment. He couldn't remember and had no idea what time it was. He squinted at the doctor.

"Did you have lunch?"

A wiggle up and down. The doctor checked his watch. It was past seven p.m. He surmised it had been within the time frame he asked about.

"Have you had any shellfish since your last visit here?"

The finger went to the left.

"Do you or anyone in your family suffer from anemia? Hemophilia?"

Two more signs to the left and right.

"Have you ever been diagnosed with von Willebrand disease?"

Mateo had no idea what he was talking about and squinted again. The doctor explained that it involved a low level of protein that helped the blood clotting process. Mateo moved his finger to the left. As far as Mateo knew, no one in his family had any blood disorders.

"All your other vital signs are stable. Dr. Ardell will be here in about an hour, so sit tight." The doctor patted Mateo's arm when he realized what a ridiculous remark it was. "Not that you're going anywhere." He smiled. "At least not until we can figure out why you've become a regular in my ER."

Mateo managed a thumbs-up.

The doctor grinned. "That's what I like in a patient. A positive attitude. I will check on you later. Meanwhile, we are going to admit you and get you into a room."

Mateo lay there in a state of disbelief. He had felt fine earlier that day, but when he started fileting the Dover sole, he started to feel a little lightheaded and nauseous. He remembered walking out the back into the alley to get some cold, fresh air and saw the kids at the far end of the alley. That was all he remembered as he drifted into a semi-conscious state.

His eyes flew open when two aides began to move him down the hall. He wracked his brain, trying to put the pieces together. The familiarity of it all was eerie. Lights were swiftly moving above his head. He could hear clamoring bells, beeps, and garbled voices. They wheeled him into an elevator, brought him into a room, and he drifted off into a restless sleep.

Mateo felt the presence of someone lingering over him. He slowly opened his eyes. It was that striking doctor with the mysterious accent again. Mateo knew it was Eastern European. She had mentioned her family escaped from a country with a corrupt government, but that covered a lot of geographic locations in that part of the world.

"Hello, Mr. Castillo." Dr. Ardell folded her arms. "I said I wanted to see you in four weeks. You must be a glutton for punishment—or you really enjoy our food." She made a valiant attempt at humor. It worked. He was able to crack a smile. "We are going to run more extensive tests on you. I suspect it's mercury again, but you told Dr. Conroy that you hadn't had any shellfish."

This time, he was able to shake his head slightly.

"So you are going to be a big mystery for me to solve." She tapped her tablet several times. "We are going to draw blood. I know you've lost quite a lot again, but I think there is still enough for us to run some tests."

Mateo managed another very weak smile.

"I am a very good detective," Dr. Ardell said with a straight face. "Plus I do not like to lose. I treat the symptoms like they are the enemy. I seek them out and then get rid of them."

Mateo wasn't sure how to interpret what she'd just said. It seemed a bit militaristic. She chuckled when she saw the look on his face. "Believe me, we will win this together." She made a few more notes on the tablet. "The phlebotomist will be in shortly and will send your blood to the lab. I'll read the results in the morning. Meanwhile, we will do chelation therapy to try to clean out any additional heavy metals in your system. I'll see you tomorrow." She turned and glided out the door.

A nurse's aide entered the room and was greeted by Mateo's roommate. "Hello, gorgeous!" a youngish man's voice boomed. "Come keep me company."

There was a feminine giggle. "Oh, you behave. We need you up and running for the collegiate football tournament."

Mateo managed an eyeroll for no one but himself. The curtain was swept open, and the aide introduced herself. "I'm Becky. I'll be on duty tonight. If you need anything, just push this button." She handed him the trigger that would send a signal to the nurses' station. "Meanwhile, I am going to need a urine sample from you." She noticed both his arms were attached to devices. . .
We hope you are enjoying the book so far. To continue reading...
On the Line
Fern Michaels
Copyright © 2023 All Rights Reserved