Book info
Sample
Audiobook
Media
Author updates
Lists
Synopsis
From one of the most gifted and beloved storytellers of her time comes a riveting new novel of suspense where one woman's picture-perfect island sanctuary reveals itself to be filled with dangers …
At twenty-nine, Alison Marshall is ready to find a place to call home. With no family and no ties, she's drifted from one small Florida town to another since high school, working odd jobs, saving hard, and building a nest egg. Once she finds the
right place to settle down, she'll know. And when she reaches beautiful Palmetto Island, she thinks she may have found it.
The small, close-knit island community seems to have everything Alison needs. On a hunch, she contacts the island's only realtor, and learns that an old beach house is on the market. Miraculously, it's in her budget, and Alison takes it as another
sign that she's in the right place.
At first, home is everything she hoped it would be. But as days turn into weeks, she uncovers a dark side to this supposedly peaceful haven. The locals have a secret, and once Alison discovers what it is, she faces a stark choice. She can stay
and join them—or escape. But leaving brings its own risks, and Alison is starting to wonder if coming to Palmetto Island is the last mistake she'll ever make …
Release date: March 29, 2022
Publisher: Kensington Books
Print pages: 368
* BingeBooks earns revenue from qualifying purchases as an Amazon Associate as well as from other retail partners.
Listen to a sample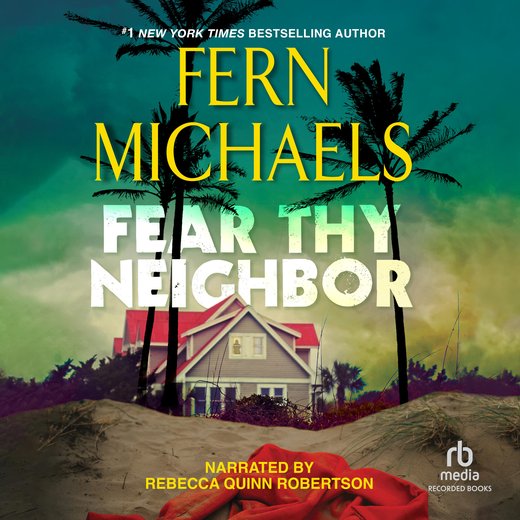 08:39:21
237.75 MB
March 29, 2022
Recorded Books
2022
Fear Thy Neighbor
Fern Michaels
Tampa Bay, July 2022.

"The tourists are gone—I'm ready for a change," Alison Marshall told her manager at Besito's, one of the finer Mexican restaurants in the city.

Pedro shook his head. "No, you can't leave now. I'm already shorthanded as it is. We'll liven up soon, the locals will turn up."

"Sorry, Pedro, but it's time for me to move on. I've worked the last two seasons here. I told you when you hired me I was a drifter," Alison explained. She needed a new scenario. She'd been in Tampa Bay long enough. The tourist season was over, and the big tips didn't come from the locals eating free baskets of chips and salsa on Taco Tuesday. One might earn twenty bucks in tips, if they were lucky.

At twenty-nine, Alison was footloose and fancy-free. She liked being self-sufficient, able to pick up and go whenever the urge hit her. She had no family, no close friends, and had never owned anything except an old Jeep she'd paid cash for three years ago in Tallahassee. No attachments suited her perfectly.

"You're leaving me in a bind, Alison. I can't give you a good reference," Pedro told her as she folded her clean BE-SITO'S work shirt along with her bright green apron.

"Fine. You'll find someone else to take my place. Put an ad on your Facebook page. Trust me, you'll have your share of applicants. I don't need a reference from you."

Pedro, all four hundred pounds of him, shook his head, his black hair sticking to the sweat on his forehead. "Then go," he told her as he wiped his forehead with a dirty rag.

"Nice knowing you too, Pedro." Alison left her shirt and apron on the counter by the register. She had no hard feelings toward her manager; she knew it was time for a change.

She waved goodbye to the empty dining room. "Later," she said as she walked to her car. Her rent was paid up, so no strings there, either. Renting an efficiency apartment weekly suited her nomadic lifestyle. Living on the seedier side of Tampa Bay had its risks, but for two hundred a week, she hadn't worried about them. She carried a. 22-caliber pistol in her purse with five extra clips, all legal and necessary for a woman in today's world.

Once inside her one-room apartment, she neatly packed her clothes into her battered luggage, took her two pairs of extra shoes from the small closet, and grabbed her toiletries bag, stuffing it inside with the rest of her worldly belongings.

Alison took the three Diet Cokes out of the mini refrigerator and placed them in her small cooler. She took one last look around the modest space that had been her home for two years.

"Yep, it's time to hit the road."

She filled the cooler with ice before stopping by the office to return her key.

"You goin' already?" Bert asked, brown spittle staining his white beard. He reeked of stale cigars and whiskey.

"Time to move on," she said. "Take care of yourself." Bert nodded. "Always do." Alison had a snarky reply at the ready but kept it to herself. Bert was who he was—an old drunk with a half-ass job that gave him free rent. Not unlike herself, minus the drunkenness and cigar smoke.

She pulled into a convenience store and filled her tank, then purchased a few snacks for the road. She kept a sleeping bag, a flashlight, and a set of jumper cables in the Jeep just in case. Always be prepared for the worst, a lesson she'd learned after spending her first seventeen years in foster homes. After graduating high school early with honors, she took a bus from Ohio to Georgia with nothing but the clothes on her back and the money she'd managed to save from the part-time jobs she'd held during high school. She spent four years in Georgia, had a number of jobs, saving every cent she could, living in hostels, cheap hotels, and sometimes the back of the twenty-year-old van she'd bought. It was hard work, saving as much as she could, until she returned to Middletown, Ohio, on her twenty-first birthday to search for the family of the man who'd sent her running. Since she was a legal adult, the state of Ohio no longer controlled her. She spent over a month searching for any information about the foster family whose son had tried to take her life. Alison spent hours at the local library, searching obituaries online. Information from the local police provided nothing, though the lies she'd told about her reasons for wanting such information might've been why she'd been unable to get answers. Knowing he was no longer a danger, and that possibly her fears about his family were irrational, she put the nightmare back in a place where her dark memories resided, and left Ohio once more.

With 12,000 dollars saved, she rented a room at a local boarding house in Georgia and found a job at a Frisch's Big Boy. She spent six years there, working as a waitress. When she'd had enough of Georgia, she'd said her goodbyes and headed south to Florida.

Alison liked the warm weather, though she didn't care for the humidity in the summer. However, she loved the laid-back lifestyle. She'd stopped in Tallahassee but didn't like that remote area so then headed to Tampa Bay, where she found a place to live and a job. Now she was on the move again.

Driving south on Interstate 75, she figured she could head for the Keys, where no one would care where she was from or who she was. These were her thoughts as she drove at a steady pace along the interstate. She checked the gas gauge and saw she was down to a quarter tank. The Jeep was a gas hog. She pulled over at the next exit, and after parking her Jeep, she went inside a Circle K convenience store and bought a large coffee and a map. She gassed up, then pulled to the side of the parking lot to look at the map. The closest city was Fort Charlotte. She would stop for the night, rest, then head for Key West first thing in the morning.

As she was about to pull out of the parking lot, she heard a cry. Stopping, she eased the Jeep toward the pumps, where she thought the cries were coming from. Turning off the ignition, she got out of the Jeep and walked toward the sound. What she saw broke her heart—a cat with two small kittens, the mother cat stretching to find food in the nearby garbage can.

"Oh, sweet girl, look at you." Alison bent down, careful not to startle the cat. While she'd never had a pet, she'd worked in a pet store in high school and so knew a little about momma cats and their kittens. "You're hungry, huh?" Momma cat meowed loudly and took a couple steps toward her. Alison spoke in a soothing tone—at least she hoped—so she wouldn't frighten her. Momma cat came right to her, snaking around her legs, the two kitties meowing for attention, too. Without giving it another thought, Alison scooped up Momma cat and her kitties, opened the passenger door of her Jeep, and sat them in the seat. She petted the kitties, and they meowed even louder. Gently closing the door, she returned to the driver's seat. "Okay, girls, we need to find supplies."

Decision made, she took the Tucker's Grade exit to Highway 41, driving down the old state road, searching for a cheap place to stay that allowed animals. She spied an older place to her right—the Courtesy Court Motel, a typical L-shaped building, single story. She'd seen many old places like this in her travels. A sign in the office window read LOCALLY OWNED, PETS WELCOME. This usually meant cheap rates. Since it was the middle of summer, the July heat kept most local folks indoors or swimming if they were lucky enough to have a pool or had the time to spend a day at the beach.

Alison parked next to the office but left the Jeep running so she could keep the air on for the cats. "Be right back," she called over her shoulder, even though she knew they couldn't hear her.

The motel, painted a bright orange with a green flat roof, was probably built in the early sixties and stuck out like a sore thumb. Each room had an old iron chair and side table beside the door. Hardy foxtail ferns flourished in yellow pots on either side of the entrance. A bell jingled when she stepped inside the air-conditioned office.

An older woman with snow-white hair, sapphire eyes, and an apron tied around her thick waist greeted her. She smiled, wiped her hands on her apron, then took a pair of eyeglasses from the desk. "I was baking—can you believe that? In this heat. I swear, I think this heat is frying my brain. Now, what can I help you with?"

Alison couldn't help but smile. It should be obvious to the woman, but maybe she offered other services besides the motel.

"I want to rent a room for the night," Alison said.

"Of course you do," the woman said. "Just you?"

Alison nodded. "And my cats."

"Okay, just sign your name here." The clerk pointed to a large leather-bound visitor guest book with an alligator embossed on the front. "What kind of cats do you have?"

"Just some old strays I picked up. That's it?" Alison asked while signing her name.

"Yep, nothing fancy here, but fresh linens, good mattresses, and cable TV. We don't have Wi-Fi, so if you're looking to play on your computer, you'll have to try the Holiday Inn further down."

"No, I don't need Internet." Alison didn't have a cell phone or a computer. They were useless since she didn't have anyone she wanted to speak to. If she really needed to search the web, she used the library.

"Then it's thirty dollars a night plus ten bucks for a pet deposit. And we only take cash," the older woman explained.

Alison took a twenty, two fives, and a ten from her wallet, handing them to the woman. "Thanks. So I guess you're going to give me a key."

"Of course. As I said, this heat has fried my brain." She removed the key from a drawer to room number two. "This is close to the soda machine; there's an ice bucket in your room if you need it. Ice machine's next to the soda machine in the breezeway."

Alison took the offered key. A real key—no key cards to scan here. She liked this place already.

"Checkout is at noon," the lady told her.

"I'll be long gone by then, but thanks," Alison said.

"You're welcome. I'm Betty. If you need anything, just buzz the office. We do have telephones in the rooms."

"I appreciate that."

Once Alison was inside her Jeep, she pulled away from the office, parking in the space reserved for room number two. She shut the engine off, then went to the back of the Jeep for her luggage, dragging the old black case behind her. The key slid easily into the lock; then she pushed the heavy metal door aside, startled when she saw the inside of the room. Alison had stayed in a lot of dumpy motels in her day, and nothing surprised her. Until now. The room was immaculate, with nice wood floors, the furniture modern. The chair and table with a lamp would be a nice place to have a meal. The bathroom had been updated, too. There was a modern shower, with a removable shower head that appeared to be brand new. Little bottles of shampoo, conditioner, and soap were arranged neatly on the counter next to the sink. A tiny green box held a shower cap, mini sewing kit, and three Q-tips. She hadn't seen this kind of stuff in the dumps she'd stayed in throughout the years. She had her own toiletries, but she'd use what they provided, since she'd paid for them. Never one to waste a dime on anything, she was ever conscious of her finances.

She went back to her car and carried the momma cat and her kittens inside the room. She placed them on a pillow from the bed so they had a soft place to rest. Once they were settled, she took a paper cup and filled it with water. "I know you need more than this, so I'll be right back." She rubbed Momma cat between her ears. She wasn't sure what kind of cat she was, as her coat was a multitude of colors. Each of the kittens was a replica of their momma. The dollar store wasn't that far, so Alison raced out before the cats ran after her.

Thirty minutes later, she returned with milk for the cats, wet food, and three disposable litter boxes, along with three food dishes and one large dish for their water. She poured a generous amount of milk in the water dish, then added wet food to the smaller dishes. Momma cat practically inhaled her food, while the kitties nibbled at theirs. They all lapped up the milk, then returned to their pillow. Unsure if Momma cat was still nursing, Alison kept an eye on her. The kitties had to be only five or six weeks old.

Once they were nestled together on their pillow, Alison unpacked the few items she needed for her stay, but wasn't quite ready to call it a night. She found the TV remote next to the bedside table and clicked on the National News Network. The country was in turmoil; nothing new there. She flipped through the stations, stopping when she found a local news station. The anchor spoke about a mango festival in Matlacha Pass, the festivities beginning at eight o'clock tonight. Alison figured she'd scope it out, as she had nothing better to do. Lying around the motel would bore her.

The animals were sleeping, so she left more food out just in case, plus filled the milk dish again. Without giving it further thought, she took a quick shower, then changed into a pair of white shorts and a navy striped top. She slid her feet into her secondhand Birkenstocks. Her long blonde hair was wet, and since it was too hot to use a hair dryer, she pulled it into a ponytail. Checking herself out in the mirror, she decided she could pass for a local. She considered herself a Floridian. Her skin was tan from visits to the beach when she'd had an occasional day off from Besito's. Her bright blue eyes were those of a survivor who'd seen too much too soon in life. Already she had crow's feet, something a woman her age shouldn't have, but too much time in the sun, hard work, and the burdens she carried hadn't helped the aging process.

Inside the Jeep, she looked at the map, calculating Matlacha Pass to be about a thirty-five-minute drive. As she drove along Pine Tree Road, she thought about her drive to the Keys, thinking it might be fun if she'd made a few pit stops along the way if there wasn't too much expense involved. She'd take a few of the pamphlets she'd seen in the motel office and see what southern Florida offered.

The drive was uneventful. She drove to Matlacha Pass, where loblolly pine trees flanked the two-lane road. Mangroves thriving in the salty coastal canal waters acted as Mother Nature's fence, preventing her from viewing the homes behind them. As she neared the bridge to the island, she saw a post office, a CVS, and a Publix grocery store. Approaching the old wooden swing bridge, she saw dozens of people fishing. She saw an old sign naming it the "World's Fishing-est Bridge." She slowed to a crawl to get a closer view of the folks with yellow bait buckets, large casting nets, and various types of rods and reels. Some wore white rubber boots, others were in sneakers, and a few in flip-flops. Some were tanned, others as red as lobsters. Alison guessed the latter were tourists. As soon as she reached the bridge, she, along with four other vehicles, drove across the wooden slats at a snail's pace. The thump thump thump of the tires scared her, as she was unsure of just how sturdy the old boards were. As soon as she crossed to the opposite side of the bridge, she looked in her rearview mirror, watching as the wooden gate slowly opened to allow a fishing boat to pass through. She'd never seen this side of the Sunshine State.

A small, rusted sign about a mile past the bridge read WELCOME TO PALMETTO ISLAND, even though it was still a few miles ahead. Driving at the thirty-five mile per hour speed limit allowed her to glance at the unique shops along the way. There was an art gallery painted aqua blue with purple trim. The Blue Crab Bar and Grill was painted red and pink, with a giant sign in the shape of a blue crab. A tiny chartreuse building housed the Rainbow Row ice cream shop. Alison found it all colorful and unique as she continued her drive. Reaching a fork in the road, she had the option to turn right onto Dolphin Drive or go left onto Trafalgar Avenue. She opted for Dolphin Drive simply because she liked dolphins. To her right, she was surrounded by canals, more mangroves, and palmetto trees. There were also cabbage palms, or swamp cabbage, trees she remembered seeing in Tampa. She wasn't sure of the names of the various types of palm trees, though it was more than obvious Palmetto Island's name suited the surroundings.

Alison drove slowly down the stretch of road, surprised there was no traffic, no scooters or bicycle riders, no tourists as there had been at Matlacha Pass. Reaching the end of Dolphin Drive, she again had a choice to go right or left. This time she took a left onto Loblolly Way. About a dozen upscale homes faced the Gulf of Mexico. She could see a strip of beach in front of the houses. Unsure if this was a private beach, she made a U-turn, hoping for a sign, anything to indicate whether the area was off limits to the public or not. Desiring the feel of the warm sand on her feet and the briny salt water against her skin, she pulled into the parking lot of a souvenir shop. There were no cars, so she assumed the place was closed for the day. She grabbed her sunglasses from the visor, along with her small cross-body bag that held a bit of cash and her gun. She placed the .22 under the seat, confident she wouldn't need to carry a weapon for a stroll on the beach. Locking up the Jeep, she walked across the parking area to the main road. Seeing a grassy path between two houses, she made her way to the beach.

There wasn't a single soul on the beach, so this had to be a private area. She kicked off her shoes, letting the salty water caress her feet. The warm breeze blew her hair away from her face. For a minute, she closed her eyes, imagining what it would be like to live in a house right on the beach, a dream she'd had since leaving Ohio. Before she was caught, she retraced her steps back to the path.

"This is private property."

Alison stopped. She turned around to see where the voice was coming from.

"Up here," came the voice again.

She looked up and saw a man standing on the deck of one of the houses.

"Sorry," she said, hurrying toward the main road.

"Wait!" the man said.

Frightened, she bolted toward the road as fast as she could. Alison heard footsteps behind her as she sprinted across the parking lot to her Jeep. Heartbeat racing, she unlocked the door. As she swung the door aside, a hand grabbed her. She whirled around to face the man from the deck.

With forced bravado, she spoke. "Don't you touch me again, or I'll blow your frigging head off!"

The man stepped away from the vehicle, both arms high in the air. "I didn't mean to scare you."

"Then what the hell are your intentions?"

"I saw you on the path between my place and the Dubois house. I was going to show you another way to get to the beach without trespassing on anyone's property."

Shaking, she held her ground. "Sure you were."

"Next time you come to the beach, take Dolphin Drive all the way to end, turn right at Loblolly Way. There's a parking area—it's hard to find if you don't know it's there. It's not a private beach." He stepped forward, holding his right hand out to her. "I'm John Wilson. I own the bait and tackle shop. I was about to head to the shop when I spotted you."

"So you could chase me down, scare the crap out of me?" She shouldn't have spoken of her fear. But it was too late now. She gave him a once-over. The man was probably mid to late thirties. Dark eyes, dirty blond hair, built like a brick shithouse. Not bad looking, probably just an overgrown beach bum in need of a shower. She waited for him to continue.

"I didn't mean to," he explained. "Most islanders know their way to the beach. I assumed you didn't live around here; that's why I called out to you. When you ran, I didn't want you to think I was some kind of weirdo."

Alison shook her head. "Too late for that," she said.

"Sorry, I'm outta here," he said, then walked away while giving a half-hearted wave.

So far, her first impression of Palmetto Island was not a good one, as John Wilson had spoiled it for her. She cranked the engine of her Jeep, revved the accelerator, and peeled out of the parking lot. On Dolphin Drive, she stopped at the four-way stop, unsure if she should return to Matlacha Pass or drive down Trafalgar Avenue. Deciding on the latter, she drove slowly, continuing to check out the local shops. She passed Terri's Diner, a nursery, and a large marina. She pulled into the marina's parking lot so she could turn around and was surprised when she saw John's Bait and Tackle across the street. Okay, so he owned a business. At least that's what he wanted her to believe. Didn't give him the right to chase her down. He could be a serial killer, for all she knew. Aliso. . .
We hope you are enjoying the book so far. To continue reading...
Fear Thy Neighbor
Fern Michaels
Copyright © 2023 All Rights Reserved