Book info
Sample
Audiobook
Media
Author updates
Lists
Synopsis
Fun, friendship and romance are on board as four lifelong friends embark on a holiday singles cruise in a heartwarming new novel by #1 New York Times bestselling author Fern Michaels.

At Ridgewood High, Amy, Frankie, Rachael, and Nina formed a deep bond. Now, fifteen years after leaving school behind, they're back for a reunion, laughing, reminiscing, and chatting how much has changed—and how much hasn't. Nina, once the star of every
school play, moved to Hollywood and landed a recurring role on a sitcom. Amy, fondly known as "the brains of the operation," is now a Silicon Valley bioengineer. Outgoing and compassionate, Frankie works for a New York publishing house. Rachael, always the most
boy-crazy of the crew, married—mostly to please her parents—but is now divorced. All four are strong, successful, and somehow, still looking for the right partner. But Frankie has an idea to help solve that: a singles cruise for the holidays.

In late December, Amy, Rachael, Frankie, and Nina gather in Miami, ready to board their state-of-the-art cruise ship. The entertainment options are endless, the food is to die for, and the passenger list includes hundreds of eligible men. The highlight of the week will be a
magnificent New Year's Eve celebration with multiple theme parties, dancing, and fireworks. The ladies are happy to give Cupid a helping hand here and there—hanging mistletoe in elevators and cheering each other on through speed-dating events and shore
excursions. Holidays—like the path of love itself—don't always go exactly as planned, but over the course of one festive, unforgettable week, all four will set sail on surprising new adventures.
Release date: September 28, 2021
Publisher: Kensington Books
Print pages: 368
* BingeBooks earns revenue from qualifying purchases as an Amazon Associate as well as from other retail partners.
Listen to a sample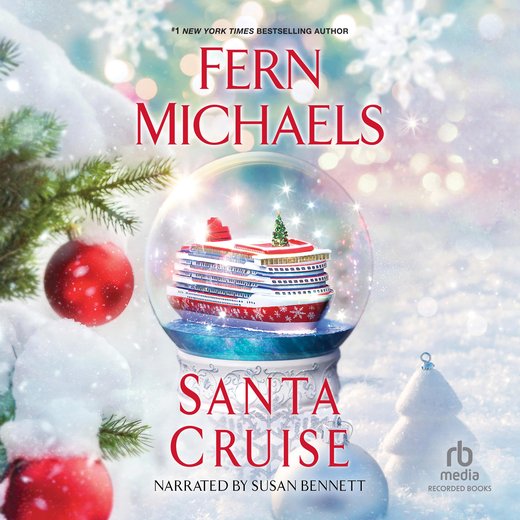 09:16:25
254.71 MB
September 28, 2021
Recorded Books
2021
Santa Cruise
Fern Michaels
The big banner read WELCOME RIDGEWOOD HIGH CLASSMATES! For some, it was a frightening experience. For others, it was an opportunity to show off how far they had come in the fifteen years since leaving high school.

Francesca (Frankie) Cappella was on the fence. She had built an excellent reputation in the publishing industry, marketing books for authors and publishers, but her love of music and the desire to perform had never left her. After graduating from a top music school, she had spent six years in New York City, auditioning for every part for which she thought she was suited. She had a "big voice" with a lot of nuance, but the producers were looking for a big nasal voice, something that made her cringe. Sure, she could sing that way if she had to, but she hated it. Why would she want to do something she hates? It took all the pleasure out of singing for her. Eventually, every singer sounded the same. She had spent too many years working on her own sound. Taking matters into her own hands, she found a producer and cut a few tracks. She got some radio airplay, but without the backing of a big record company, she could only go so far. During the years she had spent following her dream, to pay the rent she had worked as a temp for a number of large corporations, eventually taking a full-time job with a publisher of comic books. Her parents knew that working in corporate America wasn't in her heart, but it was a living, and living in New York was challenging enough.

She eventually worked her way up to the top at a major publishing house, but she never felt as if she was a success, especially after the incident at the last reunion, when Drew Aikens said something right to her face. "Gee, Frankie, you were such a good singer. Too bad you never made it." Those crushing words almost kept her from coming to this reunion, which included several classes besides hers. Still feeling the sting of those hurtful words, she thought to herself, Maybe that creep won't show up.

Frankie knew that some would be envious of her position as a vice president of a successful publisher. Her life was interesting and filled with a lot of professional events, but she still felt that a piece was missing. A lover, a partner, a friend. Sure, she could have three different men, but what she really wanted was a man who was all three. Yeah. Good luck with that.

She took one more glance at her reflection in the glass of the hotel artwork. Hair? Jet black, slicked, and pulled into a long ponytail. Dress? Figure-flattering little black dress that showed off her well-toned calves. Lipstick? Bright. She then had the horrifying thought she might have lipstick on her teeth. Next came the angst of her eyeliner running. But before she had the chance to pull out a small mirror, the squeals of Nina Hunter were heard across the lobby.

"Frankie! Oh baby." Nina Hunter pushed through the crowd and gave her friend a huge, crushing hug.

Nina was five feet eight inches tall, towering over Frankie's five-foot-four-inch frame. In high school, Nina had been in every school play, community-theater production, and summer-camp program. That's where she and Frankie had bonded. Frankie was the singer; Nina was the actress. Nina's love was acting, and she was particularly good at it, so much so that she had landed a part on a television sitcom after attending the University of Southern California. She wasn't the star of the show but had enough screen time to make her a fan favorite. Her long brown curly hair, big brown eyes, and long legs were hard to miss.

"Nee-Na," Frankie howled back, making sure her makeup didn't smudge on Nina's silk dress. "I wasn't expecting to see you here!" Frankie was surprised but also tickled pink.

"I have an audition in the city in a few days, so I thought I'd return to our old haunts."

"You mean Shut Up and Eat?" Frankie joked, referring to the local diner where they would hang out after football games or other school events. Only the coolest kids would go there.

"Is it still there?" Nina asked.

"It is. Butch Anderson organizes breakfasts there several times a year," Frankie replied. "I've been to a few; but to be honest, I don't feel I have anything in common with them anymore."

"I think I know what you mean." Nina put her arm around her friend. "It's married couples talking about either their latest renovation or bragging about their kids." Nina made a snoring sound, causing Frankie to burst out laughing.

"Oh my goodness. You are so right." Frankie nodded in agreement. "I feel like the only thing I talk about is work or some function I've attended. They look at me as if I'm some kind of snob. Or weirdo."

"I totally get it. If I'm not surrounded by Mr. and Mrs. Whoever, it's someone in the biz blowing smoke about their latest script, treatment, and who might be reading it next. I mean, it is Hollywood, but it can be so superficial."

"I can only imagine," Frankie said. "I had a small taste of it when I was trying out for musicals. Funny thing, though, publishing isn't all that different. It's a sliver of show business. Besides, most of the publishing companies are owned by big conglomerates. But enough of that. Tell me about you. Besides your acting success, what else keeps you out of trouble?" Frankie chuckled.

"My dog." Nina smiled. "He's a big Bernese mountain dog named Winston. We go for hikes in the hills. He makes me feel safe on the trails even though he's really a mush."

"I assume you live in a house?" Frankie asked.

"Oh yeah. I cannot imagine Winston in an apartment. It would be like a bull in a china shop!" Nina chuckled. "I rent a small house in Topanga Canyon. It's just far enough from the hustle that I can drain my brain after long days of shooting."

Glancing at the posters covered in student photos, Frankie said, "You're probably the most successful graduate."

"Oh, I don't know about that. Yes, I am incredibly lucky to have landed this part, and I mean incredibly lucky. It's really about being in the right place at the right time."

"Speaking of being in the right place, I think I may need to go to the bar and get a little something to soothe my nerves." Frankie linked her arm through Nina's.

"Nervous? You?" Nina was surprised. "You were the ringleader, party thrower, class president, lead singer in a band, and captain of the gymnastics team."

"That was before I knew anything about life." Frankie laughed. "Back then, I thought if you went for something and gave it your all, you'd be rewarded. And if you tried really hard but made a mistake, all would be forgiven, and you would get another chance. Nope. You make one mistake, and it goes into your permanent record." Frankie used air quotes for "permanent record." "This grown-up stuff isn't easy."

Nina burst out laughing. "Kinda like you make one creepy low-budget film to try to get exposure, and you're pegged as 'Oh yeah, that Nina Hunter. Didn't she play a disembodied creature in that hack movie?' "

The women howled and continued making their way toward the bar. As they waited in line to be served, Frankie whispered to Nina, "Who are these people?"

Nina let out a guffaw, then whispered in return, "I think we went to high school with most of them." She ordered a gin and tonic for herself. "Frankie? What are you having?"

"Hemlock?" Frankie chortled.

"Ha! Wine? Or a stronger adult beverage?"

"I'll have what you're having," Frankie replied, and Nina held up two fingers to the bartender.

Frankie lowered her voice further. "They all look so frumpy! Sure, you would expect that of the people who graduated a few years before us, but even our own classmates! Most of them look like they gave up caring years ago." She nodded to a woman wearing clogs. Nina almost spit out her drink.

"Oh my gosh. That's Amy Blanchard. She hasn't changed a bit." Before either of them had an opportunity to say hello to Amy, a loud cry came from the throng.

"Ladies!" It was Rachael Newmark, one of their old pals, doing a little rumba dance in their direction.

"Honey!" Nina gave her a one-arm hug, trying not to spill her drink. "You look great! Still dancing, I see?"

Rachael Newmark was the shortest and most petite of the three, with a brown pixie haircut, turned-up nose, and green eyes. "Chicas! So good to see you. You both look fabulous."

They immediately huddled and joked that they were not old enough to be at the reunion.

Amy caught a glimpse of the three women and started in their direction. "Well, if it isn't the unholy trinity," Amy teased.

Frankie bit her lip, Nina was taken aback, and Rachael couldn't help but blurt out, "I see the fashion police haven't been here yet."

Amy blinked. "Oh these?" She pointed to her feet. "I broke my toe and, quite frankly, I don't give a darn."

"When did you ever?" Rachael said, with a touch of sarcasm.

"Good point," Amy agreed. "But I'll have you know that it's quite the geek fashion statement now." She took a bow.

All four women laughed. Amy had been the geek, dweeb, nerd of the group. She was president of the science club in school but had a lot of team spirit and would always sign up to be the stage manager for the plays. She would often get teased because she was much more the intellect than most of her classmates, but Nina, Rachael, and Frankie always included her. They would refer to Amy as "the brains of the operation." She still wore the same big black-rimmed glasses. Her ash-blond hair was adorned with a pink headband that matched her maxi dress. She had a pretty, round face with a milky complexion and rosy cheeks. There was a spunk and youthfulness about her that belied her age of thirty-three.

Nina took the lead. "Well, ladies, perhaps we should grab a table before we're forced to sit with some creep from biology class." They all laughed, recalling Billy Gwyer chasing the girls around with a garden snake.

"Do you think he might be here?" Frankie surveyed the room.

"The big question is, is he as cute as he used to be?" Rachael snickered.

"You were always boy-crazy." Amy poked at her.

"And look where I am now," Rachael replied. "I got married because my parents didn't want me running all over the world chasing men. And how did that turn out? Well, now I'm divorced."

"But are you still chasing men?" Nina joked.

"I've given up." Rachael sighed.

"You?" they mocked in unison.

"It's slim pickings out there, girls. Even old Slim Pickens himself is no longer available."

The women hooted. "I hear you loud and clear." Frankie joined in. "I haven't had a date—I mean a real date—in probably three years."

"You can't be serious." Nina crowed. "Look at you. You're stunning and successful."

"Thanks, but that doesn't seem to make for a great date, let alone girlfriend. My friend Ken once told me that I'm very intimidating." Frankie shook her head. "I don't get it. I'm so charming." She smiled wryly.

"Honey, I'm in the same single boat," Nina confessed.

"But you're in the land of glamour and excitement," Amy protested.

"It's a lot of smoke and mirrors. Trust me," Nina replied. "If I were a high-powered producer or an agent, I'd have a new date every night. But unless you can do something for someone, you're not dating material."

"I don't believe it," Amy objected. "You, famous actress, can't get a date?"

"I'm not that famous," Nina said.

"Well, you are to us," Amy insisted.

"Yes, you are," Frankie added, and Rachael agreed.

All eyes were on Amy. "So? What about you? Have you found geek love?" Nina asked.

"Nah. Most of the guys I meet are asexual or indifferent."

"Funny how things change. When we were in high school, we had to beat the boys away with a stick." Frankie laughed.

"That's because you weren't so intimidating back then." Rachael poked fun at her friend.

They leaned conspiratorially toward each other, ignoring everything that was going on around them, and caught up on the past fifteen years.

After high school, Rachael Newmark had attended NYU. After she graduated, she had traveled to South America, where she met a suave but unemployed Paulo. With her trust-fund maturity on the near horizon, her parents clamped down on her escapades, forcing her father to hire a private jet to bring her back home. Following weeks of pouting, Rachael realized that if she ever wanted the money left to her by her grandmother, she needed to think about settling down. The thought sent chills up her spine, but reality had set in. She took a job at a bank, working in their international department, and began dating one of the accountants. She wasn't madly, passionately in love with Greg, but he was steady and would be a good provider. Love was not her parents' main concern. Stability was. A year later, they got married.

Two years after getting married, they had a son, but being a stay-at-home mom just wasn't her thing. She was restless and needed a purpose, something Greg couldn't understand. Greg left the bank and went to work for an independent accounting firm. Rachael's parents thought it would "look better" for Greg in their social circle if he worked at a high-powered company. If she wanted, Rachael could be a local socialite, join the garden club or the Junior League. But Rachael's personality was not compatible with women who were prim, proper, and phony. Especially phony.

Before Ryan started school, Rachael would arrange playdates with other moms and kids, but after a period of time, she would get bored with the vacuous conversations and move on to another group.

By the time Ryan entered kindergarten, Rachael was ready to climb the walls, so she took a part-time job at the local dance studio. She had always been an excellent dancer and had taken lessons in jazz, ballroom, and a variety of other disciplines. By the time she was eight, her parents had her schedule completely filled. Dancing lessons, piano lessons, tennis lessons, and water skiing were planned. Tutoring in foreign languages was also on her calendar. It was no surprise that she had rebelled after graduating.

Of all the extracurricular activities, it was the dancing that made her feel alive. She could lose herself in the music and the moves. Plus, it was important to know how to dance, especially when you had to attend galas and fundraisers. It wasn't surprising that she was everyone's favorite dance partner.

Within two years of working at Salon de la Danse, her classes became so popular that there was a six-month waiting list if you wanted to learn to salsa, rumba, or swing. People of all ages were clamoring for Rachael's dancing excitement.

But when Rachael was home with Greg, the only excitement was the argument du jour. It became obvious that their marriage wasn't going to last, at least not without a lot of door slamming, yelling, and sulking.

Finally, after an uncomfortable dust-up at the country club, Rachael's family intervened and encouraged her to get a divorce. They could see the pain in their daughter's eyes whenever she and Greg would meet them at a social event or dinner. Her father took her aside and said, "Sweetheart, your mother and I have been talking." That sentence was always a warning signal, but this time it worked to her favor. "We can see how unhappy you are, Rachael. I know your mother and I pressured you into getting married and having a family. But we never expected it to make you this miserable. It's the last thing we want. We will help you with whatever resources you need, particularly a good lawyer."

Rachael was shocked and elated. Never in a million years did she think her parents would approve of a divorce. You made your miserable bed and now you have to lie in it was a much better summation of their take on life. But getting married hadn't really been her choice. She had been pressured into it. Yes, her parents wanted stability for her, but they hadn't counted on the misery that went with it.

Aaron Newmark was a man of his word and provided Rachael the counsel of the best divorce attorney in the state, Lloyd Luttrell.

She and Greg tried to keep the divorce civilized, although Rachael was always seething when it came to Greg. Over the course of their marriage, Greg had spent a good chunk of Rachael's trust fund buying luxury cars and expensive designer clothes. That, too, caused a great deal of contention. He said it was important to look rich. No one was going to trust a poor-looking accountant. He had a point, but he had carried it much too far. He was supposed to be the breadwinner and she the dutiful wife, whose half-million-dollar bank account was at his disposal. As soon as the smell of divorce was in the air, Rachael's father and her lawyer tied up all of her assets so Greg could no longer treat them as his personal piggy bank. They sold the elaborate McMansion they had bought with part of Rachael's trust fund and put some of the money away for Ryan's college education. Greg was lucky to get out of the marriage with the fancy designer shirt on his back.

To that day, Rachael had never had a total grasp on how much of her money he had milked. She knew she was complicit by not paying attention. But still. It was not his money to spend.

Once the divorce was final, Rachael used the rest of the money from the sale of the house to buy the dance studio from its owner. She renovated the space and hired more instructors, and the studio doubled its clientele in less than a year. It helped that she was located near a senior-citizen community with most residents only in their midfifties. Part of the studio's service was planning dance parties for organizations. Rachael had finally hit her stride.

The women stared at Rachael. Nina was the first to speak. "Wow, he really took advantage of your family's money."

"Oh, that's not all." Rachael tossed her head back. "He was cheating on me the whole time."

Screams of "What?" "Are you kidding?" "You can't be serious!" went around the table.

Rachael crossed her arms across her chest. "No, I'm not kidding, and yes, I am serious."

"Holy smokes!" Amy broke in. "How did you find out?"

"It all came out after the divorce. A few people knew about it, but no one had ever told me. And frankly, I do not care. I had no physical interest in him at all." She paused. "Probably ever." She burst out laughing. "Talk about stupid choices."

Frankie chimed in and lifted her glass. "What doesn't kill you makes you stronger!" The rest followed suit, uttering words of cheer.

It was now Frankie's turn to catch the women up on her escapades. She had moved to New York after graduating from the University of Miami. She auditioned for musicals and got a few small parts in Off-Broadway shows, but that and temp work paid very little, forcing her to live with a variety of roommates, two to three people at a time. One summer, Frankie rented a bedroom in a large two-bedroom apartment on the Upper West Side. They had divided it up so that Dave and Laura would have the living room as their space, Marilyn would have the other bedroom, and they shared a ridiculously small kitchenette. It wasn't ideal, but it was doable for the few months she was there.

Finding a suitable place to live was a full-time job. She eventually moved into a duplex with a work associate and stayed for several years until she was able to afford a modest studio apartment in Gramercy Park.

Frankie and Rachael had stayed in touch and met for lunch a couple of times a year, so they were familiar with each other's horror stories. Rachael was getting impatient and urged Frankie, "Cut to the chase. We want to hear your stories. I know you have a few lulus."

Frankie took a deep breath. "Are you sure you want to hear the gory details?" Nina and Amy urged her on. Frankie confessed that she had been through a boatload of relationships, affairs, heartbreaks, and deceptions. New York. Lots of men. It was easy to meet someone at a bar, club, event, or concert. Learning about someone was another story, especially with most New Yorkers her age coming from all parts of the country and the rest of the world. She often thought it was ironic that someone could be in the biggest city in the country and still feel lonely and isolated. That's probably why she was eager to have something meaningful with someone. Too bad she had made a lot of lousy choices in her pursuits. Frankie continued, "Then there was the medical intern who had not one but two other girlfriends."

"Two?" Amy gasped.

"Yes, two." Frankie took a sip of her drink.

"How did you find out?" Amy was curious.

"I had spent the night at his apartment. The next morning, he left before me. I opened the door to the linen closet to get a towel."

"Oh sure. You were spying." Rachael poked her.

"No. Honestly," Frankie continued. "I was getting a towel and noticed a small container on one of the shelves." She took a sip of her drink. "It was a diaphragm." Another sip, waiting for a reaction from her friends.

"A what?" Amy blurted.

Nina patted her hand. "Oh, honey. It's one of those contraceptive contraptions that women use so they don't get pregnant."

"I know what a diaphragm is. Duh," Amy shot back. "I was kidding."

Nina patted her hand again and turned to Frankie. "So what did you do?"

"I did what any other red-blooded woman would do. I took it with me and threw it in a dumpster several blocks away."

The women were doubled over in hysterics. Frankie continued, "I never said a word to him. I figured he would be squirming enough when she went looking for it."

Nina was laughing so hard, tears were streaming down her face.

"Did he call you?" Rachael tilted her head.

"Yes, he did." Frankie played with the small straw in her glass.

"Spill, girl!" Amy was almost shouting. "What happened?"

"I didn't answer the phone but he left me a voice mail saying how immature it was of me to take someone else's property."

Amy's mouth was agape. "He said what?"

"You heard me. But, I must say, I got a lot of satisfaction out of that call. He was so pissed. Too bad, too sad. Such a jerk."

"So how did you know he had been seeing two other women?" Amy asked curiously.

"A friend of mine. One could say it was a coincidence, but think about this. New York City has a population of eight million people, and over ten thousand doctors."

Nina pushed, "Get to the good part!"

"As I was saying, a friend of mine was introduced to him at a hospital function. He was with a woman named Victoria. Well, while they were chitchatting, a woman named Michelle walked up to him and slapped him in the face." Frankie sat back in her chair with a wry smile.

"Wow." Nina gasped. "Well, at least he got the slap he deserved."

"Yeah, too bad it wasn't from me." Frankie chuckled. "I felt vindica. . .
We hope you are enjoying the book so far. To continue reading...
Santa Cruise
Fern Michaels
Copyright © 2023 All Rights Reserved