19 Yellow Moon Road
Available in:
eBook
Paperback
Audiobook
Hardcover
Book info
Sample
Audiobook
Media
Author updates
Lists
Synopsis
The Sisterhood: a group of women from all walks of life bound by friendship and years of adventure. Armed with vast resources, top-notch expertise, and a loyal network of allies around the globe, the Sisterhood will not rest until every wrong is made right.
Maggie Spritzer's nose for a story doesn't just make her a top-notch newspaper editor, it also tells her when to go the extra mile for a friend. When she gets a strange message from her journalism pal, Gabby Richardson, Maggie knows her
services are needed. Gabby has become involved with The Haven, a commune that promises to guide its members toward a more spiritually fulfilling life. But Gabby's enthusiasm has turned to distrust ever since she was refused permission
to leave the compound to visit her sick mother.
Maggie wants to learn more about The Haven, and the Sisterhood is eager to help.
It turns out The Haven's founders are the sons of a disgraced Chicago businessman in prison for running a Ponzi scheme. They also have connections to a Miami billionaire with dubious sidelines. Soon, the Sisterhood gang embark on a
search—and uncover a web of crime that runs deeper and higher than they ever imagined. And they'll need all their special skills to bring it down …
Release date: December 28, 2021
Publisher: Zebra Books
Print pages: 368
* BingeBooks earns revenue from qualifying purchases as an Amazon Associate as well as from other retail partners.
Listen to a sample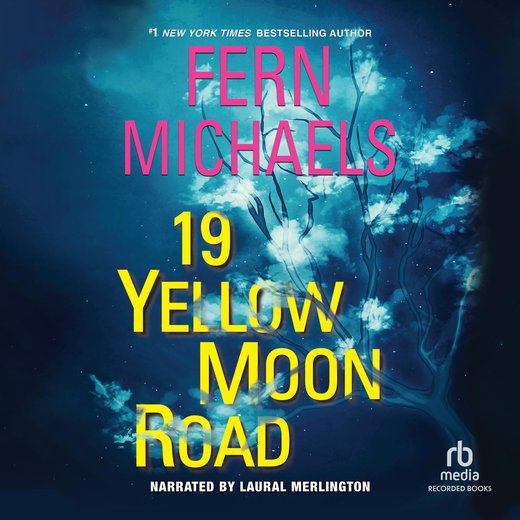 09:22:32
257.52 MB
December 28, 2021
Recorded Books
2021
19 Yellow Moon Road
Fern Michaels
Ohio, 2010

Alison tossed her cap and gown on the dresser, then plopped down on the narrow twin bed pressed against the wall. Sharing the room with three other girls didn't allow for privacy, though tonight she was alone in the room for the first time since she came to live with the Robertson family almost two years ago. As soon as Mr. Bloomenfield placed her diploma in her hand, she'd glanced toward the bleachers, hoping Mr. or Mrs. Robertson were there to show their support. Tonight of all nights, her high school graduation, and not one member of her so-called foster family bothered to attend.

She'd hurried out of the auditorium as soon she received her diploma. A grad night celebration with her fellow classmates was not happening, because she did not have any friends. She started Madison High in the middle of her sophomore year, which had made her stand out like a sore thumb. Add in her living conditions and all the popular kids and the dorks did their best to avoid her. Alison heard the slurs, the hateful comments made as she stood by her locker waiting for the halls to clear so she could hurry to class without facing her tormentors.

Tears streamed down her face when she thought how stupid it'd been to hope the Robertsons would surprise her with an impromptu graduation party, a gift, or even a card. She didn't belong here. In four months, she would turn eighteen, no longer a responsibility of the state of Ohio. Alison Marshall planned to leave at 12:01 on her birthday.

She used the thin blanket to wipe her tears. With the entire summer ahead of her, she knew her misery would continue if she stayed. A plan began to form—while not impossible, she could only achieve it if she used her brain. Patience would be required, something she had plenty of. Always on the outskirts of the families she'd been forced to live with, she'd learned early to blend in, not make trouble, and do as she was told, yet there were times when that had been nearly impossible. She'd done what any kid would've done if they'd been in her shoes.

She would sneak out of her bedroom window during the night, searching for something better than what the state provided. Her first attempt at escaping the system happened when she was nine. This happened so many times, she'd forgotten exactly how many foster homes she'd been placed in. A few of them were okay, but most of them sucked. The only reason the foster families took her in was for the money from the state. She'd learned that the hard way and lost what little innocence she'd had in the process.

Planning her future would require discipline, another attribute she'd learned the hard way. Do as you're told, and no one gets hurt.

Those days were about to end.

Emboldened at the idea of making a life for herself, Ali- son sneaked into the communal closet, where she hid the cash she'd earned babysitting and working part-time at the local pet store. She counted eighty-nine dollars and forty-three cents. Not much, but it was enough to pay for a bus ticket anywhere but here. The bus station was open twenty-four hours, though she was unsure if there were buses leaving tonight. At daybreak, she would hitch a ride downtown, purchase a ticket. She didn't care where she wound up; just thinking about a new life cheered her up. A graduation gift to herself, she thought. Yes, this is exactly what she would do. The heck with waiting until she was eighteen—she would leave now. The Robertsons wouldn't report her missing, because they were greedy. They'd want to continue to collect money from the state for as long as they could.

The three other girls she shared the room with, all younger than her, would probably tell someone at school, and from there, the authorities would be called in. Maybe they would search for her. Maybe not; either way, it didn't matter. She'd made up her mind, and she smiled to herself. This was the last night she'd spend living under the rules of the state. With this thought in mind, she drifted off, content for the first time in years.

She dreamed of parties and unknown people with blank faces. Animals, lions, bears, and giraffes with human features chased her down a school hallway while her female teachers danced with each other. Lockers opened on their own, schoolbooks flew out the windows, and desks clung to the ceiling. Startled when her English teacher curtsied, then asked her to dance, Alison bolted upright in the bed, her heart racing. Sweat dampened her face and her hair. It took a few seconds for her to shake off the silly dream. She laughed to herself at the insane images in her dream; then, a creaking sound startled her. She sat up, inching toward the wall, pulling the blanket up to her chin.

"Who's there?" she called out.

Waiting for a response from Charlotte, or Pamela, her two youngest foster sisters, she raised her voice. "This isn't funny," she said. "I'm gonna turn the lights on, then kick your ass."

Nothing.

"Sarah?" She was foster sister number three. She was fourteen, street-smart with a mean streak as wide as their room. It would be like her to try and scare the crap out of her, especially tonight. Sarah did horribly in school and was resentful of Alison's good grades.

Alison waited a few seconds and scooted to the edge of the bed. She let the blanket drop to the floor. She stood, quietly easing across the room to flick the light switch on. The second she touched the switch, a hand grabbed her arm, yanking it so hard, she winced.

"Don't say a word."

Cigarette smoke permeated his breath, his mouth so close to hers she could swallow the air he exhaled. Fearing this moment, knowing what was about to take place because he was not the first, she raised her knee, aiming for his crotch. The sharpness of her knee gouged his most sensitive area. He released her arm, giving her a millisecond to wrench out of his grip. Standing as close to the door as she dared, the room in almost total darkness minus the hazy glint of moon that shone between the heavy drapes, Alison touched the door, the wood rough against her hand. Fumbling for the doorknob, she felt the rusted brass graze her palm. Hope filled her with a power force. She yanked the door inward only to feel the bulk of his weight slam against it, her arm caught between the frame and the latch.

"You're hurting me!" Alison cried out.

"Shut up," he growled. "You think you're smart, don't you?" He eased the bulk of his weight off the door, freeing her arm. Ripples of hot pain pierced her forearm. She knew it was broken. Clenching her teeth, she pushed away from him, but he was too fast for her.

Grabbing both feet, he dragged her across the dirty linoleum floor. Her head hit the corner of the dresser, the sharp edge slicing into the delicate skin on her temple. Warm blood oozed down her face, the coppery scent gag- ging her.

"Stop!" she screamed through gritted teeth.

Wicked laughter spewed from his mouth. "I'll stop when I'm finished, you little bitch."

Straddling her, his knees pressing on her thighs, he used one hand to hold her wrists above her head. Tears rivered down her face, mixing in with the blood from her head wound. With his free hand, he ripped off his belt, the metal buckle hitting her chin. More blood, pain, and rage provided enough adrenaline for her to yank her arms free. She heard the swift sound as he ripped open his zipper, knowing what was next. Through her blood-drenched vision, by the dim light from the moon, Alison was able to see the table between the two beds. The extension cord on the lamp, snaking across the linoleum, was within her reach.

She yanked the cord, and the lamp smashed onto the floor, also hitting the iron bedframe. Quickly she reached for a large piece of glass, feeling its sharp edge. Before he realized what she'd done, her adrenaline pumping, she jammed the broken glass into the soft spot in the center of his neck.

His body limp, stunned, he touched his neck. "I'll kill you!"

She pulled the shard of glass out of his neck and stabbed him again, and again and again.

Pushing his heavy body aside, she wiped the blood from her eyes, took her wad of money from the pillowcase, and crawled out the window.

The words never again, never again kept rhythm with her steps as she ran down the sidewalk. Amid angry tears and unrelenting pain, Alison promised herself she would never let another man touch her again.

2004

Liam and Noah had been raised in a house on Sheridan Road, the upscale area of Wilmette, a suburb of Chicago. Their father, Sidney Westlake, had a seat on the Chicago Board of Trade, and had parlayed a modest stake into a large fortune. Their mother, Eleanor Adams Westlake, was aloof. A debutante when she was in her teens, she had picked her friends according to their socioeconomic status and continued to do so throughout her marriage. Only the wealthiest people in town were invited to the opulent parties hosted by "the Ice Queen," the name Liam and Noah would mutter when she dismissed her sons from a room. Any room. To describe her as cold would be like describing Warren Buffett as well-off. Even the sting of dry ice would be warmer than her personality. She could be most charming, but only bothered when being scrutinized by her peers. She was a perfectionist at maintaining a façade of grace and hospitality.

The brothers had attended boarding school from the time they were eligible. Prior to that, they were constantly under the tutelage and care of not one but two nannies. They rarely saw their mother, even when they were home.

Truth be told, Eleanor hated children. If it hadn't been for the pressure from her family, she would have skipped the revolting process by which they came into the world, but someone had to inherit her share of her father's estate. Her father had been a bit of a prig. He wanted an heir. An heir as in a male. As far as he was concerned, neither Eleanor nor her sister, Dorothy, qualified. They were women. He was adamant that the legacy would be handed down to Eleanor's and Dorothy's male children. Dorothy was still single, so it was up to Eleanor to do the heavy lifting, something Eleanor abhorred.

A few short months after they were married, Eleanor was with child. Not one but two. Twins. She despised being pregnant and refused to breastfeed the infants once they were born. Her disdain went beyond breastfeeding. She barely held them. She was thrilled that she had gotten all the dirty work out of the way in one fell swoop. The only time she exhibited any sort of emotion was when she discovered she was having twin boys. She would produce two heirs to the family fortune. Besides, she dreaded the thought of having a girl. Not only would a girl not be an heir, so she would have to go through the disgusting process all over again, but a girl would expect some kind of female bonding. Not Eleanor.

She couldn't bond with anyone even if she used Gorilla Glue. Eleanor was people-proof. The only reason she had a long list of social acquaintances was for everyone else's opportunity to mingle and network with other socialites. She knew it, but she didn't care. She only cared about all the accolades she would get in the lifestyle section of the newspapers—print and online. When it came to human feelings, Eleanor had only one: self-absorption. She was the ultimate narcissist.

On the surface, her marriage to Sidney appeared normal, with the exception of Eleanor's conspicuous consumption of goods, parties, and extravagant trips. Perhaps it was her way of dealing with the numerous extramarital relationships Sidney had had over the years. His dalliances were common knowledge, and most people secretly felt it was more her frigid personality than anything else that caused him to stray. But everyone looked the other way, since they reaped the benefits of association with the wealthy and entitled. It was a price everyone in her circle was prepared to pay.

Even with his money and influence, Sidney could never divorce Eleanor. He was always discreet as well as generous to the women with whom he had his dalliances. Also, many of the women were married, which meant that discretion was even more important. The affairs were casual, and he would show his gratitude with gifts. But he never took it to the point that could warrant his being accused of having "a kept woman." No, Sidney was careful. He couldn't afford a scandal, much less a divorce. Eleanor would take him to the cleaners and stick a hanger up his butt.

Eleanor knew about each and every one of Sidney's peccadilloes. She didn't care as long as he showed up at her side at the many social events they attended or hosted. She'd rather have access to all of Sidney's money than half of it. And everyone knows that the ex-wife becomes the social persona non grata, as she has to take a back seat to the trophy wife who replaces her. No, Eleanor was shrewd. Besides, she found Sidney's lovemaking revolting. She was happy to let someone else handle that repulsive bit of business. Eleanor provided the perfect partner for Sidney. They were locked into their soulless, loveless, controlled lives.

The sons of Sidney and Eleanor Westlake were privileged but not spoiled in the usual way. They didn't have the entitled attitude that so many of their peers exhibited. That was probably due, in large part, to Eleanor's lack of participation and interest. The nannies, the tutors, and their proctors taught them respect and kindness.

Liam was the more introspective of the two. He spent a great deal of time thinking, while Noah spent time playing. In boarding school, Noah would tease Liam when they had an opportunity to watch a rugby match. Liam preferred to sit among the books at the school's well-endowed library. He enjoyed getting lost in thought as he buried himself in the works of ancient philosophers. Noah would sneak up behind him and give him a flick on the back of the ear, causing Liam to holler and shrink in embarrassment while the librarian would give him a big "ssshhhh!" Liam was interested in psychology. He secretly hoped he could reconcile his feelings of abandonment. Intellectually, he knew that Eleanor would never win Mother of the Year, but emotionally, he felt a tremendous void in his heart.

Noah seemed immune to their mother's indifference. His way of dealing with it was simply to make the most of the situation, even if that meant making mischief at times. He never did anything horrid or dangerous. Mostly practical jokes, like short sheeting someone's bed, setting the table with a dribble glass, or leaving rubber spiders in the toilet. They were fraternal twins, so switching identities was not an option. But even as he was nearing his eighteenth birthday, Noah would be the one setting a bag of doggie doo-doo on fire and ringing the doorbell, in the hopes that the person would instinctively stomp out the fire, getting poop all over their shoes. That was probably the most horrendous joke he had pulled.

At least as far as anyone knew.

Regardless of their different personalities, the brothers had a very strong bond. As children, they soon realized that Mother didn't care much and Dad was never home unless Mother was entertaining. Their nannies were the only people who showed them any affection. Eleanor grudgingly gave them a hug when the boys went off to boarding school, but neither could recall any other displays of motherly love. When they were sick, it was the nannies who cared for them, administering cold medications, serving them soup and crackers, and reading stories. Stories. Their mother had never told them a story. Not a single time. Looking back, Liam couldn't remember if their mother had ever entered their bedroom when they were home from school. He had asked Noah if he recalled her coming to them, and Noah couldn't think of a time that it had happened.

Despite the frigid environment in which they were raised, Liam and Noah were well-adjusted. There is something to be said for "the best money can buy" when it came to their nannies and their schooling.

But, in a very short time, they would be emancipated and choosing which college to attend. Liam had contemplated joining the Jesuits but was quickly talked out of it by Noah. Noah had arranged for them to visit the University of Miami campus. The clear blue skies, swaying palms, vibrant blooms of the bougainvillea, and lovely, scantily clad young women sauntering across the great lawn would certainly change Liam's mind.

College life was going to be a totally different experience. They would essentially be on their own without the oversight and supervision of the boarding-school staff. True, there were resident assistants to monitor the dormitories and supervise adherence to the rules. But they had no control over what students did on campus or in the city. There were only eighteen campus police patrolling almost three hundred acres of land and seventeen thousand students, and not all of them were on duty at the same time. It was a very safe campus nonetheless, but it gave students a lot of autonomy and self-reliance.

Mother was not happy with the college they chose. She had anticipated that they would attend Brown or Dartmouth, Ivy League schools that the children of her wealthy friends attended, and put up a bit of a stink. It was one of the very few times she had shown any reaction at all to her children's choices. And this despite the fact that anger and disapproval were her go-to emotional responses to most everything else. Rarely did a smile or word of encouragement surface in response to something her children had done or said. Without saying or explaining what she expected of them, she made it clear what her expectations were, expectations that always had to do with furthering her own social standing. And when those expectations weren't met, she would leave the room in a huff, slamming the door behind her. That's when she would go to Sidney and complain that he needed to "do something about those boys."

And Sidney, who couldn't care less, would shrug, explain to his sons how disappointed Mother was, adjust his tie, and leave the room.

Noah and Liam would roll their eyes and resume whatever they were doing at the time. Reading was Liam's passion. Video games were Noah's.

The day they were leaving for Miami, their mother refused to see them off, feigning one of her "headaches." Liam and Noah were used to her disinterest but got hugs and kisses from the staff—the people who actually cared for them. Even Sidney merely gave them a handshake and a thousand dollars each. "This is your allowance for the semester. Don't ask for any more." After which, he picked up his attaché case and left the grand foyer of their mansion in Wilmette, one of the most luxurious suburbs of Chicago.

Liam and Noah were in their final year at the University of Miami, and neither of them was certain if he was going to continue his education, take some time off, or look for work. They had managed to get through three and a half years of undergraduate school with good grades and good behavior. They were involved in sports and dated a number of girls, but neither was interested in having a committed relationship. Though Liam was the quieter and more moderate of the two, even he enjoyed his freedom. And if their parents' relationship was any indication of what married life was like, neither one of them was interested in entering into any long-term involvement. Casual dating and being "friends with benefits" was the norm for most students their age. And they saw no reason to deviate from that norm.

During school breaks, they would often go on "family" ski trips to Aspen or Vail. In the summer months, Liam, Noah, and a small staff would stay at the family vacation home in Shelby, Michigan. "A modest castle on the lake," is how Eleanor would darkly refer to her husband's purchase. "Sidney wanted a place where he and the boys could spend time fishing." Part of that was true, but everyone knew that Sidney used the villa during the off-season for his frequent liaisons.

Regardless of where they were during school breaks, the family was surrounded by acquaintances, guests, and a variety of social friends. Heaven forbid they interacted with one another as members of a family. There were always other people around to keep the conversations banal. Liam and Noah referred to the multitude of people as "insurance." Insurance that nothing personal would be discussed. Occasionally, someone would ask, "So, Liam, how is school treating you?" Liam would think to himself, Schools can't treat a person. The question should be, How are you treating school? Liam was always the more perceptive of the two, but before he could get a chance to discuss his studies and interests, Mother would quickly change the subject. She never got over the fact that not only did they go to a school that was known as "Sun-Tan-U," but they actually were going to graduate from "that dreadful, crass place."

It was now their final Christmas holiday while in college, and, as per usual, some distant cousin and her brood were staying at the house. Eleanor hired professionals to handle the holiday decorating, the results of which always generated many disapproving looks. Nothing ever seemed to satisfy her.

It was late in the evening, and Liam had a craving for ice cream. He didn't want to bother the staff. They deserved some peace, especially since Eleanor was on her customary pre-party rampage. As Liam made his way down the long corridor, he overheard his mother hissing at his father. But the heavy oak door that separated the master bedroom suite from the hallway made it difficult to hear his father's reply. Sidney never raised his voice, something that invariably infuriated Eleanor. But rather than add fuel to her own fire, Eleanor would stop talking and leave the room, banging the door in her usual manner of expressing her discontent. She barely noticed Liam standing in the hallway and breezed right past him. Not a look. Not a word. She cruised her way to the guest bedroom suite, which was usually occupied by Sidney. But that night, she was hell-bent on making a dramatic grand exit, and that was the only other available bedroom. . . .
We hope you are enjoying the book so far. To continue reading...
19 Yellow Moon Road
Fern Michaels
Copyright © 2023 All Rights Reserved
Also in this series
Also by this author