Book info
Sample
Audiobook
Media
Author updates
Lists
Synopsis
In USA Today bestselling author Carlene O'Connor's eighth Irish Village Mystery, the long-engaged garda of County Cork, Ireland, Siobhán O'Sullivan and Macdaras Flannery, are about to get married at last. But just as the rowdy O'Sullivan brood and all the regulars of the local bistro have gathered at the church, the nuptials come to an abrupt halt when the discovery of an unidentified skeleton puts the wedding on pause…

If only her mother could be here! The entire O'Sullivan brood—not to mention the regulars from Naomi's Bistro—have gathered at St. Mary's Church for the wedding of Siobhán and Macdara. It's not every day you see two garda marrying each other. Only Siobhán's brother James is missing. They can't start without him.

But when James finally comes racing in, he's covered in dirt and babbling he's found a human skeleton in the old slurry pit at the farmhouse. What farmhouse? Macdara sheepishly admits he was saving it as a wedding surprise: he purchased an abandoned dairy farm. Duty calls, so the engaged garda decide to put the wedding on hold to investigate.

James leads them to a skeleton clothed in rags that resemble a tattered tuxedo. As an elderly neighbor approaches, she cries out that these must be the remains of her one true love who never showed up on their wedding day, fifty years ago. The garda have a cold case on their hands, which heats up the following day when a fresh corpse appears on top of the bridegroom's bones. With a killer at large, they need to watch their backs—or the nearly wedded couple may be parted by death before they've even taken their vows...
Release date: February 22, 2022
Publisher: Kensington Books
Print pages: 336
Reader says this book is...: entertaining story (1)
* BingeBooks earns revenue from qualifying purchases as an Amazon Associate as well as from other retail partners.
Listen to a sample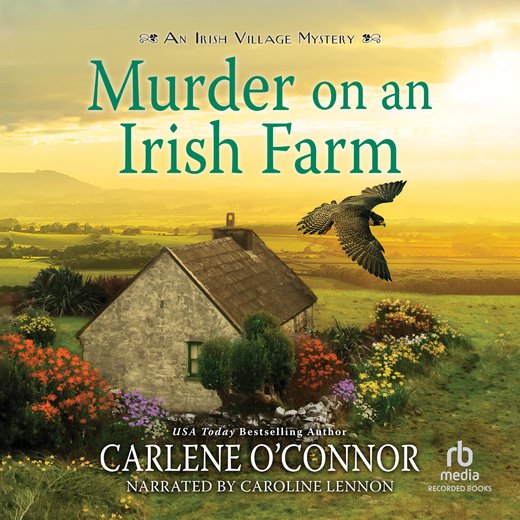 10:18:21
283.07 MB
February 22, 2022
Recorded Books
2022
Murder on an Irish Farm
Carlene O'Connor
The big day was here, June 16 at half nine in the morning, in the village of Kilbane, County Cork, Ireland, where it seemed the entire town had flocked to Saint Mary's, the gorgeous collegiate church with the five-light windows, to witness and celebrate the marriage of Detective Sergeant Macdara Flannery and Garda Siobhán O'Sullivan. And what a grand day it was: the sun was shining down on them, and the forecast was more of the same. Given their reception was going to be held outdoors at the remains of the Dominican priory, or "the abbey," as most folks in Kilbane called it, Siobhán couldn't have asked for a better day. A day that took ages planning, and loads of money would pass in the blink of an eye, but would be remembered and celebrated for the rest of their lives. I do. He would say it; she would say it. Siobhán O'Sullivan and Macdara Flannery would be wed in less than an hour. The Mister and Missus, Herself and Himself, the wedded bliss, the old ball and chain. Then why did it not feel real?

"Hold still," Gráinne said, jerking Siobhán's head back and tightening her grip on Siobhán's auburn locks. Siobhán would have regretted allowing Gráinne to fix her up, but even the regret was futile; saying "no" would have meant years of resentment from her younger, stylish sister. The dressing room in Saint Mary's was suffocating, and Gráinne had every inch crammed with sprays, brushes, gels, tweezers, perfumes, patches, and pins. It was a full-on beauty assault.

The emerald tiara given to Siobhán by her siblings was on top of her head and secured with so many pins Siobhán was half expecting to receive incoming messages from alien spacecrafts. She was probably going to have a mad headache before the day was done, but it was a stunning addition to her attire, and although the emeralds in the tiara were not real, the one in her engagement ring was, and so were the studs shining from her ears. They had belonged to her mam, Naomi O'Sullivan. Something borrowed. And tucked into her bodice was a blue pin her father, Liam, had worn as a member of his hobby club collecting and trading model trains. Something blue. This way her parents were with her in spirit, and she knew they were looking down from heaven, and surely, they were thrilled with the union. Siobhán O'Sullivan had made a lot of mistakes in her young life, and would continue to do so, but Macdara Flannery would never be one of them.

"It doesn't feel real."

She felt a sharp pinch on the back of her arm and yelped. Gráinne laughed. "How's it feel now, pet?"

Siobhán shook her head and stared at herself in the mirror, feeling beautiful but wondering if the cosmetics were a little too much. She was terrified to ask her sister to ease up. She couldn't afford to get into a row. "Make sure he still recognizes me when you're done." She smiled to soften the message in case Gráinne took the comment as a first strike.

"You'll look so good, he'll marry you anyway," Gráinne replied. "Now sit still."

Siobhán sighed, looked at her eyes illuminated by dark lashes and eyeliner and shadow. They did look stunning, even if they belonged to someone else, someone with an affinity for glamour. Gráinne was trying to turn Siobhán into a version of herself. Siobhán's hair was in curls and piled on top her head, with tendrils hanging down. She wasn't even wearing her wedding dress yet, and already the corset and tights alone were cutting into her skin. Perhaps they should have eloped after all. A short ceremony in a comfortable dress, with a stop at the chipper, and she would have been happy out.

"Woah," said Ann, the youngest O'Sullivan girl, as she careened into the tiny room, her emerald dress swirling around her heels as she came to an abrupt stop. "Would you look at dat." Siobhán was thinking the same thing about Ann as they studied each other in the mirror through their heavily made-up eyes. Three beautiful women. Ann with her stylish blond bob, Gráinne with dark, shiny locks fashionably straightened, and Siobhán the redhead—although technically, her hair was auburn. But it was Ann that Siobhán couldn't look away from. She looked way too beautiful and womanly for a girl just shy of sixteen. Siobhán had an irrational urge to take a wet cloth and wipe away all the make-up on Ann's young face. But if she did, there would be war.

"You look lovely," Siobhán said to Ann instead.

"You look . . . woah," Ann replied.

"You're both gorgeous," Gráinne said. "You're welcome."

Siobhán turned to Ann. "Was that a good 'woah' or a bad 'woah'?"

Ann shrugged. "I dunno." She crossed her eyes and stuck out her tongue. "Just messin'. You look gorgeous. I don't even recognize ya!"

Siobhán closed her eyes and imagined what life would be like without siblings. Bliss. Gráinne pinched Siobhán again until she opened her eyes, then Gráinne tilted her sister's head back as she loomed over her. "Do you think you need a touch more eye shadow?"

"No," Siobhán and Ann said in unison. Noise filtered in from the church, the murmurs of friends and family. Maria and Aisling, her maid of honor and bridesmaid (along with Gráinne and Ann), were dressed and in the church, helping to usher people in. The bridesmaid dresses were a lovely shade of emerald green, and the groomsmen—Macdara had asked her brothers to do the honor—would all have matching bowties.

Siobhán's stomach tingled, and a smile broke out on her face. It spread to Gráinne and Ann. Siobhán held out a hand to each sister, and soon all hands were clasped, squeezing and bonding. It was a mental snapshot Siobhán knew she'd remember the rest of her life, the three O'Sullivan lasses grinning like eejits in the mirror. Ann stuck out her tongue again, and tears welled in Siobhán's eyes.

"Don't you dare start the waterworks," Gráinne said. "You'll ruin my artistry."

"Right, so." Siobhán took a deep breath and thought about non-sentimental things. Who was at the garda station right now? Their newest member, Garda Aretta Dabiri, would look after things. It was astounding how quickly she was turning out to be a valuable member of the garda family. Aretta planned on popping in at some point during the ceremony to share in the good wishes and enjoy some food and drink from the reception. Why did it feel like there was someone they'd forgotten to invite? This time when Siobhán's stomach tightened, it was from worry.

"Let's get you into that dress," Gráinne said. "It's nearly showtime."

It did feel a bit like a show, one where Siobhán was worried she was going to flub her lines. Siobhán stood as Gráinne and Ann reached for the dress. It had been a special order, a creamy satin dress that had come close to Siobhán's liking, then had been transformed by their dear friend Bridie into something out of a fairy tale. She had removed the sleeves so it wrapped around Siobhán's shoulders, revealing more cleavage than Siobhán usually flashed, but nothing that would incite chins to wag. The bodice was framed in tiny white pearls, and the bottom of the dress flared out in a tulle skirt. A lovely emerald satin ribbon would cinch her at the waist. As she prepared to step into it, Siobhán felt the moment in her bones, the absolute joy of the here and now. She could hear her da's voice, feel his hug: I love the bones of ya.

I love you too, Da. I know you're with me. . . .

"I swear on me grave, I'll box you in the ears if you start the waterworks," Gráinne said.

Siobhán bit her lip and nodded.

"You can cry all you like after the photos are taken."

Photos. The photographer. She'd nearly forgotten all about him. "Has he arrived?" she asked.

"I'll check," Ann said.

"Help me squeeze her into the dress first," Gráinne said.

"Squeeze me?" Siobhán said. "There's no need to be squeezing me." She'd stayed away from curried chips and sugar for an entire month. Her sisters each held a side, and Siobhán stepped into the dress. They gracefully pulled it up and zipped it up, and as she'd attested, there was no squeezing to be done. They twirled her around, and for a moment even Gráinne was speechless. Gráinne reached for the long veil that would attach to the back of the tiara. Siobhán was nearly giddy with adrenaline as it was securely attached. Gráinne and Ann spread the veil behind her, then stepped away to have a look.

"Gorgeous," they all three said in unison.

Ann whirled around and zipped out of the room. Siobhán bit her lip and thought of horrible, horrible things to keep her eyewater from leaking. She turned and picked up the bouquet of wildflowers sourced by the local shop and dressed up with white roses and baby's breath with an emerald ribbon. They were sublime. Everything was absolutely picture-perfect.

"I'm ready," Siobhán said with a nod to Gráinne and with more confidence than she felt. "Tell everyone I'm ready."

A few minutes later, Ann skidded back into the room and looked everywhere but directly at Siobhán.

"What?" Siobhán said as her heart fluttered with a tinge of worry. "Is it the photographer?"

"No, he's here," Ann said. "He wants to know if you want some shots of you getting ready."

"I'm ready," she said. "I'm already ready."

"I could start all over," Gráinne said with boundless enthusiasm.

Siobhán shook her head. They were acting squirrely. "What is going on?"

"It's James," Ann said.

"James? What about James?" The eldest of the O'Sullivan Six. He'd been a bit mopey lately, since breaking up with his fiancée, Elise, and moving back from Waterford. He'd thrown himself into a new job, working as an apprentice with a few lads who restored old homes. It sounded like a fascinating job, and she was dying to hear more about it, but he'd been impossible to pin down for a chat.

"He's probably on his way," Gráinne said.

"On his way?" Siobhán could hear the panic in her voice. "He's not here?" She did not want to be browned off on her wedding day, especially with her older brother.

Gráinne held up her mobile. "I've left a million messages."

Nervous looks were exchanged among the sisters. James was a recovering alcoholic. But he'd been sober for years. He wouldn't choose Siobhán's wedding day to relapse, would he? Not that addiction was a choice. And he'd suffered a breakup. Now he was supposed to celebrate love. Was that why he'd made himself scarce lately? What if he wasn't working at all? Had he been drinking for days, and Siobhán hadn't been paying attention?

"Father Kearney is pacing," Ann said. "He said to remind you he's on a tight schedule."

"I see." Father Kearney had warned them he had a busy summer. There had been quite a bit of back-and-forth about the wedding date, and when this slot had finally opened up, he had let them know in no uncertain terms that they would be on a tight schedule. A baptism was scheduled as soon as the ceremony was finished. And they had assured him they would respect that. She could not start her marriage off by breaking a promise to the parish priest. Siobhán gathered her dress and headed for the door.

"What are you doing?" Gráinne said, literally throwing herself in front of Siobhán.

"I'm going out there."

"You can't see Macdara before the walk up the aisle."

Siobhán stopped. "Don't be silly. We make our own luck. And it's nearly time for the ceremony."

Just then the door flew open, and her brother Eoin stepped in, looking handsome in his tux. Behind him the youngest O'Sullivan, Ciarán, clad in an adorable tux of his own—he was getting so tall—was clutching a violin and sweating profusely. He was going to play a song for the wedding. Siobhán wasn't thrilled about it; the last time she had heard him play, it had sounded like cats falling from trees.

Eoin looked at Siobhán and gave a nod. "Not the worst-looking bride I've ever seen," he said with a wink.

"Thank you," she said, giving him a gentle shove.

"James isn't here, Father Kearney is ready to bolt, and Macdara wants to know what you want to do." Eoin's words came out in a rush; unlike Gráinne's and Ann's hemming and hawing, he seemed to believe that bad news should be delivered in a single breath.

Siobhán gathered her dress. "Let's start the wedding."

"Without James?" her siblings asked in unison.

Siobhán stared at the faces of her brood, feeling the pressure to make the right decision. "I take it everyone has been trying to reach him?"

"We've all called him," Gráinne said. "And texted. He's not answering."

"We've given him long enough." She had no control over this. It was not her fault, and maybe it wasn't his fault either, but there was nothing to be done. Later they would drink champagne, clink glasses, and laugh about how James had missed one of the biggest days of her life. "It's grand. It's grand, it's grand, it's grand."

"The more you say that, the less I believe it," Gráinne said.

Eoin stepped forward. "I can walk you down the aisle."

As the oldest male, James had agreed to walk Siobhán down the aisle. A flicker of doubt gnawed at her. He wouldn't miss this. He wouldn't.

"I'll tell the organist to start." Eoin whirled around and tapped Ciarán on the shoulder. "Are you ready?"

Ciarán nodded, swallowed, then looked at Siobhán. "You look really beautiful," he said.

Gráinne poked her in the side. "Do. Not. Cry."

Siobhán took a deep breath, then bit the side of her lip. Showtime.

Siobhán stood at the end of the aisle and gazed at Macdara, who, hands clasped nervously in front of him, stood next to Father Kearney. The husband and wife-to-be locked eyes. He was stunningly handsome in his tuxedo, his sky-blue eyes pinned on her, his usually messy hair carefully combed, his lopsided smile doing double time, making her heart dance in her chest, infusing her insides with bliss. He grinned, and she grinned back. Gorgeous, he mouthed, sending more pinpricks of joy rolling through her. Nearby she could hear the photographer clicking and flashing away. The pews were decorated with lovely white and emerald ribbons, and an emerald runner dotted with white rose petals lined the path. The organ began with a hymn, joined by the violin. All heads turned as Ciarán played. This time, it did not sound like cats falling from trees. He must have been practicing for ages. It was pitch perfect. Hands found their way to hearts as white tissues popped out of handbags and the sniffling began in earnest. Siobhán bit down hard on the inside of her cheek. She wished Gráinne were here to pinch her. Before she knew it, the waterworks broke through, and wetness rolled down the sides of Siobhán's face.

Stop it, stop it, stop it. No more crying. Please stop crying. Think horrible thoughts again. Droughts. Misfortunes. Missing brothers.

She felt Eoin's arm tighten in hers. "Hold it together, luv." "Should I have waited for James?" she whispered. How could they do this without him? Why wasn't he here?

From down the aisle, Macdara's smile faltered. He looked worried. About James? Her bridesmaids finished their procession, and they took their places up front. The melodic wedding march began, and as Siobhán and Eoin proceeded up the aisle, Siobhán took in all the friendly faces. Bridie gave her a bright smile; Annmarie waved. Mike Granger from the fruit and veg shop gave her a nod and a wink. Macdara's mammy, Nancy Flannery, sat in the front row, looking only at her son. Siobhán nearly laughed out loud. The golden boy. Hopefully, Nancy Flannery wouldn't object to the wedding. When Siobhán reached Macdara, she handed her bouquet to Gráinne. Eoin kissed Siobhán on the cheek and stepped to the side of Macdara; then Ciarán slipped in next to Eoin. On the other side, Maria, Aisling, Gráinne, and Ann outnumbered the groomsmen, but no one was counting. The music stopped, and Father Kearney cleared his throat. Macdara smiled, took Siobhán's hands and squeezed them. The tears in Macdara's eyes made her waterworks threaten to start all over again.

She leaned in. "Think of horrible, horrible things. That's all I've been doing all morning." Macdara's laugh rumbled out of him and warmed her insides.

"I'll take any horrible thing that comes my way," Macdara whispered in her ear. "As long as you're by my side."

"That does it for the vows, then," Siobhán whispered.

Macdara laughed again, until a look from Father Kearney silenced the pair.

Once they were settled, Father Kearney began with greetings and the opening prayer, and then everyone joined in another hymn. Siobhán's eyes continuously landed on the doors to the church, willing James to enter. Before she knew it, they were nearly to the good bit. "Friends and family, we are gathered here today for this most joyous and holy occasion, the matrimony of Macdara Anthony Flannery to Siobhán O'Sullivan." A sob erupted, and Siobhán didn't have to turn to know it was Nancy Flannery. Father Kearney's voice continued, and Siobhán tried to listen, but there were too many thoughts clouding up her head, and she heard nothing else until Macdara squeezed her hands, which was when she registered the question "Do you have the rings?"

"I do," Eoin and Gráinne said in unison.

Macdara turned his cheeky face to the crowd. "That's what we're supposed to say."

Siobhán laughed first, and then the congregation followed. The laughter continued to roll until the church doors burst open. Silence descended, pews creaked as everyone shifted, and all heads snapped to the intrusion. James stood frozen in the entry, wearing denim overalls and a dirty white shirt. He was covered head to toe in dirt. His eyes were wild, but alert. He didn't appear to be drunk. He looked terrified.

"Sorry, sorry," he said, holding up a dirty hand and taking a step back. "Carry on."

"Wait," Siobhán said.

"Finish what you're doing," James said, his voice wavering. "I'll wait out here." The doors clicked shut behind him, echoing through the church, louder than any sound Siobhán had ever heard.

"Shall I continue?" Father Kearney asked after a moment of stunned silence, throwing a harried glance at the doors along with the rest of the guests.

Siobhán was torn. She wanted to bolt after James, and yet she couldn't bring herself to do that to Macdara.

"I'm afraid we'll have to postpone," Macdara said.

"No," Siobhán said. "Let's get this over with."

Macdara laughed. He leaned in, his voice low and intimate. "I might be a tad sentimental," he said. "But I'm not marrying you in a get-it-over-with kind of way."

She bit her lip and looked to Father Kearney. "Perhaps you could do the baptism first, and then we could all return and carry on with our wedding?"

Father Kearney shook his head. "I'm afraid that's out of the question. It's either now or we'll have to reschedule entirely."

"Reschedule," Macdara said. And before Siobhán could respond, he took her hand and led her down the aisle.

"Gráinne," Siobhán yelled.

Gráinne ran to her side. "Yes?"

"Help organize everyone. Bring them to the abbey. Enjoy the reception."

Gráinne clasped Siobhán's hands. "Are you sure?"

Siobhán nodded. "We can't just send everyone home. It's a gorgeous day. The abbey is decorated. Food and drink are arriving—not to mention the trad band—and if someone doesn't enjoy it, it will all go to waste."

"I'm on it," Gráinne said. "I'll see to it everyone has a cracking good time whether they like it or not."

"Good woman." Siobhán turned to the crowd. "I'm so sorry. Go to the abbey. It might not be as romantic as we'd planned, but it's sure to be great craic. We'll do this again soon. Promise."

James paced the footpath in front of the cathedral. "Congratulations," he said when Siobhán and Macdara approached. He looked down at his dirty hands. "Sorry I don't have any rice or confetti to throw at ye."

"Birdseed," Siobhán corrected. "And we postponed."

James crossed his arms and shoved his dirty hands under his armpits. "Because of me?"

"The state of ya," Siobhán said. "What on earth is going on?"

"I'm so very sorry," James said, looking at Macdara. "I need to speak with you in private."

Macdara took a step toward James, and Siobhán grabbed his arm. "Not on your life," she said. "What you have to say to him, you'll say in front of me."

Macdara and James exchanged a look.

"Macdara?" she said.

Her nearly husband cleared his throat. "I think this might have something to do with a surprise I had planned for my wife."

For a second Siobhán was startled. His wife? What wife? And then she realized he was talking about her. "Your wife." A nervous laugh escaped her. Macdara cocked his head and gave her a funny look. She touched her tiara. "It's so tight I think it's melting me brain."

"Macdara is right," James said. "I'd rather speak to him in private. Otherwise I'll have ruined not only your wedding but the big surprise as well."

"Unless you've been spending all your time constructing a time machine, I'm afraid it's too late," Siobhán said. "You're going to have to ruin it."

James threw a pleading glance to Macdara.

"The lady has spoken," Macdara said with a nod. "Perhaps we can still save some of the secret." He turned to Siobhán. "James has been working on a special project for me. A surprise."

Siobhán stared at James, covered in muck. "Congratulations. You could knock me over with a feather."

Macdara shook his head, then turned to James. "I see you've been working away."

James nodded. "I planned on just doing a little more this morning, with plenty of time to get ready for the wedding."

"I believe you miscalculated," Siobhán said.

"I blame myself," Macdara said. "It was too big a project to be completed by today."

"It was my choice," James said. He swallowed. "But when I started clearing some debris in the dairy . . . in the outbuilding . . . I found . . . a skeleton at the bottom of the slurry pit."

"Dairy? Slurry pit?" Siobhán said. "Outbuilding? Skeleton?" She was aware she was spitting out words without comprehending them, yet she couldn't bring herself to stop.

James continued as if she hadn't spoken. "I thought it was a large stone. It was all black, covered in who knows how many years of muck. It wasn't until I touched it, and realized it didn't feel like a stone, and then I turned it over and saw the eye sockets . . ." His own eyes were wide as he relived the trauma. "A skull. A human skull! I went cold, so I did. My entire body went ice cold. I swear to ye, I placed it back exactly the way I found it. Then I looked closer and saw tattered pieces of clothing. Strange. It looked like he was wearing a suit. And I saw more blackened bones, his finger bones, something that looked like an arm bone, more tattered clothing—and his shoes. A man's dress shoes. I think he was tall. If the distance between the skull and the shoes are any measure, he was tall. Can ye imagine? The poor yoke facedown in a slurry pit? I climbed out—and me phone slipped out of me pocket and into the pit. I didn't even root around for it, because if it's a crime scene, I was terrified to touch anything else. The neighbors didn't answer their door, and the rest of the lads weren't due to arrive until this afternoon, when we were supposed to remove the pit. I drove into town and stopped at the station to alert the guards. But, of course, they said that the only guards who could handle such a request were . . . occupied . . ."

"Us," Siobhán said.

"I shouldn't have burst into the church, but I didn't realize ye had started without me, and don't forget I dropped me phone into the slurry pit!"

Siobhán turned to Macdara. "Your surprise is a slurry pit?" Nothing about this moment made sense. Slurry pits. Concrete tombs where cows from days of yore had done their business. Cow patties. "The first anniversary is paper," she said. "I'm fine waiting a year for paper."

Macdara laughed. They weren't being cruel; humor was a common way to deal with the unimaginable. "Go big or go home."

Perhaps it was good the wedding had been postponed. Did she know this man at all? Why was a slurry pit part of a surprise?

Like floodgates set loose, words continued to spill out of James. "I knew you'd be freaking out that I wasn't there, and my tux was in the church dressing room, and I thought I could sneak in and not disrupt the wedding, because I can tell you one thing, that skeleton has been lying there for a long, long time, so I figured he—from the shoes and the remains of a suit, I think it's a he—could wait just a little longer." He stopped suddenly and took in Siobhán's dress. "I'm sorry I ruined your wedding, and by the by, you're the most beautiful bride I've ever seen."

"You are," Macdara said. "I meant to say that meself."

Perhaps this was a dream. A pre-wedding nightmare. Siobhán looked around. "Where's the wedding photographer?"

"You want to do our wedding photos now?" Macdara sa. . .
We hope you are enjoying the book so far. To continue reading...
Murder on an Irish Farm
Carlene O'Connor
Copyright © 2023 All Rights Reserved
Also in this series
Also by this author