Murder in an Irish Village
Book info
Sample
Audiobook
Media
Author updates
Lists
Synopsis
In the small village of Kilbane, County Cork, Ireland, Natalie's Bistro has always been warm and welcoming. Nowadays 22-year-old Siobhan O'Sullivan runs the family bistro named for her mother, along with her five siblings, after the death of their parents in a car crash almost a year ago. It's been a rough year for the O'Sullivans, but it's about to get rougher.
One morning, as they're opening the bistro, they discover a man seated at a table with a pair of hot pink barber scissors protruding from his chest. With the local garda suspecting the O'Sullivans, and their business in danger of being shunned. It's up to feisty redheaded Siobhán to solve the crime and save her beloved brood.
Release date: March 1, 2016
Publisher: Kensington Books
Print pages: 304
* BingeBooks earns revenue from qualifying purchases as an Amazon Associate as well as from other retail partners.
Listen to a sample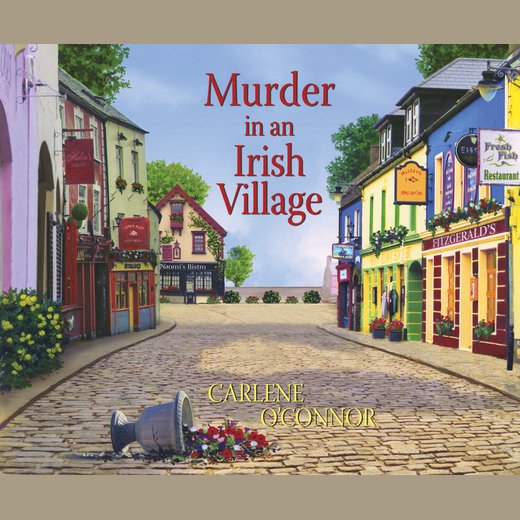 10:03:39
276.35 MB
February 23, 2016
Dreamscape Media
Murder in an Irish Village
Carlene O'Connor
Siobhán O'Sullivan hurried through lush green fields, adjusting every so often for the bumps and dips of the terrain, imagining that from high above, Kilbane, County Cork, Ireland, must look like an ocean of green, rendering her a mere speck at sea. Before she knew it, she had passed the majestic remains of the ruined Dominican Priory, its Franciscan bell tower rising proudly above the town. Sheedy's cycle shop wasn't far now.

She hugged the medieval walls encircling the town, marveling at how something once constructed to keep violent marauders out could just as easily trap them in. She placed her hand on the ancient stone, relishing the way its rough peaks scraped against her fingertips. It was damp to the touch despite the midday sun. One of the few walled towns in existence, it had endured some of Ireland's most turbulent times and survived. These days Siobhán took solace wherever she could get it.

After ten straight days of lashing rain, the sun was laughing down on them, creating good cheer even in the be-grudgers. Shopkeepers swept their footpaths, green thumbs tended gardens, and other folk simply turned their faces to the generous swath of blue sky. Children squealed, and kicked balls, and raced their bicycles through swollen puddles. Shoppers bustled along Sarsfield Street, calling in to the market, and the gift shop, and the chipper, and the hardware store. And, of course, to Naomi's Bistro. They would call out to one another—hello, hi ya, and how ya—and everyone would answer they were grand.

Siobhán had less than an hour before the lunch service at the bistro would begin. Given that children were tasting their first week of summer freedom, and it was a Friday to boot, they were going to be jammers. She picked up her pace, as the shop was just over the hill. If her siblings found out she was sneaking out several times a week to visit a pink scooter, they would declare her a right nutter.

Cows lifted their heads and chewed lazily as she panted by, sheep bleated, and swallows streaked through the sky. Patches of gorse set the neighboring fields aflame with their bright yellow heads, emitting the slightest scent of coconut. By the time she arrived at the shop, Siobhán was out of breath. She'd better stop eating so much brown bread at the bistro or she would have to buy a colored track suit and join the race-walking ladies in the morning. Surely their wagging tongues burned more calories than their aerobics. Siobhán laughed to herself and pushed the door to the shop open, hoping the jangle of the bell would disguise her labored breathing.

She looked at the counter, expecting to see Séamus Sheedy break out in his customary grin. Instead, there stood Niall Murphy. His dark hair, normally cut short, hung almost to his chin, giving him an unruly appearance. He seemed taller, too, or at least more filled out. Even before the bad business with Billy, Siobhán had always felt on edge around Niall. Maybe it was his eyes—technically brown, but so intense, his pupils so enormous that she always thought of them as black. She wasn't prepared for the shock. What was he doing here?

It was impossible to look at Niall without a thousand dark memories swarming in. Just when she thought she was on the mend, there he was again, the sniper of grief aiming a killing blow at her heart. Instantly, no time had passed at all. No time since that cruel morning almost one year ago when Niall's brother, Billy, got into his sporty red car, absolutely blotto, and slammed head-on into her parents. They died on impact. Billy was charged with drunk driving and sent to prison, and Niall took off for Dublin. Where, for some reason, Siobhán had just assumed he would stay.

She wanted to back out of the shop, but he'd already trained his dark eyes on her. Just then, Bridie Sheedy's head popped out from the other side of Niall. Séamus's wife was so petite Siobhán hadn't seen her at first.

"Hallo," Bridie called out. "How ya?" Despite an obvious attempt to sound cheerful, Bridie's voice wobbled, and Siobhán got the distinct feeling that she had just interrupted something. What on earth was Bridie doing standing so close to Niall? The two of them couldn't be sneaking around, could they? Surely not. Bridie was mad about Séamus, despite their age difference; everyone knew that.

"Grand," Siobhán said, doing her best to avoid Niall's stare. "How are you?"

"Not a bother." A smile broke out on Bridie's face, and this time it seemed genuine. With her head of brown curls and sparkling green eyes, Bridie's presence eased the tightness in Siobhán's chest a wee bit. Her smile didn't waver, but her tiny hand fluttered to her head, where she adjusted a knitted blue flower stuck in her hair, one she'd no doubt made herself. Bride was always a walking advertisement for her homemade wears.

It was odd to see her in here, surrounded by grease, and wheels, and dirty rags. She was normally at Courtney Kirby's gift shop, where she sold everything from jewelry to handmade scarves. And when she wasn't at Courtney's she was perched on top of a stationary bike at spinning class. Siobhán would much rather ride a scooter; it never made sense to her why anyone would want to pedal like mad atop something that was never going to go anywhere.

Bridie picked up her bedazzled handbag, whisked out from behind the counter, and grabbed Siobhán by the arm. She had a surprisingly strong grip for such a little woman. "Would ye mind keeping my secret?"

Siobhán extricated Bridie's clawing fingers from her arm. She was the porcelain variety of pale and bruised easily. "What secret?"

"Don't tell Séamus I was here. I'm begging ye."

"Oh." Jaysus, she didn't want to be part of that kind of secret. Was Bridie cheating on Séamus? With Niall? Right here in the shop?

Bridie must have noticed Siobhán's face go scarlet, for she gasped and then laughed. "No, no, pet. Nothing I'll be needing to confess to Father Kearney." She continued to laugh, and Siobhán couldn't help but laugh with her. "Niall was helping me order a gear for Séamus." Séamus was an avid road racer, always darting about town on his bicycle. He used to compete in actual road races and had loads of trophies to show for it. Better than spinning, but Siobhán still preferred the scooters. "A surprise," Bridie continued. "For his birthday."

"Ah. Of course. Not a bother," Siobhán said.

"Grand." Bridie laughed and then kissed each of Siobhán's cheeks. "When are ye going to whittle us a few dainty birds or roses for Courtney's store?" She kept her big eyes on Siobhán without blinking. Siobhán had learned to whittle from her grandfather, who noticed Siobhán had a temper; although her mam was terrified at the thought of putting a knife into her wee hands, her grandfather insisted whittling would be a good outlet for the young hothead. It required patience and concentration, and to everyone but her grandfather's surprise, she was right good at it. She could turn a piece of wood into a tiny singing bird, or a delicate flower, or her personal favorite, a Celtic cross. There was a box underneath her bed with her carving knife and bits of wood. A little here, and a little there, and before she knew it, another marvelous creature would come into existence. But she hadn't felt like whittling since her parents had passed on. It didn't feel right to be so carefree.

Siobhán forced a smile back. "We'll see."

Bridie sang her good-byes over her shoulder and bounced out of the shop. Siobhán had a strange urge to run after her.

Niall darted out from behind the counter and planted himself in front of Siobhán. "What's the craic?"

Siobhán felt her ire rise. Oh, we've been having some fun, boyo, since your brother slammed head-on into our parents. "What are you doing here?" she said instead.

Niall glanced around the shop as if the bicycles had ears. "We need to talk."

Siobhán forced a smile. "Here for a wee visit with your mammy?" Nasty woman, that Mary Murphy. Her mam wouldn't want her speaking ill of a neighbor, but she couldn't help it. Mary Murphy hadn't once said she was sorry for what her son had done. Siobhán didn't realize her right hand was curled into a fist until a fingernail dug into her palm.

Niall's face darkened, and an unmistakable look of hate flashed across it as his mouth turned into a slight snarl. "Me mother hasn't been able to work since the town turned against her. You know it yourself. Séamus was good enough to take me on here."

Turned against her? Mary Murphy was the one who had been avoiding contact with everyone. She slipped in and out of Mass, hurried through the shops, and hadn't once come into the bistro since the accident. And here was Niall, blaming the entire town. Did that mean he was back for good? She didn't want to think about that now, and she especially didn't want to think about how her older brother James was going to react when he found out.

This was the problem with positive thinking: the moment she set herself up to be happy, something in her world always came crashing down. He'd ruined her break, the sunny day, her hope. She should just walk out right now, but she didn't want to give him the satisfaction. Without another word, she turned and made her way to the scooters that were lined up at the front window, all shiny and new.

Oh, how she loved the Italian scooters. She stood next to the black one, praying Niall Murphy wouldn't notice when she glanced down the row at her actual favorite, the one in pink. All her life she'd been told redheads couldn't wear pink. But her hair was a darker red, more auburn, and besides, that old notion had changed with the times, hadn't it? Kilbane had mobile phones, and cable television, and iPads, and redheads could now wear pink. Or else she could tuck her hair into the helmet.

Yes, she definitely wanted the pink one. With a basket. That was only practical. She could see herself zipping around town, picking up bread and milk when the bistro ran low, feeling the vibrations of the road in her body, the breeze on her face. Of course, she'd have to be careful in the rain, and she would have to figure out how to keep her siblings off it—

"Aren't you supposed to be in Dublin?" Niall said from behind her. "Starting university?" Siobhán stopped, and turned. Niall was less than a foot from her. Of course, she was supposed to be in Dublin. The whole village knew about her scholarship to Trinity College. After she completed her Leaving Certificate she'd spent two years working at the bistro and saving for University before the scholarship finally came through. Mam and Da even hung her acceptance letter up in the bistro for everyone to see. To add to her luck, her best friends Maria and Aisling had delayed college as well to travel. All three of them would be starting University at the same time, just like she'd always dreamed.

But just a few months before she was to embark on the adventure of her life, her parents were gone. James wasn't stable enough to run the bistro and take care of the three youngest. So it fell to Siobhán. Her best friends, Maria and Aisling, were at Trinity without her. The more time went by, the less they talked. It was too painful to be constantly reminded of the life she thought she was going to be leading.

How one's destiny could change in the blink of an eye. Niall Murphy knew why she wasn't in Dublin better than anyone. Her da's favorite Sean O'Casey quote rose up in her: It's my rule never to lose me temper till it would be detrimental to keep it. "I could say the same thing about you," she said. "Why aren't you still in Dublin?"

Niall looked around, even though they were still alone in the shop, then leaned in and lowered his voice. "I was planning on coming to see ye."

"What for?" Couldn't Niall see that she didn't even want to be in the same room with him?

"When can we meet?" He glanced around the shop. "Somewhere private like."

"Never," Siobhán said. Niall stared at her, and she stared back. There it was. She couldn't pretend, couldn't be polite. If he was back in town, that was his business, but she wanted him to stay far away from her and her siblings.

"Don't be like that."

"I have to go." Siobhán headed for the door. Niall blocked her.

"You've turned into a beauty since I've been gone."

Was he hitting on her? Siobhán felt the familiar flush of heat scorch her face. She'd always hated how she blushed at the drop of a hat. When she was younger it was a curse to be so tall, with flaming red hair. But now that she was twenty-two, everything that was once ugly about her had somehow pulled together and blossomed into something beautiful. She still wasn't used to it. It thrilled her secretly, and that in itself was probably a sin.

Imagine Siobhán O'Sullivan succumbing to vanity. Beauty came and went, Siobhán was well aware, but it appeared this was her time, and wasn't it just as much a sin not to enjoy a rose in full bloom? She'd been looking forward to what kind of a splash she could make in Dublin. But she didn't like Niall Murphy looking at her like that, saying those things. Where was Séamus?

Niall brought his face close to hers. She stood her ground despite desperately wanting to back away from him. "Listen to me, gorgeous. It wasn't Billy's fault. He didn't do it."

"Didn't do it?" Fury rose in her as the sight of her parents' twisted white Volvo accosted her once again. "Are ye mental?"

Niall put his hands up, as if surrendering, looked around, and stepped so close she could smell whiskey on his breath. "I have proof."

"Proof?" Instantly she saw Billy's flashy red car zooming around Devil's Curve and barreling head-on into her parents, who had been returning from a weekend in Waterford. When the guards arrived, Billy was found slumped over the wheel, concussed, but alive, and muttering excuses. Later he was found to be three times over the legal alcohol limit.

"Are ye saying someone forced whiskey into him and pushed him into his sporty car? Made him press down harder on the pedal? Ignored all warnings to slow down around Devil's Curve? Is that what you're saying to me?" Her voice was raised now, and she didn't care.

Niall shook his head. He had a wild look in his eye. "There's so much. You wouldn't believe it."

"I don't."

"The proof. It's worth something. You know?"

"I have to go." Siobhán stepped forward, and Niall blocked her path.

"Me mother is in bad health. My brother is rotting away without good legal help." She'd never seen such a look in anyone's eyes before. It was as if he was pleading with her and threatening her at the same time. Like a wounded animal you feared would tear into you the minute you stepped in to help. Move, move, move. But she couldn't. Scooters were lined up behind her, and Niall hadn't budged an inch. She was trapped.

"I need you to move," Siobhán said. Poke him in the eyes. Is that what she should do if he didn't let her pass?

"Look here. I'd rather give it to you. That's the right thing to do. But he's my brother. And he's locked away for something he didn't do."

"Give what to me?" He wasn't right in the head. Why was she even talking to him?

"I need ten thousand euro." Niall inched even closer.

"Ten thousand euro?" Mad. He was absolutely mad. They barely had a thousand euro in the bank. Not that it mattered. She wouldn't give Niall Murphy the lint from her pocket.

"I figure you must have some money tucked away for college. You said yourself, you won't be needing it now."

"You're despicable," Siobhán said.

"I'm tellin' ye. Yer one would give me twenty thousand euro for it. But I'm trying to do the right thing, can't ye see?"

Siobhán instinctively stepped back, and her backside bumped into the handlebars of the first scooter in line. Before she could even turn around, it tilted over and knocked into the next, then the next, and with surprising speed and clatter, the scooters fell like a line of dominoes. "Jaysus!"

Siobhán reached out to fix the mess, only it was too late. The lot of 'em lay on their sides. Oh, Jaysus, no. Siobhán crossed herself. Were they broken? Scratched? She couldn't afford one, let alone all of them. Why had she come to the shop today?

"You're fine, you're fine," Niall said. He stepped in front of her and pulled the first scooter up. Siobhán held her breath. Niall fixed it so it was standing again, then brushed off the dirt on the other side. Siobhán reached to right the next scooter, but Niall blocked her. "I'll do it. It's me job."

Siobhán stumbled back. It was his fault she'd knocked the scooters over—standing so close to her with alcohol on his breath, ranting about his brother being innocent, propositioning her with lies for ten thousand euro. "You're sick, you know that? You're sick in the head."

The door opened, the bell jingled, and Séamus Sheedy entered, wheeling a mountain bike into the shop. He was a middle-aged man, on the short side, and a good ten years older than Bridie, but he had an infectious grin and a full head of chestnut hair, and cycling kept him trim. "How ya," he called. His grin halted the minute he saw Siobhán's face. He looked from her to Niall, to the mess of scooters on the floor. "Are ye alright, pet?"

"I'm so sorry," Siobhán said. "It was an accident." Séamus shifted his gaze to Niall, still trying to right the last of the scooters.

"It's alright, petal. You're fine." Séamus parked his bike and approached. "What's the story?" he said to Niall.

"It's my fault. I lined them up too close together," Niall said. "So far just a smidge of dirt is all."

Séamus turned to Siobhán with a smile. "There's no harm done, pet. They just need a bit of shining is all."

"I'll get a rag," Niall said. He turned and, with a final look at Siobhán, went back behind the counter.

Séamus grabbed a set of keys hanging by the register and approached Siobhán. "Why don't we make today the day?"

Siobhán was still shaking; she just wanted to flee. "Pardon?" Even with a key dangling in front of her face, she couldn't make out what Séamus was trying to say.

"Why don't you finally take her for a ride?" He gestured to the pink scooter.

Oh, God she wanted to. She wanted to ride out of town and never look back. She wanted to run the scooter directly into Niall Murphy.

"Lunch service will be starting. I'd better get me legs under me." Siobhán headed for the door. She should have never come in. What a silly, silly, girl. What a right joke she was.

Séamus threw open his hands. "There's a discount on the pink one today, seeing how there's a wee scratch."

Siobhán's hands fluttered to her mouth. "Oh, Jaysus," she said. "I'm so sorry. I'll pay for it."

Séamus put his hands up. "I'm just jokin' ye. But she could be yours for a real good price."

Siobhán shook her head. She couldn't think about scooters right now. She couldn't think about anything with Niall Murphy standing right there. Had he really just tried to extort her for ten thousand euro? She should tell Séamus. He'd fire Niall on the spot. But not now. She couldn't think, or even breathe. She just wanted to get out of the shop. She'd sort it all out later. Séamus was still waiting for her answer.

"I can't. But thank you."

Séamus put the keys back and gestured to them. "The keys are here, anytime you want to give her a go," he said with a wink.

"Ba-bye, ba-bye, ba-bye." Siobhán flew out of the shop. She tore across the field, pumping her legs and arms faster, and faster, pushing herself to the point of pain. She ran all the way back to the bistro, and was about to fling herself at the door when Sheila Mahoney jumped out in front of her, wielding what appeared to be a razor-sharp blade.

It took Siobhán a good minute to realize that the weapon Sheila brandished was a pair of scissors with hot-pink handles. "Go on, go on," Sheila said. She was intimidating enough with her extra padding, platinum blond hair, and heavily lined eyes. Jabbing at her with sharp scissors was overkill.

"They're free," Sheila said in her gravelly voice. Many in Kilbane were health-conscious, but Sheila Mahoney still smoked two packs of fags a day, even while shampooing and cutting hair. Hers was probably the only beauty salon in the entire world where you went in with your hair smelling better than when you came out. Siobhán figured the only reason someone else hadn't opened a rival shop was because most of the townspeople were deathly afraid of Sheila's wrath. Even Sheila's poor husband, Pio, was terrified of her; you could see it in his eyes.

Siobhán reluctantly took the scissors and glanced at the stem. SHEILA'S SALON was stamped on them in black ink. "Grand reopening. See?" Sheila pointed a long blue fingernail at her salon across the street. A new sign jutted out from the top of the door. It was rimmed in the same neon pink as the handle of the scissors. It was only then that Siobhán noticed Sheila's choppy blond locks had a streak of neon pink running through them as well.

Sheila changed her hair color as often as lassies changed their knickers. She had probably been a beautiful woman in her day, but middle age hadn't been kind to her. She'd put on quite a few stone in the past few years, and it seemed the bigger she became, the shorter she cut her hair and the more face paint she slathered on. One couldn't help but look twice whenever she was standing next to Pio, who was the very definition of beanpole. Siobhán wished her mam was here to see what Sheila had done. Screaming pink. It was some sight.

Sarsfield Street was no stranger to color. Shop after shop had façades that were awash in bright yellows, blues, pinks, and green. It helped to keep the folks sane through all the gray days. Siobhán couldn't help but to look up at their sign, a simple wooden frame where NAOMI'S BISTRO was written in black script and outlined in robin's egg blue. The building was painted to match as well—the bottom portion white and the top blue. Many other creative signs dotted the doorways on Sarsfield Street—BUTLER'S UNDERTAKER, LOUNGE, AND PUB was the largest one, almost three feet tall, with a painting of a white-haired gent drinking a pint—but the bistro was the only one with scripted letters and a matching painted frame. Until now. Why, Sheila Mahoney was a little copycat.

"What do you t'ink?" Sheila demanded.

"Lovely," Siobhán said. Imitation is the sincerest form of flattery; do not get into a row with Sheila. It was bad enough she was fretting over whether or not to tell James about her dustup with Niall.

Sheila thrust the box of scissors at Siobhán. "Would ye keep these on the counter? For your customers?"

"Our customers prefer to use knives and forks." Siobhán pushed the box back at Sheila.

"They're free." Sheila's voice rose in volume.

"Why don't you take them to Courtney?" Courtney's Gifts was on the opposite side of the street, just down a ways, next to the Kilbane Players, the community theatre.

Sheila wagged her head. "What is wrong with ye? Everyone likes to get something for free. You might think about that the next time you have an extra batch of brown bread."

"I can't take your scissors. We have too many young ones about. Imagine if one of them poked his or her eye out."

"What am I going to do with the rest of these?" Sheila demanded, jiggling the box as if it was Siobhán's fault.

"Cut hair?"

"You need sharper ones for that. These are promotional."

"Maybe you should have gone with candy."

"What does candy have to do with a hair salon?" Sheila barked.

Siobhán jumped. Lord, the woman was a holy terror. "I'm sorry. I can't be giving away sharp objects to our customers."

Sheila shook her fist. "Would you at least point out our new sign and let folks know I'm giving away a free gift with a haircut? Or would that be too much for ye?"

There would be no need. Folks would be able to see it in a hailstorm. "Will do."

"Why don't you take a few pairs for the rest of the six?"

Around town Siobhán and her siblings were known as the O'Sullivan Six. Siobhán hated it, but not as much as she hated the nickname the Irish Brady Bunch, so she kept her gob shut. "O'Sullivans and scissors don't mix." It was actually only Ann she'd be worried about. Still unsteady on those coltish legs, Ann was always falling into things. Although if the scooters could talk they might say the same thing about Siobhán.

"Right, so," Sheila said. She sighed, and remained blocking Siobhán's entryway.

"I'll mention it. I promise."

"T'ank you." Sheila set the box of scissors on the footpath, next to the entrance. "Can I leave them here, so?"

"No," Siobhán said. She nudged them back to Sheila with her foot.

"Right," Sheila said. She didn't make a move to pick them up again.

"Why don't you place them at your own door?"

"If people were coming to me own door in the first place I wouldn't be needing to give away free scissors, now would I?" Sheila tapped her head, as if she was the only one thinking.

"Why don't you have Pio take them to trad sessions?" Siobhán loved traditional Irish music. Pio played the banjo and, if you were lucky, the spoons. It was amazing what he could do with the spoons.

"If you asked me to keep a platter of brown bread at me salon, I would do it, so," Sheila said. She stared at Siobhán, who simply stared back. Finally she snapped up the box of scissors and hugged them to her ample bosom. "Do you want to give me a platter of brown bread to keep at the shop?"

"I do not." Siobhán made the best brown bread in the village, and everyone knew it.

Sheila snorted and lifted the box of scissors. "Take 'em to the pubs, you say?"

"Why not?"

"A bunch of langered lads running around Kilbane with sharp scissors? Some craic."

"I thought you said they weren't sharp."

"I'm starting to think you aren't either. Free is free."

"My answer is no." Give her long enough and Sheila Mahoney would beat the polite out of anyone, including Father Kearney.

"Your mam and dad wouldn't have turned their back on a neighbor," Sheila said. And with that she whirled around and marched back to the salon, her scissors clinking in the box with every step. It took Siobhán a minute to realize she had a pair clutched in her hand, and then it took considerable restraint for her not to lob them at. . .
We hope you are enjoying the book so far. To continue reading...
Murder in an Irish Village
Carlene O'Connor
Copyright © 2023 All Rights Reserved
Also in this series
Also by this author