Murder in an Irish Churchyard
Book info
Sample
Audiobook
Media
Author updates
Lists
Synopsis
It's official! Siobhan is now Garda O'Sullivan, and her five siblings couldn't be prouder. While her brother James runs Naomi's Bistro, Siobhan is doing her part to keep the village safe. Of course, Kilbane is pretty quiet compared to a place like Dublin, where Macdara Flannery has gone to be a detective sergeant. Then one night the local priest summons Siobhan to the church cemetery. There's a dead man in the graveyard-aboveground. He's a stranger, but the priest has heard talk of an American tourist in town searching for an Irish ancestor. A detective sergeant is dispatched from Dublin to assist with the case, and, as fate would have it, it's Macdara. Things have been awkward between him and Siobhan since he left, but their partnership soon unearths that the victim was from Dublin, Ohio. As they dig for a motive among the gnarled roots of his family tree, long-buried secrets are unearthed. Now, they'll have to stay two steps ahead of the killer...or they'll end up with more than one foot in the grave.
Release date: February 27, 2018
Publisher: Kensington Books
Print pages: 304
* BingeBooks earns revenue from qualifying purchases as an Amazon Associate as well as from other retail partners.
Listen to a sample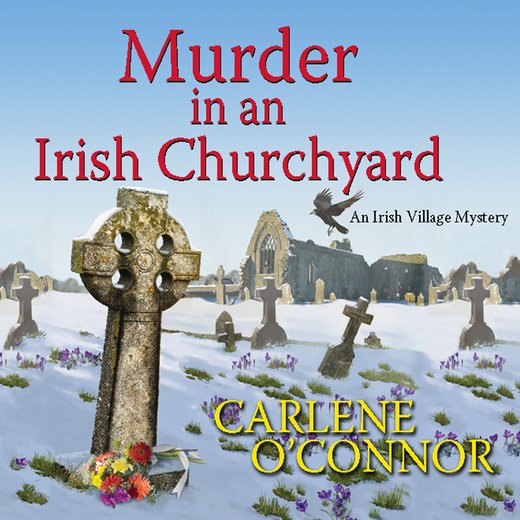 09:57:05
273.34 MB
9781666598001
February 27, 2018
Dreamscape Media
Murder in an Irish Churchyard
Carlene O'Connor
Siobhán O'Sullivan was up at the wee hours of the morning, combing through her new employee handbook, when Father Kearney discovered a dead man in the cemetery. And unlike the rest of the poor souls in Saint Mary's Churchyard, this one didn't belong there.

When a loud rap sounded on the door to Naomi's Bistro, Siobhán jumped, scattering the An Garda Síochána papers across the bistro floor. She scrambled to pick up her mess, and glanced at the large round clock behind the counter. It was the type of clock that might be seen in a railroad station: sturdy iron hands, a beautiful green patina, and large numbers that could be read from a great distance. It gave Siobhán a jolt of unexpected excitement whenever she glanced at it, but this day all she felt was dread. It was half one in the morning. Whoever was at her door at this ungodly hour would not be bearing good news, and her heart began to dance in her chest. She should be in bed, fast asleep. What was she thinking? In a few hours it would be her first day as a guard at the Kilbane Gardai Station. Folks depended on their local guards to be well-rested, not sleep-deprived and as jumpy as a rabbit. She would deal with whoever was at the door with great haste, and then it would be straight to bed.

On her way to the door she nearly tripped over Trigger, their Jack Russell terrier, who was curled up in a ball on top of the mat. He looked up at her through one glaring eye. "Some guard dog, that," she chided him. He yawned and tucked his head back into his body. Siobhán pulled her robe tightly around her, tried to straighten her mass of long red hair, and peeked out the curtain.

Father Kearney stood under a flickering bulb above their door. She'd meant to change it ages ago. There were too many things to keep track of these days. As she opened the door and gazed out, she was surprised to see gorgeous white flakes swirling around the iron street lamps situated up and down Sarsfield Street. The snow they had been predicting for weeks had finally arrived. She would have cried out with glee, had it not been for the priest's deeply troubled expression. She motioned for him to step inside as the cold air came rushing in.

"Hurry," he said, stamping snow onto the floor mat. "There's a dead man in the churchyard."

Siobhán regarded him through a sleep-deprived haze. "I'd say there's more than one, Father."

Father Kearney arched an eyebrow. "This one is lying aboveground." His full cheeks were bright red from the cold and his voice was laced with panic.

"I don't understand." She couldn't possibly have heard him correctly.

"There's a man lying in the cemetery. Aboveground. I'm quite sure he's dead."

Her hearing was fine; it was her brain that was slow to compute. "Who is he?"

Father Kearney shook his head. "That's the other odd bit. I've never seen him before in my life."

A shiver ran through her. Kilbane was a small village, where everybody knew everyone and their business. It was one of the things she loved about home. It was one of the things she hated about home. "Could he be passed out from drink?" A lad or even lass passing out from too many pints was not uncommon around Ireland. She threw a silent prayer of gratitude to the heavens that her older brother, James, had been out of alcohol's grip for over three years now.

Father Kearney shook his head and then glanced around, as if he were afraid someone would overhear. "I heard a gunshot." His voice was a low whisper, but it hit Siobhán as if he'd been shouting. "There's a lot of blood."

"Gunshot?" And this bit of news delivered a second jolt. He must be mistaken. Firearms were unheard of in Kilbane. Rare in most of Ireland, thanks be to God. The guards didn't even carry them. Her baton and a stern look were her only sanctioned weapons, and thanks to a hand mirror and hours of practicing, more often than not the look was enough to do the trick. Although it was quite possible she'd perfected her penetrating gaze by raising her siblings. Four younger ones and a sometimes-troubled older brother had been some training, alright. It was grand when you could funnel your life skills into your professional life. If she could just learn to bring down criminals with her brown bread, she'd be sorted.

"Hurry." Father Kearney gestured to her robe.

"I have to call it in. The man might need to be taken to hospital."

Siobhán turned to find her mobile phone when Father Kearney's hand reached out and gently squeezed her arm. "It's too late, pet," he said. "I checked. The poor creature has passed." Father Kearney crossed himself. "God rest his soul."

"Was it self-inflicted?" Suicides, sadly, were common. Siobhán ached for those who were in so much pain that they couldn't see any other way out.

"It's possible. Although . . ." His eyes darted around again.

"'Although'?"

"I could have sworn I saw a figure running away from the cemetery." He rubbed his eyes as if to erase the image.

"Father. Why didn't you just call 999?"

"I told you. He's passed."

"You know what I mean. Why didn't you call the station?"

"Why do you think Garda O'Sullivan?"

A tingle rushed through her: Garda O'Sullivan. Garda Siobhán. Garda Siobhán O'Sullivan. She'd been doodling a variety of combinations for her new title, just like lasses did with men they wanted to marry. And hers was more than a crazy daydream, for it was the new reality. Would she ever get used to it? Now that she was on the other side of it, it felt as if her two years at Templemore Garda College had come and gone in the time it took a carousel to go around. But so much had changed in two years. Here she was on the brink of a new career. She never imagined it would be off to such an auspicious start. She immediately felt ashamed. A man was dead. Possibly murdered.

Common sense washed over her. "I can't just assign myself to a case, Father. I must call it in."

Father Kearney frowned. "How do you know what you're calling in unless you give it a look-see first?" There was a message in his eyes. He wanted her to be the first to check out the scene. If she called it in, they wouldn't let a rookie like her anywhere near it. She was the newest member of the guards, so she would be given grunt work, not murder probes.

She definitely should call it in.

However . . .

This desperate early-morning plea was coming from a priest. Surely, one must listen closely to a man of the cloth. Father Kearney was well-loved in Kilbane. He'd baptized her, presided over her First Communion, heard her confessions, and, most important, hadn't lectured her on her dwindling attendance. Would her superiors really blame her for following his very pointed request?

Furthermore, he had an excellent point. How could she call it in when she didn't even know what exactly she was calling in? Perhaps the man lying in the cemetery was passed out from drink after all. Or someone could be having a laugh, acting the maggot. Perhaps it was fake blood. Shenanigans abounded in the village. Lads got up to no good when boredom set in. Snow made everyone a little mischievous, just like a full moon.

It was settled. She would quickly check out the scene and then call it in. She glanced down at her robe, pajamas, and slippers. "I should change."

He shook his head. "I don't think the company in the cemetery will mind how you're dressed. The dead wait for no man, pet. Hurry."

"Actually, Father, I think that's exactly what they do. Wait. For a long time, like." His frown deepened. "But point taken." She threw her winter coat on over her robe and pajamas, flipped off her slippers, shoved on her snow boots, and finally donned her brand-new garda cap before stepping out the door with the priest.

Heads bowed against the snow, they made their way to the churchyard. Her village hushed in the winter, like a television on mute. The wash of pinks, blues, and greens, on the facades of homes and businesses that dotted Sarsfield Street, took on a grayish hue against the winter Irish sky, and even the artistic murals splashed on the sides of pubs—grinning lads holding up giant pints, colorful Guinness advertisements showcasing imbibing animals, and welcoming local business signs—all shrunk under the dome of January. Christmas had passed along with New Year's, and now they were midway through the month. The end couldn't come soon enough for Siobhán; January was her least favorite month. A flash of guilt rose in her as she thought of the man lying in the cemetery. If he had indeed passed, for him the end had most assuredly come too soon.

Surrounded by a medieval stone wall, steeped in history, Siobhán O'Sullivan felt both protected and claustrophobic in Kilbane. The four original entrance gates to the town were posted like friendly sentinels at even intervals. She drank in the sight of the Bally Gate entrance as they neared the churchyard. The wind rattled through them, chilling Siobhán to the bone, and forcing her more than once to grab onto her garda cap to prevent it from flying away. The cap, with its golden shield, was her favorite part of the uniform.

"Why don't you start from the beginning?" Siobhán asked. "Tell me everything you remember." Father Kearney began his tale again. At approximately one in the morning he had been in a deep slumber when he was rudely awoken by a loud bang. "Could it have been a door slamming? Or a motor backfiring?"

"The sound came from the cemetery. I'm sure of it. And then there's the matter of the man lying on the ground."

"Right." If he was correct on all accounts, then they already knew the approximate time of death. And if it was indeed a murder, that would be a big problem. For at one in the morning all potential suspects would point an accusing finger at the same alibi: the Sandman. "And then what did you do?"

"I dressed and ran down to the churchyard immediately. That's when I made the gruesome discovery."

An involuntary shudder ripped through her. "Don't worry, Father," Siobhán said, hoping to calm her own nerves. "We'll get to the bottom of this."

Father Kearney pulled his coat up and lowered himself into it as he fought the wind. "There's only two people I trust in this village to properly investigate a crime scene. And one of them is a right fool who tripped off to Dublin because he was terrified of you making changes." Father Kearney glanced at the gold shield on her cap. "Changes you should be very proud of, by the by."

Siobhán tucked the compliment away for later. "Tell me about the figure you saw running away from the scene."

"I'm afraid there's not much to tell, pet. He was wearing dark clothing, and I only saw him from my window high above. A blur going by."

"It was definitely a man?"

"It was a person. I assumed it was a man, but a blur has no gender. Either sex is capable of evil." He shuddered.

"That they are," Siobhán lamented.

They picked up the pace, as if trying to outrun the cold and the snow. Hearing him talk about Macdara Flannery filled her with the longing of What-Could-Have-Been. He had been a fool. Browned off that she enrolled in garda college. He was the one who told her she'd make a good investigator. He'd made changes of his own the past few years. He was Detective Sergeant Flannery now, stationed in Dublin. She hadn't seen him since she enrolled in college. Maybe it was for the best. He deserved the promotion, maybe even deserved to get out of this small village. But she'd never imagined life turning out this way. She was the one who was supposed to fly away, explore the great world beyond; he was supposed to be the homebody, begging her to stay. Did life ever work out the way one dreamed?

Siobhán gripped the torch and forced herself to focus. "How many shots did you hear?"

"Just one."

"One's enough."

"'Tis."

The snow was thickening, limiting their vision. What horrible timing. Every single flake would be covering up precious evidence. And she would not be able to do anything but observe. No one would be allowed to touch the body until the state pathologist arrived from Dublin to officially declare it a crime scene. Still, there was great benefit to observing an unspoiled crime scene. Time was of the essence. "Do you mind if I run ahead, Father?"

"Go on then. Be careful. He's lying near the headstones in the back. The oldest section." Siobhán nodded and began to run. She paced herself so she wouldn't slip on the icy ground. Minutes later she was maneuvering along the stone wall that wound around the cemetery like a protective maze. She knew the yard well. Her parents, whose lives were cut short by a drunk driver three years past, were buried in the cemetery, but she turned the torch on, anyway, aiming the beam toward the back, where the oldest headstones could be found. They were her favorite. There was something so awe-inspiring about looking at a link to someone who lived hundreds of years ago. Reading the names and the epitaphs on their tombstones and wondering who they were and what they were like. Did they live life to the fullest? Were they loved? Did they love? A link to history, a testament to the past. So many lost lives, so many buried secrets.

She slipped past towering Celtic crosses and statues of angels, stone hands clasped in prayer. The air held the sharp scent of falling snow. Inscriptions leapt out at her as the light bounced over them: Beloved Mother. Loving Husband. Our Darling Angel.

Her heart raced as she continued through the hallowed ground. When she reached the last row, she aimed the light, and there, six graves in, a man was prone on the ground with nary a twitch. He was lying on his side, his right arm stretched out, his index finger protruding. Was he pointing? If so, at what?

She dropped to her knees beside him. Father Kearney was correct; death had come to him. Blue eyes, open and glassy, stared out through snowflake-dotted lashes, and his thin mouth was parted as if he'd died midspeak. Poor, poor soul. Just over a fortnight into the brand-new year. Was the killer nearby? Watching?

Siobhán studied the dead man's face. From his generous wrinkles, spotted hands, and full head of white hair, she pegged him to be in his mid to late seventies. There was something so utterly tragic about making it into old age, and then meeting a violent end. Outrageously unfair. It took a special kind of evil to purposefully harm an elderly person.

He was wearing a brown trench coat, gray pants, and pointy black shoes. The shades were a horrible match. Perhaps he was color-blind, or simply a man who didn't give two figs about fashion. His tweed cap had fallen off and thick black spectacles had slipped down his long nose. She swung the light over his chest once more. There was no weapon that she could see, bolstering the theory that he did not shoot himself.

A pool of red soaked the stranger's chest and seeped into the ground around him. Partial footprints surrounded the body. Most likely, Father Kearney's prints, but she snapped photos with her mobile before the snow could obliterate their existence.

This was personal. The thought struck her hard and fast. Close range. Perhaps one shot to the heart. A passion kill. She would have to keep her opinions out of the report, as her college advisors often reminded her: "Your opinions, Ms. O'Sullivan, are to stay out of your reports. They're going to get you in trouble one day, if you're not careful."

She bit her lip. Conjecture frowned upon? What kind of training was that? Her instincts had served her well in the past. And even if she wasn't going to put them into the report, her opinions began to flood in. The killer didn't just bump into his victim. He or she most likely lured the poor soul here. Who wandered into a cemetery at this hour of the morning? There was another possibility, one that prickled the hairs on the back of her neck. Someone might have chased this poor man into the cemetery.

She found herself wanting to apologize to the corpse, to console him. Another bit that had been frowned upon in her training: Do not get emotionally involved with a case, let alone a corpse. There was sense to that, of course. One must keep all possibilities alive while investigating. An open mind was an investigator's most precious tool. Let the facts guide you to a conclusion. Do not come to a conclusion and then try and force the facts to fit. Stay flexible but sharp. Professionalism above all else.

But really, would a quick prayer kill anyone? She silently offered one and then picked up her mobile and called it in.

Siobhán was about to leave the crime scene and wait for the guards when a glint of a medal on the dead man's lapel caught her eye. She edged closer. It was a pin of an American flag. Was he an American tourist? She swiveled the light on the ground. A piece of cream-colored paper was partially covered in snow. A small corner was visible, but all Siobhán could make out was a smear of black ink and what appeared to be the letter A. She sighed and took a photo. She was dying to pick it up. If only she had the authority and knowledge to do everything herself.

There was nothing else to see on the ground, for the snow was already covering up the crime with its soft blanket. If there were bullet casings, or a gun, or any other clues, they would remain buried until the state pathologist arrived. She glanced at his protruding finger once more. His right hand. The rest of the fingers were curled in tight, and the index finger stretched forward. His finger was slightly crooked at the end, as if his hands had been stricken with arthritis. She followed the trajectory of his finger to the closest headstone:

The very bottom of the headstone was faded with time and Siobhán could only make out the vowels E, U, and A, with too many spaces in between. She had never been one for crossword puzzles. Her dear mam had loved them. Her slim figure was always hunched over a puzzle, solving it with a Biro no less. Siobhán would have needed pencils and a stack of erasers. If only she could turn to her mam now for a little help. In lieu of that, perhaps they would be able to find something in the church burial records. She made a note to speak to Father Kearney about it, then snapped photos as quickly as she could.

Was he pointing at the name John? The surname Mallon? Something about the dates? "Out to the field." That was a nice way of describing the great beyond. She hoped everyone was in a gorgeous field, filled with love and peace.

The victim had used the last few moments of his life trying to communicate, desperate to tell her something about his killer. If only she knew what he'd been trying to say. "I'll do everything I can to find the person who did this to you," she said softly to the stranger on the ground. "I promise ye that." The man wore a gold wedding band. If this were a robbery, wouldn't he, she, or they have taken it? She wished she could search the body for a wallet. She had no patience for waiting, but, of course, everything had to be done properly. A detective sergeant would have to be assigned to the case. Would it be Macdara? A shiver ran through her at the thought of seeing him again. In the distance a wail of sirens penetrated the silent night. Siobhán clenched her fists. Why were they running their sirens? She'd made it crystal clear when she called it in that the poor fella was dead. The sirens would wake up the insatiable curiosity of the townsfolk. Should she mention this to her superiors? Too late now. Besides, it was probably best to wait until after her first official day before doling out sound advice. The guards were here. Time to step back.

Siobhán stood on the church steps with Father Kearney as the guards trekked back to the crime scene, fat rolls of yellow tape clutched in their gloved hands. "Our victim appeared to be pointing at a nearby headstone. John Mallon." She showed him that photograph. "Can you look into Saint Mary's burial records?"

"Whatever would you gain from that?"

Siobhán shrugged. "Sometimes you don't know until you see it."

The priest sighed. "Of course. But don't expect a quick turnaround. Records of that age may not be easy to locate."

"I'd appreciate whatever you can do." Next she showed Father Kearney the pictures of the victim, just to make sure he had never seen the man before. He stared at them and then shook his head. "Poor fella." He crossed himself. "On holy grounds no less." His voice was thick with sadness.

"Have you seen anything unusual lately?" Siobhán asked. "Anything at all?"

He looked as if he thought of something, then shook his head. "It's probably nothing."

"Go on."

"I have seen an old lady wandering the churchyard the past week."

Siobhán nodded to show she was listening, but that was hardly alarming. In addition to the regular visits from the folks of Kilbane, cemeteries were a popular tourist destination. They even had a name for them: Tombstone Tourists. "Not a local then?" Siobhán asked. Could this old woman be related to the victim? His wife?

"I'd say not. She was nearly six foot tall. And she left indentations in the ground!" Father Kearney's hands flew off his ample belly and gestured wildly as spittle flew from his mouth. He was very protective of his churchyard.

"Indentations?"

"Stabbing around my churchyard in heels. Why does an elderly lady need high heels when she's already up to the clouds?" He folded his arms across his belly and harrumphed his displeasure.

Siobhán, nearly up to the clouds herself, took a deep breath and held her tongue. "Tell me exactly what you saw."

"Twice I spotted her from my window." He gestured toward his living quarters that loomed over the churchyard. "She was pacing back and forth along the back row."

"The same row where our victim was found?"

Father Kearney gasped. "The very same."

That could be significant. "Go on."

"She was frantic. Mad as a bag of cats, I tell ye. Both times I ran down." He looked around.

"And?" As much as Siobhán loved the anticipation that came with great stories, she was eager for him to spit it out.

"Gone. Poof. Vanished." He rubbed his chin. "I thought maybe it was me. Getting senile. Seeing things in my old age."

Siobhán felt a shiver, and knew the weather wasn't to blame. If anyone else had been telling this story, she would have marked it down to foolishness or tall tales. But Father Kearney was a somber man, even in the best of times. Who was this old woman, and why had she been pacing in the cemetery? Did she have anything to do with the murder?

Siobhán pulled out her notepad. "And you're sure she wasn't from Kilbane?"

"Never seen her before in me life."

"I'd like a full description, please."

"Well, I've only seen her from high above. She was a tall one. Like you. She was wearing a long coat and a small hat."

Siobhán frowned. At Templemore they had been taught the importance of clear descriptions. The tiniest detail could crack a case wide open. But if she went around Kilbane asking after an elderly woman in a long coat and a small hat, she'd be laughed out of the village. Tall, elderly ladies were a rarity in Kilbane. Most of them were petite, even shrinking with age.

"How do you know it was a woman?"

Father Kearney tilted his head. "She had long gray hair. Like a witch."

Siobhán wrote down the description, once again biting her tongue. Her silence was a disappointment to women with long gray hair, feminists, and witches everywhere. "Anything else?" Father Kearney shook his head. "Do you remember the color of the hat or the cap?"

He started to shake his head again. Then thrust his index finger up. "Red!"

"The cap or the coat?"

He frowned. "The cap. No wait. Or was it the coat?"

She sighed as she made a note and added a question mark. Eyewitness accounts were notoriously flawed and had to be taken with a grain of salt. Siobhán took out her mobile again and swiped through the photos. Their victim looked tall. "Is there any chance it wasn't a woman you saw, but this man inste. . .
We hope you are enjoying the book so far. To continue reading...
Murder in an Irish Churchyard
Carlene O'Connor
Copyright © 2023 All Rights Reserved
Also in this series
Also by this author